If your kids aren't back to school yet, you know the clock is ticking. And if you're a family that packs lunch from home, you know that the daily grind of filling those lunch boxes (and snack bags!) is real.
Wouldn't you love some hacks to simplify the process?
These school lunch hacks have made things a little easier for us and other parents. If they aren't in your toolkit yet, give them a try and see if a few of them help.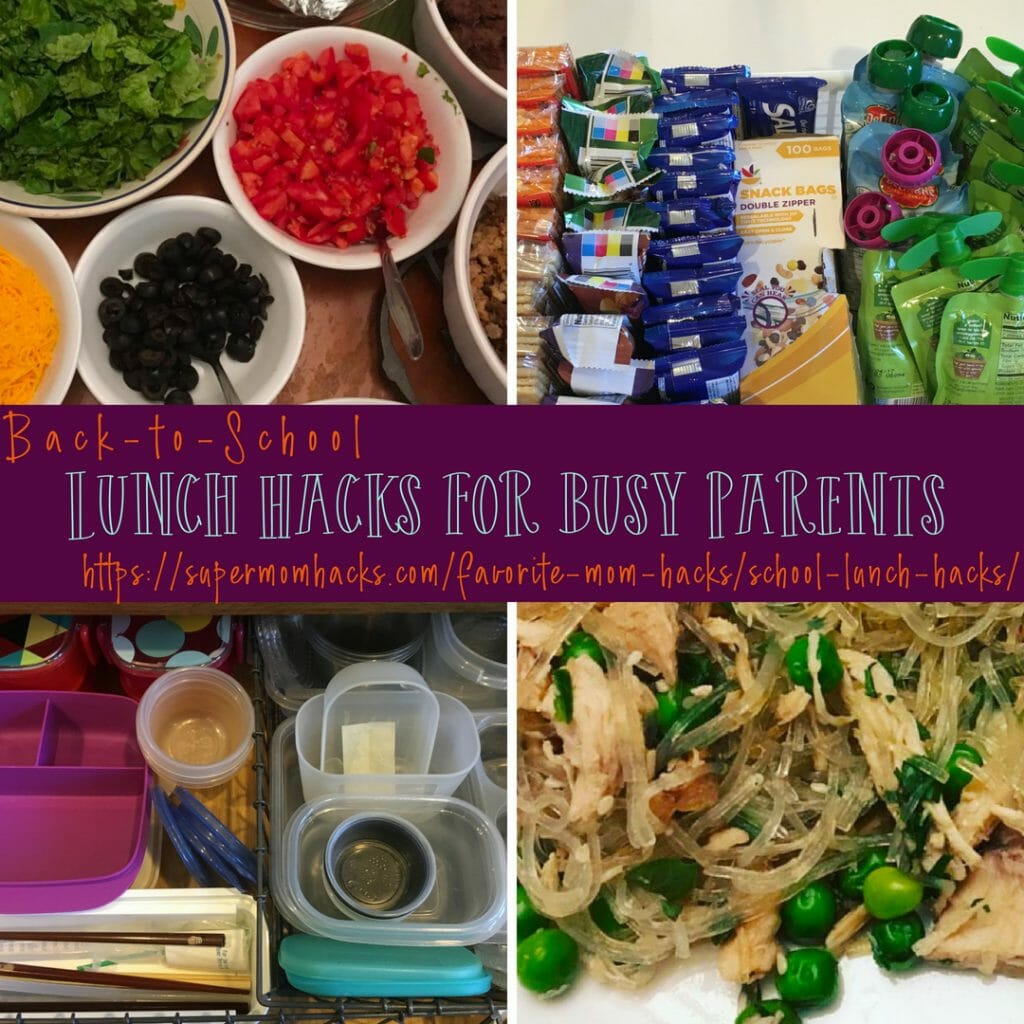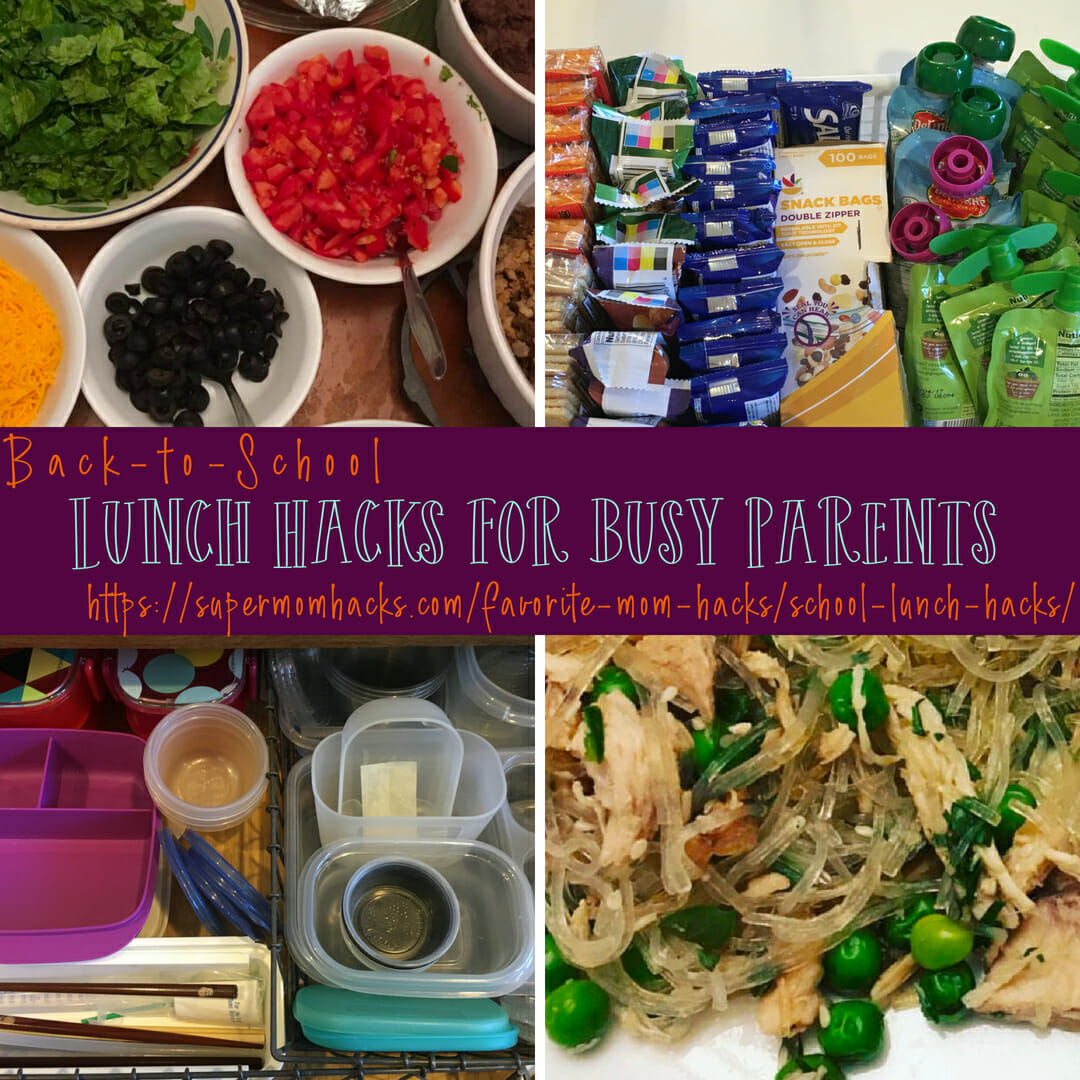 My Fave Back-To-School Lunch Hacks
1) Cook once, eat twice
Or if you prefer, Clean Up/Pack Up.
If you already plan your evening meal around healthy home-cooked food that your kids love, then this is a no-brainer. Cook enough so you'll have leftovers, and pack up some for lunches as you clear the dinner dishes.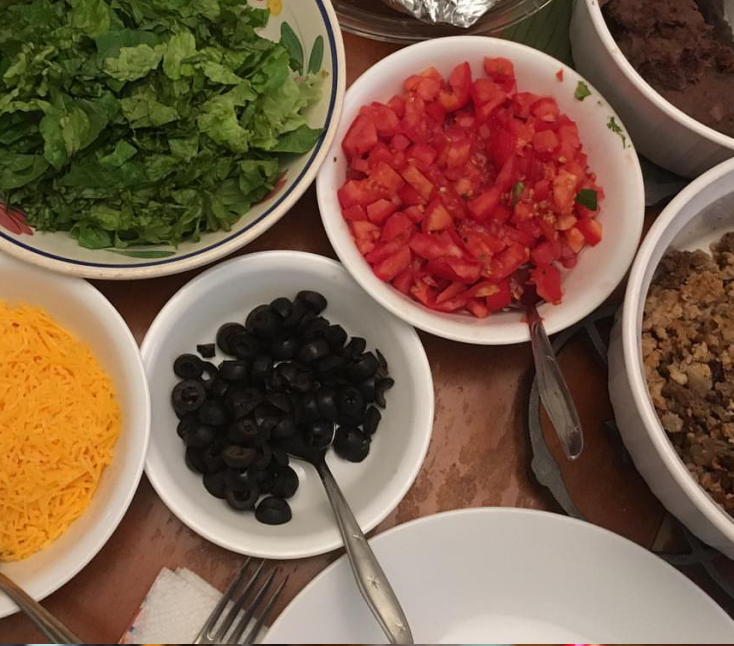 This works best if you have
For example: Several nights ago we had pork chops (the only dinner meat my girls like hot or cold), homemade macaroni & cheese, and steamed carrots for supper; that was their lunch the next day. Last night we had baked fish and veggies, which is what we packed for today's lunch as we were clearing the dinner table.
2) Get some easy-care thermoses
For all-in-one meals that taste best hot, microwaving leftovers in the morning and popping the hot foods into a thermos may work better. Think pasta-veggie-protein combos, stir-fries, stews, soups, casseroles, and things you make in your slow cooker.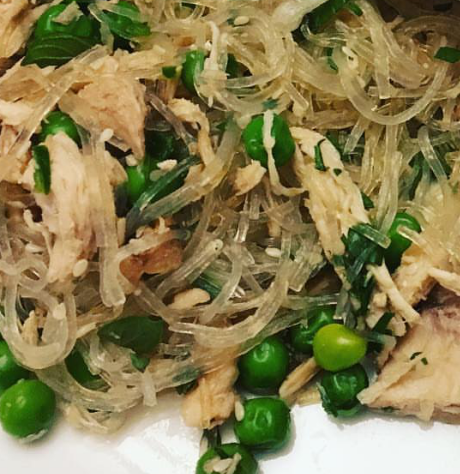 But unless you're used to hand-washing all your dishes, get thermoses that are dishwasher-safe. I finally found ✅these easy-care, dishwasher-safe thermoses last spring, and Kimmie especially loves hot lunches-from-home in them.
3) Keep ready-to-go staples on hand for easy packing
On days when leftover components or warmed leftover all-in-one meals aren't an option, I use my keep-on-hand staples plus other leftovers we have in our refrigerator and freezer. Think ready-to-go or minimal-prep foods that are lunchbox-friendly.
My previous post listed some of our favorite go-to options by food category (fruits and veggies, protein, grains, and calcium sources). But packing a bunch of individual ingredients isn't the only option.
Also think in terms of food you can keep on hand, might have leftover, or can prep over the weekend that can cover multiple nutritional groups at once. For example,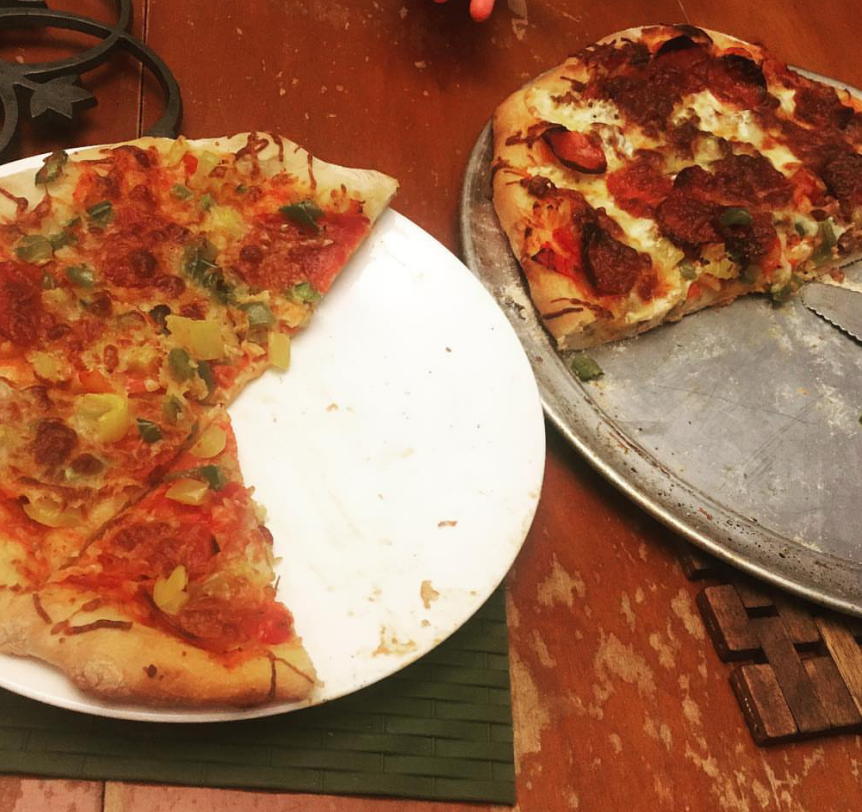 Leftover combination (meat/veggie or veggie-laden) pizza slices
Leftover taco-type fillings for taco salad or DIY chilaquiles/nachos for lunch (pack chips separately and dump toppings on top at school)
Sweet and/or savory

stuffed crescent rolls

Leftover quinoa-enchilada bake
Yogurt cups with granola, berries, dry cereal, and/or (if allowed) nuts and seeds to sprinkle on top, or a homemade yogurt parfait
Packages of peanut-butter-filled sandwich crackers, if your school will allow them
Cooked cold ramen or other noodles (prep these over the weekend), drained and seasoned right after cooking, with chunks of cut-up steamed vegetables plus edamame/cooked beans/cubes of cooked meat stirred in
4. Reinvent your sandwiches
If your kids like them (mine, not so much), sandwiches are also a great way to cover multiple food groups. Just be sure to include veggies as well as protein and calcium. For example:
Add some lettuce to that basic meat-and-cheese sandwich; consider also tucking in a container of tomato slices (adding them right before eating keeps everything from getting soggy).
Classic bacon-lettuce-tomato sandwiches are a satisfying sandwich my kids actually will eat. You can also make a BELT (adding in fried egg or slices of hard-boiled egg) or BALT (adding in sliced avocado or guacamole spread) sandwich.
Pan-fry an egg until it's cooked through and crispy on the edges, season it with salt and pepper, and place it on bread or toast with lettuce, mayonnaise, and ketchup (add in condiment packets instead of spreading on, if you like). This was one of my favorite school lunch sandwiches growing up.
Instead of standard peanut-butter-and-jelly, substitute a non-peanut nut spread for schools that ban peanuts. Or try jam sprinkled with chia and sunflower seeds. Or peanut butter and thin-sliced apple (

core the apple

and then use a

mandoline

to slice). Or peanut-butter-and-banana. Or banana-and-Nutella. Peanut butter with shredded carrots and raisins is also yummy.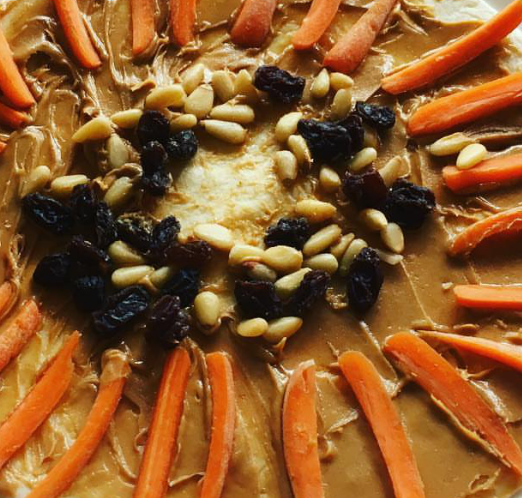 Another great fall sandwich involving thin-sliced apples is to add slices of tart apple to a sandwich with ham, sharp Cheddar, and lettuce, plus dijon mustard.
Or try grilled veggie sandwiches with pesto or cream cheese.
Or add sprouts, carrots and cucumbers peeled into long curls, shredded carrot or cabbage, etc. to your kids' sandwiches for extra crunch and something "new."
Mixing up your kids' bread options is another way to reinvent sandwiches. Pita pockets, sandwich thins, tortilla/wrap sandwiches, and rolls are all alternatives to plain bread. My girls love picking out rainbow bread, onion rolls, and other items from our store bakery's day-old clearance pile.
5) Some assembly required
On the other hand, maybe your kids deconstruct their sandwiches anyway (as do mine). Or maybe the thought of soggy sandwiches is what makes them balk at eating this school-lunch staple.
If so – and if they'll have enough time to do this at school – maybe DIY sandwiches at school would make them happier. I first saw this on a local deli's lunch menu and thought it was a ridiculous idea. But then I saw my kids go nuts over making their own PB&Js with raisins, mini marshmallows, etc.
So save up those condiment containers and pouches from your next fast-food or takeout trip, and tuck them into your kid's lunchbox along with the other raw ingredients. Pita pockets and wraps are a perfect bread choice for DIY sandwich days. You could even substitute crackers for the bread.
6) Mix up the clock
Do your kids get excited when you have breakfast for supper? What about pizza for breakfast? This is one of my favorite school lunch hacks for when your kids are getting tired of your standard fare.
You may have already noticed that several of the covers-multiple-bases ideas I listed above – crescent rolls, parfaits, and chilaquiles/nachos – I first published as breakfast recipes. Mixing in breakfast menus at lunchtime can be a fun surprise that will help keep things interesting.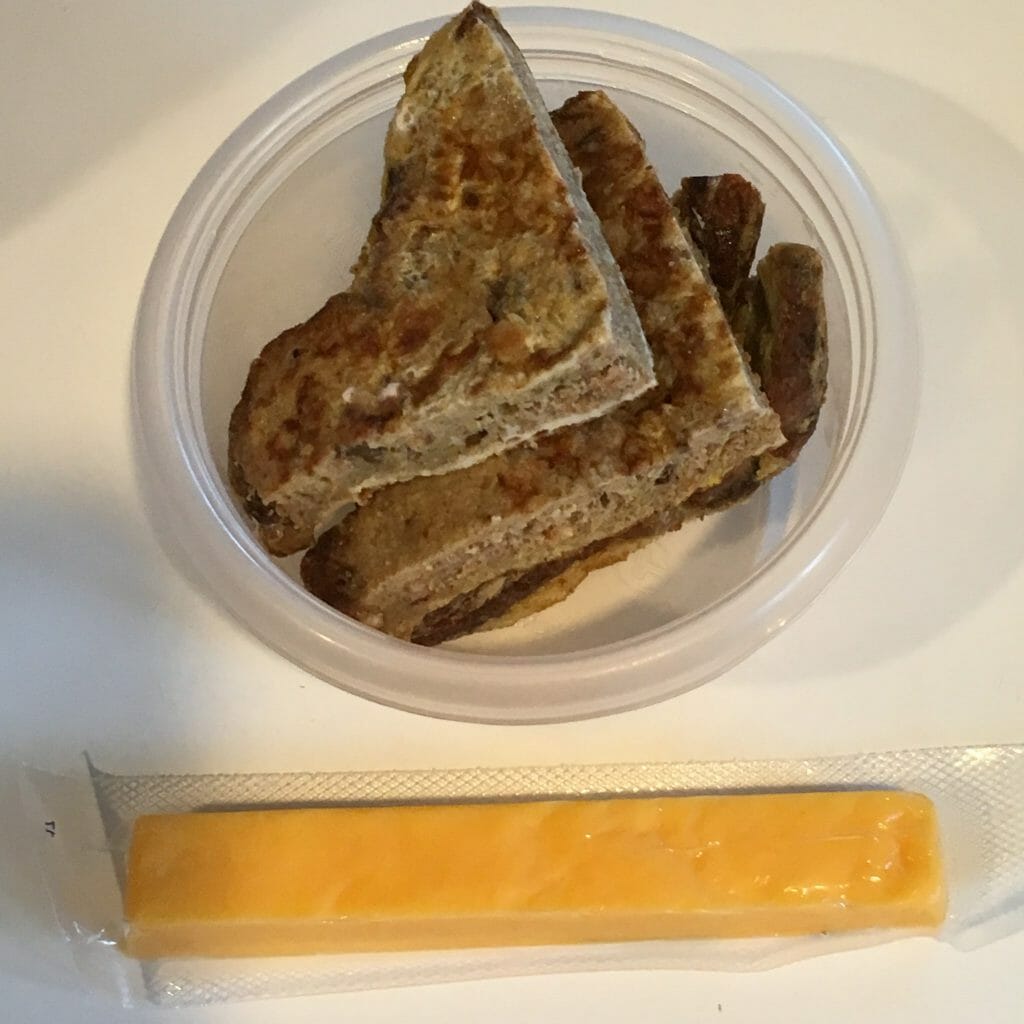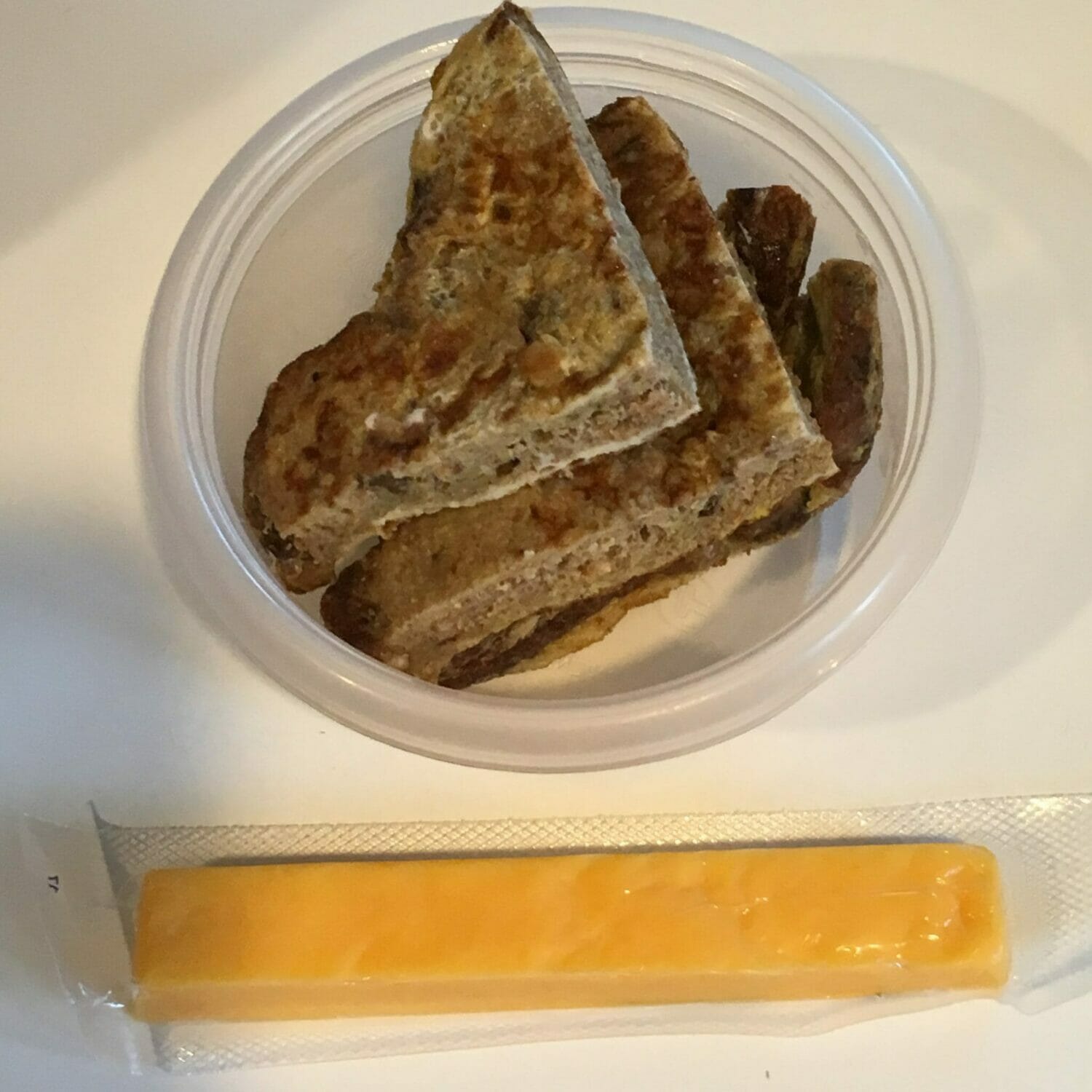 Need some sample menu ideas to wrap your brain around this concept? Try one of these:
Make your kids' peanut-butter-and-jelly sandwich with leftover pancakes instead of bread; add fresh fruit plus a yogurt tube
Instead of your kids' usual sandwich, put scrambled egg, cheese, and sausage or bacon on a toasted English muffin; add a juice box or applesauce/fruit puree pouch
Cut leftover waffles into smaller squares, top with fresh berries, and include a yogurt smoothie drink
Slice leftover French Toast into sticks, add some apple slices and/or seedless grapes, and send with a yogurt cup for dipping
Pack a small muffin, some dry cereal, or Cheesy Toast with a ten-minute baked apple (or prep a dish of old-fashioned baked apples over the weekend)
Or send along an avocado-egg cup, like my veggie-topped Mexican-style one
7) Put the kids in charge
Once you've got some of the staples I mentioned in my last post on hand, you can (and should) give your kids the opportunity to practice packing their own lunches at home. This is a great chance to do some basic education/review on eating healthy, balanced meals. It also cuts down on grumbling and complaints from children who dislike what you packed for them.

If you've got the space, you might even set up a kids' lunch assembly station:
Consider setting aside a shelf in a cupboard they can reach, using baskets or bins to keep things tidy. A drawer or basket in the fridge for lunch staples will keep refrigerated items easy for them to find.
Sorting foods by group, if possible, will make it easy for kids to grab one from each category, and know they've got their bases covered.
And while individually-packaged options are super-convenient, they can also be much more costly and generate excess waste. An alternative would be prepping snack-sized bags of (for example) baby carrots, celery sticks, apple wedges dipped in lemon juice (to prevent browning), and/or grapes over the weekend. Or put the snack-sized bags where your kids can find them, and let them portion their own crackers, baby carrots, etc.
If they'll be packing their own lunch into reusable containers, those also need to be within easy reach. Now that the girls are older, we've put their lunch containers in a drawer they can access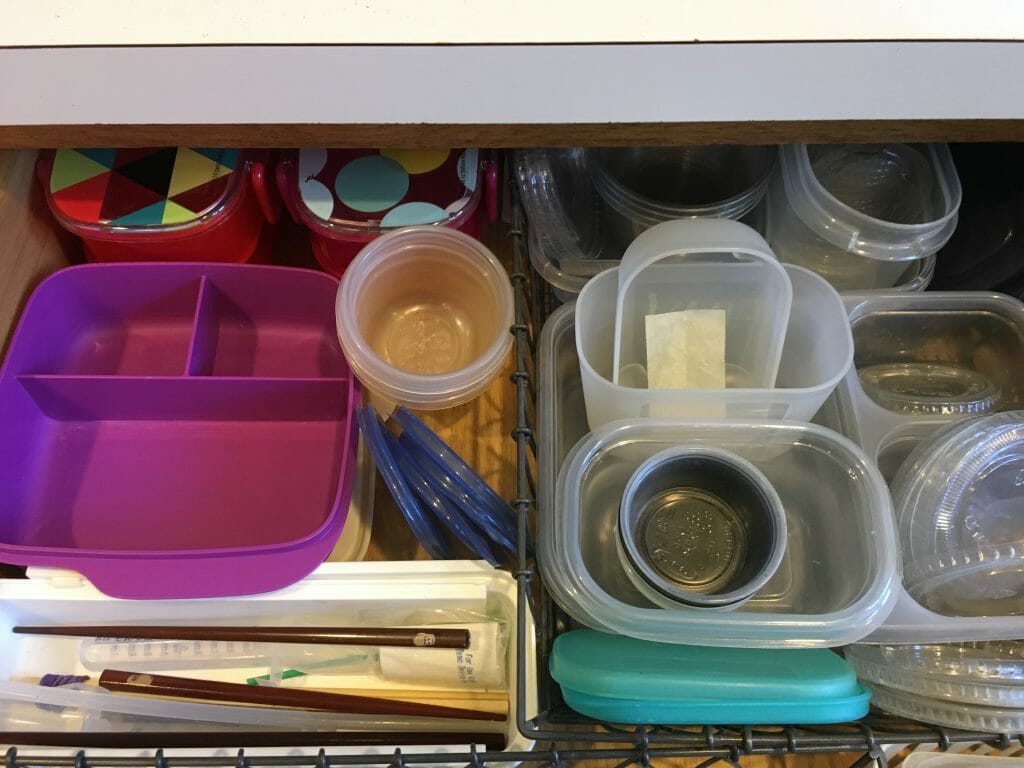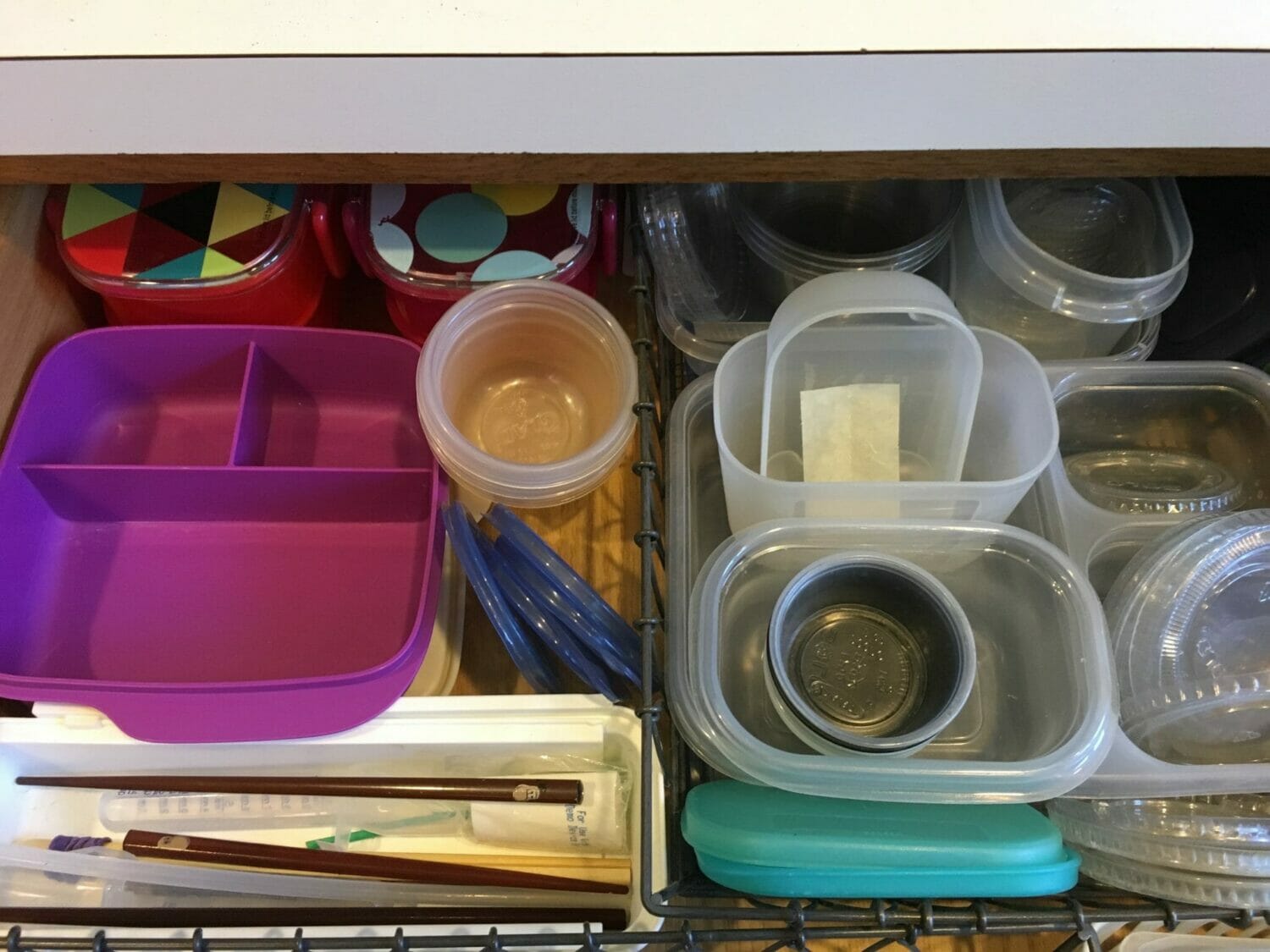 What about you? What are your favorite school lunch hacks to make those home-packed meals not only easy and healthy, but also fun and tasty for your kids? Let us know in the comments!
If you enjoyed this post on school lunch hacks, why not share it with others by pinning this image?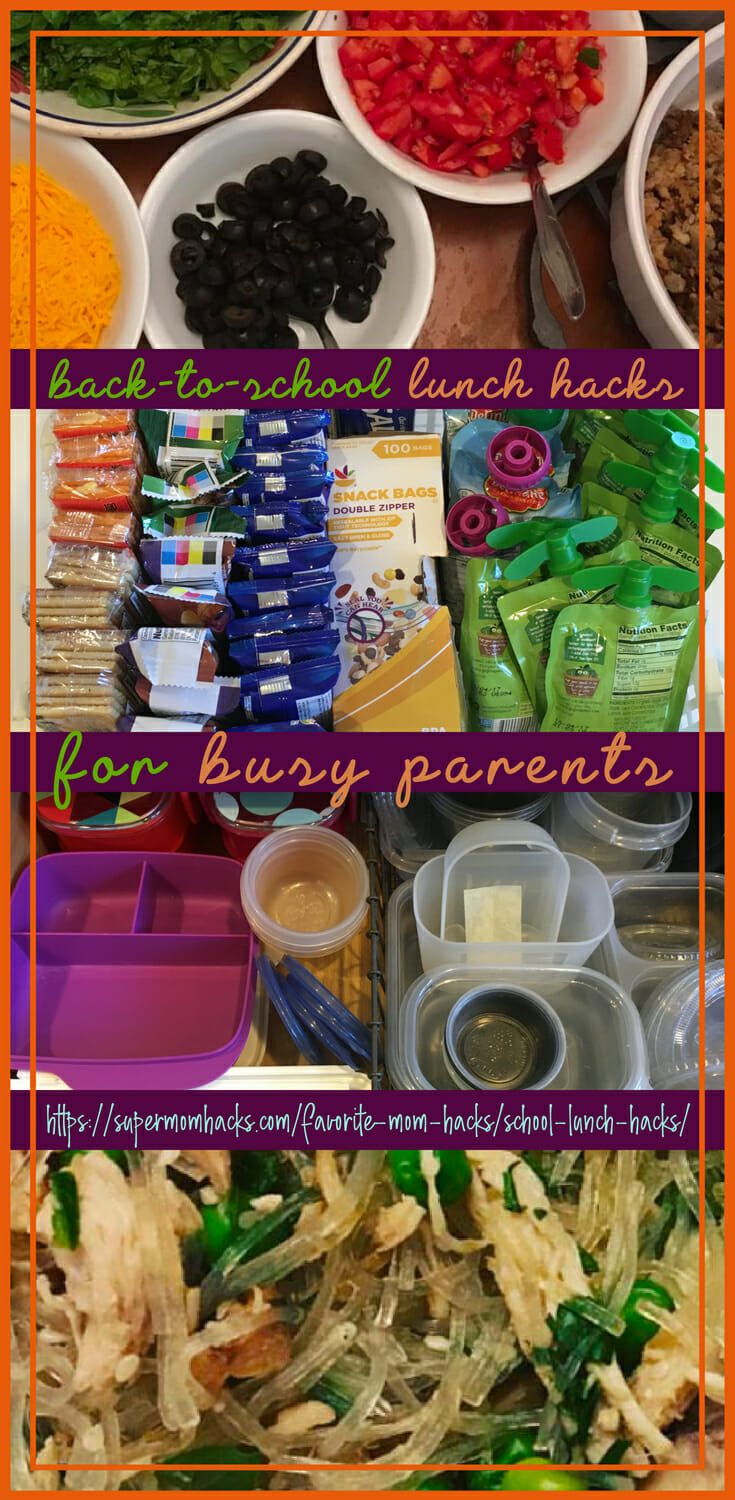 NOTE: This site contains affiliate links. I may earn a small commission from any purchases made through affiliate links, at no additional cost to you. For more information, please read the full disclosure/privacy policy.