If your family is anything like ours, Saturday is a lazy day when it's hard for the kids to get out of their own way. All they want to do is loll around in their PJs all day (which I'm fine with) and feed themselves junk food (not so much). Getting them to the table for a healthy, filling breakfast is a challenge. So I invented a twist on a new favorite: Mexican-Style Avocado Egg Breakfast Cups.
This delicious breakfast is so yummy, your kids won't even realize how good it is for them. (Shh!) Besides being vegetarian and gluten-free, it's packed with healthy fats and plenty of protein. It's perfect for an intimate brunch, but also a healthy choice for those watching their weight.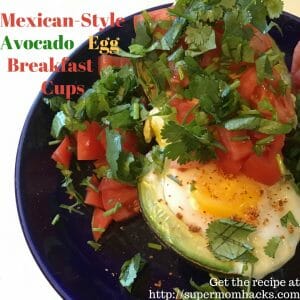 I like to season this with Tajin Clasico con Limon, a mild chili-lime seasoning blend from Mexico. But you can use any chili-lime seasoning blend. (Or you can substitute salt and pepper, or your own favorite flavor combination.)
Mexican-Style Avocado Egg Breakfast Cups
Prep time: 5 min; Cook time: 15 min; Total time: 20 min
Quantities listed are for one adult/big kid serving, or two smaller-kid servings. Scale up or down as needed.
The basic idea:
1 avocado, firm but ripe
2 eggs (small or medium work best, but large OK)
1 roma (plum) tomato
Cilantro
Tajin or other chili-lime seasoning
Nonstick cooking spray
Small ovenproof baking dish
Preheat oven to 425 degrees F. Spray a small ovenproof baking dish with nonstick cooking spray.
Wash outside of avocado, remove any produce sticker, and cut avocado in half. Carefully remove the pit and discard.
Scoop out some of the meat of the avocado, as needed, to make the cup bigger. (You can either eat the extra avocado, or save it for garnish.) Place the avocados, facing up, in the prepared baking dish.
Break one egg into each avocado half. Sprinkle Tajin (or seasoning of your choice; see below for ideas) over each half.
Bake for approximately 15 minutes – a little longer if you like firmer eggs, a minute or two less for runnier yolks.
While the eggs are cooking, wash/dry/chop cilantro and dice tomato.
Transfer cooked eggs to serving plate. Garnish with tomato and cilantro. Serve hot.
Mix it up:
Tajin is really soooo yummy, I highly recommend trying some. But other combinations you could use, depending on your preferences, are salt & pepper, garlic salt & cumin, or salt & cayenne. And/or, try sprinkling a little lime juice on at the end, after you've added the other garnishes.
You can also sprinkle a little shredded cheese on top of the egg, either before or after baking.
Other toppings you can try include shredded lettuce, crumbled bacon, chopped green onions, sour cream, and/or your favorite salsa.
For a fun family weekend brunch activity, line up your toppings into a "toppings bar." Then have each person top their own egg cups with the toppings of their choice.
If you're looking for yummy Mexican-style fruit combinations to go with your avocado egg cups, try some fresh papaya sprinkled with lime juice. Or add Tajin seasoning to fresh papaya or fresh mango wedges. (Tajin is extremely popular in Mexico as a seasoning for fresh fruit!)
Have you and your family tried avocado egg cups yet? What is your favorite seasoning combination? Let us know in the comments!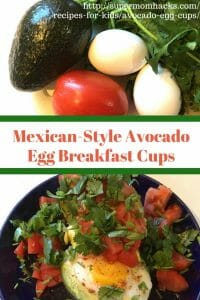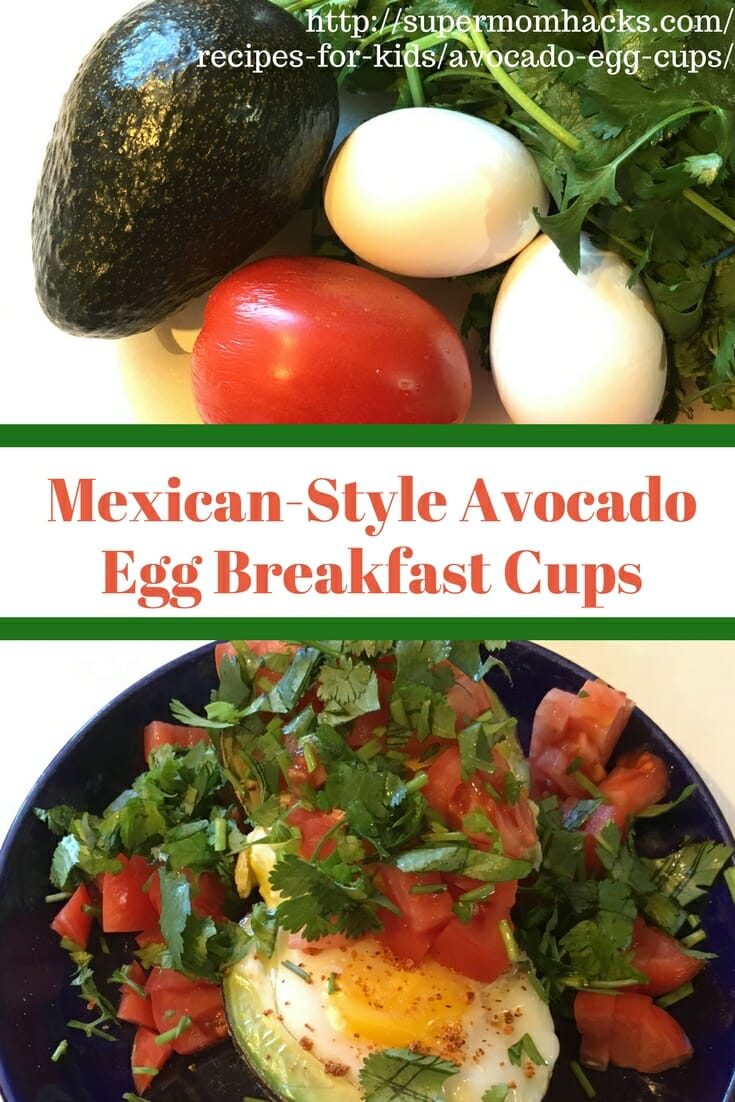 NOTE: This site contains affiliate links. I may earn a small commission from any purchases made through affiliate links, at no additional cost to you. For more information, please read the full disclosure/privacy policy.