Does your child help around the house? No matter what their age, if a kid can walk, they can help. (And even infants can "practice" things as a game.) Unless you have a maid or a cleaning service, getting help around the house from family members is essential.
However, it's also easier said than done, as the longtime struggle that inspired last week's post illustrates.
Fortunately, there are plenty of ways to teach children how to pitch in and do their part. And trust me: it's NEVER too early to start. In fact, the easier you can get your kids in the habit of "helping," the easier your life will be as they get older.
The examples in this post are all things I and/or other mamas have tried over the years. All have worked for us at one time or another. So give them a try, and see what lifetime habits you can help your children build.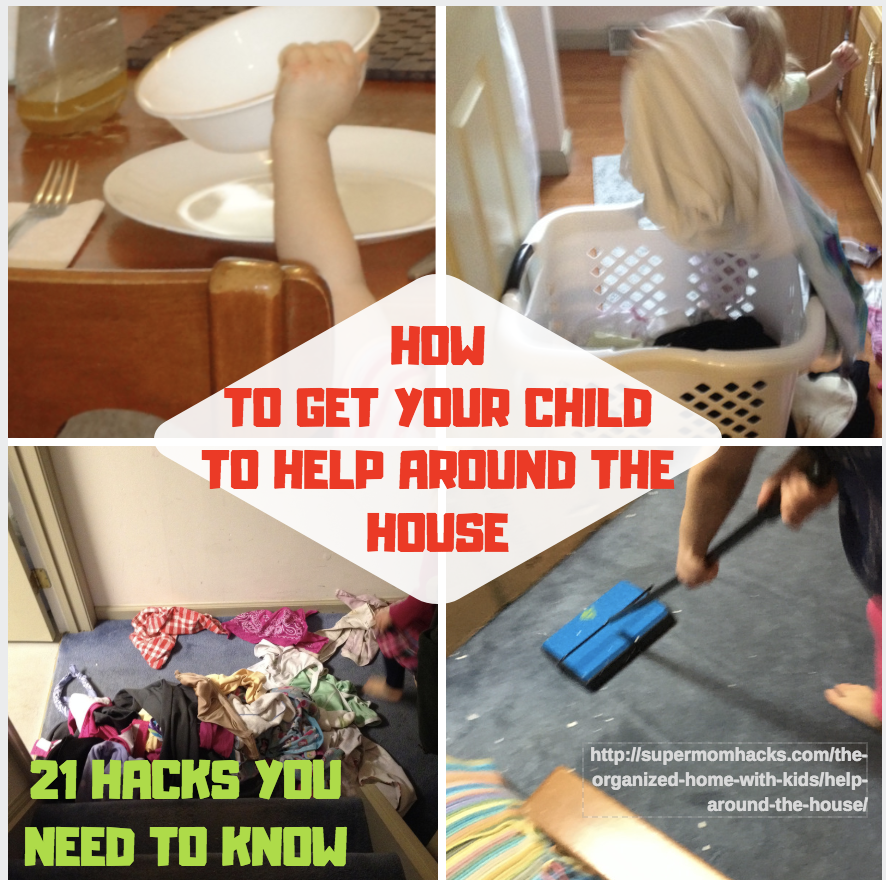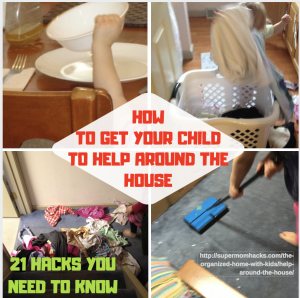 21 Hacks to Get Your Child to Help Around the House
1. Start from birth
Babies like to mimic grownups. You can capitalize on that.
Next time your baby hands you something, instead of just smiling, thank them for being so helpful by handing you their toy. Three's no reason they can't start to associate "thank you for being so helpful" with a smiling parent from their earliest days.
2. Work "help" into your day
My mother rarely set aside her chores in favor of "playing" with me and my brother when we were infants. And that was fine. She just powered through her housework. In the process, she taught us to help around the house (as well as with the yard and garden), one chore at a time.
One of my earliest memories of "helping" my mama was folding laundry with her when I was maybe 2. So one of the first things my girls "helped" me with is sorting and then folding the laundry. Even when Essie was an infant, two-year-old Kimmie could help collect the dirty laundry, separate her clean clothes from mine, and "fold" cloth diapers in half.
3. Capitalize on "help" with siblings
Little ones LOVE to "help" with a new baby. So let them, as much as possible. When Kimmie was two and Essie was an infant, Kimmie helped a LOT:
bringing bottles from the kitchen to Mama or Daddy
bringing me my nursing pillow or stool
getting Essie's pacifier or toys when they fell
handing us a clean diaper
distracting her sister at changing time
rocking her sister in her cradle
When kids this little help out, reinforcing it with a smile and a sincere thank-you will, again, set them up for good habits later.
4. Set a "basic standards" example
What are your core "basics" of cleanliness in your house? Making beds every morning? Wiping down the counters at least three times a day? Putting away shoes and coats as soon as you enter the door? Getting clothes into the hamper instead of leaving on the floor? Picking up your "toys" before bed every night? Not leaving projects spread all over the table?
Whatever these standards are, you can't expect your kids to learn to follow them if YOU don't.
So make sure you lead from example, at least by the time your child is one. (Yes, I know, that first year can be tough, especially where home tidying is concerned!) It's hard to get them to do something when they see you NOT doing it regularly,
5. Increase responsibilities with age
If your child is physically large enough to do a job, there's no reason they can't "help" with it, if not do it themselves. The bigger they are, the more ways they can help around the house. Increasing responsibilities with age goes hand-in-hand with increasing privileges in other areas.
My girls have been setting the table ever since they could reach the top of it. Now that they're both old enough for this chore, they take turns doing it every night we're home. Likewise, making their own beds has been a given for them since they started "big-kid school" (by which time they were old enough to reach the bed).
6. Keep standards attainable
At the same time, expecting a child to make their own bed when they can't REACH the bed is not very realistic. So start out slow, and keep things age-appropriate. For example,
A child who can stand and walk could learn to make a toddler bed, or could learn to help pull up covers on a "big kid" bed when all they can reach is the edge of the bedspread hanging down.
As the child gets taller, they can gradually take over more of the making with less grownup "help."
One thing we do to help our girls with this: Their beds are in the corner. Whenever we swap the sheets, we always tuck in the sheet and bedspread all along the wall side. This way they only have to "make" one side, which is easy to do because the other side is tucked in.
7. Exploit toddler/preschooler eagerness
There's a golden window between infantdom and pre-kindergarten when kids want to "help" with everything, and LOVE imitating grown-ups. Let them!
Find creative ways for them to help. Have them carry utensils over to the table, or help empty the dishwasher. Teach them to dry dishes and sweep the floor.
With some out-of-the-box thinking, a two-year-old can even get an entire load of laundry from the second floor to the basement without help. Unless you live in an apartment complex with shared washing machines, there's no reason a child can't throw dirty clothes down the stairs, a few pieces at a time. My girls still LOVE to get laundry down the stairs this way.
8. Have a soundtrack
Of course, one thing little kids often DON'T like to help with is cleaning up their own toys. Who can blame them? – it signals the end of play time.
There are lots of ways you can make clean-up time easier. For the littlest ones, figure out what clean-up song they hear at preschool or daycare, and sing them the same song when it's time to put things away. Slightly older kids might enjoy cleaning up to some of their favorite music.
You can also use the song as part of a clean-up time challenge – e.g., "I wonder if we can get all the blocks put away before the end of this song?"
9. Roll the dice
Another strategy I found really useful when my kids were preschool age is playing with numbers as part of cleanup. One strategy that I remember using with the girls when they were three and five was using their ages as a guideline. For every three things that Essie picked up and put away, Kimmie had to pick up five – and Mama had to pick up eight (3+5). AND we each had to try to beat the other two in the process.
Another popular version of this strategy was rolling the dice. We'd each take turns rolling a die. Say Kimmie rolled six; we'd all race to pick up six items. Then Essie would roll a three, and we'd all see who could put away three things the fastest. Then it was Mama's turn to roll.