Moving is one of the most stressful experiences people can undergo. There's just something unnatural about packing up everything we own, and locking the door to our former home for good. But the actual packing process has got to be my least favorite part. My recent post about streamlining this process through advance planning really seemed to resonate with people – so much so, that I'm writing this follow-up post on my top packing-to-move hacks.
RELATED POST: Stress-Free Moving Tips You Need
This list covers my all-time best hacks for taking some of the stress out of packing and moving. No, I can't promise that it will make the whole experience 100% stress-free. Nor can I promise that you won't get that uncomfortable feeling in your stomach while your entire life goes into boxes. But I promise you that using these hacks will make the process easier for you than it otherwise would be. So here's to a packing-to-move process that is as stress-free as possible!
This is PART FIVE of the series "A New Home In The New Year." For all the posts in this series,
click here
.
This is a collaboration post. However, please know I stand behind everything written here, and only include links to products/services/resources I'm willing to recommend personally.
My Top Packing-To-Move Hacks
1. Get a notebook!
I've said it before, I'll say it again: you NEED a moving notebook. Or moving section of your Bullet Journal, or file-on-your-phone, or whatever will work for you. And a system for labeling boxes.
RELATED POST: Stress-Free Moving Tips You Need
RELATED POST: How To Start A Bullet Journal, The Easy Way
Learning about making a packing system was the most game-changing packing-to-move hack I've ever encountered. It's really quite simple:
In your moving notebook, make a running list of each box, by number (or letter or whatever system you prefer, e.g. K-1, K-2, etc. for boxes of stuff that go to the kitchen in your new home).
Every time you pack a box, add that box number to your notebook list and number the box itself. On the box, also write the name of the room it's going to in your new home – NOT the room it came from in your old home.
As you pack the box, keep a running list in your notebook of what's going into it.
As you unpack things on the other end, you can cross off each box on your list as you go. (Or each item as you remove it, if you're just rooting around for a single item you need without time to unpack the whole box.)
2. Pack the nonessentials first
If you're selling your current home, you should have already started this process as part of staging. Depending on how much stuff you have, whether your current home is on the market, and the logistics of your move, you may be able to just stack boxes in your garage or basement. Otherwise, rent a storage unit. Start small, and upgrade to a larger one (or get a second) as your moving date gets closer and your packed-stuff pile expands.
RELATED POST: How To Get Your House Ready To Sell
Here's a list of ideas to get you started:
Out-of-season clothing, and clothes/toys your kids haven't grown into yet
Holiday decorations
Lesser-used items in your kitchen
Knick-knacks and decorative items
Books, games, toys, etc. you and your kids can live without for awhile
Out-of-season sporting and recreational equipment
Crafting/hobby supplies you won't have time or need for until you're resettled
Larger equipment/items you can live without for awhile
As you're packing these low-priority items, think long and hard about whether you need them in your new home. Time permitting, there's no opportunity like a move to sort things out and eliminate things your life has outgrown. For example, if you're moving from a super-cold and snowy northern climate to the desert southwest, your kids probably won't need those sleds and snowsuits anymore (sad though that may seem), And getting a jump start on packing will give you a sense of accomplishment, thereby making the rest less overwhelming.
3. Ask for help
Never be afraid to ask for help, especially not when you're dealing with something as nerve-wracking as moving. Ask friends. Ask coworkers. Ask family members. Hire some kids from the neighborhood. Treat them to pizza, sandwiches/subs, soft drinks, beer, dinner out, whatever fits.
Most people have moved at least once in their adult life. They'll have sympathy and be willing to help for a few hours if they can. Teenagers in the neighborhood who could use some extra spending money are also a great source of inexpensive help; put out a post on your neighborhood listserv, or ask friends with teenage kids.
My husband's coworkers are exceptional in this regard. I cannot count how many of them we've helped move over the years. Whenever a new colleague comes to town, his entire department pitches in and helps them get settled. When two of his coworkers married, I remember helping them pack up their old houses and move into their new home, over the course of several weeks. It's just the culture of the department, and I was so grateful for it – because when we moved into our own joint home, they all came to help.
Ask for it, and you will definitely get it.
4. Know when to get the pros in
Even if you have an abundant supply of friends available to help you move, there are times when you'll want to hire the pros for at least some of the heavy lifting. Examples include:
having a lot of larger items (full-sized refrigerator, other home appliances, etc.) and/or valuable furniture such as antiques or heirlooms;
having delicate items such as a piano or grandfather clock, where specialized expertise is needed to keep the item from being damaged during transit;
having a lot of stuff and too little time to pack it in; and/or
having an ample moving budget if you're relocating for work.
Search online for some local movers, or check with friends/family/coworkers who've moved house in your area recently. you should be able to find someone to help you out with both the packing and the transportation.
5. Plan for your last night and Moving Day
As you're packing things up, do so with a constant awareness of the last 24 hours in your old home, and the first few days and weeks in your new home. (Or in some cases, the first few months, depending on whether you'll be in temporary or transitional housing at all.) Make running lists of these items in your moving notebook, so you don't forget anything and can jot down/check off things as they come up.
The logistics of this will vary widely depending on the scope of your move. Are you moving cross-town or cross-country? Will your belongings be going directly into your new home, or into storage for several months (or even years, perhaps for a temporary relocation overseas)?
a) What will you need
last

?

Think through what you'll need for the last 24-48 hours before you leave. My last night in my single-gal condo before handing over the keys to the new owner, I was 6 months pregnant. Therefore I was in the company of Dear Hubby, my mama, and my brother Evan (who kindly helped DH and me with the move, given my limited abilities). We'd packed the UHaul with everything but the paper goods for our last meal, the last of the food from the freezer, and enough sheets/towels/mattresses to see us through. The mattresses were the very last things to go into the van the following morning.
b) What will you need
first

?

Also think about what you'll need first in your new home, and set those things aside. For a cross-town move, this is easy. Our bed was one of the last things to leave DH's old house when moving to our current home, along with the sheets and towels we'd just used. So it was easy to set up later that day, for our first night in our new home.

For a cross-country move, you'll need to plan a little more carefully, and make sure you can easily find those boxes with your sheets, towels, and leftover paper goods – as well as the suitcases/bags with your toothbrush, undies/clothes, etc. And don't forget about those essential kitchen items (cutting boards? a frying pan and/or saucepan? cooking utensils? your microwave, toaster, and/or coffee maker?) that you'll need for those first meals in your new home.
c) What will you need
next

?

And be prepared for what you'll need beyond the first 24 hours post-arrival. The last time we moved, I was 8 months pregnant with Kimmie. We had no idea if I'd make it to my due date (I was already on modified bed rest due to preeclampsia), so everything Baby-related got specially labeled and set aside. That way, we could set up our baby gear in the master bedroom first thing, and be prepared no matter when our firstborn decided to arrive.
Your turn:
What top packing-to-move hacks did I miss? Let us know in the comments!
If you enjoyed this list of my top packing-to-move hacks, why not share it with others by pinning this image?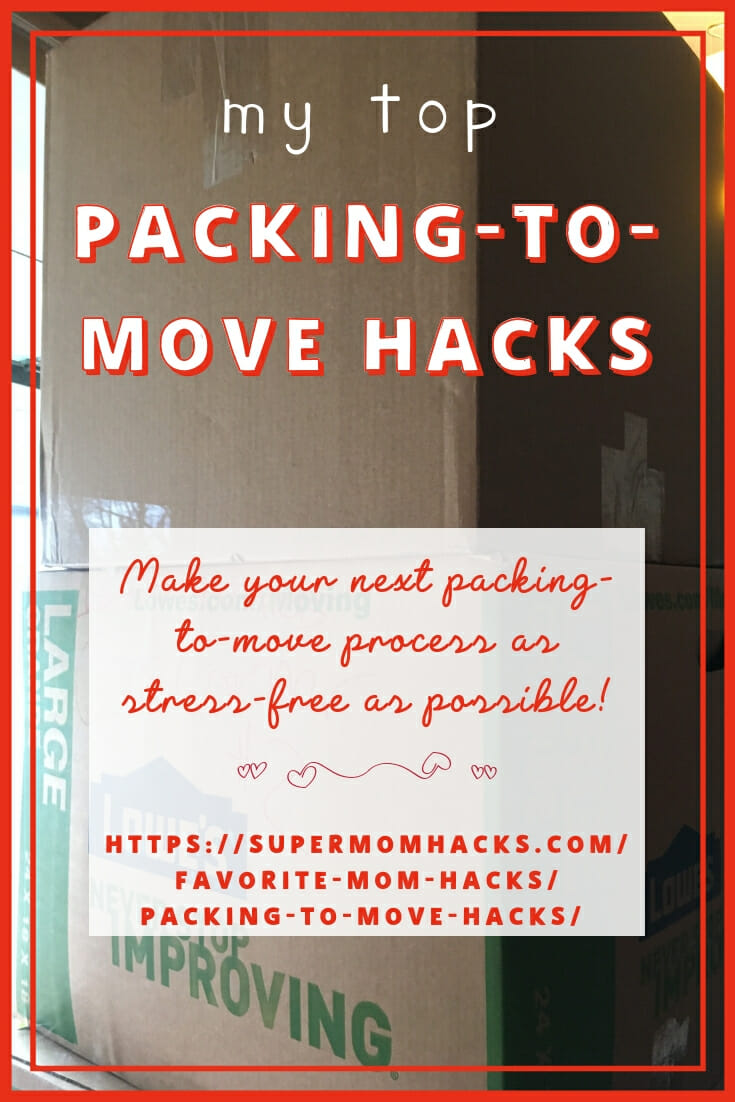 NOTE: This site contains affiliate links. I may earn a small commission from any purchases made through affiliate links, at no additional cost to you. For more information, please read the full disclosure/privacy policy.