Old-Fashioned Baked Apples Recipe: Perfect Prep-Ahead Holiday Dessert, Easy and Delicious
There's nothing like the scent of oven baked apples cooking to make your home smell warm and cozy at the holidays.
"Baked" apples are a ten-minute everyday breakfast treat in our home, thanks to the microwave. But when I'm making a lot of baked apples for company, or for a special occasion like Christmas morning breakfast, I do them the old-fashioned way: in the oven, just like my mama did when I was growing up.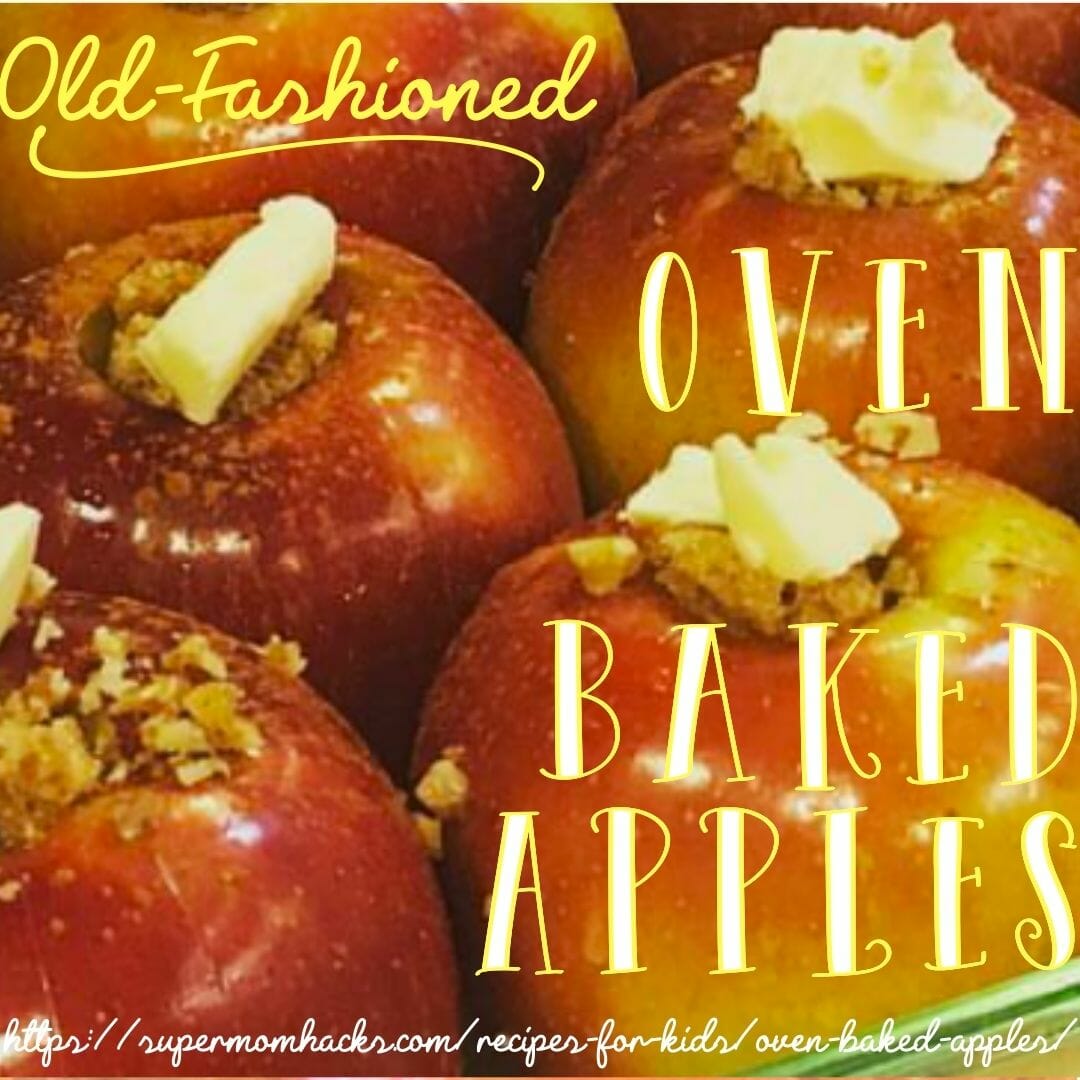 Originally published Dec. 18, 2017; last updated October 2020.
But just to be clear, this does NOT mean you'll need to spend your Christmas morning slaving away in the kitchen! As I've advocated here and here, one of my best Christmas hacks involves prepping ahead whenever possible:
When I made oven baked apples this past weekend for out-of-town guests, I prepped everything after lunch on Friday, stored the baking dish in our 40-degree F garage until bedtime, then popped the dish into the (cold) oven just before bed.
Next morning when I got up early to start the coffee, I turned on the oven. By the time everyone was up and the grownups had drunk their first cup of coffee, the apples were baked and ready to eat.
If you'd rather bake them ahead of time: When my mother used to make these, she often baked a week's worth in individual dishes over the weekend, covered each dish with plastic wrap, and reheated them individually in the microwave as needed. (Baking them in a large glass dish with a snap-on lid, like

Pyrex baking dishes

, works too!)
RELATED POST: Christmas Morning Hacks: How to Have Your Smoothest Christmas Ever
RELATED POST: Gift Ideas to Help Mom Be More Productive
So if you're looking for a special breakfast dish for Christmas day, or for a lazy winter morning, all that stands between you and this yummy treat is a little advance prep work. If you prepare oven baked apples the night before, and your oven has a timer option, you can even set the timed bake option when you put the dish in the oven before bed. That way, you can wake up to the delicious smell of cinnamon and apples baking!
Old-Fashioned Oven Baked Apples Recipe
Prep time: 15-30 min, depending on how many you're making; cook time: 45-60 min.
What you'll need to make this Old-Fashioned Baked Apples recipe: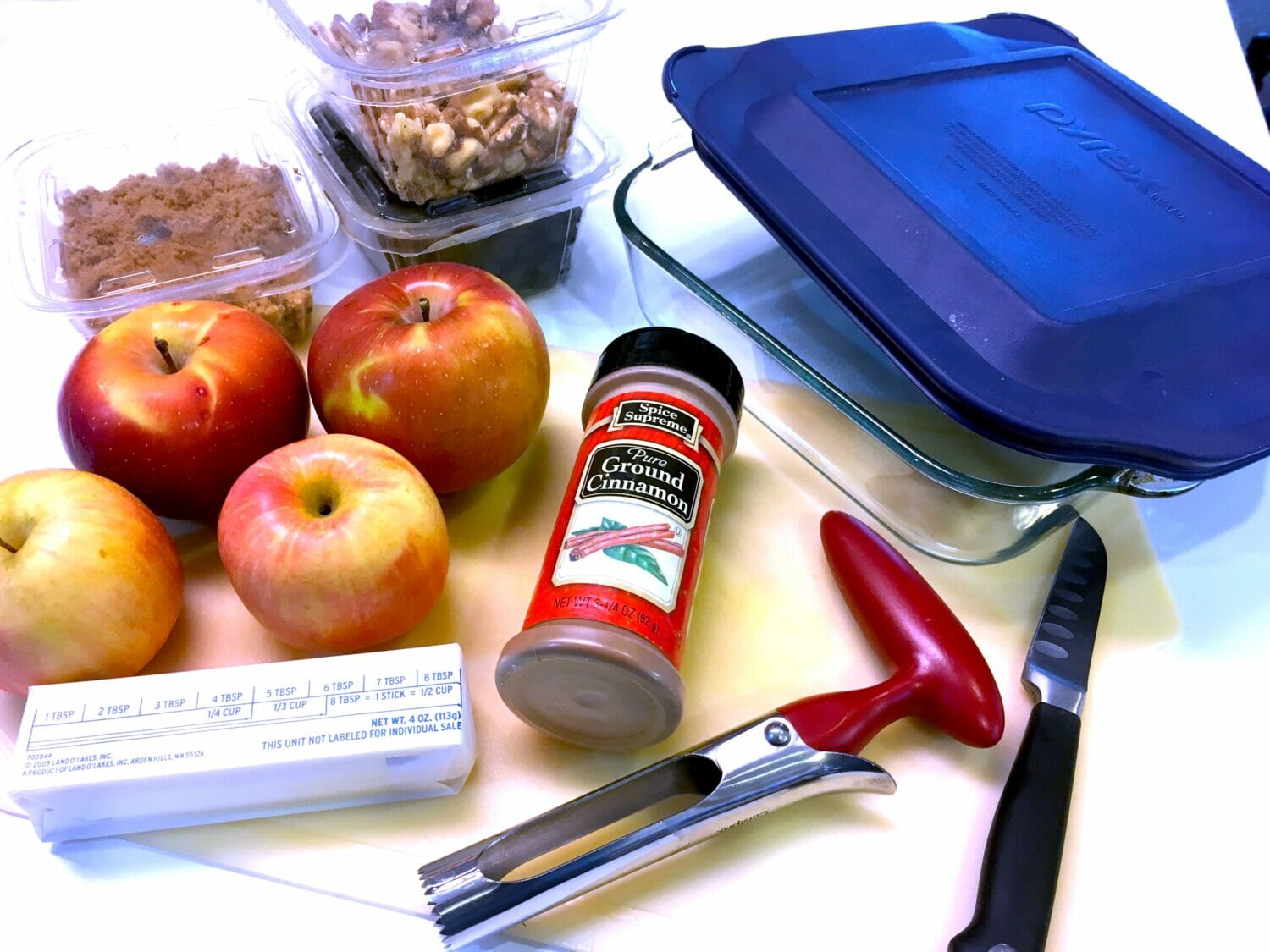 The basic idea for making old-fashioned oven-baked apples: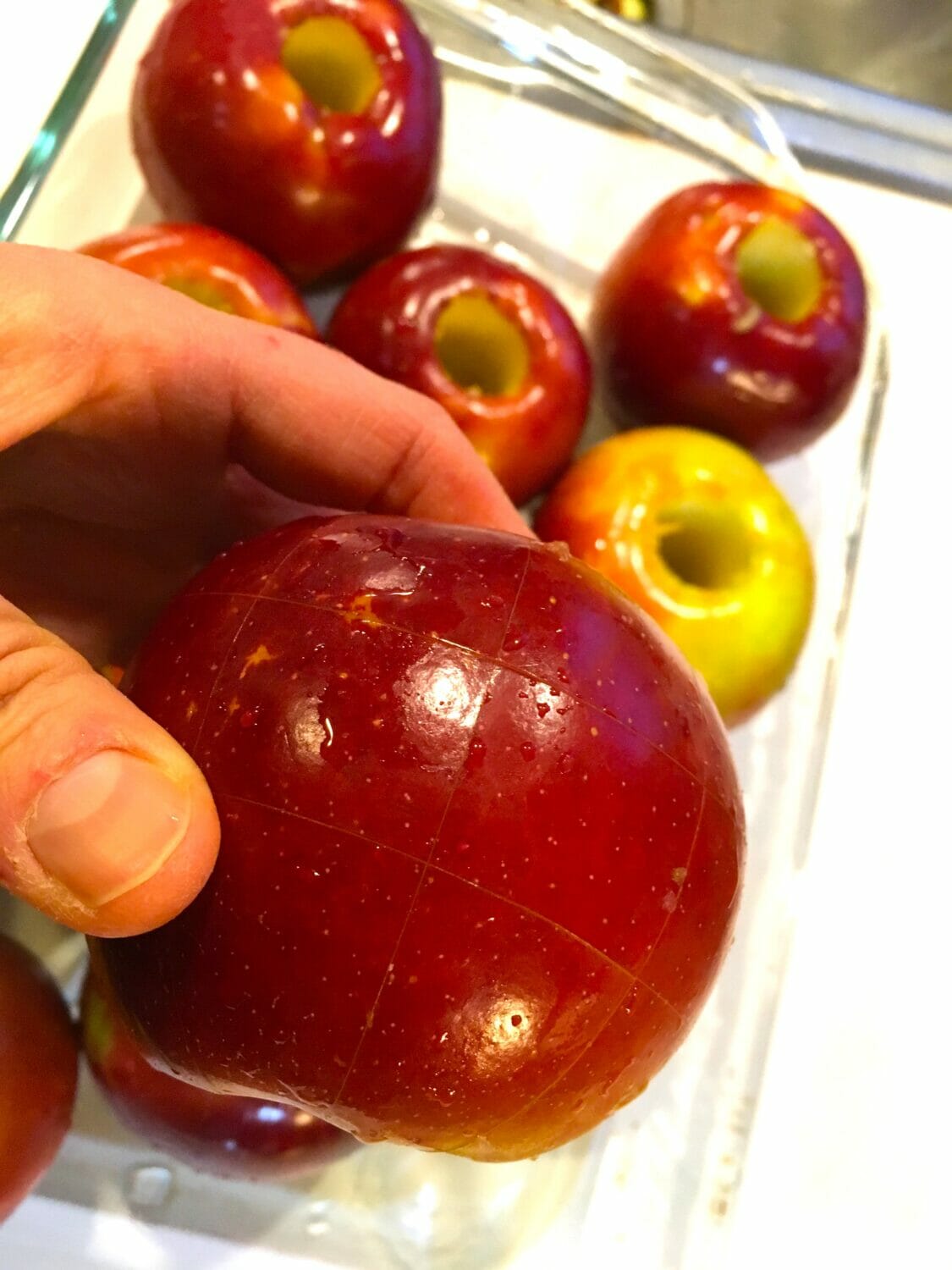 Wash the apples. Then, unless you're using individual baking dishes, it's a good idea to arrange the apples in the larger baking dish ahead of time to make sure they will all fit snugly in. (This is especially important if you're using local seasonal apples, which can vary greatly in size and shape.)
Core the apples. One at a time, cut a scored pattern on the outside of each apple: First, make small cuts from top to bottom all around the sides, as if you were going to cut it into wedges (but don't cut much deeper than the skin!). Then make a few scores horizontally around the circumference of the apple (as if you were cutting the cored apples into 3 or 4 large, thick rings).
Once the apples are cored, scored, and in the baking dish, fill each core 1/2 to 2/3 of the way full with raisins. (Or fill loosely to the top if omitting the nuts.) Fill the core holes the rest of the way with chopped nuts.
Press a small amount of brown sugar (1/4-1/2 teaspoon each) onto the top of each core hole. Then top each core hole with a small pat of margarine (if you're making them vegan) or butter (1/2-1 teaspoon).
Dust the surface of the apples with a light sprinkling of cinnamon sugar. Carefully pour a little water into the side of the baking dish(es) so that there is approximately 1/2 inch (1 cm) water in the bottom of the baking dish(es).
Bake, uncovered, in a preheated 350-degree F oven for 45-60 min, or until apples are thoroughly soft. Serve the oven baked apples warm from the oven, or reheat in the microwave if needed. (If baking ahead in individual dishes, you can reheat each baking dish separately in the microwave.)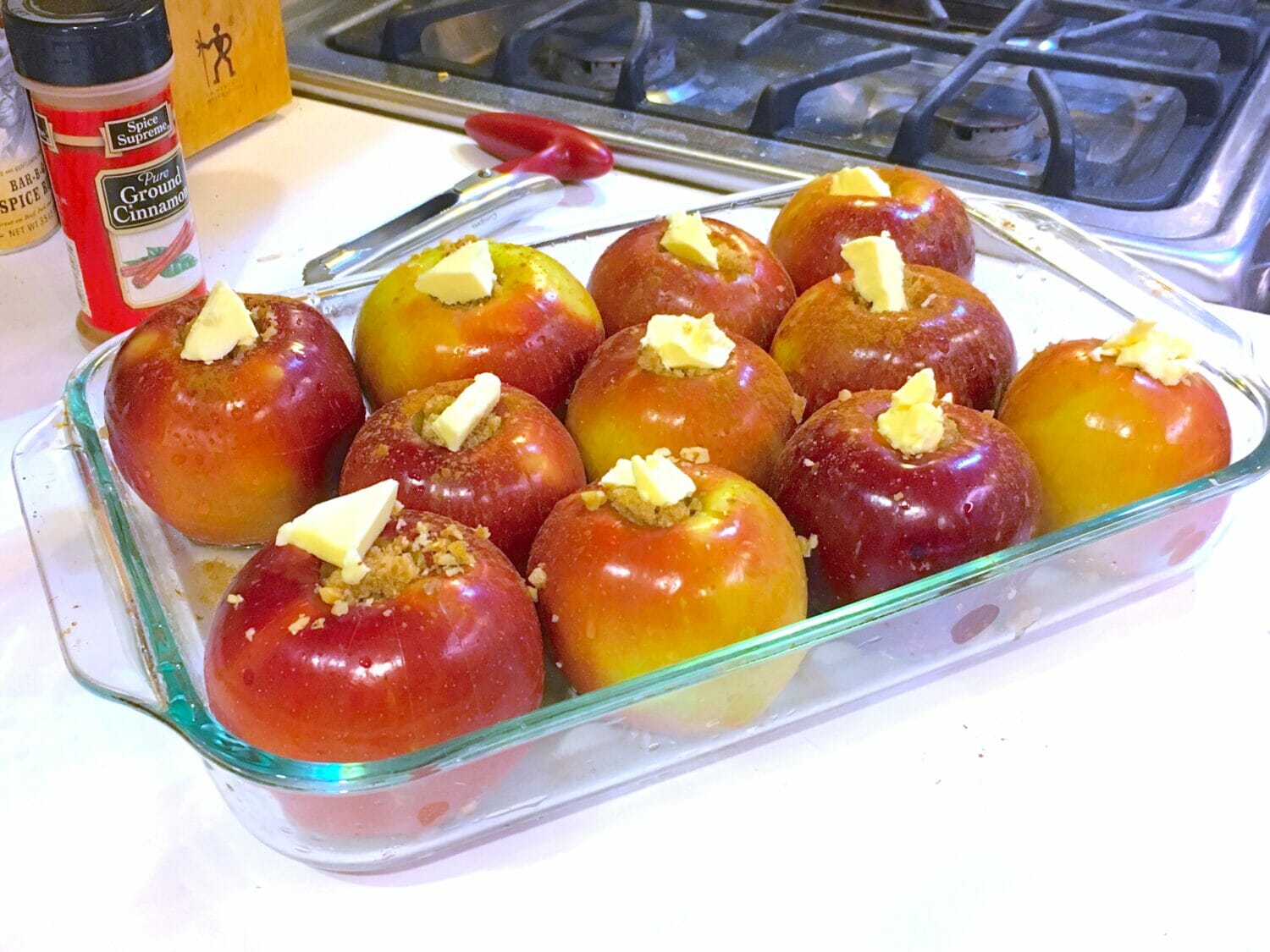 Mix it up: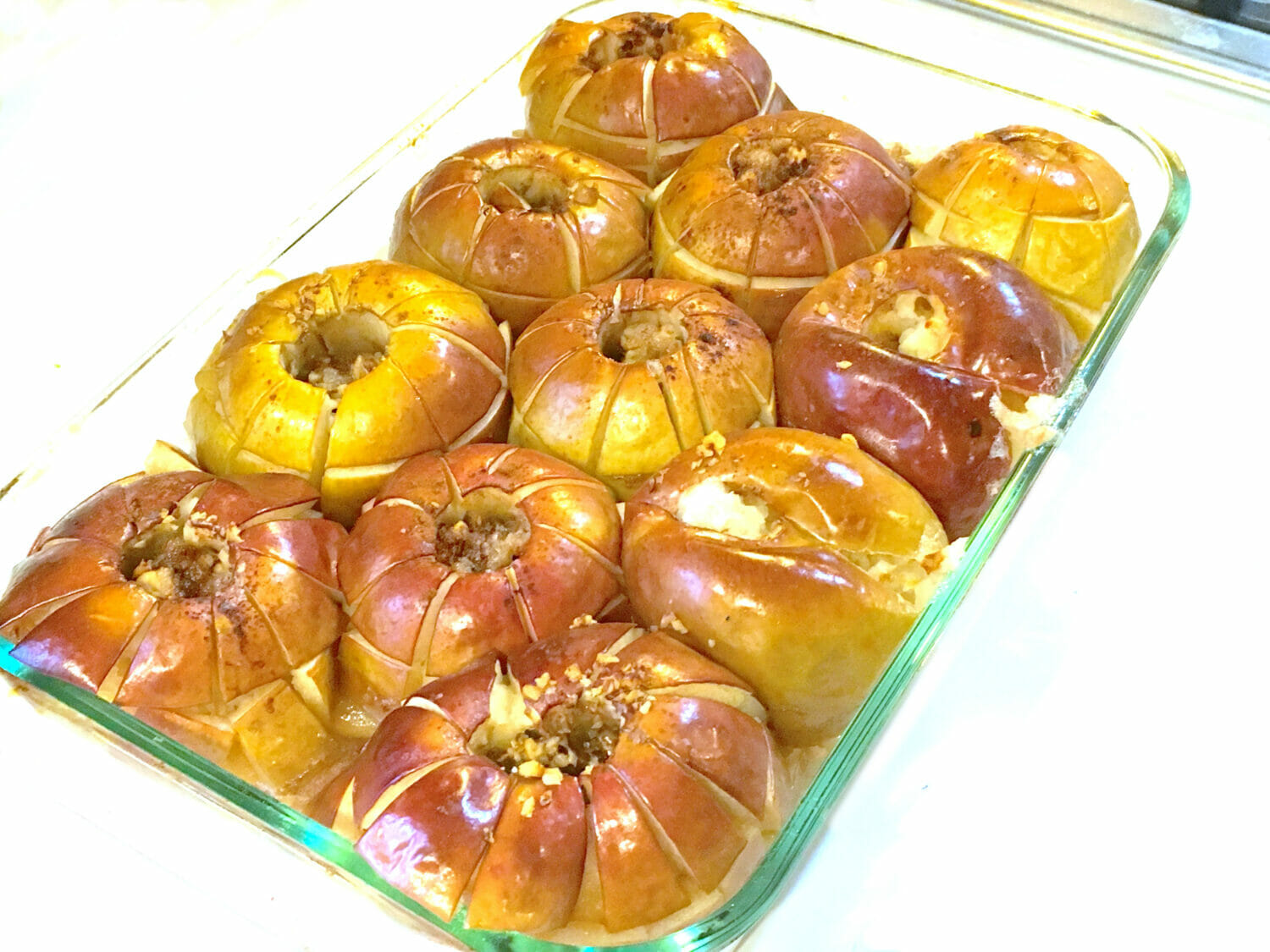 As noted, the walnuts are totally optional. You could also use different nuts (slivered almonds, chopped peanuts, etc.) if you'd prefer.
Feel free to try other things in the core in lieu of (or along with) the raisins – chopped dates, sweetened dried cranberries, etc.
You can also skip the brown sugar while baking, and top with maple syrup when serving.
To serve as a healthy yet satisfying dessert instead of a breakfast item, top each warm apple with a scoop of vanilla ice cream or dairy-free frozen dessert.
Have you made old-fashioned oven baked apples before? Does your family have a secret ingredient? Let us know in the comments!
Like this recipe? Please share it with others by pinning this image!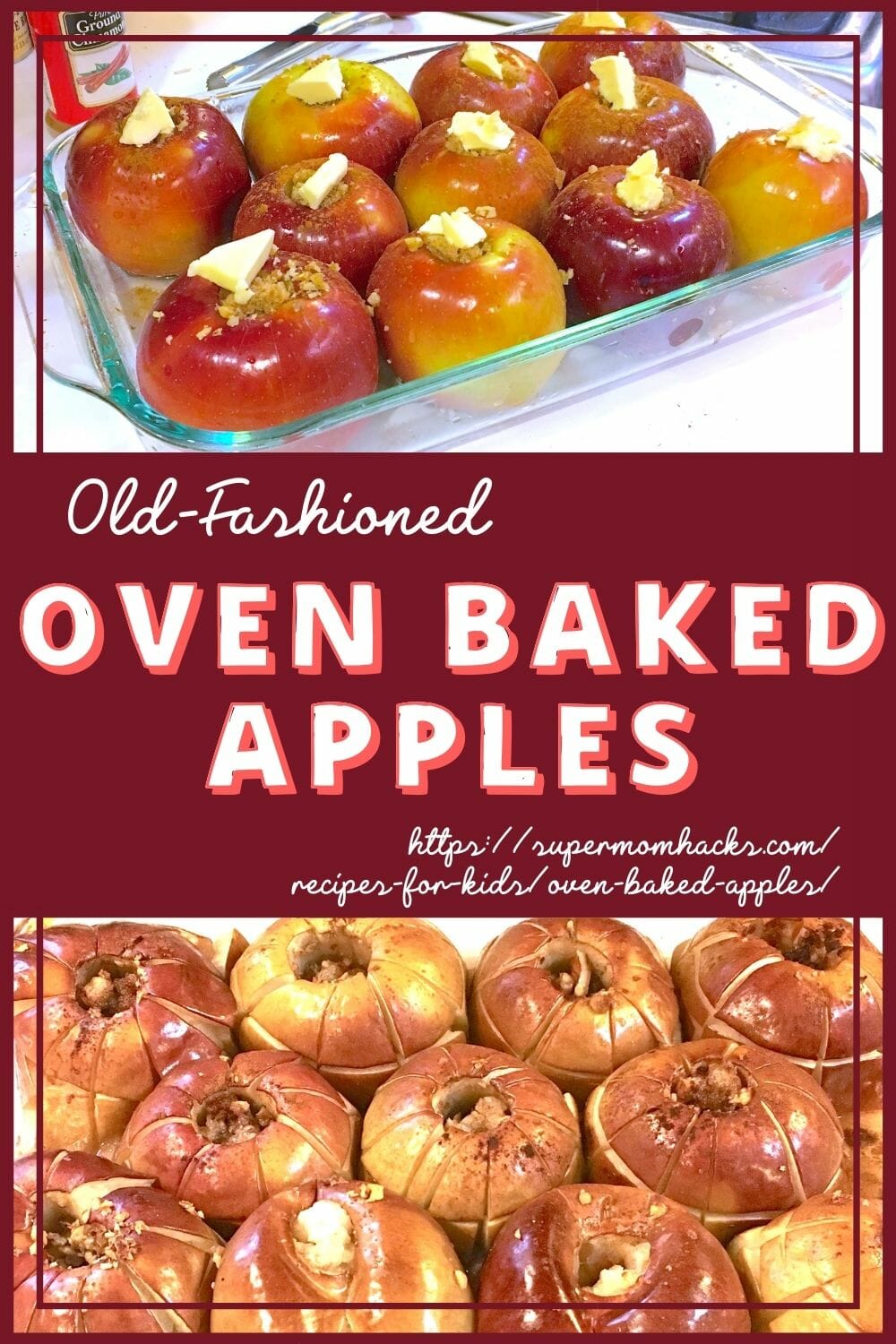 NOTE: This site contains affiliate links. I may earn a small commission from any purchases made through affiliate links, at no additional cost to you. For more information, please read the full disclosure/privacy policy.