Warm your tummies on Black Friday with this kid-friendly Skinny Turkey Tetrazzini:
For the first time in the 15 years I've known my now-husband, we get to host Thanksgiving dinner this year! Which means we get to benefit directly from the second-best part of Thanksgiving dinner, after the meal itself: enjoying the leftovers!
But since my girls aren't so keen on leftover meat unless it's pork, we have to reinvent our leftover meat products into other things. And since they love Turkey Tetrazzini, but I'm not as keen on the heaviness of most versions, I reinvented this Thanksgiving leftovers classic into a version that's lighter and healthier (but just as tasty!).
This recipe takes a bit longer to plan than the 30 minutes I prefer for a quick weeknight meal. But it's perfect for putting together during the long Thanksgiving weekend, and is a great way to feed those out-of-town guests who are visiting for the holidays.
Add a nice salad, like my Easy Caesar Salad, and some leftover pie (or my Oven Baked Apples) for dessert, and you're set!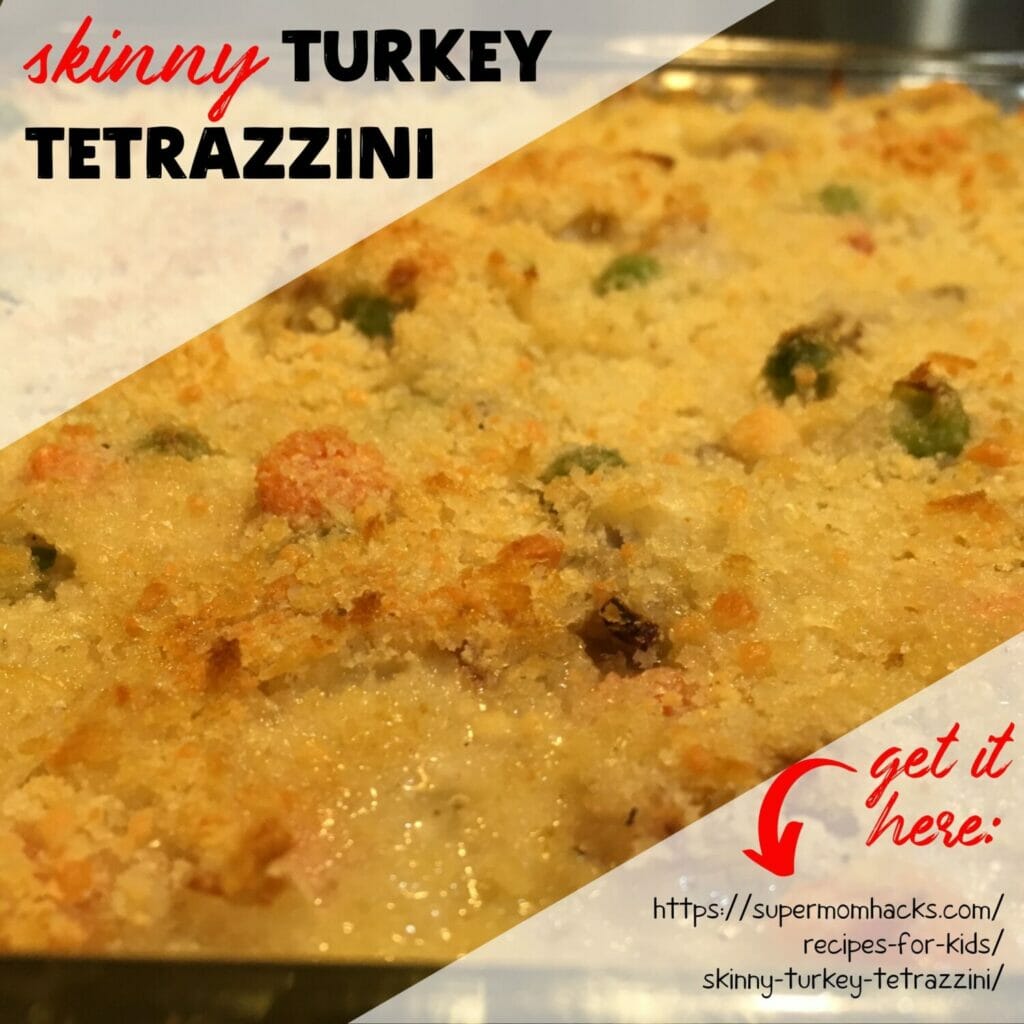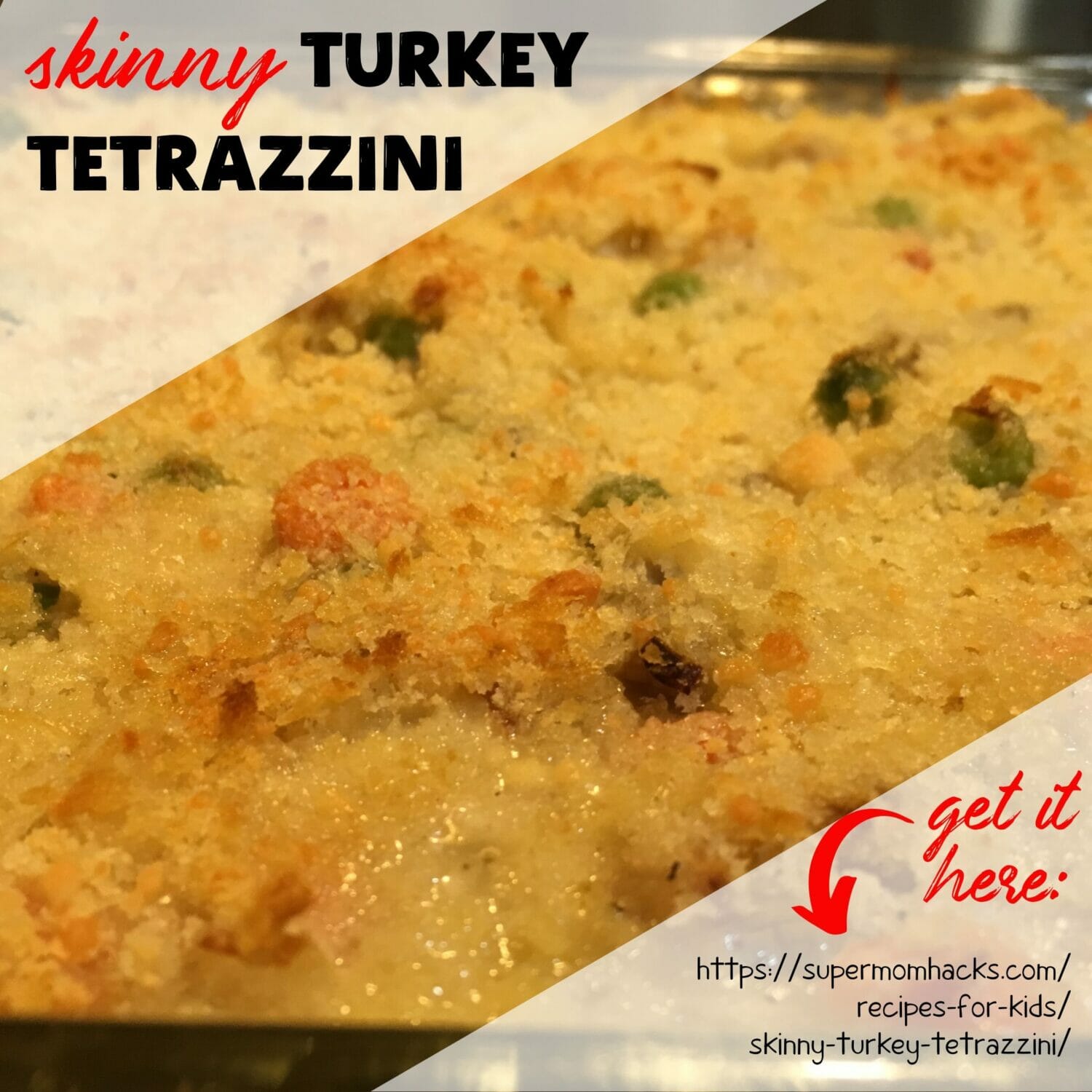 Kid-Friendly Skinny Turkey Tetrazzini with Thanksgiving Leftovers
Prep time: Approx. 45 minutes / Serves 8-10
TIP: Don't have a houseful of company to feed? Instead of making one large casserole in a 9×13 dish, **divide the filling between two smaller casserole dishes with snap-on plastic lids. Eat one now, and freeze one for sometime in December when things start to get crazy!
What you'll need for this healthy Turkey Tetrazzini (see below for alternatives to * items):
8 oz pasta (spaghetti, egg noodles, fetuccine, elbows, etc.)*
Nonstick cooking spray
4 T (1/2 stick) butter, divided*
1 large onion, chopped
1 stalk celery, chopped
8 oz fresh mushrooms, cleaned/sliced (or 2 4-oz cans, drained)
Salt and pepper to taste
1/4 c. white wine (optional)
Approx. 2 cups leftover cooked peas, diced carrots, corn, frozen mixed vegetables, etc.
1/4 c. flour*
1-2 cans (14.5 oz) low-sodium chicken broth*
1 1/2 t nutmeg
2 t dried (or 2 T fresh) thyme
Approx. 2 pints light sour cream*
2-3 c. cooked leftover turkey, chicken, or tofurkey, chopped into 1/2-inch pieces
1/2 c. panko bread crumbs*
1/4 c. grated Parmesan cheese
Making Turkey Tetrazzini Healthy – The basic idea: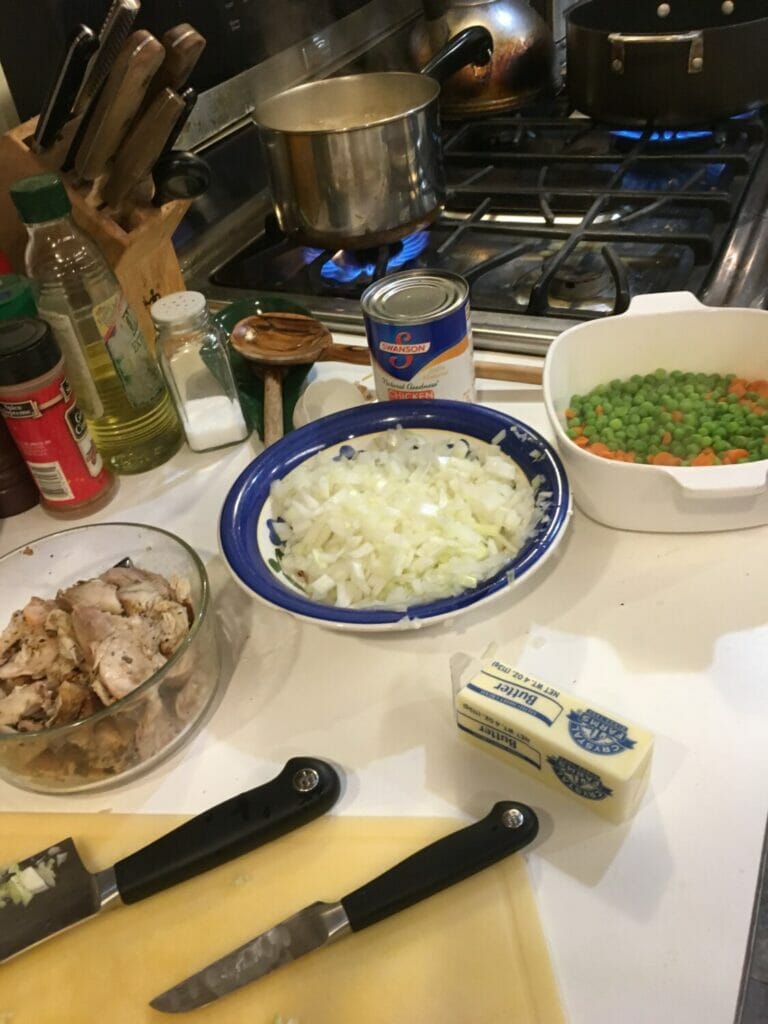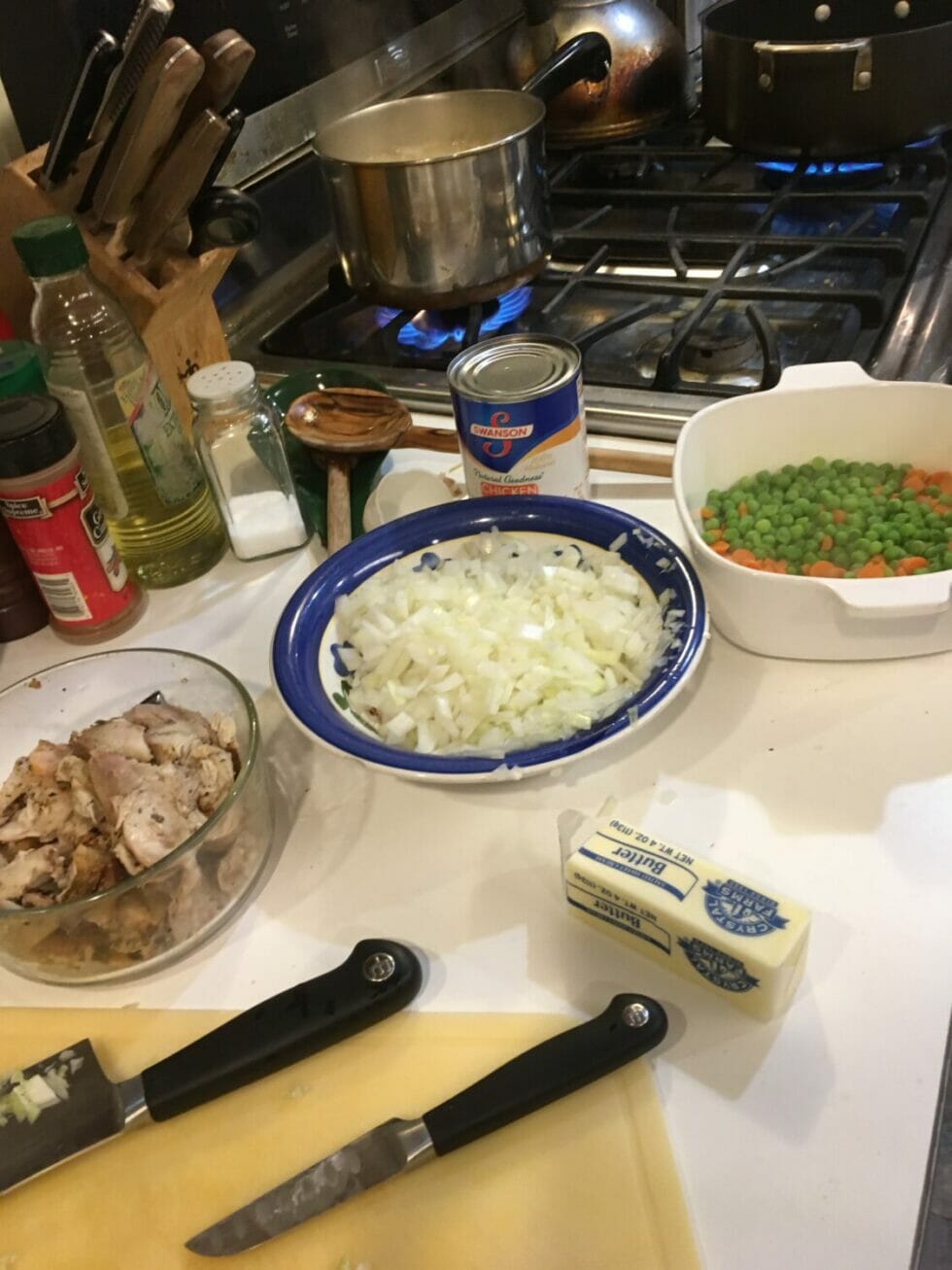 Set oven rack to middle position. Preheat oven to 450 degrees F.
Spray a 9×13 glass casserole dish (or two smaller casserole dishes, if you prefer) with nonstick cooking spray; set aside.
Heat pasta water, and cook pasta according to directions. (If you're using spaghetti or other long noodles, break into half as you're putting it into the water.) Drain pasta (saving 1-2 cups of the cooking water as you do so), rinse, and set aside.
While pasta is cooking, heat 2 T only butter in nonstick skillet. Sauté onions, celery, and (if using fresh) mushrooms over medium heat, stirring frequently, 12-15 min. until softened. (If using canned mushrooms, add in toward the end.) Add in white wine toward the end as well. Add salt/pepper to taste. Remove vegetables from cooking pan, into a large mixing bowl.
While the pasta and onions/celery are cooking, reheat cooked vegetables slightly for a few minutes in a microwave-safe dish. (Or, if you don't have enough leftover cooked vegetables,

cook some raw diced carrots

, frozen peas, and/or frozen mixed vegetables in the microwave.)
Melt remaining 2 T butter over low heat. Gradually stir flour into melted butter to form a roux. With a whisk, slowly stir in one can of broth. Slowly add approximately 1 c broth from the second can (OR that reserved cup of pasta water, if you only have one can of chicken broth on hand). Cook for a few minutes, until the sauce starts to thicken slightly. Remove from heat; stir in nutmeg and thyme.
Stir 1 1/2 pints (3 c.) light sour cream into the sauce. Add salt and pepper to taste. If the sauce seems too thick, stir in a little more broth. If it seems too runny, stir in a little more sour cream.
In a large mixing bowl, combine sautéed vegetables, reheated vegetables, and turkey. Using kitchen shears, coarsely cut cooked pasta into bite-sized pieces if needed; stir into mixing bowl.
Pour sauce over turkey-pasta-vegetable mixture; stir thoroughly to coat. Check seasonings one last time; adjust as needed.
Spread mixture evenly in greased casserole dish**.
In a small bowl, combine panko and Parmesan. Sprinkle evenly over surface of casserole. Spray the surface evenly with a light coat of cooking spray.**
Bake at 450 degrees 18-20 minutes, or until casserole is bubbling around the edges and top crust is starting to brown.
Serve warm; cool and refrigerate any leftovers.
Skinny Turkey Tetrazzini Gluten-Free, Vegetarian, Vegan – Mix it up:
Truly, any pasta or noodle should work fine for this recipe. I really wanted to do fetuccine or linguine, but when I surveyed the cupboards (as part of my

No-November efforts

to

eat from our pantry

), all I found was spaghetti. Lots and lots of half-used packages of spaghetti. So spaghetti it was!
*Can't do gluten? Substitute your favorite gluten-free pasta alternative and flour alternative. (Or even better yet,

cook up some spaghetti squash

and use that instead!) Vegetarian? Add in your leftover tofurkey and use vegetable broth instead. Need dairy-free? Substitute margarine for the butter, and your favorite dairy-free sour cream alternative.
And **one final tip for making this healthy Skinny Turkey Tetrazzini:
If you're going to split the contents in half and freeze one for later, DON'T put that second one in the oven right now!
Just ✅

cover it

, and date/label it with reheating instructions (reheat at 450 degrees F until heated through, bubbly around the edges, and topping is lightly browned).
When you want to eat it, thaw it in the refrigerator overnight, or on the counter if you remove it day-of.
Depending on whether it's thoroughly thawed or not, you'll need to heat it in the oven for anywhere from 30-60 minutes.
Keep an eye on it while it's warming in the oven, and cover the top loosely with foil if the top starts to get too browned before the casserole is hot in the center.
Like this kid-friendly recipe for Turkey Tetrazzini made healthy?
Then please share with others by pinning this Skinny Turkey Tetrazzini image!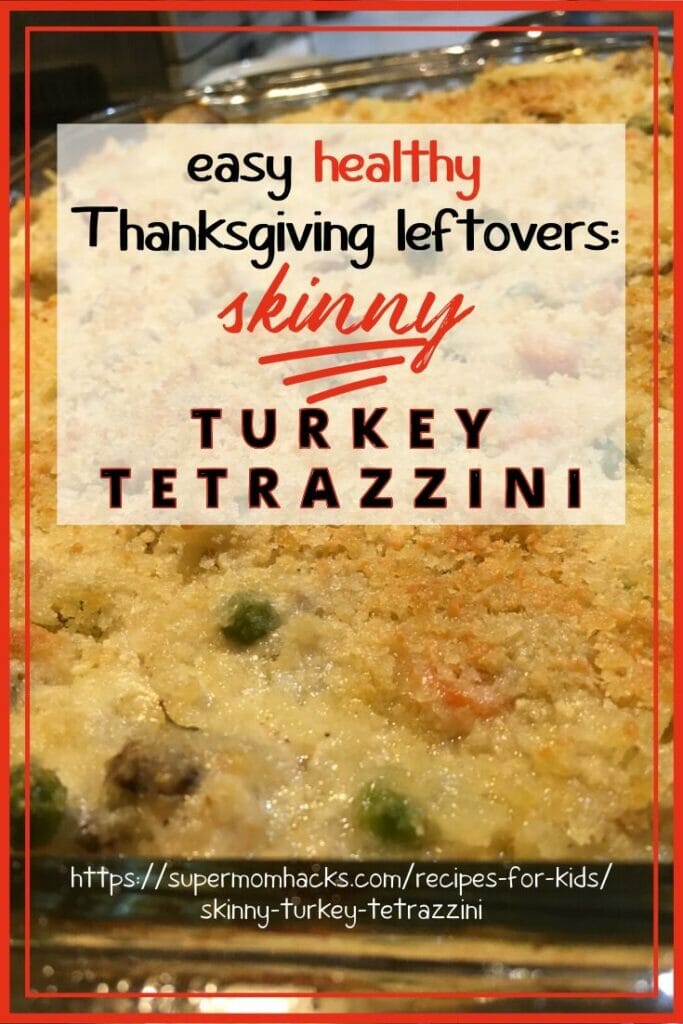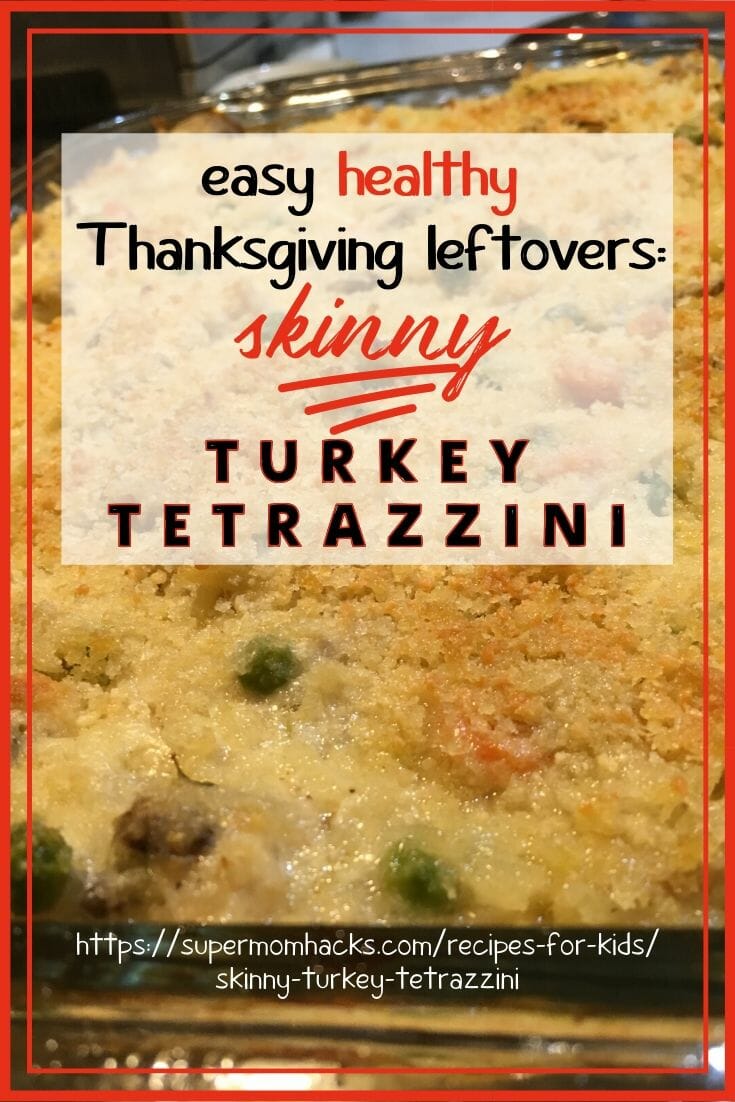 NOTE: This site contains affiliate links. I may earn a small commission from any purchases made through affiliate links, at no additional cost to you. For more information, please read the full disclosure/privacy policy.