So it's days from Halloween last week, and I'm dashing out to bulk up our candy supplies for trick-or-treating.
Just one problem, though: I had a hard time finding the Halloween candy, thanks to all the Christmas displays already out in full force.
Funny, I had the same problem when finishing back-to-school shopping – in AUGUST. Where I live, the last gasps of sweltering summer days are totally at odds with December decorations that prominently feature snow. But that didn't stop our local warehouse club from devoting floor space to them in the weeks before the kiddos were back to school.
And for the first time this year, I was bombarded with postcards and emails in OCTOBER, urging me to get something "just for me" before the holiday shopping rush begins. With a steep discount code attached, in case I had any hesitation.
Seriously?
It seems as if seasonal creep in the retail world becomes more pronounced each year. But a recent phone chat with my dear friend Maraiah inspired me to try something new this November: just say no. Her NO November is the answer to a lot of seasonal challenges I'm facing, and maybe you are too.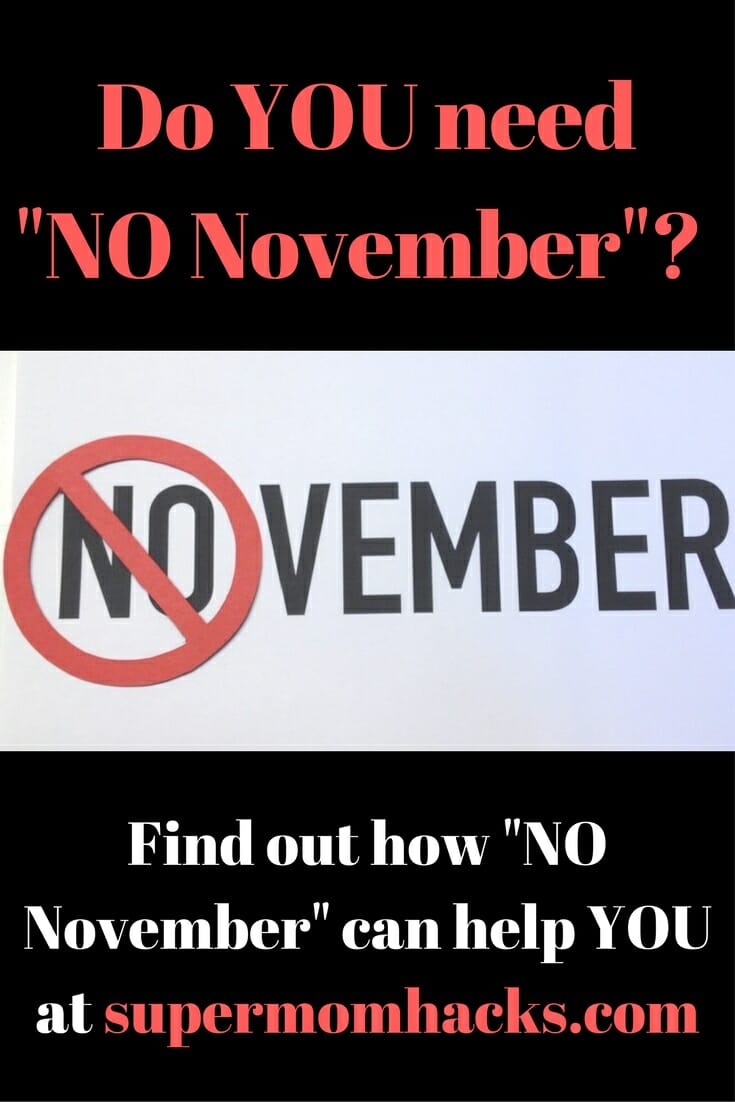 What is NO November?
As Raiah explained it to me, NO November is simple: NO November means "saying NO to buying more stuff we don't need:
I already have clothes; I don't need to buy myself more clothes.
We already have plenty of books; so even if we don't have THAT book, we don't need to buy it.
We don't need to buy any more pasta, unless we are completely out.
We don't need to buy more crackers when we've got several open, half-eaten boxes in the cupboard."
But NO November means more than just no spend November. Not only does Raiah's NO November cover excess purchases, it also helps with another weak spot she and I have been noticing: As the days get shorter and the darkness grows, we've both found ourselves sneaking in extra carb- and sugar-filled snacks, instead of sneaking in extra opportunities to exercise. Just-say-NO can cover excess snacking as well as excess spending.
How can NO November help you?
The way I see it, NO November can help with all sorts of year-end challenges:
It's an antidote to end-of-year season creep, and a way to resist buying stuff we don't really need (a good lesson for any time of the year!). Money spent is money spent, whether you got something for 80% off or not.
It's a subtle way to

start clearing the decks before the holidays

. By cleaning out the cupboards and not acquiring more excess "stuff" to put away before December comes, I figure we've already got a head start on storing the extra food and supplies we'll need for Christmas, when both sides of the family will move in for the week. Plus, this "less is more" mentality meshes well with my own efforts last year to live a pared-down December.
It's a super way to keep spending in check before the holiday shopping season begins. I usually try to line up Christmas gifts throughout the year, whenever something's on sale or I'm visiting someplace out-of-the-ordinary. But if you're someone who packs all their holiday purchasing into the sale weeks at year's end, this can help to make sure you don't already start your shopping with a big hole in your budget, or a big balance on your credit cards.
If you can be mindful of the "no" spirit even on those long, dark, dreary days when cookies and crackers seem like your best friends, NO November can also help to ensure that you don't blow your holiday calorie budget before December arrives.
What do you think?
I admit, one week into November and I'm still struggling with the "just say NO" mindset when it comes to those extra calorie-rich snacks I find myself craving. Moreover, those sale coupons I've already received are awfully tempting.
But I love the idea of taking this one positive step to counteract some of the challenges I face at year's end.
And best of all, it gives me a head start on "less is more" December, which I'm already looking forward to celebrating again this year.
What about you? What are your favorite strategies for making it through November, when there's not enough daylight and too much Halloween candy lying around?
If you enjoyed this post on how a just-say-no, no-spend November can help you, please share by clicking this image!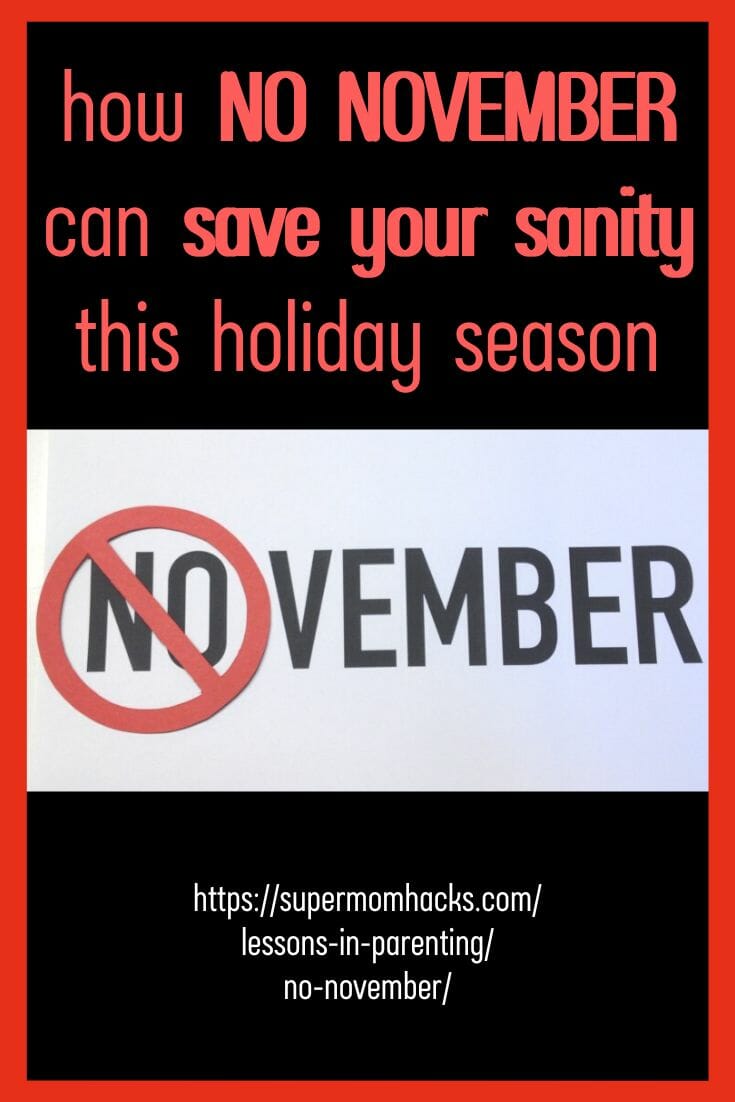 NOTE: This site contains affiliate links. I may earn a small commission from any purchases made through affiliate links, at no additional cost to you. For more information, please read the full disclosure/privacy policy.