Many of us start the new year by making some promises to ourselves. (Many people call them resolutions, but as longtime readers know, I prefer to set goals.) One of the more common goals people make, after the excesses of holiday food and drink, is to live a healthier and more active lifestyle. But many of us struggle to make and keep realistic fitness goals over the course of the year.
Why do so many of us flounder when it comes to this? For many of us, it's the fact that we're trying to go it solo. When you pursue your goals alone, it can feel as though the whole world is against you!
This is especially true for those of us with families of our own. It's hard to drag yourself out of bed before sunrise, so you can squeeze in a workout before everyone heads off to school and work. It's hard to cook healthy, homemade meals when everyone is crunched for time. Between work and school and the kids' extracurriculars, it's so much easier to eat takeout or processed food. And doing otherwise requires conscious effort and careful planning.
With a little creative reframing of the problem, though, you can turn this liability into your secret weapon. The whole family can reap the benefits of your efforts and your choices to live a healthier, more active lifestyle. Because the secret to setting realistic fitness goals, AND KEEPING THEM, is to make it a priority not just for you, but for your whole family!
You know the drill: Mama ALWAYS gets the short end of the stick. Mama's wants and needs always come last. So by reframing your personal fitness quest into a family project, you can shift it from lowest priority to the top rung. Not only will you be teaching your kids valuable lessons for life, but you'll make sure you accomplish your own personal fitness and healthy-eating goals.
Ready to learn more? Then read on!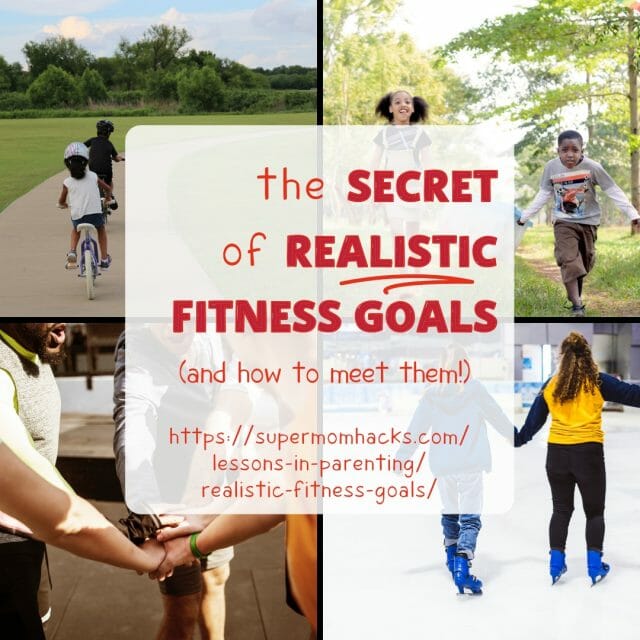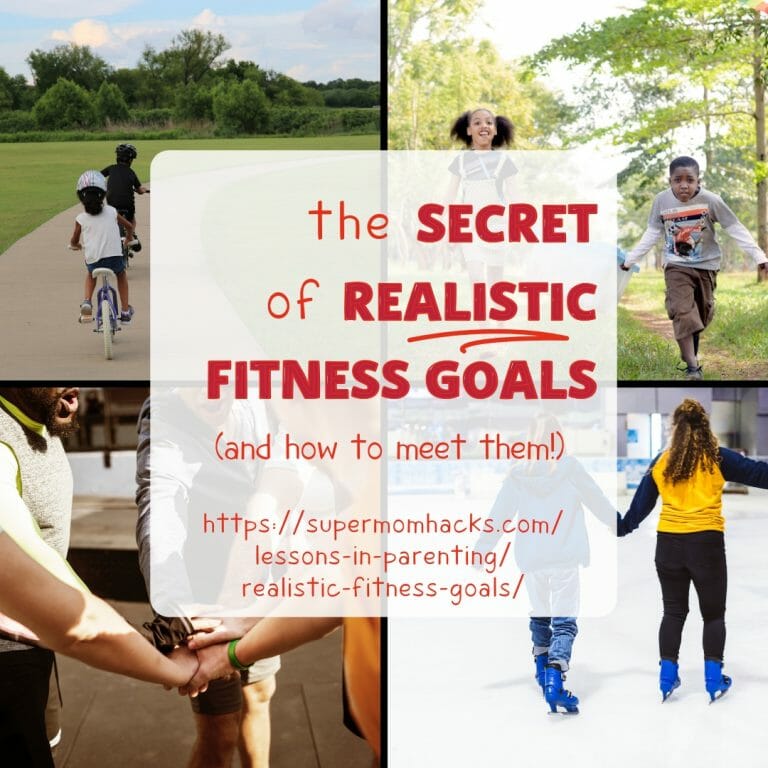 The Secret of Realistic Fitness Goals: Get Your Family Involved
Find things you can do together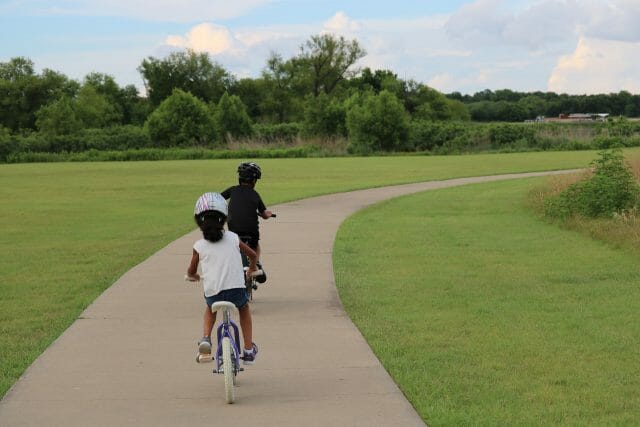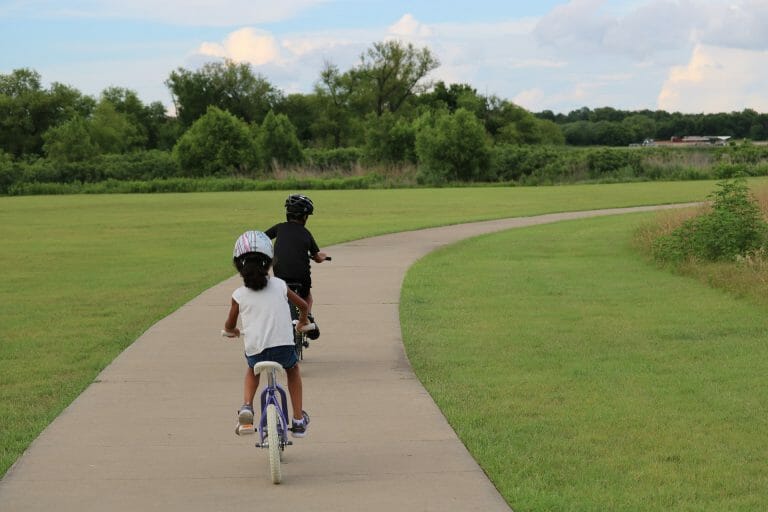 The great thing about attacking your health and fitness goals as a family is that there are so many great activities that you can enjoy together:
You can do some calisthenic exercises during commercial breaks while watching TV together.
You can get a pool membership and swim together at least weekly. Or ice-skating lessons. Or even regular trips to your local roller-skating rink.
You can do yoga together, either via family classes or videos at home. Essie and I did some Mama-and-Me yoga classes when she was too young for preschool; to this day, she loves practicing yoga with her kids' yoga DVDs in our basement.
You can head out on a bike ride together. Biking is our family's personal favorite. My husband and I both love distance cycling, and he's already taken the girls on their first 7-mile charity ride (which was one mile more than Essie was years old at the time!).
RELATED POST: Teach Your Kid To Ride a Bike In One Day? Really?
You can take family hikes together, at least once a month. This gives the family the added mental health benefits that come with spending quality time in nature.
Still got little ones in strollers? Look for a moms' stroller workout club or class near you. They DO exist, and it's a great chance to bond with other mamas while setting a good example for your kiddo(s) of an active lifestyle.
You can form a family team for a local rec program, or participate as a family team in a charity event. Although my husband and girls didn't raise additional dollars for the charity ride they did beyond their registration fees, he and I have both done longer charity bike rides on our own. When they're older, I hope we can do one as a family. If cycling's not your thing, there is always a 5K or 10K charity walk or run.
Or you can simply resolve to go for at least one long walk through your neighborhood every week.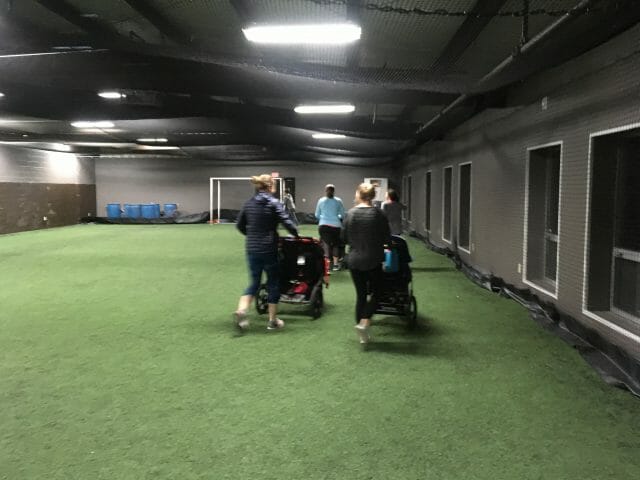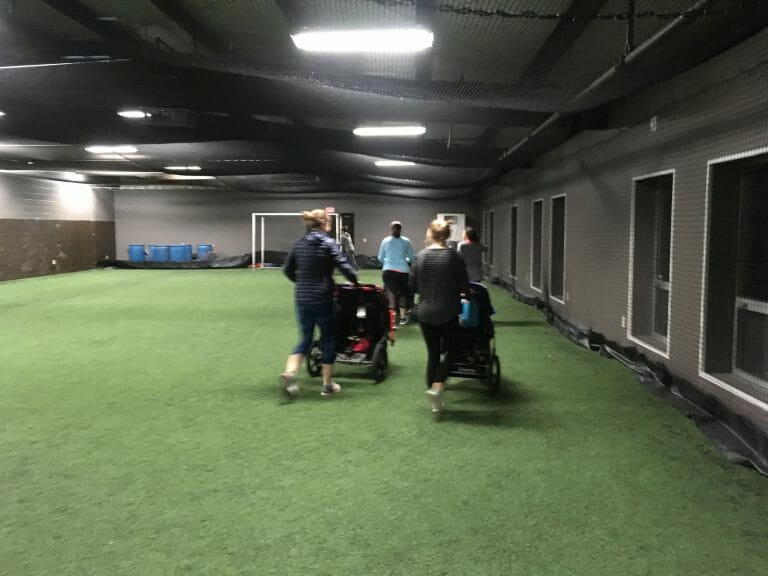 WHAT you choose isn't important. The point is spending time together, having fun, and getting some exercise while you're at it.
The shift from "family" to "team"
The great thing about pursuing a shared goal together as a family is that it makes you into a team. If you've worked for a large company, no doubt you've done "team-building" workshops, exercises, and even retreats at some point – right? The idea behind pursuing fitness goals as a family is the same. Try to go it totally alone, and you'll be spending all of that time away from your family – and we know how well THAT often works out as a busy parent.
I'm not saying you can't do your own workouts. I'm hoping to do my fourth century ride this year, health and training permitting. This will mean lots of early-morning bike rides where my hubby watches the girls. But I also like to bike with them when I can, as does my husband (who biked around the neighborhood with them last week on New Year's Day). He patiently did the same with me when we first started dating; the most I'd biked at once before then was 20 miles, and our first 26-mile ride together (once I worked up to that) darn near killed me.
But he was patient with my slow pace, and celebrated my achievements, and helped me set ever-more ambitious goals. The first time I set out to do a metric century, my mama thought I was nuts (and never would make it). But he and I both knew I could – and we did – together. Now that our girls are old enough to pedal, we love to share our passion for cycling (and, in my case, yoga) with them.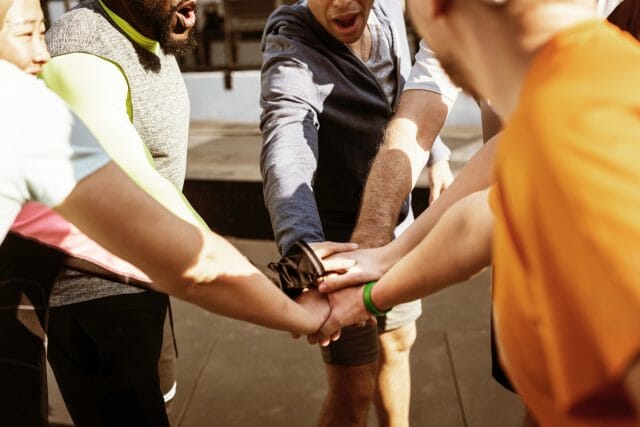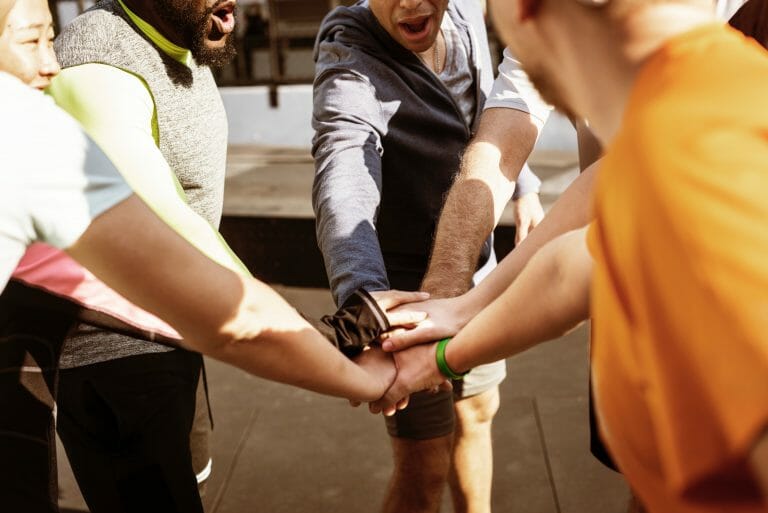 Want to take it one step further? Get your family team uniforms! Pick whatever suits your family's fitness passion – Tshirts for your family charity walk/run, family cycling jerseys, or even just your own team ball caps. Custom-printed family uniforms for your fitness pursuits will help you to feel (and look!) even more like a team. Let's face it: Teams pull together, teams have one another's backs, teams support and coach each other. In other words, the qualities that make a strong team also make a strong family unit!
Everyone benefits from healthier eating
And if your personal health goals for the New Year include healthier eating, this will work a lot better if it's a family priority vs. just something you try to do on your own. Many parents already agonize over whether their kids are getting enough of the healthy veggies and fruits that they need to stay fit and healthy for life. The great thing about starting off on a health kick together is that it doesn't give them an easy out.
Everyone in your family benefits from healthy eating. So start your day (and your kids') with From a healthy breakfast, one rich in complex carbohydrates to see them through the day. And end it together with a healthy home-cooked meal, even if it's from the freezer or your crock pot or insta-pot. When everyone at the table gets to enjoy the same delicious and nutritious meal, nobody has to miss out.
RELATED POST: Best Morning Oatmeal Recipes, Quick & Healthy
RELATED POST: Ten-Minute Tummy-Warming Baked Apples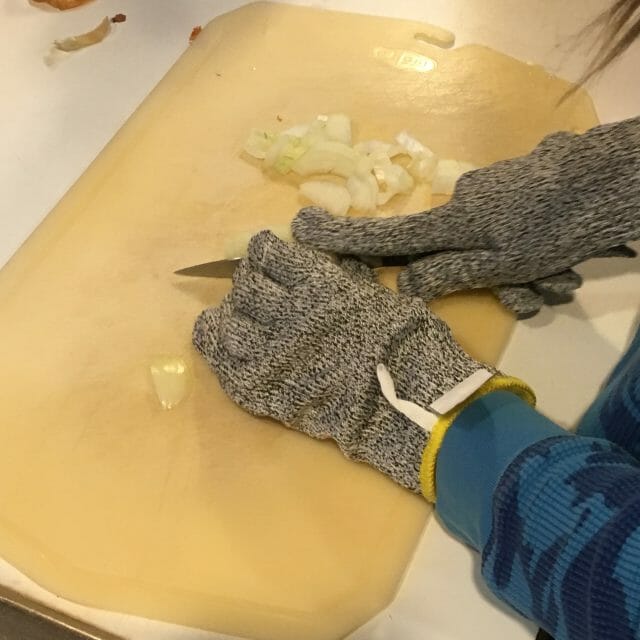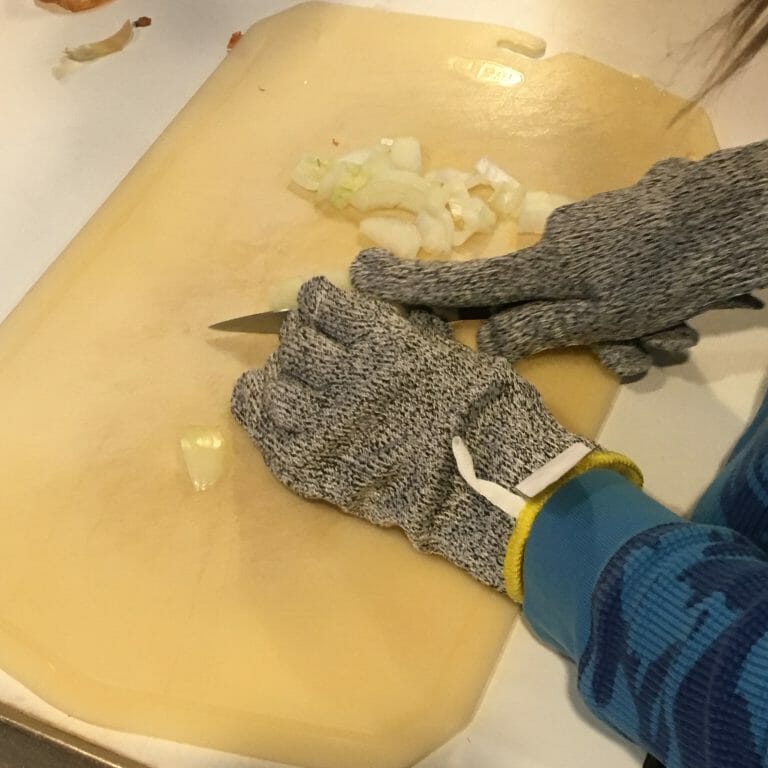 And while you're at it, I encourage you to take it one step further. If you're not a great cook, you and your kids can learn together. (Our church started a cooking club for this very purpose, and the girls have each completed the appropriate cooking badge for their appropriate level of Girl Scouts, so they could expand their skills further.) I taught them to do simple things like use the toaster and steam vegetables in the microwave when they were preschoolers. At nine and not-quite-seven, they can prepare healthy breakfasts and lunches for themselves (or the family) unassisted. And they love to help us cook dinner as competent sous-chefs, when homework permits.
RELATED POST: Technique: Microwave-Steamed Vegetables
You encourage and inspire each other
Perhaps the most compelling reason to get the whole family on a health kick together is that it encourages you to inspire one another, and lend encouragement and support when it all seems too hard. This is the same reason that experts encourage people who are serious about their workouts to get a "gym buddy" or running partner. It's easier to get out of bed if you know someone is waiting for you.
Well, the same goes for your family team. It's harder to miss a workout when you've scheduled it as a family event – hike, walk, swim, yoga, bike ride, whatever. You know you always pull through for your kids. So if you make them part of your fitness equation, you'll find that your fitness goals are more likely to happen.
If you make your family a part of your fitness equation, you'll find that your fitness goals are more likely to happen.
Click To Tweet
As you start to notice the loss of belly fat and the healthy glow in your family members, you'll also start to see it in yourself. Moreover, your family will help to keep you on the straight and narrow, as well as joining you in celebration when you smash your goals to pieces!
And most importantly, you'll be giving them one of the most precious gifts a parent can give a child: the gift of lifelong healthy habits, which will improve their own quality of life for years to come.
If you enjoyed this post on setting realistic fitness goals for the whole family, why not share it with others by pinning this image?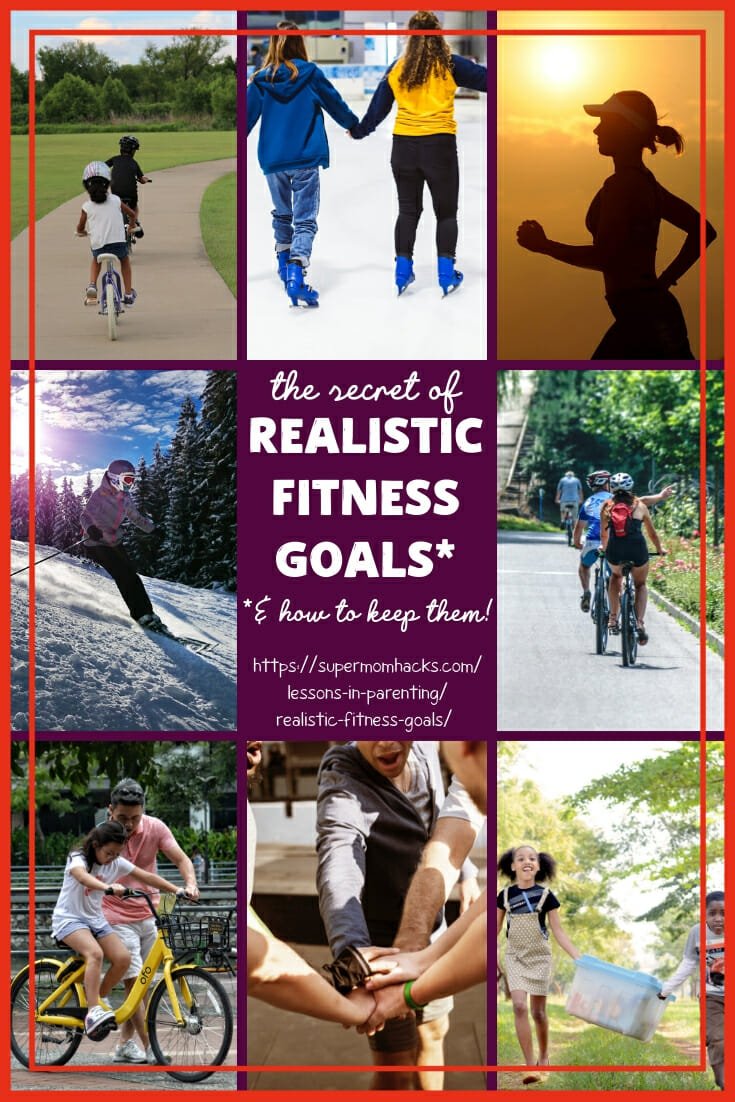 NOTE: This site contains affiliate links. I may earn a small commission from any purchases made through affiliate links, at no additional cost to you. For more information, please read the full disclosure/privacy policy.