For many women, going back to work after Baby comes is anything but a straightforward, clear-cut decision. Many new moms (me included, back in the day!) want to think about more than tracking diapers and feedings. And/or, they miss adult conversations on subjects other than children's bowel movements. Even if you can't wait to go back, you'll still face challenges without careful forethought. Other aspects of the transition may come as a complete surprise.
That's why it's important to learn as much as possible about what to expect from this transition, and make sure you've got your planning bases covered. Not all new mamas encounter all of these challenges, but it's good to be aware of what may come up. That way, you won't be caught off-guard when returning to the career world. Whether your last child arrived five months ago, or five years ago.
You need to remember that no matter how it feels sometimes, these experiences are all completely normal. And there's always going to be a period in which you're going to wonder if you're doing the right thing. But the truth is this: As long as you're doing what feels right for you and your family, then you're doing nothing wrong. And this is true whether you return to your old job or not, regardless of what anyone may tell you.
As long as you're doing what feels right for you and your family, then you're doing nothing wrong.
Click To Tweet
Hence this post. The first half covers your going-back-to-work-after-Baby checklist of bases to cover. The second half will give you a sense of things you might experience as part of the process.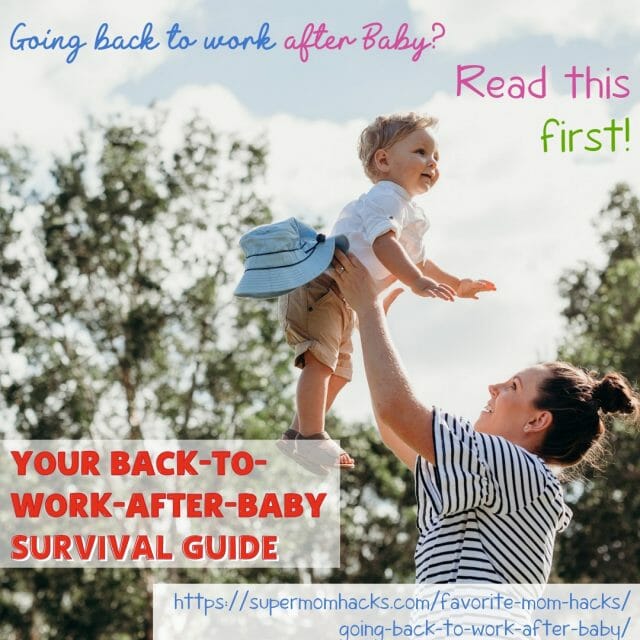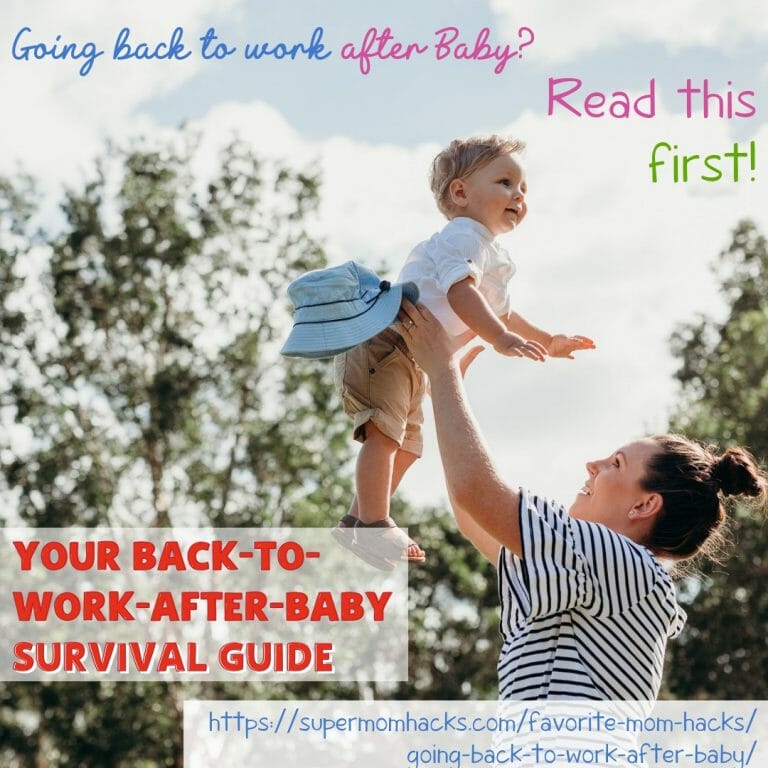 This is a collaboration post. However, please know I stand behind everything written here, and only include links to products/services/resources I'm willing to recommend personally.
Read This Before Going Back To Work After Baby:
Your Going-Back-To-Work Checklist
Still trying to decide whether to go back to work, or how to make it doable? Before you can say for sure that you're going back, you need to know the answers to these questions:
1. Are my skills up-to-date?
This is another big thing to consider before going back to work. While most relevant if you've been out of the workforce for awhile, it's also important if you're considering a career change.
The good news is, even if your skills and qualifications needed updating, there are plenty of options available that are designed just for working adults' busy lives – even if your current occupation is stay-at-home mama! You can even earn an entire degree online, one course at a time, at whatever pace works best for you. Options like online BBA programs offered by Walsh University are perfect for sharpening your competitive edge.
Your ideal fit might be in your own backyard, too. When I decided to change careers completely after my girls were born, I went back to school at a small college in a city near us. Having sworn off school completely the last time I graduated, a week before my 30th birthday, I was scared to make this move. But a few years and several courses later, I have a certificate in social media marketing/communications – and a host of new skills that I use every day on this website – to show for it!
2. What will I do for childcare?
Going back to work means figuring out child care. Even if you wait until your youngest is in school, it will be hard to work a full-time job without some sort of before- or after-care arrangements, or bridge care over weekends. While there are tons of options, some are better than others – and some are easier – and some are cheaper.
If grandparents are nearby, this is one of the first options many parents consider. This works best for short stints (one day a week, before- or after-care, or as backup childcare when your kid is sick). You need to make sure you and the grandparent(s) in question clearly discuss what the arrangements will be, and whether you'll pay them in exchange for this service. (This is why using grandparents is best for limited hours; caring for your kiddos full-time, for free, so you're working will quickly wear on even the most doting grandparent!)
Other options include
A commercial daycare, which can be expensive and (especially for infants) often costs more than what you'd earn from your job. (More on this below.)
An in-home nanny/babysitter, if you can afford this (or rather, afford to hire a good one who is well-qualified).
A live-in

au-pair

, which is much cheaper than a nanny and is more of a cultural exchange between the family and au-pair. This can work out very well if you find the right person. But (from what I've seen of those who've gone this route) there is definitely a certain amount of luck involved – especially, again, if you're looking for full-time infant care.
In-home childcare at someone else's house. This will probably be your cheapest option, but is also a germ magnet (read: you and/or your kid will always be sick.) Also, quality will vary widely. Will the provider pay as much attention to your baby (and do as much to stimulate your child's mental development) with a houseful of older kids to mind as well?
If you and your spouse have this flexibility, arranging your work schedules opposite each other, so you can take turns doing child care. And/or getting flex scheduling for some of each person's work days, so you COULD be at home and schedule work calls while Baby naps. Great for avoiding monetary expense, at the expense of getting to see/spend time with your spouse. Also not so great if (like my kids) yours balk at both parent-imposed schedules and regular naps.
3. Does it make sense?
As you're weighing your childcare options, do the math. Literally crunch the numbers. This is not the only factor that should weigh in your decision, but it is high on the list.
This is why I didn't go back to work after Kimmie was born. I knew it wouldn't be cost-effective to resume my previous career, teaching. (The fact that my contract had just ended, plus the Great Recession still had massive hiring freezes affecting our whole region, also factored in.) So instead, I looked into some administrative positions for which I was qualified at the universities in our area. They were all half-time (which was what I wanted), and I made it as far as the interview round.
But then I did the math, and realized that even a few days a week of infant care would cost more than my half-time salary. Which was nuts. So I decided to postpone my efforts to begin a new career until we were done having kids, and the youngest was 2 (meaning old enough to attend preschool). Where we live, besides full-time childcare centers, we have tons of great preschools – but they are generally part-time (a few mornings or days per week, dependent on the child's age), and students must be at least 2 before starting.
4. Can I work flexible or reduced hours? Should I?
And while we're on the subject of childcare: Your full-time job needs to include a super salary if you're going to cover the costs of decent full-time childcare for your baby. You may have figured that out before reading this post. But if it's only now starting to sink in, consider getting creative.
Three of the families on our street have done this, because Mama's career prospects/job stability were better than mine when it was time to go back to work:
One, a teacher, went back to school part-time to earn a new certification (thereby increasing her marketability in our area). Meanwhile, the grandparents who lived in their backyard covered emergency childcare when she got called in to substitute-teach for the day.
One worked a half-time schedule, from a home office, while a babysitter came in a few days a week. As the kids got old enough to attend preschool, the nanny's hours stayed the same. She picked up the kids from preschool when their day ended at noon. Meanwhile, Mama ramped up her own work hours, and eventually transitioned back to working away from home.
One, a

twins mama

, took an extended (family/medical leave) until her twins were out of NICU and on their feet. When she did return to work, it was only one day a week – and her husband rearranged his 40-hour workweek into four 10-hour days. As the girls entered preschool, she gradually increased her work days, with family in town helping to cover the gap.
RELATED POST: How Do Parents Manage Multiples?
So before you feel as if "back to work" has to be an all-or-nothing proposition, consider if there is a middle ground that's right for your family. Then approach your employer/HR department and see if you can make it work. Many companies are now embracing setups like this, to encourage mothers back into the workforce and create a family-friendly culture within their workplaces.
5. Does my workplace have childcare or nursing facilities?
It's also worth asking your employer if they have things like on-site childcare, provide vouchers towards the cost of childcare, or even if they offer nursing facilities for pumping. Many companies are now focusing on adding things like this, but it may be something you'll have to ask about as they may forget to mention it.
Afraid to ask upfront? Poke around on your company's HR section of the website, specifically in the employees' handbook and policies section. If you know other recent parents at your workplace, ask their experiences. Find out what the laws are in your area. Barring repeal of this section of the Affordable Care Act, women in the U.S. are now guaranteed a space at work to pump that is private (and not a bathroom stall!). Obamacare also guarantees women the right to pumping and nursing breaks.
If all of this is news to your employer, you should refer them to the relevant section of the Department of Labor website. You may have better luck with nursing/pumping options than with childcare, though, especially if you work for a smaller company. Ideally, you can investigate this long before becoming pregnant; it's not uncommon for on-site childcare to have waitlists that are literally years long.
What You Can Expect When Returning To Work:
1. Feelings of guilt
This is probably the biggest one of all, and most working mothers feel guilty at least on occasion. Some mothers have their own reasons for feeling guilty. ("I always dreamed I'd be a stay-at-home mama!" "My mama was always there for me growing up, how can I abandon my baby to strangers?") Others feel pressure from spouses, parents/in-laws, neighbors, or society in general to forgo a career while their children are young.
There are a few things that can help you get beyond this guilt. For starters, having a solid plan of how you're going to make this transition work will go a long way toward battling guilt. (And congrats – you're well on your way, thanks to reading this article!)
As for the guilt itself: First and foremost, as long as you know you're making the right decision for YOU and YOUR family, then it's truly no one else's business to involve themselves in this decision. They have no right to judge you, since they have no idea what's going on in your life. If that person(s) continue to make you feel bad for this, then maybe it's time to consider if the relationship is worth continuing.
as long as you know you're making the right decision for YOU and YOUR family, then it's truly no one else's business to involve themselves in this decision.
Click To Tweet
If you're feeling guilty all on your own, then it's important to remember that there's no "right" or "wrong" when it comes to working versus staying at home. Each option has its plusses and minuses. Also worth noting: studies have shown that children raised by working mothers grow up to be more successful, well-balanced, and independent later in life.
Children are far more resilient than we give them credit for. So as long as you make sure their needs are met and you're spending plenty of quality time with them, they're honestly going to be just fine.
An adjustment period
Going back to work after a baby is a big change. Even if you've worked in your position for a long time, it's going to take some getting used to. Unless your employer has an unusually generous leave policy compared to what's required by federal law in the U.S. (not much), you will still be exhausted. You will still be getting up for nighttime feedings. You will probably still have leaky breasts at inopportune times.
And there's a reasonable chance your body will still be recovering from the physical demands of pregnancy and childbirth. (I was on modified bedrest not only for the last two months of my pregnancy with Kimmie, but also the first three months postpartum!) And if you're among the 11%-20% of U.S. women in a given year who struggle with postpartum depression, you'll have a hard time functioning effectively.
Not to mention that your old ways of doing just. won't. work. anymore. That sleep deprivation will wreak havoc on your ability to focus and plan. No more last-minute late evenings in the office, or late nights finishing projects – not unless you have live-in childcare, and/or want to rack up even more missed sleep. Just getting out the door with a new baby can literally take some parents an hour or more (raises hand) – until you nail this, even getting to the office on time will be hard.
It's important that you're kind to yourself and really allow yourself the time and space to get used to the new way of living. It will eventually just become "normal" for you again. But even when it does, it will be your "new normal," NOT the pre-Mama version of you. Knowing this in advance is more than half the battle.
RELATED POST: Will BuJo Bring Back My Mojo?
It *will* get easier
Those first few days and weeks back will be rough, for everyone. It's hard to avoid this fact. You will struggle. You may drop balls, no matter how much you've prepared. But this is why it's especially important to be kind and gentle on yourself during this transition.
I recall desperately begging my mama friends for advice before Kimmie was born; most were reluctant to offer any. The one nugget I got was, "It gets easier." After the first two months, she promised, I'd start to get a bit more sleep and we'd start to get into a groove. I used that thought as my lifeline through those incredibly difficult first two months.
When Kimmie reached the two-month mark, someone told me that by four months – when one could expect some improvement in sleep routines – we'd reach a turning point. Once again, I hung onto that hope – and it proved true. Then someone told me how much easier everything got after the first year. And then one morning around Kimmie's first birthday, I realized – that person was right, too! I felt like a competent adult, functioning human being, and bona-fide Mama at last.
Give it time, and hang onto that last paragraph like a string of lifelines if you need to. Soon enough, you'll develop your own routine – both as a mama, and as a mama who works. Eventually you'll find your new sense of "self" that includes your new Mama status as well as the things you were before you became a parent. How long this process takes is different for everyone; but it's definitely not going to happen overnight. So it's important to be patient and kind with yourself throughout the process.
You'll become queen of delegation
Bonus to parenthood! Even if you were the most disorganized person before, who never had to delegate anything. Once you return to work as a parent, you will NEED to delegate. Childcare is a perfect example of this, and this newfound skill (hmm, maybe I DON'T have to do it all!) can translate to other areas of your life as well.
Because you HAVE to be done at the office in time to meet the sitter or the daycare cutoff, you will have no choice but to become more efficient at the workplace. I laugh when I think of how easy it was for Pre-Mama Me to get distracted, to take forever writing things, to let the breakfast dishes languish until dinnertime. No more. My own mama used to scold me, "If it's a job that will take five minutes or less, why put it off until later?" I never knew how much I could accomplish in five minutes until parenthood forced me to crave even five minutes to swap a load of laundry!
You'll also get better at "letting go" of things that others can just as easily do. This may be a burdensome low-reward committee or Taskforce assignment. Or perhaps it's a volunteer activity that your heart left behind a long time ago. When you are even more keenly away of how few hours there are in the day, you'll quickly learn how to give up these "opportunities." That way, others can benefit from them – and you no longer have these low-priority schedule padders sucking time away from your family.
A final tip: Make sure your partner is on the same page
If you have a spouse or partner, you need to make sure you're on the same page:
with your going back to work in the first place;
on whatever childcare arrangements you'll use;
with who will cover which tasks at home and with childcare, once both of you are working again (laundry? making sure the school bag stays stocked? making sure you don't run out of diapers or formula?);
on who does drop-off and pickup each day, who gets Baby ready to go out the door each morning, who's the point person for coordinating things like doctor's appointments, who handles the childcare paperwork (forms, enrollment/tuition payments, etc.);
on who will pick up the slack when things veer off-plan. For example, assuming that your jobs are equally flexible (or inflexible), who will skip work or try to telecommute when your child is sick, the babysitter is sick, or there's a snow delay or weather event affecting your childcare (and/or preschool) plans for the day?
When both parents are working, it can create a lot of hostility and tension when you don't discuss these things in advance. Everyone feels as if they're giving a lot and working hard when there's a new baby in the house. (Let's face it, new babies are very demanding!) When both parents are working, it can cause friction when one person feels like they're working just as much as the other, yet they're also expected to be fully responsible for the children and the housework.
This can cause resentment in relationships at best. At worst, if the issues aren't communicated and dealt with, then it cause the breakdown of an otherwise healthy and happy relationship. So it's important that you discuss these things thoroughly – ideally before you're even expecting your first child – so you keep communication lines open, and everyone knows what to expect.
Congratulations!
On your new baby, on returning to work – all of it! You've got this, Mama! (Even though you probably feel as if you're faking it more than making it right now.)
It's a big transition for everyone. But now that you've worked through the checklist in the first half, and know about some of the unexpected changes you could face from the second half, you're well on your way to a successful return to work!
If you enjoyed this post on going back to work after Baby comes, why not share it with others by pinning this image?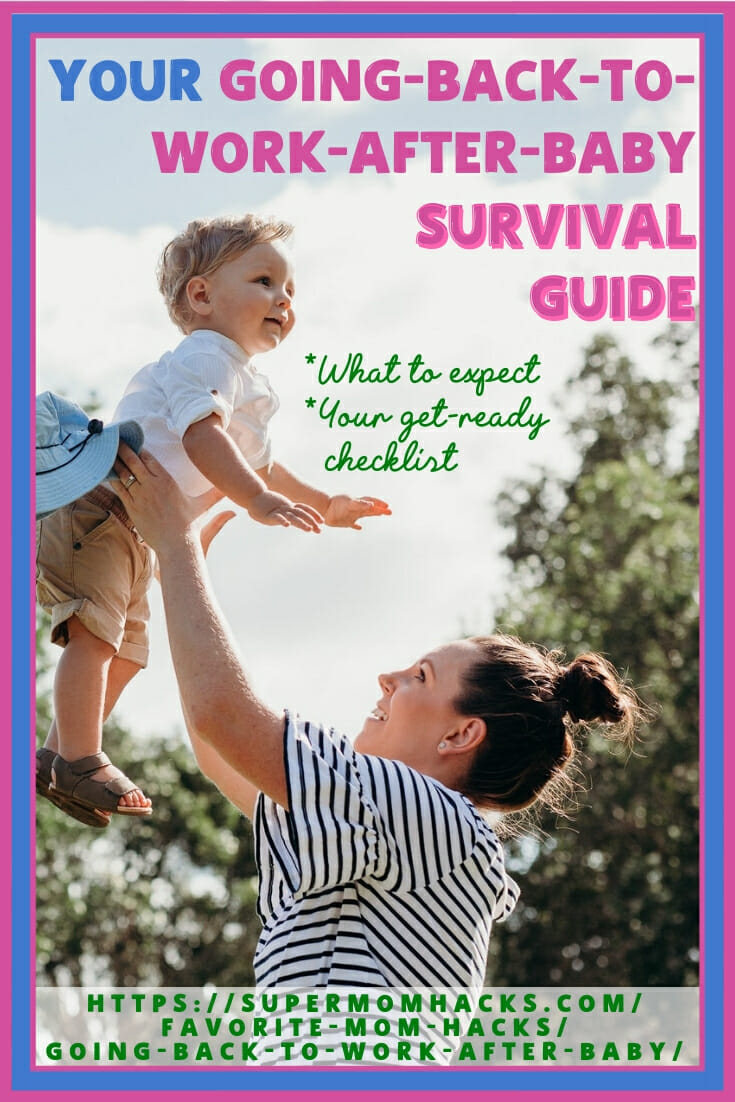 NOTE: This site contains affiliate links. I may earn a small commission from any purchases made through affiliate links, at no additional cost to you. For more information, please read the full disclosure/privacy policy.