Ask most kids to list their favorite days of the year, and many will put their birthday somewhere high on the list. For many kids, their birthday is a special time of year filled with awesome traditions and routines, from cake and presents to a party with all their friends. However, if you're a parent trying plan the corresponding kiddie birthday party, this time of year may be one of your most stressful.
But it doesn't have to be! Planning your child's party can be as hard – or as easy – as you make it. Likewise, you can spend a small fortune, or get it done on a shoestring – your preference. Either way, this checklist will get you started with how to plan your next kiddie birthday party, minus the stress!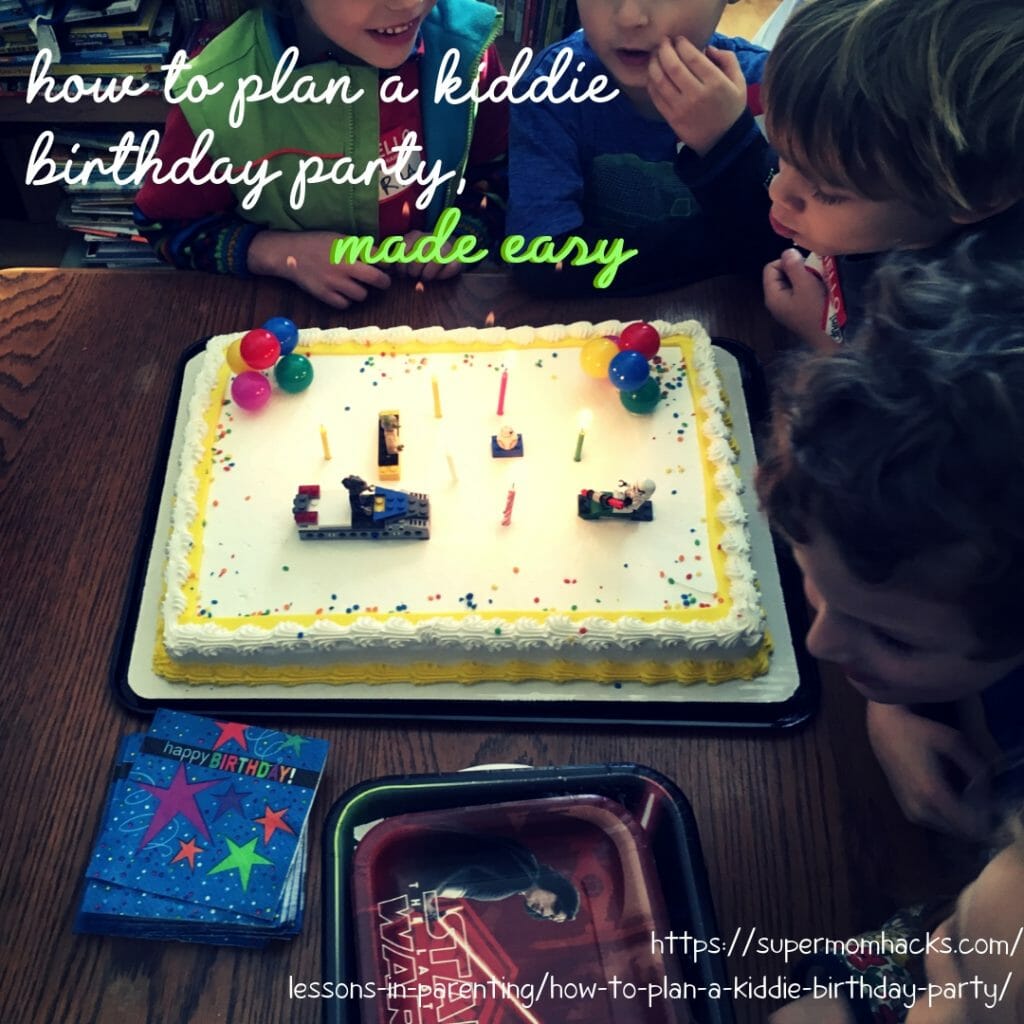 This is a collaboration post. However, please know I stand behind everything written here, and only include links to products/services/resources I'm willing to recommend personally.
How To Plan A Kiddie Birthday Party, Made Easy
The basic checklist for planning a child's birthday party is remarkably constant. There are three sets of things you need to do:
choose a location and theme (these are actually very closely related);
send out invitations; and
figure out food/activities/favors.
Let's walk through the basics of each step:
1. Choose a Theme/Location
Why are these two steps listed together? Because one often determines the other!
RELATED POST: Throwing a Kid's Birthday Party to Remember
In almost a decade of taking my kids to their friends' parties (and hosting a few myself), I've noticed three general categories of event venue for your child's party:
a) Party Destination/Package Deal:
These are the easiest from a parent's perspective. Buying the package means the destination will plan (almost) everything for you. These all-inclusive packages are usually for a 90-120 minute party, and the comprehensive fee covers the activity, use of a private party room for your group, and often a meal of pizza plus beverage (sometimes even the cake is included!). For an additional fee, many of these places will also include a favor for each child. Some of them will even give you invitations to mail that match the theme!
Examples of such parties we've come across include:
Trampoline-Park Party
Indoor Pool Party
Bounce-House-Destination Party
Roller-Skating-Rink Party
Gaming Arcade/Indoor Playground Party
Indoor Climbing Wall Party
Gymnastics Workshop Party
Children's Museum Party
The pro of these sites is that the location often determines the activity/theme, thereby saving you much of the hard work of planning. But you pay for this outsourcing of parental labor, as much as $15-$20 or more per party attendee. This means you could easily spend $300-$500 for your child's birthday party. If that's not in your budget, read on.
b) Book a different venue that's party-friendly
If that's way beyond what you had planned to spend, you might consider a less-expensive venue. Some of these will still set the theme for your party; for others, you have more flexibility – and more to plan.
Other places I've attended kids' birthday parties, and/or held parties for my kids, include:
A local public pool (cost = pool admission)
A paint-your-own pottery destination (cost = the individual pieces of pottery; there is often a set stash of $20-and-under pieces for participants to choose from, but you'll get a group discount)
Your neighborhood chain craft store's classroom (cost = supplies for whatever craft you do, as well as perhaps instructor fees)
The community room of your local fire station (cost = a small rental fee; in return, you'll often get a tour of the firehouse, and fire hats/safety-themed coloring books as souvenirs)
A neighborhood park (cost = free to minimal, depending on whether there is a picnic-shelter rental fee)
Your local community center or your housing complex's community room (cost = free to a small rental fee)
A hall or room at the house of worship where you're a member, or another organization to which you belong (cost = free to a small donation. Our church charges a $30-$50 "donation" for members to rent a room, depending on which room you want. But many other smaller ones in our area don't charge a fee to members.)
c) Host the party at your home
This is the most flexible option as well as the most budget-friendly. But it also means the most work for you. Besides the fact that you'll have a lot of cleanup, you will also have to get your house cleaned up, then clean it all top-to-bottom again a few hours later.
Having a decent-sized yard and a child born in warmer months gives you a few more options, such as renting a bouncy house or a pony for pony rides. You could even hire a balloon artist or a face-painter.
Among the party themes I've seen, hosted, or attended for at-home parties and parties at a rented room/hall elsewhere:
Dinosaurs (Kimmie's 6th birthday party theme)
Mexican Fiesta (Essie's 5th birthday party theme)
Cookie- and/or cupcake-decorating
Sleepover with jewelry-crafting and movie-watching
Star Wars (the theme for Keisha's sons' recent parties)
Pool Party (assuming you have a pool and it's warm enough!)
Mad Scientist (complete with lots of kid-friendly science experiments)
Spa Party (especially fun if you make your own spa products!)
RELATED POST: Halloween DIY: 15-Minute Costume for your Budding Scientist/Doctor/Vet
RELATED POST: Mother-Daughter Spa Day with DIY Spa Products
2. Determine the guest list and send out invitations
Once you've figured out when and where you'll hold the party (and made the reservation/paid the fee as appropriate), it's time to draft the guest list. The size of your guest list may be pre-determined by the type of venue you've chosen and/or your children's ages. For example, a paint-your-own pottery shop is a more appropriate venue for a small group of tweens, NOT a class of 36 preschoolers. And if the trampoline park charges by the child and you're hosting a party for your twins, you may want to stick to a smaller group of non-school friends, vs. two classrooms' worth of kids.
Important to note:
If your child is in school, you'll need to do one of two things:
Invite every single kid in the class; OR
invite only one or two close friends from your child's class, whom your child knows well and whose parents you can contact directly with the invitation.
If you try to invite only half the class, it just won't work. (I've learned this the hard way.) Kids talk. And they love to talk about who is going to whose party. You have to invite EVERYONE in your child's homeroom, or keep the invite process totally separate from the school day and invite no more than a couple of close friends from your child's classroom.
That said, if you're inviting the whole class, you can probably arrange with your child's teacher to have the invitations sent home from school. Another option that my friend Keisha has used regularly for her sons' parties is Evite, a free online invitation service.
Whatever route you go, make sure you ask on the invitation for information on any specific dietary requirements or preferences, as well as any allergies. If you know that one of your party guests has a severe latex allergy, you might think twice about having a pile of balloons on the floor for kids to play with. (That said, this is hands-down one of my favorite activities for my daughters' indoor winter birthday celebrations. Kids never seem to tire of it, and it burns off a ton of energy.)
And set an RSVP date several days out from the deadline – but be prepared that many people won't RSVP until the last minute, if at all. (One advantage of Evite and other electronic services is that they will send out automatic reminders for you.)
3. Plan food, activities, and favors as appropriate
The more you've shelled out upfront in step #1, the less you'll need to do at this stage of the game. As I noted above, many all-inclusive packages at party destinations will take care of not only the venue and activity for you, but also the food and even the favors. (Albeit all at a price.)
But you can still DIY without the time or the cost of investing a 40-hour workweek on your kid's party.
Barring dietary issues, pizza and cake are the menu at every single kid's party I've attended. If you don't already have a favorite local pizza place, do your research on the best deal. Opt for plain large pizzas only, cut into 12 smaller slices vs. the standard 8 pieces. If you're like me, you'll also add baby carrots/other cut veggies, dip, and apple slices or grapes to the menu.
It's really not hard (or expensive!) to bake two small round cakes, sandwich them together with frosting, then frost the outside. The alternative I always pick for my kids' parties with friends is cupcakes; these are pre-portioned, less messy than cake, and easy to scale up as needed. Or you can order a quarter-, half-, or full-sheet cake from your local grocery store's bakery department.
Likewise, you don't need to go overboard on activities unless you want to. A pin-the-tail-on game, loads of balloons to toss, and a piñata are always fun, as are simple crafts for smaller groups. (Piñata bonus: the loot inside can double as party favors.)
Or take your child's party theme + whatever activities they like anyway, and combine the two into different "stations." My friend Keisha is the queen of this. For her boys' recent Star-Wars-themed parties, she had everything from a "Star Wars Library" with books (for kids fleeing sensory overload), to a Star Wars Lego-building station, to space for kids to wield light sabers and play her sons' Star-Wars-themed games.
Your turn:
What's your best hack for simplifying kiddie birthday party-planning? What was your child's favorite party/party theme ever? Let us know in the comments!
If you enjoyed this post on kiddie birthday party planning made easy, why not share it with others by pinning this image?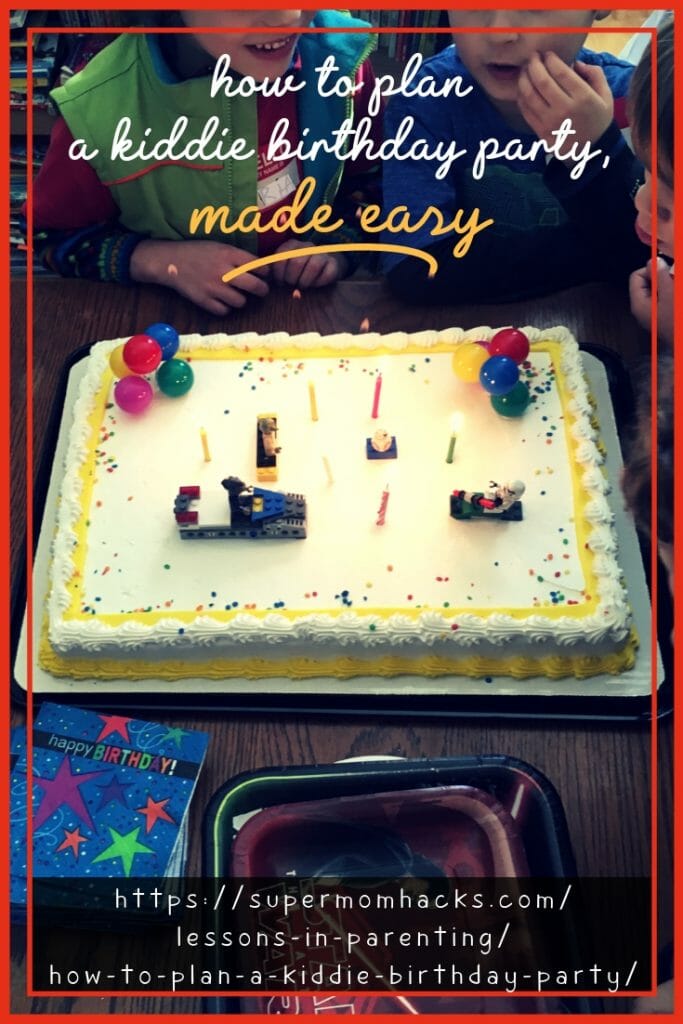 NOTE: This site contains affiliate links. I may earn a small commission from any purchases made through affiliate links, at no additional cost to you. For more information, please read the full disclosure/privacy policy.