Selling a home is a complicated and often stressful process. But do you know how to get your house ready to sell? If this is the first house you've sold, there are many aspects of the process that probably aren't even on your radar screen. And selling a home when you have children who still live there just makes things that much more challenging.
An experienced real-estate agent should be able to guide you through this process, to some extent. Unfortunately, you may not know how helpful they truly are (or aren't) until you've signed a contract. By the time you realize your mistake, it's too late.
That's why you need this post. These are the house-selling tips I researched, when my husband and I were trying to sell our pre-marriage homes during the Great Recession. While selling my condo was an uphill battle during that market for even a good agent, these steps helped us sell it for over twice as much as neighboring units. And when we used some of these tips on my husband's single-guy home, we had an offer for full asking price, nine days after it went on the market!
These tips on how to get your house ready to sell will get you started on the process. That way, when you're interviewing potential real-estate agents, you'll be that much closer to actually putting your home on the market, setting a closing date, and scooping up the down payment for your next home.
This is PART FOUR of the series "A New Home In The New Year." For all the posts in this series,
click here
.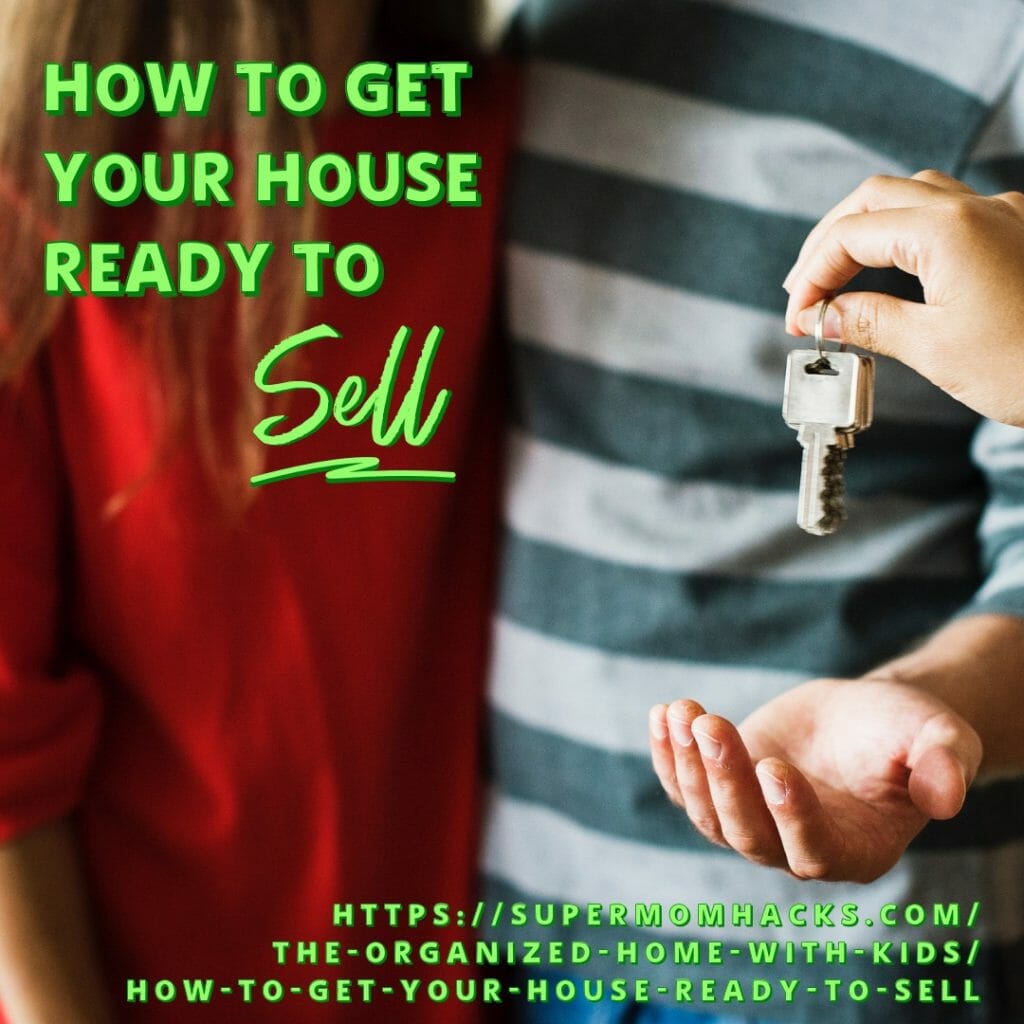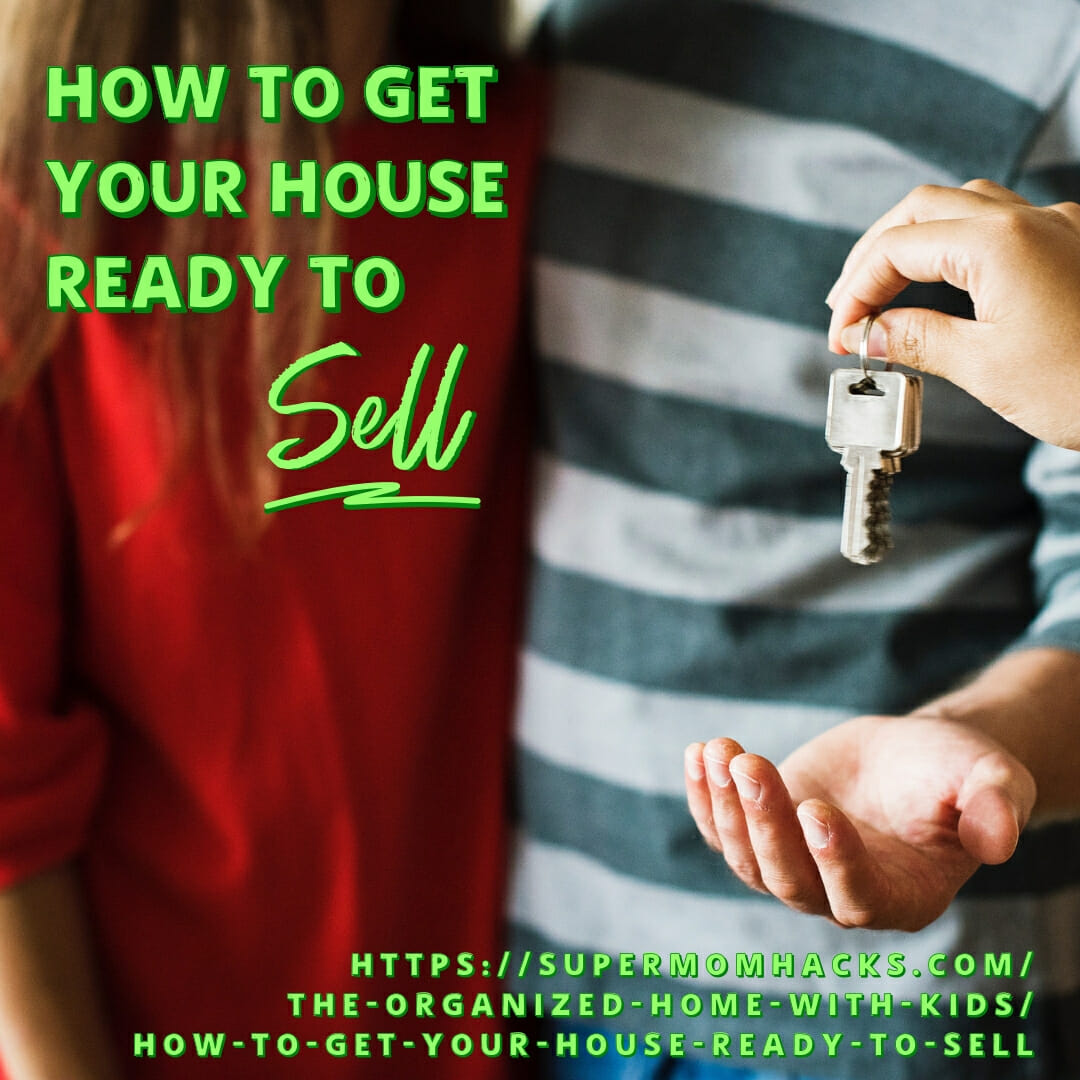 This is a collaboration post. However, please know I stand behind everything written here, and only include links to products/services/resources I'm willing to recommend personally.
How To Get Your House Ready To Sell
1. Purge and stage
Besides helping you get ready for your own move, decluttering/editing your possessions helps buyers see your house as their potential home, not your current one.
RELATED POST: Stress-Free Moving Tips You Need
Ideally, most of what you "edit" out is stuff you no longer need. But you need to go way beyond the donation/trash bin in what's called "staging" your home for sale. Homes that sell fastest, for top dollar, present potential buyers with a blank slate. People want to be able to imagine THEIR stuff in the space – not be overwhelmed by YOUR stuff!
Paring down your belongings is the first place to start when selling your home. Potential buyers want to be able to imagine THEIR stuff in the space - not be overwhelmed by YOUR stuff!
Click To Tweet
Start by boxing up family photos, plaques, trophies, and large collections. Have a lot of books, games, kids' toys, artwork on the walls, etc? Box up 90% of these items and put them away until after you've moved. Rent a small storage locker to hold them until you're in your new home.
If this is challenging, visit some open houses near you (even if you're not seriously house-hunting yet). Think about these tips with every home you visit. You can quickly see which homes are properly "staged"/decluttered, and which still have miles to go. Take notes to inspire your own "editing."
If all else fails, photograph each room of your home from multiple angles. Print the images in color on full-size sheets of paper, and show them to a series of friends. Ask them what looks less-than-tidy, cluttered, or too much like "you" in the pictures. Also ask what they'd change if they were a potential buyer trying to imagine themselves in this space.
2. Tend the garden
In case you missed yesterday's post, staging your home applies to the outside as well as the inside. Your home's curb appeal should set the right tone before buyers even get inside. Otherwise, all your careful interior staging will have to fight against a negative first impression.
RELATED POST: Improving Your Home's Curb Appeal, Made Easy
Sprucing up any exterior landscaping is a crucial part of this process, if you have a yard or garden. Just as with your home's interior, try to imagine what would be appealing to you if YOU were considering buying this house. (Hint: Think low-maintenance.)
Need ideas? Look for inspiration online, or see if your local garden center has a landscape architect on staff. When we bought our current home, our local garden store's architect drew up garden plans for free, so long as we purchased the plants and supplies from their store! She also advised me on rebuilding our back retaining wall and the brickwork outside our garage door.
This step doesn't have to be complicated or expensive. Think a few annuals around your front gardens, and some nice planters or topiaries on either side of the front entrance. With a little more to spend (and a use for them at your new home), consider adding some nice accessories and outdoor furniture. (Or at the very least, make sure the furniture you've already got is clean and in good repair!)
No garden or exterior? Don't skip over this step! When selling my second-floor condo, I worked with the homeowner's association and my neighbors to swap our hallway's smoky, stale smells for fresh ones. I also added a nice new doormat outside my unit. With my husband's city home, we painted the front porch and mailbox, and added a window box with climbing plants and a decorative trellis.
3. Consider new flooring
When people enter your home, floors are one of the first things they notice. In an ideal world, you've been enjoying the benefits of quality carpet or new hardwood floors during your time in the house.
If you've been suffering with old, stained carpets or damaged flooring, though, you need to remedy this before putting your house on the market. Replace carpet that is worn, dated, or stained. Or even better, if your home is old enough, chances are good the carpet is covering hardwood floors. These are a huge selling point for many buyers. Ripping up carpet isn't hard, and doing this job yourself can save you a little money.
Have hardwood floors that have seen better days? Getting them professionally sanded and refinished will be a huge plus for potential buyers. Most people would prefer a home that's move-in ready to one that needs work. If your hardwood floors are looking beat-up, this will turn off potential buyers. No one wants one more thing to deal with between settlement and moving in.
But how can you get new flooring without spending a fortune on a home you're about to leave? Hunt for high-quality laminate flooring, carpets, and tiles at bargain prices by shopping clearance sections, buying secondhand, or choosing end-of-season stock.
Now that you've learned this lesson, consider upgrading the flooring in your next home as soon as you buy it. This is what I did in my condo, and what we did as soon as we bought our current house. This way, we've been able to enjoy the benefits of our hardwood floors while living here. And someday when it's time to sell this house, we'll have a head start on this expense.
4. Add fresh paint
New paint can transform a room. And the great thing about paint is that it's a relatively affordable fix. No matter what your budget, a fresh coat of paint will do more to transform your house in little time than any other investment you can make. This is especially true if you're looking for a fast sale.
When you're getting ready to sell your home, think neutral colors that are classic without being dated. Yes, you may have loved that lemon-yellow or electric-blue bedroom, or that candy-pink bathroom. But they will NOT help sell your house. (We wondered why the house we ended up buying showed zero pictures of the basement or two of its four bedrooms. But when we saw the house in person – including each of these off-putting colors – we knew exactly why.)
Again, look online or flip through home-decorating magazines for inspiration. You can also ask your real-estate agent (more on this below) for tips on what colors seem to help homes sell quickly in your area. The paint section of home-improvement stores often features brochures showing different paint-color combinations. As long as you shy away from the trendier options in favor of more muted, classic hues, this can also give you some ideas.
And while you're redoing the paint, make sure you do it right. Hire a pro if you're not up to doing the task well. Prep your area to avoid stray drips and splatters. Patch any holes or cracks in the wall, and take care of any stains on the walls first. And if you live in an older home with peeling paint, deal with the potential lead hazards this poses before you even try to sell your home. Otherwise it won't pass inspection.
RELATED POST: DIY Painting Tips To Save Time And Money
5. Focus on the details
Now's the time to deal with all of those "little things" you've been living with for all these years. Trying to sell a house that needs repairs and updates will put sellers into a "bargain" mindset. They'll mentally deduct the cost of prospective repairs from what they're willing to pay.
That sticky door, running toilet, dripping faucet, flickering light fixture, fussy light switch, and cracked window pane all need to go, before you list your home for sale. Even if these didn't scare off potential buyers (or put them into bargain-shopping mode), you need these repairs fixed before inspection. Otherwise, there's a decent chance a home inspector won't give your house a passing grade until you've dealt with them. So you're better off taking care of these details beforehand.
And once again, make sure you have the skills needed before you try to DIY; otherwise, hire a professional. Whether it's a plumbing company like Shelton Plumbing, an electrician, or a contractor, getting these repairs done in advance will help your house sell sooner, for a higher price.
RELATED POST: Should You DIY Or Call A Pro?
Another advantage of hiring professionals is that they're another resource on all aspects of your home's sale. They may be able to suggest less-expensive alternatives to some of the larger repairs. Plus, they know what fixes will give you the most bang for your buck on selling price, and what choices have helped others in your area sell homes quickly. For example, while you could just replace the wire in a light fixture that's gone wonky, an electrician won't hesitate to tell you that even a new wire can't change the fact that the fixture itself was "dated" a decade ago.
6. Get a good agent
Unless you have oodles of time and a high tolerance for frustration, selling with an agent is the way to go. But do your research before you commit. I made the mistake of mentioning to a lady at church that I'd be selling my condo, and she quickly volunteered her husband as my agent. Because I didn't have a lot of time to vet candidates, I signed him on. I came to regret this mistake in the nearly two years it took him to sell my unit. Turns out he'd only had his real-estate license for about a year, and I was maybe his third client. Not good.
While I didn't go with the agent I'd used to buy my home (she only worked with buyers, not sellers), we DID do this when selling my husband's home. My husband had been happy enough with that agent, one of the top ones locally, when buying his house. However, that agent's popularity came with a price. Because he was so busy, he was less responsive to our concerns than we would have liked. Moreover, he often passed us off to less-experienced associates.
Learn from our mistakes, and vet your agent carefully before you sign a contract:
Start by asking friends, colleagues, and especially neighbors who have sold a home recently in your area who they used, and whether or not they'd recommend that person. Get specifics on the pros and cons of each candidate.
Have a good list of questions about their track record, how they work, and what level of service you can expect from an agent before you start interviewing them. Never sign on the dotted line at your first meeting. Remember that real-estate agents are in sales for a living. They can often be pushy when trying to convince you to hire them.
If you really want to increase the chances of a quick sale, take the time to research and interview agents who specialize in the type of property you're trying to sell. When I lived in my condo, I got regular unsolicited mailings from a real-estate agent with a solid track record of selling units in my housing association and neighboring properties. In retrospect, I would have done much better to hire her, or at least to interview her.
7. Be flexible and realistic on the price
If you truly need to sell your home fast, you may have to negotiate on the price in order to get what you want. This doesn't mean you have to accept an offer you're uncomfortable with. But you need to be as detached as possible if you truly want to sell your house. After all, this is a business transaction; all the love and memories you've poured into that home mean nothing to the buyers.
There are several ways you can improve your situation before you even get your first offer. For starters, use the rest of this post as a checklist. If you haven't taken care of the basics, don't be surprised if you get offers well under your asking price, even in a seller's market.
It also helps to know what kind of market you're in. This is another area where a stellar agent is well worth the commission. A good agent will have an innate sense of how your home compares to the rest of the market in your area. He or she will be able to play up its best features to help you get a top price, while helping you address its drawbacks long before the negotiation phase. He or she also has a good sense of how the process will unfold, based on national and local trends, so you'll know what to expect.
A little research on your end will help give you a head start in this area, too. If you haven't already, look up your home and others near you on Zillow. This will give you a sense of your home's estimated value, and how that value has changed over time. If you start with an asking price that's way above Zillow's quote, you'll probably end up disappointed; buyers are using this site, too, don't forget.
And finally, it does help if you have a minimum price in mind that you're able and willing to accept (say, to pay off your current mortgage). This will help you in negotiating so you know when to walk away, rather than ending up with a really bad deal that you can't stomach.
Your turn:
If you've sold a home before, what did I miss? What's your favorite tip when it comes to how to get your house ready to sell? Don't keep it a secret – let us know in the comments!
If you enjoyed this post on how to get your house ready to sell, please share it by pinning this image!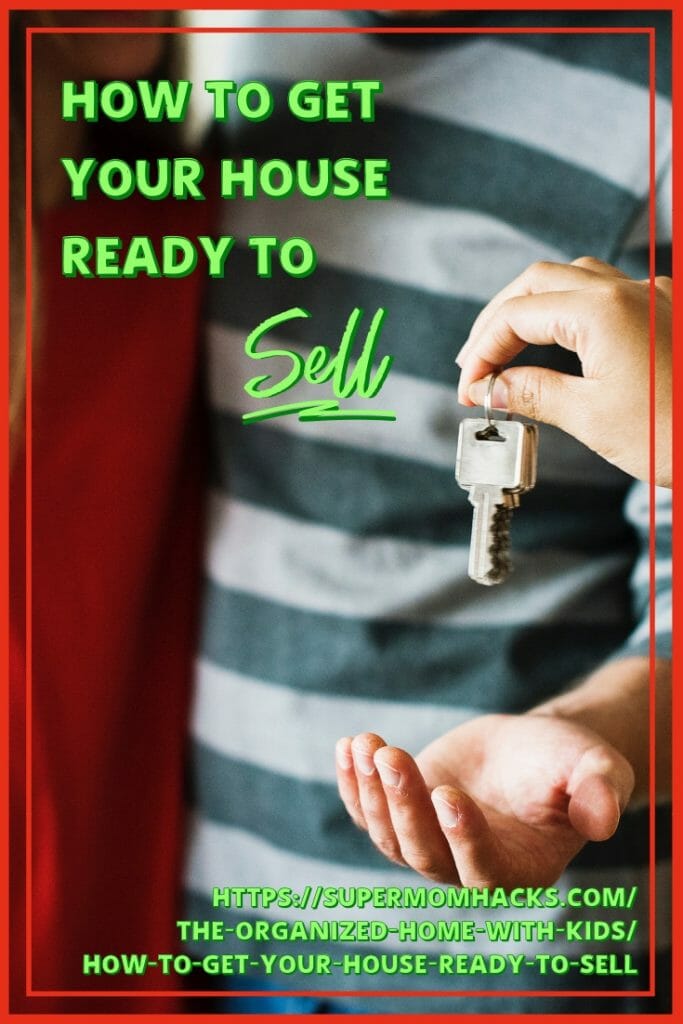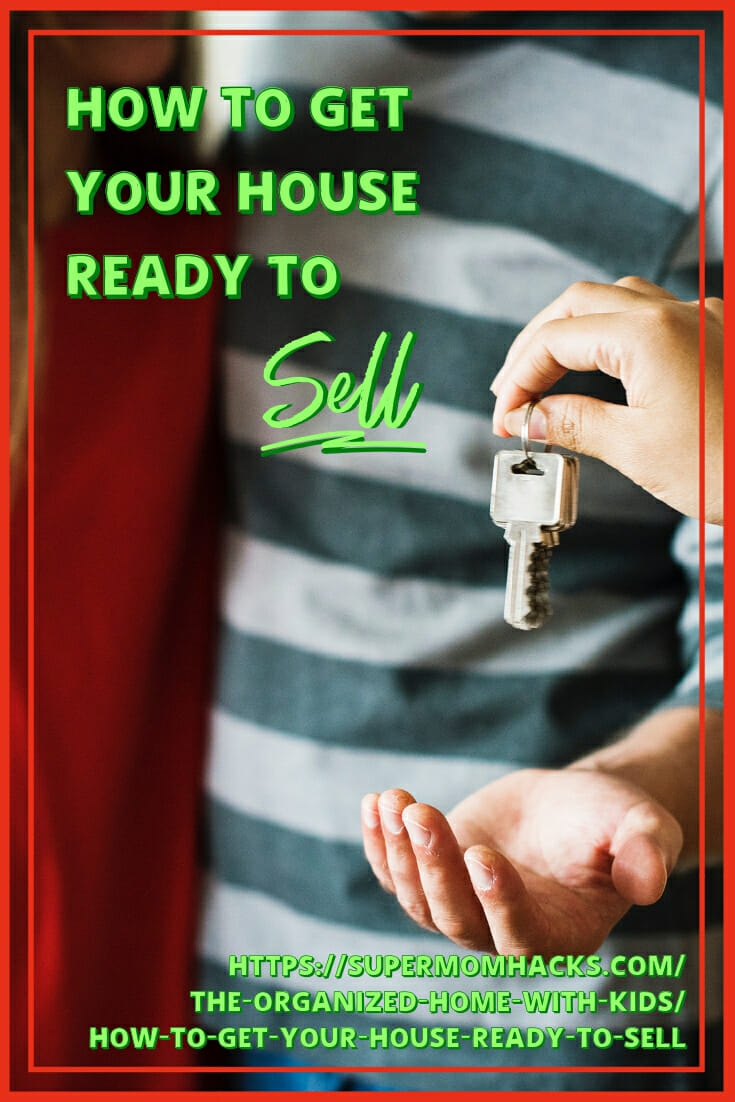 NOTE: This site contains affiliate links. I may earn a small commission from any purchases made through affiliate links, at no additional cost to you. For more information, please read the full disclosure/privacy policy.