Feeling stressed? Feel like you need more sleep? Or is life just too much from time to time? Want to make your home more relaxing, but don't know where to start?
We all feel like this, more often than not. And while you may do your best to keep everything at bay, there are times when we need that little extra something. You may wake up in the morning and look around your home and feel it's just a big pile of junk. If that's you, ask yourself: are there any things you can do to trick yourself into relaxing a little bit more? In fact, there are! These quick fixes can help you make your home more relaxing.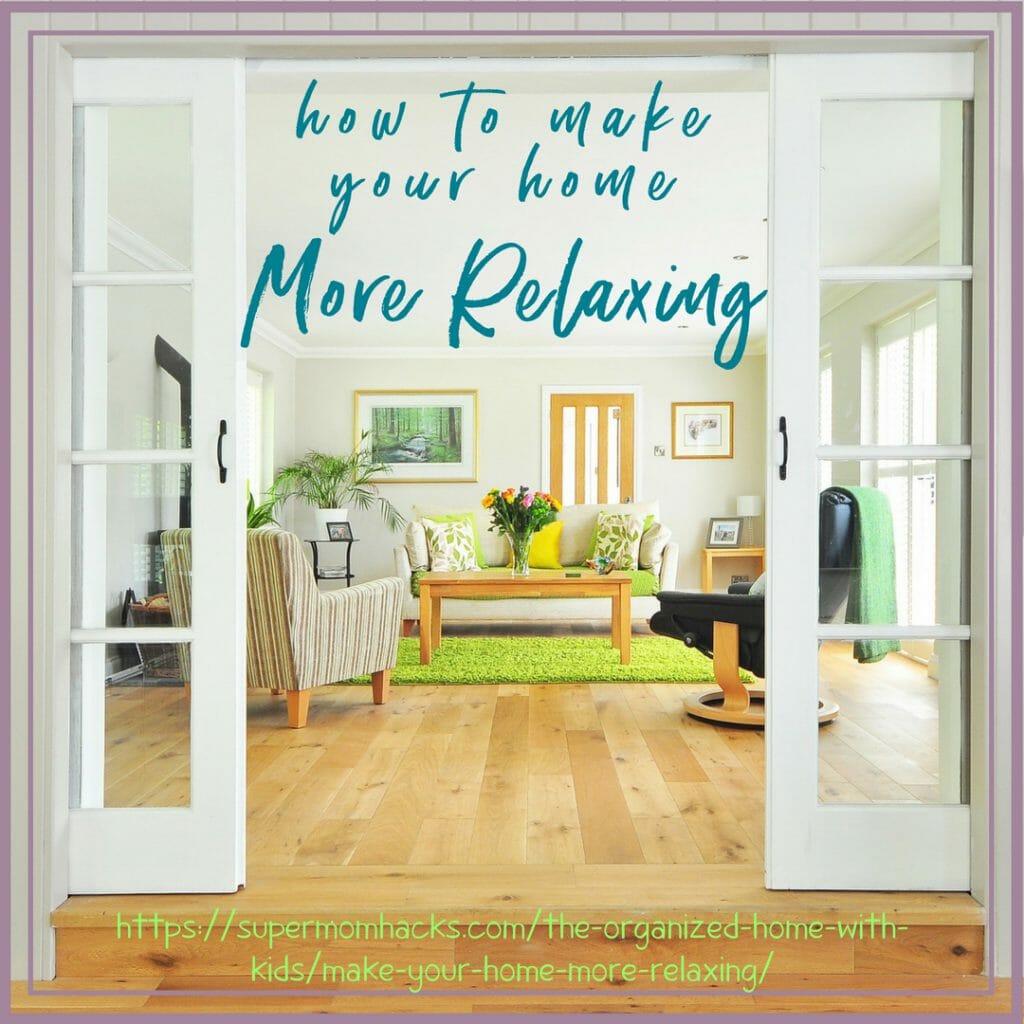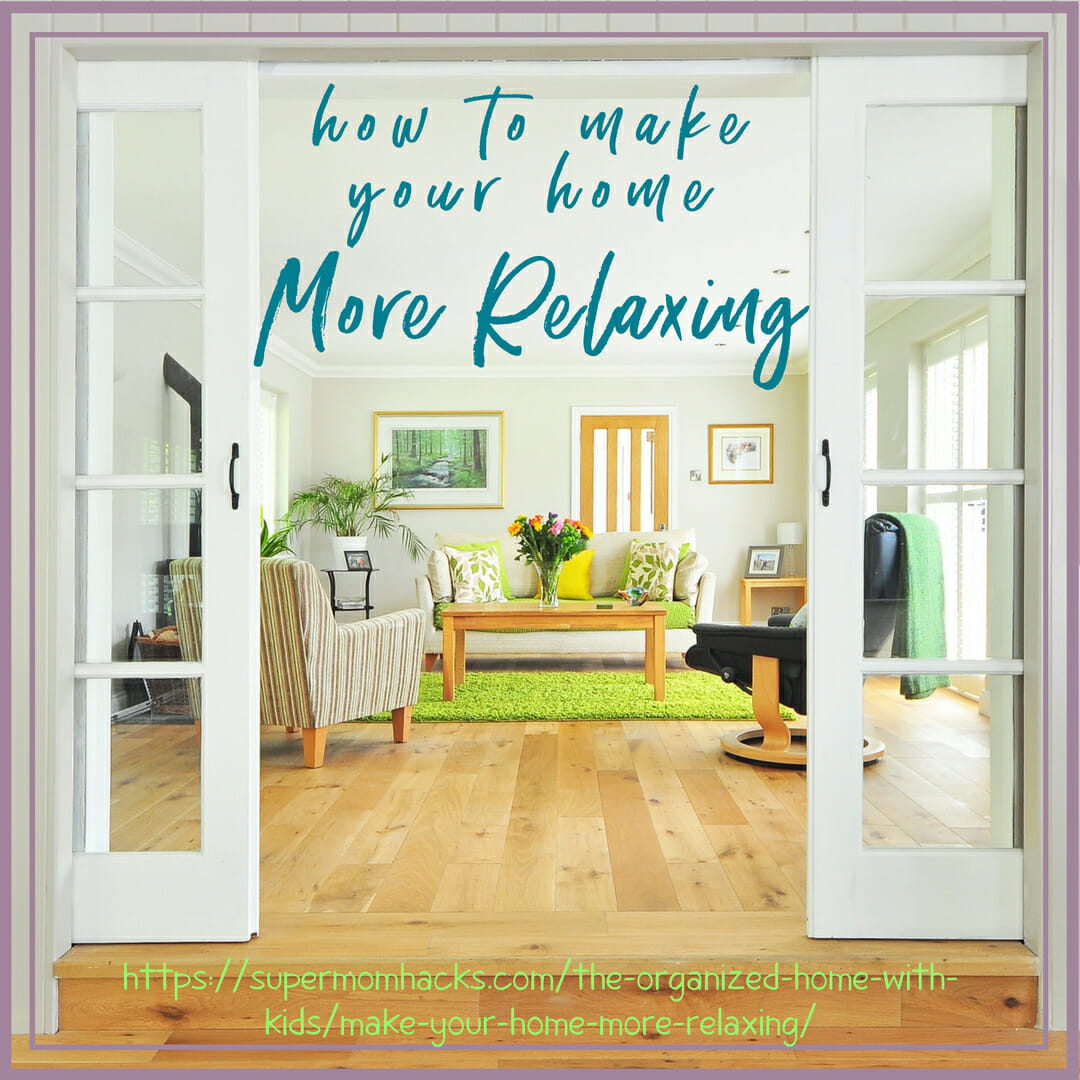 How To Make Your Home More Relaxing
Play With Colors
If you find yourself feeling incredibly stressed, you'd be surprised what a difference a fresh coat of paint could make.It's easy to make your home more relaxing from top to bottom with the right colors. As those of you who follow me on Instagram know, I just repainted our kitchen from a dull white with putty trim to a sunny yellow with white trim, and the difference is stunning. More importantly, it makes me happy every time I look at it!
If you're a big fan of dark reds and vivid colors, and your walls reflect this, it might be time to make a change. Painting your walls more neutral colors, such as creams, whites, and blues, will help to relax your frame of mind. If you want to feel more relaxed in certain rooms, such as the bedroom or the bathroom, painting these rooms a deep blue has been shown to reduce the heart rate. All you need is a weekend and a few hundred dollars to transform a room's look. if you're a newbie to interior painting, ✅check out my DIY guide for tips to ensure your project's success.
Change The Smell
It's surprising how much smell can impact our mood. If you spend a lot of time away from your home, and you come back to a strange odor, it's enough to stress you out. Think about getting some diffusers, specifically ones with aromas like patchouli or lavender, to trick your senses into calming down. Lavender candles are another great trick to achieve this calming effect. Even opening the windows on a day that's crisp and cool to air out your house for 15 minutes can make a huge difference.
Diffusers can especially add an air of home and relaxation in the bathroom, especially when you sink down into a relaxing tub and have some quality "me time." If you have a family member whose nose is especially sensitive to smells (as mine is), perhaps making a little bathroom retreat of pleasing aromas will work. And if you're trying to keep cooking odors from invading the whole house, try putting a bowl or glass of white vinegar next to the stove where the cooking is taking place. The vinegar helps to absorb the odors as they're released. I don't know how this works, but I read about it once and have tried it, and it does seem to make a difference!
Use Better Lighting
Is your home lighting harsh instead of relaxing? Modern energy-saving bulbs are great for lowering our energy bills, but not always so great for our mood. Dimmer switches or track lighting, especially in the kitchen, will help to evoke a calmer atmosphere. Dimmer switches, in particular, are great if you are trying to have a date night at home with your partner because it creates an automatically relaxing atmosphere.
Also make sure you choose a "warmer" color when buying those energy-efficient bulbs; read the guides in the store or on the box to make sure you get the right number of Kelvins when buying your bulbs. If that last sentence made no sense to you, check this guide to give yourself a head start before you get to the store.
Splurge on that Little Change You Crave
And on top of this, never underestimate what you want out of your home. If you are constantly trying to save money, or you are suitably unimpressed with your home, it's hardly a surprise that you feel stressed. Taking the opportunity to make a few simple changes in some of your rooms will make big changes in how you feel.
Something as simple as a little update in the bathroom, like a new vanity, can create a stylish, yet relaxing, spa-like atmosphere. Or getting a new mattress for your bed could lead to a better night's sleep, which definitely helps with stress levels! Or maybe a few new throw pillows on the couch, a new bedspread, or even some fresh flowers on the table will lift your mood.
Ditch The Clutter
Clutter and mess stress me out to no end.If you feel that way when you look at your home, then you know what you need to do.
Start small. Even straightening a drawer can give you the satisfaction and momentum you need to keep going. Consider these no-brainers for ideas to get you started with "letting go" of things you no longer need. If it's outgrown kid stuff that you're drowning in, consider consigning it, so it will stay out of a landfill and you can pocket some extra cash. This post has other ideas on places you can offload your no-longer needed stuff.
On the other hand, maybe your clutter stems from not having proper storage options. If it's paper clutter that you're drowning in, check out the system that has revolutionized my life in this area. If you have a closet with dead space, this hack can help you transform that space into something more useful. Even an extra shelf can make a huge difference by helping you free up other surfaces.
Get Family Members to Pitch In
And for goodness' sake, DON'T try to go it alone! (Unless, of course, you live by yourself.) You are not the family maid. Except for infants, everyone should do their part to help keep your home neat and tidy!
There's only so much you'll be able to do with your partner's habits, but keeping the lines of communication open will help. And train your kids from the toddler years on to take care of their own stuff. Also check out tips on how to get kids of all ages to pitch in around the house, and my latest effort to get the girls to help with regular cleaning, which is still working like a charm, four months on.
If you're prone to stress, your home shouldn't be one of the causes of that stress! Think about the senses, but also consider what you really want out of your home. Look around. Are you actually happy with your surroundings? And if not, what little changes can you enact to make your home more relaxing?
If you enjoyed this post on ways to make your home more relaxing, why not share it with others by pinning this image?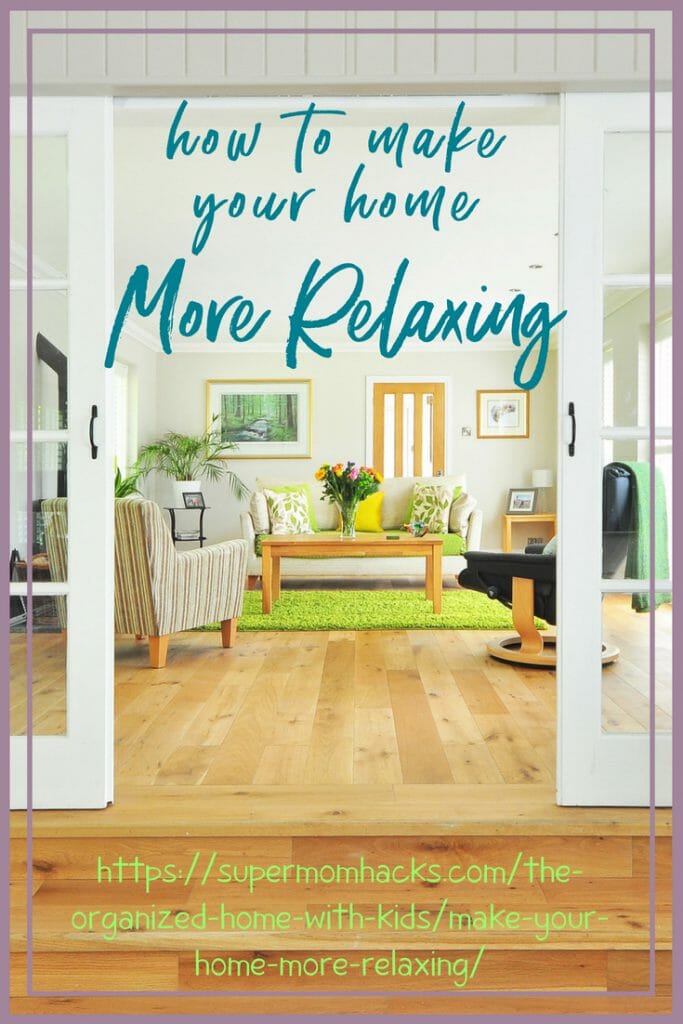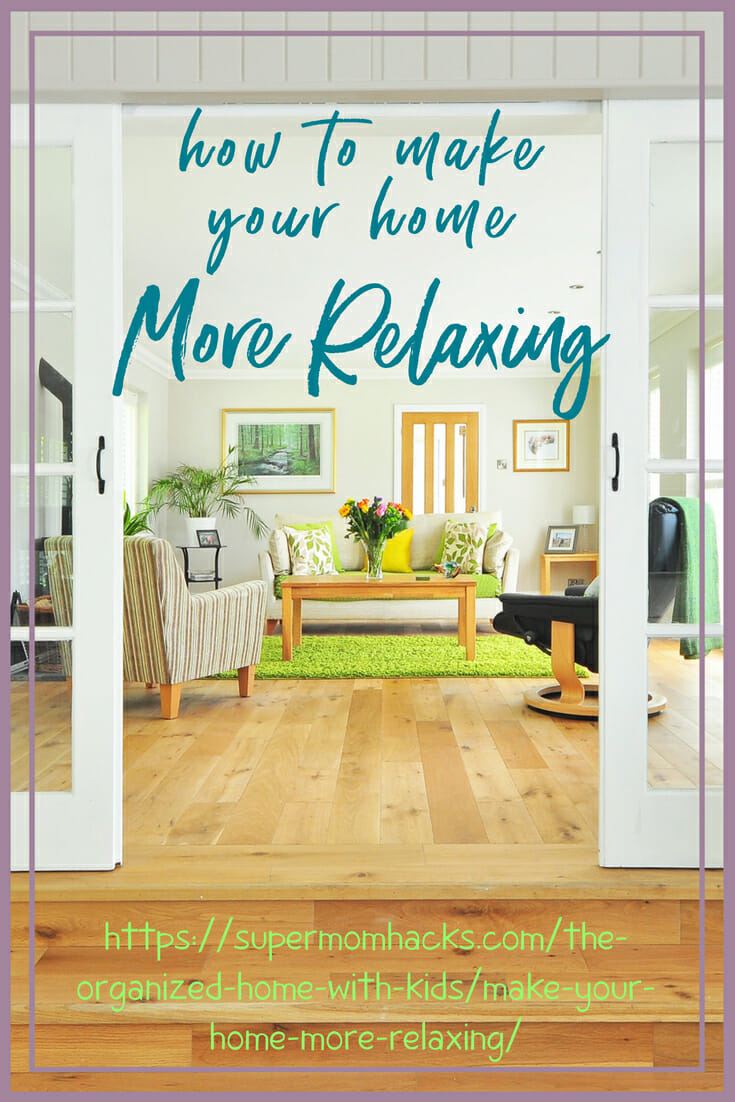 NOTE: This site contains affiliate links. I may earn a small commission from any purchases made through affiliate links, at no additional cost to you. For more information, please read the full disclosure/privacy policy.