What is consignment, and why should all parents consider it?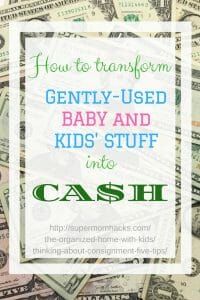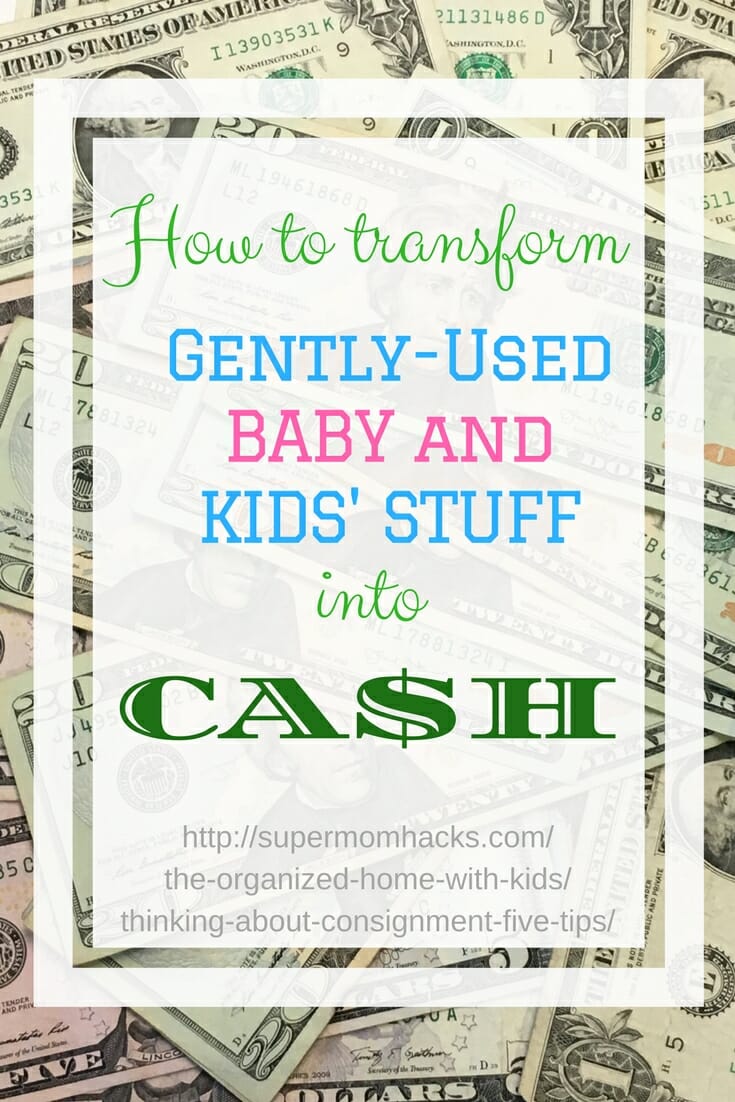 Anyone who's been a parent for any length of time knows the eternal dilemma of modern parenting. Namely, how to keep from drowning under all that baby stuff, toddler gear, and related paraphernalia you're no longer using. At some point, containing the clutter and organizing your abode simply isn't enough; it's time for some serious editing. Time to move it on to someone who'll get more use from it than you will.
With any luck, you have a nearby sibling or close friend with kids a little younger than yours. If so, no doubt that's where you offload the mountains of stuff your kids have outgrown.
In our house, we've been blessed with an abundance of such hand-me-downs. Not to mention doting grandparents who love to spoil their first two grandchildren. But we haven't been equally blessed at the other end of the cycle. With no cousins nearby and lots of friends with older and/or boy children, we're stuck. My dear friend Keisha's boys just aren't into those adorable frilly dresses the girls have outgrown.
I first began consigning baby gear when Kimmie was a year old. Some of it was stuff I'd bought for her before her birth, with every intention of using. (Only to realize afterward that we'd NEVER use it, even if Kimmie got a sibling someday.) What to do with brand-new things that you can't return to the store? Or those outfits that looked adorable on the hanger, but downright weird on your sweetie?
1. Do some research
Fortunately, we're near lots of consignment boutiques that sell gently-used baby and children's clothing, plus baby/kid gear. I'd already started to shop in some of them, and had a sense of what types of items/brands each carried. After checking with some local mommy-friends about where they offloaded their used stuff, one store's name came up repeatedly as the best place to go. Both for the biggest payout (45% of selling price) and the broadest range of stuff accepted.
When I thought about it, I realized that most of our second-hand stuff had come from Baby Consignment (what we call this particular store) anyway. This suggested that the tastes of both the store owners and their clientele were already similar to my own. I checked out their website, asked for more details in person about the consignment process, and then began to collect my stuff.
2. Know the rules ahead of time
One of the reasons I initially chose Baby Consignment was because they were the only area store that accepted ALL brands, so long as the clothing was in excellent shape. Moreover, I knew from what I'd seen there that they sold everything kid-related. Not just gently-used clothing, books, and toys, but also feeding gear, baby towels and washcloths, diaper bags and carriers, car seats and strollers, and those cute little infant shoes and sets of socks that your newborn never kept on (or never even wore in the first place).
I double-checked what items they didn't take, noted their drop-off policies (only 40 clothing items at a time except by appointment, no limits on toys/gear), and did another pass-through of my house for things we could live without.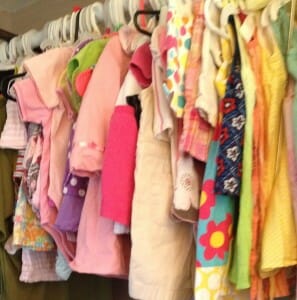 3. Check your items carefully
As a general rule, consignment stores will only accept items that are ready to sell: no holes, stains or tears, no missing pieces, all buttons buttoned and snaps snapped, wrinkles ironed out, that sort of thing. After you've piled things up for awhile, you'll want to examine each item closely as you're preparing for drop-off:
Are there any hidden stains or missing pieces that you didn't catch the first time around?
Would a touch-up on ironing or a last pass with some soap and water make that blouse or toy more attractive to a potential purchaser? (Remember, what the item means to YOU is worthless. Try to look at all of your stuff with the detached eye of a critical buyer.)
Has the item already been handed down one time too many, whether because it's excessively worn or dated?
4. Double-check your stuff (and the store's rules!)
Likewise, unless you live someplace where it's hot (or cold and snowy) year-round, you usually can't consign bathing suits and shorts at summer's end (or winter gear in early spring). Consignment stores generally rotate stock according to the same rules as the rest of the retail world. If you want to buy (or sell) summer clothes, you have to show up in the spring. If it's Halloween costumes or Christmas accessories you're trying to offload, you'll generally need to drop them 2-3 months before the holiday arrives.
Check stores' websites for complete rules on what they'll accept, and when. Even if your own kiddo wears shorts in winter or hoodies through summer, getting top dollar requires following the seasons of the retail world. As Essie began outgrowing baby clothes, I began to sort things by season and stack them in computer-paper boxes. I labeled each box with a sticky note stating what season it was, and when it should go to Baby Consignment.
Also, be sure to leave time for one last check (plus additional cleaning if needed) in the days before your planned drop-off. Even if you put something away looking spotless, baby spit-up stains magically reappear over six months in storage. And of course, the place where you store things should be as climate-controlled (plus pet- and critter-free) as possible. Your dank, musty basement will be bad for books and clothes in storage. Ditto your hot, humid attic in the dead of summer. And no shop owner wants to accept consignment items covered in pet hair, or stuff that reeks of mildew or cigarette smoke.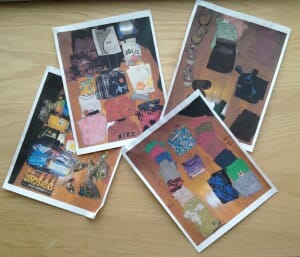 5. Keep good records
On a whim, I decided to take pictures of everything I was bringing to Baby Consignment for my first few drops. While I knew I'd recognize the stuff we had used regularly when pickup time came, I wasn't so sure about those not-quite-right accessories and new-with-tags outfits.
I'd already sorted my items by size and type, so it was easy to lay them out on a flat surface, snap a few pictures, and print out 8×10 versions on our color printer. I then wrote in the margins the store name and the date I was dropping the items off, and filed each group of drop-off photos in a plastic folder that I took with me to each drop and pick-up.
Over time, these extra few minutes of preparation have saved me more than once. Whenever I can't find an item at pickup time, having pictures to remind myself (and store staff) of what it looks like helps us find it. And once or twice, when something has gone missing or was mis-tagged and credited to another consignor's account, I had proof that it was something I brought in. That way, the store still gave me credit for the sale despite their error.
After trying our bed and the dining-room table, I've settled on our front-hall floor as the best place to spread things out; taking pictures from halfway up the stairs, looking down on the items, works well.
6. Have a plan, and plan your time
If you're short on time or pressed for childcare, which store you choose may boil down to whose policies best suit your needs. For me, Baby Consignment came out on top because of the flexible drop-off hours and the well-stocked kids' play area. The latter was crucial for kiddos to happily amuse themselves while I did my thing. Depending on how much stuff I've had to drop and/or collect, this process has taken me anywhere from 15-60 min.
If you don't have that sort of time, finding a store that will pull remaining stock for you (versus making YOU locate unsold items) may be a deal-breaker. Likewise, it's worth finding out beforehand:
Will the store go through your items, to decide what they'll accept and what they won't, while you wait? (This takes longer upfront, but saves time later.)
Or is it their policy to go through your "drop" at a later time? (This means you'll have to return to pick up items they don't want to sell.)
And if you'll need to go back, how much time do you have to get back there? A week, or only a day? (Extra trips out with your kiddos can waste a lot of time.)
The bottom line:
Consigning takes time plus a willingness to follow the rules, and you certainly won't get rich offloading stuff this way. Moreover, for larger items, you will make more money – for less time and effort – by selling on Craigslist, or through online groups and workplace bulletin boards.
But if you have nice secondhand stores in your area where you already shop anyway (as I did), selling your own kids' outgrown stuff can definitely offset the cost of shopping at these stores. If you have enough store credit in your account, it can even make many of your shopping trips "free."
Have you ever tried shopping (or consigning) at children's resale boutiques? Let us know in the comments!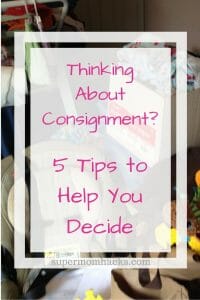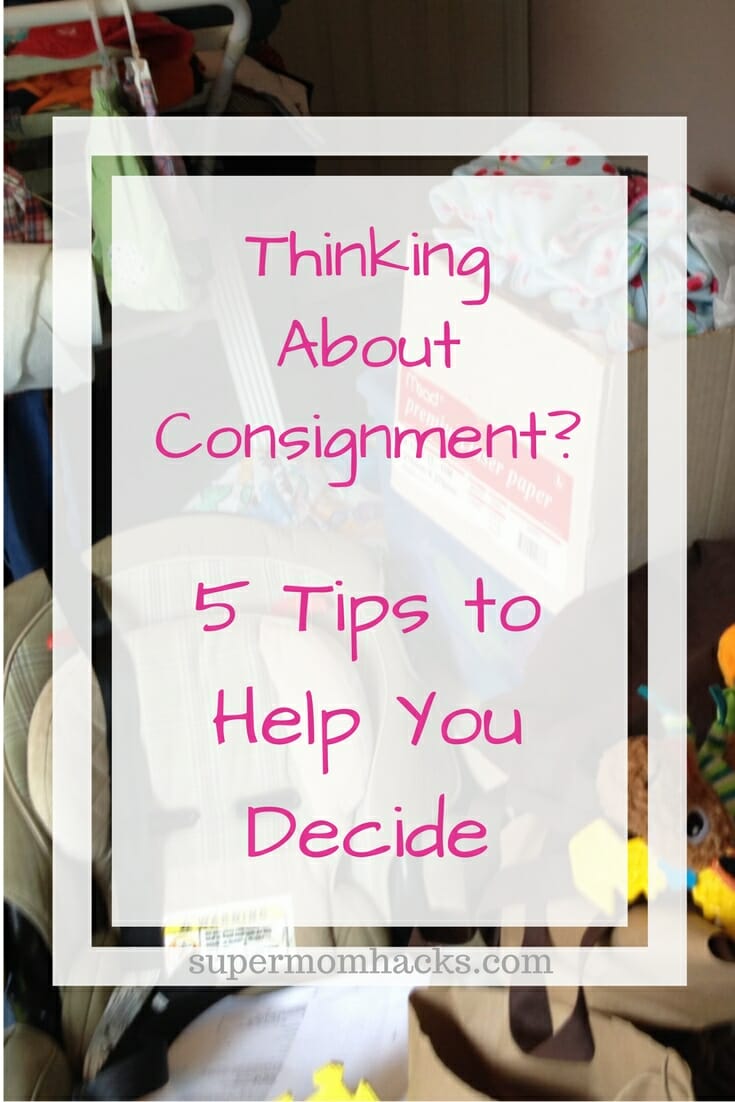 NOTE: This site contains affiliate links. I may earn a small commission from any purchases made through affiliate links, at no additional cost to you. For more information, please read the full disclosure/privacy policy.