The New Year is here; perhaps you're cleaning house as part of some New Year's resolution. If so, or even if you're still just dealing with the aftermath of holiday gift-giving, you may be on the hunt for more (or better) storage in your home.
If you feel stuck when it comes to adding more storage to an already-tight house, try looking overhead. You'd be surprised at the nooks and crannies where you can add an extra shelf or two of additional space, where it's out of little ones' reach when you don't need it, but at your fingertips when you do.
We've added a number of storage niches like this around the house, and they've made a world of difference.
In our small walk-in closet: A wraparound ceiling-height shelf on all four sides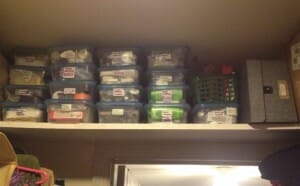 I love customizing the space inside closets. While I was thrilled that our new home came with a small walk-in closet in the master bedroom, I wanted even more storage space than it already had. Among the shelves I added, I installed a shelf at just-above-door level on all four sides. It's a great place to stash out-of-season clothes and shoes, travel supplies (think sample-sized tubes of toothpaste and contact lens solution), and other things we don't need to access on a daily basis.
In our laundry room: Space to store laundry and cleaning supplies
This shelf installation required a new drill bit for our electric screwdriver – one that is designed to go through concrete – plus concrete wall anchors. In return, we gained a ton of space for storing laundry detergents, stain removers, and other household-cleaning items way up high, out of the reach of curious kiddos. Our new shelves are over the laundry sink, in a corner tucked just inside the door, where they're accessible when doing laundry but otherwise out of the way. Using wire shelving means we can hang stuff underneath the shelves and over the sink, from recently-washed paintbrushes to a roll of paper towels.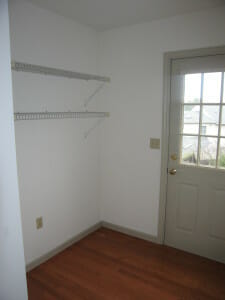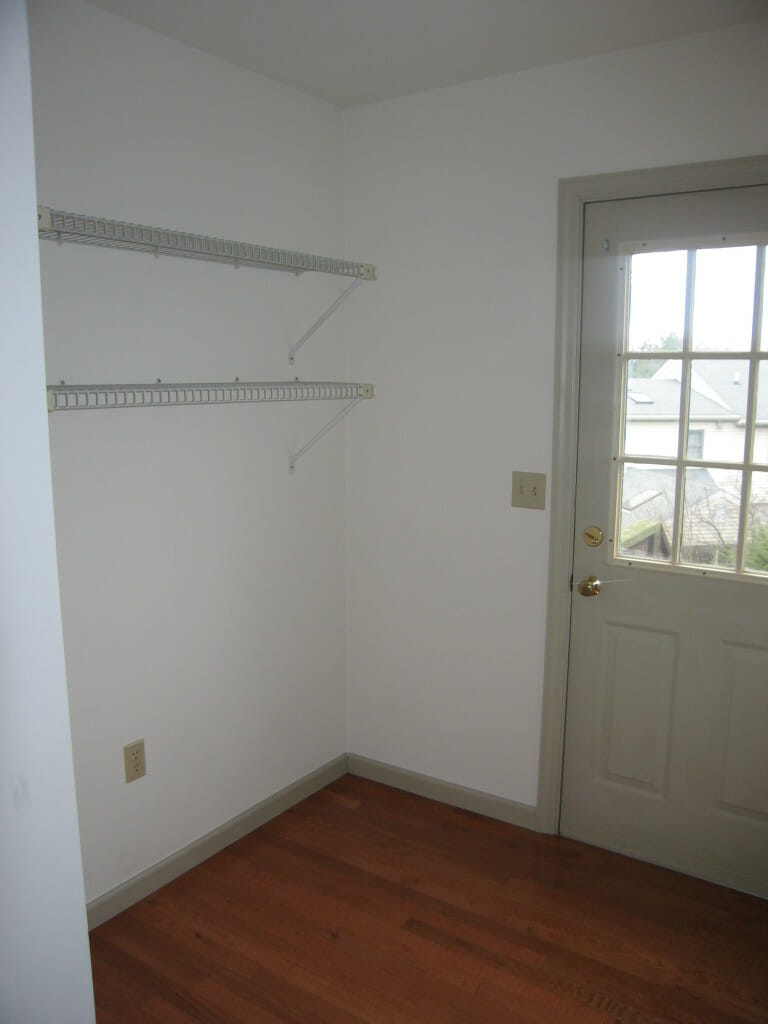 In an unused back hallway: A home office/overflow storage space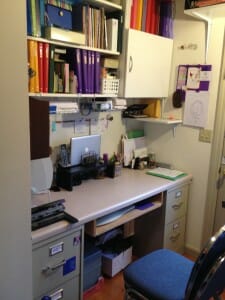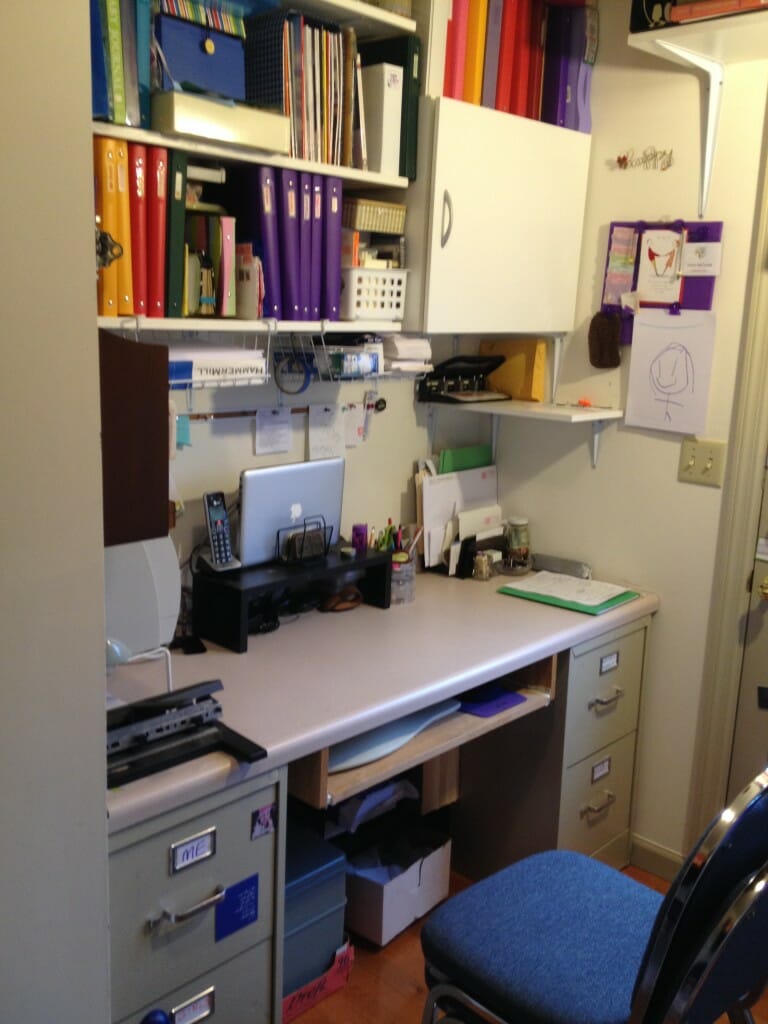 This was the most elaborate project, and involved more than just some shelves around the ceiling, which were the finishing touch. When I first saw the hallway tucked behind our kitchen and first-floor bath, I thought to myself, Hmm, what a perfect place for a family-headquarters home office! So we put in a pair of file cabinets, a piece of countertop over it (instant desk!), some shelves, and a storage cabinet. The cabinet and wall brackets were the only parts we had to buy; we repurposed the rest from my single-gal condo and my hubby's bachelor pad.
But then I thought, hmm, still could use more high storage for little-used office products. So I added another shelf (featured in the pic at the start of this post), over a door that leads to our backyard. More recently, I added an additional shelf, along the unused wall, to hold little-used baking supplies (food coloring, cupcake liners, cookie cutters, etc.). Then I added a few hanging under-shelf wire-mesh bins to store even more little-used supplies, and now I hang extra baskets from the wire mesh with S-hooks.
At the foot of our basement stairs: A shelf for meals-to-go containers
Rather than filling up our trashcan or recycling bin, we save certain types and sizes of plastic containers from grocery items, then reuse them when preparing food items destined for outside our home. Whether it's cookies for a school party, several meals for a friend recovering from childbirth or surgery, or a salad for a potluck or party, I'd rather have an assortment of disposable dishes on hand to choose from, and prefer not to spend money on these items when we can repurpose them for free in the course of daily living.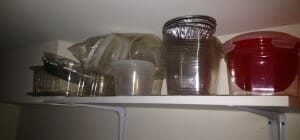 The only problem was, we didn't have a good place to store them before – a place that was reasonably accessible, but not cluttering up our kitchen cupboards. Then I realized there was a perfect nook at the bottom of the basement stairs where I could tuck a shelf. Problem solved.
Over the door in the craft room/play space: A shelf for matting and framing supplies
A couple of times a year, I have something I'd like to preserve by matting and framing it – a favorite poster, a birth or wedding announcement, a special photograph, etc. Often these are gifts for family members. However, the cost of having them professionally matted and framed was becoming prohibitive, and I was becoming increasingly frustrated at having to send things back for re-doing because they weren't done the way I wanted.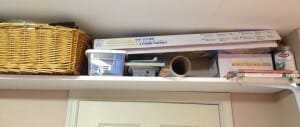 So I did a little research on DIY mat-cutting; scouted out coupons for the local art-supply chain stores; and bought myself some basic framing and mat-cutting tools for far less than the usual cost of getting one piece professionally done. But I needed a place to store these sharp, delicate supplies where my kiddos couldn't reach them.
Once again, I looked up, and found a perfect space over the doorway at the entrance to my craft area.
Need ideas for where to start?
If you're stuck for ideas on where you could add an extra shelf around your home, then closets, basements, and garages are a good place to start. Even the tiniest garage can probably handle a shelf near the ceiling. Thanks to last weekend's efforts, my brother Evan's tight one-car garage now has a shelf above his new workbench, which is perfect for storing large plastic containers of little-used gear.

The options for adding in an extra storage shelf are only as limited as your imagination. If you like the idea but are intimidated by where to start, check back for some how-to tips for newbies that I'll include in a future post.