Does your child know how to write a thank you note? Writing a thank you note may seem like an outdated skill. But sending a thanks message never goes out of style, and sending a thank you message for a gift is a basic common courtesy every child (and grownup!) should master. Writing a thank you note or a heartfelt thank you letter can seem intimidating, yet sending a heartfelt thank you is not as hard as it may seem. Writing a memorable thank you note is easy if you follow a few simple rules.
When I first taught Kimmie and Essie how to write thank you cards, we followed a basic format that I've used my whole life. This formula for how to write a thank you card works for every situation I've encountered, from thank you notes to teachers, to ideas for graduation thank you cards, to how to thank someone for money or how to write wedding thank you cards – even baby thank you card wording!
RELATED POST: Thank You Notes for Teachers
RELATED POST: Easy Ways to Teach Your Child Gratitude
With so many people celebrating spring birthdays, and with wedding and graduation season just around the corner, there's no time like the present to brush up on the art of writing a memorable thank you note. Ready to get started?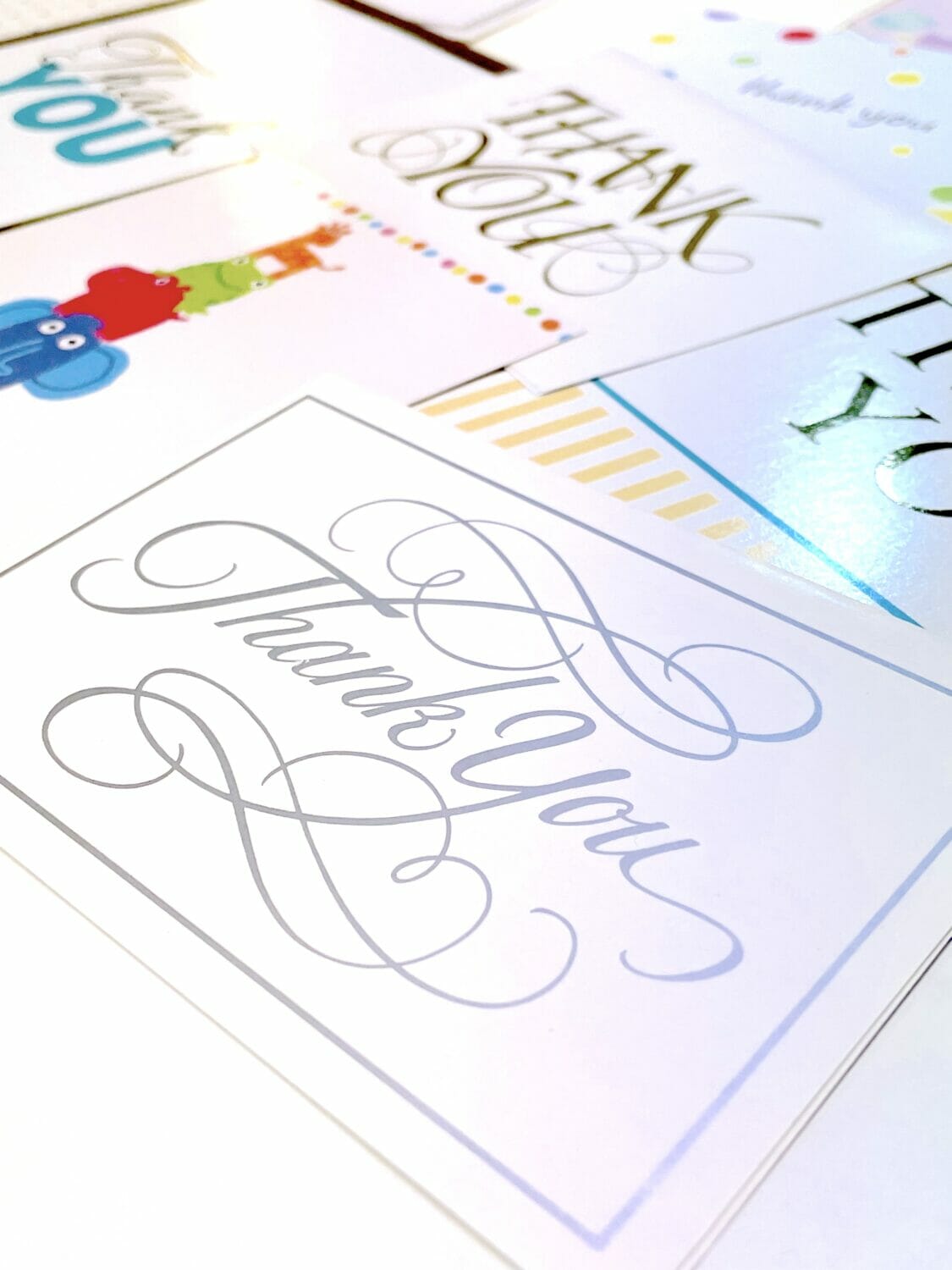 This post is sponsored by Basic Invite. However, please know I stand behind everything written here, and only include links to products/services/resources I'm willing to recommend personally.
How To Write A Memorable Thank You Note
But first: why do handwritten thank you notes matter?
Before we dive into writing a thank you note and example thank you notes, it's important to remember WHY handwritten thank you notes and meaningful thank you messages matter.
A well-crafted thank you note is so much more than just a small (not-so) random act of kindness that can brighten someone's day. It's the right thing to do, and lets the recipient know you appreciate the time and care they invested in you.
I recently overheard a grandmother complaining that she received a thank you text message from a teenage grandchild. Needless to say, she was NOT impressed.
The grandmother had invested time and energy, as well as money, in choosing a birthday gift for the grandchild. It took effort to package and mail the gift – time the grandmother might have spent visiting with her own friends, volunteering in her community, or participating in one of her hobbies.
I could totally understand why, from her perspective, a fifteen-second text message was NOT the appropriate way to send a thanks message.
I've known grandmothers who choose to stop sending their grandkids gifts when they don't receive a proper thank you. Yes, the act of giving a gift to a relative is partly about the giver deriving satisfaction from that act; but that STILL doesn't let you (or your kiddos) off the hook for sending a proper thank you note.
Your kids may grumble and complain (mine sure do). But practicing handwritten thank you notes now will serve them well in the future, whether they're applying for jobs, trying to advance in their chosen field, or interacting with potential future in-laws.
How to Write a Thank You Card, Step By Step
The basic formula for writing a heartfelt thank you letter is actually pretty simple. This is the formula I've used throughout my life, and what I've taught my kids to do as well.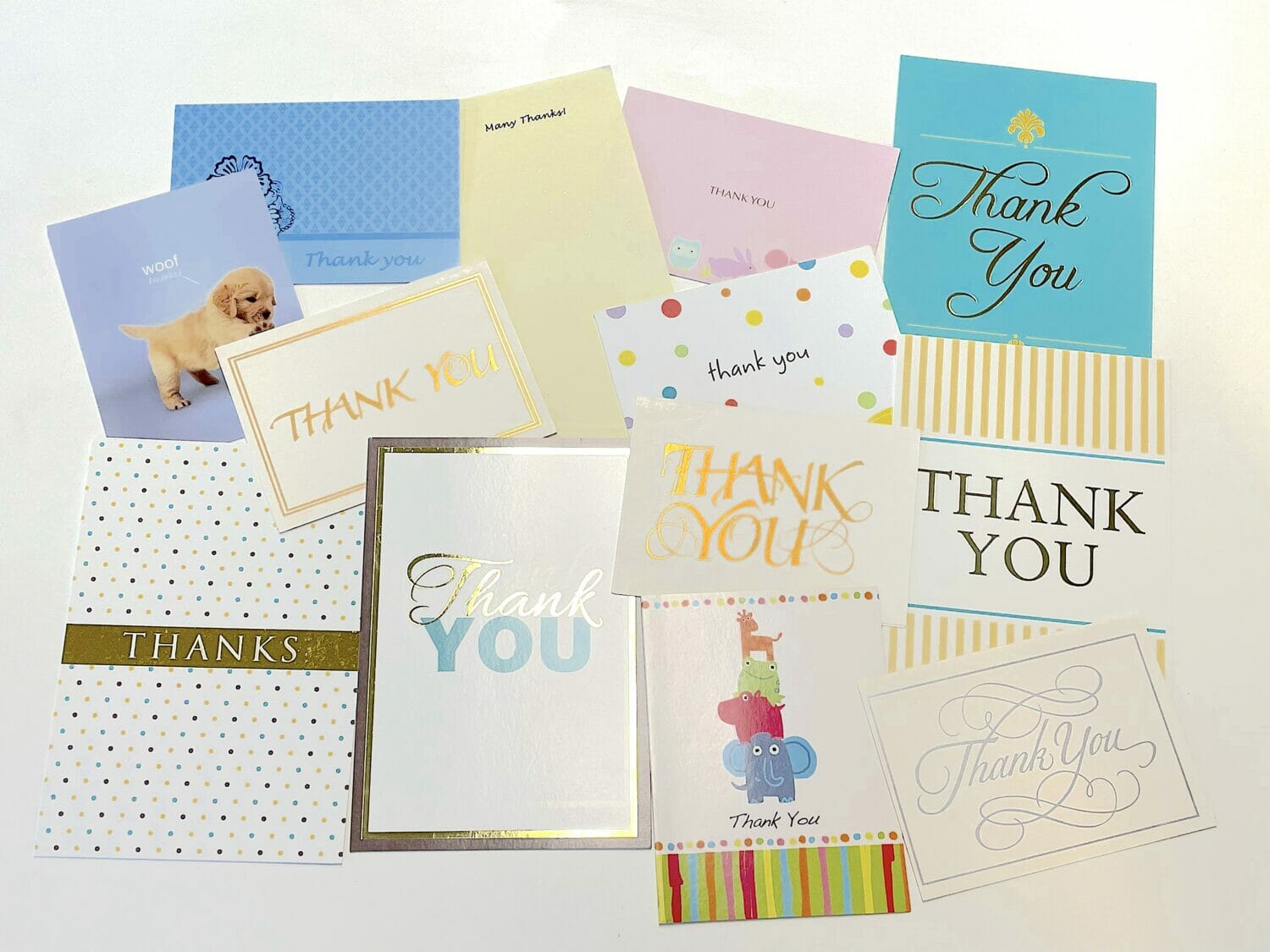 Writing a heartfelt thank you is easy if you follow this pattern:
Greeting/Salutation
Thank you for [x – specify what you're thanking them for]
(Optional) Additional expression of gratitude that is specific to the giver and/or to the gift
Sentence stating how you might use the gift, how you look forward to using it, or something about the gift's unique qualities
(Optional) Elaborate on the previous sentence
Sentence that looks to the future, or references your relationship to that person
Closing
Note that this formula works even if you don't like the gift! When I was growing up, I remember receiving handmade gifts from elderly friends-of-my-parents that I honestly could not identify what they were supposed to be! But that did not get me off the hook for writing a memorable thank you note that was both sincere and honest.
Ideas for thank you cards: Sample thank you notes
Ready to see the this thank you card formula in action? With just a few quick customizations, you can easily write the best thank you notes using the format I outlined above.
Even better, if you're writing lots of thank you notes (e.g. for wedding gifts, graduation gifts, or after a baby shower), you can draft one basic thanks message and just customize the appropriate parts of each one!
Here are some examples to get you started:
Thank you message for gift:
Dear Shiloh,
Thank you for the dinosaur toys you gave me for my birthday! I really like dinosaurs, and I can't wait to play with them. I am glad you could come to my birthday party.
Your friend, Aspen
Another thank you note for birthday gift:
Dear Talon,
Thanks for the cool hoodie you gave me for my birthday. I love how fuzzy it is, and I can't wait to wear it to school. Hope to see you again soon in person – thanks again, Jamie
Yet another thank you note for birthday gift:
Dear Auntie Carissa,
Thanks so much for the Wings of Fire books you sent me for my birthday! I didn't have books #9-12 yet, so am stoked to add them to my collection. I have already started reading them, and can't wait to read the rest.
Can't wait to visit you again over the summer – love, Kali
Ideas for thank you cards when the gift isn't quite "you":
Dear Grammie and Grampy,
Thank you for the birthday gift you sent me! It was very thoughtful of you to remember my birthday. None of my friends has pajamas anything like these, and I really appreciate the time you spent picking them out for me and sending them to me. It was very generous of you.
Looking forward to seeing you again soon – thanks again for your thoughtfulness – Sam
Thank you message for teacher appreciation*:
Dear Mrs. Sema,
I am so grateful I had you for a teacher this year. I learned a lot from you, and you are the nicest teacher I ever had. I will miss you a lot next year.
Have a great summer – Tyler
*My kiddos often pair a teacher thank you note with a small plant or flower and a handmade card that says "Thank you for helping me grow this year," or a paperclip angel ornament and a handmade card that says "Thank you for being my guardian angel this year." If you have a plant that is easy to propagate from a cutting, or readily produces babies on its own, NOW is the time to repot those offshoots into smaller pots, so they can be well established by the end of the school year.
Thank you message for graduation gift:
Dear Padilla Family,
Thanks so much for the tool kit you gave me for high school graduation! It will come in very handy when I am off in my own dorm room next year. I am so glad you could come to my party, and am very grateful for the thoughtful gift.
See you soon – Jessie
How to thank someone for money:
Dear Mr. and Mrs. Nguyen,
Thank you very much for the check in my graduation card! I will put it in my savings account and use it to pay for textbooks when I get to college in the fall. I really appreciate your thoughtful and generous gift.
Sincerely, Peyton
How to write wedding thank you cards*:
Dear Aunt Cindy and Uncle Mervin,
Many thanks for getting us the air fryer we put on our gift registry! We've always wanted an air fryer, and cannot wait to use it once we're settled into our new home. It will be great for making quick weeknight meals after we both get home from work.
We're so glad you could celebrate with us on our wedding day, and hope to see you again soon.
Much love, Perrin and Rowan
More ideas for thank you cards – wedding cash gifts*:
Dear Uncle Eddie and Aunt Bev,
Thank you so much for the cash gift you gave us in honor of our wedding. As you may have heard, our new home is a bit of a "fixer upper," so we look forward to using your gift toward the renovation projects we have planned for over the summer.
We're sorry you couldn't make it to our wedding in person, but thank you again for the very thoughtful and generous gift – love, Macy and Piper
*IMPORTANT: Yes, with weddings one traditionally gets a somewhat longer grace period (up to two months) to write thank-you notes. DO NOT PUT IT OFF THIS LONG!!! Try to write several a day, starting even before the wedding (wait to mail them until after the ceremony).
And don't let the groom off the hook! Especially for gifts from his relatives and friends, there's no reason he can't do the bulk of the drafting/writing, and have you sign the notes (just as you should have him sign the ones you write).
Baby thank you card wording:
Dear Great-Aunt Clarice,
Thanks so much for the thoughtful baby shower gifts – we can't wait to use them! The bathtub set is exactly what our pediatrician recommends for Baby's first baths, and I'm sure Baby will have lots of fun with the bath toys, too.
We look forward to introducing you to Baby next time you come this way to visit. Thanks again for the perfect gifts – Lucy and Thom
OR
Dear Peggy,
Thanks so much for the adorable toys and clothes you sent to honor our new arrival! We look forward to using them when the weather gets warmer, and our preemie grows into them. It was very kind of you to send a gift, and we appreciate your thoughtfulness – warmly, the Faucher family
The Best Thank You Notes Start with Cute Ideas for Thank You Cards:
If you've read this far, you now know that handwritten thank you notes really don't have to be hard, intimidating, or take forever to draft. As the example thank you notes above show, writing a thank you note is pretty easy if you follow a few basic principles.
Handwritten thank you notes really don't have to be hard, intimidating, or take forever to draft! Writing a thank you note is pretty easy if you follow a few basic principles.
Click To Tweet
But for those of you who REALLY want to send the best thank you card this upcoming graduation season or wedding season, I have two words for you: Basic Invite.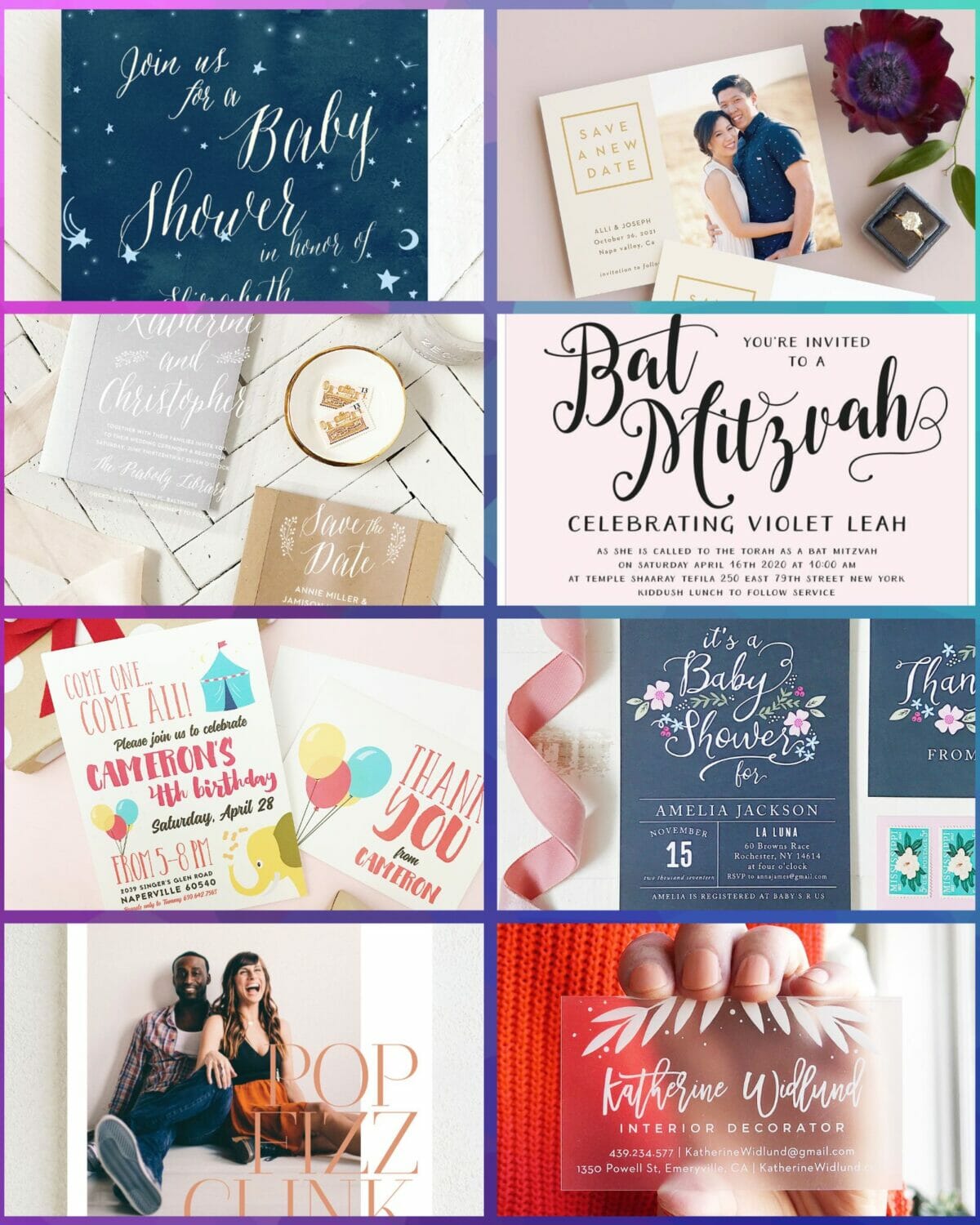 Basic Invite is a web-based stationery company that's unlike any other I've ever come across. From custom invitations and thank you notes to unique business card designs and personalized stationery, they've got you covered. They even make custom stickers for everything from weddings to bar and bat mitzvahs!
One of the coolest things about their company is that they will allow you to order individual samples of different designs, so you can see and feel what your actual product will look like before committing to your final design.
They also offer multiple colors of foil accents for many of their designs, in either raised or flat foil, as well as 40 different envelope colors. And with over 180 print colors to choose from and the ability to customize the color of each aspect of your design, you'll have no trouble getting exactly the look you want.
Outstanding product, fast turnaround, excellent value
When I placed a sample order with Basic Invite before writing this post, I was super-impressed with how quickly it arrived. My thank-you cards came twice as fast as their shipping estimate.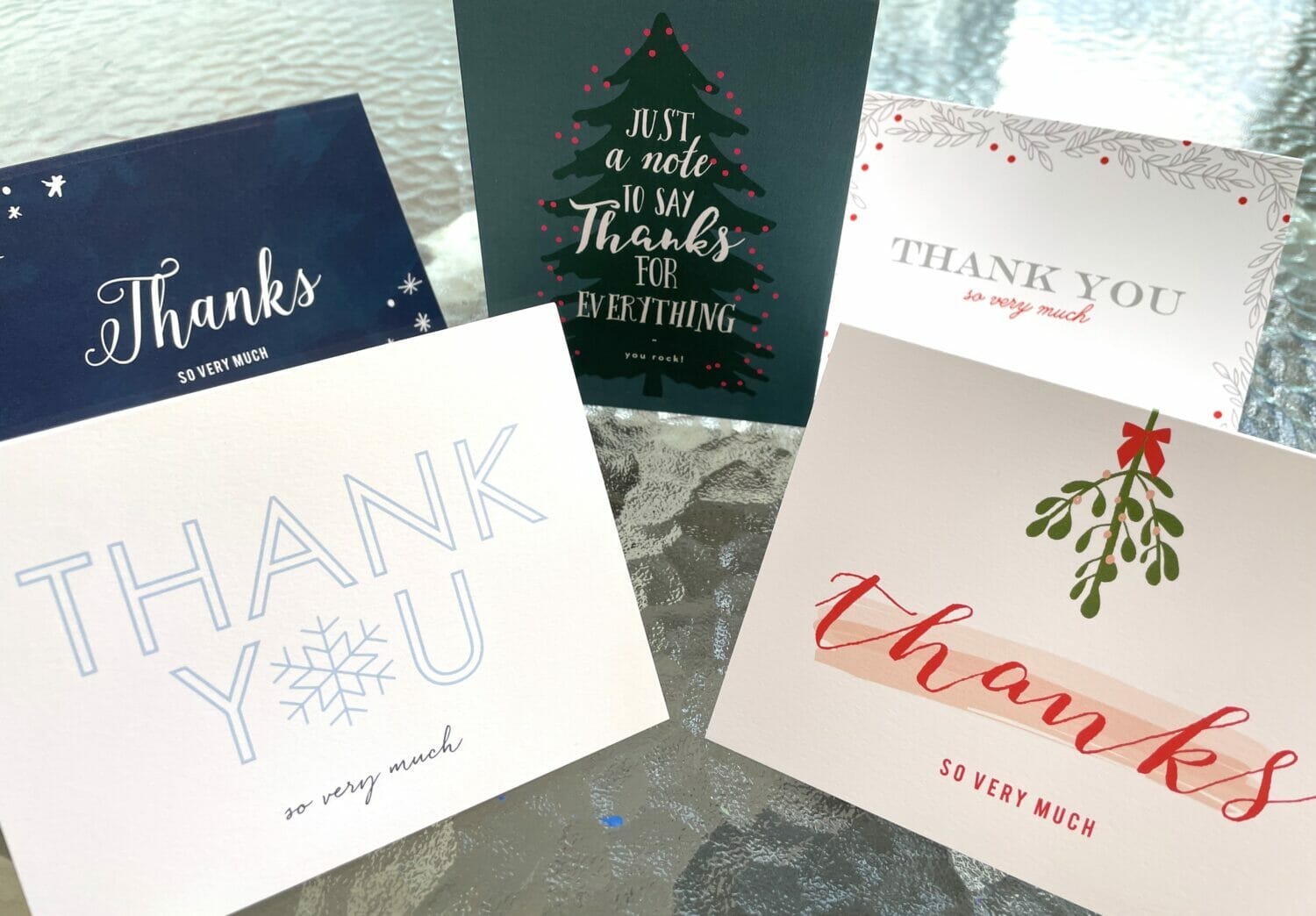 And they were gorgeous. Printed on thick, quality paper designed to impress. The notes I ordered were from their extensive line of thank you cards, and even though I created generic thank-you messages for the front, I could have customized them with our family names, or any other message I would have liked.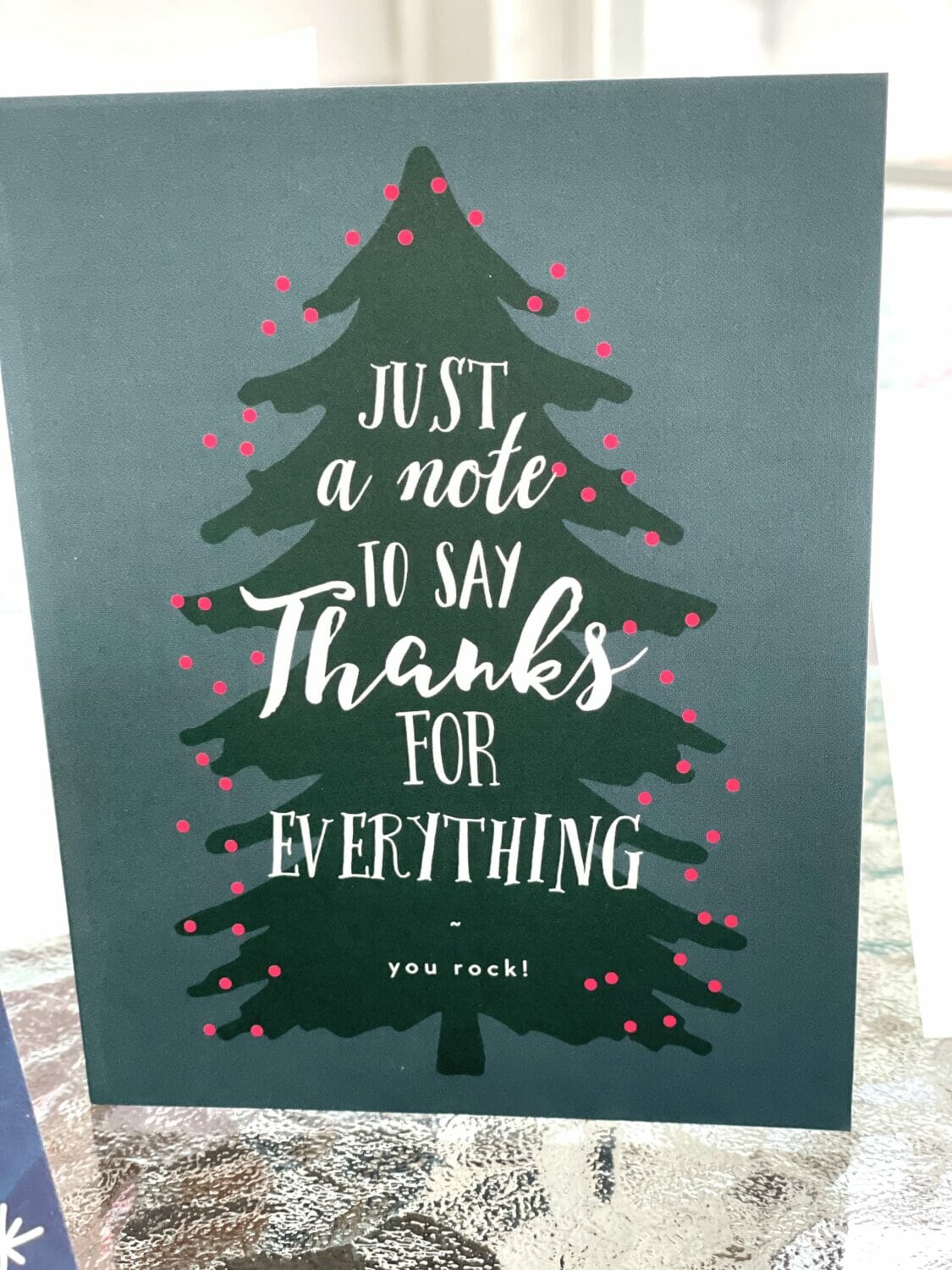 I can't wait to use these with family and friends next holiday season, when it's time to write our Christmas thank you notes. From start to finish, every aspect of the customizing and ordering process was seamless, and their prices are super-affordable for the incredible value they offer.
Even better, if you place an order by March 31, 2023, you can get 15% off by using promo code 15FF51 !
Ideas for Graduation Thank You Cards
Basic Invite is also your one-stop shop for everything graduation, from high school and college graduation invitations to the best grad party invite selection I've seen.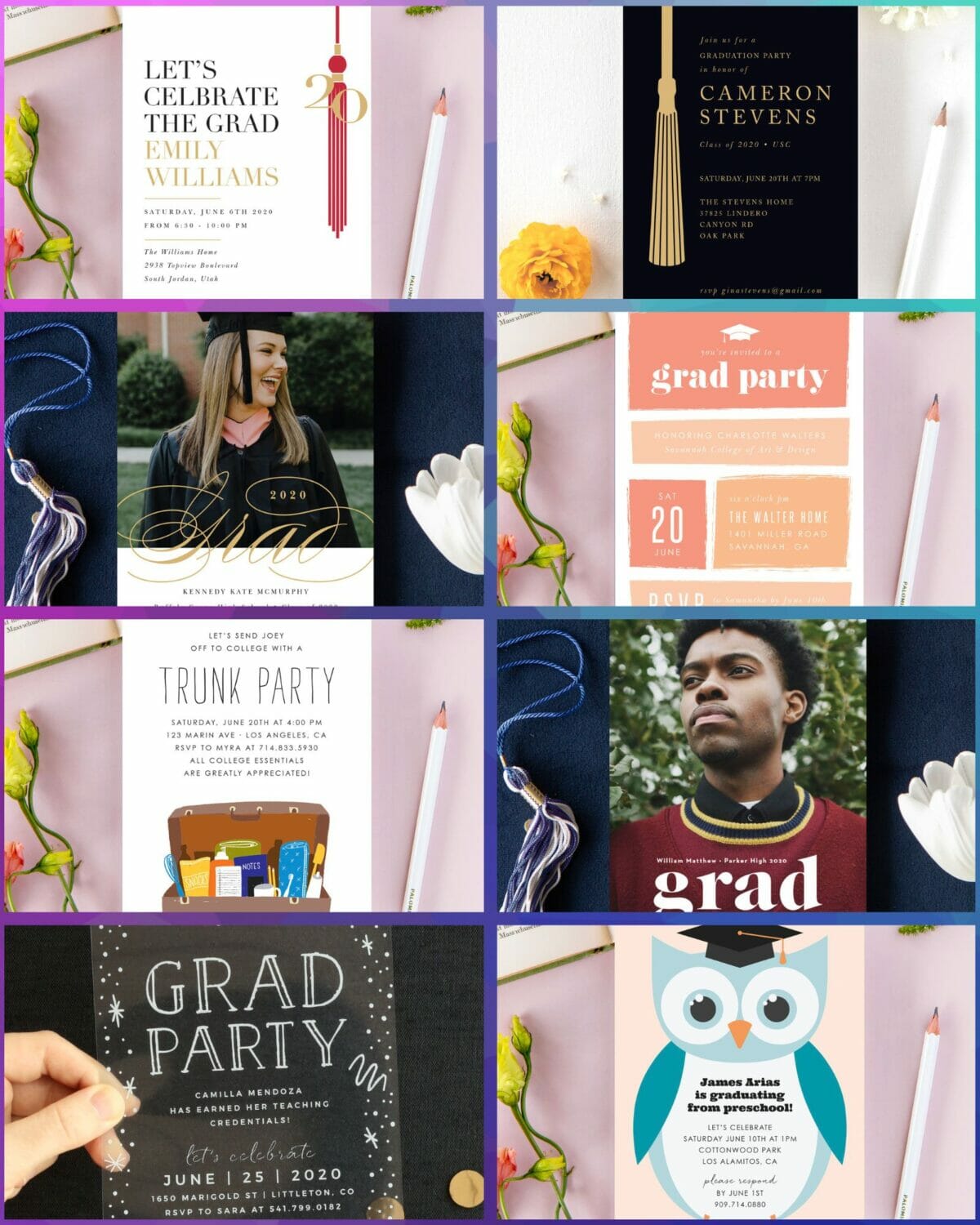 And not only do they have invites for every taste and every level of graduation, from preschool announcements to party invites for advanced degrees, but they have a full line of coordinating ideas for graduation thank you cards.
They're truly a one-stop shop for all your graduation stationery needs, including the materials to make writing a memorable thank you note easy-peasy. And what grad wouldn't find writing meaningful thank you messages easier when they're doing it on their own customized thank you cards?
Best of all, Basic Invite offers an address capturing service that allows customers to share a link on Facebook, Twitter, Instagram, or any other social media to request their friends and family's addresses. The addresses are stored in the customer's account and can be selected during the design process.
And even better, Basic Invite offers recipient address printing at no cost on all card orders. I find that writing addresses on the thank you notes themselves can be one of the more tedious parts of the process, and the step where my own kiddos tend to lose steam. With Basic Invite's address capturing service and free recipient printing, addressing all those invites AND all those thank you notes is one less thing you'll have to worry about!
Your turn: Meaningful thank you messages
What's your favorite trick for getting kids to write thank you notes? What makes for a memorable thank you note in your book? What sentiments do you find most meaningful in handwritten thank you notes? Let us know in the comments!
If you enjoyed this post on how to write a memorable thank you note, please share with others by pinning this image!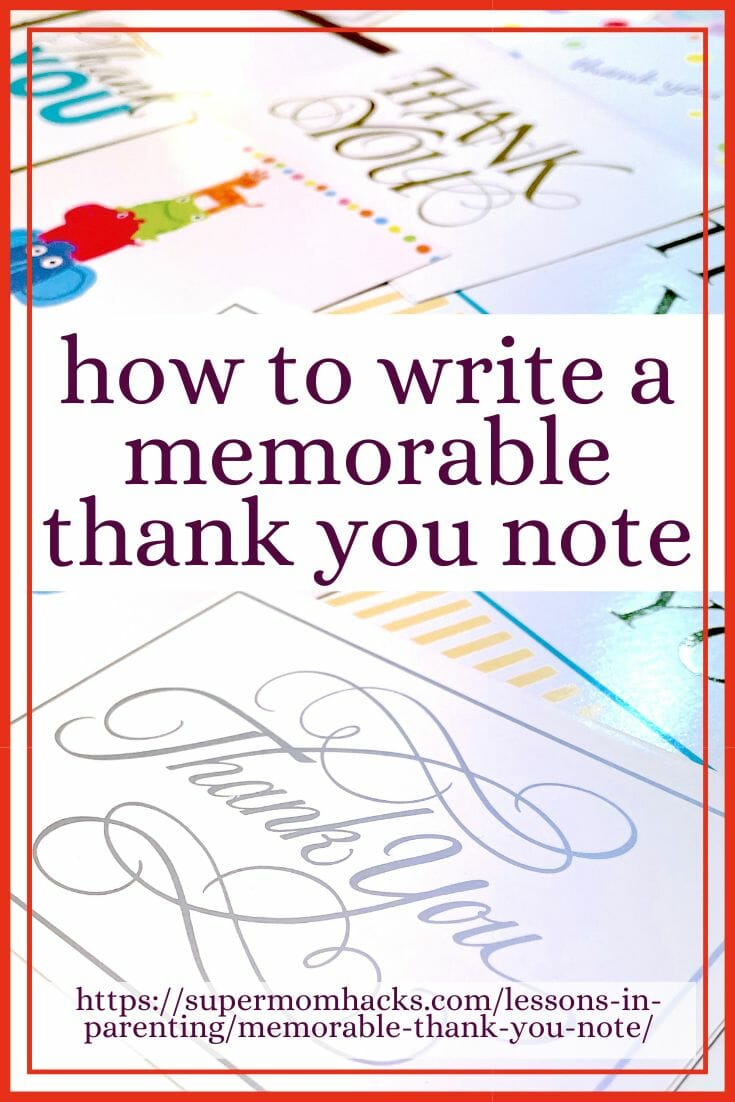 NOTE: This site contains affiliate links. I may earn a small commission from any purchases made through affiliate links, at no additional cost to you. For more information, please read the full disclosure/privacy policy.