Wondering How To Raise A Grateful Child? Read These Tips:
Teaching kids to be thankful is a lifelong project that works best as a year-round activity, not just something to practice in the days or weeks around Thanksgiving. But for many of us, raising a grateful child may not be as second nature as we'd like. Raising grateful kids in an entitled world can often feel like an uphill battle.
But there's good news: it IS possible to teach your child gratitude,
with the right approach. We've learned that teaching kids to be thankful works best as a daily family project.
Even though they require some conscious effort, these strategies for how to teach your child gratitude work! So if you're ready to get started raising grateful kids, give these tips for how to raise a thankful child a try.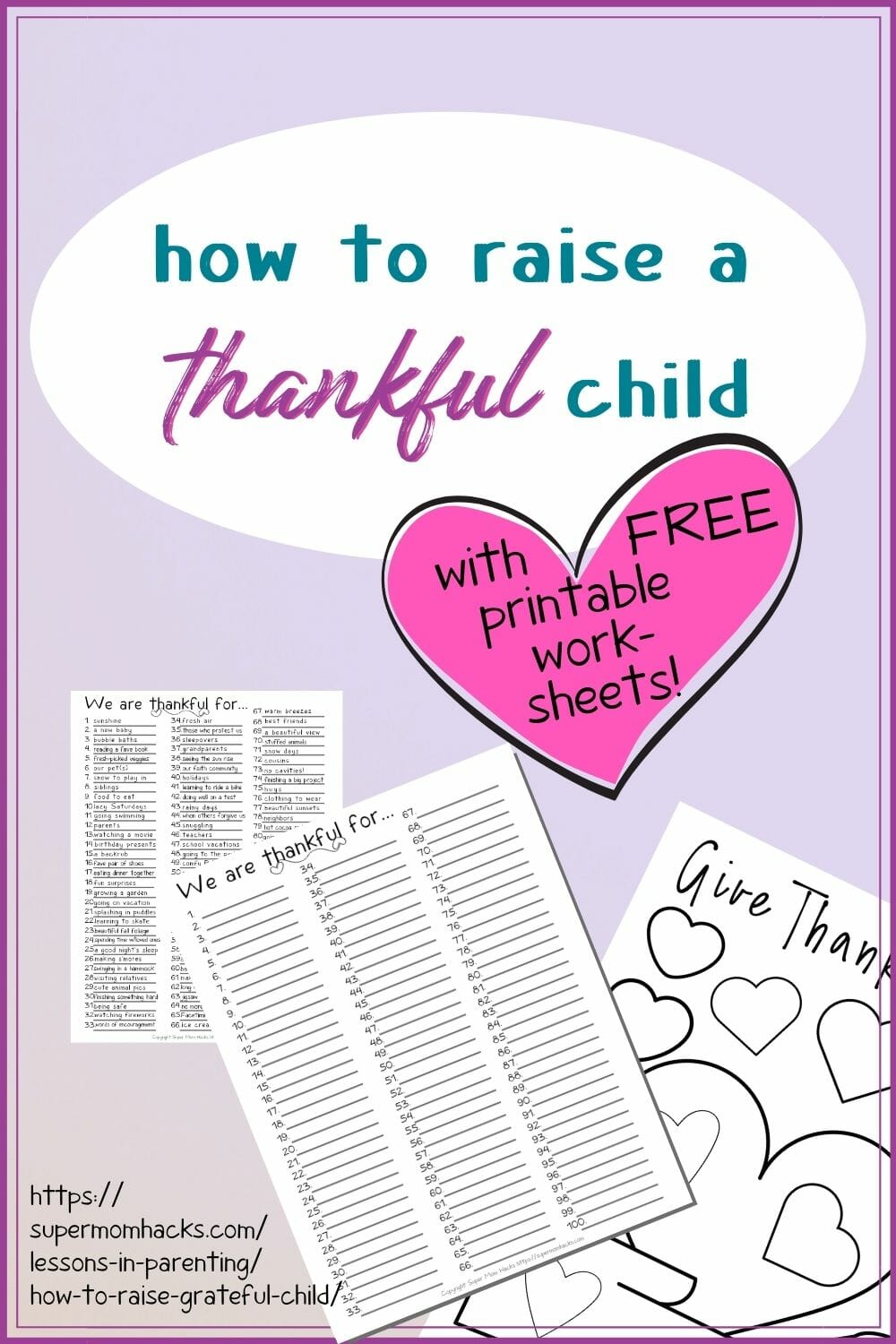 Teach Your Child Gratitude: Tips that Actually Work
1. Model daily gratitude for your child
Children learn what they see. If what you tell them doesn't match how you live your own life, they're more likely to follow what you do instead of what you say.
Want them to learn to be thankful? How often are YOU thankful in your daily life? How often do they hear you express this gratitude out loud?

Changing the clocks last weekend has made for a rough week in our household. Everyone's sleep cycles are out of whack, kiddos have been having nightmares, and poor sleep at night has meant more tantruming kids and cranky adults during the day.
For me, everything came to a head yesterday morning when Dear Husband and I were both in meetings when Essie's teachers called, to ask why we hadn't yet logged into our long-scheduled meeting with them. (Which we had on our calendar for today, NOT yesterday.)
The bottom line is, it's been hard to find things to be grateful for this week.
But this morning, as I was struggling to get out of bed, Essie came in, all dressed for school, and crawled into bed to snuggle with me and flash me her big smile. That was enough to get my day off to a great start, and I told her how thankful I was for that smile and the snuggle time.
2. Start teaching your child gratitude from birth
It's easiest to teach your child gratitude when it's a part of their life for as long as they can remember. One easy way to do this with newborns and infants is to review their day with them before bedtime.
My husband began to do this with Kimmie when she was only a few months old. As part of saying good night to her, he'd review the highlights of her day with her in order. ("And then you went to the pediatrician's and they said you're growing really well, and then we went on a nice walk on the nature trail, and then you got to play with your exercise gym…")
I soon adopted this habit as well, for consistency. (Note: helping children place items in chronological sequence like this is an important pre-reading skill!)
3. As they grow, teach your kids to be grateful every day
As each girl became older, the process shifted from the grownups recalling their day for them, to the girls recalling the highlights of their day. This then gave way to them reflecting, with our prompting, on the best parts of their day.
It's no accident that we prompt them to reflect on the things they're thankful for each night, right before bed. Researchers have confirmed that people who list the things they are thankful for every day not only are healthier and happier, but also sleep better. Given our family's long struggles with getting a good night's sleep, I figure every little bit helps!
We also take a few moments before each meal to be thankful for the food we have, since not everyone has enough to eat. And during our family dinnertime, we reflect together on our days and what things went well, as another means of giving thanks together.
4. Acknowledge the bad as well as the good
Even when the girls have a hard time finding something to be thankful for at dinner or at bedtime, we acknowledge that fact. On those nights, we sometimes will talk about the worst parts of their days instead of the best parts – and then, with them, give thanks that tomorrow is a new day, and tomorrow has got to be better!
Not all days and seasons in life will have good parts in them. Part of our job as parents is to teach kids that it's OK to recognize, experience and express all the emotions – not just the happy ones.
Depending on your child's unique brain chemistry, s/he may need a little extra help identifying these negative emotions; be ready to help your kiddo work through this.
Why am I talking about working through bad things with your kids in a post on teaching your kids to be thankful for the good things in life?
I'm reminded of a quotation from the Indian philosopher Rabindranath Tagore, winner of the 1913 Nobel prize for literature. I first saw this wisdom in Spanish on a wall in Mexico, and if you translate it directly from Spanish to English, you get a slightly different version than the more standard English version – one I like better: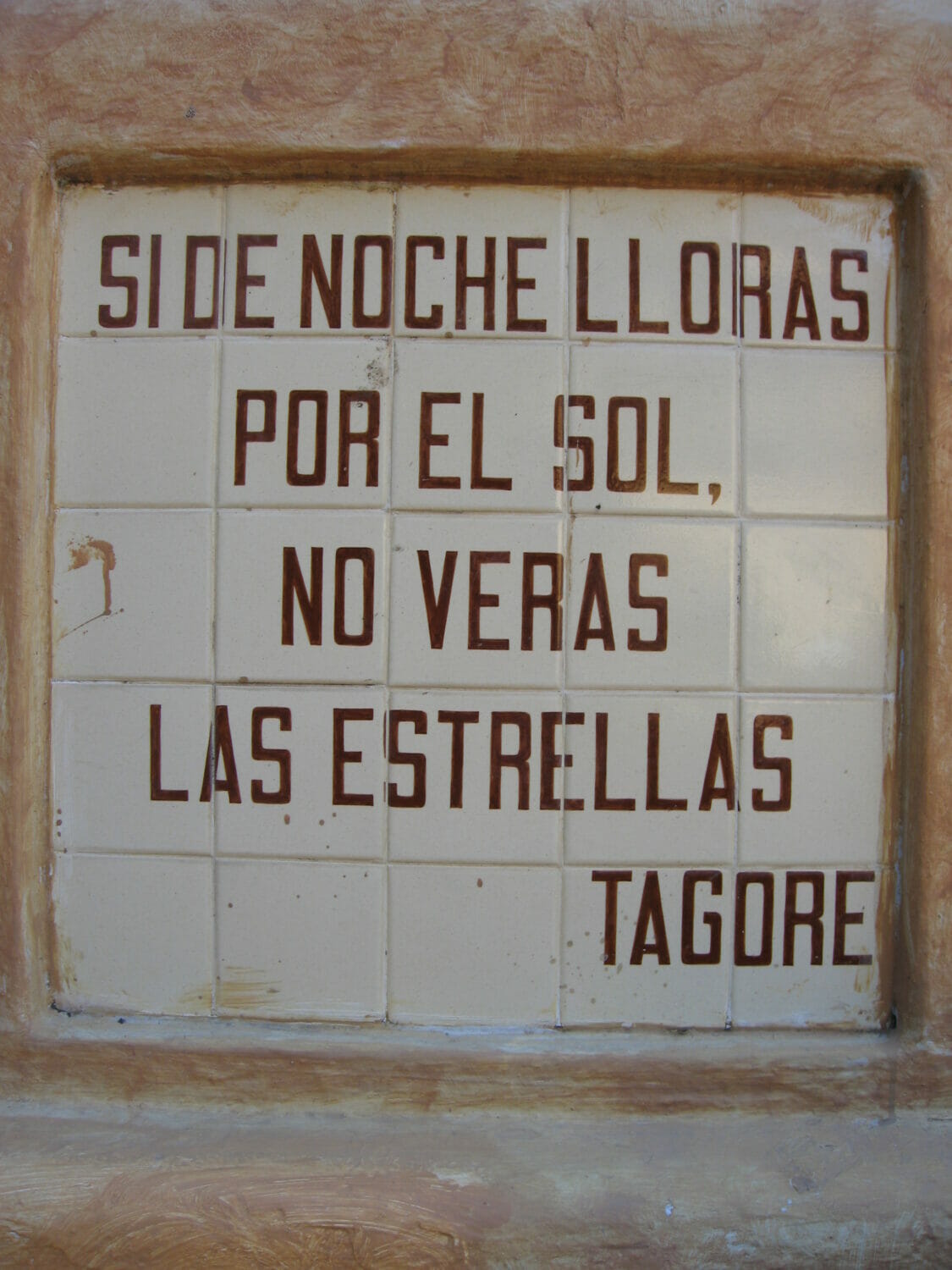 When times are tough, it can sometimes be hard to reflect on the good things in our lives. But sometimes we can only fully appreciate those good things when times are difficult – or after we've come through those difficult times.
RELATED POST: What To Do When Life Throws You For A Loop
5. Consider those less fortunate year-round
As you may have noticed, there's a theme here: teaching your child gratitude isn't a one-shot deal, but an ongoing process, day in and day out.
It can be tempting to think of those less fortunate than we are (and there is always someone less fortunate!) just at Thanksgiving or just at the year-end holidays. But that doesn't mean the need isn't there throughout the rest of the year.
Need ideas to get you started?
How's your local food bank doing in the middle of the summer? What can you do to help them when kids are out of school?
Can you give back to your community by volunteering once a month there, or at a soup kitchen or pet shelter?
Is there some ongoing drive your family can help with regardless of the season?
Maybe your child can volunteer to be a pen-pal with a lonely senior.
Or your family can set aside some time for a warm-weather trash cleanup at a local stream.
Is there a larger project your kids could work on, perhaps with their Scouting troop or some friends? Perhaps they could research a local problem and work toward a solution, like organizing for better broadband access where you live for kids who are schooling remotely, or setting up a food bank and/or free clothing or supplies store at their school.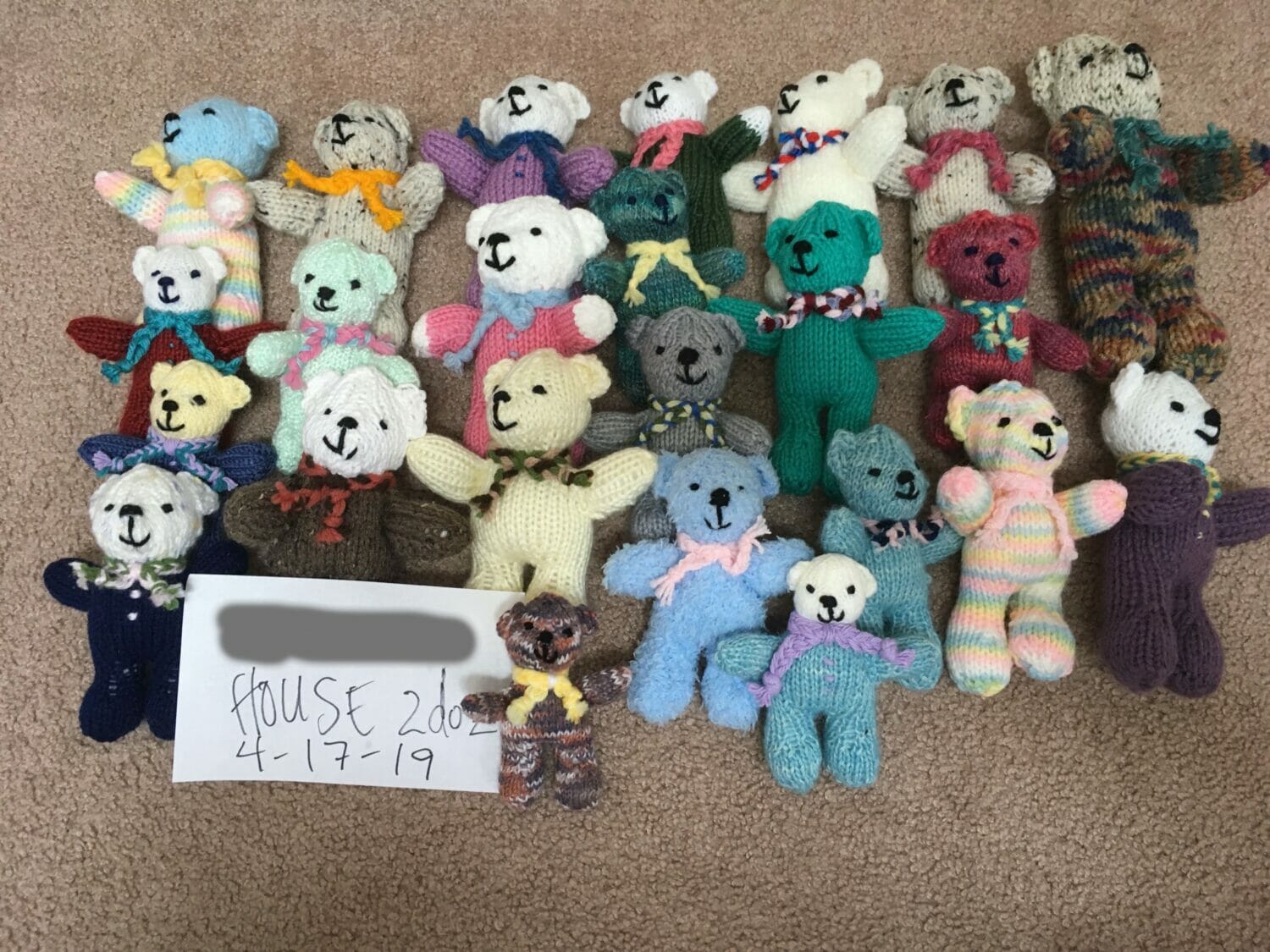 6. Make a blessings jar or list
Sometimes we need to be reminded of all the things we have to be thankful for. There are several different ways you can help your children regularly remember these things:
Create a blessings jar. This can be any clear jar that you decorate together. Perhaps you could each write down something good that happened that day and add it to the jar each evening, then review a few at the end of the week.
Brainstorm a list with your children of things to be thankful for. Use stories, educational websites, real-life anecdotes, etc. to help give you ideas. For example, Kimmie has been grateful every night for access to water. Why water? Because a few years ago, her uncle and aunt were living under such severe drought restrictions that we couldn't go visit them, even though Kimmie kept begging to.
Post this list on a wall where it's easy to see, or write each item on a strip of paper and add it to your blessings jar. When someone in your family is struggling with a rough day, pull out a few of the blessings from the jar as reminders. Or look at the list of blessings you wrote down.
You can also help your children make artwork to hang in their rooms with reminders of what they're thankful for, so they can see them year-round: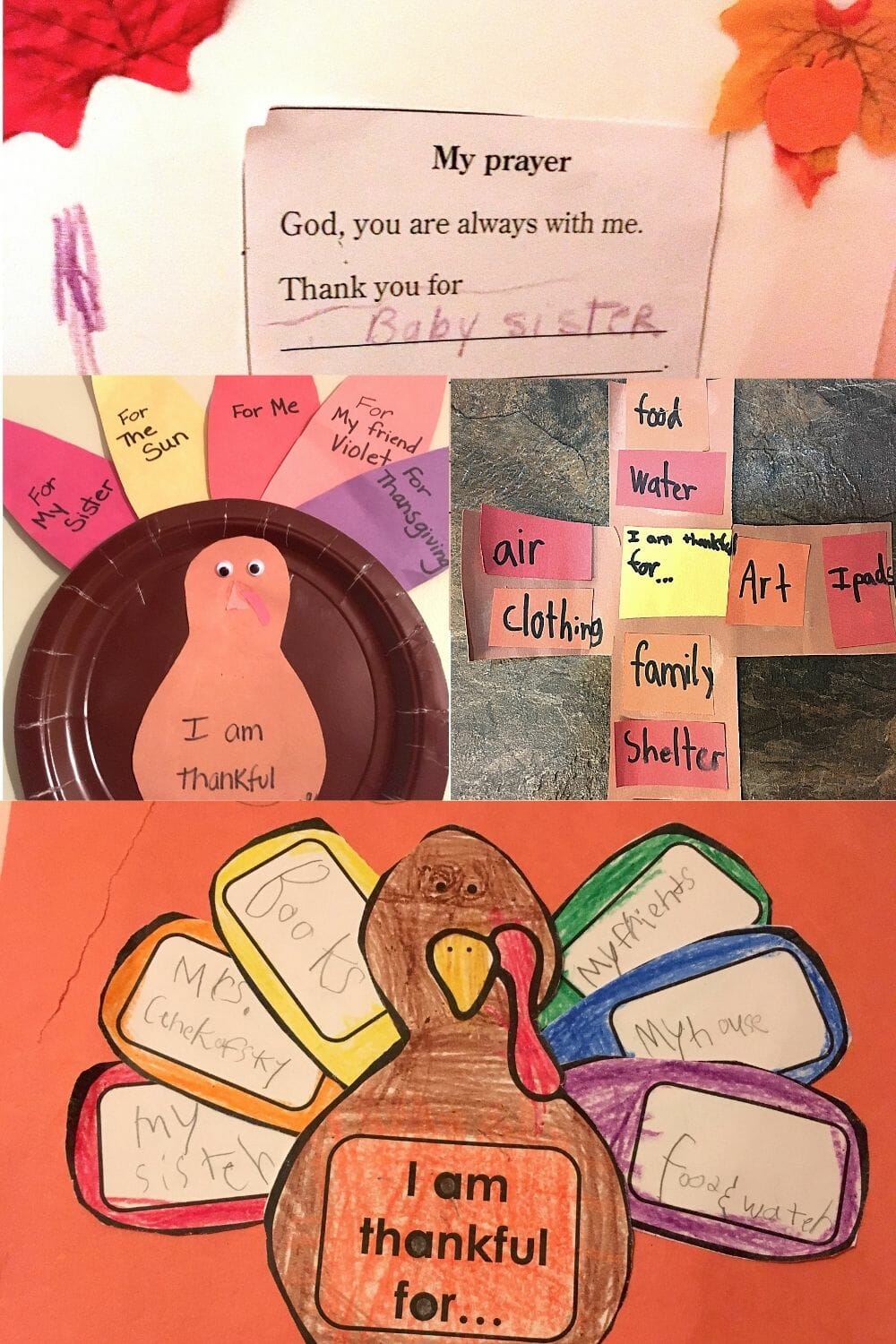 To help you and your family with counting the things you're thankful for, I've put together some ✅ gratitude worksheets you can download for free – a sample list of ideas to get you started, a blank worksheet where you can brainstorm a list of things for which you're thankful, and a coloring sheet where your kids can list some of the things for which they're most thankful, then hang on the wall to remind them.
7. Practice saying thank you
It's important to thank others regularly. But it can be hard to do this when you're a little kid who's only used to seeing the world through your own eyes. That's why it's important to deliberately teach your kids to say thank you when others do something nice for them.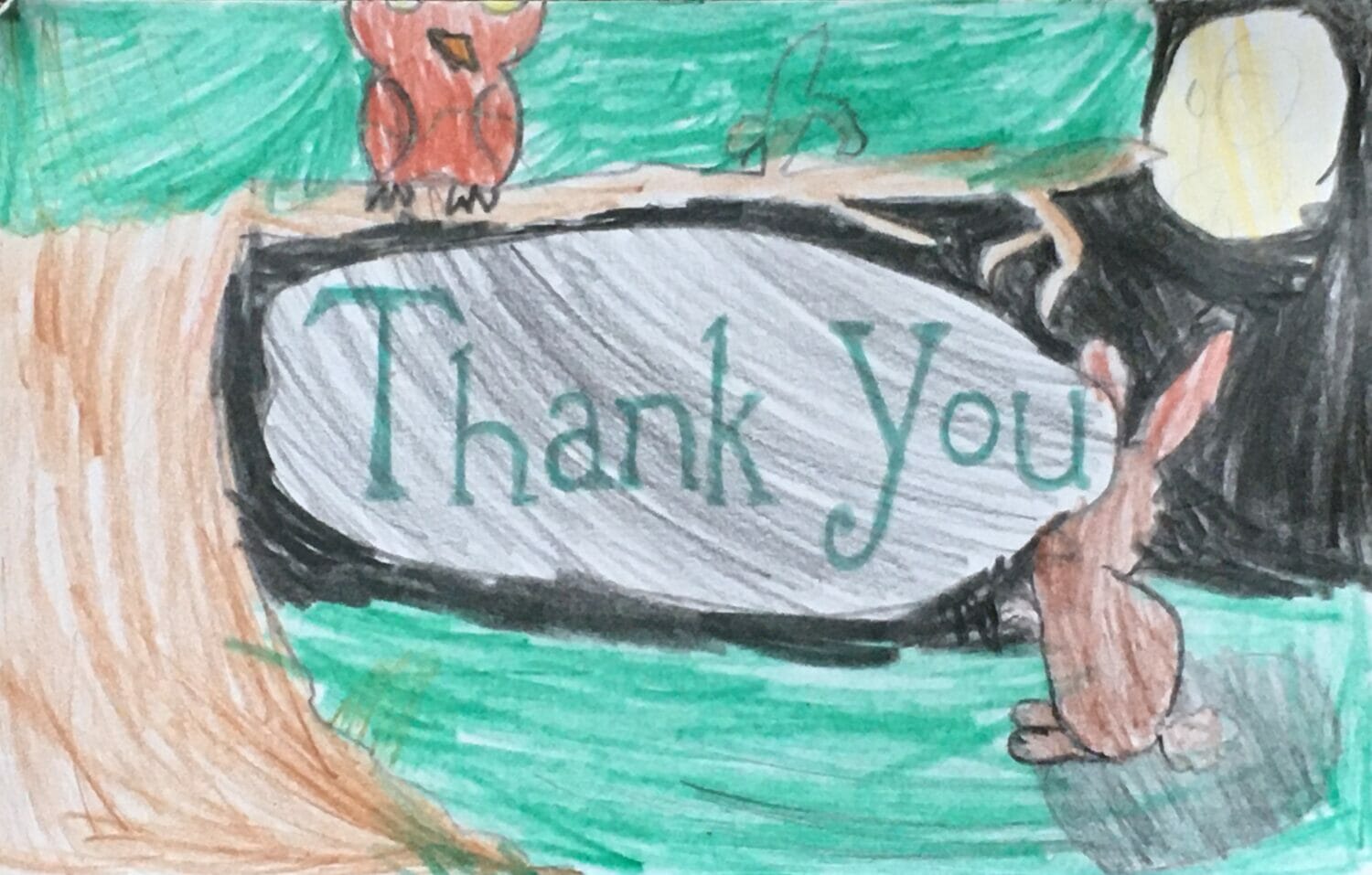 Sometimes, when the girls remember to say thank you for little things (like mending something for them, or doing a chore they forgot), I make a point of letting them know how much it means to me to hear them say "thank you." This kind of positive reinforcement is a great way to encourage them to do it again in the future!
RELATED POST: Positive Parenting Crash Course (The Stuck-At-Home Edition)
This is especially true for gifts, cards, etc.
I was raised to write old-fashioned thank-you notes. But a child might find it easier to send an email, text message, video message, or phone call.
If your child balks at thanking distant relatives for remembering to acknowledge their birthday, have them put themselves in the other person's shoes: how would they feel if they took the time and effort to do this nice thing that then went completely unacknowledged? And how great would they feel if someone else went out of their way to say "thanks"?
What does your family do to raise thankful children? What are your favorite tips for how to teach your child gratitude? Let us know in the comments!
P.S. And don't forget to ✅ download your free printable Gratitude Worksheets and Gratitude Coloring Page!
If you enjoyed this post on how to teach your child gratitude, please share it with others by pinning this image!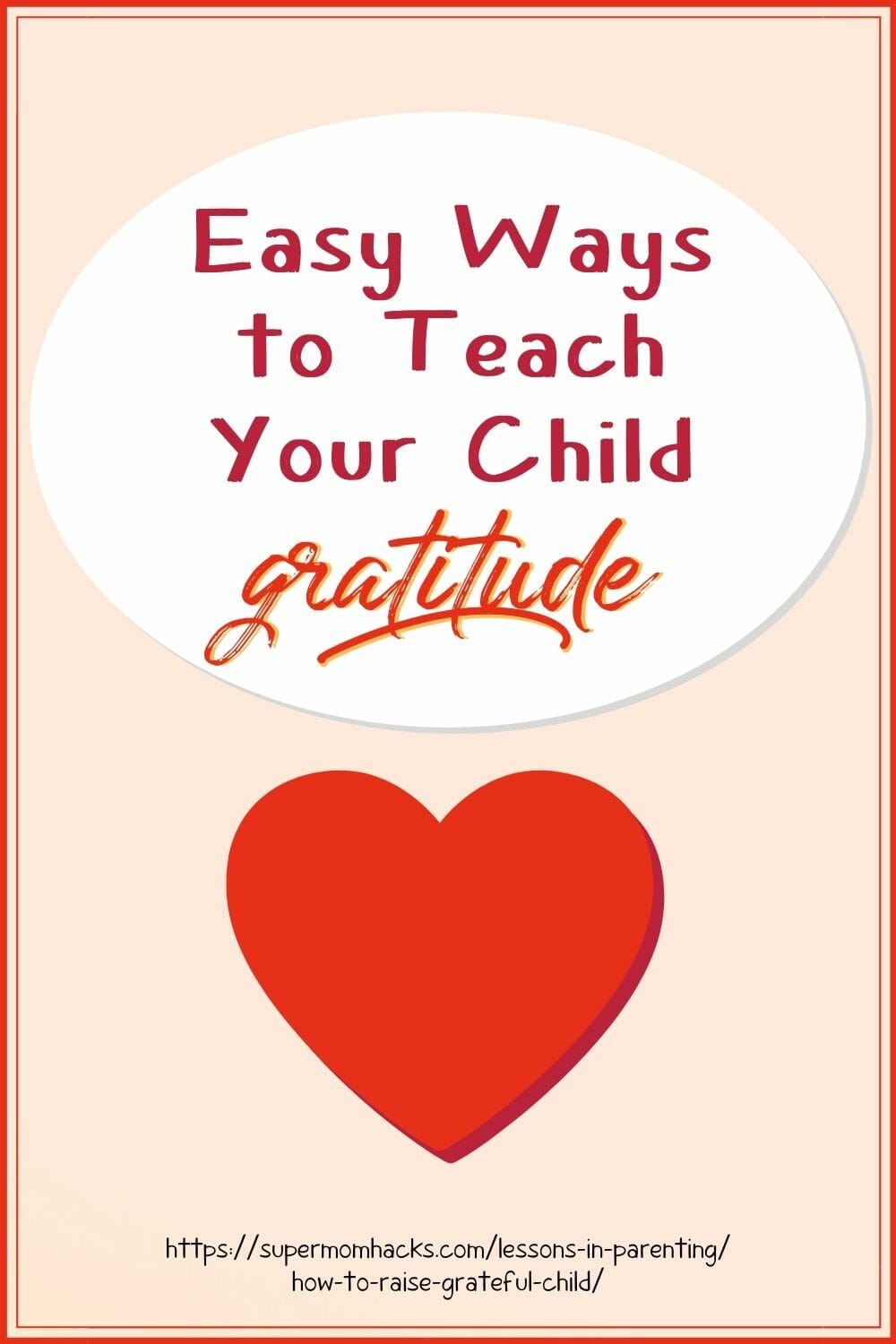 NOTE: This site contains affiliate links. I may earn a small commission from any purchases made through affiliate links, at no additional cost to you. For more information, please read the full disclosure/privacy policy.