Are your kids starting to get squirrely for the end of the school year and the start of summer break? Do you find their school-year routines and ability to self-regulate breaking down? Those skills have long since flown the coop around here, so we tried something new this morning: a brand-new set of clothespin chore chart "reminders."
We've had chore charts before, back when my third-grader Kimmie was in kindergarten. They worked great, until she decided she was "too big" for them and stopped using them.
But lately, getting her on the school bus each morning has sparked a daily Battle Royale. She can't get out of bed, even though she's getting an insane amount of sleep. She won't get herself dressed or make her bed, let alone come downstairs and eat, despite signing a contract last fall stating that these things were her responsibility. After-school chores haven't gone much better.

Time for another chore chart?
Yet I was surprised when, during a recent chat with one of her teachers, the teacher said she'd shown Kimmie her own third-grade child's chore chart, and Kimmie seemed intrigued. Maybe hearing that other third-graders use them made chore charts appear less babyish?
So after school that day, I asked Kimmie if she'd consider trying one again. I also asked her how SHE would design the ideal chore chart.
For starters, she wanted a clothespin chore chart, with the chores written on wooden clothespins she could move herself. That was something I'd never considered. But the more we fleshed out Kimmie's ideas over the next few days, the more sense using clothespins made.
By the time we were done, we had three different chore charts for our two girls. And both of Kimmie's charts actually do double-duty (AM and PM), something the clothespins make possible.
So if your kids' morning, after-school, and/or evening routines need a reboot, maybe a clothespin chore chart will make the difference in your house, too.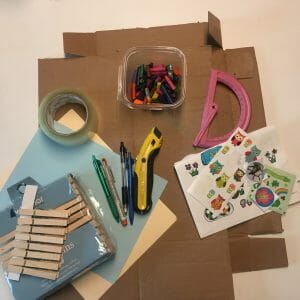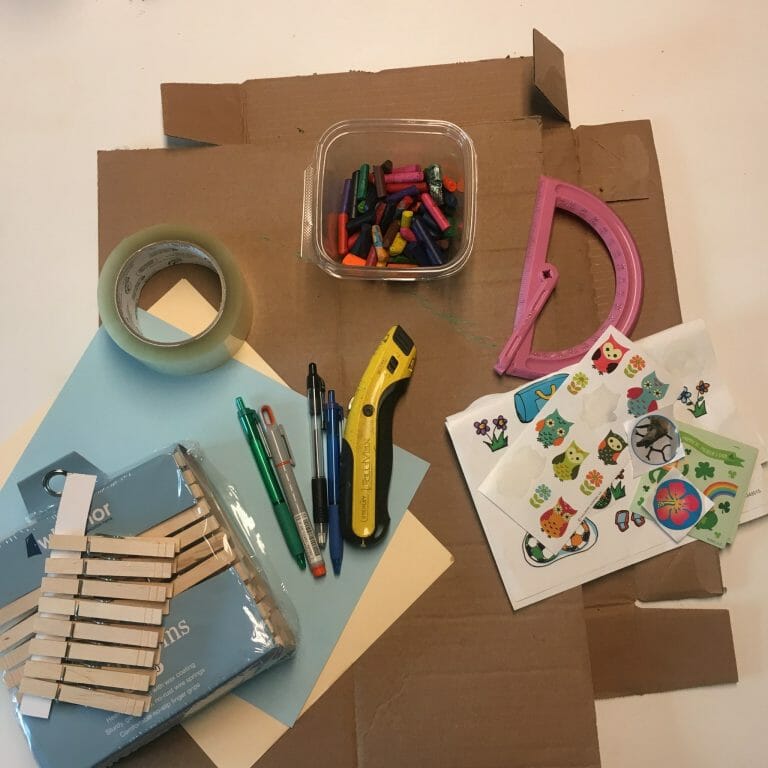 Clothespin Chore Chart Tutorial
What you need:
A large hunk of corrugated cardboard (e.g., a box to recycle)
Cardstock and/or paper
Wooden clothespins (the clamp kind, not the peg kind)
Scrap paper (for generating chore lists)
Crayons, markers, stickers, etc. (for decorating the charts)
A craft knife or box cutter
Clear packing tape
A ruler
(for styles 1 and 2) Heavy-duty magnet clips and/or Command picture-hanging strips (for hanging)
Before you begin:
You'll get the best buy-in from your kids if they have input in the process, from which chores they need help remembering, to how they want to design the chart. This tutorial covers the three different designs we came up with. But there are of course other ways to make a chore chart, including non-clothespin varieties.
Work with your kiddos to think through what their "trouble times" of the day are. Essie really only struggles with her after-school chores, so she only needed one new chart. But Kimmie has trouble in the morning upstairs, again when she gets downstairs, after school, and upstairs at bedtime. This meant a total of four sets of chores – which I consolidated into two dual-purpose chore charts (more on that below).
Rather than making a long list of chores that you impose on your child, have THEM list the chores they have trouble completing; make additions only as needed. For example, I really didn't think Kimmie needed a morning chore clothespin that said "turn off alarm," but she disagreed. She argued that having an "alarm" clothespin would a) motivate her to get out of bed and b) give her an instant victory (one chore down!) to start her day.
Clothespin Chore Chart, Step By Step
With your child, brainstorm their "trouble times" of day and which chores they have difficulty remembering. Make to-do lists for each trouble time.
Then brainstorm a design/theme for each chore chart. If one child needs multiple charts, see if you can consolidate them into one or more "double duty" chart(s). (See below for more on this.)
Choose a style appropriate to your needs (again, see below). Then gather your supplies and have fun creating!
1) Basic Flap-Style Clothespin Chore Chart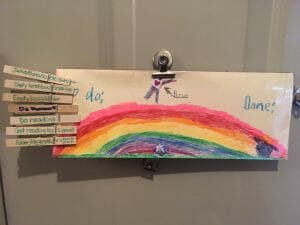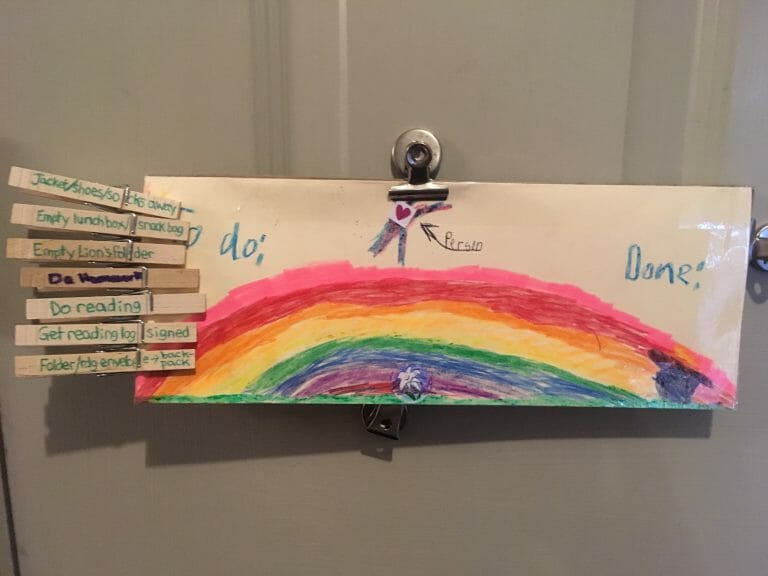 Since Essie didn't want to miss out on the crafting fun – and since she struggles with after-school routines – we made her a basic "flap style" chore chart with a single piece of cardstock. I folded the cardboard in half the long way, leaving a flap that was separate from the back. This way, the clothespins can clip easily onto the flap, while the back can be secured to the wall. (Or in our case, magnet-clipped to the inside of our front door.)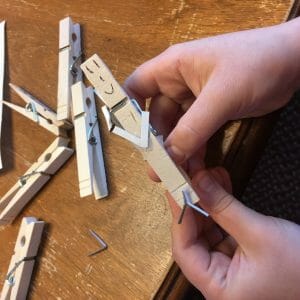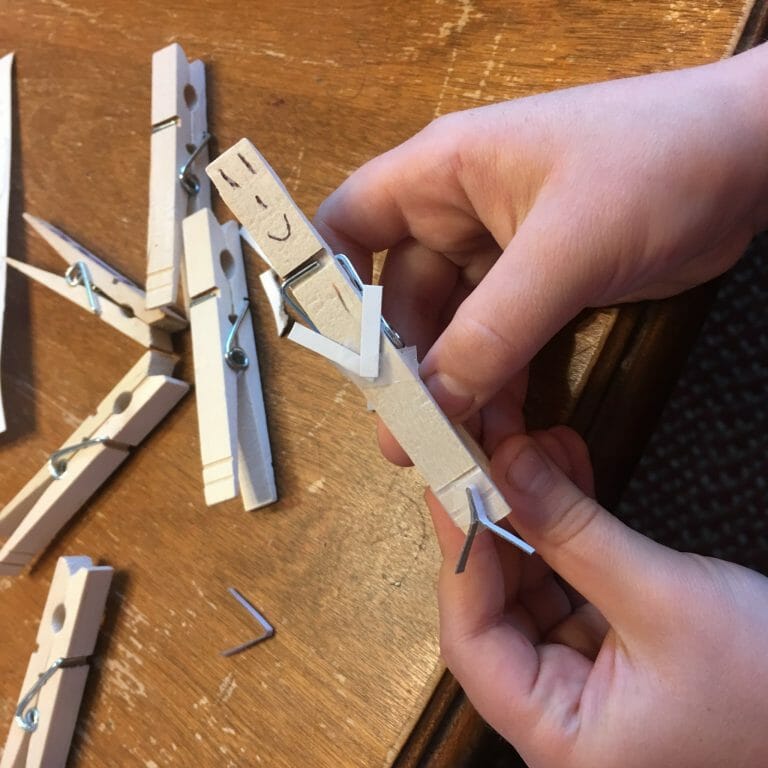 After I folded it in half, Essie drew a rainbow on her cardstock with a pot of gold at the end. I then cut a piece of corrugated cardboard as big as the back. Next I covered the whole thing with clear packing tape. This both attached the cardstock to the cardboard backing, and created a clear protective coat over the flap, so repeated use (hopefully) won't damage it.
I wrote Essie's after-school tasks on one side of her clothespins. She decorated the other side with little people who could dance at the end of the rainbow, once they reached the pot of gold.
2) Double-Duty Wall-Mount Clothespin Chore Chart
For Kimmie's two "downstairs" chore charts, she wanted a waterslide-themed chart. This raised a few design challenges:
Do we really need two separate downstairs charts? (I was already envisioning this process taking more than a weekend afternoon, and fearing the girls would lose interest before we had finished.)
How do we make the chart stick out from the wall enough that you can easily clip on the clothespins?
The solution I thought up was to make the chart three-dimensional: get some colorful duct tape, and use the tape to attach a paper-towel tube to the backing. This would both decorate the tube (aka waterslide), and hold it onto the chart. The clothespins could clip at the top, slide down the tube, and then hang onto the bottom.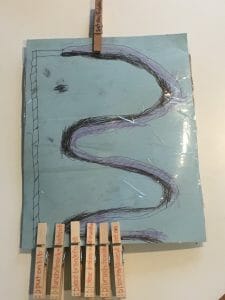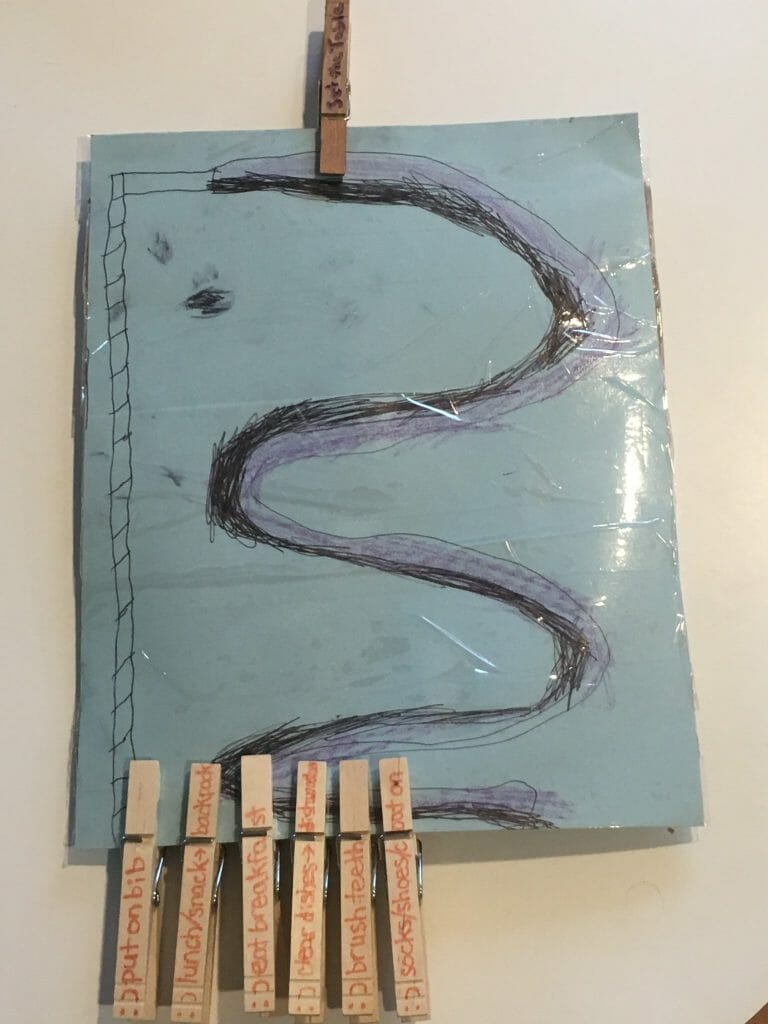 Kimmie nixed my idea. She insisted that her waterslide would be a two-dimensional drawing.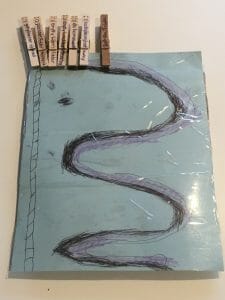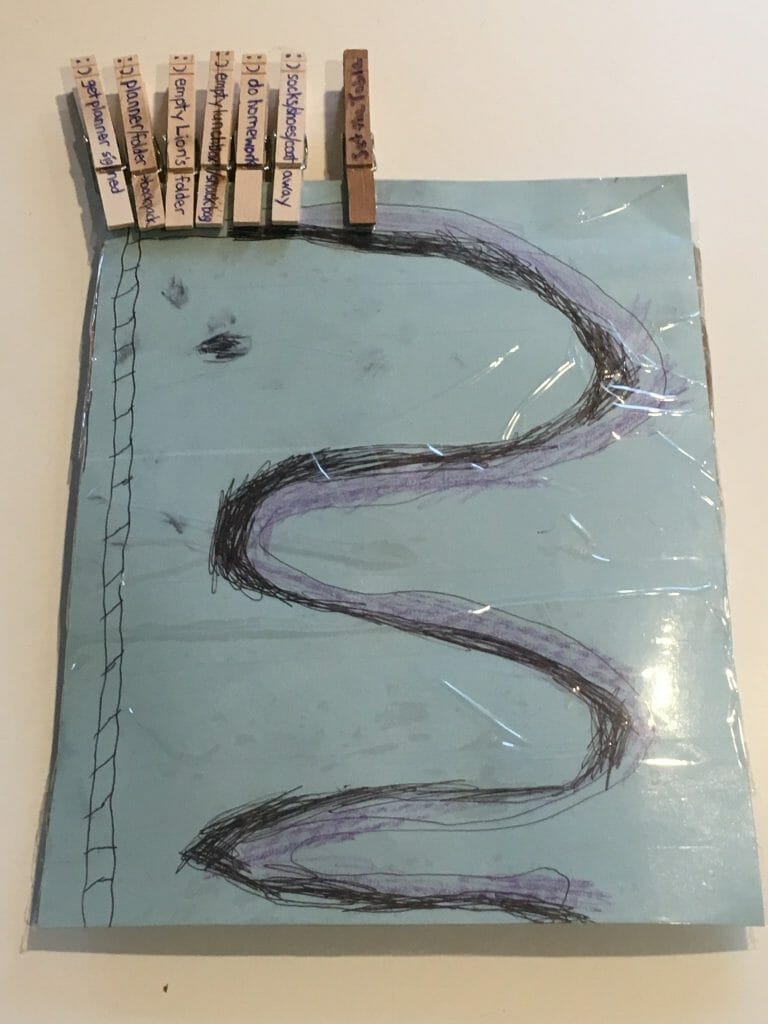 So we came up with this compromise:
Kimmke drew her version of a waterslide onto a piece of blue cardstock, including a ladder to get from bottom to top.
I made double-sided clothespins for her downstairs chores. One side listed her morning tasks, and the other side of each pin listed an afternoon "to-do." In the morning, the clothespins start at the bottom and "climb the ladder" as she completes each task. In the afternoon, they get to slide down the waterslide back to the bottom.
To make the chart stick out far enough from the wall that the clothespins can easily attach, this is what we did:
First, Kimmie traced her cardstock onto a piece of scrap cardboard.
Then I had her subtract one inch from the top and the bottom. This left her with a cardboard square.
I cut out the square with a box-cutter, then cut several more squares of the same size. As I went, I taped each square to the others with clear packing tape, until the backing was thick enough to allow the clothespins to clip onto the overhanging flaps.
Next I used packing tape to attach the backing to the waterslide picture, leaving an overhanging flap of picture at both top and bottom. This way, the clothespins can easily clip on without interfering with the surface where the chart is hanging.
3) Double-Duty Doorknob-Hanger Clothespin Chore Chart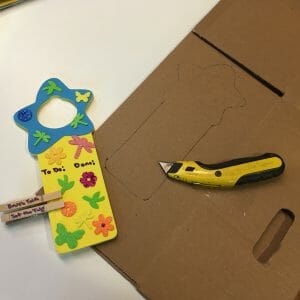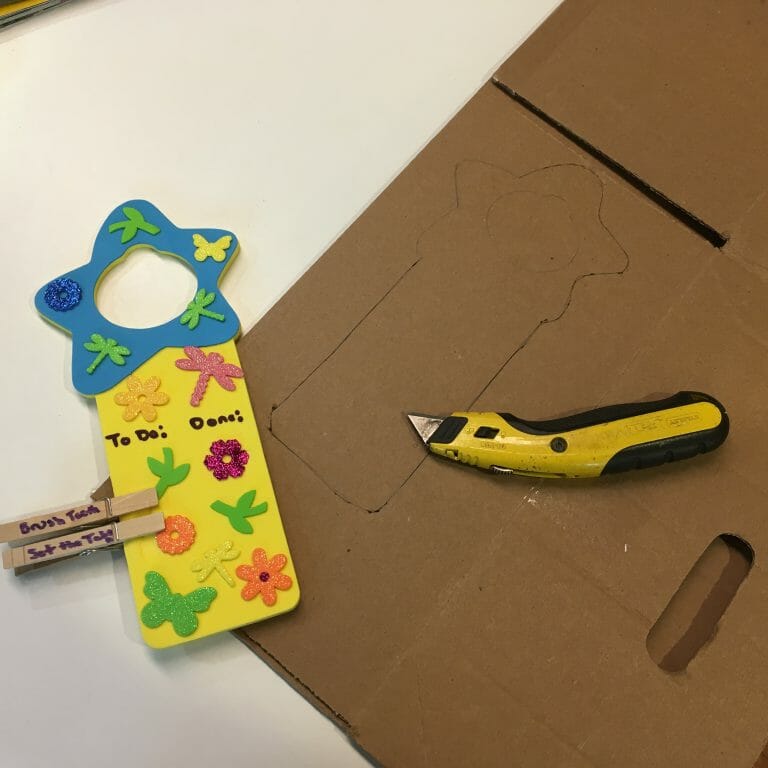 Early in our afternoon of clothespin chore chart crafting, Essie disappeared to her room for a moment. When she returned, she had a sample chore chart that she'd apparently crafted at Scouts a few weeks before (unbeknownst to me). This "chart" was actually a sign that hangs over a doorknob, made from a foam craft kit. This doorknob-hanger also used clothespins; on each pin, her leader had written sample chores.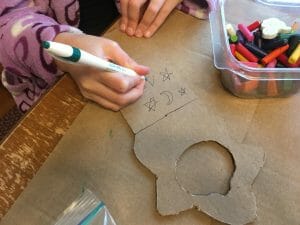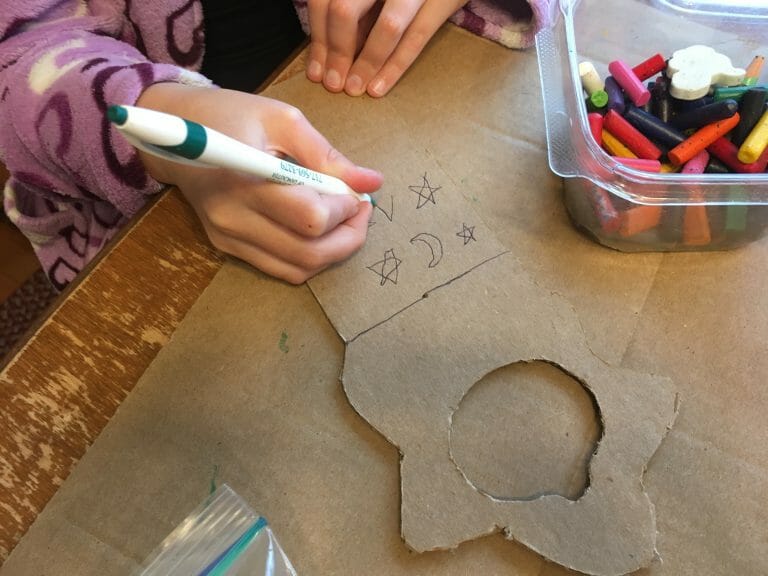 I persuaded Kimmie to pattern her upstairs chore charts after Essie's, which I traced onto cardboard before using the box-cutter to cut it out. Kimmie then decorated one side for her "Morning To-Do's" and the other for her "Evening To-Do's." When she had finished decorating, I covered the whole thing in packing tape to help it stay intact over time.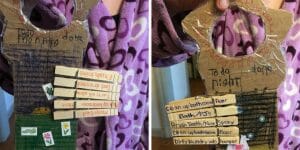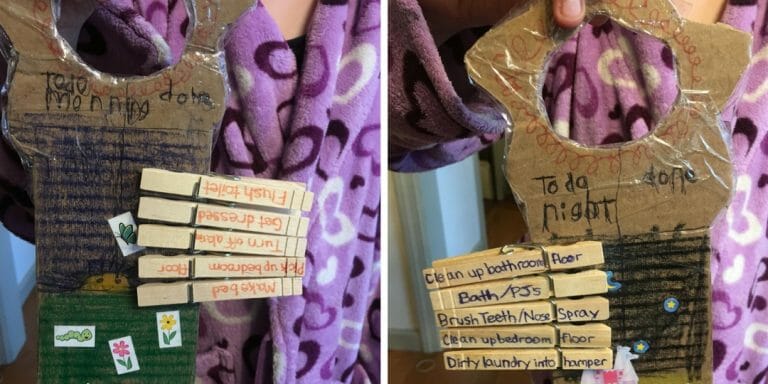 For her morning and evening chores, I made another set of double-sided clips. When Kimmie has all her morning chores done, all she has to do is turn over the sign, and it's ready for bedtime.
4. For shared chores that alternate: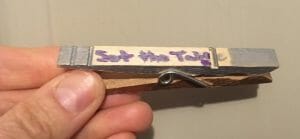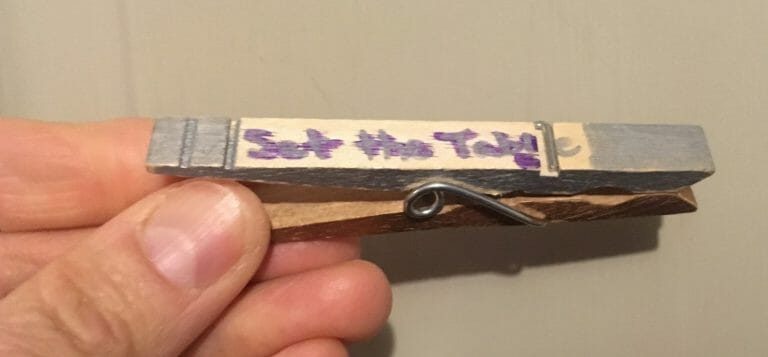 We also decorated one special two-sided clothespin, appropriated from the set Essie brought home from Scouts, that says "Set the Table." One side is colored silver for Essie; the other is bronze for Kimmie. Each day, one of the girls will set the dinner table and then move the clothespin to her sister's afternoon chore chart when she's done. No more fighting over whose turn it is!
Has your family made a clothespin chore chart before? How did you design it? Let us know in the comments!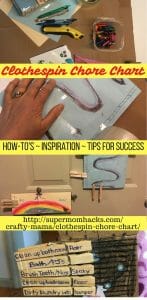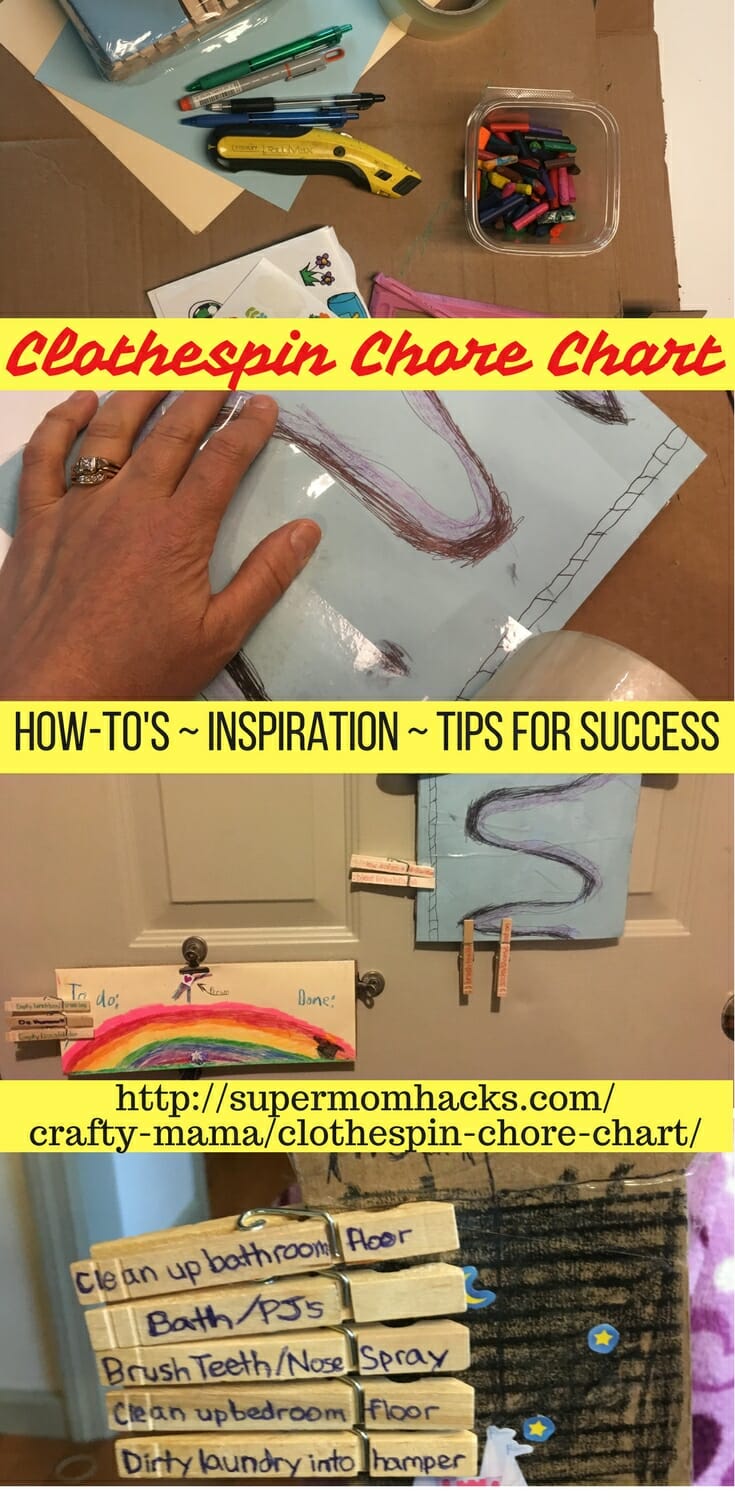 NOTE: This site contains affiliate links. I may earn a small commission from any purchases made through affiliate links, at no additional cost to you. For more information, please read the full disclosure/privacy policy.