(And How To Make Your Own Chore Charts!)
I used to think having a chore chart was silly. My mother never used them, so why should I?
Now, we're a family of converts. What happened?
Summer. And with it, a complete breakdown of most of our normal routines.
Does this sound familiar?
Despite my periodic kvetching to the contrary, my children are usually pretty well-behaved. But getting things done in a timely manner is not their strong suit.
Especially Kimmie, ever since she began reading last October.
Add to this a relaxed summer schedule with its lack of structure, and you have a recipe for disaster.
I get how Kimmie feels. I was the same way as a child. Whenever my mama asked me to set the table, she had to ask at least three times. Whatever story I was reading was always far more interesting than laying out plates and utensils.
Now that I'm the mama, I find myself getting just as frustrated as my own mother did. (While imagining I can hear her laughing from several states away.)
How we got here:
For our household, the flashpoint was bedtime. This is our girls' bedtime routine: They use the toilet and take baths together. After that, the parent on bedtime duty helps Essie get into her PJs and brush her teeth, before heading into her room for story and lullabies.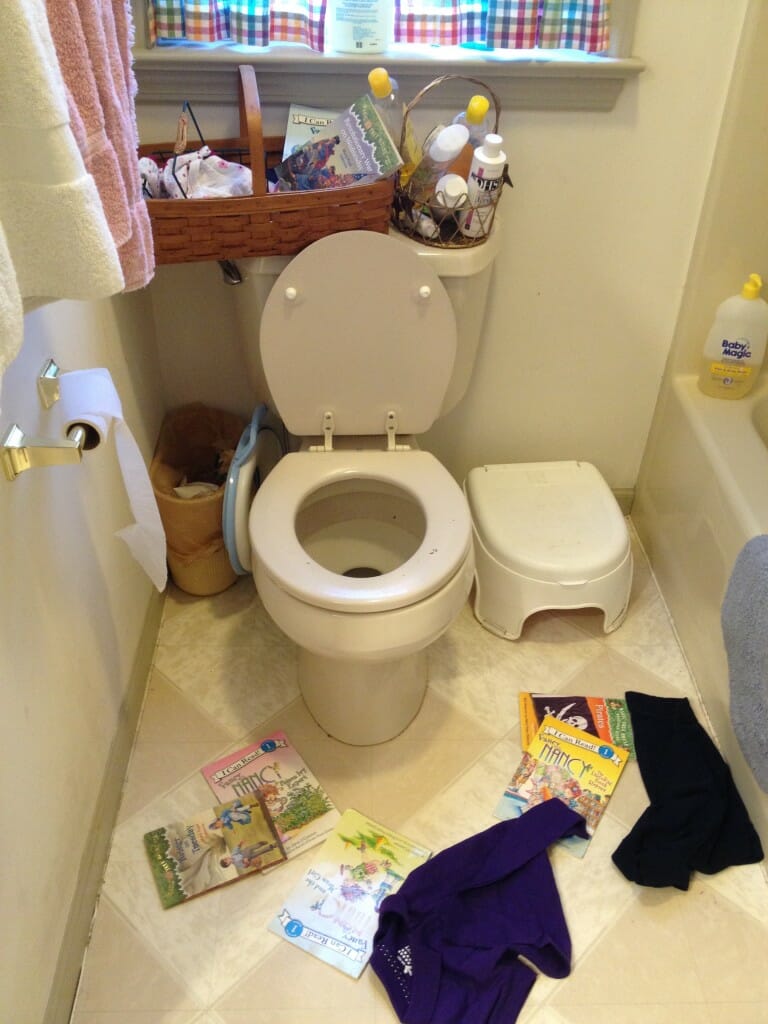 Meanwhile, Kimmie is supposed to brush her teeth, get into her pajamas, and get herself into her room by the time Parent is done putting Essie to bed. Around Kimmie's fifth birthday, I added getting her dirty clothes and already-read books off the bathroom floor to her bedtime task list.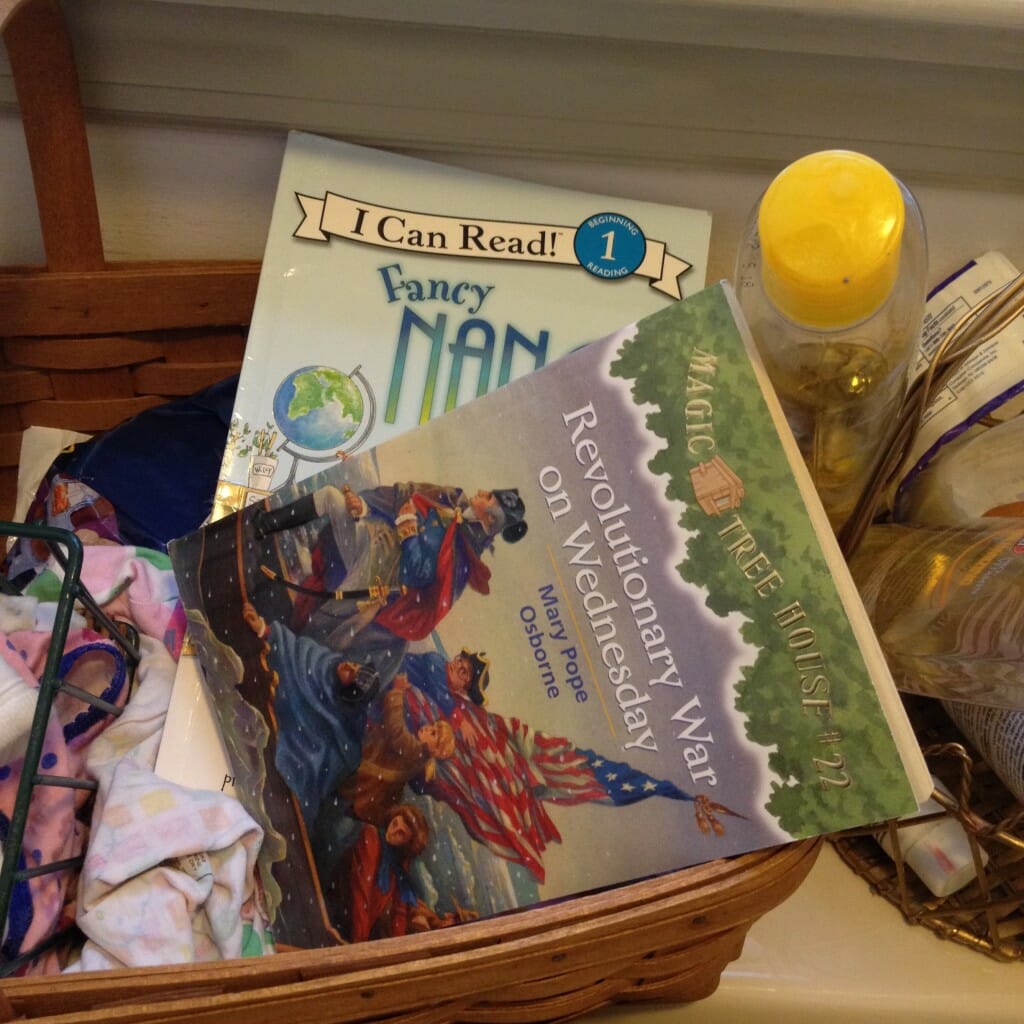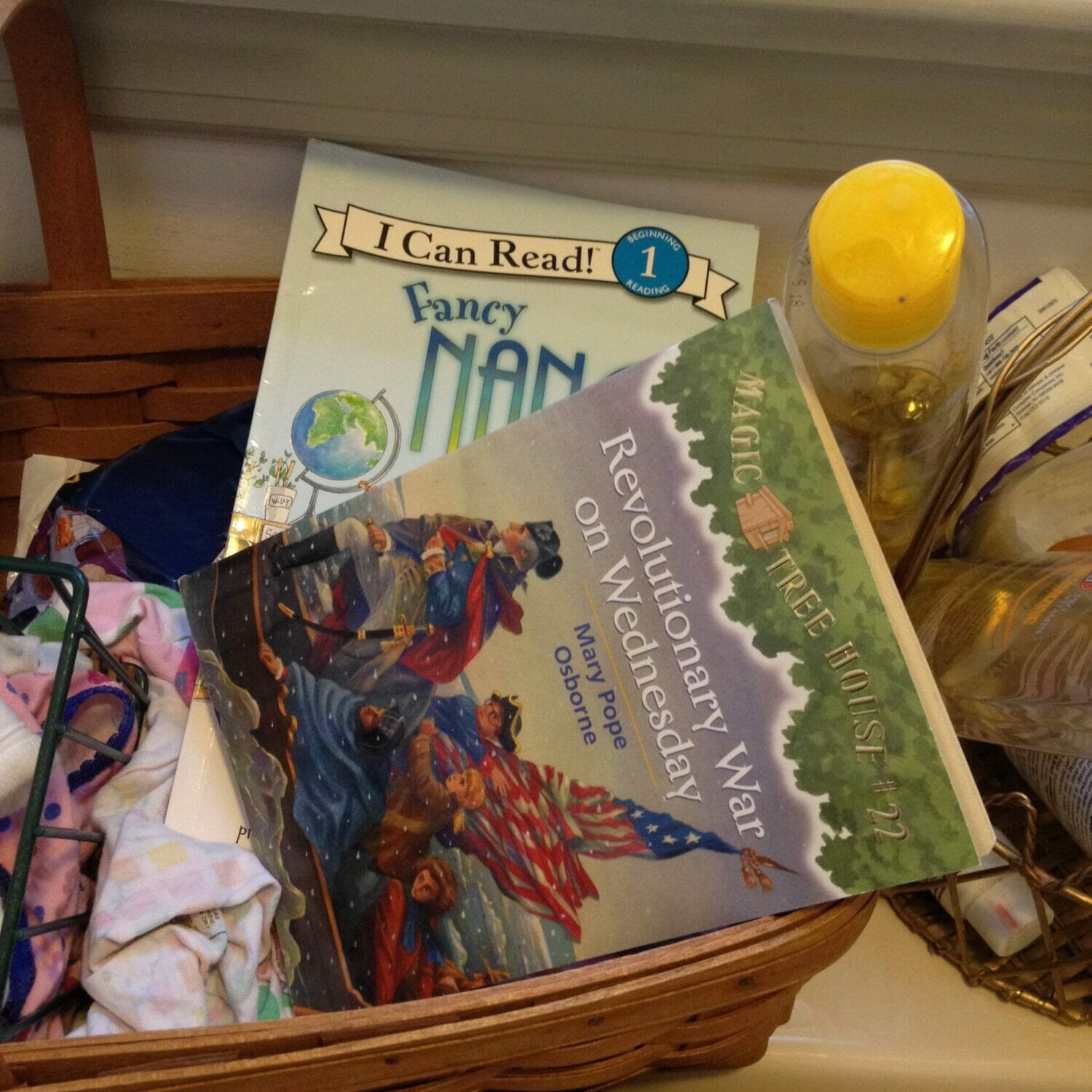 But instead of putting the books away, Kimmie would start re-reading them.
Thus, when Parent emerged from Essie's room, Parent would often find Kimmie sitting in the middle of the bathroom floor, once again engrossed in a Fancy Nancy
or the latest Magic Tree House installment
.
Desperation + frustration = chore chart
My husband and I tried every trick we could imagine to spur her along. Nothing worked.
Then I recalled a post I read on the no-longer-active site Frugal Mama several months before about her mid-school-year "tune-up" to her children's morning routine. At the heart of the tune-up was a homemade chore chart, showing in words and pictures what needed to be done.
The chart, modeled after one Frugal Mama's Amy Suardi found on another website that no longer exists (Audrey Schilaty's blog) used magnets to secure each fold-up flap closed when the child accomplished a task. Audrey's version used laminated magnet-backed pictures that she drew (which you may be able to find at this link), stuck on a large cookie sheet. Amy's involved flaps that one can open and close, decorated by her son.
How hard can that be?, I thought. I figured making the chart would take a couple of hours at most.
By the time it was done, the girls and I had filled two entire afternoons. But oh, it was a work of art. And soooo worth it.
Making our chore chart, step by step
First, Kimmie and I brainstormed a list of the tasks she's responsible for at bedtime, but doesn't always remember to do. I snuck "pick up bedroom" onto the list, figuring that doing so would free up Parent to help Essie tidy Essie's room.
Then I printed out Audrey's illustrations and got some crayons. Kimmie selected and colored the illustrations to go with the things on her list, while I carefully wrote out the tasks on little slips of paper. (If I had a personal labeler, I might have used that instead.) I made the slips the same size as the picture squares – a task made easier by the fact that one of my favorite home-office tools is a full-sized paper cutter.
For what it's worth, since we completed this project, I've added all of these to my repertoire of general crafting materials, and use them CONSTANTLY:


While Kimmie could have written out the tasks herself, I knew that this would drag the project out to the point of never getting it finished. So instead, I just had her write the "Done" slips to go on the outside of the closed flaps.
Finding a big-enough piece of cardstock around the house was hard, as was figuring out how to attach the magnet pieces. I decided that the magnets called for my

high-heat glue gun

.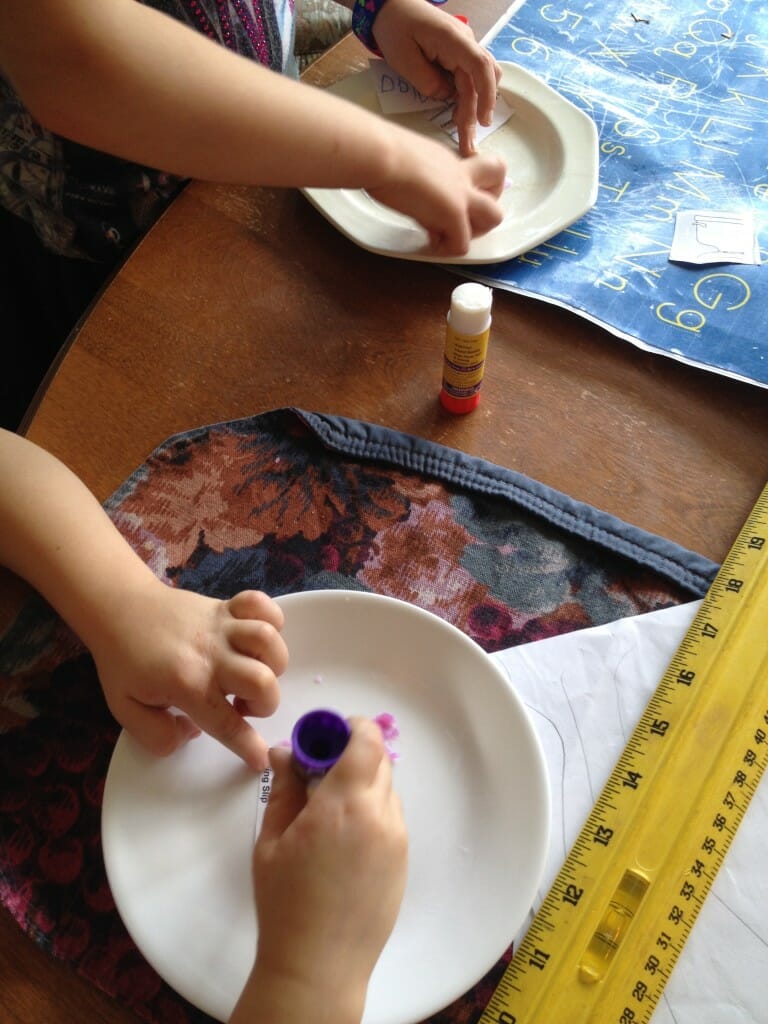 The girls' favorite part of the craft was definitely gluing on all those little slips of paper with glue sticks. Each time Kimmie finished coloring in a picture, she cut it out and gave it to Essie, who coated the back before placing it on the top part of the chart's inside. I then put the corresponding description under the picture on the inside of the flap, and finally Kimmie glued a "DONE" on the outside of the flap.
Final steps:
After the pictures and words were all glued on, I used the glue gun to attach each pair of magnets, then pressed the whole thing under a stack of books while the hot glue dried.
Finally, I used some 3M Picture Hanging Strips to hang the chart onto the wall of the girls' bathroom. (If you haven't yet discovered 3M's line of Command damage-free removable wall hooks and hanging strips, I can't recommend them highly enough. They have totally revolutionized my approach to decorating my walls.)
That night, it was my dear husband's turn to put the girls to bed. He was done with the job in record time, because Kimmie was actually ready for him once he'd finished saying good night to Essie. And I cannot tell you how good it felt to walk by the girls' bathroom on my way to bed to see a floor clear of debris (no stray clothes or books left lying about!) and a row of "DONE"s facing outward on the wall!
Reworking our mornings with chore charts
Two months later, the bedtime chart is still reminding Kimmie of what she has to get done each night before bed, and giving her a small tangible reward – the thrill of flipping up those tabs to reveal the "DONE" side – for accomplishing each task.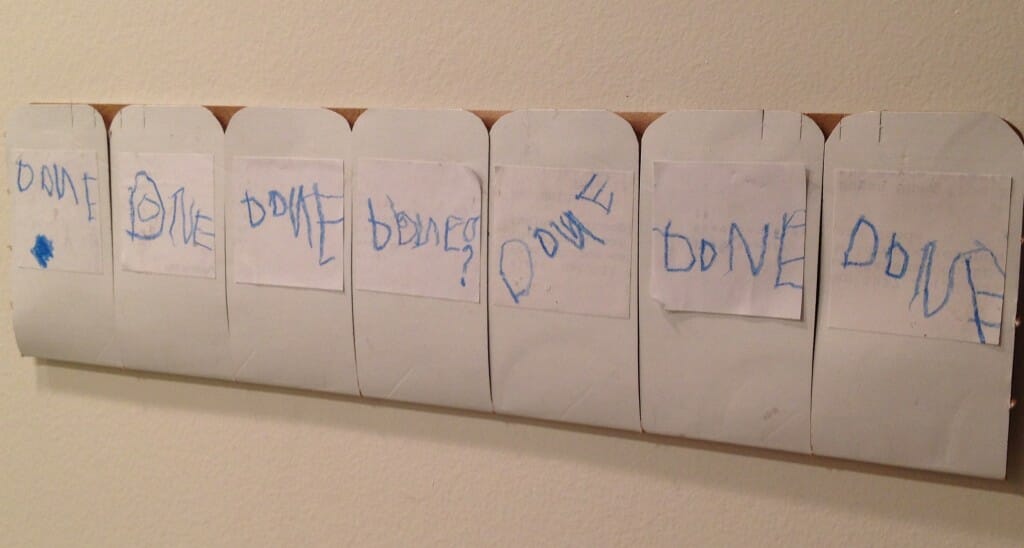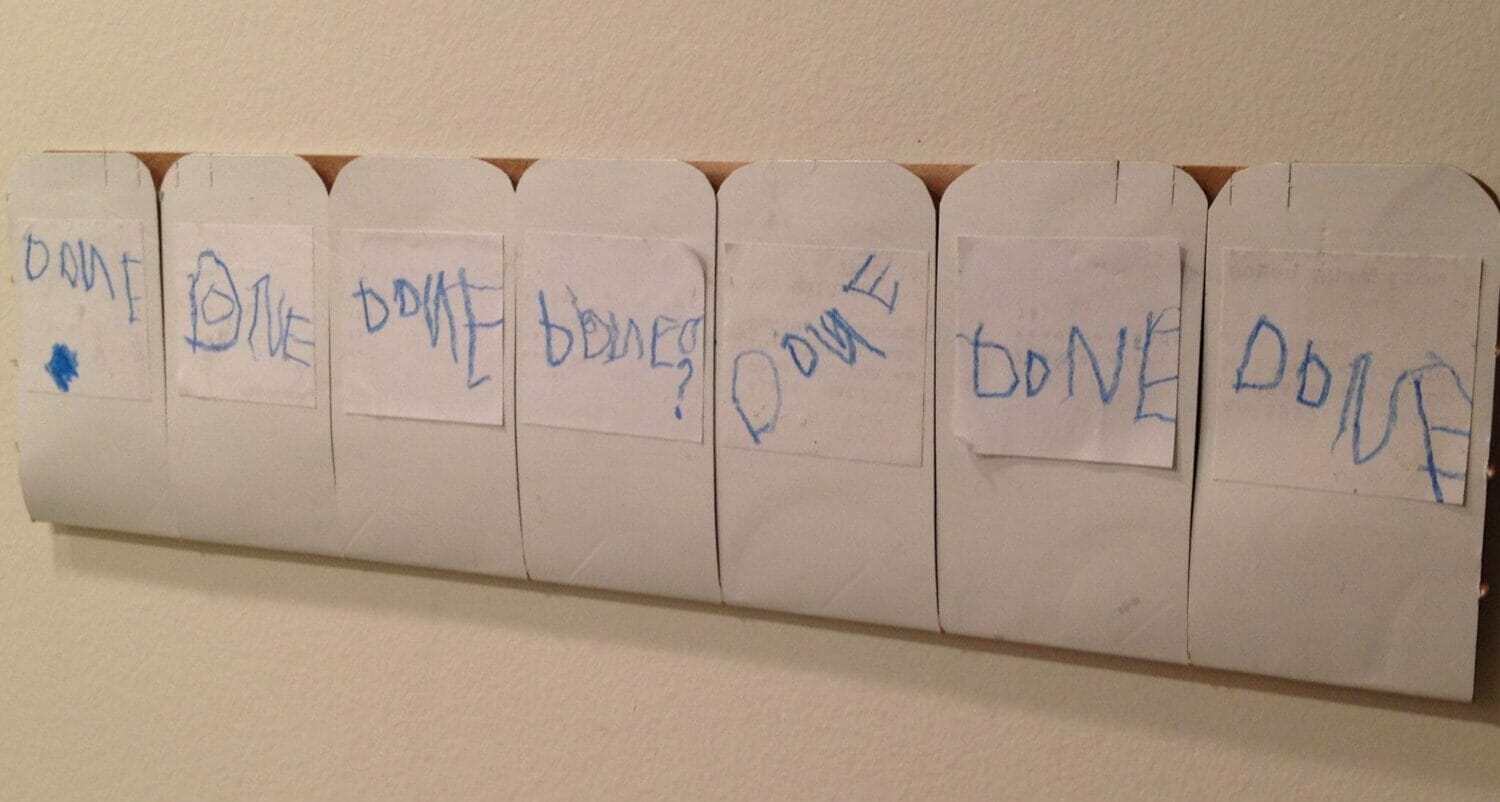 So the chore chart solution was a natural thing to try when after the first few days of kindergarten, I realized how stressful our mornings had already become. I found myself constantly nagging Kimmie to get ready for school so she wouldn't miss the bus.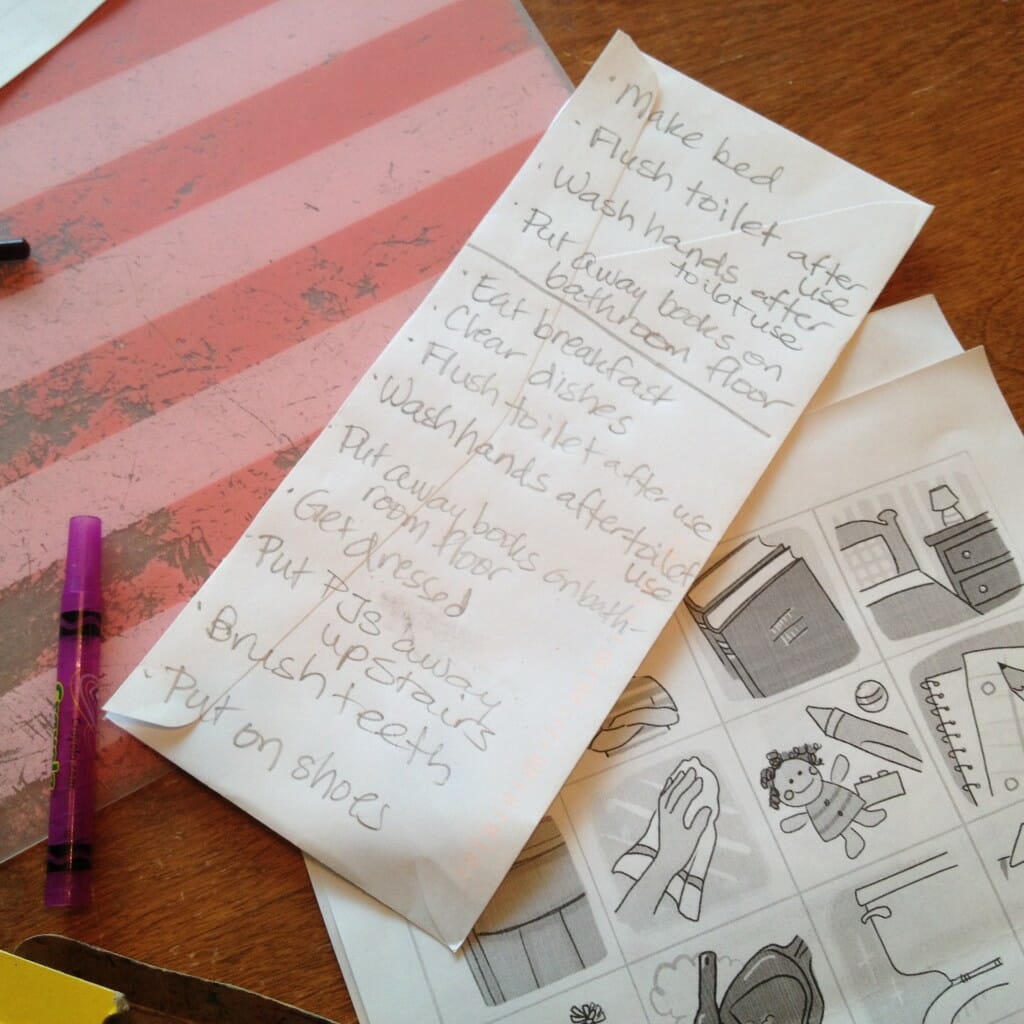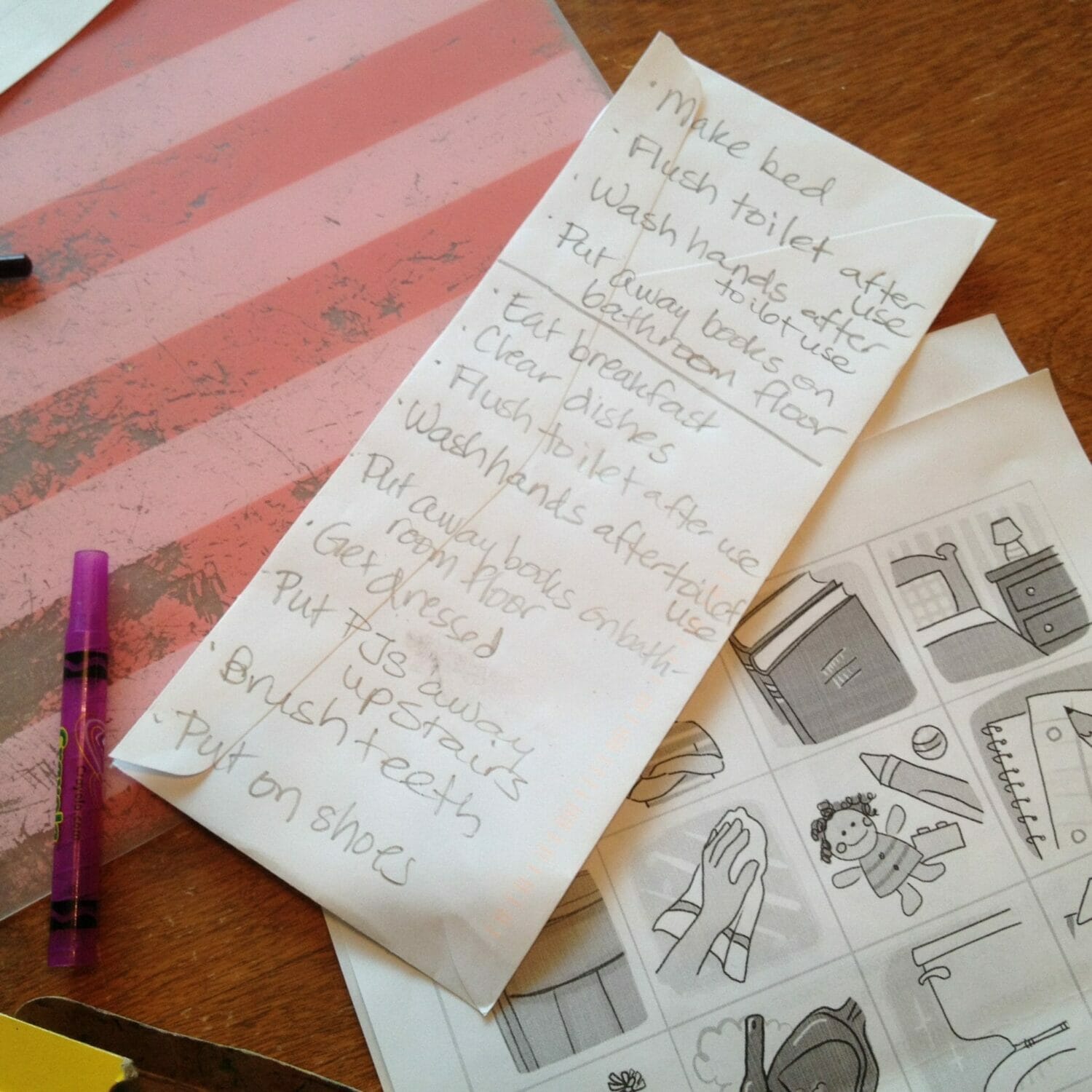 This time, I had a better sense of what we were getting ourselves into, and I set aside an entire Saturday for creating two new chore charts: a smaller one for upstairs, with things like "Make bed" on it, and a larger one for downstairs, which included tasks like "Clear dishes" and "Put on shoes."
After several magnets on the original chore chart needed re-gluing over the summer, I also switched from hot glue to rubber cement
this time around. And since all I could find for cardboard was a printed box, I glued white lined paper over the flaps on the downstairs chart, then just had Kimmie write "Done" directly onto the paper.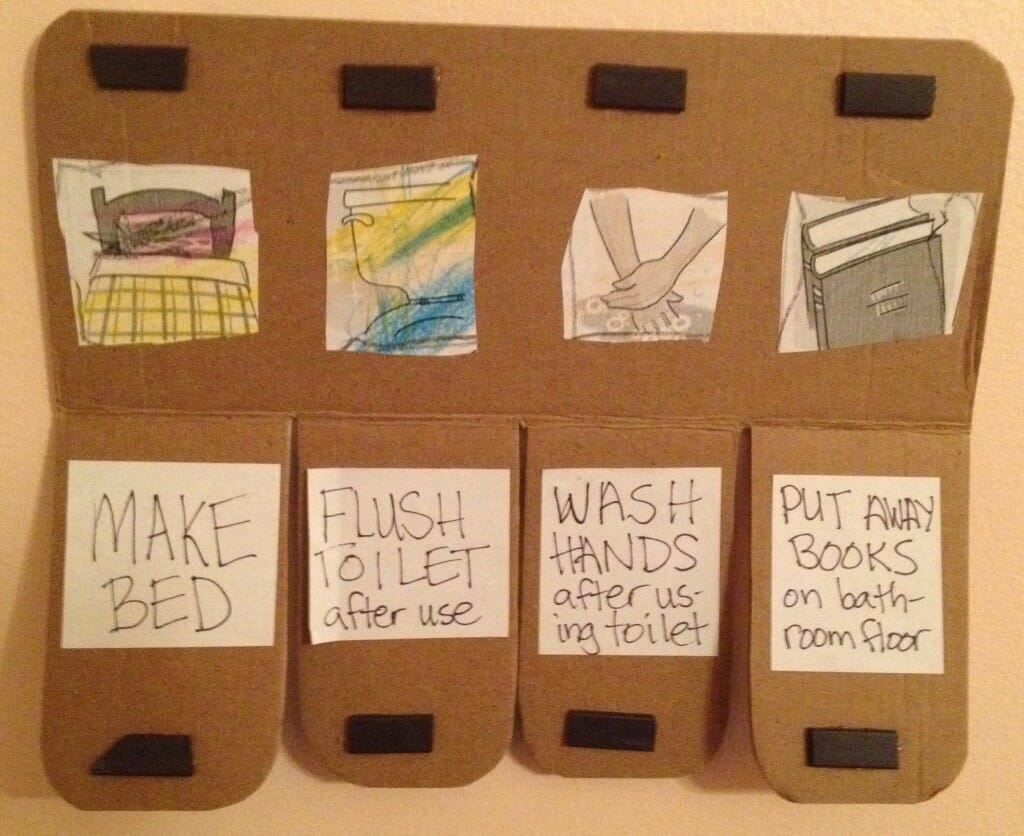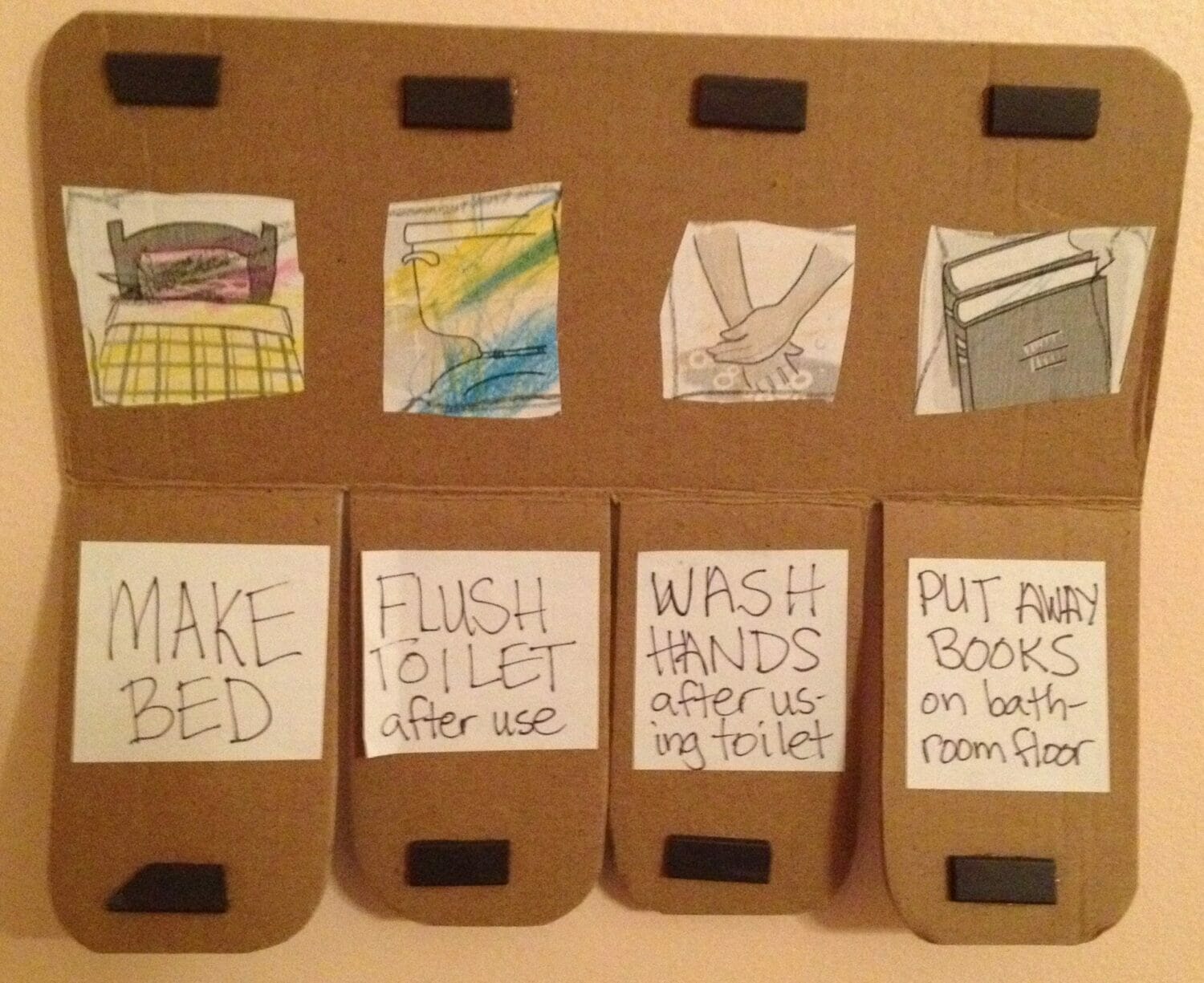 The verdict:
Although the new charts haven't eliminated my every urge to prod Kimmie along, mornings are definitely smoother now that we've added these visual reminders for Kimmie of what things she's responsible for getting done each morning. The charts remind her that as a big kindergartener, she has more things on her morning checklist than she did in the past – but they do so in a way that affirms those big-girl responsibilities without parental nagging.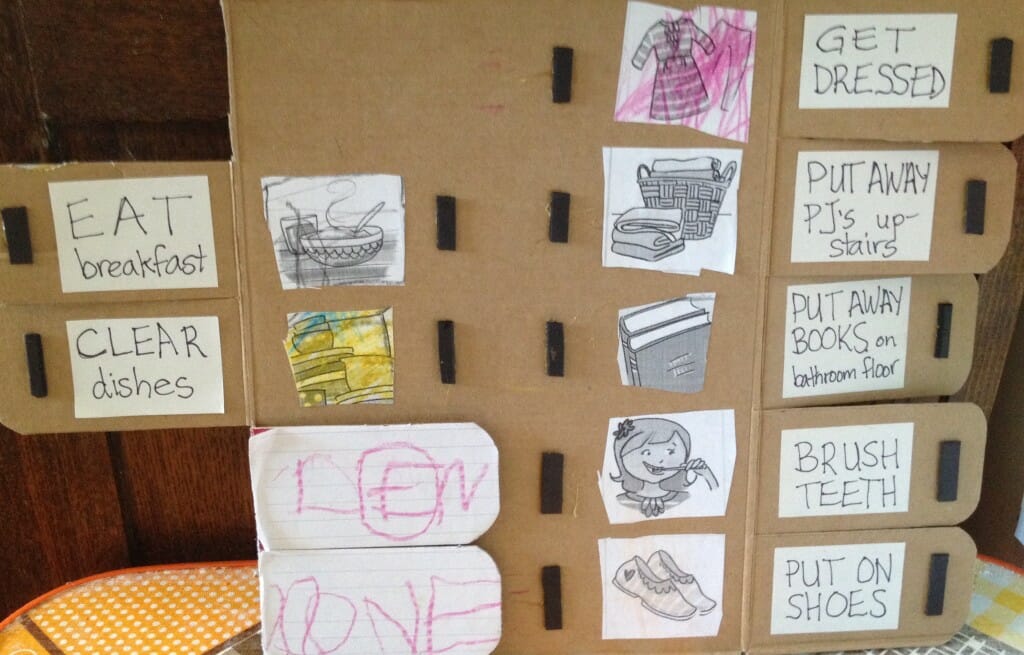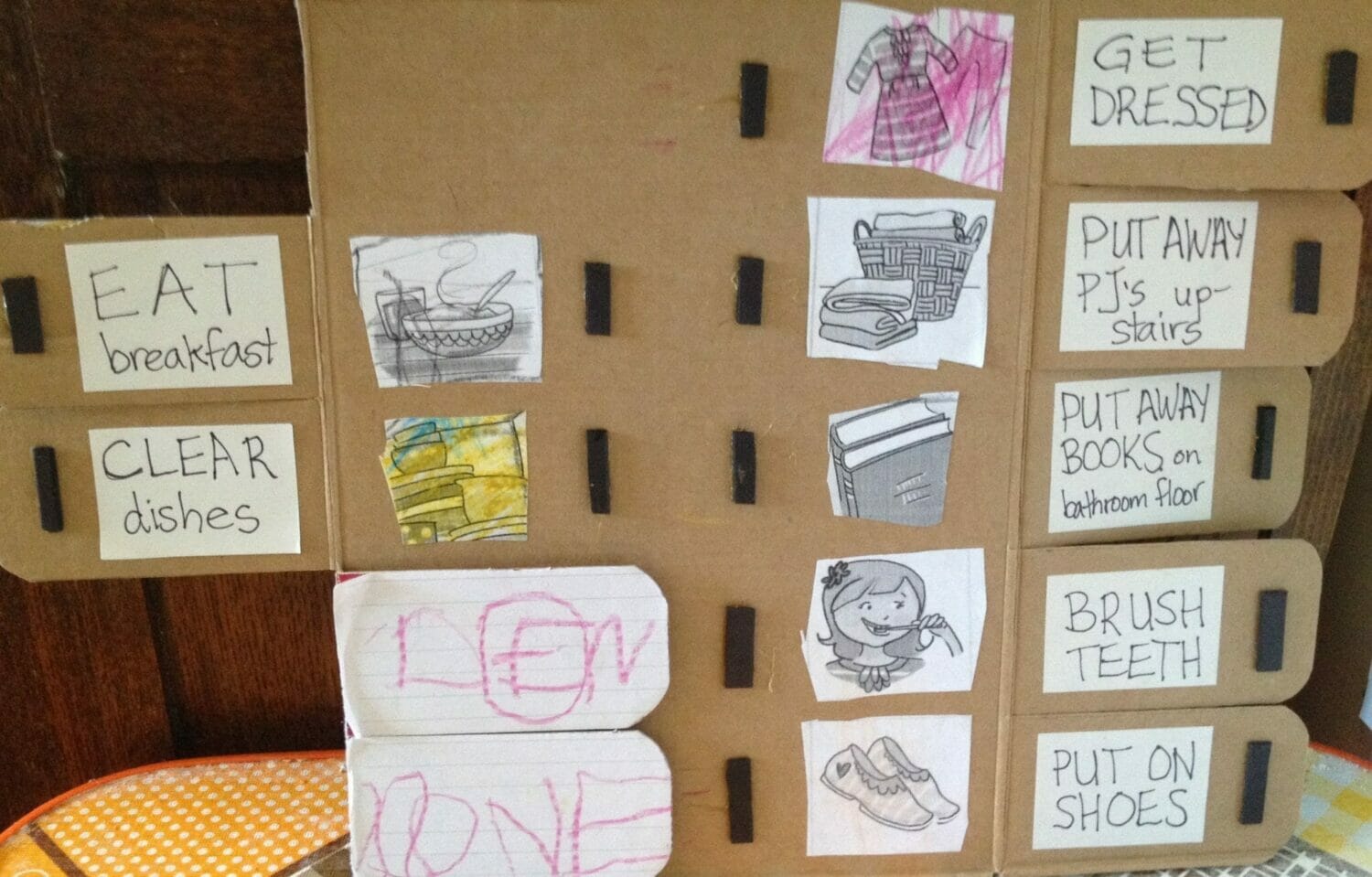 And having her new "big-girl" status (including the responsibilities that go along with such rewards as riding the school bus) visually celebrated in this way has definitely made her want to rise to the challenge. Essie is even jealous to the point that she's said wistfully, more than once, "I can't wait until I'm big enough to make my OWN charts!"
Now that school is back in session, if you find yourself having a hard time getting your kiddos back onto a school-year schedule, and you haven't tried to-do lists or charts yet, you might find them worthwhile.
Do you use chore charts or other types of task checklists for your kids? How are yours set up, and how have they helped your family to get things done? Let us know in the comments!
If you enjoyed this post on how to make a magnet-flip chore chart, please share it with others by pinning this image!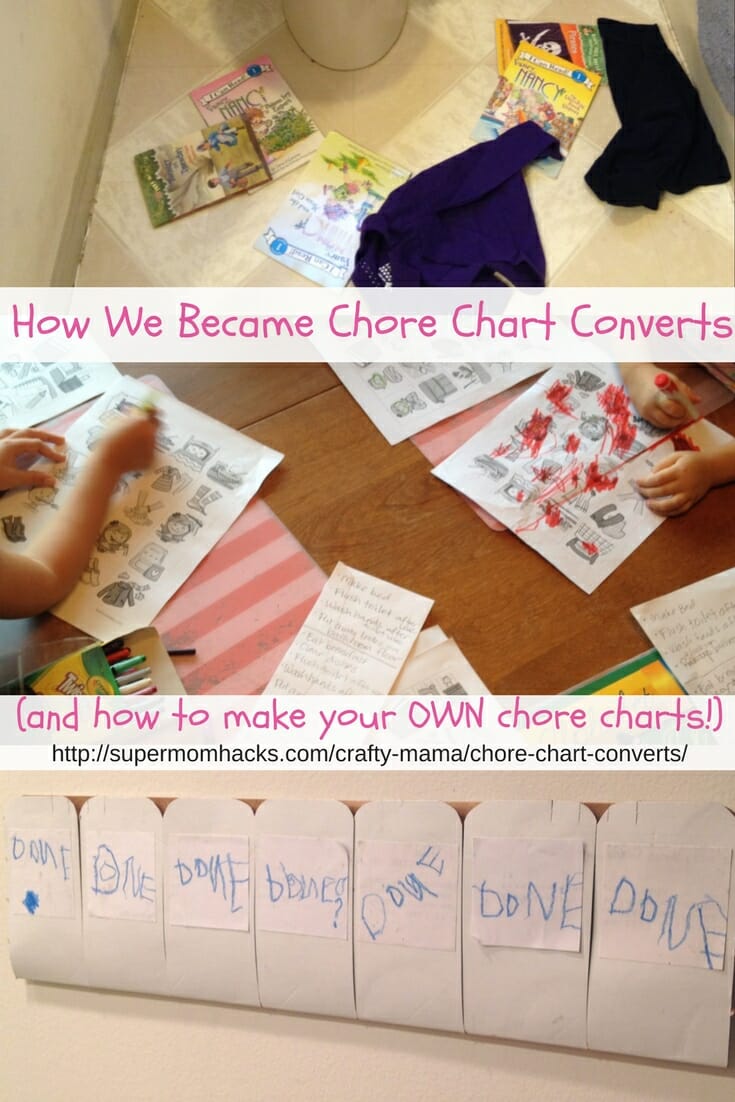 NOTE: This site contains affiliate links. I may earn a small commission from any purchases made through affiliate links, at no additional cost to you. For more information, please read the full disclosure/privacy policy.