Does your family enjoy exploring new cultures through their foods? We do. Trying the local cuisine is always tops on my vacation list. Likewise, whenever I return somewhere I've visited or lived, I cannot wait to taste my local favorites again. Among my guilty pleasures whenever I visit Mexico is a plate of chilaquiles (CHEE-la-KEY-lays) for breakfast.
There are lots of ways you can make chilaquiles, the ultimate "breakfast nacho" plate. It all depends on what salsa (sauce) and protein (if any) you use. But that's one of the fun things about this recipe – and maybe one of the reasons I love it so much. Like many recipes I love, it evolved as a way to use up leftovers. And like many of my favorite "leftovers" recipes, it's delicious!
For a fun weekend brunch bar with your family, you can set up a chilaquiles assembly station with an assortment of ingredients. Or you can just use up fridge leftovers for a quick weekday breakfast. Either way, your kids will love that they can "make" this simple no-cook breakfast themselves.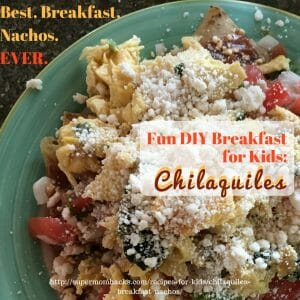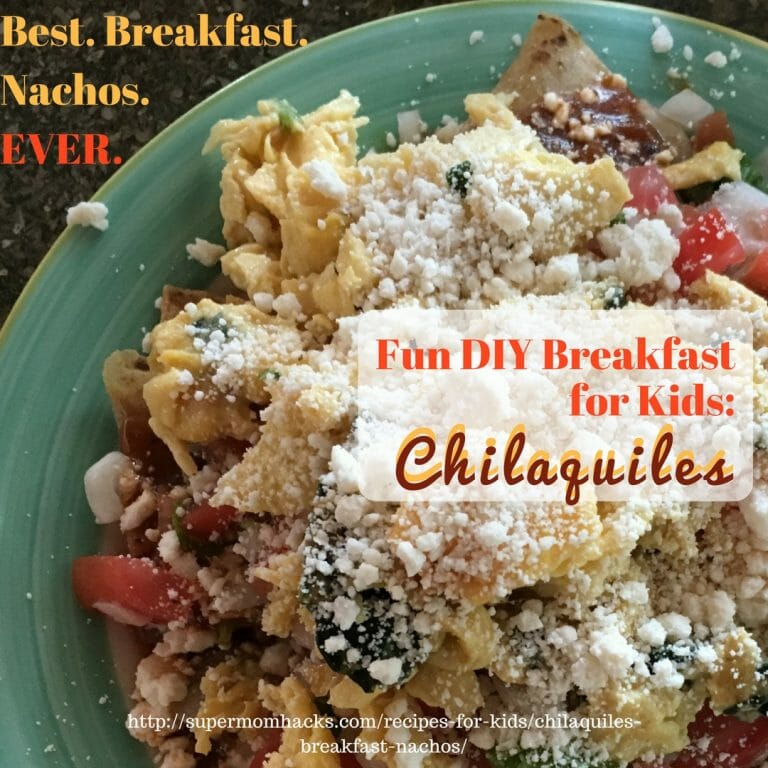 Chilaquiles (Breakfast Nachos)
Servings and serving size vary; once you've assembled the ingredients, prep time approx. 5 min.
What you need:


Tortilla chips, preferably unsalted
Your choice of sauce (salsa), ideally from the Mexican foods section of your grocery store: salsa verde (green sauce), salsa rojo (red sauce), or mole sauce (a savory brown sauce made with chocolate)
Crema fresca or sour cream
Crumbled or shredded cheese – ideally, Mexican queso fresco, but you could also use crumbled feta or a mild shredded cheese
Mild/sweet onions, fresh cilantro, and tomatoes, chopped (to take the "bite" out of raw onions, you can soak chopped onions in ice water for an hour to overnight, then drain well before use)
Your choice of protein: fresh-cooked sunny-side-up or scrambled eggs, refried beans, shredded pork or chicken, ground beef cooked with taco seasonings, canned kidney or black beans (drained and rinsed), etc.
We also like to add fresh chopped avocado, if we have it, or fresh homemade guacamole. You want the avocado just starting to soften from the outside, so it's still firm and sweet on the inside (but not too firm). If they're overripe, the flesh inside will start to brown and will have a funny sour taste that's not nearly as good. (Note: This means you'll probably need to plan to buy avocados a few days ahead, and watch them carefully as they ripen so you make this recipe BEFORE they get overripe.)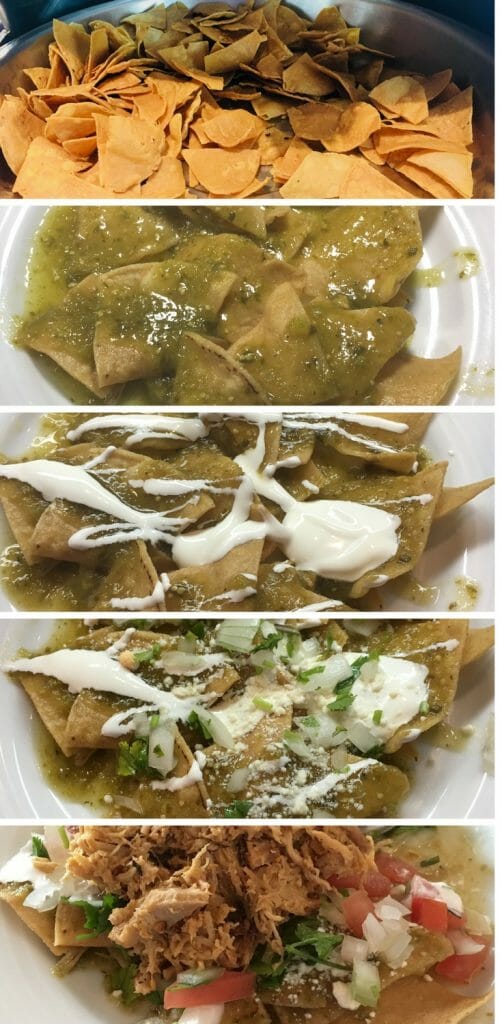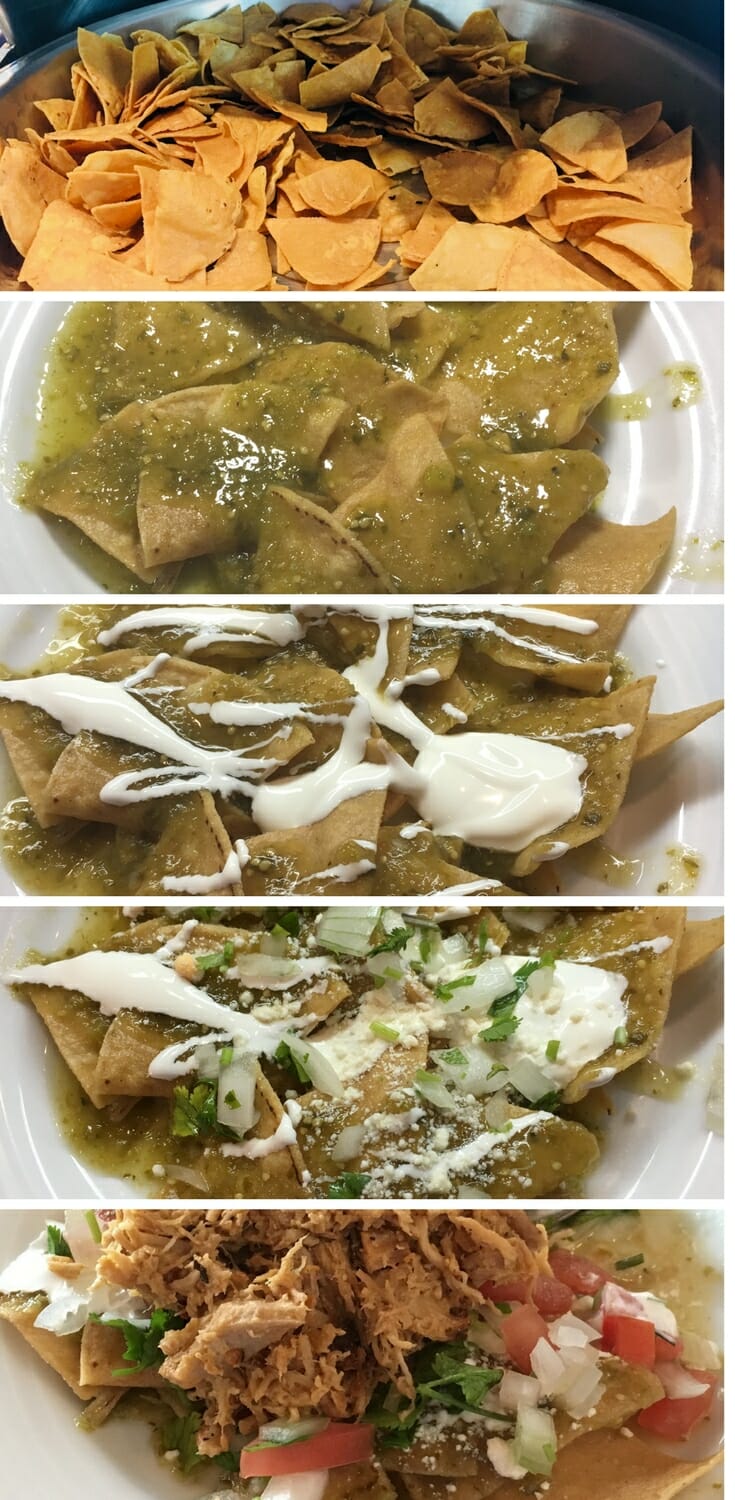 The basic idea:
On a small (age-appropriate-size) plate, arrange a single layer of tortilla chips.
Drizzle your choice of salsa on top.
Add a few dollops of sour cream.
Sprinkle on a little cheese.
Add chopped veggies to taste.
Top with the protein of your choice, and enjoy!
Mix it up:
Like pretty much everything else I eat in Mexico, I also love to squeeze some fresh lime juice on top of my chilaquiles, as a finishing touch.

From top: mole sauce, red sauce, green sauce

The salsas used for chilaquiles in Mexico are truly sauces (think runny liquid) rather than the chunky concoctions you'll find in U.S. grocery stores. For a more authentic experience, you can purée your salsa with a regular blender or immersion blender. But buying jarred salsa in the Mexican section of your local grocery store, or making your own from scratch, will also work. Try this recipe for authentic salsa roja (red sauce) or this recipe for salsa verde (green sauce).
Likewise, Mexican crema is runnier than the sour cream you'll find in U.S. grocery stores. If you'd like, you can thin regular sour cream with buttermilk (ideal) or milk until it's a drizzle-appropriate consistency.

Clockwise from top right: chopped tomato-onion-cilantro mix, chopped onion-cilantro mix, crema, queso fresco, pickled onions, lime wedges

If you have guacamole on hand, feel free to add some of that as well. Likewise for chopped pickled onions – that's the purply item you see in the condiments bar photos!
Have you tried chilaquiles before? What's your favorite combination? Let us know in the comments!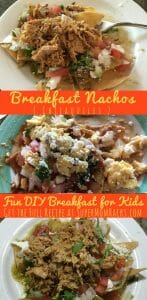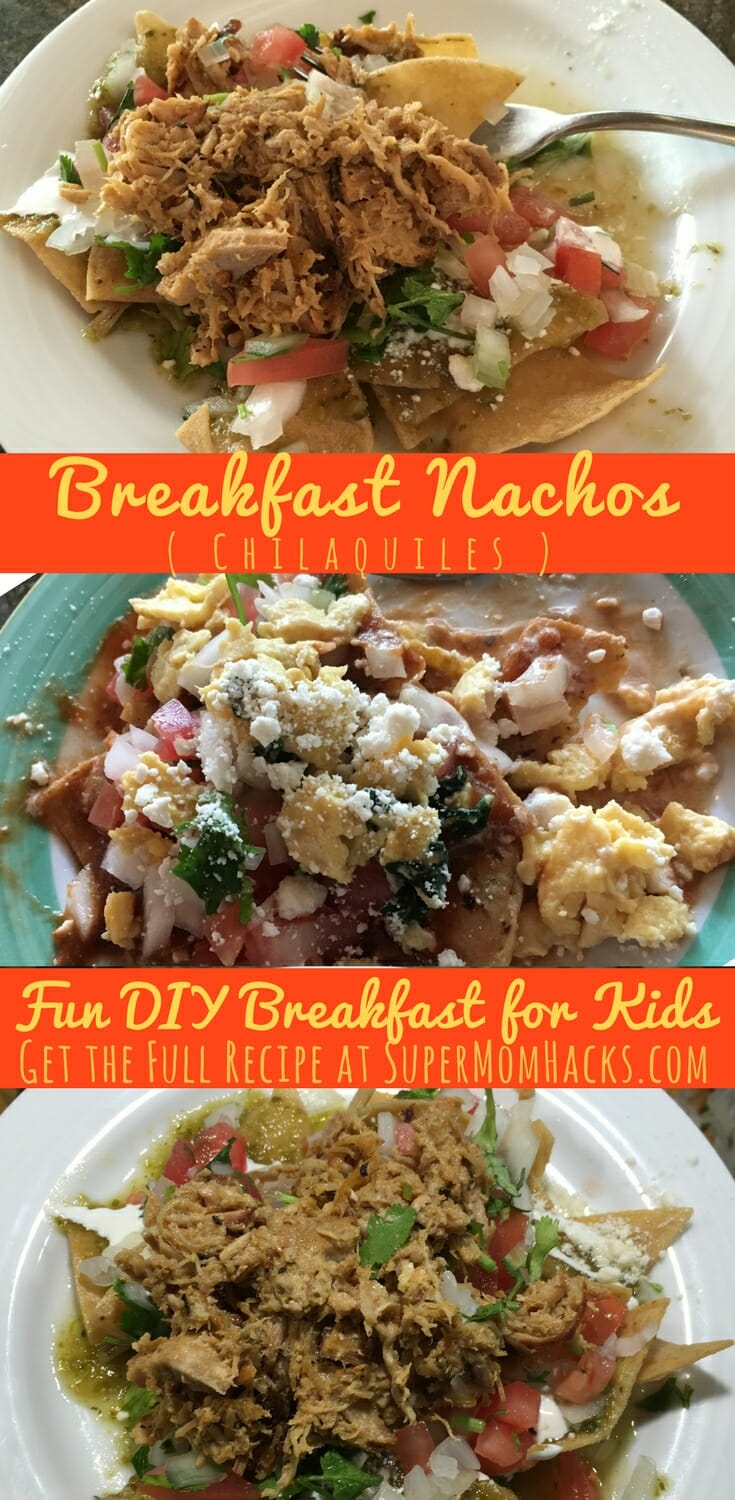 NOTE: This site contains affiliate links. I may earn a small commission from any purchases made through affiliate links, at no additional cost to you. For more information, please read the full disclosure/privacy policy.