As I sit down to write this post, it's a cold and dreary January in our corner of the northern hemisphere. We're barely back from our latest visit with family, and I haven't even had time to unpack, let alone get to the supermarket. So I'm snacking on cheesy toasts.
Correction: WAS snacking on – I polished off the last bite before that first sentence had its final words.
If you follow my recipes at all, you already know I'm big on recycling leftovers. I always thought this was just something I'd learned from my parents, who grew up in lean times. But my South American friend Renée reminded me that this is common across many Latin cultures as well.
Cheesy toasts is a prime example of a recipe I made up on a whim, using what I had on hand.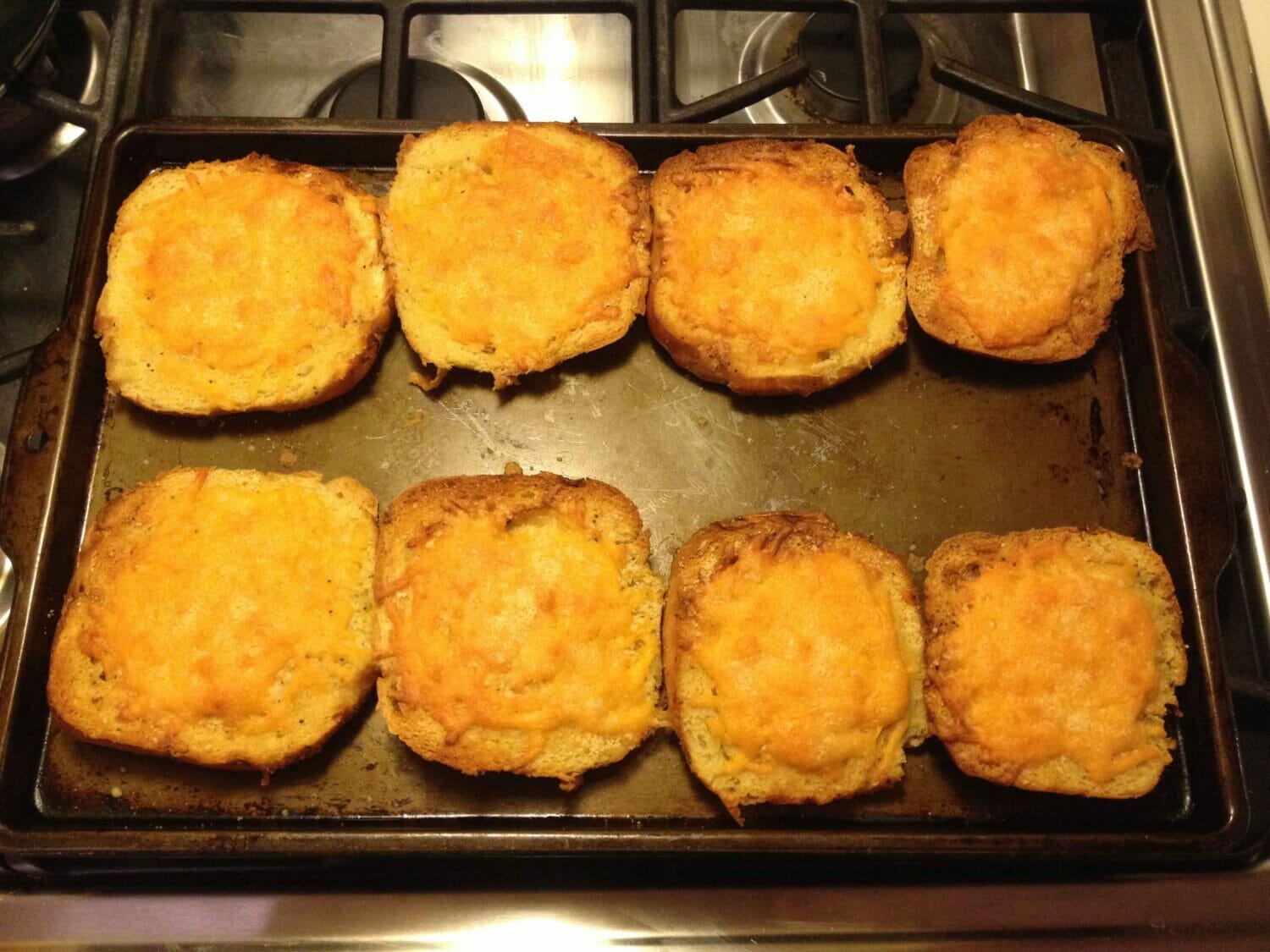 Originally published Jan. 18, 2017; last updated February 2021.
Why?
I was looking for something to serve with homemade soup for dinner. Only the bread I pulled from the freezer had been in there a bit too long.
The bread we had on the counter was also going stale. And with two little people underfoot and a dinner deadline looming, I was not in a position to run to the store.
In an effort to improve the state of my sorry bread choices, I added some cheese to would-be garlic bread before tossing it into the oven.
The resulting pieces of cheese-encrusted crunchiness were so delicious, my girls immediately dubbed them "cheesy toasts" and began requesting them by name.
So, the next time you have some stale bread to use up – or kiddos looking for a tasty snack – or a soup looking for the perfect accompaniment – try making cheesy toasts.
You can even save the leftovers to eat the next day. IF you have any, which we never do.
Cheesy Toasts
Servings vary; prep time approx. 5 min; cook time approx. 10 min; total time approx. 15 min.
This is one of those recipes where you can make as much, or as little, as you like.
What you need to make Cheesy Toasts: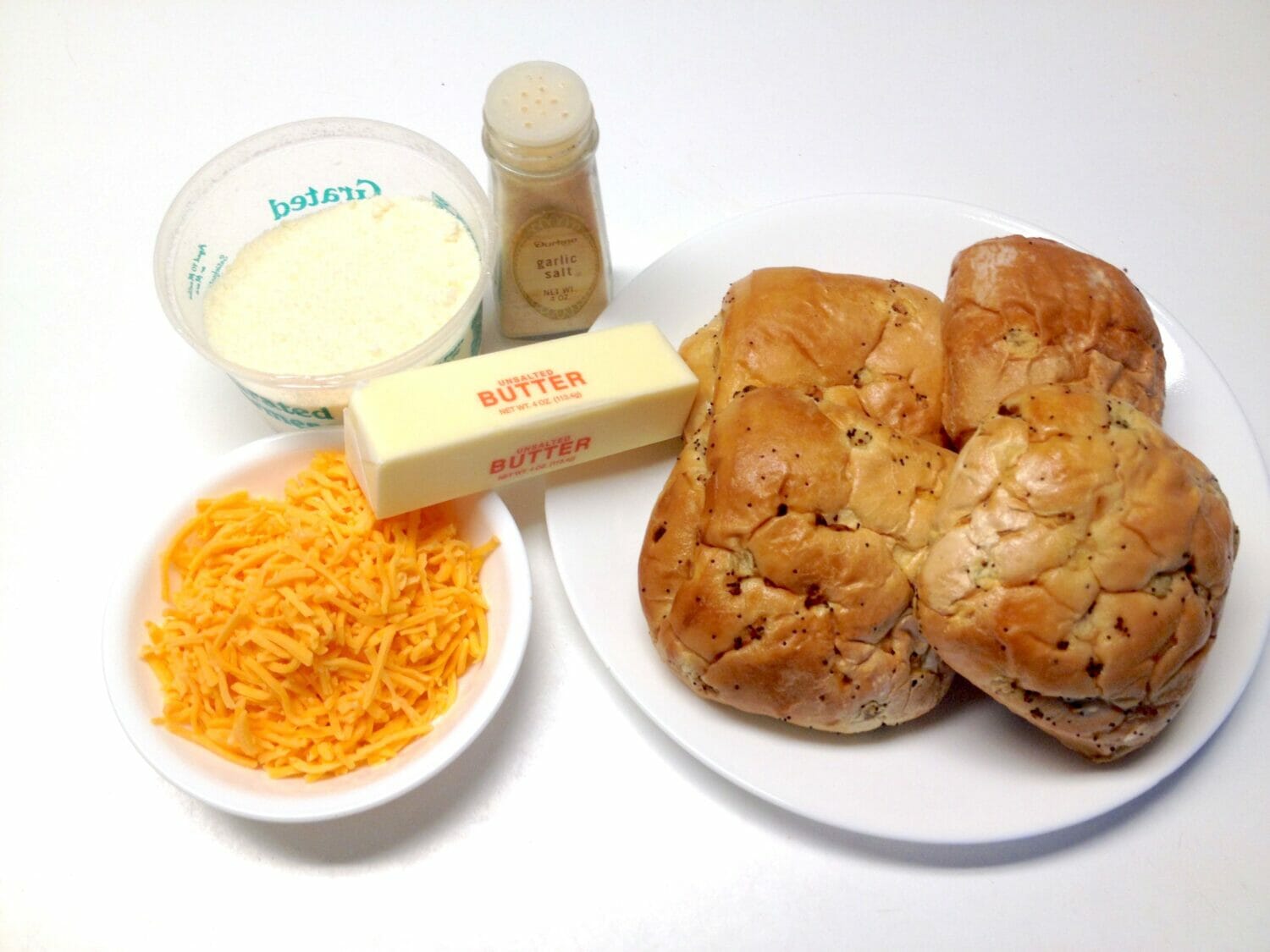 Bread or rolls, preferably stale
Unsalted butter, preferably at room temperature
Garlic salt
Shredded or grated cheese (whatever you have on hand – I've used everything from the ends of a bag of shredded cheese, to grated or shredded Parmesan, to slices of deli cheese ripped into smaller pieces, to a chunk of hard cheese roughly chopped into smaller bits)
The basic idea: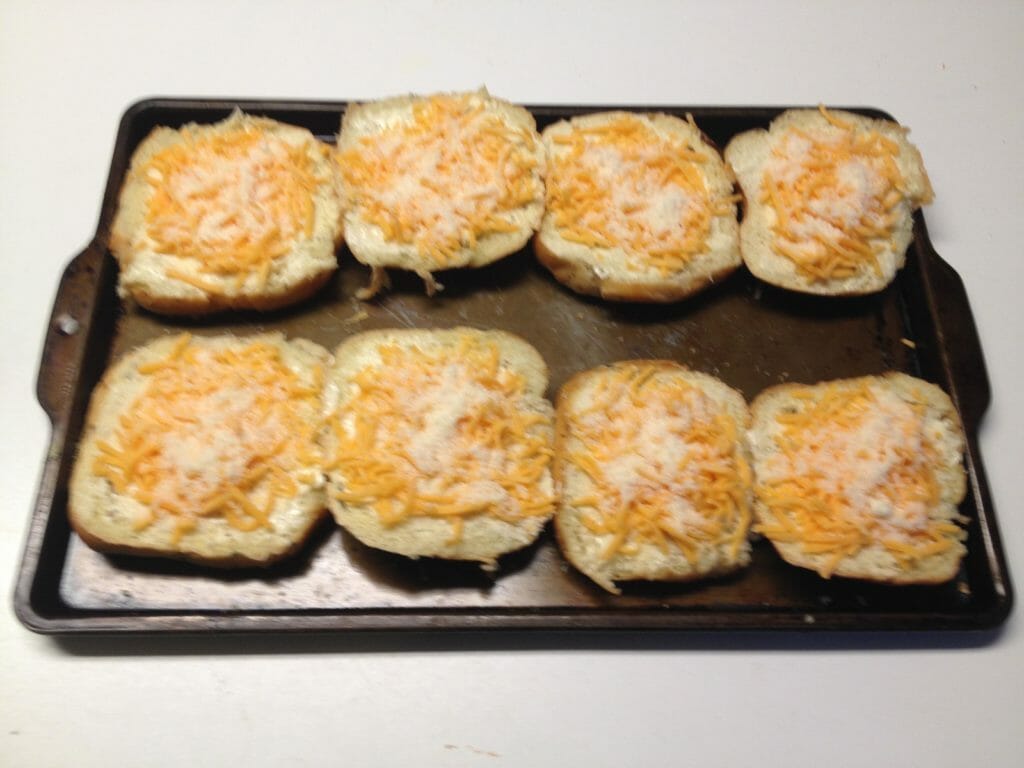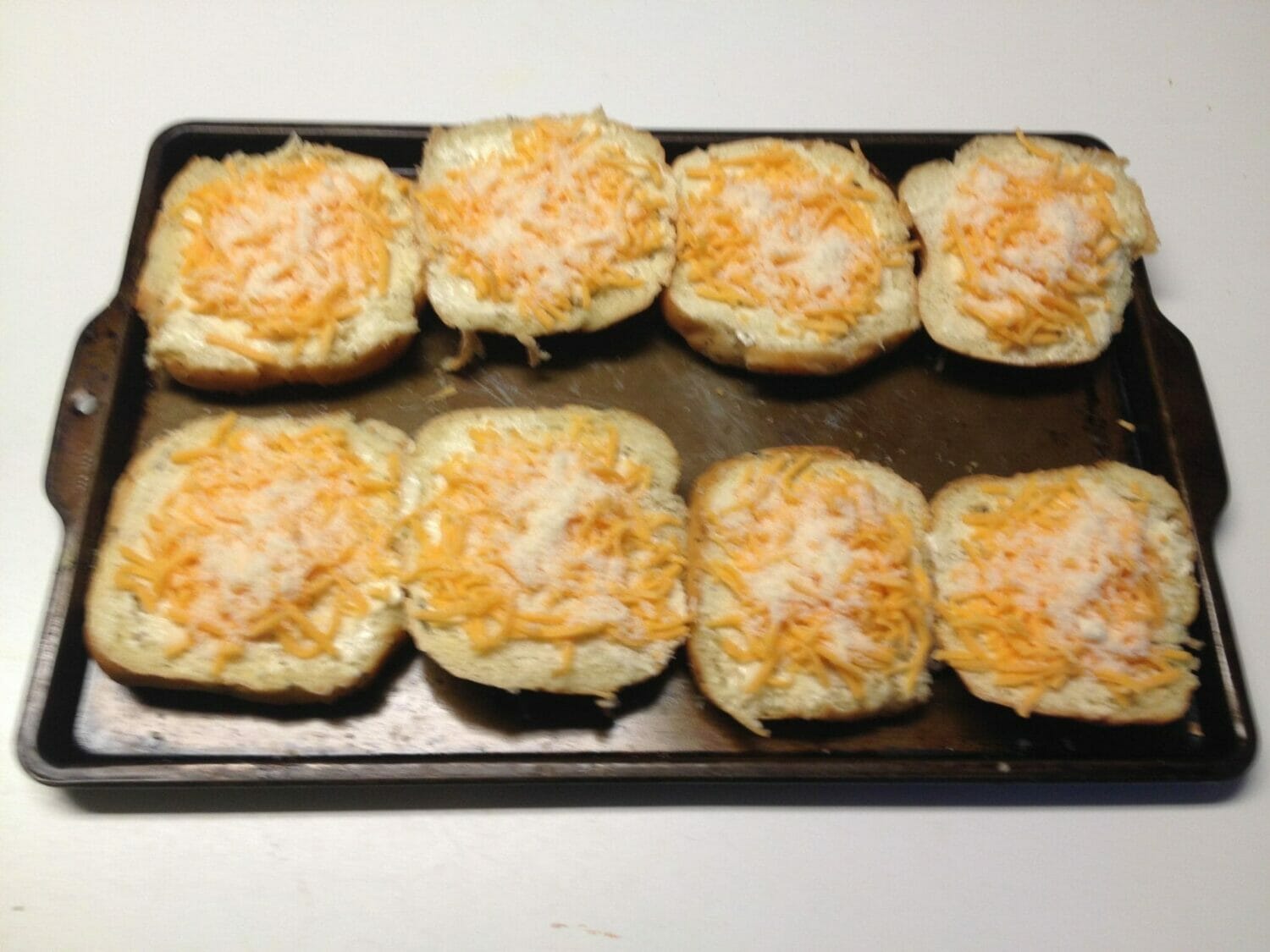 Preheat oven to 350 degrees F (175 degrees C). Line a baking sheet with foil or parchment paper (not essential, but makes cleanup fast and easy!).
Cut bread into slices approx. 1/2 in (1-1.5 cm) thick, and/or slice rolls in half so you have a spreadable surface.
Spread a thin coating of butter on the top cut surface of each slice of bread, then sprinkle lightly with garlic salt. Place the slices in a single layer on the baking sheet.
Sprinkle enough cheese over the slices to coat most of the surface of each piece.
Bake for 8-10 minutes, or until surface of cheese has melted together and begun to brown.*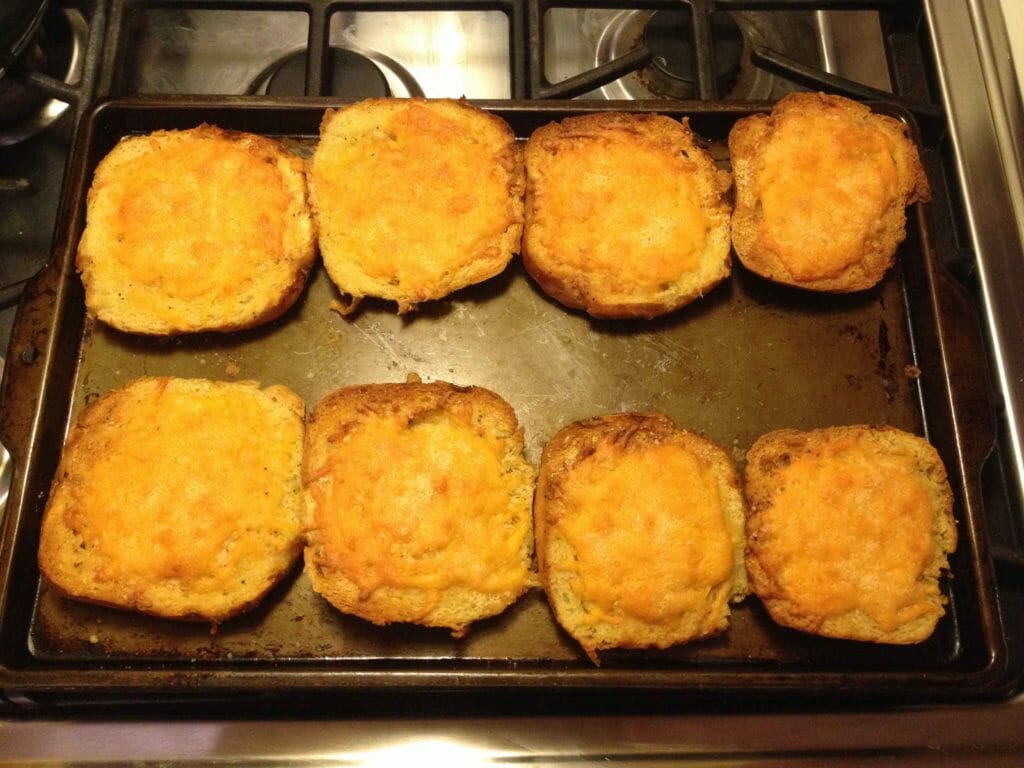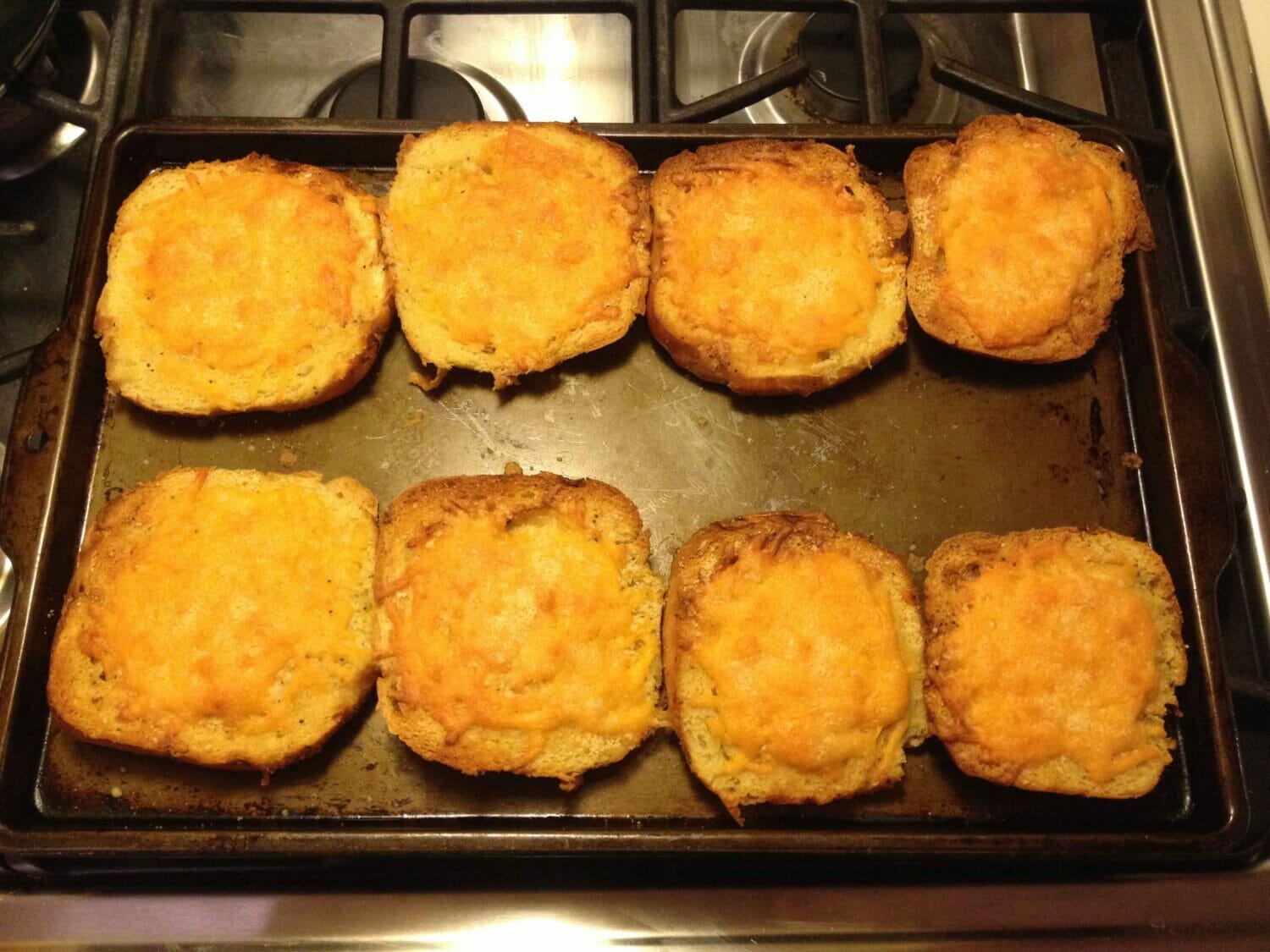 *In full-sized ovens, this can take as long as 15 minutes, unless you're baking these on the top rack near to the heat source. Unless I'm doing a full-sized tray of these or have the regular oven on anyway, I prefer to cook these in my toaster oven.
While they do take up counter space, toaster ovens are a great and inexpensive appliance for frequent small oven jobs. When I made a single cheesy toast for my snack this morning, I just put the slice of bread on a piece of foil and popped it in on a "medium" toast setting. In less than five minutes, I had my cheesy toast. Much faster – and more energy-efficient – than heating an entire oven.
Mix it up:
Salted butter, or your favorite butter alternative (margarine, canola spread, vegan spread, ghee), are also options.
However, if you use something containing salt instead of the unsalted butter, skip the garlic salt and opt for garlic powder instead. Or omit the garlic flavor altogether.
Here's a tasty variation that my husband and I saw at a restaurant last week: Instead of butter and garlic salt, the bread slices were drizzled with pesto, then topped with shredded Parmesan and baked. The breads were still pliable (versus crunchy) afterward, but equally delicious.
I've also added thin slices of tomato when making these as a snack or a lunch for the girls. Romas or another less juicy variety work best for this. Put the slices on right before the cheese layer.
If you're adding tomato anyway, you can also swap out the garlic salt for some curry powder: another delicious variation.
Although I haven't tried it, I bet the tomato version would be especially good with pesto underneath.
What variations on this theme have you tried, or can you dream up! Do share!
Like this recipe for Cheesy Toasts? Then please share with others by pinning this image!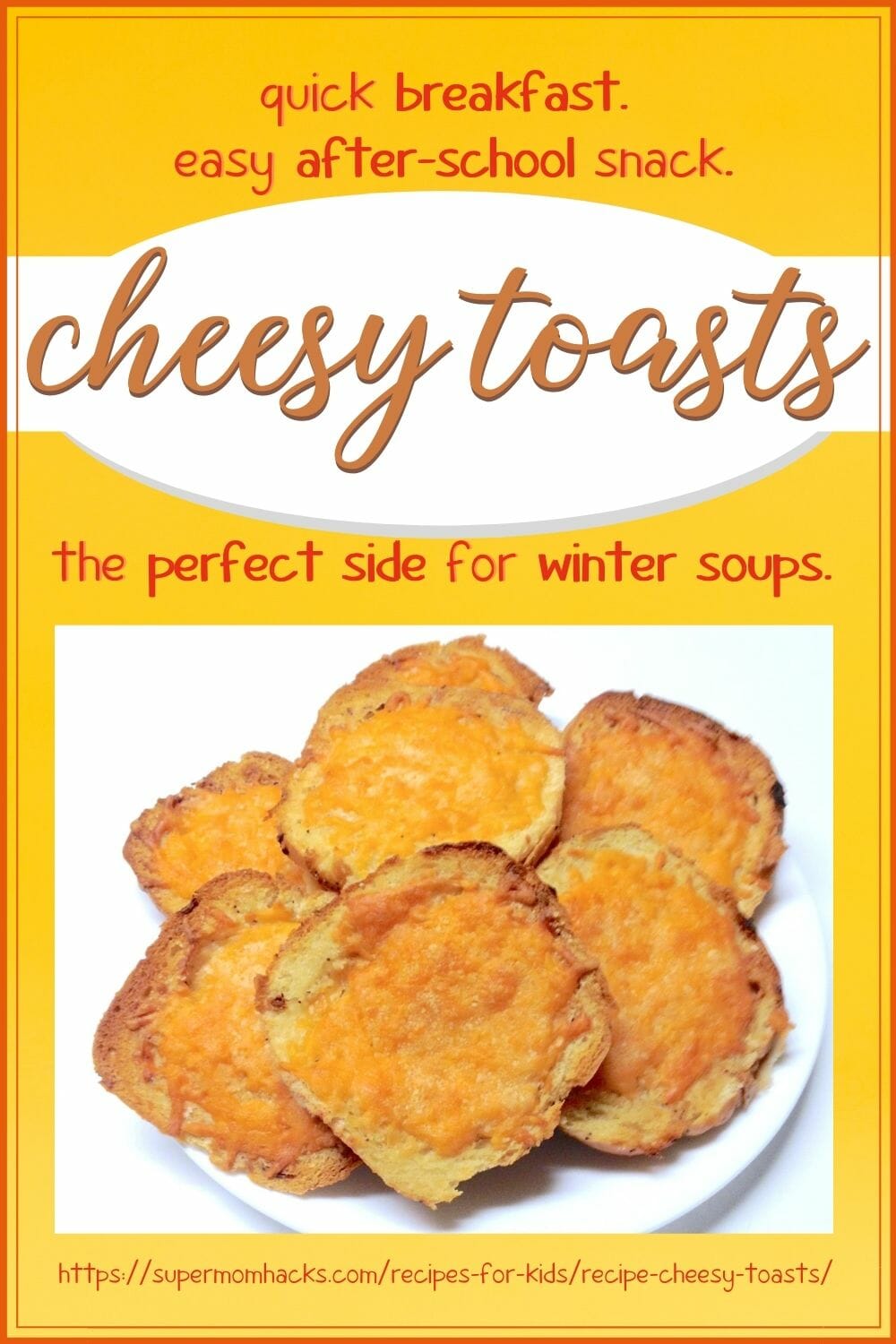 NOTE: This site contains affiliate links. I may earn a small commission from any purchases made through affiliate links, at no additional cost to you. For more information, please read the full disclosure/privacy policy.