Serves 4-6 as a main course; doubling recommended
This recipe is a favorite not just of my family, but of every family I know who's tasted it. And not only is it super-yummy, but it's another great way to use up leftovers, from leftover cooked rice to random chunks of meat. Moreover, like many of my go-to meals, this recipe is as flexible as the ingredients you have on hand.
And get this: The basic-idea version here comes from my Swedish grandmother! She was apparently a big fan of her local state U's Extension service in the 1940s and 1950s, and they liked to publish recipes from around the world in pamphlet form. My mom got it from her when she married my dad, and it's now a regular on my own family's dinner table.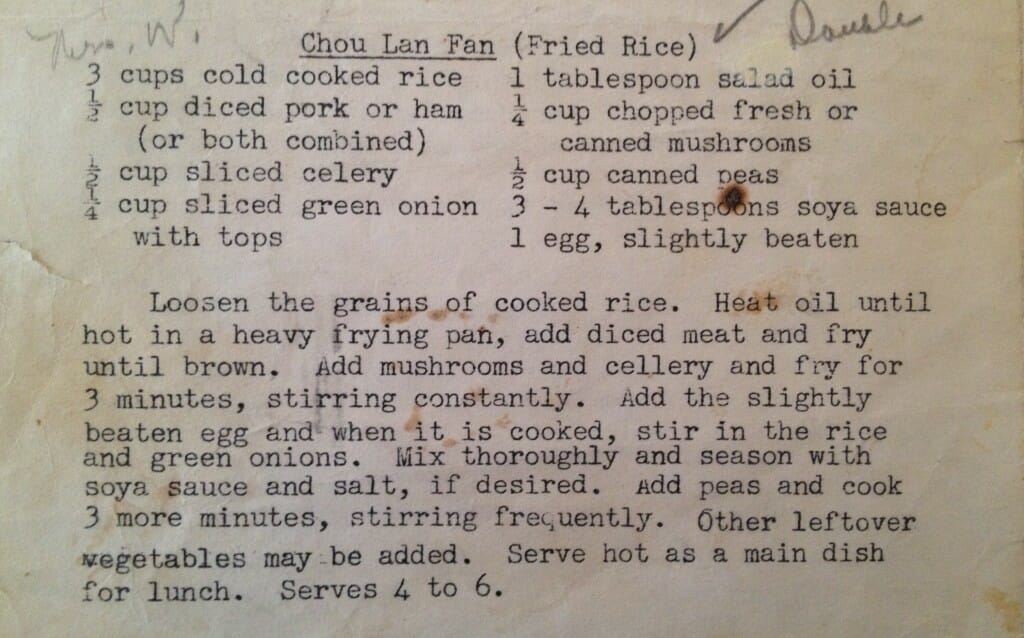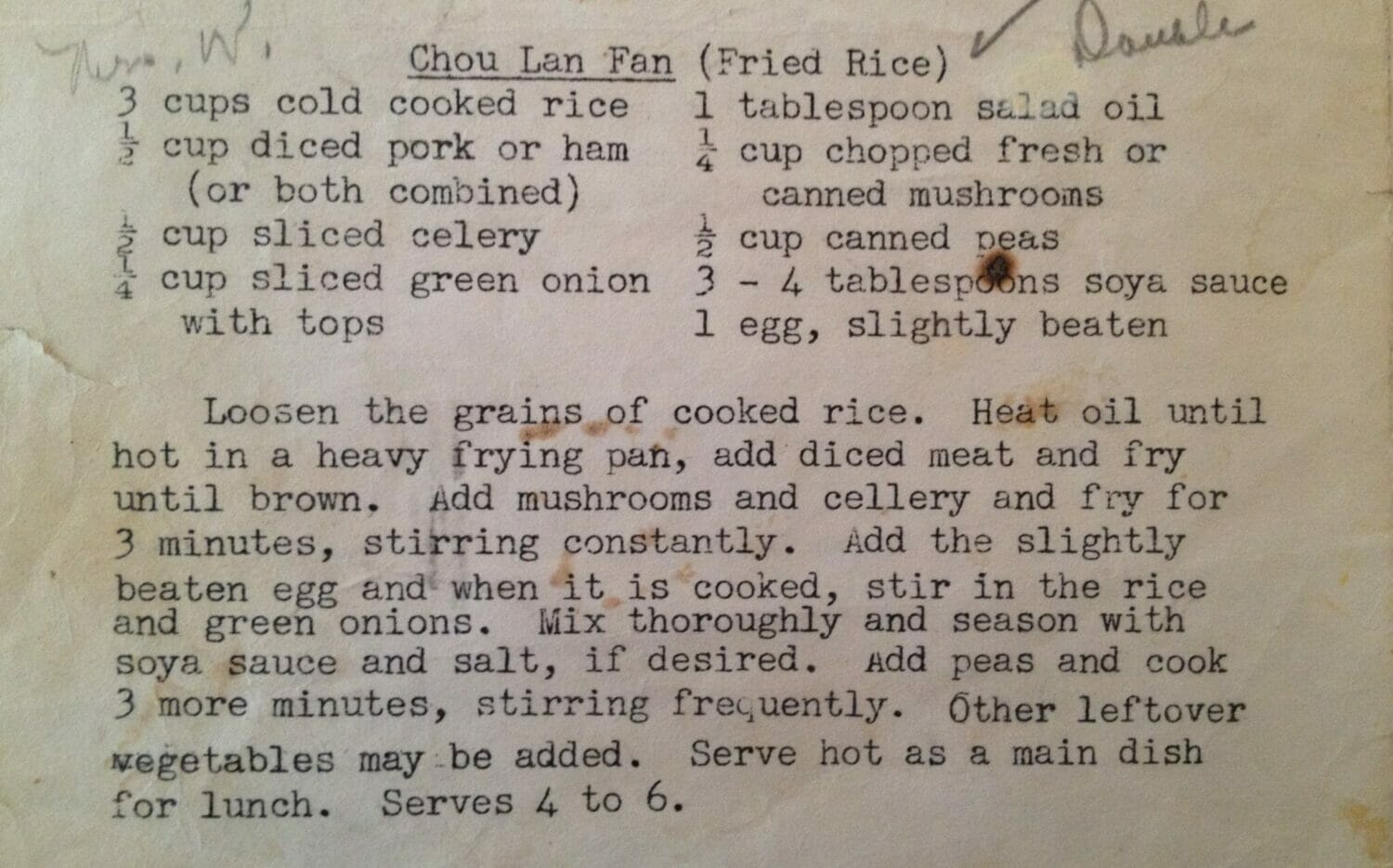 I've tinkered with the recipe a lot since I started making it for my own brood, so do check out the variations at the end for more ideas. While this recipe makes a delicious main course served hot, the leftovers work equally well cold for a school lunch, picnic, or easy take-along meal for road-tripping.
Family-Favorite Fried Rice
Prep time: Approx. 20 min; Cook time: Approx. 10 min; Total: Approx. 30 min; Serves 4-6; doubling recommended
The basic idea:

What you'll need:
1 t. oil
½ c. diced pork, ham, or a combination of both
½ c. sliced celery
¼ c. chopped mushrooms, fresh or canned
1 egg, slightly beaten
3 c. cold cooked rice
¼ c. sliced green onions with tops
½ c. frozen peas
3-4 T. reduced-sodium soy sauce
NOTE: The thing that takes the longest here, as with any stir-fry recipe, is prepping all the ingredients; the cooking itself is very quick. When I make this dish, I try to put the ingredients for each step of the recipe into a single bowl, then line them up in order, so it's easy to add everything for each step all at once when the time comes.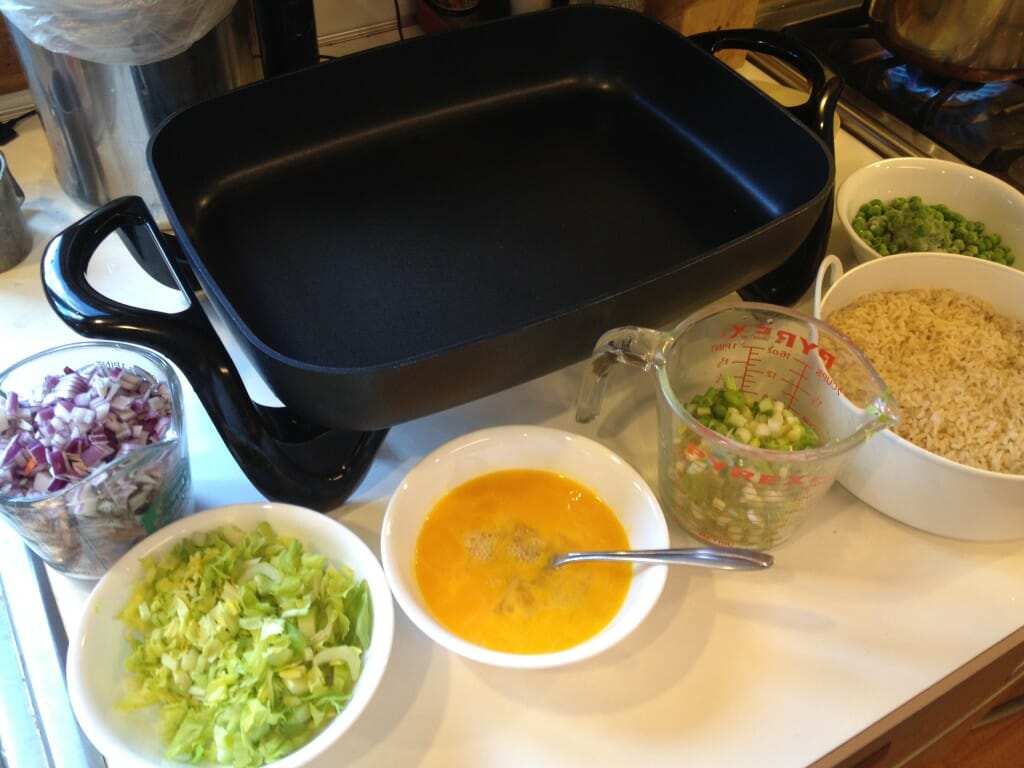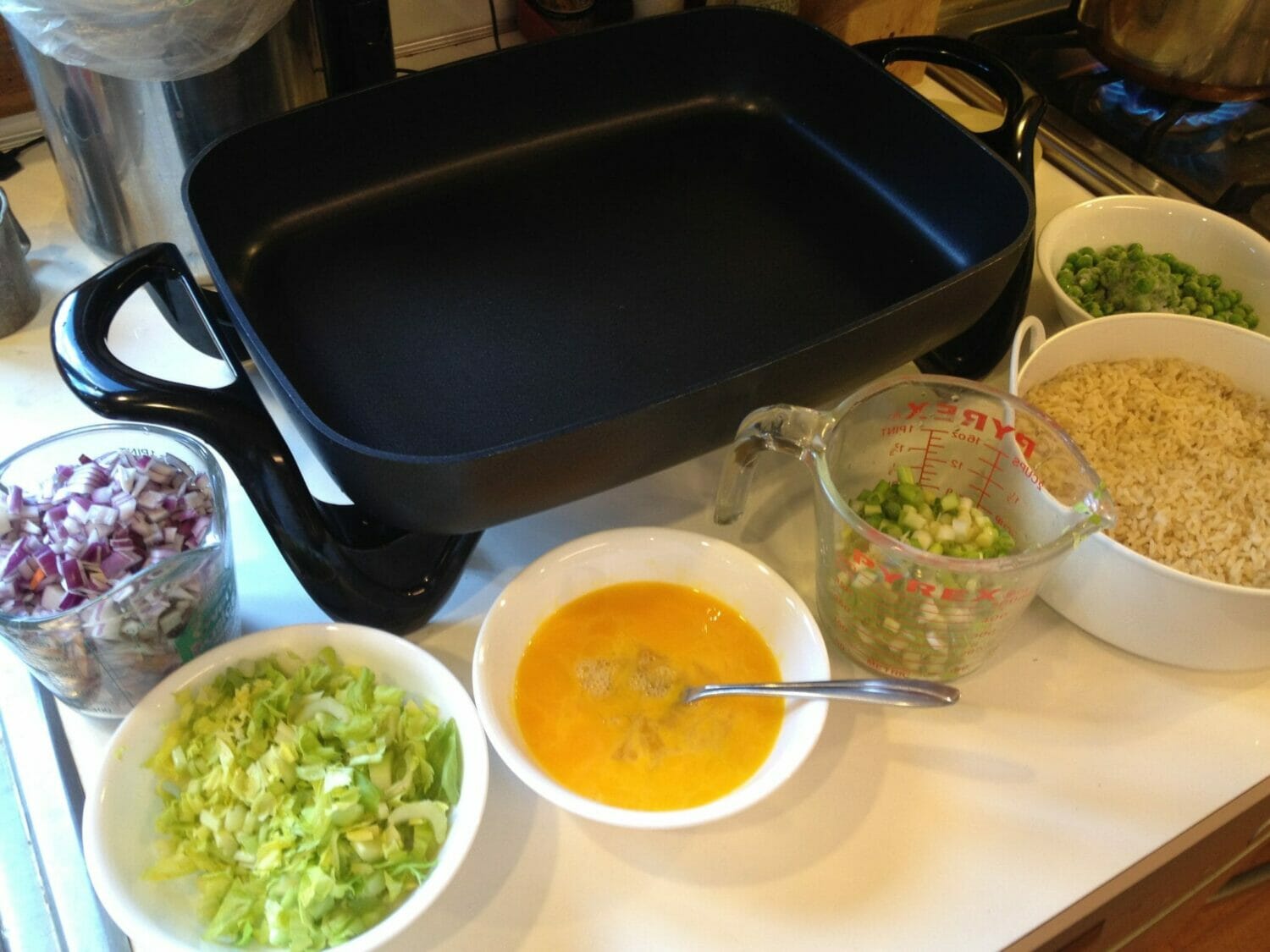 Step-by-step:
In a heavy frying pan or large electric skillet, heat oil until hot.
Add meat; fry until browned.
Add mushrooms and celery; cook 3 minutes, stirring constantly; move ingredients in pan to one side.
Add egg and stir for 30-60 seconds as egg cooks.
Stir in rice, green onions, and peas; sprinkle with soy sauce.
Cook another 3 min. until heated through.
Serve hot; or cool to room temperature; or make ahead and eat cold.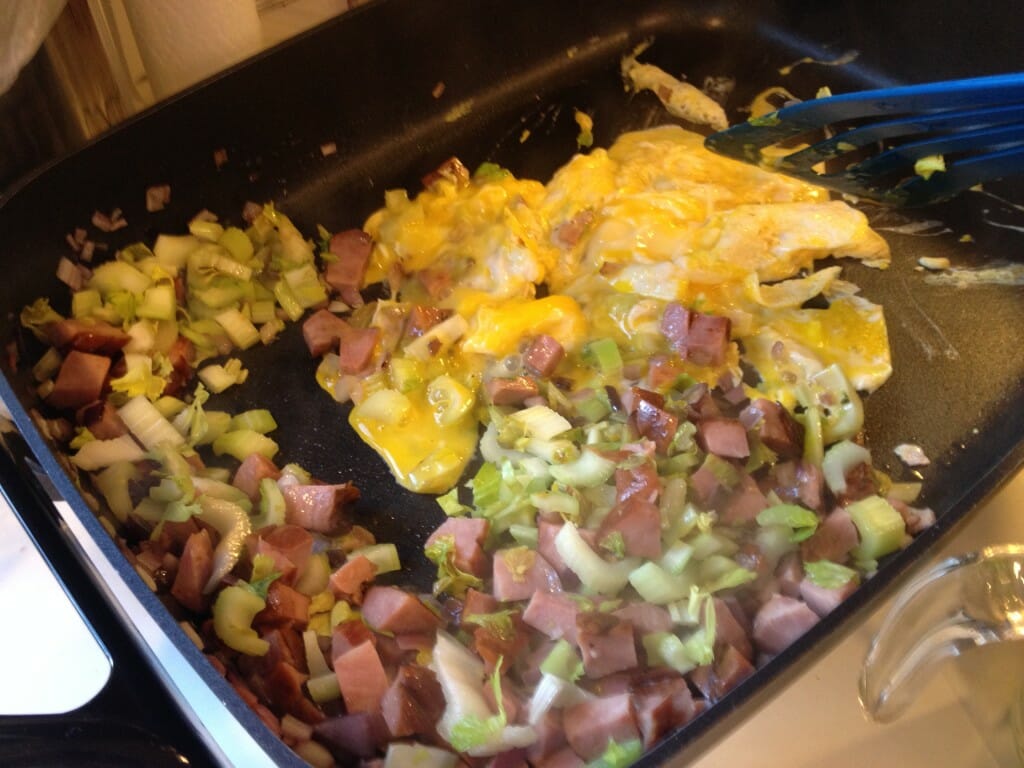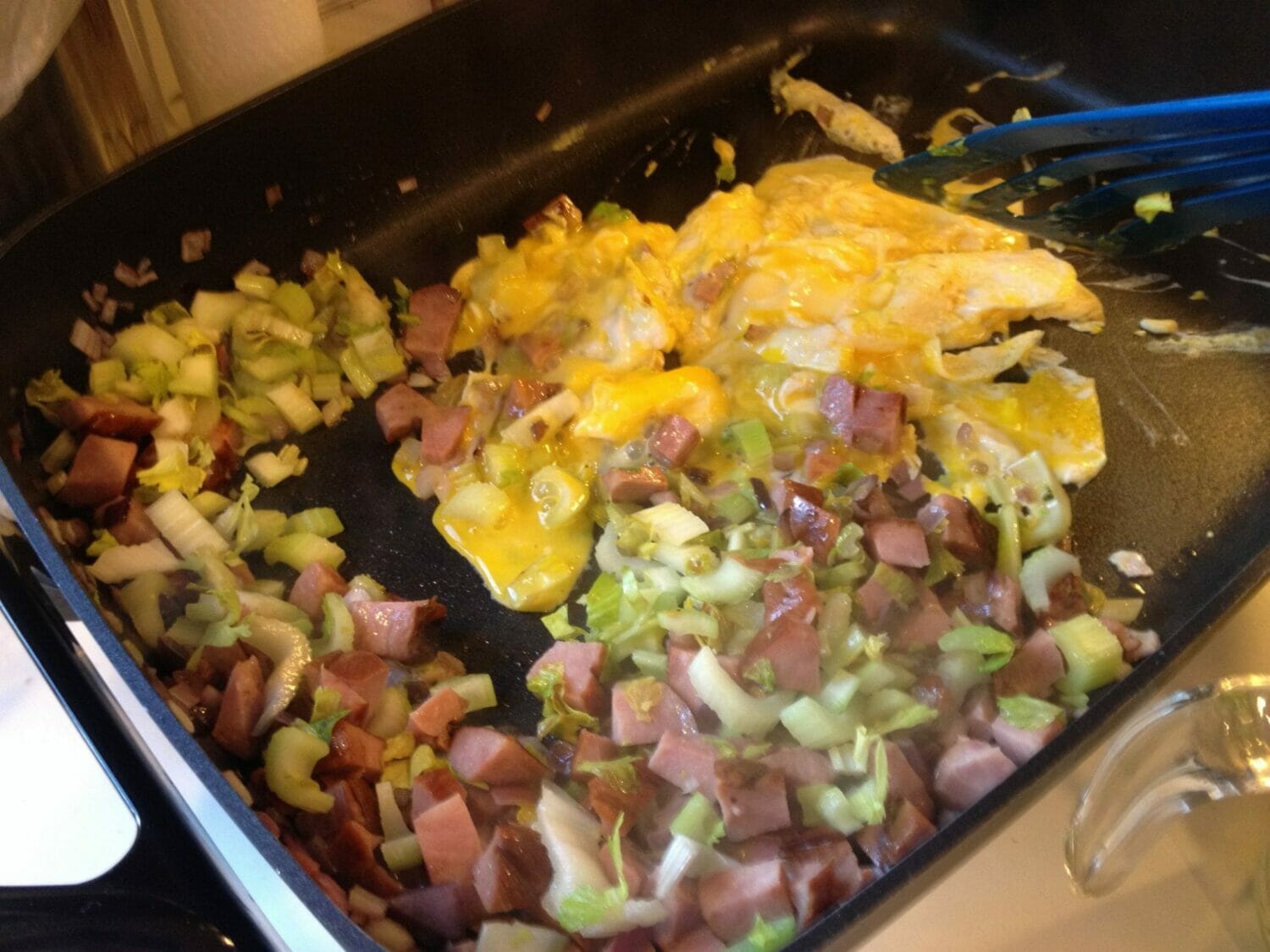 Mix it up:
I always double this recipe (as, apparently, did my grandmother) because this is yummy enough that you and yours will probably want leftovers. Also, when doubling the recipe, I tend to double everything but the amount of grain; at most, I'll go up to 4-4.5 cups cooked rice or whatever grain I'm using.
Not a fan of pork products? No biggie; just use whatever meat you like. Or swap in cubes of firm or extra-firm tofu, to make vegetarian fried rice. Just remember to adjust the cooking time as needed. If you're using chunks of raw chicken instead of cooked leftovers, the total cooking time will probably be more like 15 minutes, so that the chicken has enough time to cook through. Also, without the saltiness that ham provides, you may want to serve with extra soy sauce (or some garlic salt).
Likewise, leftover white rice isn't your only option for a grain. I usually use brown rice, but have experimented with other whole grains as well; my favorite substitution of this sort is millet. If I have some leftover rice but not enough to make a batch of fried rice, I either make some more rice in my steamer/rice cooker (which turns itself off, so I can set it before leaving the house in the morning and have the cooled rice when it's time to cook our evening meal), or freeze the amount of leftover rice I have in a plastic bag, then thaw when I have enough leftovers for a batch.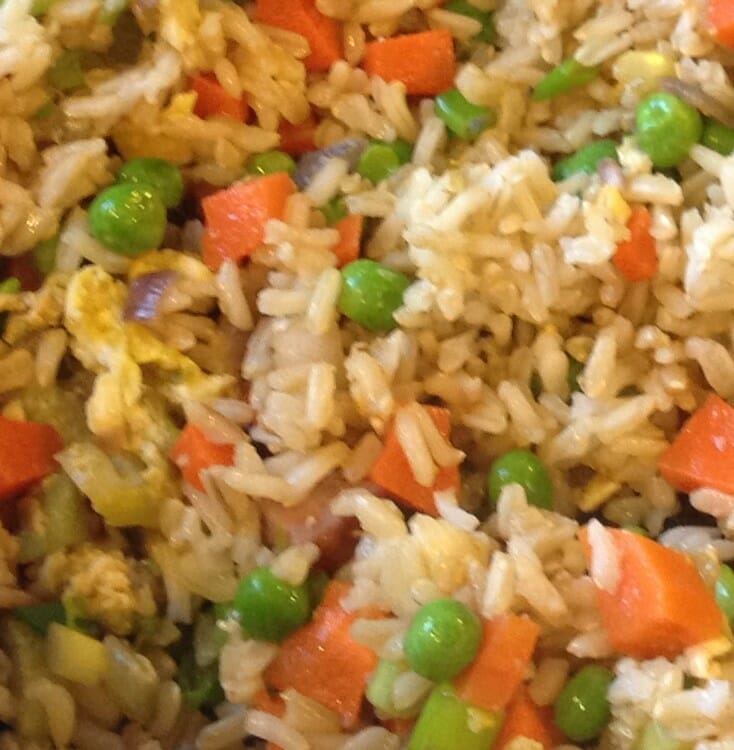 Use whatever veggies you have on hand. I've used up random leftover zucchini and summer squash in this recipe before. Though I'm not a fan of broccoli or cauliflower, I bet they'd also work well in this recipe. On the night I took the photos for this post, I added some diced carrots (steamed in the microwave for a few minutes first) for variety, and also threw in a leftover half-onion.
If you enjoyed this kid-pleasing, leftovers-reinvented recipe for Family Favorite Fried Rice, please share by pinning this image!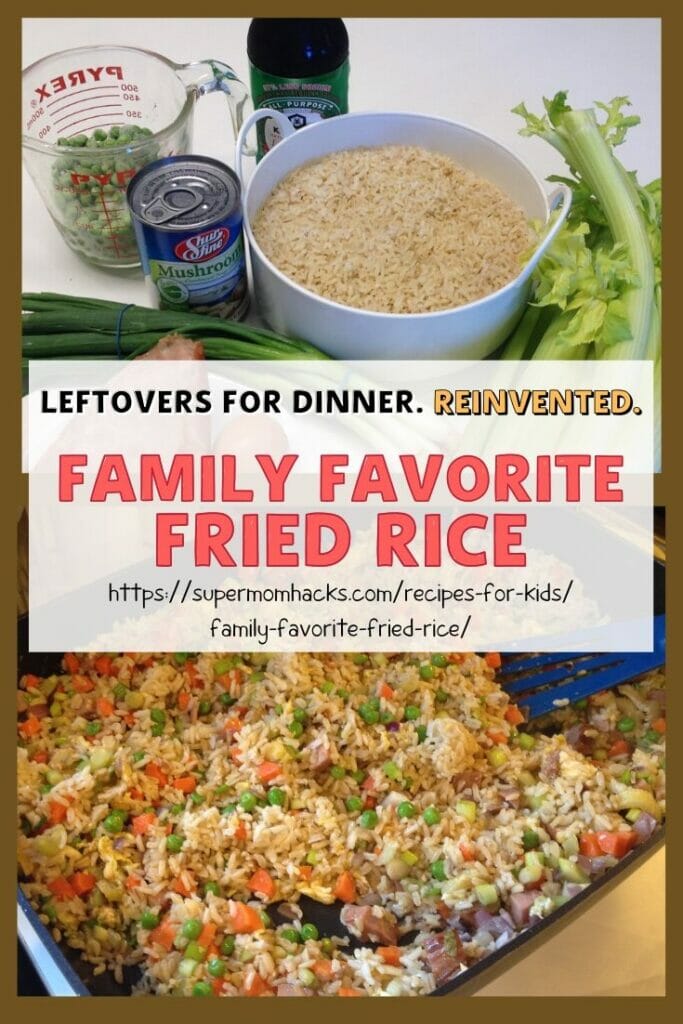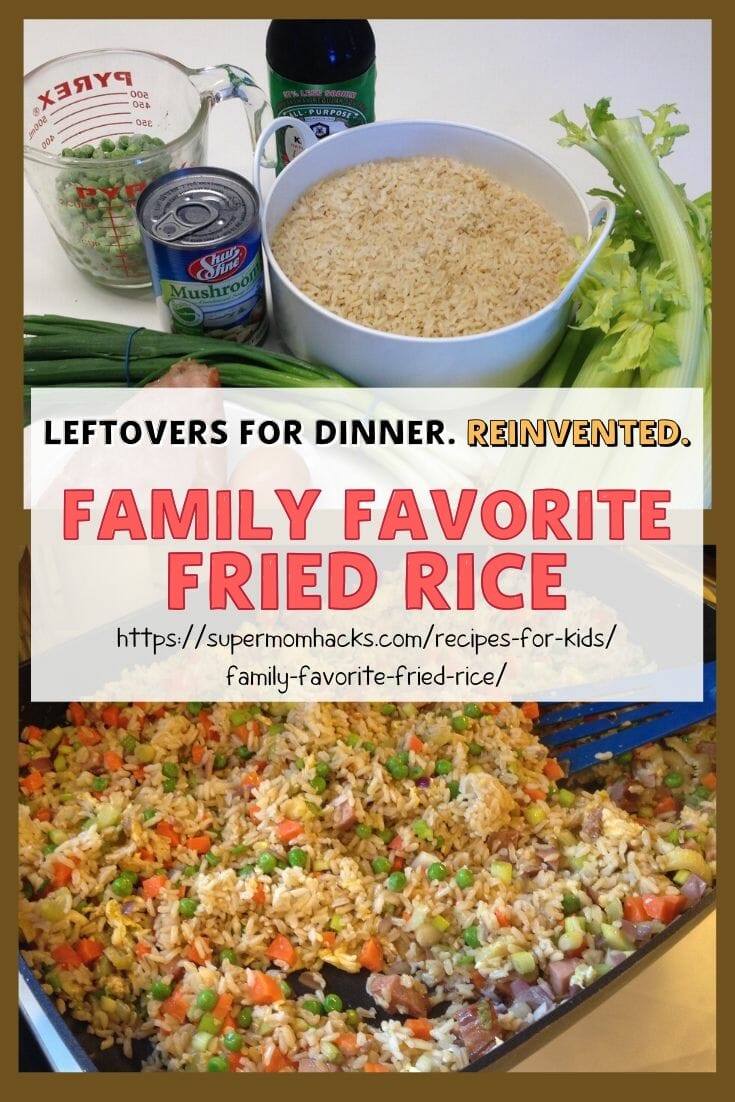 NOTE: This site contains affiliate links. I may earn a small commission from any purchases made through affiliate links, at no additional cost to you. For more information, please read the full disclosure/privacy policy.