It's winter in the northern hemisphere, which is where most of you live, dear readers.
Are you hibernating? Or are you out hunting for some comfort food?
I recently stumbled across a collection of super-simple slow cooker recipes gathered for the New Year. As I scanned the pictures and titles, I could feel myself getting hungrier by the minute.
Comfort food, here we come.
Slow-cooker comfort food, fast prep
I've joked with other mamas about how the idea of slow cookers
as a time-saver can be misleading. Sure, we love the delicious comfort food they can serve up. But rather than cutting our prep time overall, what our favorite recipes often do is just shift that prep time earlier in the day.
By the time you peel and chop all the veggies you need for your pot roast or hearty soup, you're still talking an investment of time that requires some planning ahead.
Well, so far these recipes defy the rule.
To date I've tried four of the eleven one-pot meals in this collection, and the results have been impressive: three home runs, and one that came awfully close. And while the girls loved all four dishes, these meals even passed the test of our family's toughest critic: my dear husband, who thinks most of my fave slow-cooker recipes lack the complex flavors he craves.
Best of all, they came together in minutes, with ingredients we already had on hand.
So if you're lusting after some comfort food, but find yourself stuck in a rut when it comes to meal prep, give these recipes – or the others in the original post I stumbled across – a try:
1. Enchilada Quinoa Bake
Oh, yum! Definitely my new favorite slow-cooker comfort food.
I make enchiladas on a semi-regular basis for my family, and let me tell you: this recipe has almost nothing in common with real enchiladas. Except its deliciousness.
For one, there's no tortillas and (though one can make vegetarian enchiladas, of course) no meat.
Second, since you don't have to make the filling and the sauce and then warm and stuff the tortillas, this one is so non-time-consuming that I can't imagine a day when I would NOT have time to make it.
Third – my favorite part – I was able to throw it together while my pokey eaters were finishing their midday meal and I was doing lunch cleanup. (Yep, you don't even need a whole day to make it! – it cooks in an afternoon.)
Given how unlike real enchiladas this is, I'm not sure why Jaclyn over at Cooking Classy named this recipe Enchilada Quinoa Bake, unless it's because the recipe includes so many flavors and ingredients that tend to go with Mexican cooking: corn, beans, tomatoes, spices, etc.
But unlike the tendency of many Mexican dishes outside of Mexico, this dish remains pretty healthy, due in part to the hearty serving of complete protein that you get from the quinoa. (Not to mention all the veggies this dish packs, especially when you add in the toppings.)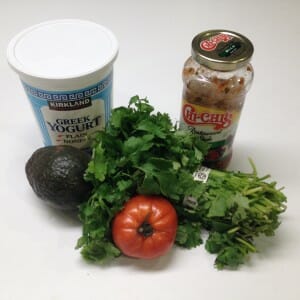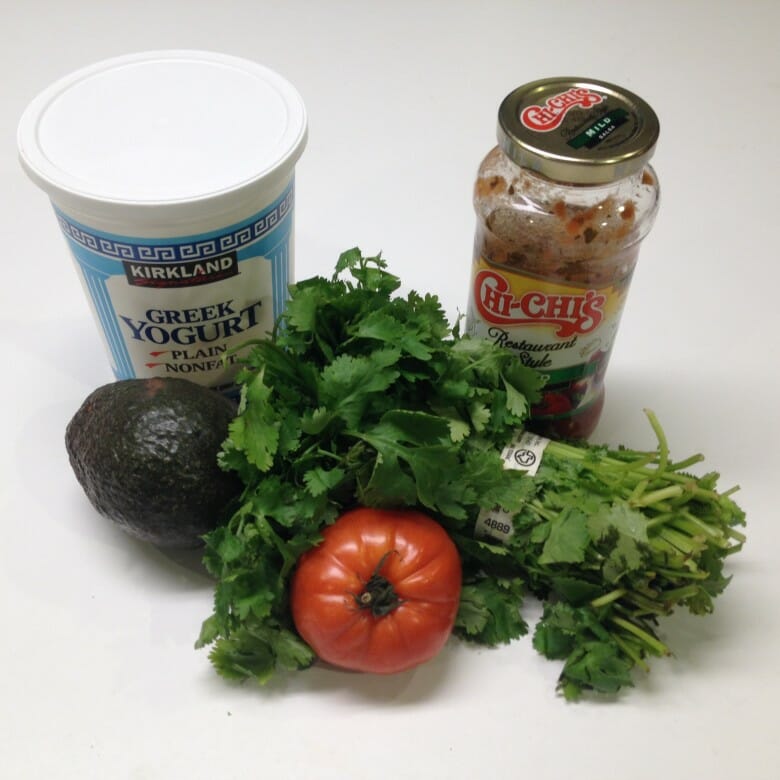 I cooked the quinoa bake in our 6-quart slow cooker, and served it topped with diced tomatoes, avocado cubes, chopped cilantro, a little plain nonfat Greek yogurt (because we were out of sour cream), and fresh salsa.
This one is definitely a keeper that I'll be making again before the winter is out.
2. Chicken Tortilla Soup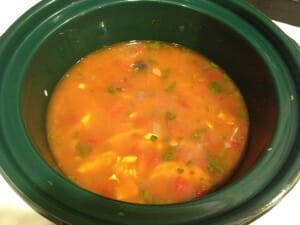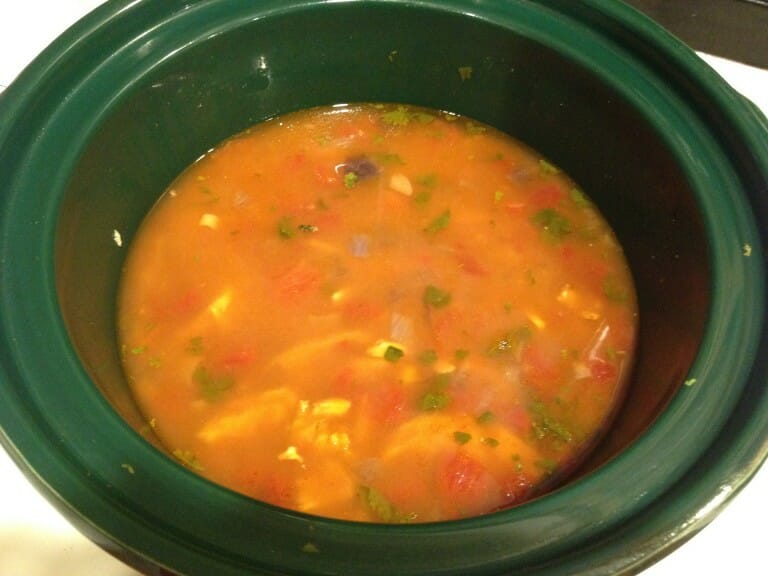 Yes, there's a theme here. When it's mid-January, the comfort foods I crave most often hail from the cuisines of Mexico, where varieties of tortilla soup are common.
A good friend from south Texas once shared with me her family's recipe for the hearty kind that has a rich tomato-based broth thickened with tortillas. While that soup is a staple in my cooking repertoire, I've long wished I had a go-to recipe for the variety with the lighter broth and strong notes of lime.
Well, my wait is over – thanks to Lauren at Tastes Better From Scratch.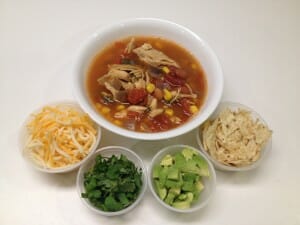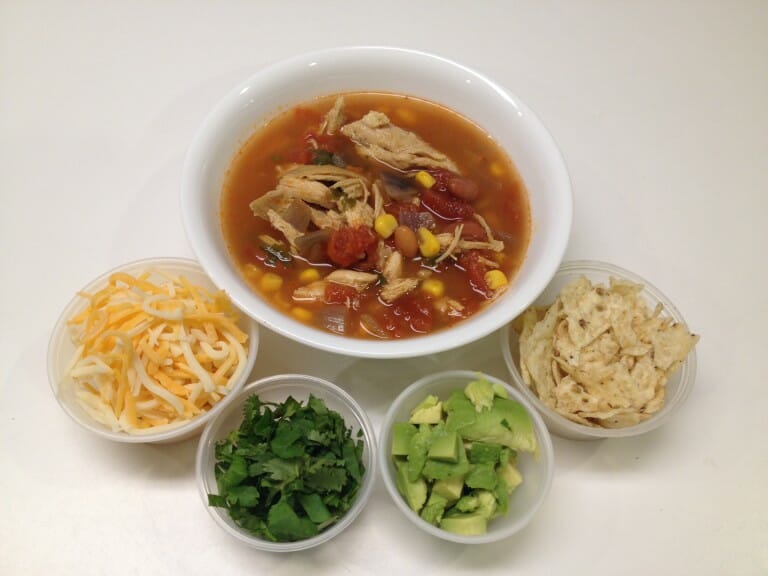 This hearty version is perfect for those cold winter nights when the comfort food you want is a nice warm bowl of soup. I made this recipe in our 5-quart slow cooker, and because I got a late start on it, I cooked it for 4 hours on HIGH just to make sure the chicken would be cooked through in time.
Tortilla soups in Mexico come with a wide range of toppings, usually, from tortilla strips and queso fresco to lime wedges, dried hot pepper strips, and avocado wedges. We topped ours with shredded cheese, cubed avocado, chopped cilantro and green onions, and crushed tortilla chips.
Absolutely delish.
3. Chipotle Slow Cooker Carnitas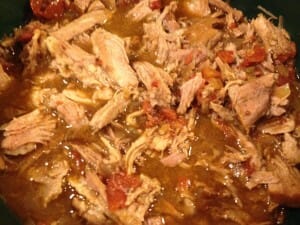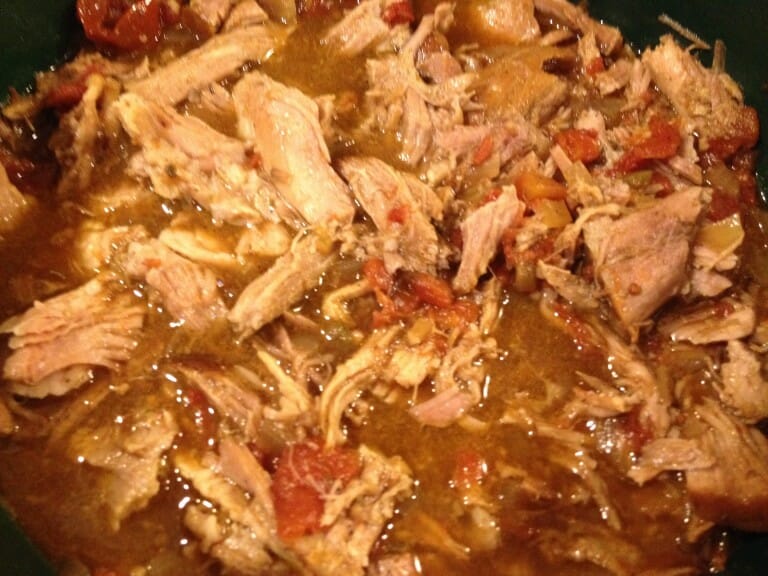 For my next attempt, I truly planned to branch out from the Mexican theme. But when I went to the freezer to find a beef roast from my stash of meat-purchased-on-sale, all I could find was a pork roast.
Thus I made the Carnitas recipe in this collection instead.
I was skeptical at first; my dear husband makes a carnitas that he slaves over for the better part of a day, and his version is finger-licking good.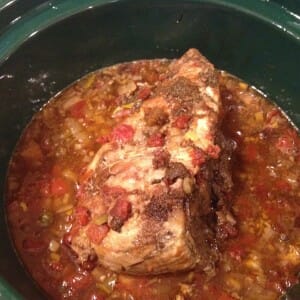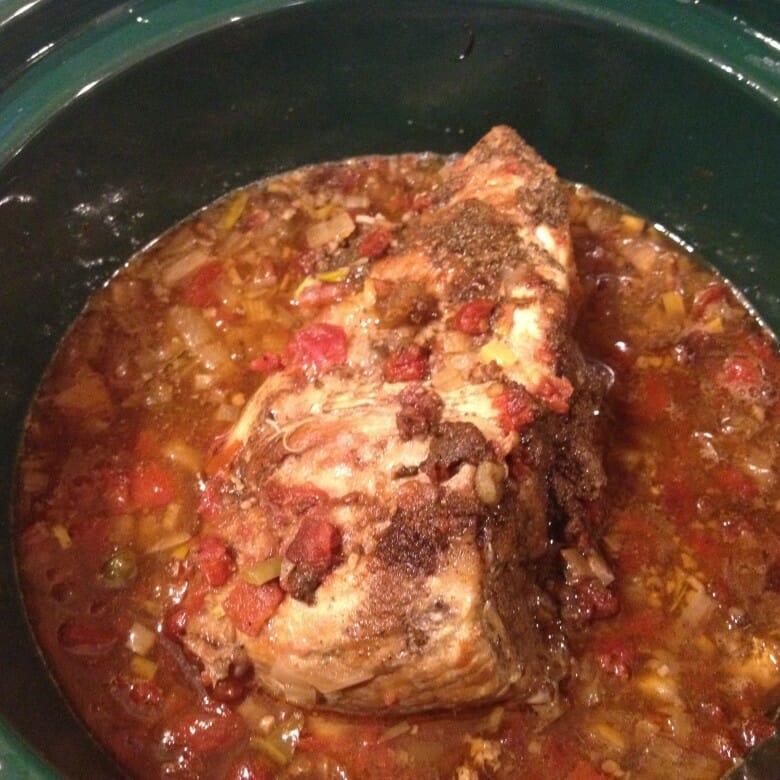 But much to everyone's surprise, this recipe, from Kati at True Couponing, turned out to be his favorite of the ones we tested.
The reason? The 2 tsp. of chipotle chili powder in the recipe, along with a slew of other spices.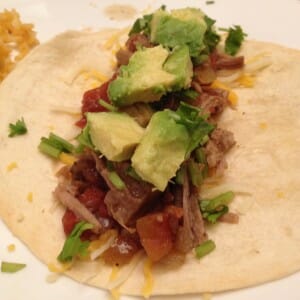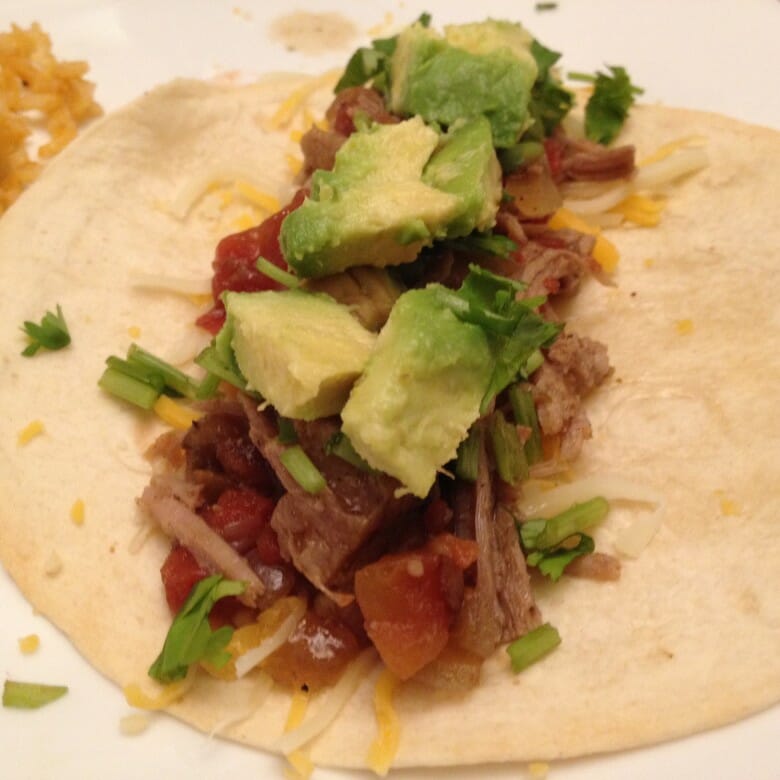 The girls and I aren't afraid of a little spice in our food, but the afterbite of this recipe made it too much for us. We thus ended up topping our carnitas tacos with some sour cream halfway through. Perfect.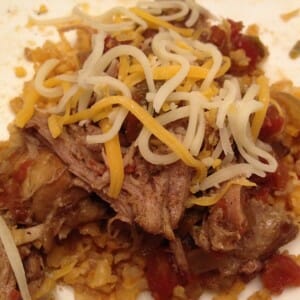 My hubby, on the other hand, ate his carnitas over rice with plenty of shredded cheese, skipping the avocado chunks and cilantro we added to top ours. No sour cream, either.
Next time I try this one, I think I'll use just 1 tsp. of chili powder. And when I'm prepping the toppings, I'll be sure to have plenty of sour cream on hand.
4. Thai Peanut Chicken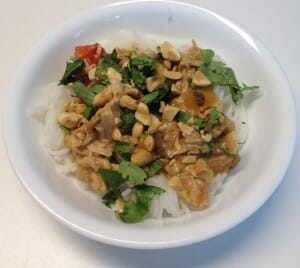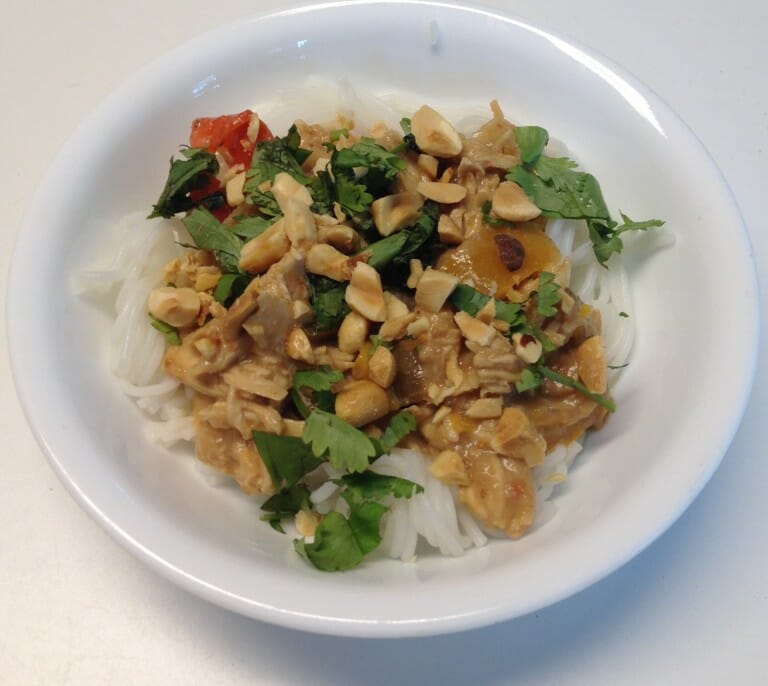 If you're new to Thai food, give this recipe a try. It's easy to make, and it's tasty. Besides, of the four recipes our family taste-tested, the girls ranked this one as tied for first with the chicken tortilla soup.
My dear husband and I, on the other hand, are longtime fans of both Thai restaurants and occasional Thai cooking at home.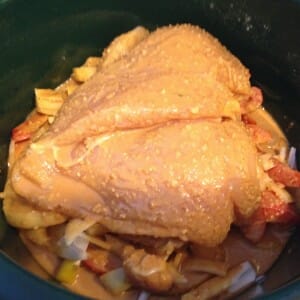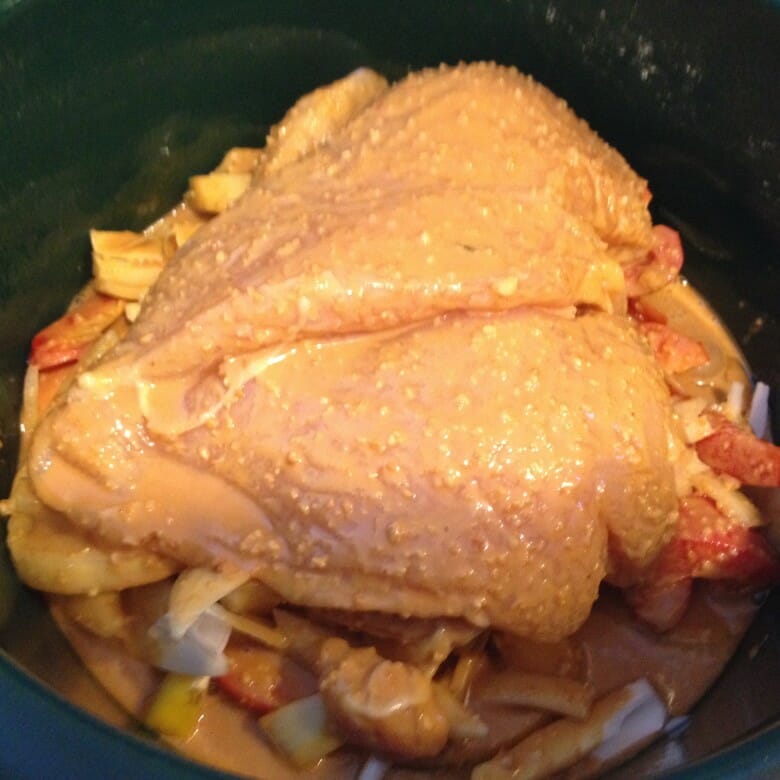 Compared to my other adventures in Thai cooking, I was thrilled to see how simple this recipe. created by Corey at Family Fresh Meals, was to assemble. Even better, it's another cooks-in-just-an-afternoon recipe – as I gratefully discovered when, already behind on throwing things into the crock pot after lunch, I realized we were out of peanut butter.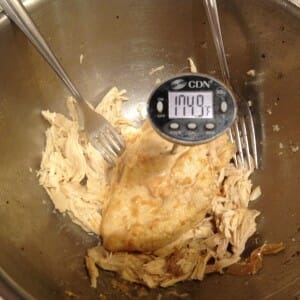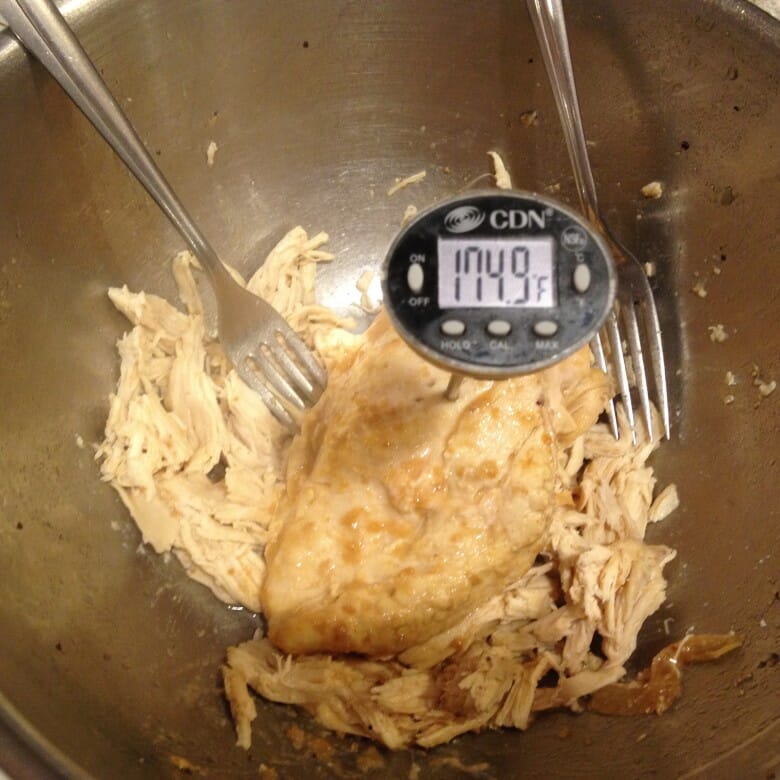 Fortunately, it seems you can indeed cook chicken breasts on LOW in just a few hours. I had no problem getting the chicken fully cooked, as indicated by a meat thermometer, in as little as 2 hours 45 minutes on LOW in my 5-quart cooker.
No doubt this cutting-it-awfully-close-on-the-cooking-time approach explains why my chicken, while shreddable, didn't fall apart as easily as I might have liked when I took the pieces out to pull them apart.
Perhaps cooking the whole thing for as little as 3 hours is also to blame for the bigger concern I have with this recipe: My first few bites made me think of why my husband is not a fan of slow-cooker cuisine in general.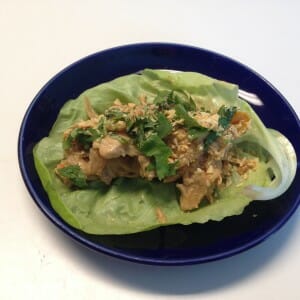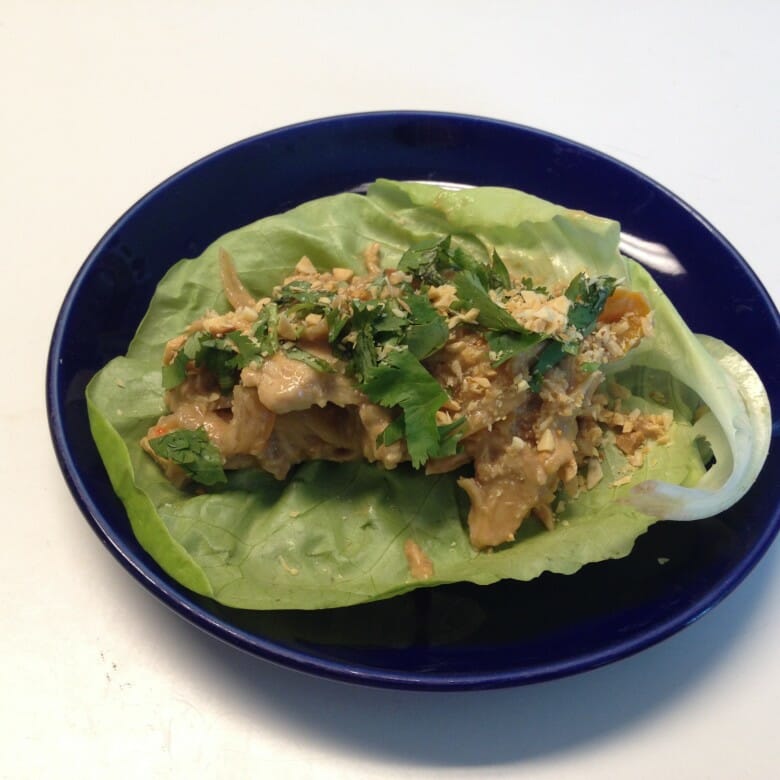 The recipe seemed to be missing a major flavor component or two, regardless of whether we ate it over rice noodles or in lettuce boats.
Unlike most Thai cooking I've done, this recipe omits fish sauce
. I tried both sprinkling some on top of my serving, and adding more lime juice. My husband pulled out his hot sauces.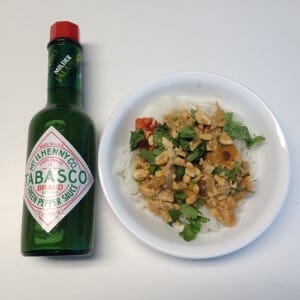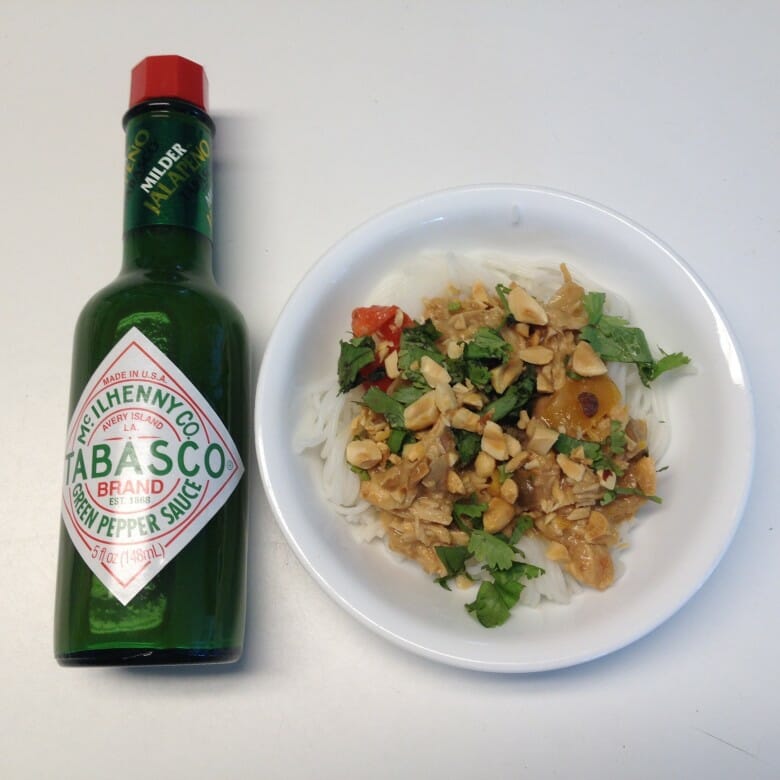 The final solution we came up with was adding mild green (jalapeño) Tabasco
. While the girls enjoyed the recipe the first time around, they agreed over next day's lunch that it tasted even better topped with Tabasco.
Next time I try this recipe, I'll be sure to cook it at least 4-5 hours on LOW, and may try it in my 3-quart cooker instead. I'll also add 2 Tbsp. fish sauce at the start, and serve it with fresh lime wedges and green Tabasco alongside the peanuts and cilantro.
There you have it – two weeks of recipe testing, and several yummy (not to mention super-quick-prepping) new additions to my meal rotation. What about you? What's your favorite comfort food for winter, or your favorite slow cooker recipe? Share the link in the comments!

NOTE: This site contains affiliate links. I may earn a small commission from any purchases made through affiliate links, at no additional cost to you. For more information, please read the full disclosure/privacy policy.