French Toast is one of those things I've always known how to make. Don't ask me how; I just have.
It never occurred to me that anyone would need a recipe for French toast until a month ago. That's when my husband, the more skilled chef in our household, got the uncharacteristic urge to make some. And began sifting through recipes on his iPad.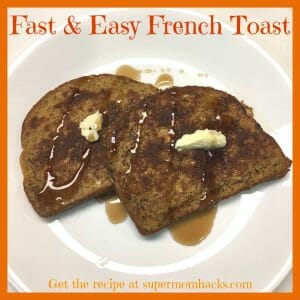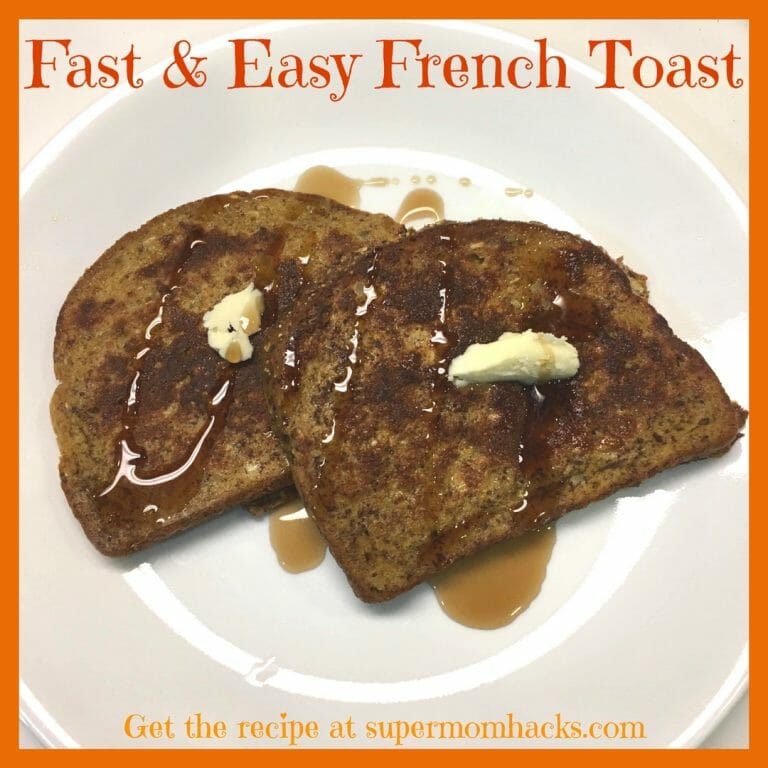 That's when I resolved to write a post on basic French Toast technique. Everyone who's not allergic to bread and/or eggs should have this fabulous hack in their cooking arsenal.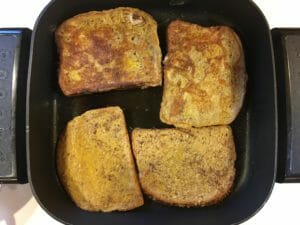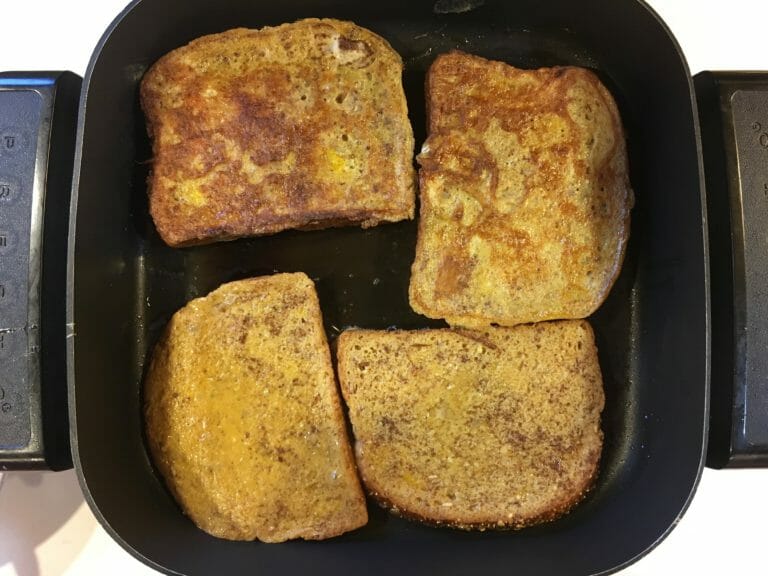 If French Toast has intimidated you until now, fear not. Making a company-worthy breakfast is faster and simpler than you ever imagined.
With a long holiday weekend coming up in the U.S., you and yours may be entertaining out-of-town guests, as we are. So grab a loaf of bread from the clearance rack (this is a classic use-up-leftovers recipe for bread that's going stale), and give it a try.
Fast & Easy French Toast
*Prep time: 5 minutes; cook time 5-10 minutes.
*NOTE: This is one of those recipes that is infinitely flexible. I'm listing *quantities and time estimates for a half-dozen slices, just so you can get the general idea. Scale the quantities up or down to suit your needs (keeping in mind that this will affect the total time from start to finish), and adapt the spices according to your preferences and what you have on hand.
The basic idea:
Six slices of bread, preferably stale
Six eggs
1/4 c. milk
1 tsp. pumpkin pie spice, or a mixture of spices totaling approximately 1 tsp. (cinnamon, cinnamon-sugar blend, nutmeg, ginger, cloves, allspice, etc.)
1/2-1 tsp. vanilla
Cooking oil or butter (for cooking)
Maple syrup, honey, agave nectar, and/or butter (for serving)
Crack eggs into a large shallow bowl or a glass pie plate. Add milk, spices, and vanilla and beat to combine. Place one or two slices of bread into the batter in a single layer; weight down with a fork as needed to submerge, so that both sides get coated.
While the bread soaks for a couple of minutes, heat a large frying pan or griddle over medium-high heat. Or (my preferred method, if you have one) plug in your electric frying pan and set to medium-high heat (350 degrees F). Melt some butter in the pan or heat some cooking oil.
Carefully put battered bread into the hot pan and cook for a few minutes on each side, or until browned. As soon as you put the first slice(s) into the pan, submerge the next one(s) into the batter, then add to the pan after soaking for a minute or two. Repeat with remaining slices of bread.
Serve warm** with butter (optional) and your sweetener of choice.
Cooking notes:
The general idea is roughly a 1:1 ratio of large eggs to full-sized slices of bread. Adjust the ratio as needed to accommodate smaller bread slices and/or different egg sizes. The spices and vanilla are approximations and totally optional. But they're what makes my French toast so yummy that my own mother regularly requests some when she visits.
This is another recipe that I always do in an electric frying pan, just because that's how my own mother made it. But the electric frying pan is totally optional; use your favorite large frypan or griddle if you'd rather.
This is also a recipe that even younger kiddos can help assemble. Especially if you have an old-fashioned hand-crank rotary beater; my girls LOVE using ours to beat the egg mixture. Kids can also dunk pieces of bread into the batter, wash the berries, etc.
Mix it up:
It's worth repeating that this is one of the ultimate use-up-leftover-bread hacks still in wide use today. Stale bread is truly welcome here. So if you're not used to scouring the day-old section of your local bakery, or the clearance pile at your favorite supermarket, this is a good reason to cultivate the habit. I've been known to pick up loaves of cinnamon-raisin-swirl bread when I spot them on the day-old rack and freeze them for future use.
Another way to make this breakfast treat extra-special: along with syrup, add fresh blueberries or raspberries and a dusting of powdered sugar. Or thin-sliced apples or peaches, plus a dollop of whipped cream. Or sliced strawberries with plain or vanilla yogurt. Or sliced bananas and chocolate syrup. You get the idea.
Likewise, feel free to experiment with different types of bread: regular white or wheat, sourdough or artisanal varieties, challah or raisin swirl or other sweet breads, etc.
If your local bakery makes "rainbow bread" (as ours does), and your kids don't have issues with food dyes, rainbow bread can be a fun treat for St. Patrick's Day. Or use a cookie cutter to make special shapes (e.g., hearts for Valentine's Day).
When I cook French Toast, I usually cook at least a half loaf's worth of bread – a full loaf if it's cinnamon-raisin swirl, since that's my kids' favorite. They love eating the leftovers warm for breakfast, or cold and sliced into sticks as a finger-friendly snack.

NOTE: This site contains affiliate links. I may earn a small commission from any purchases made through affiliate links, at no additional cost to you. For more information, please read the full disclosure/privacy policy.