My kids went back to school this week. In the United States at least, that means 180 days of school lunches. Multiply that by my two kids, and we've got 360 school lunches to pack. For friends of mine with three or more school-aged children, we're talking over 500 lunches between now and next summer break. No wonder coming up with lunch box ideas that are easy AND healthy can become challenging.
And that's before you even factor in kids' own preferences. After all, if they don't think it's "fun" or yummy, they won't eat it.
That's why I'm sharing my cheat sheet of lunch box ideas, organized not by complete meals but by components. I've found that if you start by thinking of food/nutritional categories, that makes the "what goes in the lunchbox" process easier to break down.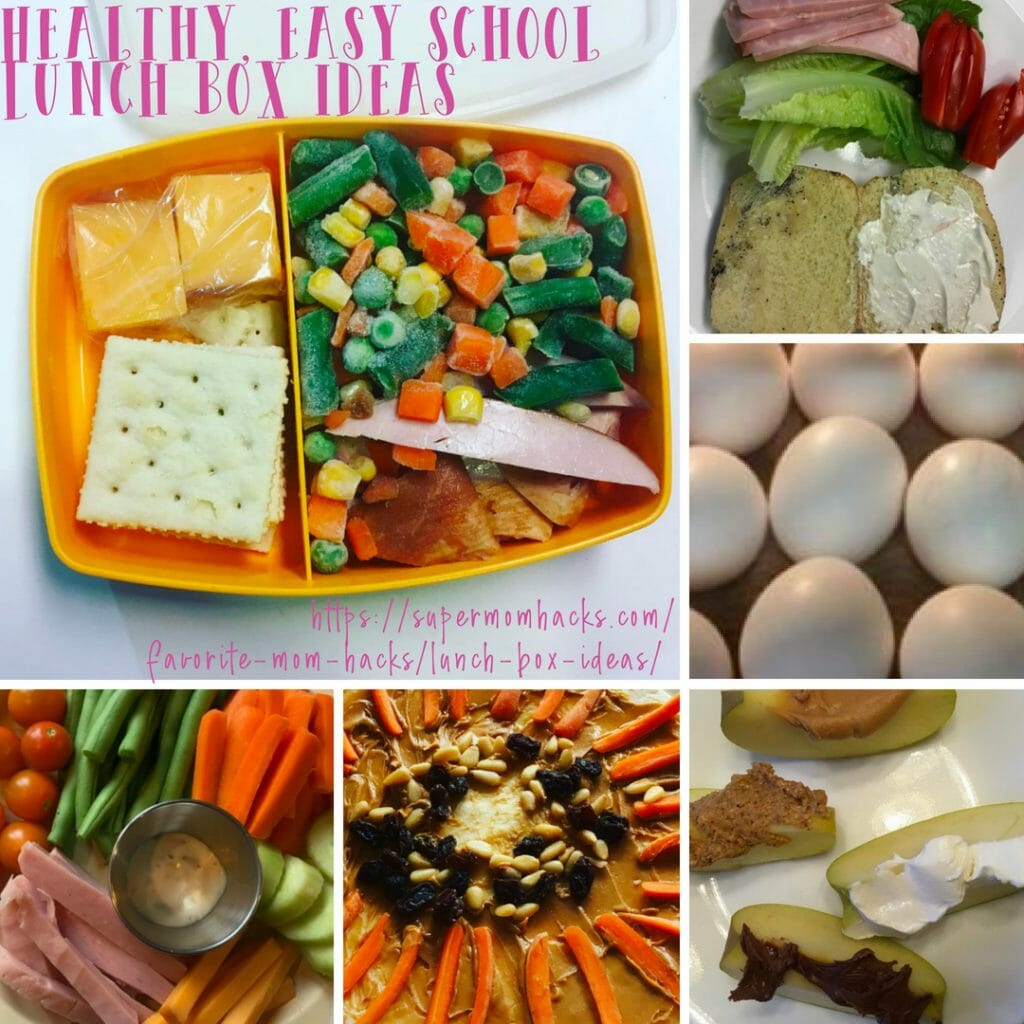 Where to start:
I'm a big fan of the basic approach behind MyPlate: lots of veggies/fruit, some protein, some grains, and some dairy (or other calcium source) for building bones. If you don't hit every group at a given meal, that's OK, so long as it evens out over the course of the day.
Thinking in terms of nutritional groups makes it easier to cover your bases according to your family's (or child's) specific dietary needs: vegetarian, gluten-free, kosher, vegan, etc. There's more to the protein group than just meats, more to grains than wheat-based products, and ways to get dietary calcium besides dairy products.
So keep that in mind as you read the rest of this post, and make mental adjustments accordingly.
QUICK TIP: Want to make packing healthy lunches super-easy? Invest in a couple of good bento-style lunch boxes, with separate compartments for different food groups. You can get the fancier ones for $25-$40 each, or more basic ones for $15-$25. They're an eco-friendly investment you can reuse for years to come, and they'll save you time and energy when packing up those lunches day after day!
Lunch Box Ideas: A Cheat Sheet For Busy Parents
A) Fruits and Veggies

Did you know that approximately half your plate at every meal should be fruits and vegetables? It's not surprising that most Americans don't get enough! But including these healthy, nutrient-packed offerings in every meal is critical.
Fruits and vegetables are high in dietary fiber, which is important for regulating our digestive systems as well as helping us feel "full" for longer after meals. The vitamins and minerals in fruits and veggies can help heal us when we're sick or injured, regulate blood pressure, and prevent heart disease and cancer. And the fact that they're low-calorie means that filling up on them can help you maintain a healthy weight.
Fortunately, there are lots of simple options to fill your child's lunchbox with plenty of fruits and vegetables. Our go-to staples include
B) Protein sources

Protein helps your body build muscle and other tissues. It's important to focus on lean sources of protein, though; protein high in fats, especially unhealthy saturated fats, can lead to excess weight gain, heart disease, and other things you're better off avoiding.
C) Grain sources

Grains – especially unrefined whole grains – are great sources of lots of vitamins and minerals our bodies need, as well as fiber. Dietary fiber not only helps you feel full, it's important to keep your digestive system running smoothly.
Our favorite lunchtime grain sources include
D) Dairy and non-dairy calcium sources

Besides the items noted above, you can add calcium to your child's school lunch with
Do you have favorite lunch box ingredients that I missed? Let us know in the comments! And also see my next post on more hacks to make school lunch prep a little faster and easier!
If you enjoyed this post on lunch box ideas, why not share it with others by pinning this image?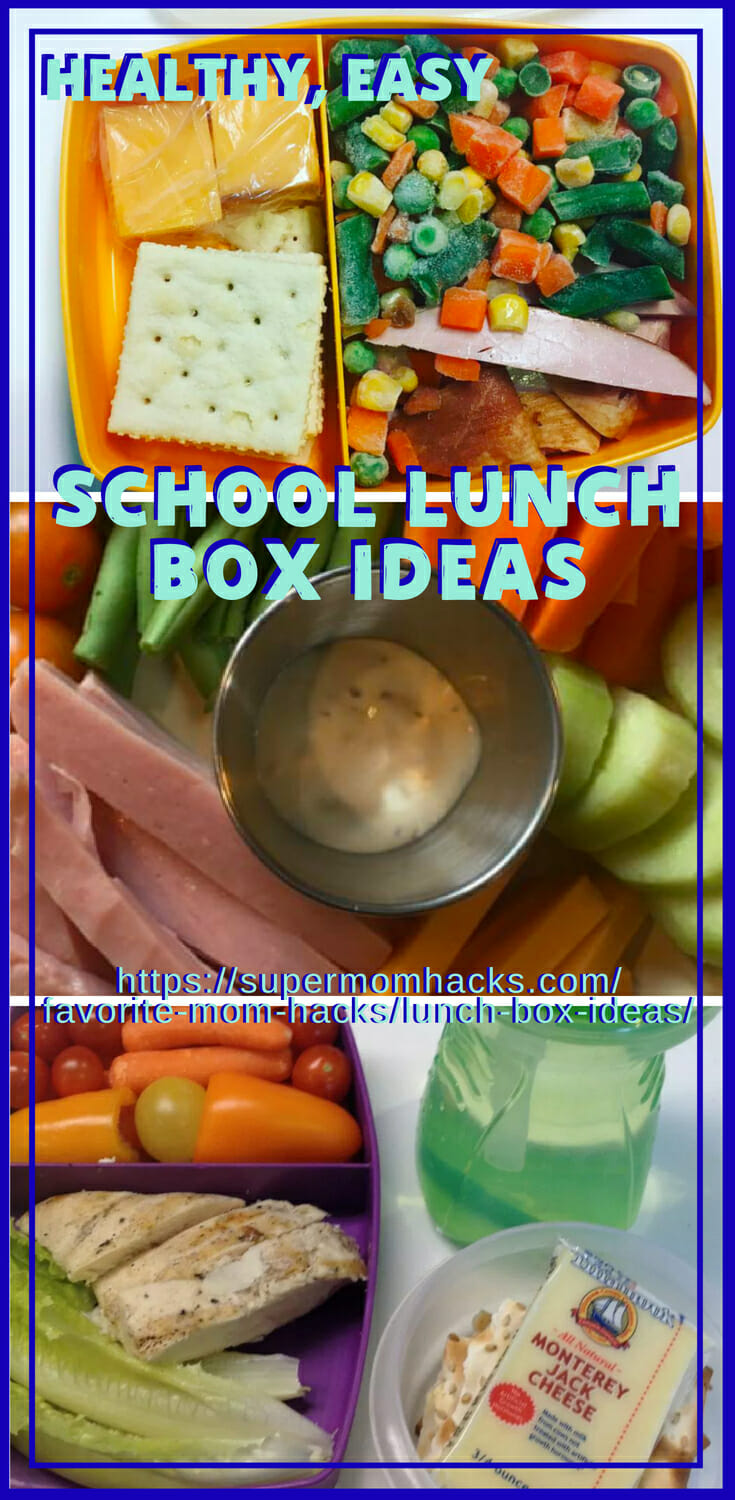 NOTE: This site contains affiliate links. I may earn a small commission from any purchases made through affiliate links, at no additional cost to you. For more information, please read the full disclosure/privacy policy.