This weekend marks our first family camping trip.
My husband and I used to camp (or at least hike) every summer, back in our pre-parenthood existence. The further away from home our car-camping and occasional backpacking trips took us, the better.
We've been kept awake all night by the foghorns near the Bay of Fundy in the Canadian Maritimes. We've been up close and personal with buffalo in South Dakota, and watched distant thunderstorms roll across the Badlands toward our tent on sweltering summer nights. We've seen sunrise from the bottom of the Grand Canyon, hours after being lulled to sleep by the sound of mountain goats echoing off the canyon walls.
And although we didn't camp there, we spent part of our honeymoon hiking up Scotland's Ben Nevis, the tallest peak in the United Kingdom.
But we've never gone camping with kiddos.
Most summers since Kimmie was born, I've suggested to my dear husband that we at least pitch a tent in the backyard. He was hesitant, for a number of reasons (including the lack of a true family-sized tent).
This summer, with Essie finally potty-trained, he is at last game.
Of course, camping with kids adds layers of complexity to other scenarios we've got down pretty well by now, whether it's camping in general or road-tripping as a family. All that previous practice has come in super-handy over the past week, as we've tried to wrap our brains around how this camping trip would be unlike any other we've done together.
Gearing up
As I already noted, dear husband's first objection to tent-camping with family was that until last year, our largest tent was a "three-person" model. As anyone who's ever camped in their own tent can guess, this means that said tent barely holds two adults plus their stuff, even when they take pains to keep that stuff to the bare minimum.
So late last summer, he bought us a "family" model tent – a "six-person" tent that can be divided into two rooms, is tall enough to stand up in, has a "vestibule" for gear off the back, and can have a "garage" (sold separately) attached to the front for added privacy (say, stripping off muddy or sandy clothes before entering the tent proper).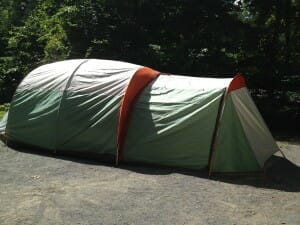 We tested it out on our first post-parenthood weekend getaway last September. The whole ensemble (including footprint and garage) weighs around 25 lbs – so definitely not a good choice for backpacking – and it takes up enough cargo space that we strapped it onto the roof in a roof carrier. But oh, was it luxurious! I remember wondering why we had never splurged on a tent-big-enough-to-stand-in before.
It was even big enough to hold a queen-sized air mattress! – a level of comfort a step above how we usually camp, but something that seemed like a wise idea given that our weekend also included a century ride. (For those of you who've never heard of such a thing, a century is the bicycling equivalent of running a marathon: you cycle 100 miles, or more, in a single day. This was my third century, and I think it was dear husband's sixth; having that mattress for sound sleeping before and after our ride was definitely the right call.)
So, bigger tent: check – not cheap, but an investment that should last us the span of our camping adventures as a family.
Next we needed to figure out how to feed a family of four all weekend. Which is not a problem in general – I learned how to camp-cook long before I figured out how to use an indoor stove, and as I've noted elsewhere, my husband is actually an even better cook than I am – but presented another gear challenge: As we soon realized, my husband's old Whisperlite backpacking stove
was not going to cut it when there were twice as many mouths to feed, or dirty dishes to heat wash water for.
So he ordered a new stove, a Camp Chef two-burner model
. Which was supposed to arrive the day before our trip – only it got held up due to a delivery-truck breakdown a day's drive from where we live. It finally came, about an hour before departure, which necessitated some last-minute repacking and rearranging of our cooking gear (including taking out the Whisperlite to leave at home).
The best-kept secrets…
For our first trip of this sort, we picked a state park not quite an hour from home, and waited for a Monday that showed a good weekend forecast before booking our site. (Near bathrooms and water, of course.)
The hard part was keeping our planned expedition a secret from the girls all week, even as we started packing. First, we wanted to be flexible enough to change to a different weekend if needed without dashing their hopes; our summer weather is not always as predictable a week out as one might hope, and a rainy weekend at home is bad enough, let alone being away from home in a tent.
Second, as we correctly guessed, the excitement of this pending adventure wound up the girls so much that the minutiae of daily life in the meantime became darn-near impossible. (We're talking the basic cooperation stuff that our family has been struggling with all summer.)
For example, about a half-hour after learning about our planned adventure, Essie was so excited that she thought she'd get herself a snack, even though she knows this is forbidden. As the grownups were rushing around packing things, Essie managed to get a container full of pickles and pickle juice halfway up our carpeted stairs before spilling it all over the place.
The girls are not allowed to get themselves snacks out of the fridge without grownup permission and assistance, and they know it – but that doesn't stop Essie from trying on a regular basis. In a way, I'm kinda glad she did spill it, though. Yes, our stairs will smell like dill pickles until we replace the carpet, but it's better than the alternative: we recently discovered the box of Craisins next to her bed, about a week after they'd gone missing.
We broke the news of our camping trip to the girls about 24 hours before departure, after lunch. And the pickle incident was only the beginning. They were so out-of-control the rest of the afternoon that by the time I returned home from a few hours of last-minute shopping, my dear husband had banished them both to their rooms. (And he's usually the calmer and more patient parent, of the two of us.)
So we had a refresher chat over supper on the Basic Tenets of Cooperation. Namely, the more cooperative kiddos are, the more privileges they have and the more cool stuff they get to do – like go camping. They've actually done pretty well on cooperation over the past few weeks, as we pointed out to them during our dinnertime chat; if not for that, there's no way we would have even considered this trip.
Making this sort of explicit connection between good behavior and positive consequences is a page borrowed right out of my psychologist friend Barbara's playbook. Once we spelled it out to them in this crystal-clear fashion, they were much calmer for the rest of the evening as well as the morning before our departure. After all, as we explained to them, the last thing a parent needs around open flame, poison ivy, and similar camping-related perils is a kid who needs to be asked PLEASE DON'T TOUCH more than once.
And we're off!
We finally made it out the door shortly after lunchtime on Friday – not as early as we'd hoped, but still plenty early enough to get our campsite set up before dark. On the way, I tried to imagine what the girls were thinking, given that they were off on an adventure unlike any they'd experienced before.
When I asked Kimmie what she was most excited about for her first camping trip, she quickly responded "EVERYTHING!"
"Can you be a little more specific?"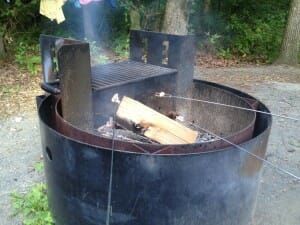 "Swimming, and the playground, and roasting marshmallows – and sleeping in a tent!"
Essie, being big on echoing Big Sister whenever possible, added, "Playing on the playground – the pool – roasting marshmallows – EVERYTHING"
When I asked them what they thought sleeping in a tent would be like, all Essie wanted to talk about was her sleeping bag. "How big is it?"
"You know how big it is – you've slept in it before."
"Is it as big as me? Is it big enough to cover my eyes?"
I guess it's just really hard to imagine something you've never experienced before.
If you're considering a trip like this for your family, do check out future posts on the things we're oh-so-glad we brought, and the things we wish we'd done differently.
If you're an old pro at family camping already, what tips do you have for those contemplating their first such trip?
NOTE: This site contains affiliate links. I may earn a small commission from any purchases made through affiliate links, at no additional cost to you. For more information, please read the full disclosure/privacy policy.