For many of us, summer is a time to travel, to take in some hiking, to do things together as a family. But for some of you, this may be your first summer doing these things with Baby, or with more than one child.
Which raises the question, how are you going to schlep those kiddos around with you on your summer gallivanting?
Or maybe you're just trying to find a (better) way to juggle your one (or two, or three) offspring on your daily treks around town.
Do you find most baby carriers darn near impossible to strap on? (Let alone trying to explain to your husband or a grandparent how to use?)
Do you have a bigger baby who hasn't quite mastered walking yet, and whom you're getting really sick of toting around? (My girls didn't get around to mastering walking until 17+ months and 16 months, respectively.)
Do you have occasions where it just makes sense for both you and your spouse to wear a kiddo – say, lots of places to go (e.g., our local farmer's market) that are not very stroller-friendly?
Are you and yours crazy enough to try hiking, oh, say, a national park or two with multiple children under the age of four? (We are; been there, done that.)
If any of these scenarios sound like you and yours, read on.

Favorite Baby Carrier #1: Maya Wrap
I can't say I spent a great deal of time trying out every baby carrier out there, but my favorite by far has been the Maya Wrap
, an ergonomically-designed ring sling. Made for children from 8-35 lbs, a Maya Wrap may well be the only baby-wearing device you'll ever need.
For example: Even when Essie was two and perfectly able to walk on her own, she remained a sleepy snugglebug sometimes when we were out and about. Carrying her on my hip in the Maya Wrap was a lot easier than lugging all 26 lbs. of her around any other way. I last used it with her shortly before her third birthday, by fashioning it into a makeshift backpack. At 30 lbs., Essie still had another five pounds to go before maxing out its weight limit.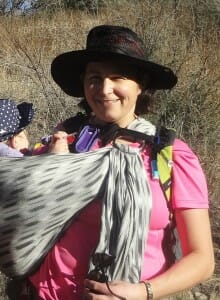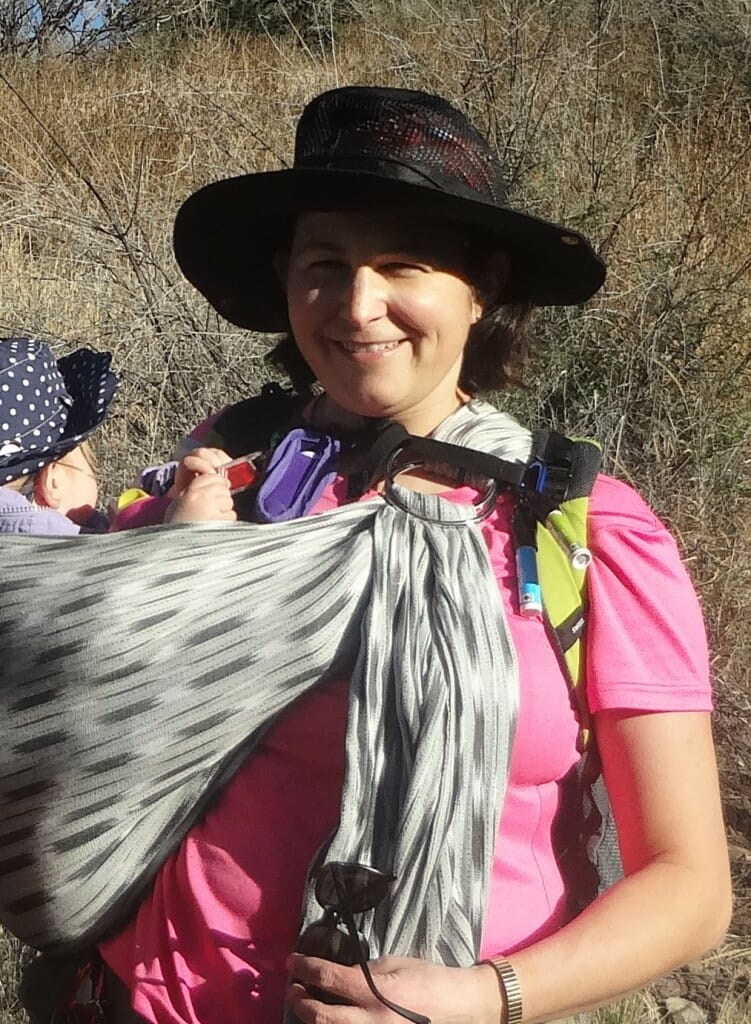 I've attended conferences with a baby in the Maya Wrap. I've hiked through the woods of New England and the deserts of southwest Texas wearing a toddler in one. And I used to be a regular attraction while running errands, with one child in the shopping cart and the other in the Maya Wrap. Everywhere I went, people would say, "What a great carrier – it looks so comfortable! – where did you get that?"
Unlike strollers, Maya Wraps can help you get a too-big-to-carry toddler up and down stairs and escalators, or through crowded store aisles, with ease. As I noted above, Kimmie didn't walk until she was almost a year and a half old. The longer she waited to make that transition, the more painfully aware I was of how carrying her in my arms occupied my hands AND left me feeling her weight. But with her secured on my hip in my Maya Wrap, her weight was comfortably distributed and my hands were liberated.
Though I never used it this way, the Maya Wrap is also designed to be a discreet way to nurse your baby on-the-go; the "tail" that hangs down doubles as a privacy cover. One of the coolest things about the Maya Wrap is the storage pouch built into its tail – big enough to hold a bottle, a burp cloth, a few clip-on baby toys, and Mom's cell phone and wallet.
If that's not enough storage space for you, you can also now purchase a separate Pocket that snaps onto your Maya Wrap's rings (which, by the way, are also a super-convenient place to clip your car keys, and a rotating assortment of toys to keep your infant fascinated). The Pocket doubles as a storage pouch for the Maya Wrap when not in use, and comes in coordinating colors.
Favorite Baby Carrier #2: Snugli Backpack
There were only two situations in which a Maya Wrap fell short for our babywearing needs:
They aren't ideal for hot, humid weather, when wearing a child that close makes both of you too warm.
They also aren't the best in situations when having a larger child on your back is preferable to carrying on your hip (e.g., when hiking at the Grand Canyon – the most famous national park our girls have visited in their young lives, but not the only one).
In these situations, we wouldn't be without our Snugli cross-country backpack (which, alas, Evenflo no longer makes, but you can still find used on eBay sometimes). Though I haven't tried them, packs still available which look comparable to the Snugli include the Osprey Poco Plus
, the Deuter Kid Comfort Air
, and the (less pricey) Kiddy Baby Back Carrier
.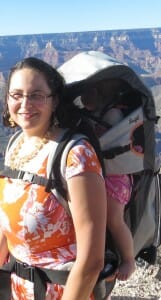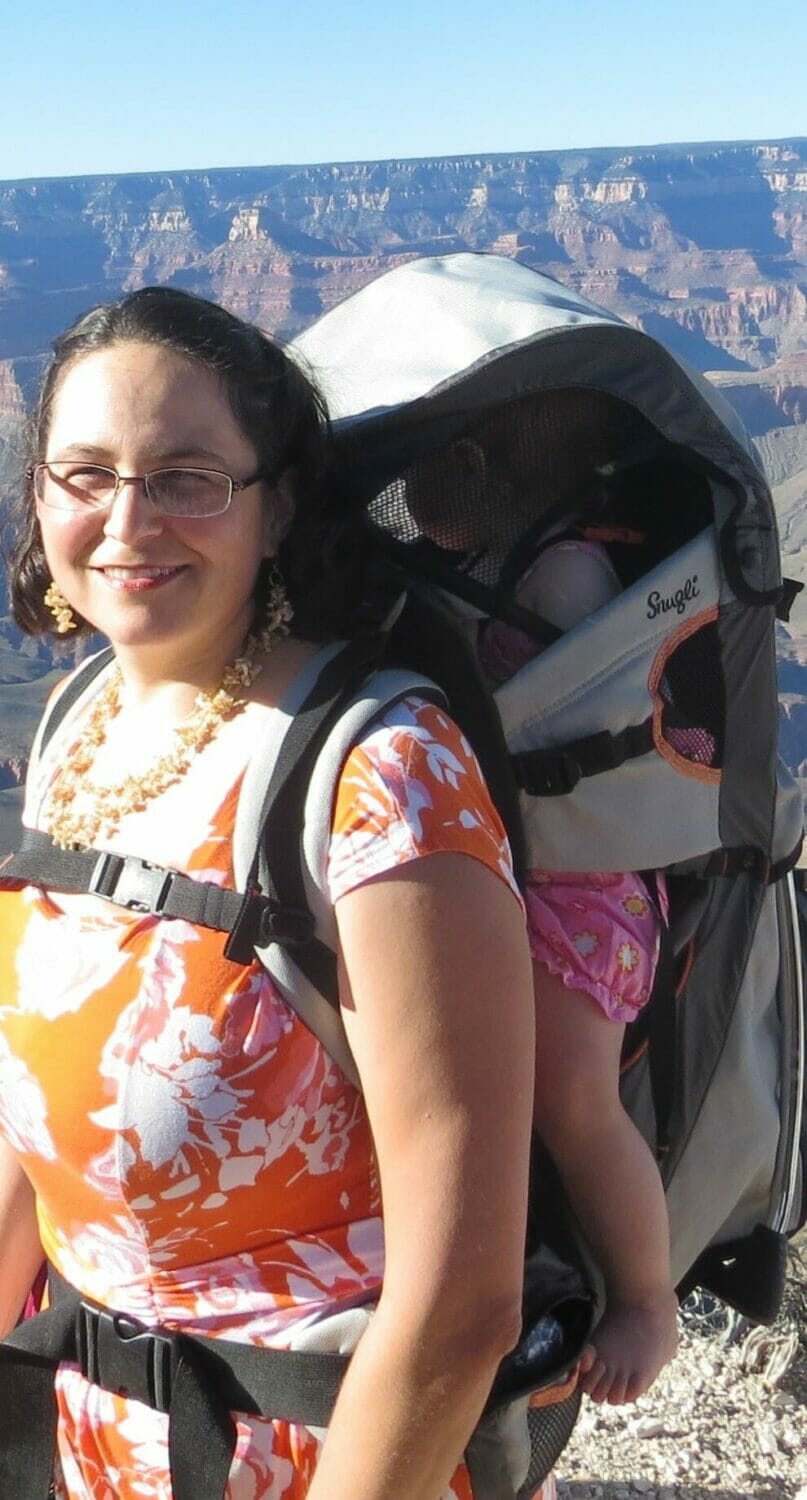 All four of these backpack-style carriers
are well-designed in every respect, with thoughtful technical details that both serious hikers and city-dwellers alike can appreciate: a sternum strap and a padded waist-belt with built-in pockets, a mesh-covered padded back designed for maximum ventilation, and an integrated kickstand for ease of loading.
All four packs also include an impressive amount of storage as part of their ergonomic design, useful whether you're using your pack for a day hike on the trails or a day-long sightseeing trek on vacation. Like our Snugli, the Kiddy carrier includes a detachable sun canopy, which is available separately for the Osprey Poco.
Our Snugli pack includes a small detachable compartment, making it the perfect size for a detachable diaper pouch that you could snap off and take on the plane with you when you gate-check the backpack in your stroller bag. The Osprey pack's larger detachable compartment can, according to their product description, double as a daypack for an older sibling, so should hold more than just your diapering gear if you were to detach it when gate-checking the larger pack.
Both our Maya Wrap and our Snugli came to us from my college roommate Lise, and I can't imagine our adventures in parenting without them. Thanks, Lise!
NOTE: This site contains affiliate links. I may earn a small commission from any purchases made through affiliate links, at no additional cost to you. For more information, please read the full disclosure/privacy policy.