Once upon a time, children spent their days outside with their friends, wandering exploring and playing games of their own invention. They exercised their creativity by keeping themselves entertained, made up elaborate rules and imaginary worlds as they went, and learned how to negotiate, share, and resolve their differences in the great out-of-doors.
Nowadays, technological lures have made it harder to get your kids outside for some fresh air. And this shift is having a negative impact on children, their well-being, and their overall health. This, despite the fact that time outside is critical for everything from kids' happiness to their vitamin D levels.
If this sounds all too familiar, give these ten tips a try, Start with them as early as you can, and you're more likely to raise a nature-lover than not. But take heart: it's never too late to get your kids outside, and teach them the benefits of spending time in the natural world.
RELATED POST: Loving the Environment for Kids: 5 Tips for Raising Eco-Friendly Offspring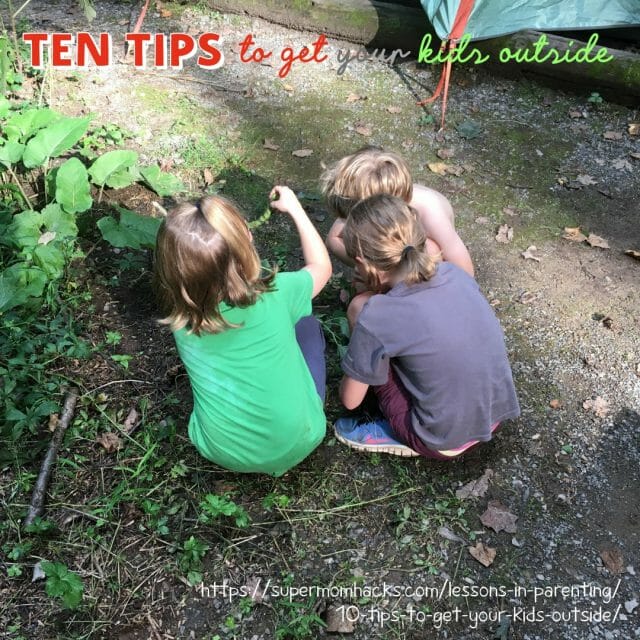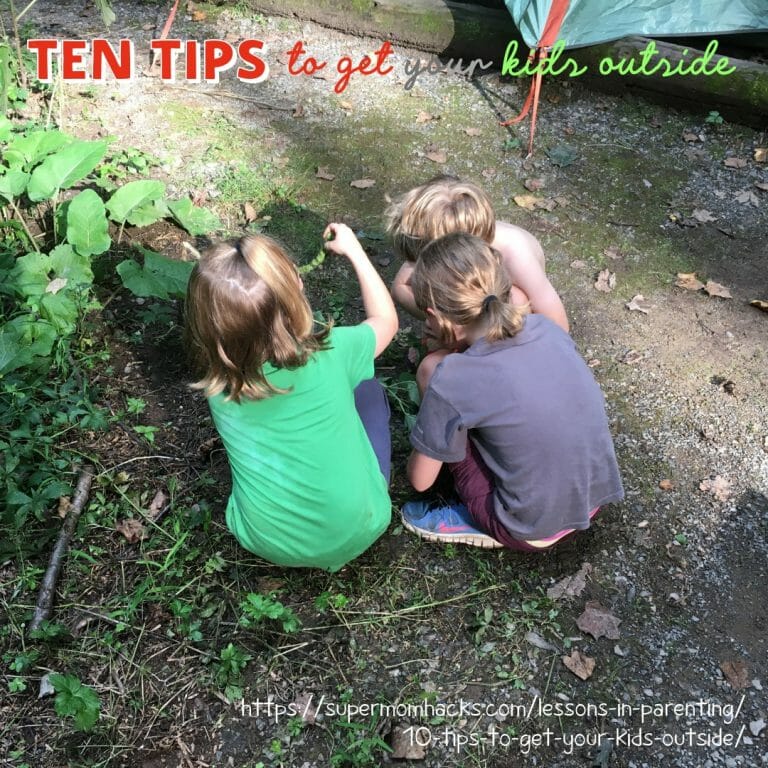 This is a collaboration post. However, please know I stand behind everything written here, and only include links to products/services/resources I'm willing to recommend personally.
How To Get Your Kids Outside: My Top 10 Tips
1. Start from birth, and lead by example
How do you expect your kids to suddenly start going outdoors when they've spent their lives up to that point largely indoors? You'll have much better luck with this if you get them outdoors regularly as soon as they come home from the hospital.
Spending time outdoors with your child from infancy on up has so many benefits:
As a postpartum mama, taking stroller walks with your baby is going to be the easiest way you can squeeze in some exercise.
RELATED POST: The Secret of Realistic Fitness Goals
Being outside gives your infant a change of scenery, and an opportunity to learn from you as you narrate your surroundings.
If you have a yard to maintain, it's probably the only way you're going to get the yard work done. (I cannot tell you how many afternoons our children spent on blankets, strapped into their bouncy seat, etc. while Daddy and I pulled weeds, planted flowers, mulched the flower beds, etc.)
Infants go where you take them. They're too little to have a say in the matter. Get them accustomed to time outdoors from infancy, and you've already got a head start on the game.
One of our neighbor-mamas is an avid runner. I wondered how she'd be able to keep this up when she had two kids in as many years. Sure enough, she had them out in the jogging stroller as soon as they were old enough for it. Later, she took them for walks in addition to her runs. To this day, those kids take a walk with her every day after school.
2. Get them some play clothes!
Seriously. If all your kids have is "school clothes," not serious outdoor play gear, then how do you expect them to go outside and play in the mud and dirt?
Kids need to know that it's OK to get messy outside. Some sturdy cargo shorts and old T-shirts are perfect for this. To help protect them from mosquitos and ticks, treat their outdoor play clothes (including socks/shoes/hats) with permethrin, which kills these critters on contact. (Permethrin is the most effective way of avoiding tick bites and Lyme disease, and DIYing it is easier/cheaper than you'd think.)
RELATED POST: How To Protect Your Kid From Tick Bites: What Works Best?
RELATED POST: Permethrin Clothing Treatment: A DIY Guide
Does your little fashionista or gamer need an extra nudge to get outdoors? You can help them warm up to the idea with kids t-shirts that invoke the outdoorsy lifestyle.
3. Take them on scavenger hunts
This is something you can easily do around your yard or at a nearby park. My girls used to do outdoor scavenger hunts at least a few times a year in preschool, and loved finding different things for each season.
All you need is a paper or plastic bag for each child, and a short list (with pictures for pre-readers) of things they are likely to find where you are. (Think twigs, rocks, non-endangered flowers, acorns, leaves, etc.)
Assuming that you're somewhere that allows this, you can even take your "treasures" home and make them into artwork. For ideas to get you started, check out these 10 nature crafts for kids!
4. Find free outdoor fun
There are so many ways to do this:
Explore every park within walking distance of your house. (And walk TO them! Regularly!)
Take advantage of outdoor summer events – free summer concert series, free outdoor movie nights in the park, free fireworks displays.
Hang out at your local municipal beach/lake/river
Take advantage of free outdoor educational programs
Explore national parks near you (for free in some cases!)
RELATED POST: How To Visit National Parks For Free!
RELATED POST: 55 Frugal & Free Summer Fun Ideas
And if you're a work-at-home mama, for goodness' sake, get the kids and yourself outdoors anyway. You can still work while they're at the park; it just takes a little more planning.
RELATED POST: Your Summer Mobile Office Must-Haves
RELATED POST: Your Summer Car Essentials Cheat Sheet
5. Find inexpensive outdoor accessories
This doesn't have to cost a fortune! You can get multi-packs of colored chalk to decorate the driveway at dollar stores; ditto for a container of bubbles, a sand pail and shovel, a large ball for tossing, a jump rope, or a Frisbee.
For a few dollars more, you can get child-sized gardening gloves and tools, a sprinkler or wading pool for summertime water fun, a book about the stars for nighttime star-gazing, or a plastic ball and bat.
And for your child's next birthday, consider a bicycle or scooter if they don't already have one, plus a helmet for safety.
RELATED POST: Teach Your Kid to Ride a Bike in One Day? Really?
That way, the next time your kids complain that "there's nothing to do!" outside, or their friends come over and try to tell you the same thing, you've got a bunch of options ready to go.
6. Invite their friends along
Speaking of their friends: As much as you might like to think otherwise, it's unlikely that your kids see you as the bringer of fun. And why would they? Though you're sometimes the person who entertains them, you're also the one who enforces rules and makes them do their chores.
So if you're thinking of a trip to the park or a family walk and your kid balks at the idea, offer to bring one of their friends along. Kids really do love exploring the outdoors with their friends, and if they get to play with their friends while getting some fresh air, they're likely to be more interested in the "fresh air" part. (A good playground is always a nice lure, too, though.)
7. Make the outdoors into fun family time
Especially as kids get older, it can be harder to keep them engaged and get in quality time with them. But if you can "sell" them on the idea of having special bonding time with you over things they can do with you in nature, you'll have better luck.
Here are some ideas to consider:
Fly kites together.
Go wading in a stream.
Have a picnic. Even if it's just in your front yard. (My girls LOVE doing this.)
Plant a garden – and have them help with the harvest, along with eating the fruits of their labor (and if needed, learning to cook them!). My husband loves to plant our tiny garden with the girls each spring. We then get to enjoy the produce all summer, and have developed a family tradition of harvesting the carrots on December 24 for our Christmas dinner.
Go to a local orchard or berry farm and pick berries/apples together.
Go tubing, rafting, or kayaking on a local river.
Go

camping

as a family. If this is something you (or they) need to work up to slowly, start by pitching a tent in your front yard and having an overnight camp-out there.
RELATED POST: Our First Family Camping Trip, Done Better
RELATED POST: Must-Haves for Family Camping With Preschoolers
8. Don't give up
Nothing goes exactly as we planned. Your children might initially love the outdoors, but after twenty minutes, complain of being bored. This is not a real slight on Mother Nature; it's just something normal that kids do.
This doesn't mean it's time to throw in the towel, though. On the other hand, use basic common sense when getting your kids outdoors. As we've learned the hard way, preschoolers aren't super-keen on a rugged 5-mile hike, and trail biking just isn't fun if you're still using training wheels. You don't want to suddenly decide that it's "family outdoor bonding time" and then take them on a 10-hour outdoor adventure.
At the same time, though, there's something to be said for perseverance. Don't give up and go home at the first whimper or whine. Have some tricks in your back pocket (some yummy trail mix and cold water on a hike, a ball to throw if you're out in the yard) that you can pull out when they need to shift gears. But also be sensitive to your child's own nature. Hungry kids become hangry ones all too quickly. And a tired child won't be happy until they get the rest their bodies are craving.
9. Incentivize
There comes the point when the possibilities of the outdoors are exhausted for a day. It's important to start slow, with small visits to the outdoors, and then build up gradually. So keep things limited to a few hours, and then do something else.
And never forget the value of fun rewards to look forward to:
For our girls, going on family camping trips means sleeping in a tent, using their flashlights a LOT, and eating s'mores around a campfire – all of which they love.
RELATED POST: Make Your Own S'Mores Solar Oven
If you have a day of yard work to accomplish as a family, perhaps a family movie night will be a fun way to celebrate your success when the job is done.
After the girls spend time playing outside in the snow, they love to come in to a cup of hot cocoa for a warm-up snack (as do their friends!).
And if one of us wants ice cream in the summer, we get in some exercise as a family by walking to the ice-cream shop a half-mile from our house.
If you make a habit of having some after-adventure treats, such as dinner out or a movie on the couch, then the kids will be more likely to agree to trips even when they don't quite feel like it, because they know what's coming after.
10. Keep it fun!
It doesn't really matter what you do in nature, so long as it's fun. If your kids are laughing and enjoying themselves, then they'll want to do it again. That's the great thing about children: they don't care what it is they're doing, so long as it delivers good things. If you can make it so that everyone has a fun day out, then you'll have no problem making it a regular part of the schedule. All the while, your kids will slowly be falling in love with the outdoors, which is something that they'll carry with them through to adulthood.
And if you need more ideas for ways to help your kids enjoy the great out-of-doors, see this collection of nature-based crafts, this quick-start guide of fun things to do outdoors with your kiddos, and this collection of apps designed to help your kids enjoy their time outside even more!
If you enjoyed this post on how to get your kids outdoors, why not share it with others by pinning this image?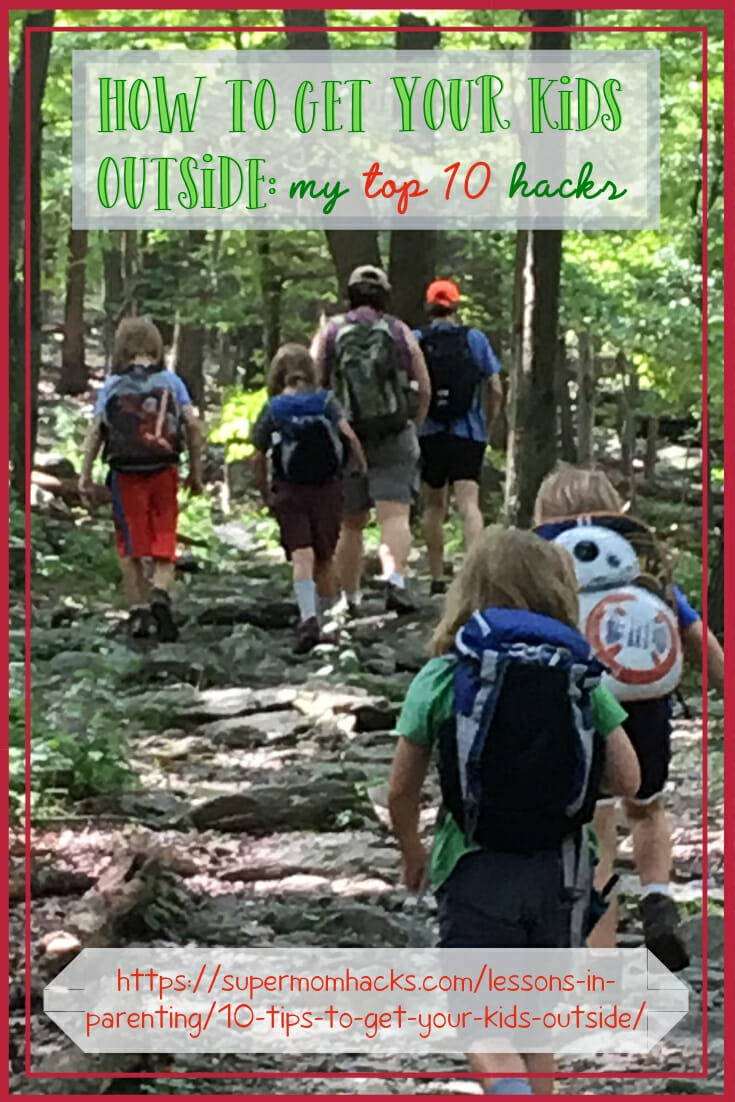 NOTE: This site contains affiliate links. I may earn a small commission from any purchases made through affiliate links, at no additional cost to you. For more information, please read the full disclosure/privacy policy.