The kids are out of school at last – time for summer adventures. Which means it's time to prep for all those summer adventures. Doesn't matter whether that means elaborate summer road trips, car camping, or lots of day trips. Is your car ready for summer parenting emergencies on the go? Getting together your summer car essentials is critical before leaving home.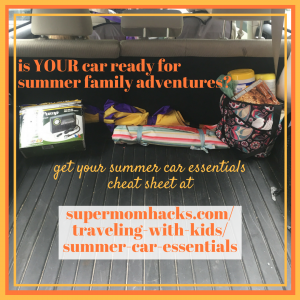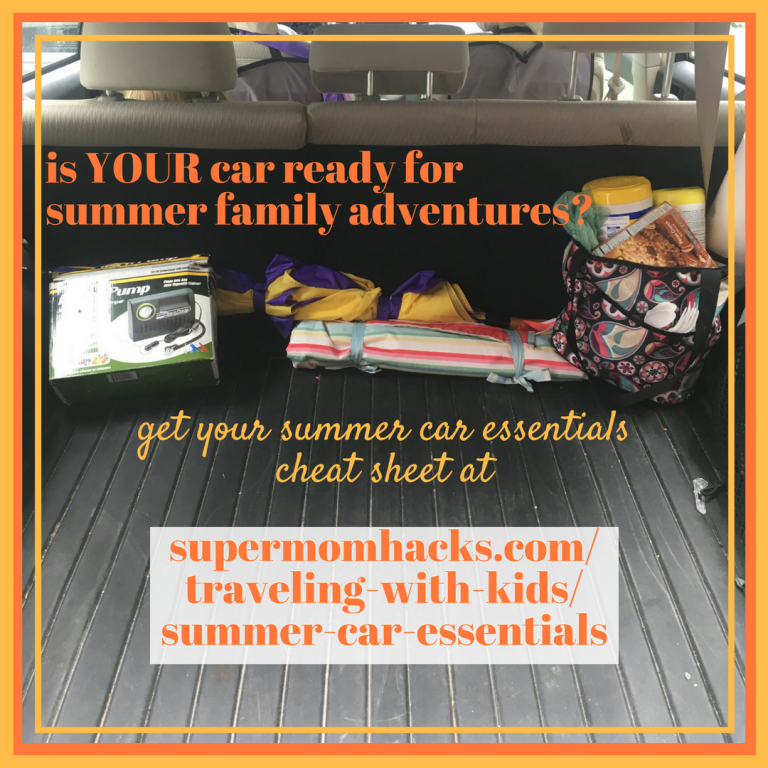 For those of you who haven't quite gotten there yet, no worries. Here's what you REALLY need in your car this summer, based – as always – on lessons we've learned the hard way!
Summer Car Essentials for Parents
Hats, sunglasses, windbreakers/jackets, and spare shoes
We always wear hats in the summer, since my FIL has a long history of skin cancer. Keeping hats for everyone in the car means we always have them with us, don't waste time looking for them, and never forget them. Ditto for sunglasses (especially for the kids). Likewise, stashing a spare windbreaker or jacket in the car is helpful when evenings turn chilly. And if you find yourselves unexpectedly wading through streams on picnics, an extra set of water-friendly shoes is also worthwhile.
Spare bottoms all around, and/or a full change
If you've still got one or more in diapers, you've probably already got a diaper clutch in each car with a few extra diapers. But even toilet-trained kids can benefit from an extra set of dry bottoms in the car. And I've had kids throw up on themselves in my car often enough to keep a clean top on hand, too.
Children's motion-sickness chewables, plastic cups, and air sickness bags
See above. Essie in particular has a history of getting queasy in the car. So we always keep some chewable kids' Dramamine in our glove compartment. Until we remembered to snag a bunch of motion-sickness bags when flying, we also stashed some spare plastic cups in the back seat door-pockets. That way the girls had something to grab and hold near their mouth when they felt ill. We've since upgraded to actual airline motion-sickness bags.
Wet wipes, paper towels, hand sanitizer, and plenty of plastic bags
For cleaning up whatever summer messes you might encounter, and keeping wet messes contained until you get home again. 'Nuff said.
Leakproof water bottles
Every passenger should have a leakproof water source in the car (here are some of my favorites). If your kid is young enough to still be in a car seat with a harness, I also strongly recommend putting their water bottles on a leash. I try to rinse out and refill ours as soon as we get home each time, and run them through the dishwasher at least once a week.
Summer-friendly snacks
Snacks on hand are always a must with kids around, but especially in the summer. The girls usually leave their late-morning swim lessons ravenous. And summer road construction and fellow travelers can often add hours to car trips. But as I learned the hard way recently, the chocolate-covered granola bars are not your best bet for storing in the car. Cheerios, rice cakes, and non-gooey granola bars are always good options.
A groundcloth or picnic blanket plus spare plastic utensils
The former is perfect for picnics, impromptu rest stops, beach fun, and lying on the ground to watch fireworks. By keeping ours in the trunk, we always have it with us. As for the latter, I've packed myself a picnic lunch involving salad and/or yogurt – but forgotten the utensils for it – more than once. Lesson learned.
Several umbrellas
Because summer thunderstorms can pop up often and without warning (at least where we live). We keep several small umbrellas tucked between seat and door's edge in the front (one on each side), and a large "golf" umbrella in the trunk. That way, there's always one handy.
A first-aid kit and compact air compressor
You should always have a first-aid kit in your car anyway. For summer fun, it's worth adding a few instant single-use icepacks and an Ace bandage (to help hold it on). A mini air compressor is also a critical first-aid item for the health of your car. More than once on summer road trips, a slow leak has activated my car's low tire pressure light. Keeping a small air compressor in the trunk works for this, and also for pumping up bike tires.
Membership cards and local lists/coupon books
Do you have memberships to local museums? Keeping your cards in your car means you'll never forget them at home. And if your area has local coupon books of kids' activities, such as KidStuff Coupon Books, these should also live in your car so they're always handy.
Bug spray
A non-aerosol container of bug spray lives in our trunk during the summer, just in case we forget to put some on before we leave home (or find we need a reapplication). Want to know what works best? Check out this list of what reviewers have to say.
Mints
When I first met my now-husband, I wondered why he always kept peppermints in his car. I soon learned that it was an alertness hack for long drives, and an alternative to drinking endless cups of coffee (which means endless pee stops). As I've noted elsewhere, peppermint can boost alertness and keep you mentally sharp. Mints also help when it's mealtime, food is minutes away, the girls are starving in the backseat, and having a proper snack will dull their appetite.
If you enjoyed this list of summer car essentials, why not share with others by pinning this image?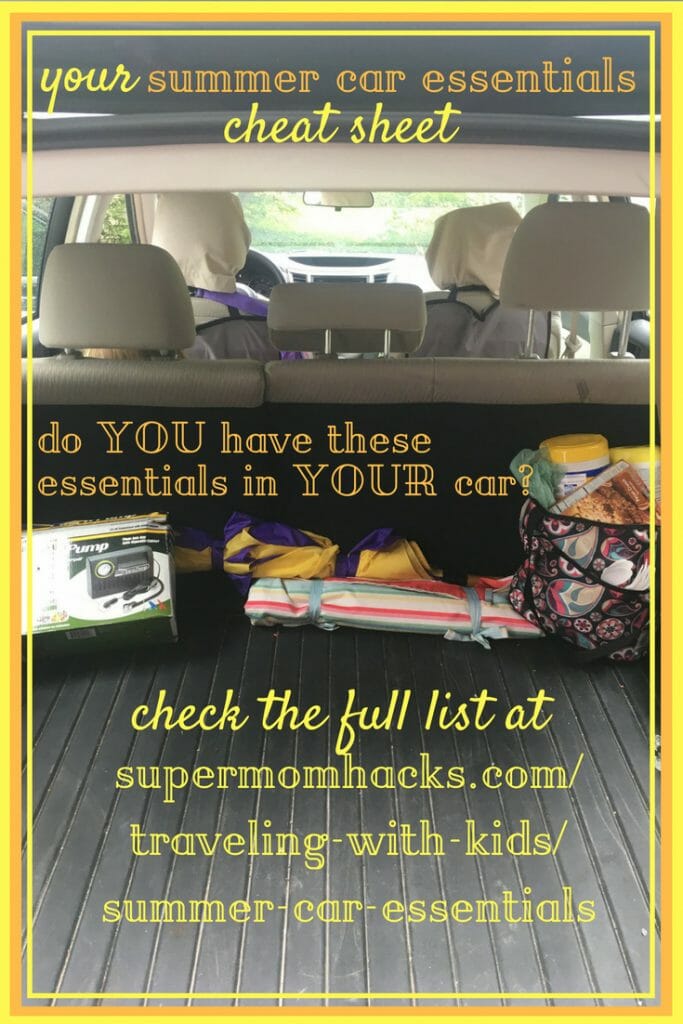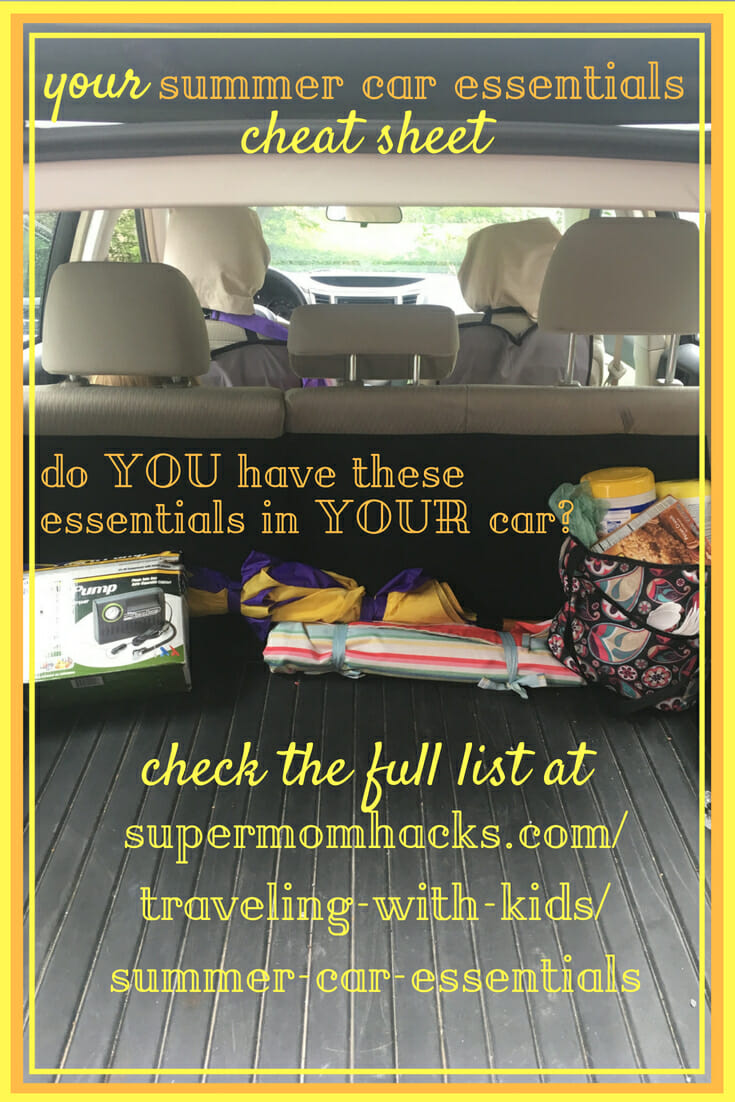 NOTE: This site contains affiliate links. I may earn a small commission from any purchases made through affiliate links, at no additional cost to you. For more information, please read the full disclosure/privacy policy.