Ever since becoming a parent, I've been on a quest for beverage containers that won't leak. First it was a leakproof sippy cup. Then it was leakproof not-quite-sippy cups for the preschool set. Next it was leakproof water bottles for school, hikes, and family outings.
Why is the quest for a leakproof sippy cup or water bottle so important? Ask anyone who's ever found mold in the backseat of their car, thanks to a beverage container tossed carelessly by a child the week before.
Along the way, Mama had a few too many road trips and plane flights with half-spilled, lukewarm beverages. Hence I added grownup hot/cold beverage containers to my wish list.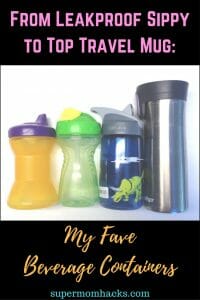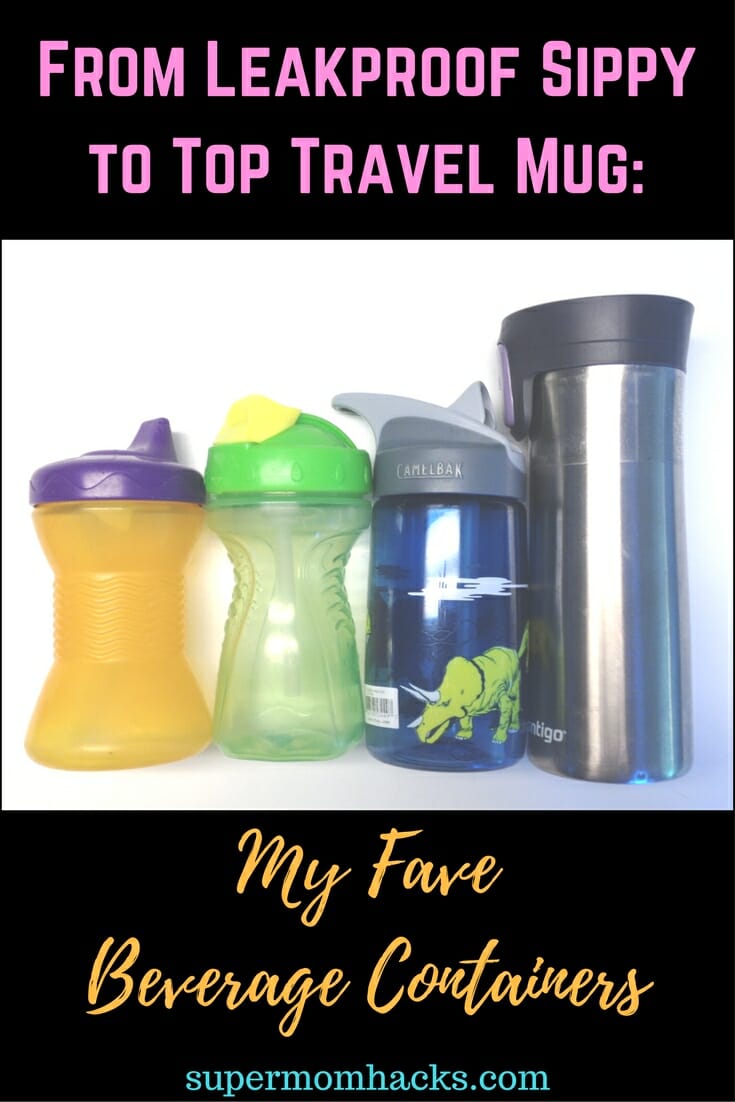 Below you'll find my four picks for favorite leakproof beverage container, covering all ages from toddler to adult. They're the best I've found in each age category; do let us know in the comments if you've come across something you like even better.
Why These Containers Make the Grade
It's worth noting that except for the grownup category, I have only used water in these containers, so use for other purposes (milk, juice, etc.) might reveal problems we haven't encountered. However, unless otherwise noted, all of my top picks are entirely dishwasher-safe (as well as BPA-free, of course).
The reason each of these makes the list is because they've all passed every test of leakproof-ness I could imagine, with flying colors. Among other trials, my top picks have survived
Extensive road-testing in the backseat of my car, with testers ages 1 through 5;
Use in every room of our house, especially those with electronics and those where kiddo food and drink are usually banned;
Countless hours bouncing around the insides of my purse, diaper bags, beach bags, eating-out bags, lunchboxes, assorted backpacks (kiddo and grownup), and various carry-on pieces of luggage inside airport security and on airplanes.
So, without further ado, here are my picks:
This generously-sized leakproof sippy cup will keep your toddler from begging you for refills every two seconds. Its leakproof nature comes from a special easy-to-remove valve that installs inside the lid. While temporarily removing this valve makes it easier for older kids to drink from the cup, it also renders the cup no longer leakproof.
Pros:
Hourglass shape makes it easy to hold and also suitable for putting on a sippy leash
Durable
Cons:
No longer leakproof if you remove the inner valve for older children
Too babyish for preschoolers to use around their friends, if yours care about such things
Base is too large to fit in most standard car and carseat cup holders
Price:
$5-$10 per 2-pack.
Depending on where you get these, they go by a variety of names: Sipster Stage 2 Sippy Cups, Anytime Spill Proof Straw Cups, Playtex Baby Lil' Gripper Twist n' Click Straw Cup, etc. Far as I can tell, though, they're all basically versions of the same cup.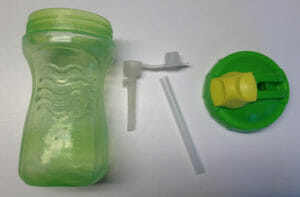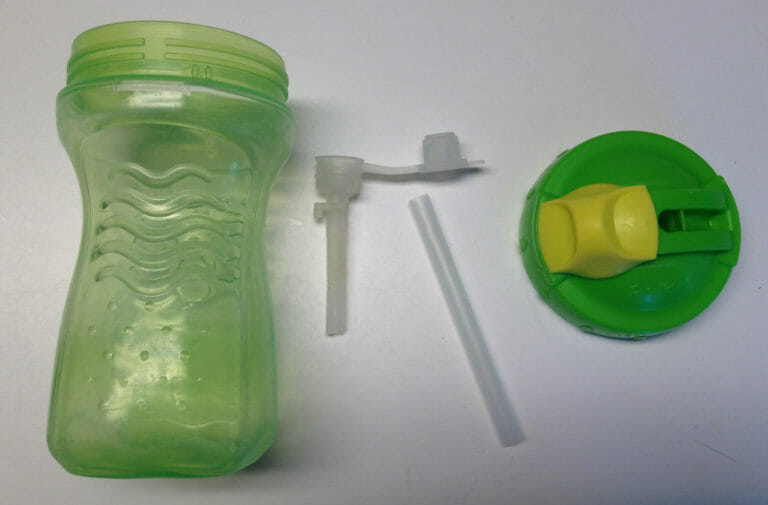 Each cup has four parts: an hourglass-shaped bottom, a top that clicks shut when it's fully screwed on, and a two-part straw. The rigid straw pops into a flexible upper portion, which threads through a hole in the lid; an attached cover slides firmly shut over the straw. I prefer this version to Playtex's insulated straw cups because of the hourglass shape, but older kids might prefer the insulated version.
Pros:
Durable
Hourglass shape makes it easy to hold and also suitable for putting onto a leash
Slide-closed top is built-in, easy for kids to use, and won't come open by accident
Straw design makes it "big kid" enough for not only preschoolers, but also some early elementary aged kids to use. (My kindergartener still uses one in her lunchbox without complaint. Its compact size makes it more lunchbox-friendly than the water bottle featured below)
It also fits securely in every built-in vehicle and carseat cupholder we've tried.
Cons:
Learning to use the straw is challenging for some kids
Younger kids especially can chew the straws to bits, and replacement parts can be hard to find
If you forget to wash it regularly, the insides of the straw parts get gross and are hard to clean without something like this
Cup can still sometimes leak if kids forget to close the top properly
Price:
$8-$12 per 2-pack.
Best Leakproof Water Bottle for School-Aged Children and Adults: Camelbak Eddy Bottles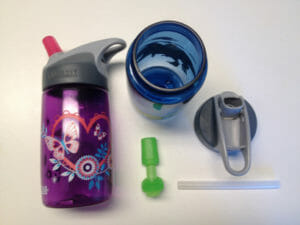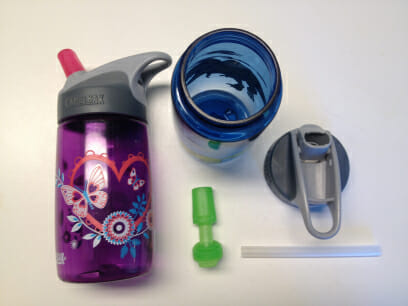 These bottles come in several sizes ranging from 0.4 liters (about 13.5 fluid ounces) to 1 liter (not quite a quart). The 0.4-L size is recommended for kids ages 3-8. Like the Playtex cup, each Camelbak Eddy bottle has four parts: the bottle itself, a screw-on lid, a removable straw, and a removable flexible "bite valve" (that's the part you actually drink out of, if you're not familliar with Camelbak products). The kid-sized version comes in a ton of cool designs; recently-discontinued patterns sell for slightly under the price point I've listed, and you can sometimes find older discontinued prints online for much higher.
Pros:
Durable
Comes in a range of sizes to suit all ages from three through adult
Lid's design includes a solid built-in loop that makes it perfect for clipping onto a backpack, belt loop, or tote bag with a carabiner
Top is easy to flip securely shut
You can easily find replacement straws and bite valves if you need them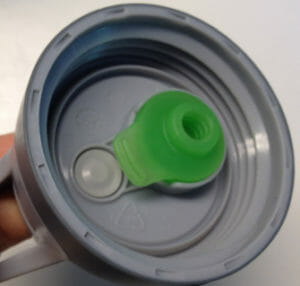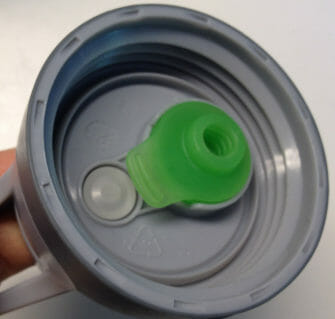 Cons:
The bite valve can be a little tricky at first if you've never used one
A few times, we had issues with the bite valve leaking during flights when the plane was changing altitude
As with the Playtex cups above, the insides of the straw and bite valve can get really gross and hard-to-clean if you don't run them through the dishwasher regularly
Also, while I haven't had this problem with our Camelbak Eddy bottles yet, the silicone bite valves on our other Camelbak products have occasionally sprouted small rips and tears without warning; this makes them start dripping all over the place. This doesn't happen often, but it's worth mentioning. If you plan to use several of these bottles on an extended trip, consider bringing an extra bite valve or two.
UPDATE SUMMER 2017: After a year of school lunch duty, we've decided that the flip-valve on the Camelbak bottle can get jostled open too easily in a lunch bag, leading to a wet mess. So our new preferred choice for school is the Nalgene Titan 12-oz On-the-Fly bottle. The only trick with this bottle is that your kid needs the strength/dexterity to open and close the metal locking clamp. If they can do this correctly every time, I guarantee you'll have no leaks whatsoever!
Price:
$13-$15 (anywhere from $9-$13 for the Nalgene bottle)
Of all the travel mugs I've tried over the years, Contigo mugs are hands-down the best – so much so that I now own several versions of the Autoseal 16-ounce mugs. (The newer Snapseal technology is also available in 20- and 24-ounce mugs.) Contigo mugs are the most durable brand I've ever owned; the seal between lid and cup has never failed, nor has the seal between inner and outer chamber.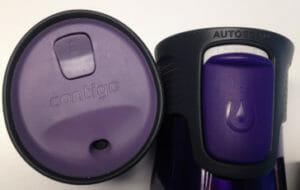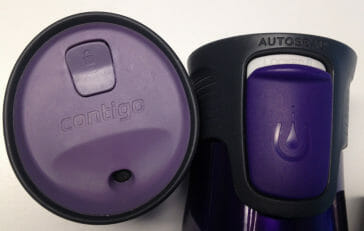 Moreover, I've never known another mug that I can fill, close, and toss in a purse or coat pocket with no fears of leakage. Their insulation is also the best I've found. I have poured coffee from an airport boutique into my Contigo mug, locked it shut, and stuffed it into my backpack. An hour-plus later when we're settled into our plane seats, the coffee is still almost-too-hot-to-drink. I've also filled Contigo mugs with ice at the start of the 350-mile trek to my mom's house in the summer, knowing I'll still have ice in the mug when we get there.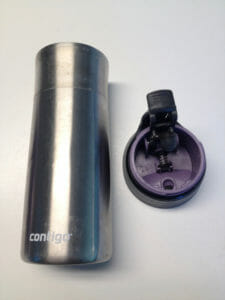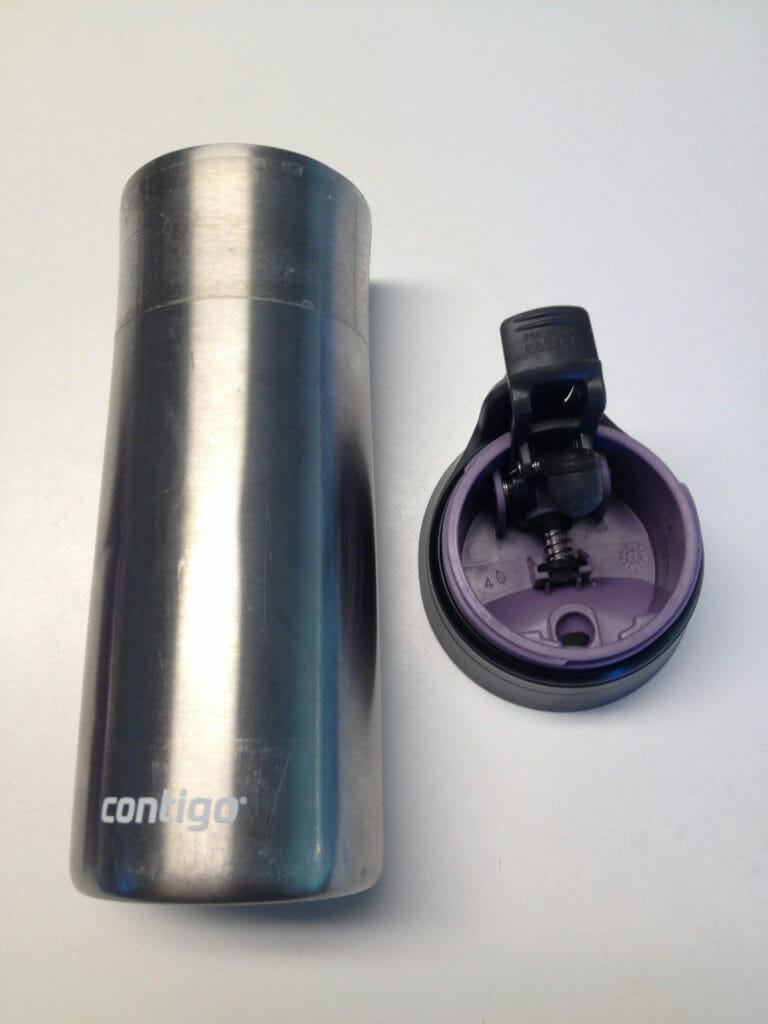 Pros:
Extremely durable
Airtight seal and locking feature provide superior leakproofness
Stainless double-wall design makes for long-lasting, sweat-free insulation
Can be used for either hot or cold beverages
Cons:
While all Contigo lids are dishwasher-safe, only the non-colored versions of the mug itself are considered dishwasher safe (dishwashers will gradually remove the colored finish on the painted versions)
Being stainless, they're heavier than the other beverage containers I've featured and can dent if dropped
No built-in way to clip a carabiner on (so you can, for example, attach it to a loaded backpack when going through airport security)
Also, beware filling with carbonated drinks and then leaving shut for awhile; you'll get a tiny spray of your soft drink when you next take a sip.
Price:
You can find these mugs for as little as $13-$15 each, but most often they retail for $20-$25 apiece; some versions sell for even more.

BONUS:
Contigo also makes my favorite grown-up leakproof water bottles ever. Their 24-oz, Cortland Autoseal water bottle has a built-in clip for attaching to bags, and locks shut when not in use for complete prevention of leaks. I got a 3-pack of them for the girls and me to use in my car, because they are totally leak-proof. And they come with a lifetime warranty!
UPDATE SUMMER 2017: Contigo now makes kid-sized water bottles and insulated beverage containers! While we haven't tried them personally, they are bound to be superb on leak-proofness if they're anything like the adult versions.
Have you found a different leakproof sippy cup or other beverage container that you like better than these? Let us know in the comments!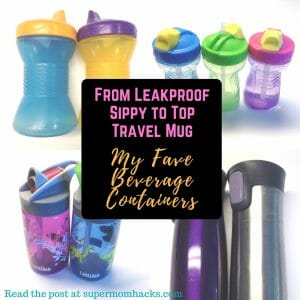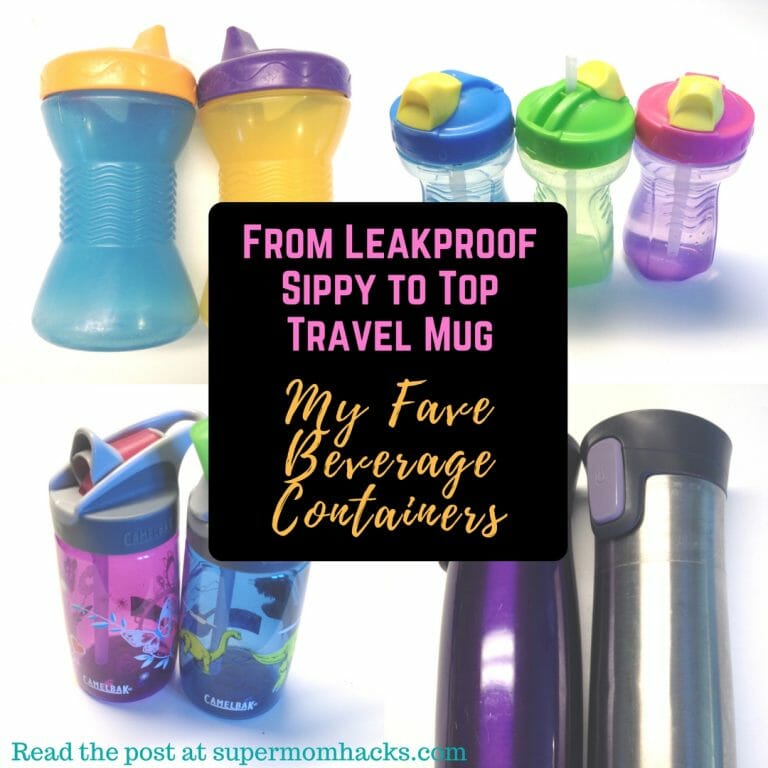 NOTE: This site contains affiliate links. I may earn a small commission from any purchases made through affiliate links, at no additional cost to you. For more information, please read the full disclosure/privacy policy.