When you become a first-time parent to a newborn, you quickly learn that you just can't leave home without a diaper bag. And that your diaper bag needs to contain several toys and clothing changes, as well as the diapers. But by the time I had two kids in diapers, I discovered something equally important: an Eating-Out Bag.
What is an Eating-Out Bag, you ask?
And why is it a lifesaver for parents of small kiddos? Read on to find out!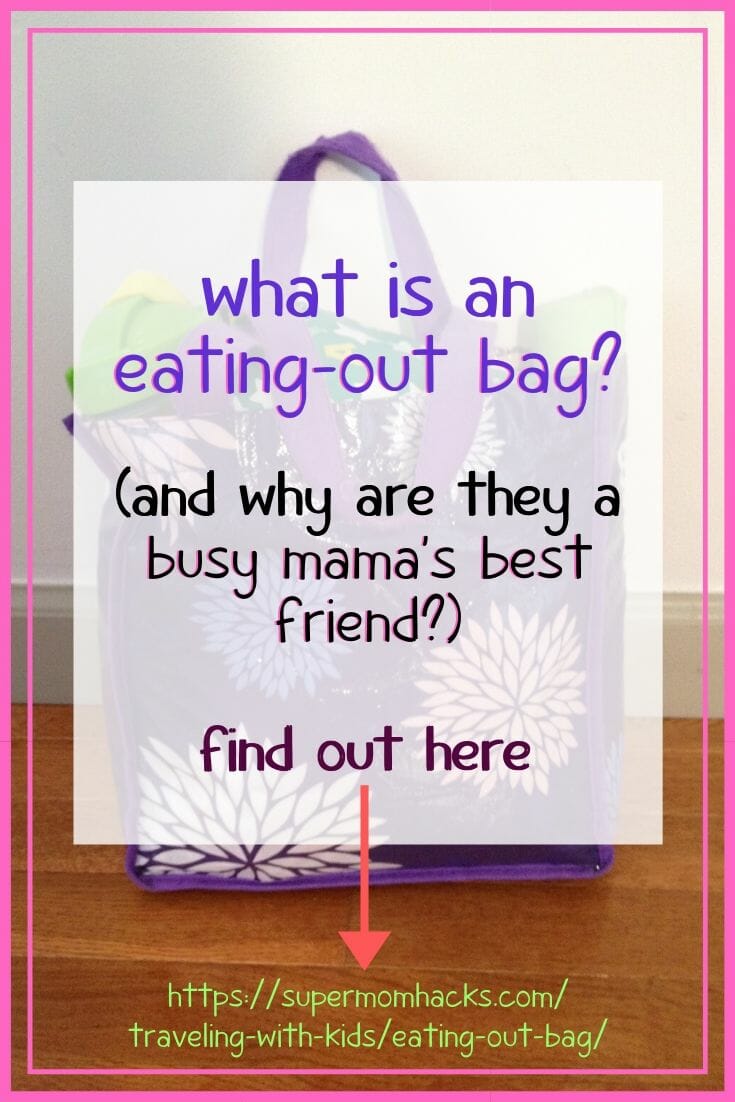 Why an Eating-Out Bag?
My kiddos and I seem to have at least one meal per week away from home:
Usually it's the weekly Wednesday night church dinner, before the kids' choir rehearsal.
Sometimes it's lunch at Daddy's office.
Or sometimes we have a picnic after preschool lets out.
Prepping for these outings used to eat up half the morning! That is, until I developed a shortcut:
The Eating-Out Bag.
This little open-top bag lives in my car, where it's always ready to grab and go.
What Goes In an Eating-Out Bag?
The contents have varied over time with the girls' ages; for example, we no longer leave room in it for a bottle bag, clean burp cloth, and spare cloth bibs. But some of the staples have included:

1) A can of wet wipes
For cleanup after meals. I like store brands partly because they're cheaper, and partly because they've got an easier-to-use dispenser mechanism inside than the brand names, IMHO.
2) A pair of flexible roll-up bibs with crumb-catcher pockets
Like ✅these
. Our kids are messy eaters anyway, and nice clothes plus food I didn't prepare equals a recipe for disaster. I save myself lots of greasy pizza and spaghetti-sauce stains on shirts from weekly choir dinners by popping a bib with a crumb-catching pocket on each kid before their first bite.
3) A pair of wipe-clean full-coverage bibs.
Did I mention my kids eat with gusto?
If your little one hasn't yet grasped that shirts aren't napkins, or you have this hangup (as I do) about their still looking semi-presentable by the time they reach Grandma and Grandpa's after a daylong road trip, you might consider ✅an additional bib under the first.
Just be careful, if you clean it by rinsing in the sink instead of using wet wipes, not to get the fabric edge wet. If you do, you may discover a stinky, mildew-edged mess the next time you unroll it.
4) A small container of hand sanitizer
Useful for cleaning kiddos' hands between the end of outdoor playtime and the start of your picnic, or disinfecting the sketchy-looking table surface you encounter at the highway rest stop.
5) A roll-up placemat
Like ✅these
. If your little one is still eating off a highchair tray at home, you'll find this oh-so-useful. It suction-cups to the table, and like the bibs mentioned above, it wipes clean.
6) A sandwich-sized zip-top bag for napkins
Got napkins leftover at the end of the meal from that huge pile you grabbed? Stuff them in here, and they'll be easy to find (and not crumpled into shreds) the next time you have a spill.
7) An extra plastic bag or two
Such as a grocery shopping bag or produce bag. Useful for trash, empty food containers, or that burp cloth that's now covered with spit-up.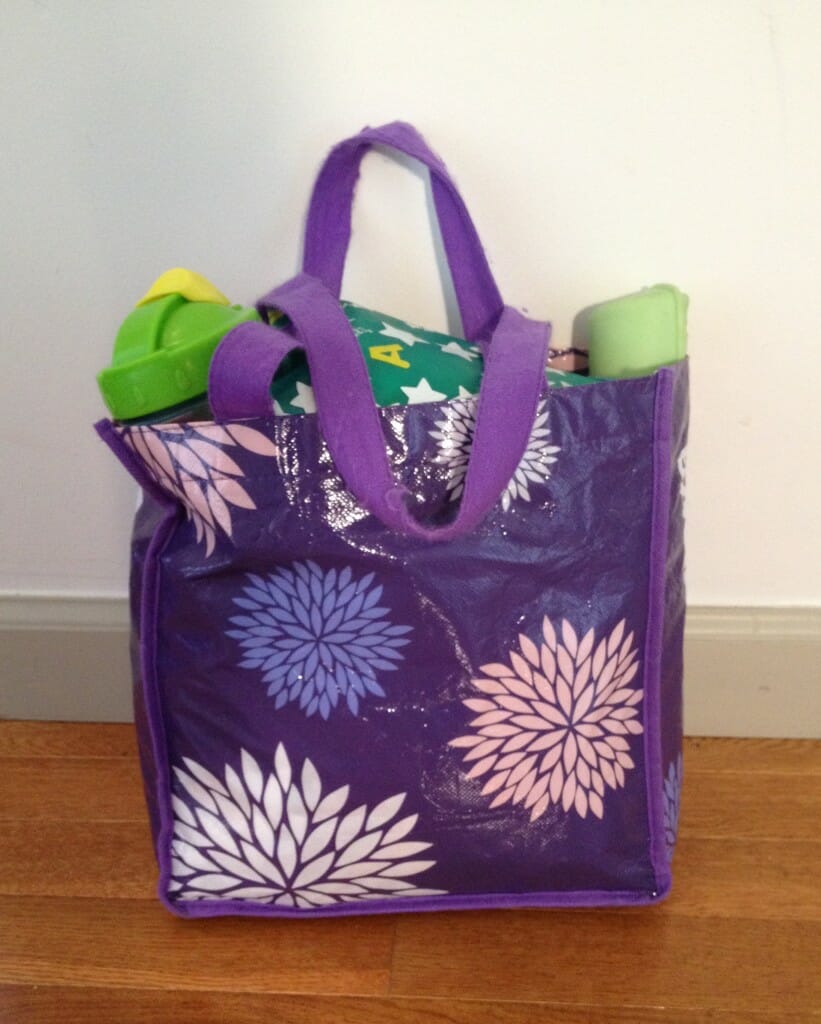 8) A leak-proof cup or two of water
And perhaps an extra bottle of water for refills. My favorites are the Playtex Lil' Gripper 9-ounce straw cup
and the 10-ounce Gerber Graduates spill-proof cups
. Even when you're confident that your youngest has mastered the art of drinking from an open cup without wearing the contents, bringing your own beverages can make life lots easier.
RELATED POST: From Leakproof Sippy Cup to Top Travel Mug: My Fave Beverage Containers
I keep these packed on top of the bag (which I keep just inside the door of the car, on the floor under the littlest one's car seat), so I can always see them when I get her in and out of the car. This helps remind me to refill them and/or swap them out for clean ones as needed.
9) Some plastic utensils
If your little ones are still quite little, there are plenty of ✅nice travel sets
of toddler-sized utensils plus cases. For older kids (not to mention their parents), keeping a few sets of extra utensils on hand in your travel bag is a good idea, in case you forget to pack them with your picnic. I personally like ✅these 2-piece sets from UCO, which nest nicely and are sturdy, for bigger kids and grownups.
10) A small pre-meal diversion
Most of the time, restaurants will give your kiddos a little pack of crayons for placemat scribbling, but every so often a diversion like these will fail to appear, on the day your kids most need it. A few colored pencils and a small notepad can help to placate hungry diners-out until their meals arrive. Bonus: unlike those little crayon packs, the pencils won't melt in your car on a hot summer day.
Our kids' current favorite pre-meal toy is a brilliant crayon alternative that we got at Linda Bean's in Freeport, ME: travel-sized packs of ✅Wikki Stix
. The dining-out travel packs we got contained 8 Wikki Stix each, so you could make your own travel pack easily enough by portioning up a regular package of Wikki Stix into snack-sized zip-top bags.
RELATED POST: Super Stocking Stuffers for Happy Travelers
One Final Tip
One final tip, from the files of Things I've Learned The Hard Way:
Always. Clean. Up. Before. Packing. Up. ALWAYS.
If you've got two parents present, one can go to the bathroom to wash everything down with soap while the other watches the kiddos. If you're flying solo with the kids, wipe everything down with wet wipes and dry with those extra napkins, before you pack the gear back into the bag. This will save you needing to remember to bring everything inside to wash it when you get home, and will ensure that your gear is always clean and ready to go for your next adventure.
If you enjoyed this post on why parents need an eating-out bag, please share with others by pinning this image!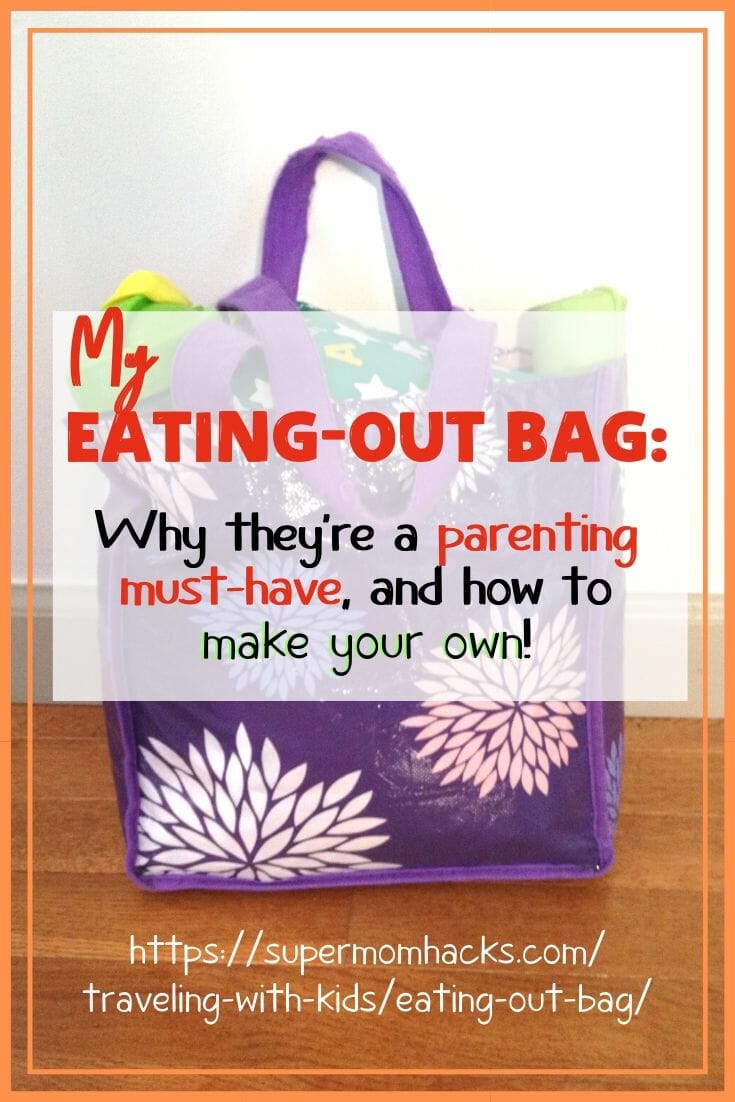 NOTE: This site contains affiliate links. I may earn a small commission from any purchases made through affiliate links, at no additional cost to you. For more information, please read the full disclosure/privacy policy.