Insurance is essential. You need it to protect yourself from large repair bills, and sometimes even from legal action. Some kinds of insurance, like auto insurance for your car, are a legal requirement if you want to be on the road. Others, like home insurance, aren't required in all cases. But, that doesn't mean that they are less important. So what insurance coverage DO families need?
It can sometimes be hard to tell, unless you read the fine print carefully. So here are some pointers to get you started on making sure you have the coverage you need, without paying twice for extra coverage you don't need.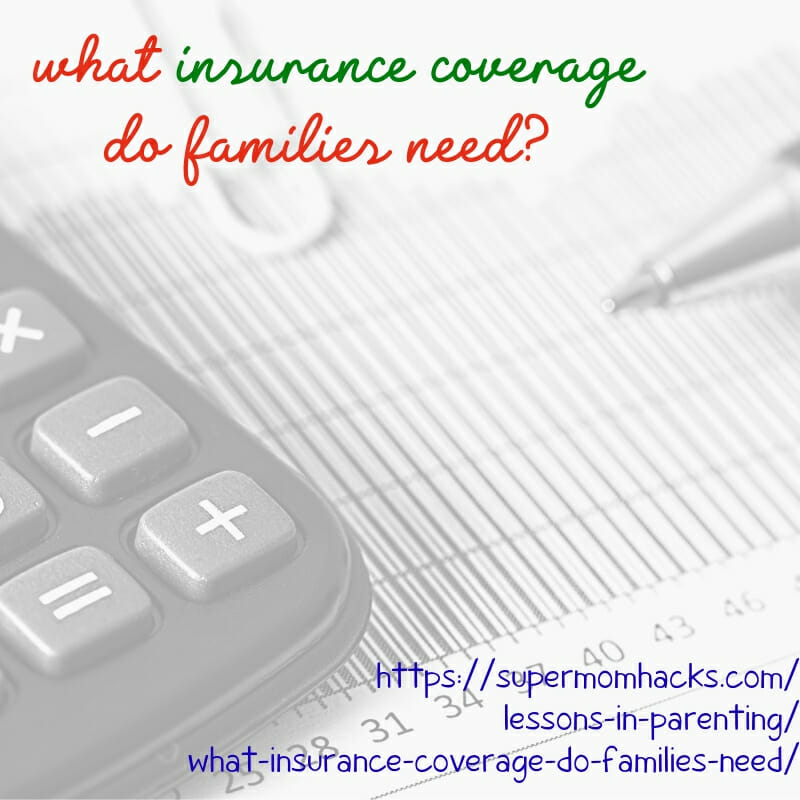 Please note that I'm not a financial planner, insurance expert, or tax expert; consult your own experts on these matters before making any decisions.
What Insurance Coverage Do Families Need?
Consider your family's situation
It's a good idea to start by thinking through your basic circumstances:
Do you own or lease a car? Then you'll need auto-collision insurance that covers each vehicle in your household and each regular driver of those vehicles.
Do you own your dwelling outright? Then you probably aren't required to have homeowner's insurance (though it's still a good idea). But if you still have a mortgage, homeowner's insurance is probably required by your lender.
Is that home in a floodplain? Is your area subject to earthquakes, tornadoes, and/or hurricanes? What about that creek in the backyard? What about wildfires? See if your policy covers damage from, say, flooding due to rain, or earthquakes/tornadoes. If not, you might want to look into extra coverage for these catastrophic and costly events.
Do you rent? Then you don't need insurance for your dwelling itself, because

the building is your landlord's responsibility

. Still, you should have a renter's policy covering your belongings. Your landlord's insurance will not pay for damage or loss to your possessions.
And it's also a good idea to make sure every member of your family is covered by health insurance. At least a bare-bones policy that will cover catastrophic illnesses; you don't want to declare bankruptcy or lose your home after an unplanned hospital stay.
If you don't have access to employer-based health insurance, look at what your options are where you live. Many states have children's health insurance programs for families that meet certain income guidelines. Others have expanded access to Medicaid in the wake of the Affordable Care Act.
What About Travel?
If you travel a lot, it's important to make sure you know how your regular insurance does (and doesn't) cover you when you are away from home. There are several factors you'll want to account for:
Have a big trip coming up? Consider travel insurance to cover, say, being unable to go at the last minute because one of your kids breaks a bone. Know what is and isn't covered before choosing your policy.
If you travel often, you might instead look into insurance that covers all the trips you'll take that year. These policies are often not much more expensive than single-trip coverage.
How well will your health insurance work if you're out of network? What about overseas travel? Figure this out before you go on vacation.
And make sure you know what your auto policy covers (and doesn't):
Is your policy collision-coverage only? Or will it cover car rental if, say, you're on a cross-country road trip and your car breaks down?
What about towing in the event of a breakdown? Is that covered, and if so, how far? (If you live in the middle of nowhere and have an older car, this coverage could save you hundreds of dollars in the event of a breakdown. A newer car in the suburbs may not need this coverage so much.)
In some cases, you might be able to get these benefits for less elsewhere. Instead of bundling them into your auto insurance, see if a membership in your local AAA/CAA chapter might be cheaper.
Or perhaps your auto dealer provides a complimentary loaner vehicle if your car needs major repairs. (Mine does because I bought my car there). These are all things that you can get unbundled from an auto insurance policy to save money.
Don't Cover Things Twice
One mistake many people make is covering the same product more than once. This is a big waste of money.
If your homeowners or renter's insurance will cover your possessions up to a certain value, it might also cover individual items that are worth a significant amount. It may even cover these items when they are taken out of your home. This means that those items don't need their own separate coverage. But that won't stop your cell phone provider from trying to sell you an extra policy to cover phone loss or damage.
However, if you have particularly valuable items at home, make sure they are covered by your homeowner's policy without a separate rider on them.
Always check your auto policy before you rent a car. It's worth bringing a copy of your insurance card with you to your rental pickup. Often, car rental businesses will urge you to buy insurance at the time you rent – but chances are, you're already covered under your own auto insurance policy.
If both you and your spouse have access to employer-sponsored health insurance (lucky you!), figure out who has the better plan for your family's circumstances. There's no sense for both adults to have employer-sponsored insurance (and pay the monthly premiums that go with it) if one of you can cover the other for no additional cost, assuming everyone's job is equally stable and the policies have the same coverage.
What About Life Insurance?
First off, there are two types: term and whole (or "permanent"). Term covers a set amount of time (say, until your kids are out of school and no longer relying on you for support). Whole covers you for however long you live (assuming you keep paying the premiums). Many people don't consider it a good investment, because you could likely make more money by investing those premiums elsewhere.
In an ideal world, every working parent should have life insurance equal to at least three times their annual salary; some experts say as much as 10-12x or more. Life insurance is supposed to cover funeral expenses and living expenses for surviving dependents, as well as (for whole life) help with estate taxes.
The premiums for term are a lot lower than for life. And the earlier you buy a whole policy, the lower your premiums will be. Term insurance is like renter's/homeowner's/auto insurance; you pay the premiums hoping you never need to use it. And when the term ends, you walk away (but don't get anything back for all the money you've put in).
Whole life insurance builds cash value over time. As such, you can borrow against that value for, say, an emergency or educational expenses. (But again, many financial experts argue that there are better ways to invest that money.)
The important thing to remember in all of this is that, in a two-parent family where only one parent is employed, both parents need life insurance. Not just the one with the salary. If something happened to the stay-at-home parent, the employed parent would have to cover all the costs of the labor that the stay-at-home parent provides free of charge. This could well mean paying for child care, cleaning, laundry, chauffeuring kids to activities, and meal prep.
Look at How to Make A Claim
Before committing to a policy, take a look at how you make claims if you need to. See if you will be able to use an independent insurance claims adjuster, and figure out the process involved:
Can you file a claim online?
Can you claim within the first month of a policy?
Do you need to fill out specific forms? Or get evidence?
Things like boiler insurance often specify that they don't cover existing issues, so you'll need to have these repaired before the policy starts.
This might be an area where getting recommendations from friends, and comparing actual-customer reviews of different companies, can help you make a decision about which company to go with. Our homeowner's policy is with the local independent insurance agency that my husband first picked when he moved to this area, based on colleagues' recommendations. When our basement flooded last May, we were extremely grateful that our insurance company handled the process efficiently.
Read the Fine Print
When considering any insurance policy, it's always important to read the fine print to understand both your coverage and how the company calculated your premium. Your premium prices can be affected by many different things. It's worth making some adjustments on your application to try to save money.
For example: For years, we both had full-replacement-value windshield coverage on our auto insurance policy. In ten years of having this coverage on both our vehicles, we used it ONCE. When we actually got that windshield replaced, we realized that the actual cost of replacing a windshield was much less than the total we'd paid for this coverage over the course of a decade. So we dropped that from our policy.
But, you need to make sure that you are honest and careful. You can't claim things that just aren't true – like having a safer driving record, or shorter regular commute, than you actually do. You don't want one of these "adjustments" to void your policy.
Another way to save money on your premiums is to increase your deductible. This is a tricky balance; you need to make sure that you can cover the deductible if something happens.
At the same time, though, it's important to read all the fine print so you know what is covered – and what's not. Many don't cover accidental damage, and not all travel policies will cover you for cancellations. If you need coverage for something very specific, or out of the ordinary, you need to double-check to make sure your policy includes it.
If you enjoyed this post on covering your family's insurance needs, why not share it with others by pinning this image?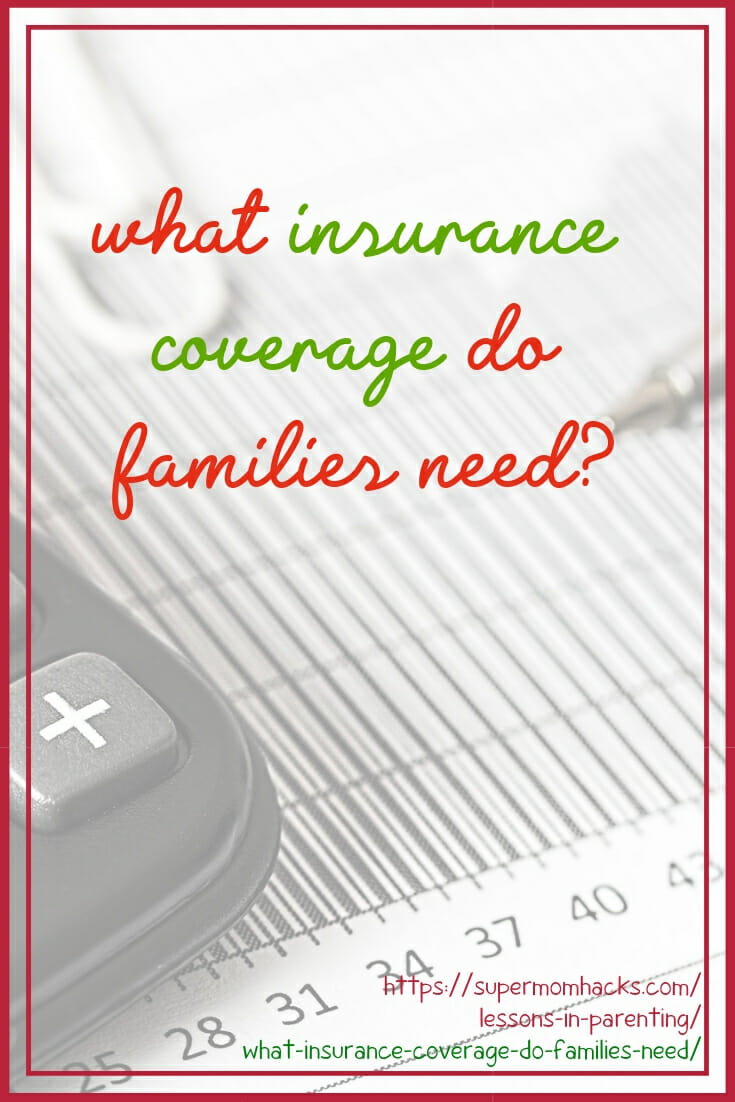 NOTE: This site contains affiliate links. I may earn a small commission from any purchases made through affiliate links, at no additional cost to you. For more information, please read the full disclosure/privacy policy.