Anyone who's ever brought home a newborn will tell you: this event marks a watershed in your life. There is Life Before Parenthood (BP) and Life After Parenthood (AP). Only, for many new parents, those first few weeks and months of parenthood are a complete blur of exhausted sleep deprivation. Whether you're living in the haze right now, or expecting the arrival of that little bundle joy, these top survival tips for new moms will help you survive – and thrive in – this transition!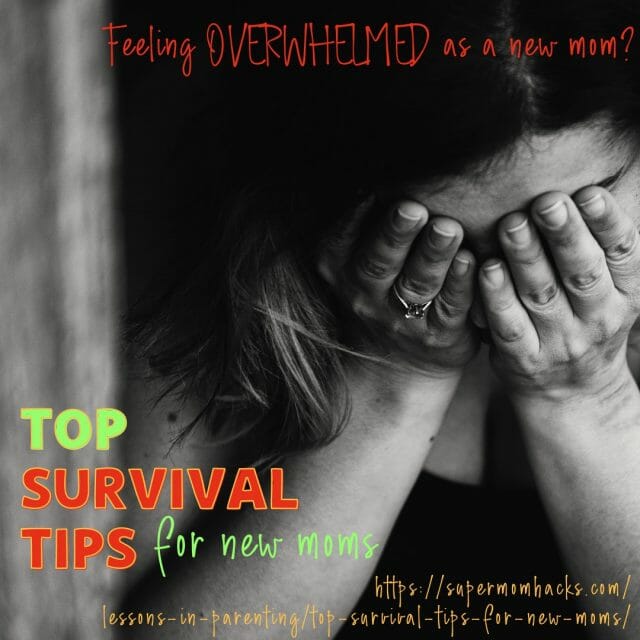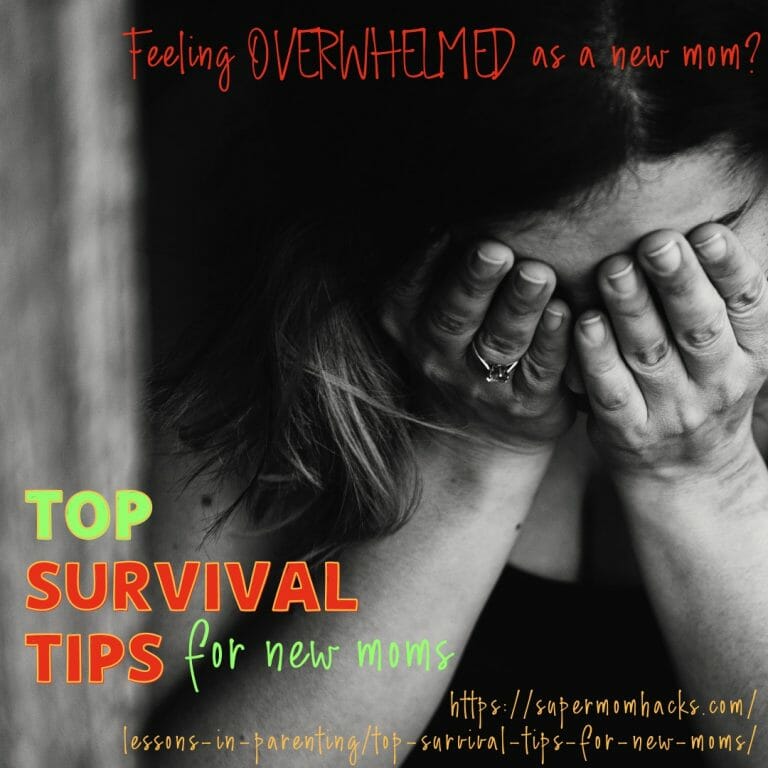 This is a collaboration post. However, please know I stand behind everything written here, and only include links to products/services/resources I'm willing to recommend personally.
Top Survival Tips for New Moms
The hardest thing for most new parents is learning to handle the irregularities in the routine, and all on minimal sleep. This is one reason that mamas who go back to work – or who already have older kids in preschool/grade school – sometimes manage this transition more easily than first-time mamas who are home full-time with their infant.
The other day I overheard a conversation among a group of seasoned mamas at my church, discussing a new mamas' group that had just formed. The mama with three grown kids observed that the new mamas were complaining about not having time to shower. And this working mama thought that was ridiculous! All the other mamas who'd gone back to their outside jobs agreed that this was pathetic.
I noticed that all of us who hadn't had outside jobs to return to were silent. And I suspect the rest of them, like me, totally empathized with those new mamas who were struggling to keep their heads above water. When Baby replaces the routine/life you had before, you have to start from scratch in rebuilding a sense of normalcy.
When Baby replaces the routine/life you had before, you have to start from scratch in rebuilding a sense of normalcy.
Click To Tweet
Hence this post. Many of these survival tips are ones I used to get through those hazy early days. Others, I wish I'd done even more. Give them a try, and you'll start to regain a tiny sense of control over things!
1. Make lists
Lists are a lifeline for the chronically sleep-deprived. Whether you use your phone or a little notebook (mine was brightly colored so it was harder to lose!), it doesn't matter.
Having a constant running list of to-do's, don't forget's, and notes (like the first time Baby smiled, or how much he weighed at each well-baby check) will help you keep on top of it all. If you want to take your list-making up a notch or two, you can give bullet journaling a try. I just WISH I'd known about this method sooner; it would have been such a huge help when Kimmie and Essie were infants.
RELATED POST: How To Start A Bullet Journal, The Easy Way
RELATED POST: How Bullet Journaling Has Made Me A Better Parent
RELATED POST: Will BuJo Bring Back My Mojo?
And don't be afraid to put down things as silly as "take a shower," "eat x3," or "do laundry," Even if you KNOW you will be doing laundry at least once per day (that was MY reality as a mama to a newborn!). The reminders to (try to) eat a proper meal are crucial when you've got new-mama brain. And even crossing off things as basic as showering or starting the washer = you accomplished something on your list.
Delegate And Accept Support
If ever you were too prideful before to accept the help of others in your life, now is not that time. Life will be so much simpler if you accept whatever help you can:
If parents or friends offer to babysit for a few hours, so you can run errands or go on a date or take a nap, jump on the opportunity!
If you have supermarket delivery in your area, place your order online and save the time you spend traveling to and from the supermarket.
If you're overdue to get the furnace serviced or the

chimney sweep

in, but you keep putting off scheduling the appointment, see if you can delegate the scheduling step to your spouse or a friend.
Dying for a haircut or a mani-pedi, but feel as if you just can't get away from Baby for that long? Hire someone to come to you instead!
The more you can delegate to others as a new mama, the less you'll have cluttering your brain – and your to-do lists. This is why every new mom should delegate whatever she can, so she has more time to care for herself AND her baby.
Use Systems To Get Organized
I adore baskets for all kinds of home organization purposes, but this love truly flourished when I was a new mama. Baskets were key to keeping the clutter at bay, keeping things tidy and organized, and saving me from extra steps a thousand times a day.
RELATED POST: Why Baskets Rock
RELATED POST: The Functional Home: Stay Clean & Organized, Even With Baby & Kid Stuff
Consider setting up a basic basket of supplies on each floor of the house, with everything from clean diapers/wipes to clean burp cloths. Have your own must-haves (phone, snacks, water bottle, tablet) in a basket or caddy that you can take from one room to the next. When you go outside to the yard with Baby, have a basket with these essentials for you, sunscreen/hat for Baby, and maybe a few toys.
And if you haven't already discussed with your partner how your new family member might affect the division of labor around the house, don't postpone it any longer! If one of you is home with the baby all day, that person needs a break when the other gets home from work. If you're breastfeeding, your partner needs to pick up some of the slack somewhere else so you can catch up on sleep.
One person can't do ALL the housework, child care, cooking, and cleaning. Make sure you divide the workload as evenly as possible. It may help to write down all the tasks that need doing, both in the house/for the family, outside the house/in your yard, and for Baby, and dividing them up from there. If you haven't already, read these tips for cleaning your house in less time, and perhaps consider hiring outside cleaning help for the short term.
RELATED POST: Clean House In Less Time? Here's How
RELATED POST: Incredible Cleaning Tricks for Busy Moms
Get Meal Help
And see if you can get some help with meals, too. The last thing you should be doing is eating junk food and/or takeout all the time. If you're still healing from childbirth, your body needs healthy foods to mend itself. And if you're breastfeeding, a healthy diet for you will not only give your baby the best nutrition, but start them down the path to a lifetime of healthy eating habits.
With any luck, you were able to cook ahead and freeze meals before Baby's arrival. If you are part of a mom's group or a church community already, see if they offer a meals-for-new-moms service. If not, perhaps you could have them (and/or your coworkers) organize one on your behalf, then "pay it forward" in the future. The free website Take Them A Meal is a great tool for organizing these exchanges, and is what the new moms' support group at my church uses.
By using lists and checklists, delegating where you can, asking for help, and keeping open communication lines with your partner, you CAN make it through those early weeks and months with Baby at home. It's hard to believe now, but I promise you that one day you'll realize you're no longer as exhausted and overwhelmed, and life will start to feel a little more "normal" again. Until then, hang on and try to enjoy the ride!
Experienced parents, what did I miss? What are YOUR best survival tips for new moms? Let us know in the comments!
If you enjoyed this list of survival tips for new moms, why not share it with others by pinning this image?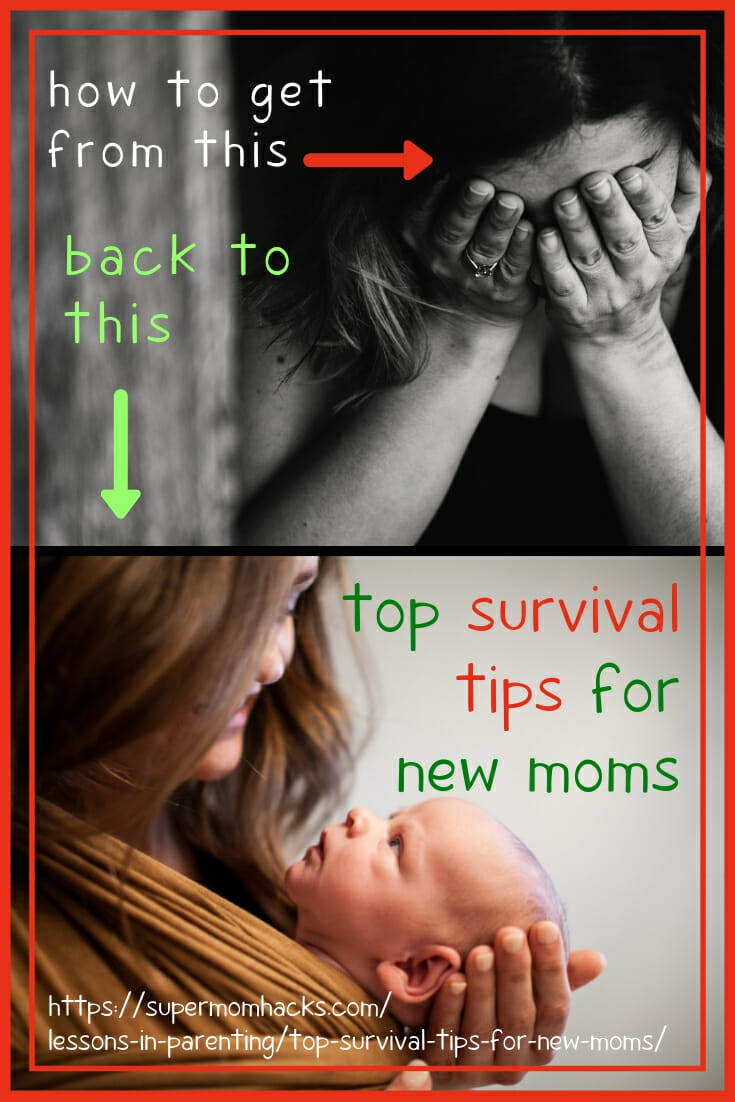 NOTE: This site contains affiliate links. I may earn a small commission from any purchases made through affiliate links, at no additional cost to you. For more information, please read the full disclosure/privacy policy.