17 Simple Ways to Sort out Your Chaotic Family Home
Every busy mama knows how stressful it is to walk into an untidy, disorganized, chaotic household. There's nothing more unsettling than feeling like your home is falling apart at the seams. Whether you've been out at work all day or running errands, staying on top of home projects often feels like an uphill battle. Where do you even start?
It doesn't have to be this hard, though. With this checklist, you can keep track of what needs doing when, and how often you need to take care of different aspects of maintaining your home for a lifetime of family memories.
So without further ado, here is your
Busy Parents' Checklist To Help You Stay On Top of Home Projects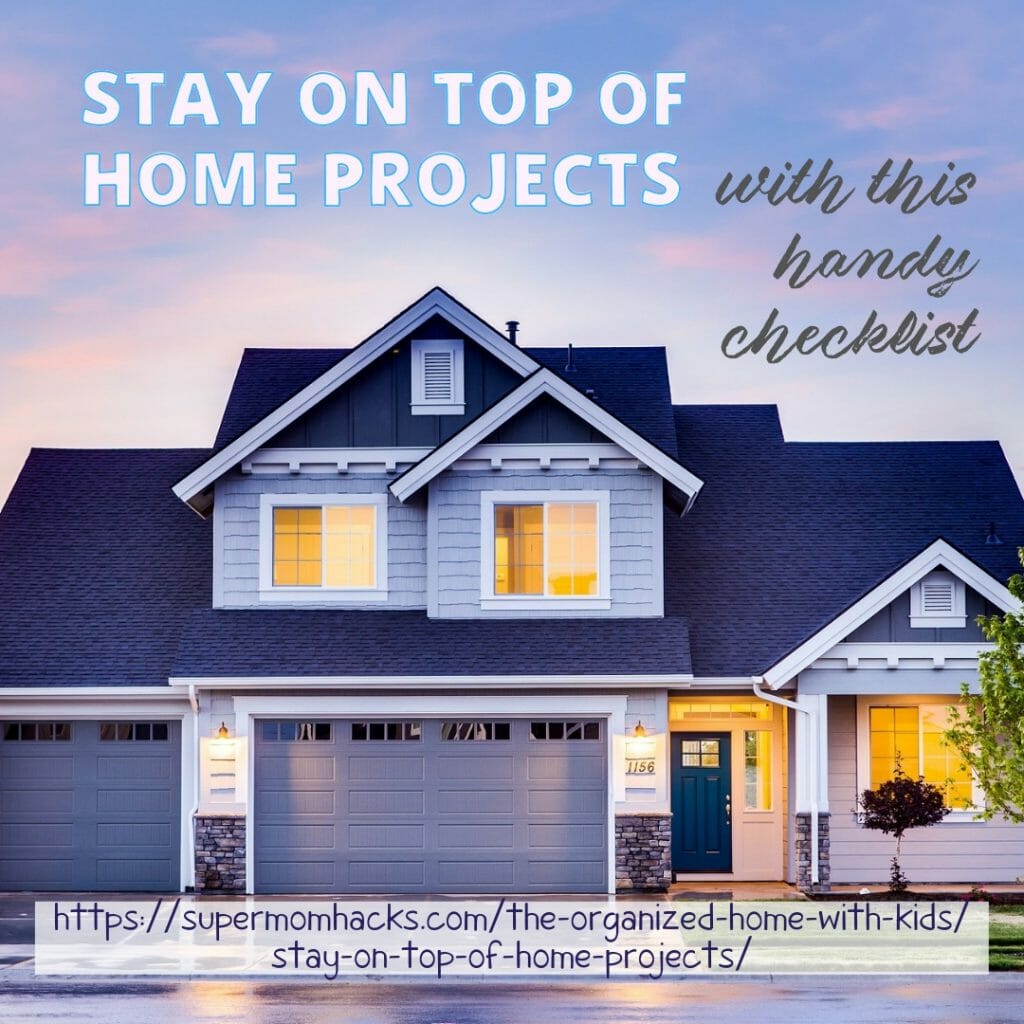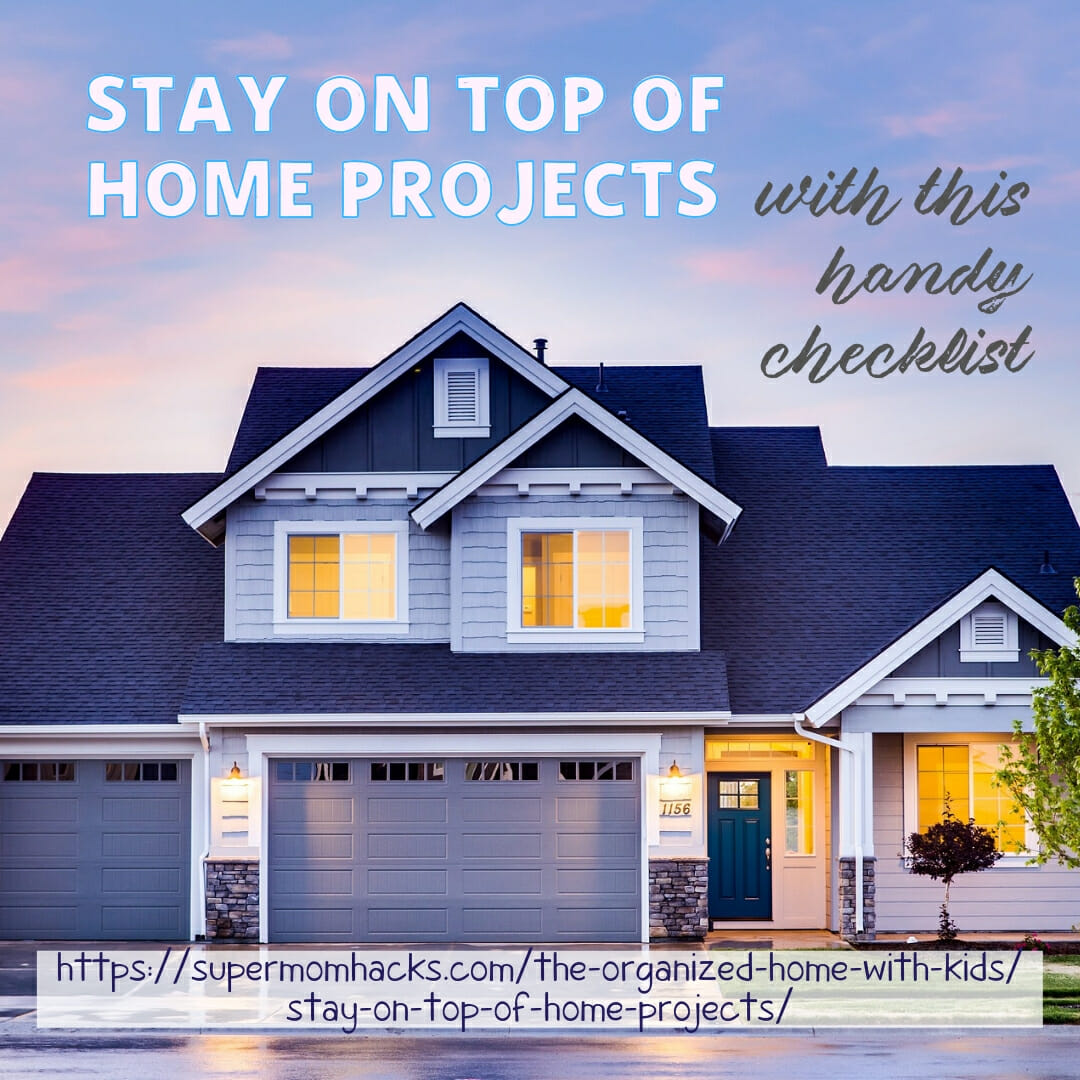 1. Declutter/purge.
HOW OFTEN: At least once a year; ideally, quarterly (with the change of seasons).
RELATED POST: The #1 Shortcut to a More Organized Home
RELATED POST: 10 Things To Purge From Your Garage NOW
Families with kids outgrow things faster than you can blink. Clothes no longer fit right after that latest growth spurt. Your child graduates out of last year's toys and books. Hobbies change along with tastes. And even if an older sibling's hand-me-downs fit, they may just be worn out.
If it's still usable by someone else, donate it to your favorite charity, or sell it online or at a children's resale event. Otherwise, toss it.
RELATED POST: Considering a Consignment Sale Event? Six Tips to Help You Cash In Big
2. Wipe down kitchen counters and sink
HOW OFTEN: As needed, at least once a day; at the very least, before and after food prep
Keeping things neat and tidy is crucial in all areas where food prep happens. You can't safely feed your family if the countertops are covered with gunk from previous meals. Whether you use paper towels and commercial cleaning spray, commercial cleaning wipes, or a washable cleaning cloth and vinegar doesn't matter. The important thing is knowing that your family's meals come from a place that's free of germs, harmful bacteria, and cross-contamination threats.
3. Put things away where they belong
HOW OFTEN: As often as needed, at least once a week, up to several times a day
Even if you declutter regularly (see #1 above), it's hard to keep clutter at bay if you don't get yourself (and your family!) in the habit of putting things away where they belong. How often you do this is up to what works for you and your family. With little kids especially, a chore chart can really help them practice these habits from an early age.
RELATED POST: How We Became Chore Chart Converts
RELATED POST: Clothespin Chore Charts: How-To's, Inspiration, and Tips for Success
Try one or more of these:
Make "rules." For example, when homework/mealtime is done, we always clear our desk/the table.
Assign everyone a basket, and add things as needed throughout the day. Before bed, each person puts away everything in his/her basket.
Set aside 15 minutes every evening for tidying living spaces (e.g., putting away toys).
Establish good habits as soon as your children are born, both for them and for you. Some of ours include hanging coats/putting away shoes upon entering the house, making beds as soon as we get up, and always hanging clothes/towels on racks or putting them in the hamper (vs. throwing them on the floor).
4. Reassess your storage
HOW OFTEN: As needed, at least once a year to once a season
It's impossible to put things away where they belong if those things don't have a home. Your life changes from one season/year to the next; it's important to make sure that your family's storage needs keep up.
RELATED POST: The Functional Home: Stay Clean and Organized, Even with Baby & Kid Stuff
RELATED POST: Easy Kitchen Organizational Hacks You'll Love
So pay attention to when things don't have a home, have lost their home, or have outgrown their home. Maybe you need a bigger bookcase for your child's room, now that they're on to chapter books. Or additional bins for their clothes, now that they're in size 6x instead of 6 months. Once you've thoroughly decluttered (see step #1) and put things away as best you can (see step #3), then reconfigure your storage so that everything has a home again.
5. Vacuum/sweep floors, empty trash, swap sheets/towels, do laundry, clean bathrooms
HOW OFTEN: As often as needed, but at least once a week
How often you need to do these basics depends partly on how dirty things get. When we had an infant around, we needed to run a batch of laundry every day, and it wasn't uncommon to change the crib bedding several times a week. And if you allow shoes in your home, have small children prone to getting food on the floor, have pets, or the weather outside is subpar, your floors will need cleaning once a day or more. Staying on top of dirt levels and clean linens is especially important for keeping those with allergies and asthma healthy.
RELATED POST: How To Allergy-Proof Your Home
Now that the girls are older, we've finally gotten into a more regular routine of weekly family cleaning sessions, thanks to our Chore Jar. But even smaller children can (and should) help around the house.
RELATED POST: How I Got My Kids To Help With Cleaning
RELATED POST: Get Your Kids To Help Around The House: 21 Hacks
6. Deep-clean your home
HOW OFTEN: Ideally, at least twice a year (spring and fall); more often as needed
My mama still takes a week each spring and fall to do "spring cleaning" and "fall cleaning." Though I never seem to have a full week to devote to either task, I aspire to emulate her. More regular cleaning on a daily and weekly basis makes the major seasonal cleaning less of a chore. Some of the things on my spring-and-fall cleaning list include:
Do a thorough dusting/vacuuming behind/under all pieces of furniture (this requires moving all pieces of furniture)
Wash the windows
Dust all room corners
Flip and dust all the air vents in our home (they all come in pairs one above the other – one to release hot air near the floor in the winter so it rises, the other to release cool air higher up in the summer so it will sink)
Clean the blades on all the ceiling fans
Steam our minimal amount of carpeting with a carpet cleaner
Turn the outside hoses on/off; get out/put away the summer furniture
Swap out everyone's clothing and shoes from summer wardrobe to winter wardrobe, or winter wardrobe to summer wardrobe
7. Tend to the yard
HOW OFTEN: At least spring and fall, with weekly and/or monthly maintenance as needed throughout the growing season
Besides weekly mowing and monthly shrub-trimming during the warmer months, your yard needs TLC at different times of the year. At the very least, we clean out the winter's dead leaves from our flower beds each spring, and put down new mulch every year or two as needed.
If you have flower gardens loaded with perennials, you may need to water them or deadhead flowers once or more per week during the growing season. Otherwise, you'll need to replant whatever annuals you like throughout the year as seasons change. If you have flower gardens or perennial edibles (e.g., blueberry or raspberry bushes), they also often benefit from plant food, soil amendment, and/or fertilizer early in the season.
Helping your yard stay healthy and well-maintained will make your home an inviting place to enter for friends and family alike!
RELATED POST: Improving Your Home's Curb Appeal, Made Easy
8. Trim your trees
HOW OFTEN: At least once per year (ideally in the spring), more often as needed after storms
Having a tree limb (or an entire tree) crash into your house is NOT fun. Having it crash into a neighbor's house is even worse. That's why you need to stay on top of tree maintenance for any trees that live on your property.
Have your trees professionally trimmed every spring. Hiring a professional arborist to do the job may cost a little more, but they can also assess the overall health of your trees and provide recommendations for dealing with trees that are diseased or dying, before it's too late. With climate change causing summertime storms to be more intense and more frequent in many parts of the country, NOT staying on top of tree maintenance is a recipe for disaster.
9. Test your smoke detector and/or replace batteries
HOW OFTEN: Every six months (spring and fall)
Smoke detectors are things we all need to have, but often don't give a lot of thought to. But if they're not working properly when we need them, the results could be deadly.
So every spring and fall, test your smoke detector to make sure it's working properly. If yours aren't hard-wired into your home's electrical grid, replace the batteries at the same time.
10. Comparison-shop for better utility and insurance rates
HOW OFTEN: At least once a year
This may not seem like something that belongs on a "home projects" checklist, but it should be. Partly because any major home improvements (such as an addition or new porch) can affect your home's assessment, partly because you SHOULD check on these regularly anyway. Whether you have a choice of electrical providers, your homeowner's or car insurance could use some trimming, or you want to keep your cable/internet/phone bills from creeping out of your control, it's a good idea to schedule reminders to yourself to check for better rates.
For example, I have a little reminder in the file where I record bills paid, right at the top. It reminds me of the next time we're due to renegotiate our internet rate with our ISP, which goes up every 12 months unless I call and ask for a better rate. By regularly renegotiating our utility rates and checking at least yearly for discounts or better plans, we have more money to put toward other home projects.
11. Get your heating and/or cooling system professionally serviced
HOW OFTEN: Every fall for your home's heating system; every spring if you also have central air conditioning
This is not a DIY. You need to have a pro come in and service your heating system before each winter's heating season begins. The same is true for your AC before the summer starts. Just like regular oil changes in your car help keep your car running smoothly, getting your home's heating/cooling system serviced regularly can help prevent larger issues, and spot smaller issues before they escalate.
RELATED POST: Should You DIY Or Call A Pro?
12. Replace your home heating/HVAC system
HOW OFTEN: Every 10-20 years; sooner if you don't maintain it
Regular improvements in technology mean that each year's home heating system is more efficient than last year's model. Depending on how well you maintain your system, every 10-20 years it's worthwhile to replace your system with an updated model, both for more efficient heating/cooling and for lower energy bills.
13. Replace major appliances
HOW OFTEN: Every 10-20 years, or as needed
Realistically, you can probably get more than 10 years out of most appliances; my brother Evan just last week replaced the washer/dryer he first purchased 14 years, 4 jobs, and 3 states ago.
While there is no set schedule for replacing these things, you should keep every 10 years on your mental back burner. By planning (and budgeting) for this, you'll be able to afford to do so when the time comes. For example, if one of your appliances dies on you and suddenly needs replacing (as has happened to us more than once in the decade-plus since my husband and I married). And when older appliances start to get worn out, it's worth replacing them if they are still doing their job, but not as well or efficiently as they should.
Depending on your level of handiness, you (or in my case, Dear Husband) may be able to do minor repairs on some appliances to prolong their life. But if it's something more major, or it's been a decade or more since that appliance entered your life, it's probably time to let it go – and replacing could well be cheaper than replacing by that point anway. Look for big sales around Memorial Day, and time your replacement for then if you can.
14. Update household equipment
HOW OFTEN: As needed; keep an eye out for general wear and tear, and look for sales on replacement items in the month before Christmas (and sometimes around other holidays as well)
It's a good idea to replace those smaller day-to-day items as needed, whenever they start to get worn out. Ideally, you'll buy good-quality household items in the first place, so they last longer. But whenever (for example) kitchen gadgets start to wear out, the chances that someone will hurt themselves on, say, a dull blade increases. By keeping knives sharp, replacing broken items, and getting rid of items as you outgrow their usefulness, you'll keep your home both safer and tidier.
RELATED POST: How To Make Your Home Safer For Kids
RELATED POST: Kitchen Hacks For Keeping Your Family Safe
15. Clean out your closets and garage
HOW OFTEN: At least once a year; ideally, twice a year (spring and fall) or once a quarter
This is partly about staying on top of the seasons (you don't need to access winter sleds in the summer, or pool equipment in the winter). But it's also about decluttering/purging what you no longer need from your life (see #1).
Going through ALL your closets (not just those in the bedrooms) at least once a year is a great way to reassess what you no longer need, and move it on to its next home. The same is true of your garage. By purging things you no longer need/use from your life on a regular basis, you'll keep them from building up over time to where they're overwhelming. And you'll make more room in your life for what IS current.
RELATED POST: 10 Things To Purge From Your Garage NOW
RELATED POST: The #1 Shortcut to a More Organized Home
16. Update your decor
HOW OFTEN: As often as you like, really, from seasonal shifts quarterly to a major refresh every few years
There's nothing that says you have to completely redecorate your home every twelve months – but let's face it, a fresh new look can be so uplifting, when it's in your budget. Whether you like to stay on top of the latest color trends or your tastes are more classic, it's fun to redecorate every so often, even if it's just the accents in one room.
I don't swap out my entire interior design every year (or even every few years!) from top to bottom. But I do try to stay on top of things with small updates to at least one room each year. Most years it's a fresh coat of paint in one or more rooms; one year it was new hardware for all our cabinets. And along with decorations for seasonal holidays, I swap out the wreath on our front door four times a year, to match the seasons. Moreover, doing a little bit every year – and taking advantage of when things are on sale – is a great way to keep your home updates within a manageable budget.
RELATED POST: DIY Painting Tips To Save Time And Money
17. Replace your roof
HOW OFTEN: Every 25 years or so; sooner if needed
Your roof is a critical part of your home's ability to shelter you and your family from the elements. It's important to stay on top of regular roof maintenance by addressing any storm damage promptly, and checking at least once a year for any small issues before they become major problems.
When it comes time to replace your roof, there are lots of options available, from traditional asphalt shingles to slate, ceramic, or wooden shingles, to even metal. Do your research to figure out which roof will work best for your climate and budget; talking to neighbors is a good place to start.
As a busy parent, how do YOU stay on top of home maintenance so nothing slips through the cracks? Let us know in the comments what tricks and hacks you use to stay on top of home projects!
If you enjoyed this checklist to help you stay on top of home projects, why not share it with others by pinning this image?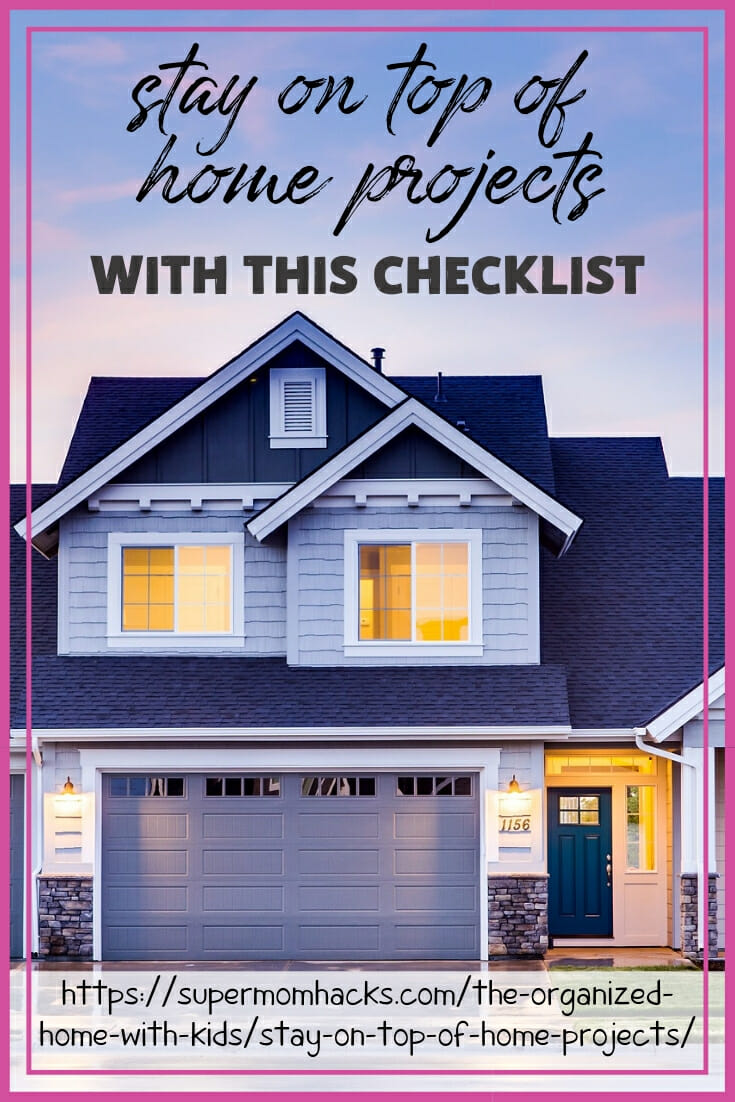 NOTE: This site contains affiliate links. I may earn a small commission from any purchases made through affiliate links, at no additional cost to you. For more information, please read the full disclosure/privacy policy.