How To Get The Most Out Of Tight Quarters By Maximizing Space:
Your home is at the heart of your family and its needs. When spaces function well, family life runs so much more smoothly. But when your home has wasted spaces, or spots that don't serve their purpose well, everything is harder. This is especially true if you live in tight quarters. Fortunately, maximizing space in a small house (or putting underutilized spaces to work in a larger home) isn't as hard as you'd think. Here are some of my favorite tricks to help you do just that.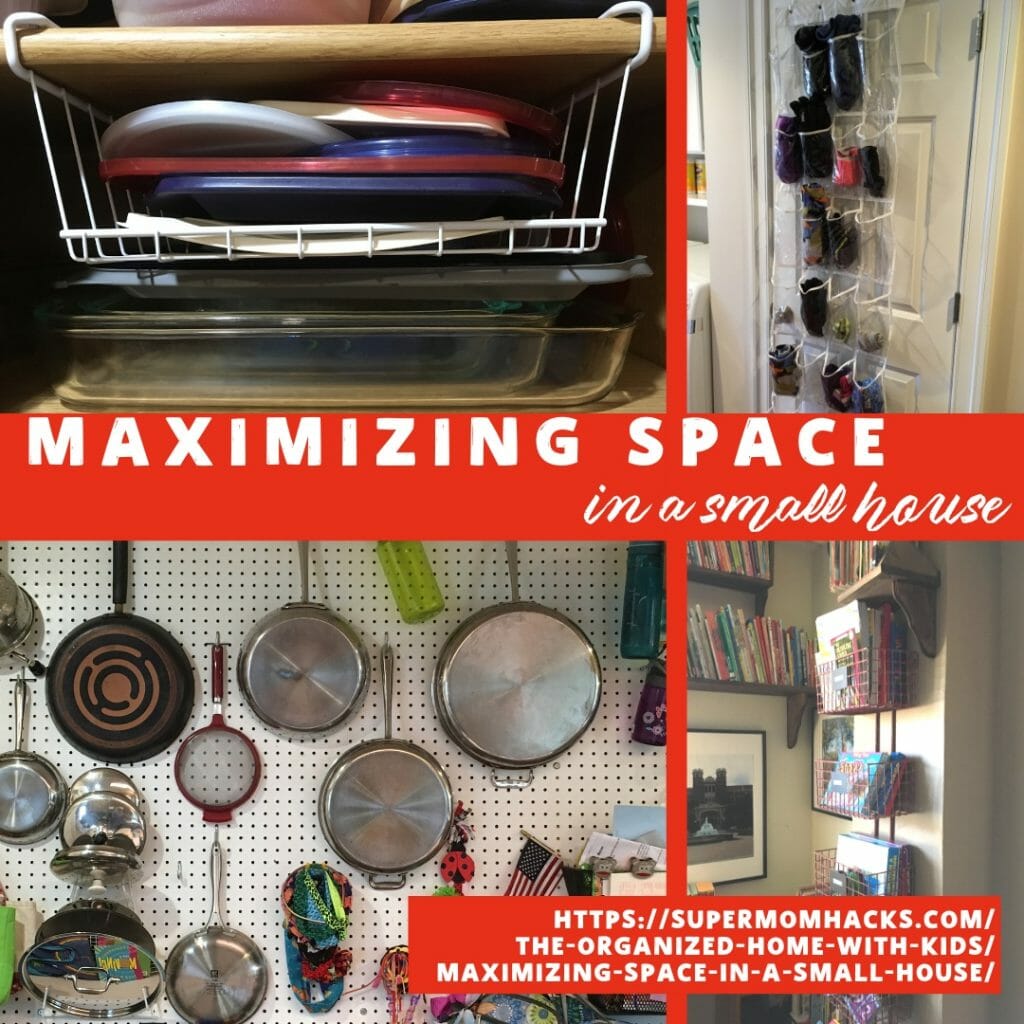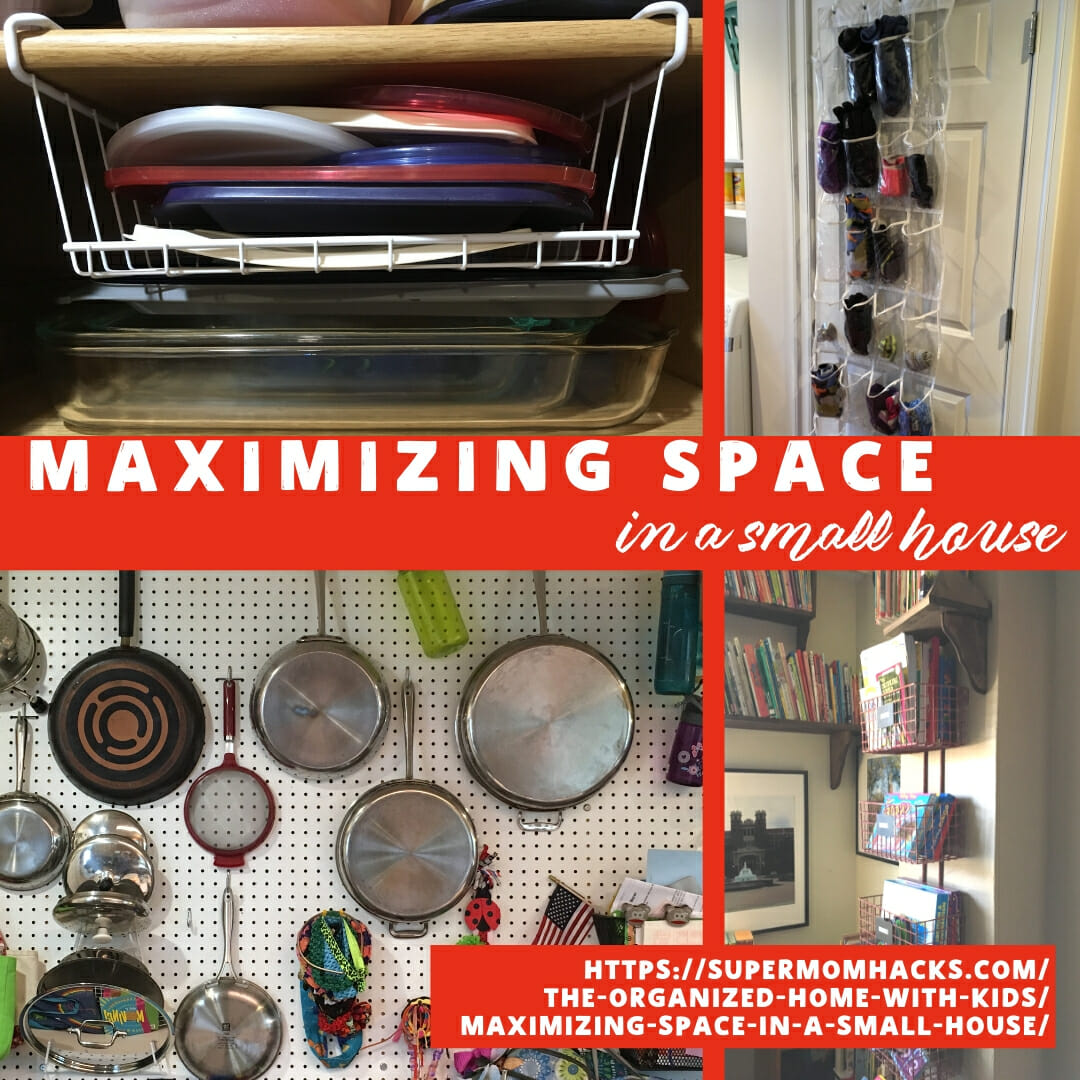 Maximizing Space To Get The Most From It
First things first:
If you haven't already become addicted to Marie Kondo's new Netflix series, let me cut to the chase for you: Purge, purge, purge. As in, declutter your life of the things you DON'T need so you have more space for the things that are meaningful and relevant now.
RELATED POST: The #1 Shortcut to a More Organized Home
RELATED POST: Ten Things To Purge From Your Garage Now
For example: Garages and closets are notorious for becoming dumping-grounds for things we no longer need, from excess hobby gear to castoffs awaiting donation and other outgrown items.
But at the same time, you should think carefully about ALL the things you no longer need in your life, not just excess "stuff":
Is your inbox cluttered with emails from causes you no longer care about?
Is your calendar cluttered with commitments that no longer fit where your heart is?
Do you need to learn how to say "no" more so you have room in your life for the things that really matter?
Are you hanging on to toxic relationships from the past that are dragging you down?
Once you begin to clear the excesses, it will be much easier to see what you have and treasure – and then decide what to do about it.
Maximizing Space In Your Attic and Basement
Attics and basements can be nonfunctional dumping grounds for all sorts of things. Or they can be functional "bonus space" in your home. It all depends on what you do with them.
I've already written elsewhere on renovating your attic into a functional living space, as I did in my husband's former "city house" to make a home office for myself. And although I haven't written blog posts on the finished results yet, our basement's flooding last year gave us a prime opportunity to make that space even more functional than it was before. With careful planning, you can easily carve out one or more rooms from these spaces.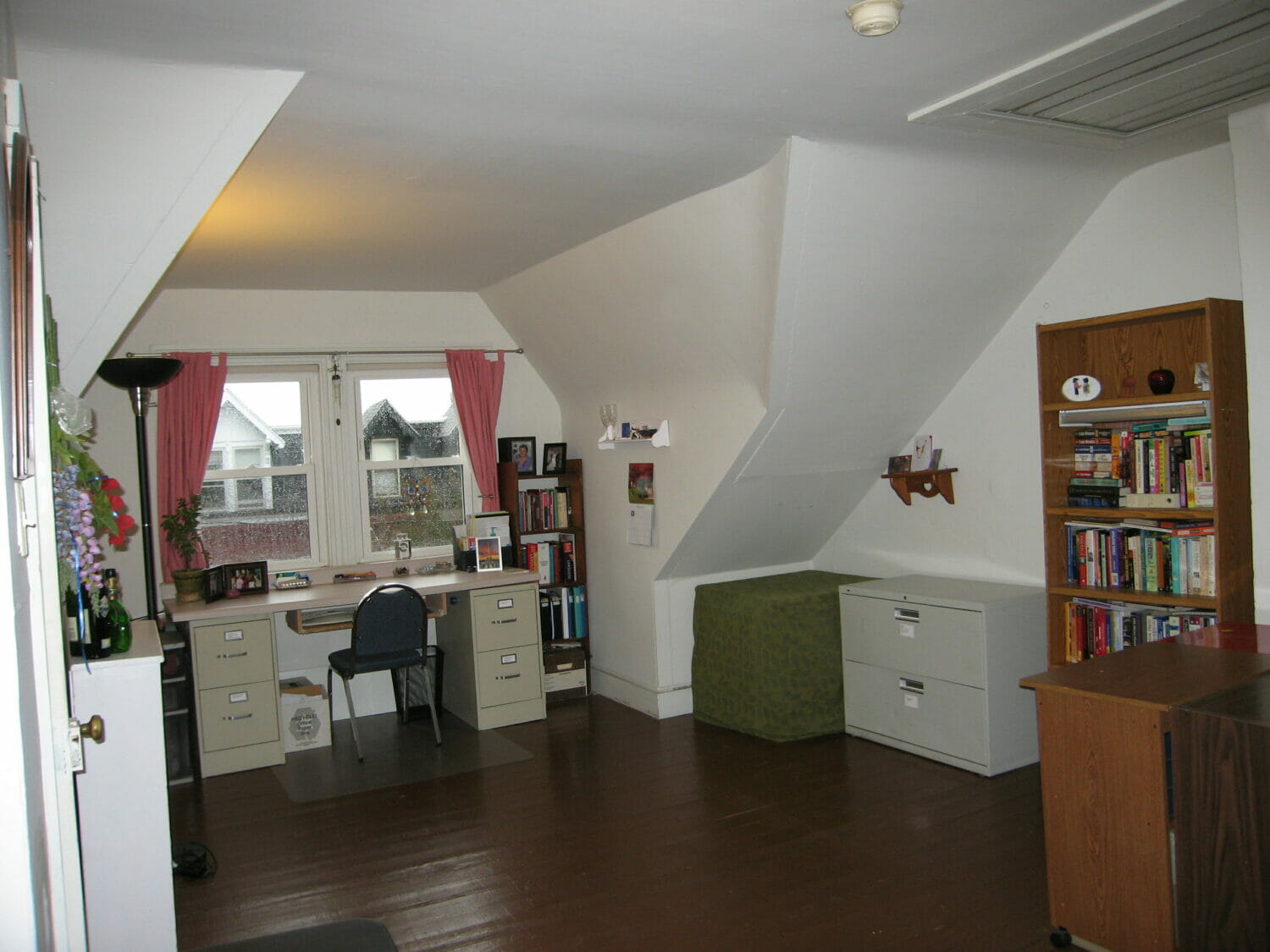 There are of course things you'll need to consider, like humidity and temperature levels, when you're turning these areas into living spaces. For example, if your basement is currently unfinished, you'll probably want to hire a contractor who specializes in finishing basements to help you take that step. But even if you only partially finish your basement, or renovate just half your attic into living space, the small steps you take along the way (for example, adding extra attic insulation) can increase your home's functionality AND improve its energy efficiency.
Maximizing Space in Closets and Cupboards
I love love LOVE "optimizing" closets. Ever since buying a condo in my 20s, I've redone the closets everywhere I live, by purchasing off-the-shelf separates to build functional storage spaces.
One of the easiest ways you can do this is by adding extra shelving along the sides of your closets. That space is often dead space where clothes-you-no-longer-wear tend to accumulate, at the far ends of the clothing rods. Rather than letting this happen, why not reclaim that space for some adjustable shelves? I've even written an easy how-to guide on installing adjustable shelving.
Likewise, I hated the super-deep "pantry cupboard" in our kitchen when we first moved into this house. But by installing roll-outs on all the shelves, I've been able to reclaim that space and make it truly accessible and usable.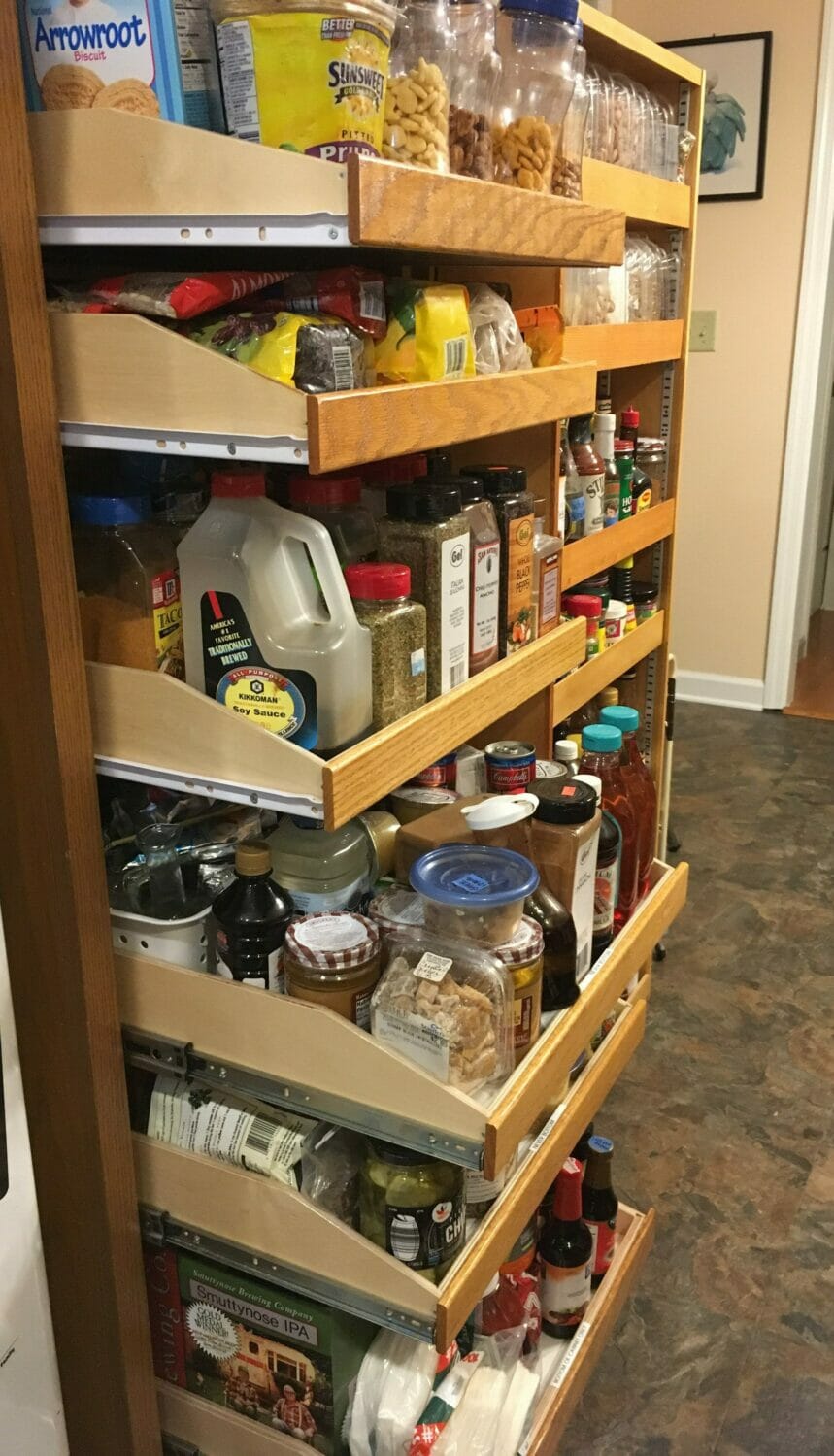 RELATED POST: Give Your Kids' Closet a Makeover This Weekend With DIY Shelving
RELATED POST: Easy Kitchen Organizational Hacks You'll Love
I
n case you're curious, those custom slide-outs we LOVE are from

Slide-A-Shelf.

In just a few weeks, for much less than custom cabinetry, they'll build a slide-out shelf to fit almost any space you have. Having something that fit our oddly-deep cabinet perfectly was by far a better solution than trying to work with off-the-shelf things in home-improvement stores, all of which would have left us with odd gaps of unusable space. The quality is first-rate, the shelves come with step-by-step instructions, and their customer support was fabulous whenever I had a question!
Making More Space When You're Still Short
Once you've optimized all the spaces that already exist in your home, it's time to make more if you need them. There are so many ways you can do this, but most of my faves involve reclaiming under-utilized vertical space.
One of my signature ways to do this is to tuck an extra shelf up near ceiling-level for little-used things. Such as this extra shelf in our back hallway, over the doorway leading to the kitchen: This also works well with overhead storage racks in the garage, or extra bookshelves tucked in above doorways or windows.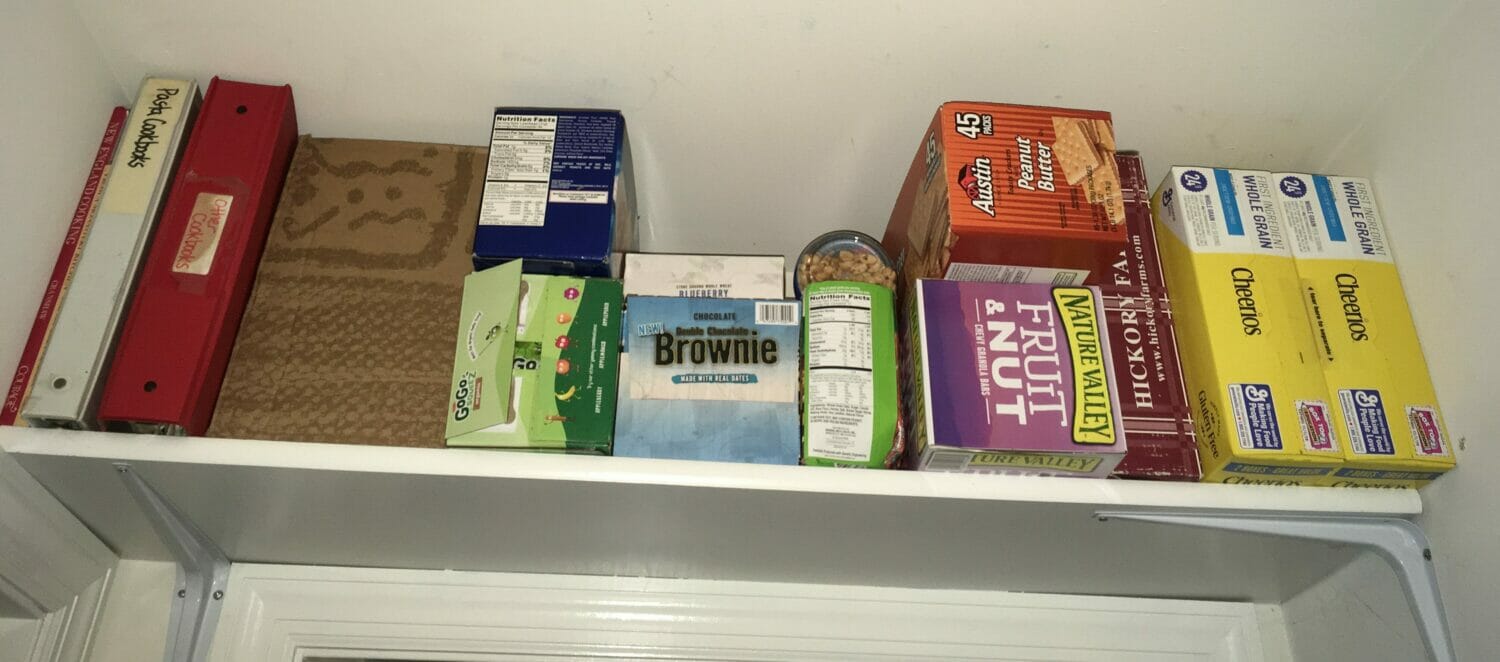 But any vertical space will do, really. There are all sorts of little over-door racks and under-shelf baskets you can get to add in extra space where you need it, like on the inside of closet and cupboard doors. We have clear 24-pouch shoe hangers in several spaces throughout our home, such as on the back of a closet door in our basement. We use that out-of-the-way closet to store camping and travel gear. So I put a lot of the girls' small things that they need for summer camp, like their bug repellent and camping headlamps, into those clear pockets where they're easy to find.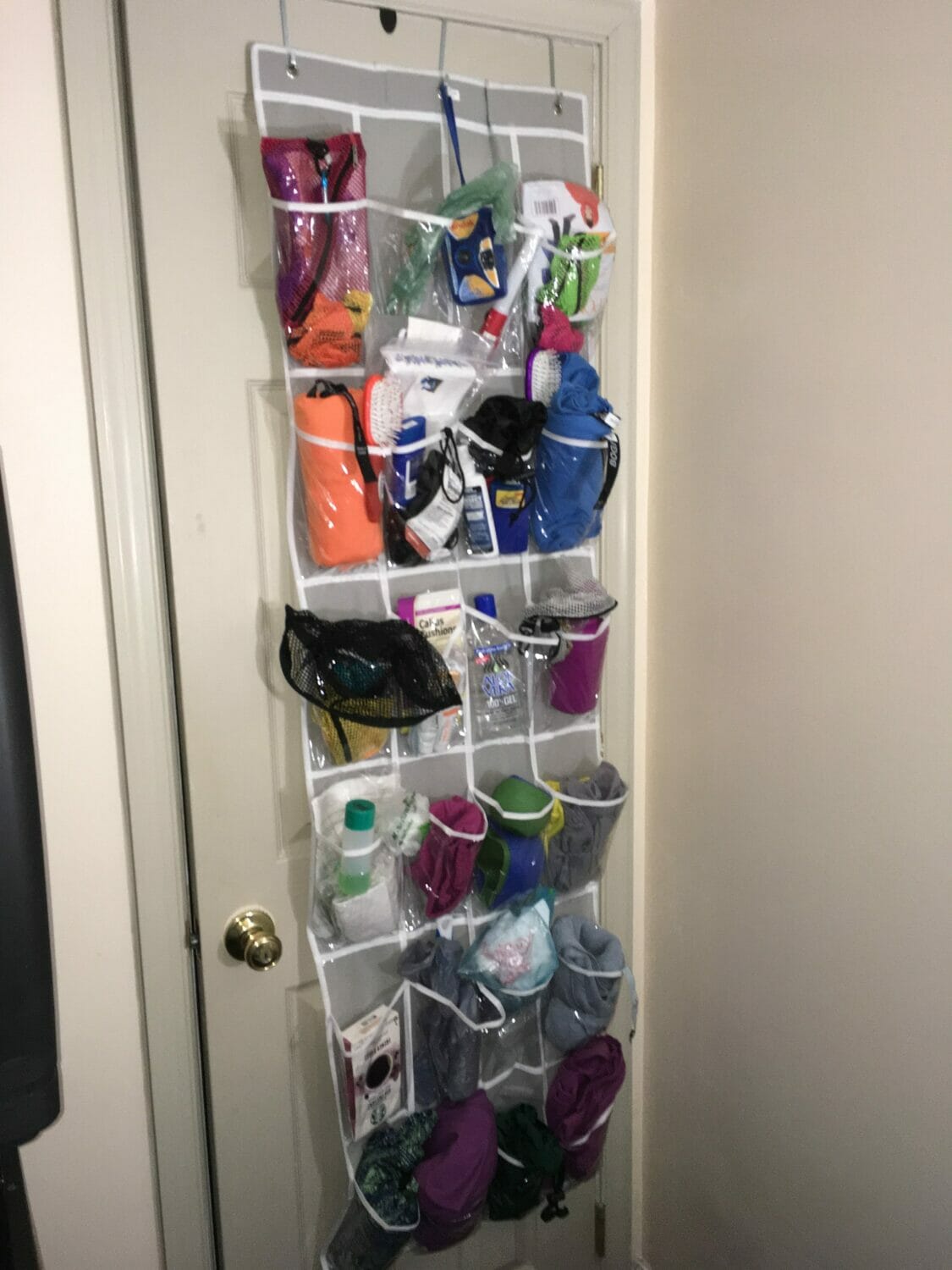 And any little narrow corner can become a useful space if you add some narrow shelves. One of my favorite examples is the floor-to-ceiling shoe rack our neighbors have installed in their garage, just outside the door to their mudroom, in a space that's too narrow for much else.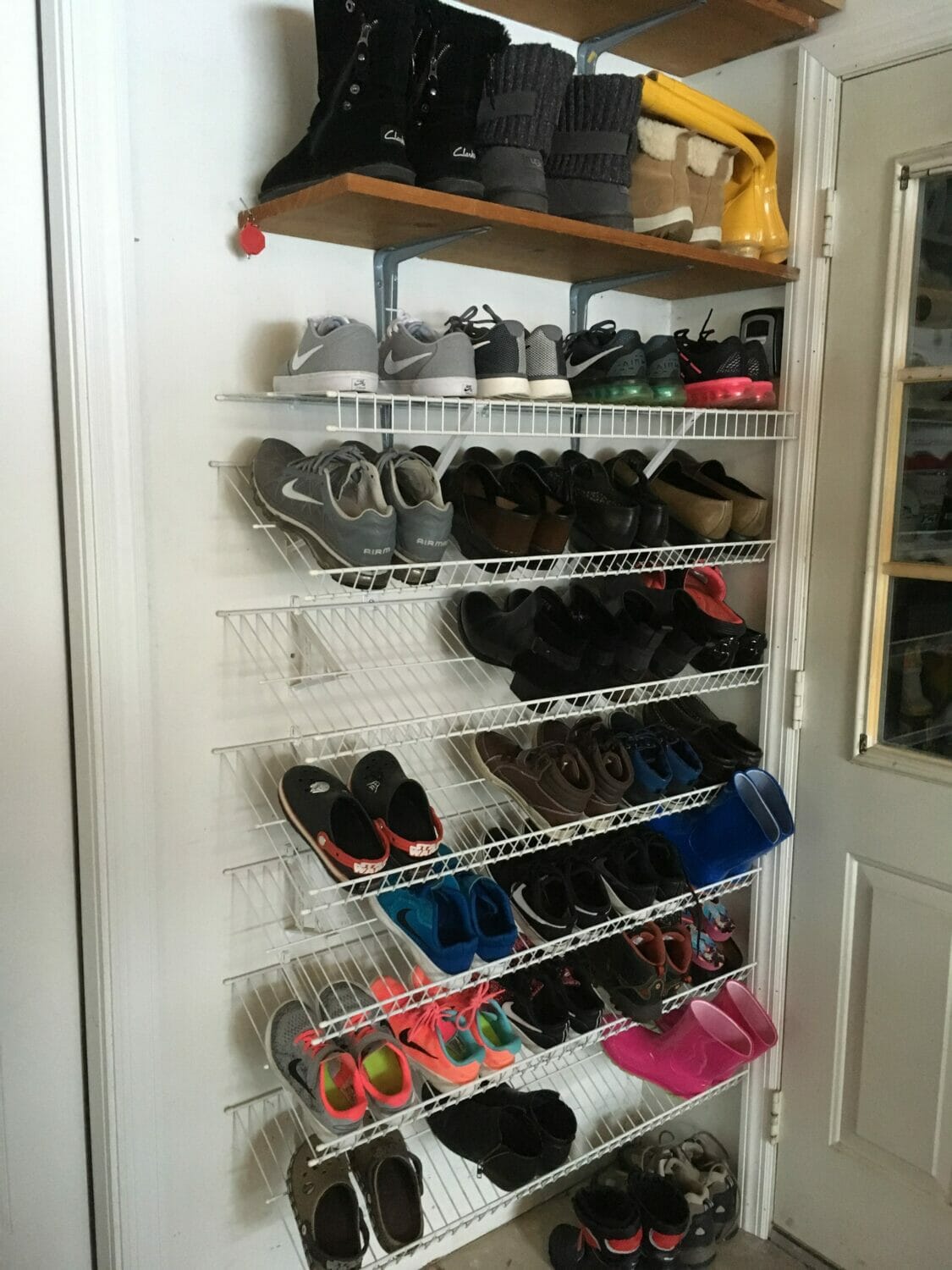 Or if you want to convert an entire wall into extra storage, you can install some pegboard for hanging things off of. This is what I did on the right wall of the camping closet last winter. That way, lots of larger items we use regularly are easy to grab, instead of being hidden away in boxes. (Notice also the adjustable floor-to-ceiling shelving I installed along the back wall.)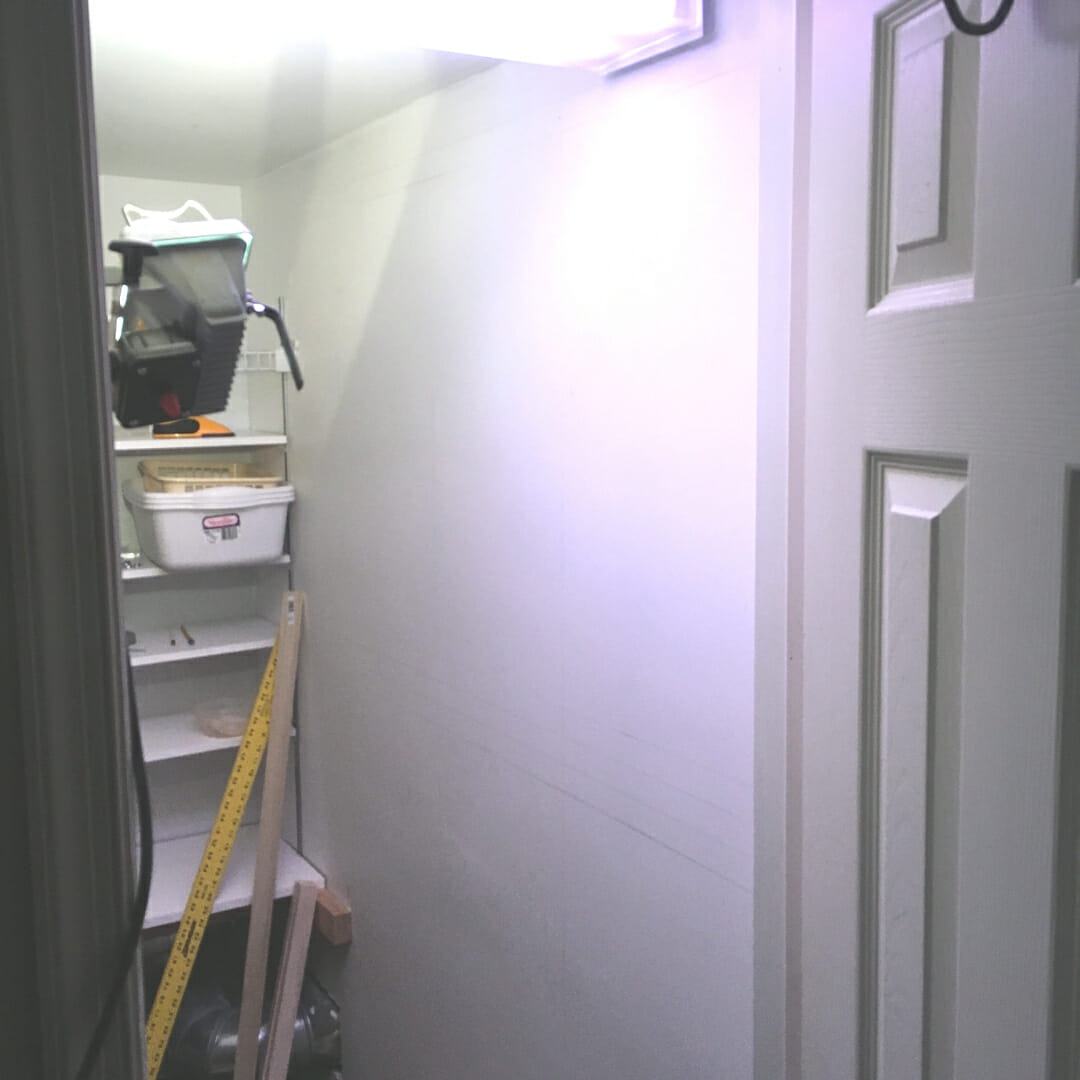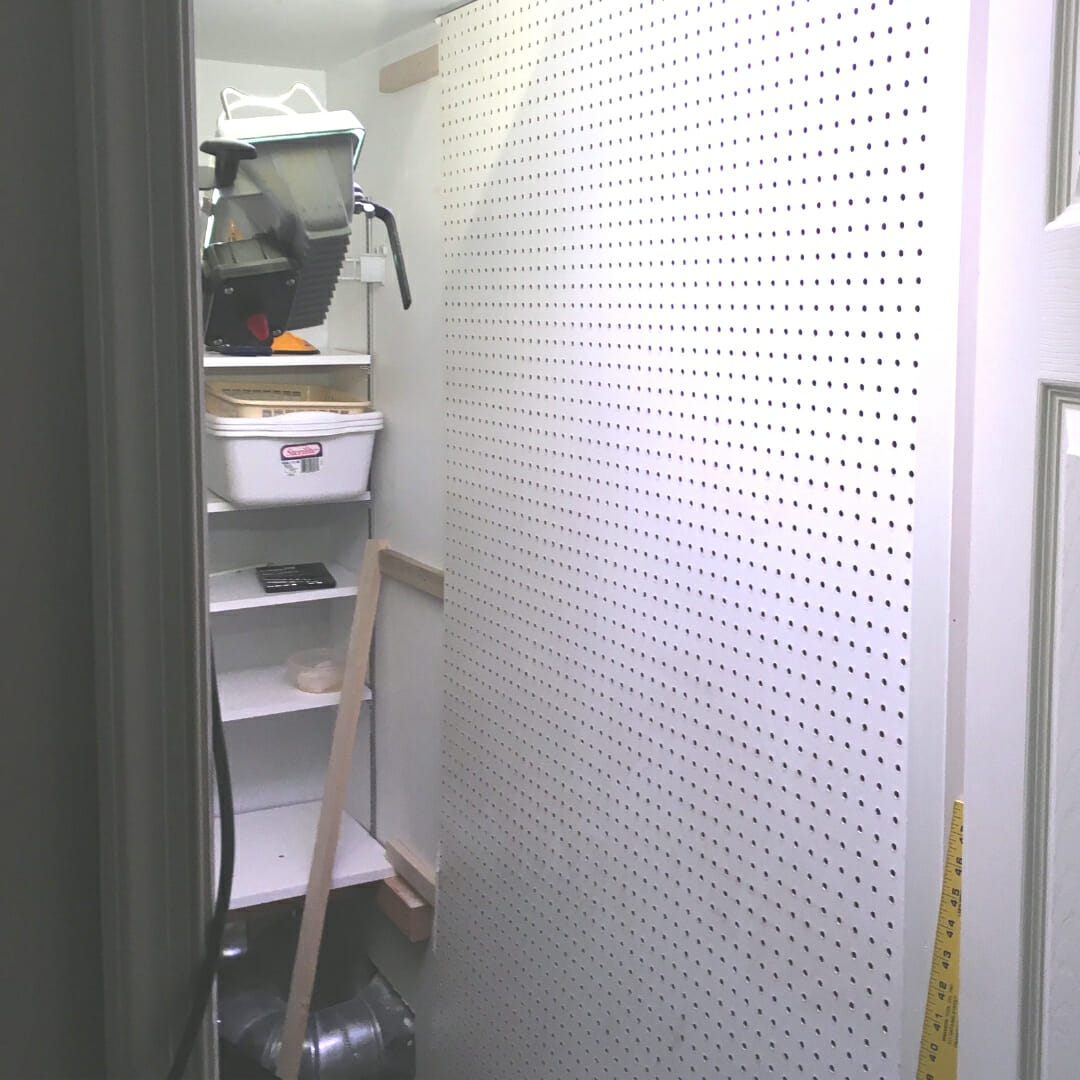 Do you live in tight quarters? What are your favorite ways to maximize space? Let us know in the comments!
If you enjoyed this post on maximizing space around your home, why not share it with others by pinning this image?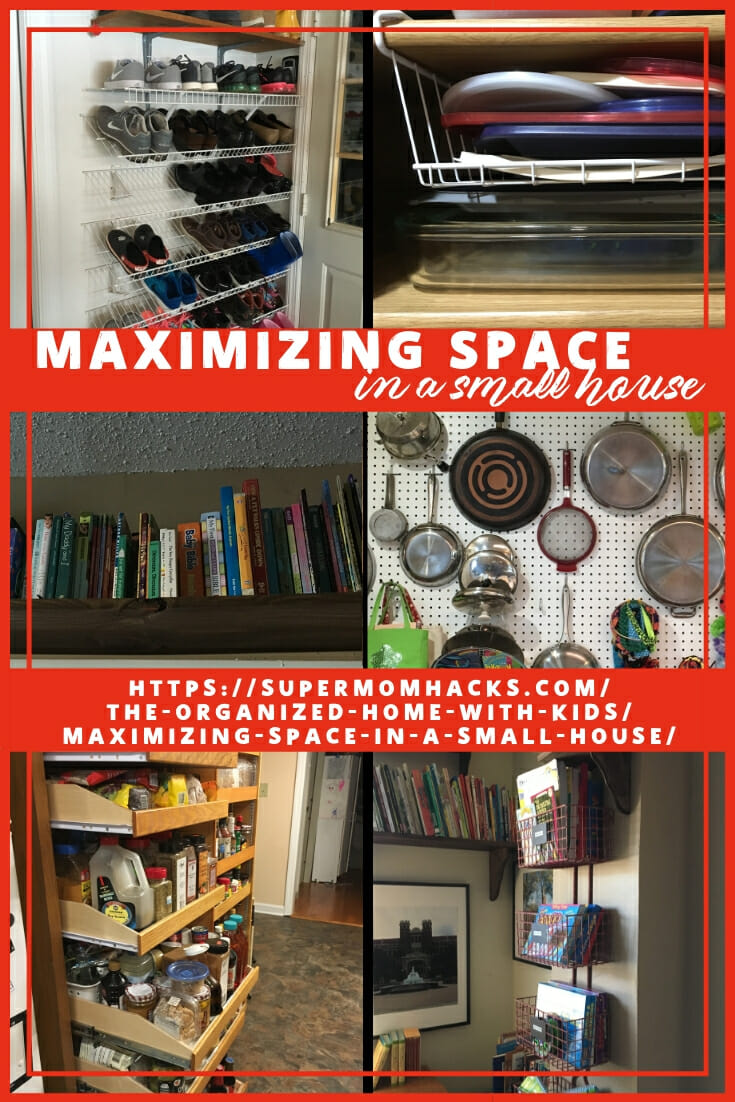 NOTE: This site contains affiliate links. I may earn a small commission from any purchases made through affiliate links, at no additional cost to you. For more information, please read the full disclosure/privacy policy.