Create More Coziness In Seven Easy Steps:
That time is here. The sun comes up later, kids are going back to school, the mornings are cooler and crisper – autumn is just around the corner. And with the return of fall each year, we all start thinking about ways to curl up and get comfortable for the long winter ahead. But doing so can be as elaborate – or as simple – as your budget and time allow. Here are some easy hacks to help you make your home cozy for fall.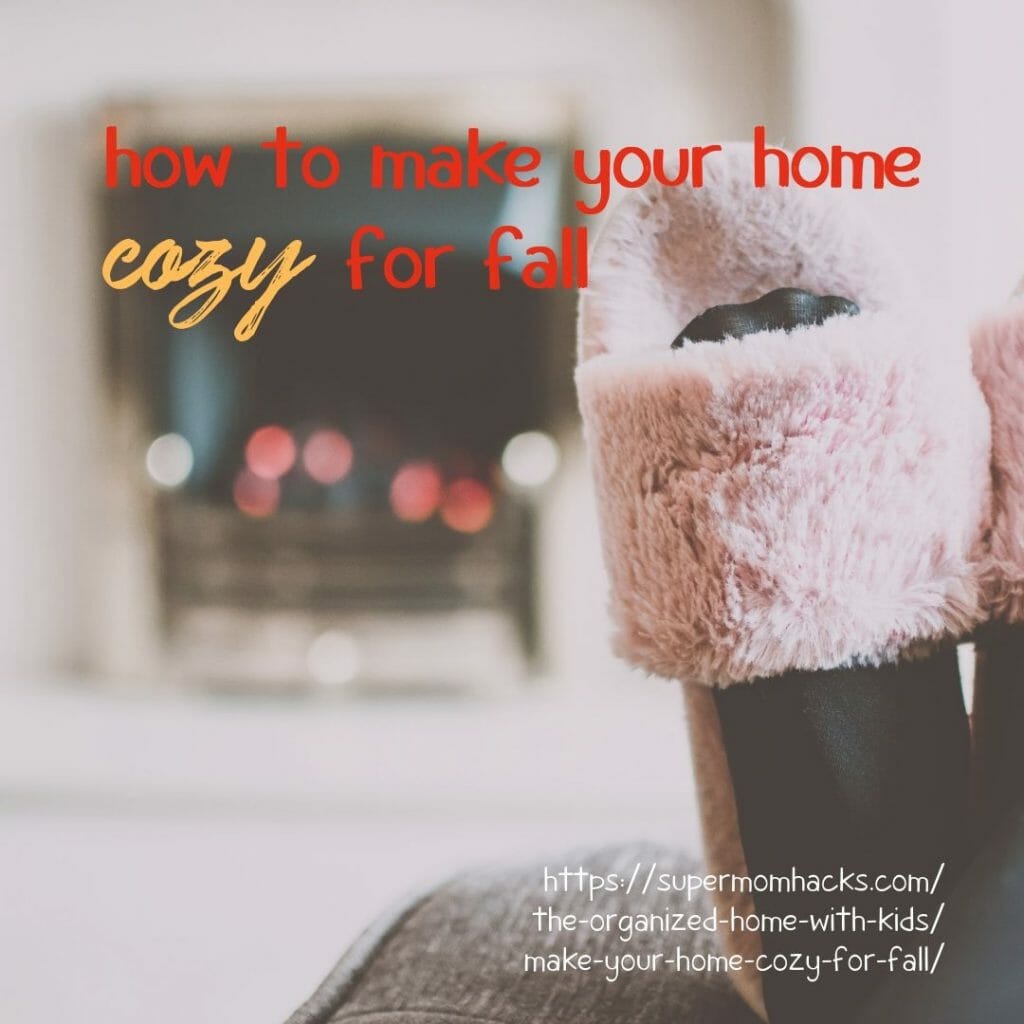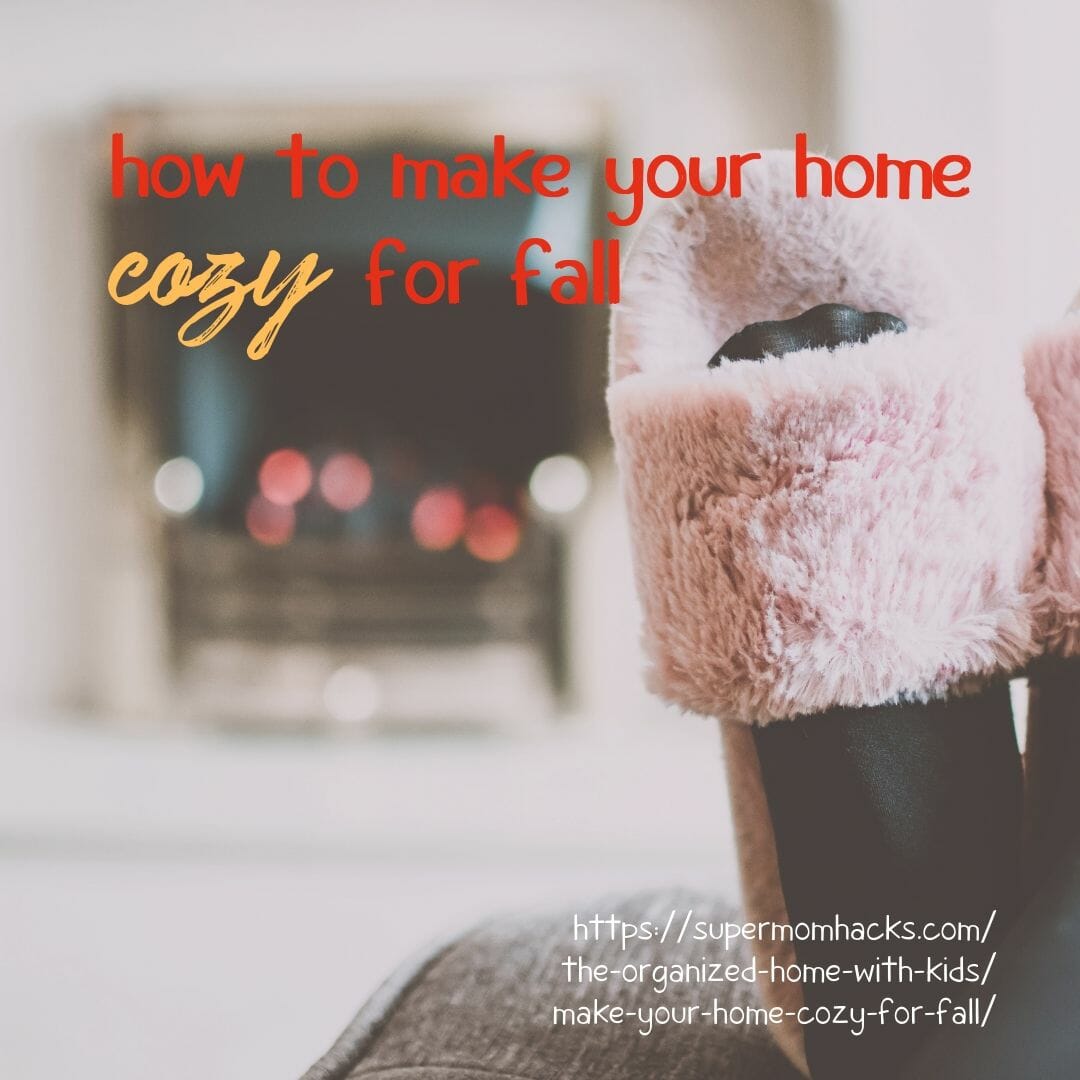 This is a collaboration post. However, please know I stand behind everything written here, and only include links to products/services/resources I'm willing to recommend personally.
1. Cozy up your lighting
We all want bright lighting during our workday. (This actually drives my husband nuts, since I work at home. My workday often includes early-morning hours before the kids are up. And the first thing I do is turn on all the bright lights!)
But by the same token, when it's time to wind down after a long day, bright lighting is the last thing we need.
Instead, think warm colors of light and lower light levels. The lower levels of light will help you relax and unwind. And adding a dimmer switch on your overhead fixtures can help you dial down the lights even further as you get ready for bed. Smaller reading lamps are also a cozy alternative to those more powerful overhead fixtures.
And above all, make sure you've got warm bulbs installed in your home lighting, versus cooler ones. I'm not talking about how hot the bulb itself gets; I mean how many Kelvins its light has. The higher the Kelvins, the bluer or "cooler" the light that bulb will give off. You want "warmer" light colors, which means fewer Kelvins. Lower levels of lighting, in warm colors, is a surefire quick way to make your home feel cozier.
2. Use your fireplace
If you have a built-in fireplace in your home, the approach of fall means it's time to become reacquainted with its cozy glow. Besides keeping you warm and toasty, the smell and sight of a fire or wood-burner will help you to relax.
Of course, you need to observe basic common sense, especially if you've got kiddos around. Never leave the fire unattended, and never leave children unattended near your fireplace.
RELATED POST: Which Fireplace Is Right For Your Family?
If you don't have a fireplace yet, or have a wood-burning one but don't want the smoke and particles that go with them, then it's worth looking into a gas or electric unit.
Gas- or electric-powered log fixtures that are primarily decorative run in the hundreds of dollars, and return about 20% of the heat they give off back into your room.
The ones that are meant for supplementary heating run into the thousands, but send anywhere from 60%-80% of their heat back out into your living space, minus any fumes or particles. (They're also more energy efficient because they give back more of what they burn as heat.)
We've recently been looking into getting our wood-burning chimney replaced with a gas insert, something we've wanted to do since we first moved in. We're excited to finally have a fire this winter that won't give Essie or me an asthma attack!
3. Upgrade your windows and doors
If you've been thinking about upgrading your windows or replacing drafty doors anyway, don't put it off any longer! Now is the time to get this crossed off your to-do list, before the winter chill sets in.
The right windows and doors will transform your home and give you the secure, cozy environment you've always dreamed of. With added privacy and energy efficiency, new windows and doors can help you save money on bills.
Or if you're looking for an upgrade that's quicker and easier on the wallet, consider some new blinds or curtains. Not only can they help you transform the look of a room, but thermal insulating curtains can also help block winter chill and retain heat inside your home.
4. Declutter and swap
There's nothing more stressful than piles of clutter everywhere. So with the kids back to school, and another summer of fun drawing to a close, now's the time to pare back and put away. Decluttering your home, and trading your summer decor and clothes for their fall versions, will make you feel prepared and relaxed.
RELATED POST: The #1 Shortcut to a More Organized Home
If you haven't already sorted through last year's school papers and workbooks (raises hand guiltily), do so now/ Put the few "keepers" right into a looseleaf binder, and recycle the rest. And as you put away the summer gear and equipment, set aside anything that's outgrown or no longer used. Ditto as you get out the kids' warmer-weather clothing.
Once you've put away the "keepers" and piled up the stuff you no longer need, go through that pile and sort accordingly:
A little too "overly loved"? Off to the trash it goes.
Still usable by someone else? Give it a new lease on life, either by donating it or selling it.
As I type this, I've got a half-dozen boxes' worth of stuff lying around the house waiting to be donated to Goodwill, and several pieces of furniture ready to go to our local Habitat Restore. And in two weeks, it will be time to offload my kiddos' outgrown books, toys, and games at my first fall consignment sale, where I'll stock up on replacements.
RELATED POST: Considering Consignment? Six Tips to Help You Cash In Big
5. Pull out the throws and pillows
And while you're at the seasonal swap, don't forget to pull out those throw blankets and extra pillows you tucked away for the warmer months. There's nothing like curling up under your favorite fuzzy throw blanket, or sinking into a mound of comfy pillows and cushions, to make you feel as if fall is back in the air.
Oh, and remember to dig out your other favorite fall-weather comforts, too – your comfy cardi, your fuzzy slippers, and your favorite pair of cozy socks. You'll instantly feel all cozy inside again.
6. Say hello to fall scents again
Nothing says fall is here like the smell of anything apple and/or pumpkin spice. I'm counting the days until our local orchard has my favorite apples in stock, so I can make more pumpkin dip to go with them – my fave fall snack. Likewise, my hubby and the girls can't wait for their first taste of fresh fall apple cider.
There are so many fab ways to reintroduce the smells and flavors of autumn to your living space. It can be as simple as making a cup of cocoa, or topping your morning coffee with a dollop of whipped cream and a sprinkle of cinnamon. Or try putting some cider in a slow cooker with a few whole cloves and some cinnamon sticks, for tummy-warming mulled cider. Or baking your favorite pumpkin treats, whether pie or bread or scones.
One of my favorite fall house- and heart-warming hacks is to simmer a pot of water on the stove for a little while each day:
Into the pot, add some dried apple rings, a cinnamon stick or two, cloves, a dash of nutmeg. Whatever scents remind you of cooler days and cozying up inside, just pop them in.
Add a little more water each day if needed, and let it sit on the back of your stove in between stints of simmering on lowest heat.
Not only will this improvised potpourri make your home smell wonderful, but the added moisture in the air will help offset the drier weather that comes when we kiss summertime humidity goodbye.
7. Enhance your outdoor space
And finally, being cozy doesn't necessarily mean staying inside until spring! If you have a yard, porch, or patio, you can turn your outdoor living space into a cozy place to linger on fall evenings, just as you did during the long days of summer. Think outdoor lighting, a soft throw for your favorite outdoor chair, and a fire pit.
These are all great ways to turn your outdoor living area into a cozy place to relax on chilly fall evenings. For even more warmth as the temps continue to drop, consider adding patio heaters for additional warmth. By turning outdoor space into a warm and cozy place to relax, you'll be able to enjoy your garden, patio, or porch all year round.
What are your favorite ways to make your home cozy for fall? Let us know in the comments!
Like these tips to make your home cozy for fall? Please share them by pinning this image!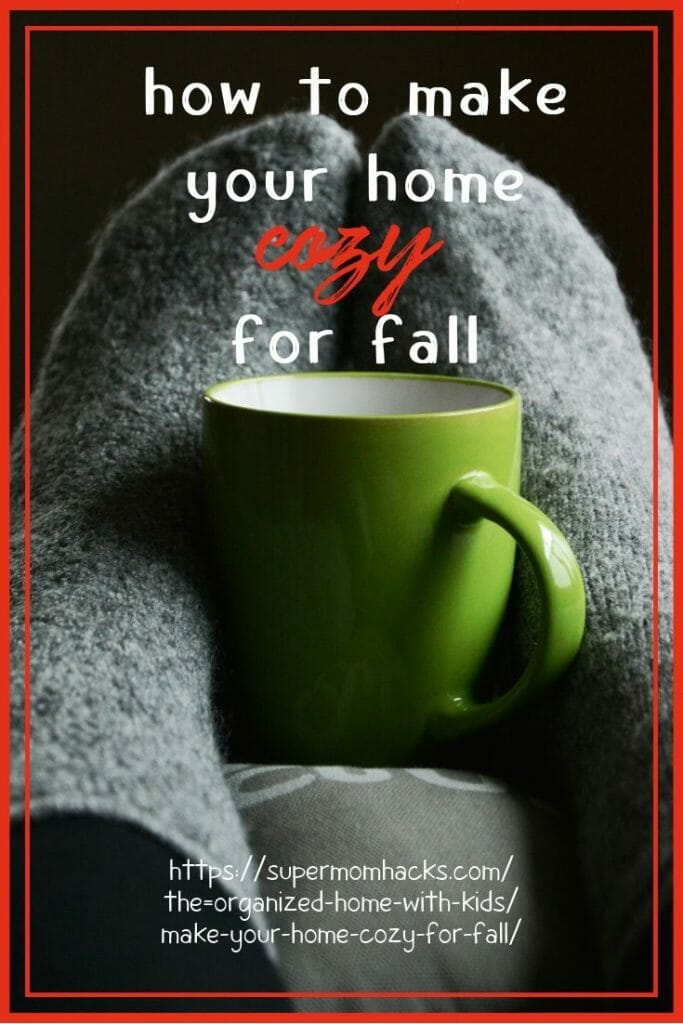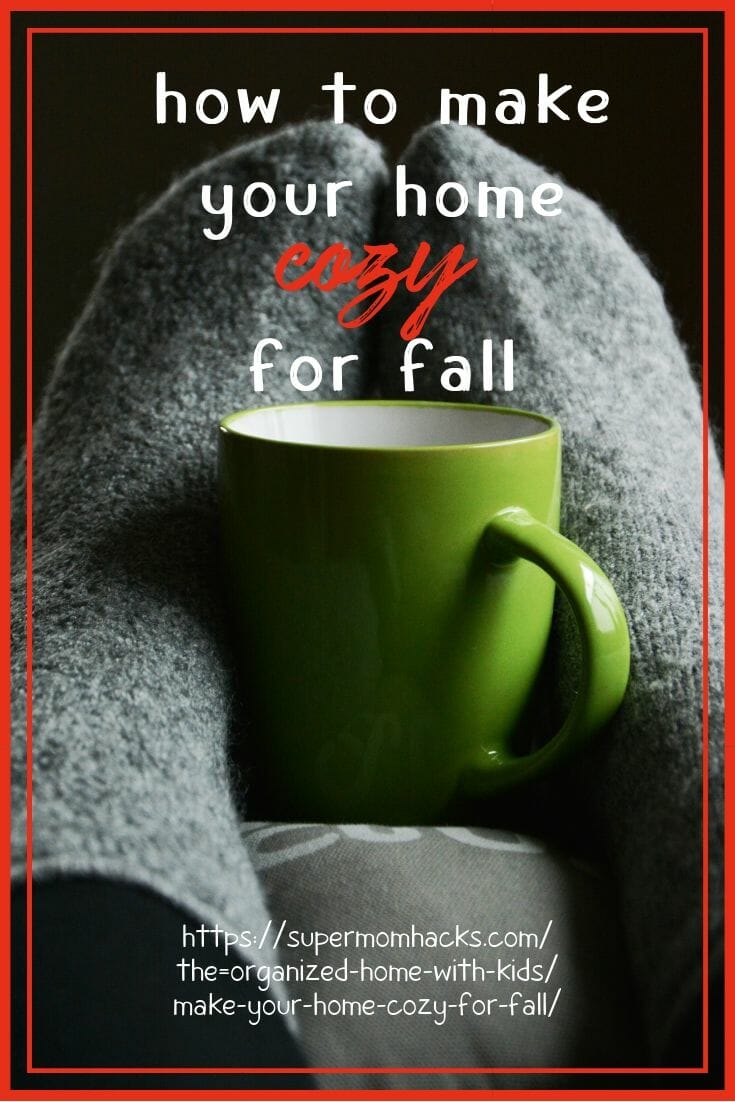 NOTE: This site contains affiliate links. I may earn a small commission from any purchases made through affiliate links, at no additional cost to you. For more information, please read the full disclosure/privacy policy.