Another holiday shopping season is upon us. Black Friday is only a few short weeks away, but the stores, catalogs, and advertising industry are already in full swing, doing their best to separate YOU from as much of your hard-earned money as possible.
Wouldn't it be nice if you could get some of that money – YOUR MONEY – back into your pocket?
Are there really hacks I can use to save EVEN MORE money with Ebates?
In one word, YES!
As some of you know, I try to spread my holiday shopping throughout the year. It's easier on my budget, and it helps me avoid the temptation to (over)spend throughout November and December.
The one exception to this rule is strategically planned "last minute" (for me that means Black Friday and Cyber Monday) deals on specific items. Things like electronics and travel gear, that I KNOW will be on sale around the holidays.
And a key part of this maximize-my-savings strategy is careful, planned use of Ebates. Because with Ebates, I can get more money back into my bank account.
Want to know my secrets for making sure I get back every penny I can with Ebates? Then read on!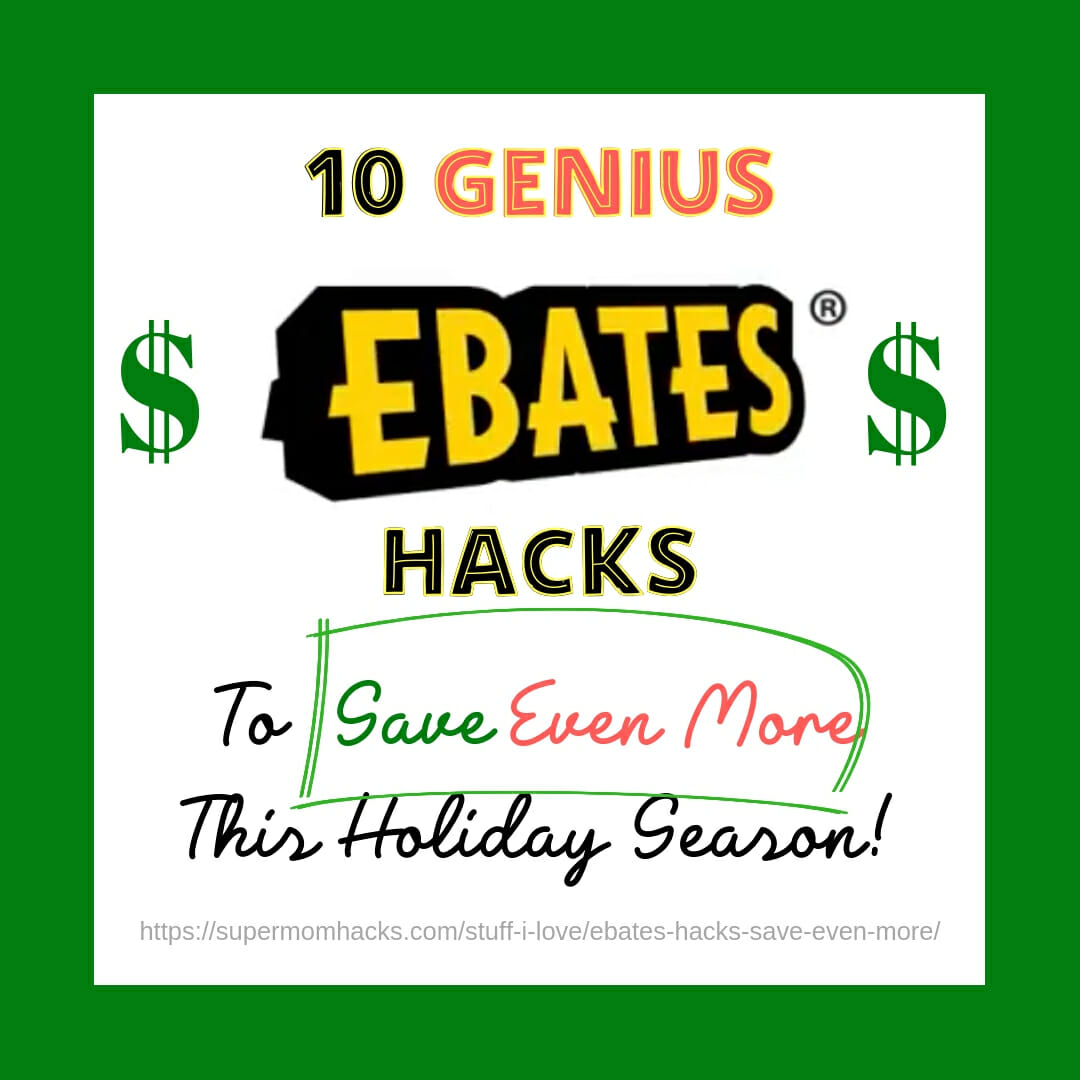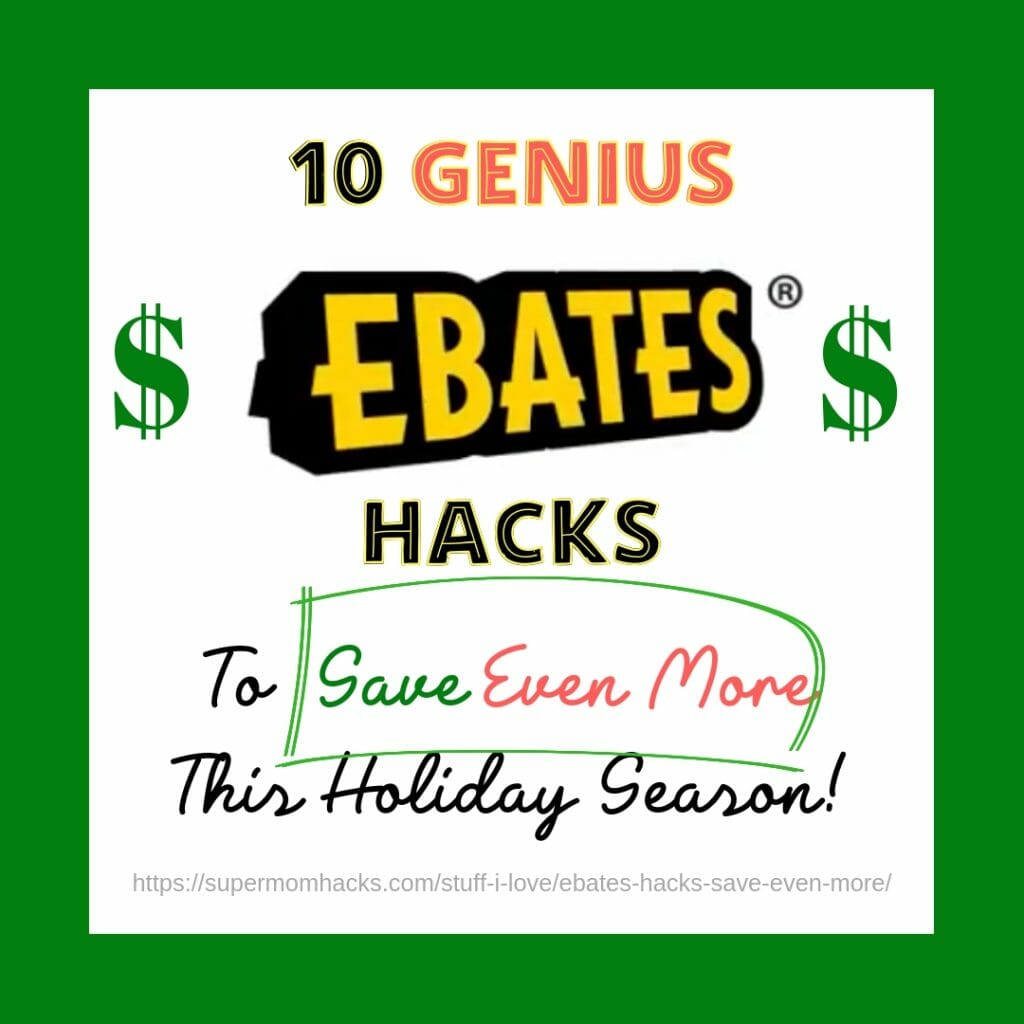 Genius Ebates Hacks to Save You EVEN MORE This Holiday Season
First things first: Sign up already, if you haven't!
If you haven't already jumped on the Ebates bandwagon, there's no time like the holidays. Ebates works like this:
Companies pay Ebates to get you to shop with them. (This is part of their advertising budget, just like taking out an online or magazine ad.)
Ebates then splits this money with you, in exchange for taking a few simple steps to let the company know that you're shopping there because their Ebates advertising worked.
The company gets your business, Ebates gets a commission, and you get a percentage of the money you spent back in your pocket.
And that's not in "points" or in "gift cards" that you may or may not be able to use. That's in the form of a check that gets mailed to you every quarter, that you can then deposit or cash at any bank. Win-win-win!
I signed up with Ebates back in 2012, but didn't start using it much until late 2014 Since then I've made almost $350 back on the money I've spent through Ebates links. I ultimately chose Ebates (vs. other similar programs, like the now-defunct Fatwallet) because they offered the most money back.
Plus, it was actual money, NOT points or gift cards! Money back into my bank account. Money that I could then spend on other things (even boring things like paying bills).
So if you're not saving with Ebates yet, make this holiday season your year.
How do I sign up?
If you sign up HERE and make just one purchase before the end of the year, Ebates will give you an EXTRA $10 back in your account, to thank you for signing up!
And if you're a Canadian resident, click HERE to sign up for Ebates Canada! 
Or, if you'd prefer, you can click on this button to sign up:
  Either way, you get an extra $10 cash back when you make your first Ebates purchase before the end of the year. Win-win! If you're a Canadian resident, you can click here

to sign up for Ebates Canada and start earning cash back.
Now that you're enrolled, on to the hacks that will help you save even more with Ebates this holiday season:
1. Install the Ebates cash-back buttons on your web browser(s)
Signing up for Ebates is one thing, but if you don't remember to activate the little bit of electronic code that lets Ebates tell the company, "hey, we referred this customer to you, so you owe us $$$ to split with the customer," then you won't get any cash back. (This is why I didn't earn much with Ebates until 2014, when I finally installed the browser buttons!)
Remembering to go to Ebates first every time is a pain. So Ebates has made a bunch of browser extensions and buttons you can install. That way, whenever you visit your favorite merchants' websites, if they're an Ebates partner, you'll probably see pop-up in the upper right corner of your browser window. Click on the red "Activate Cash Back" button to "begin a shopping trip," and you're on your way.


If you use multiple web browsers (as I do), install this extension on EVERY browser you use. Then you'll never forget. To install these buttons, go to the Ebates homepage and click on "help" in the upper right corner. Then select "more features" from the menu at the left side of the page.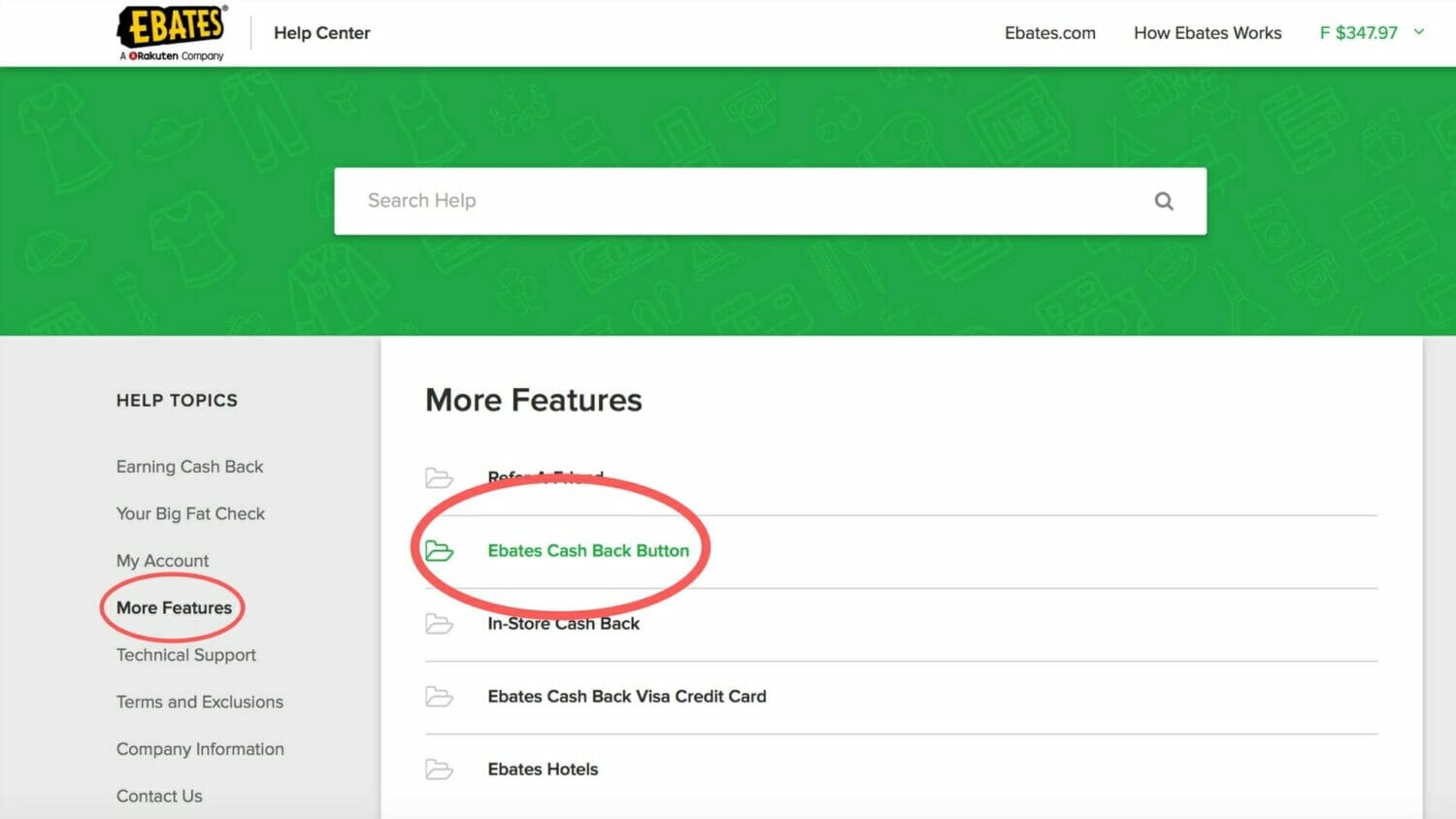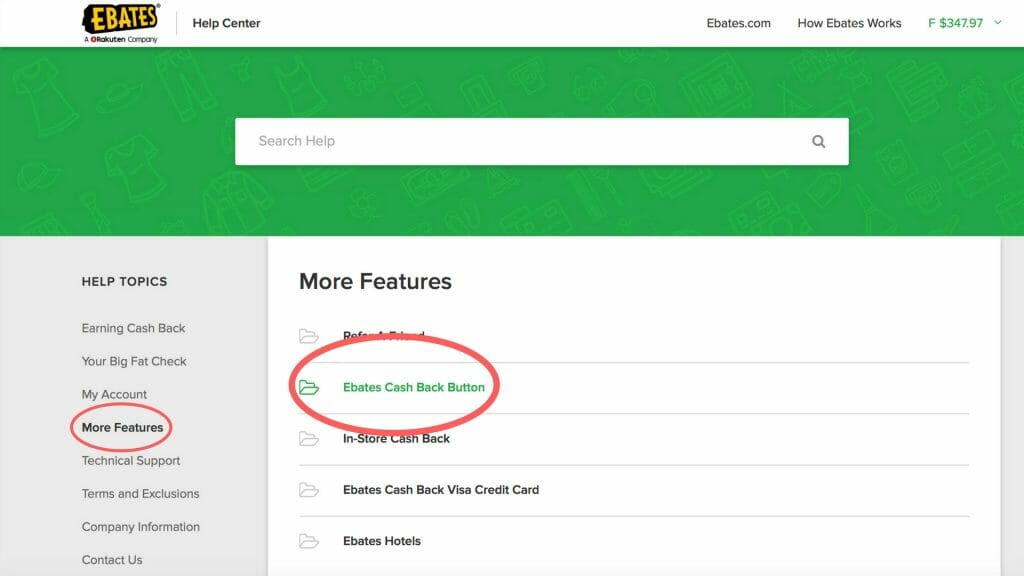 After that, click on "Ebates Cash Back Button" link. The next screen will show links for different browsers, plus step-by-step instructions on how to download and install the extensions.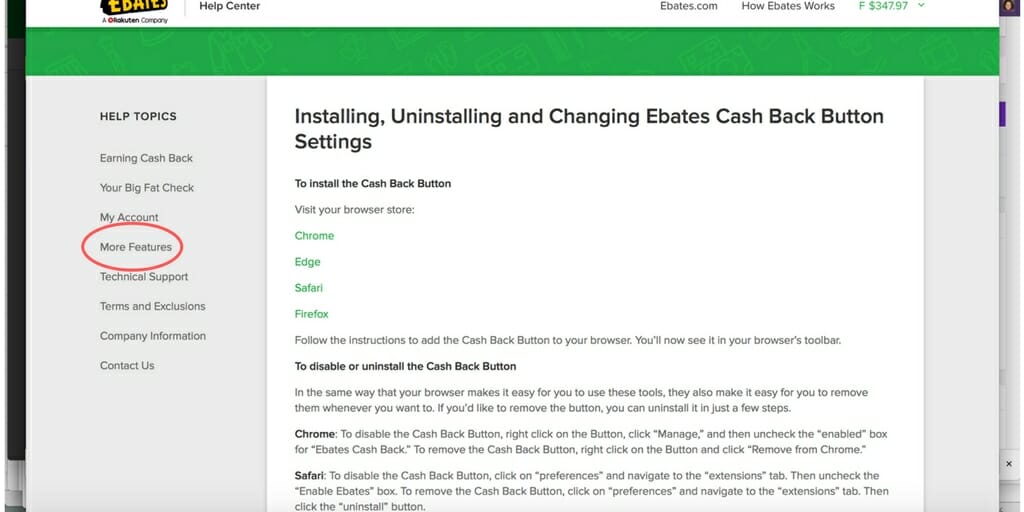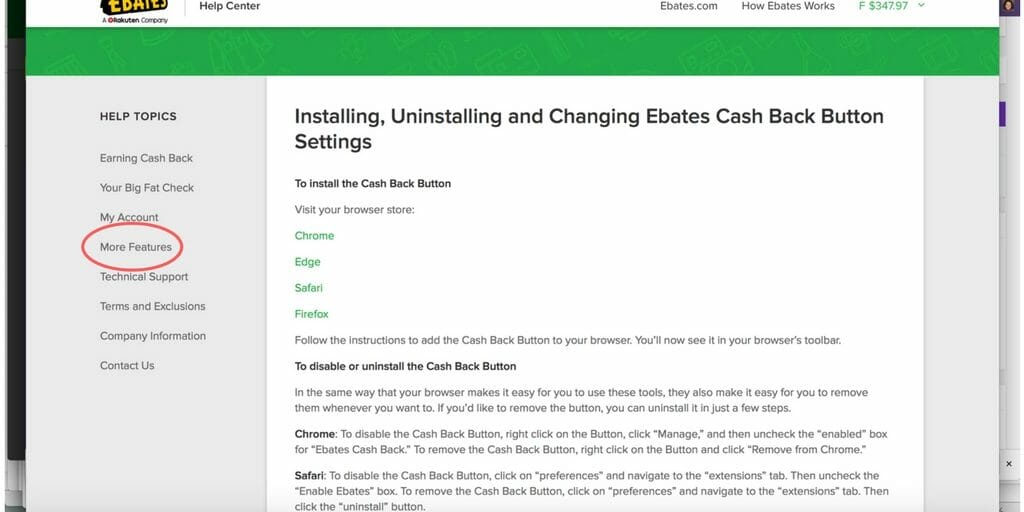 For users of Ebates Canada, go to the Ebates Canada homepage and look for "Ebates Express" under the Help menu.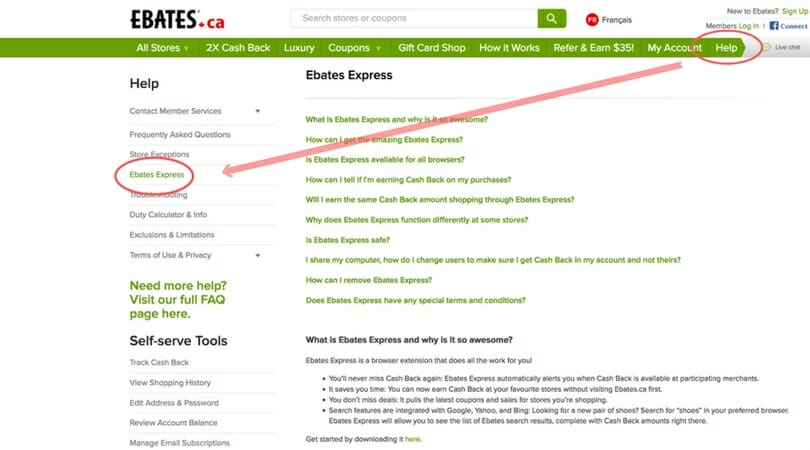 Clicking on "Ebates Express" in the left sidebar menu will bring you the FAQ page. There, you can learn about the browser extension buttons, and access links to install the Ebates Canada browser extensions.
2. EVERY TIME you visit a company's website, click on the "Activate Cash Back" pop-up