Perfect Jobs for Parents With Some Spare Time
So you're a busy full-time parent, but you want to help grow the "income" side of your family budget. Or you're gearing up for your youngest to enter kindergarten. Or your pre-parenthood job is no longer viable, and you're on the hunt for a new career. Whatever the reason, you're looking for side hustles that actually make money.
You need flexibility in both hours and scheduling. That's why the "gig economy" is perfect for parents whose primary job is still, well, parenting.
And even better, some of these jobs can lead to full-time work down the road!
Ready for ideas on what could be your next dream job? Then read on!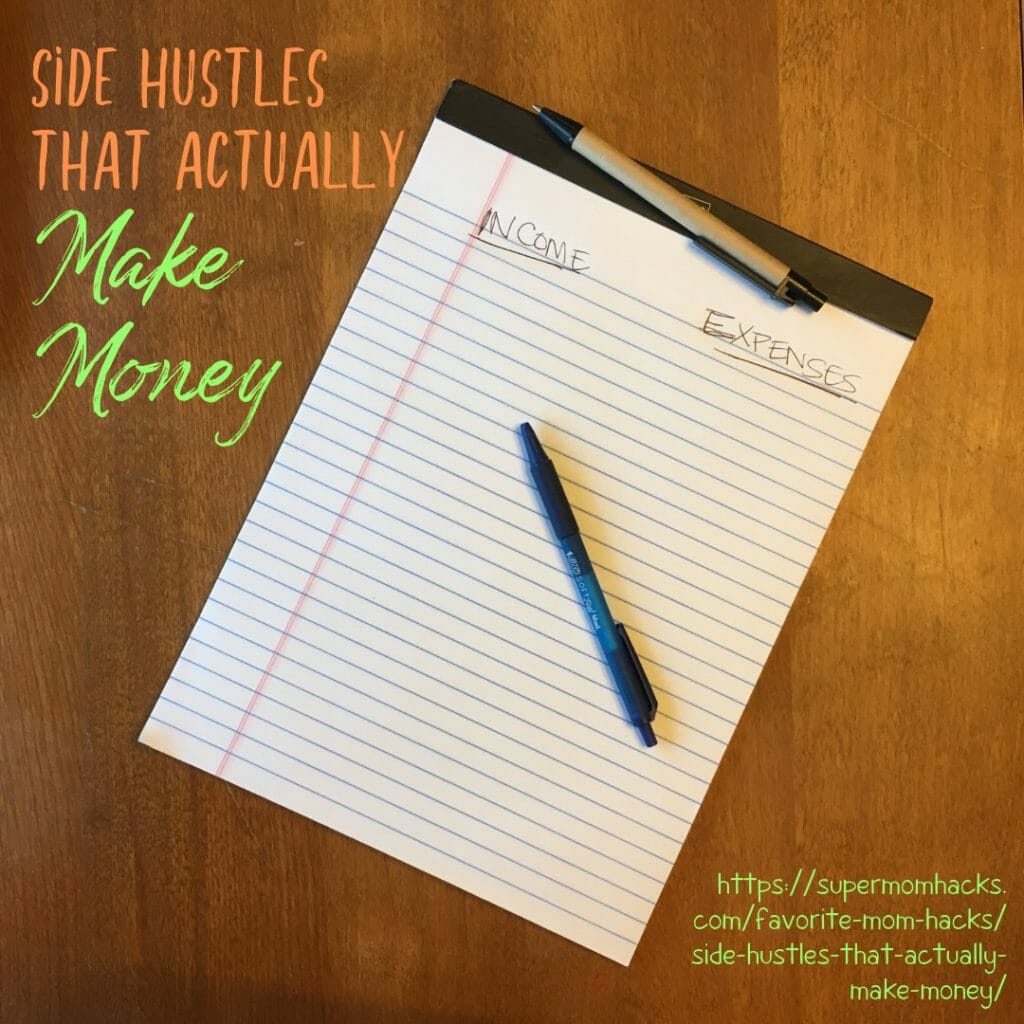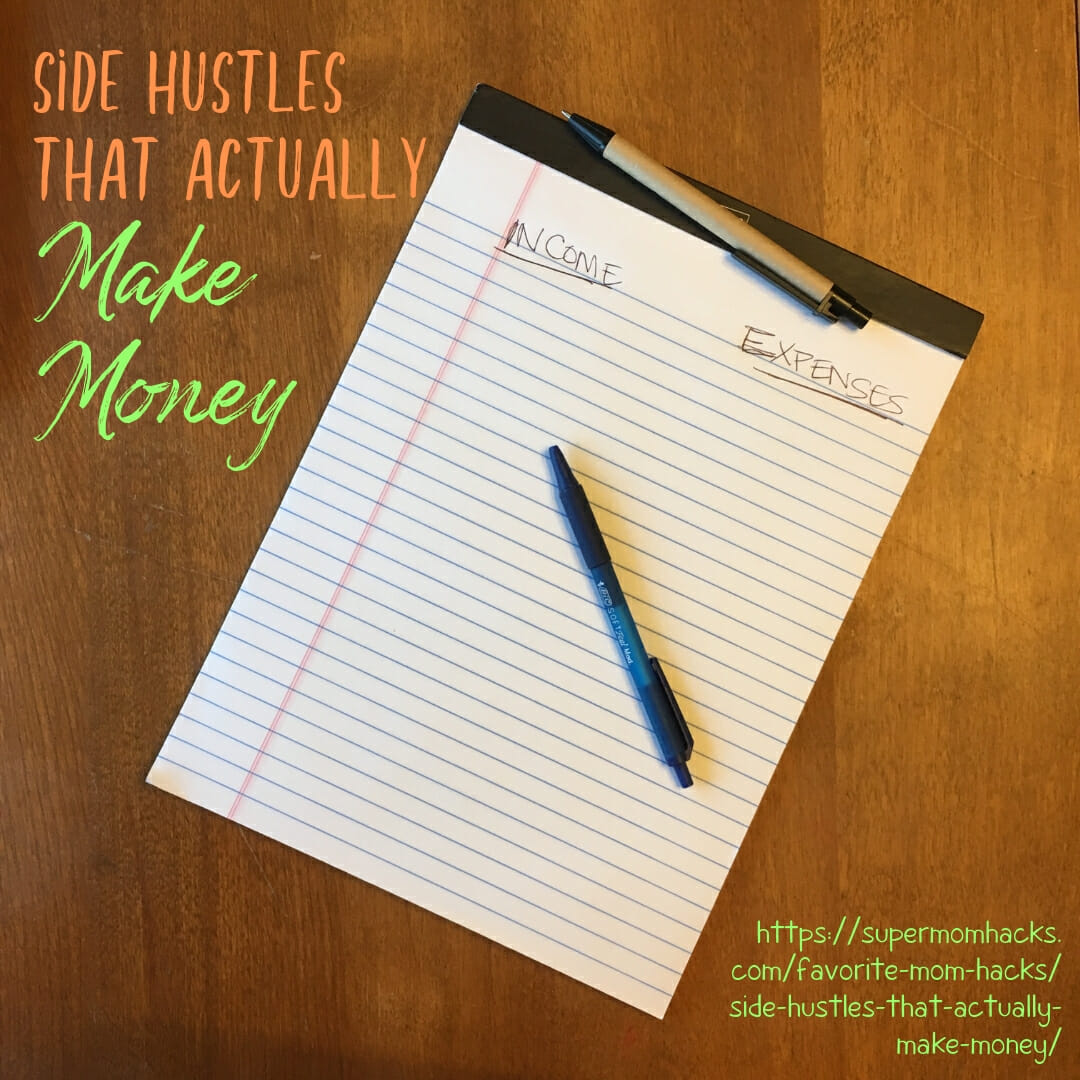 This is a collaboration post. However, please know I stand behind everything written here, and only include links to products/services/resources I'm willing to recommend personally.
Parent-Friendly Side Hustles That Actually Make Money
1. Sell Your Stuff
If you've got kids (especially if you're a "one-and-done" family), then you've probably got loads of no-longer-needed baby and kid stuff lying around your house.
Why not turn your family's outgrown items into cash for you, and a steal for some other budget-conscious family?
As I type this, I'm actually gearing up for my final children's resale event of the spring, later this week. From the four sales I participate in each year (2 each in spring and fall), I generally bring home an extra $5000-$6000. I know some hard-core consigning mamas who make several thousands of dollars per sale.
And the consignment sale route is only one way to go. You can also sell things on your local Craigslist, on Ebay, or at local consignment stores. Not only that, but you can sell all sorts of thing online or via local consignment stores or popup events – furniture, books, adult clothing, etc. For a few intensive weeks a year of prepping and selling (helping out at sales is usually optional, but can earn you a higher percentage of the selling price on your items), you can generate enough extra income for those house projects you've been putting off, or those plane tickets for a tropical winter vacation.
2. Get Paid for Driving
If you're like some mamas (and me, in my pre-mama life), you probably feel at times like you live in your car. You're an expert driver, and you feel very relaxed with being on the road and following all the rules of it.
Why not turn that expertise behind the wheel into some extra income?
There are so many ways to do this. You could, of course, sign up with Uber or Lyft. But they aren't the only game in town; look here to see if there's an alternative chauffeur service, like Uber that would work better for you.
Or you might consider a more specialized form of driving. Many communities are in constant need of additional school bus drivers, especially as substitutes when regular drivers are sick. Or if you live near (or a few hours from) a major airport – or, alternately, near a college, university, or private school without public-transportation access to the nearest airport – you could offer an exclusive service as an airport shuttle driver.
3. Work With Kids
What seasoned parent doesn't already have a solid background being little ones' first teacher? Why not turn that expertise into a side hustle? In many cases, a side hustle in early childhood education or child care will also let you care for your own children at the same time!
Depending on where you live and what type of work you're looking for, you'll probably need to get background checks and clearances, and may need certain courses or certifications under your belt. After all, babysitting a neighbor's kid after school is very different from opening your own in-home day care center. Likewise, you'll probably need different/more qualifications to be a regular substitute teacher in your local school district than to be a substitute aide at your child's private preschool.
Who knows? You may discover a new passion for being in front of a classroom of little ones. Maybe you've already started asking yourself Why do you want to be a teacher?; if so, working as a substitute teacher, part-time aide, or supply teacher's assistant are all great ways to test the waters.
4. Develop Websites
What business or organization can survive in the twenty-first century without a high-powered, functional, and user-friendly website?
Well, how much time do you spend researching local businesses NOT by looking them up in the Yellow Pages or print newspapers, but by searching for them online?
Exactly.
Even the smallest businesses and nonprofits need a website to survive nowadays. But many startups don't have tons of money to hire big-name tech firms to do this work for them. Hence, there's a huge market for entrepreneurs who can build and maintain websites for these small-business entities. (I kid you not, when he was first out of seminary and only had a three-quarters' time position, even my mama's pastor at her church had a side hustle building websites for other churches!!!)
If you don't already know how to code, you can check out free coding courses online to learn what you need to know. (Then you can also list these programs in the experience section of your resume.) Once you've learned some coding and built a website or two (maybe for a friend with a small business, or for your own hobby or side business?), then you can start up a portfolio to showcase your work.
If you have the time to sink some real hours into a side hustle like this, you can end up earning a five-figure salary within a few years. At $750 to $1500 starting pay to build a website for small-time developers, it doesn't take that many websites to get you solidly into that territory.
5. Become a Photographer
Do you love capturing pictures of people and/or places? Have people always told you you've got an eye for getting the right shot, the right angle, the right lighting? If so, why not make some money from these skills?
Photographers are always in demand, for everything from events and parties to kids' and family portraits. My SIL Alicia works a full-time job for the government, but her side passion is photography. In her spare time, she takes stunning portraits of family and friends – and earns a decent chunk of extra change doing so.
Besides individuals and families, there are tons of companies and small businesses (not to mention bloggers!) who are in constant need of stock photos to illustrate newsletters, presentations, and websites. With some skill, you can assemble packages of stock photos on different subjects to sell online.
And if you also love social media, you can really make a name for yourself with a well-curated online photo gallery. Social media works very well for anyone looking to get a photography business off the ground; Instagram is the perfect place to do this. It only takes a few minutes per day to upload a photo and then react to comments from your audience. Build yourself an audience, slowly but surely, and the companies will come looking for you the next time they need a photographer for a special project.
6. Become a Virtual Assistant
There are so many ways people can become VAs nowadays. If you have any online marketing skills or experience with social media, you can hire yourself out to bloggers and companies who need someone to manage their social media presence for them.
And there are plenty of other jobs you can do virtually (or remotely, vs. face-to-face with the person paying you). You can proofread copy and test websites. You can even start a small business in your neighborhood for neighbors who work full-time, and need someone to run errands for them, or be home to accept packages or let in contractors. The options are limited only by your imagination.
7. Sell Your Goods
Do you like to crochet or bead jewelry? Do you throw pots in your spare time? Are you known for your homemade jams and jellies from your own raspberry and blueberry bushes? Do you pride yourself on homemade cupcakes and fondant cakes for friends' wedding and baby showers? Have you tinkered around with building your own furniture out of wood pallets? I have friends and relatives who have turned ALL of these pastimes into profitable side hustles over the years.
My personal fave story is my brother Evan, whose last job was in a remote, tight-knit community far from the rest of civilization. Evan likes to tinker with woodworking projects, but the nearest sources of lumber for sale were literally hours away. So he started playing around with building things out of recycled scrap wood from wooden pallets. At the same time, he decided to practice making jams and jellies from the various hot peppers he grew, and the prickly pear cacti that grew wild in his backyard.
At the annual neighborhood craft fair in his small community the following December, his jams and jellies sold out almost immediately. So did the two beautiful front-porch chairs he'd made from recycled wood. Not only did he sell them for $85 each, but he walked away with orders from other neighbors for a half-dozen more, as well as several matching side tables! He's since built everything from outdoor chairs and side tables for his own family, to a desk for himself, to a beautiful queen-sized bed, to incredible wall art – all out of wood destined for the trash.
So, Have You Got Some Time to Spare?
If so, there's no time like the present to dive in. Yes, until your kids are grown and gone, you'll always be busier than you can imagine with your family responsibilities. But trust me when I say that doing something you love on the side will make you a happier parent. And the income you earn will bring both satisfaction to you, and some extra wiggle room to your family finances. (And if you still need other ideas to try, check out this guest post that Cori Ramos wrote for my site last year, on side hustles for busy parents!)
Have you considered supplementing your family's income? What side hustles that actually make money have you looked into? Let us know in the comments!
If you enjoyed this post on side hustles that actually make money, why not share it with others by pinning this image?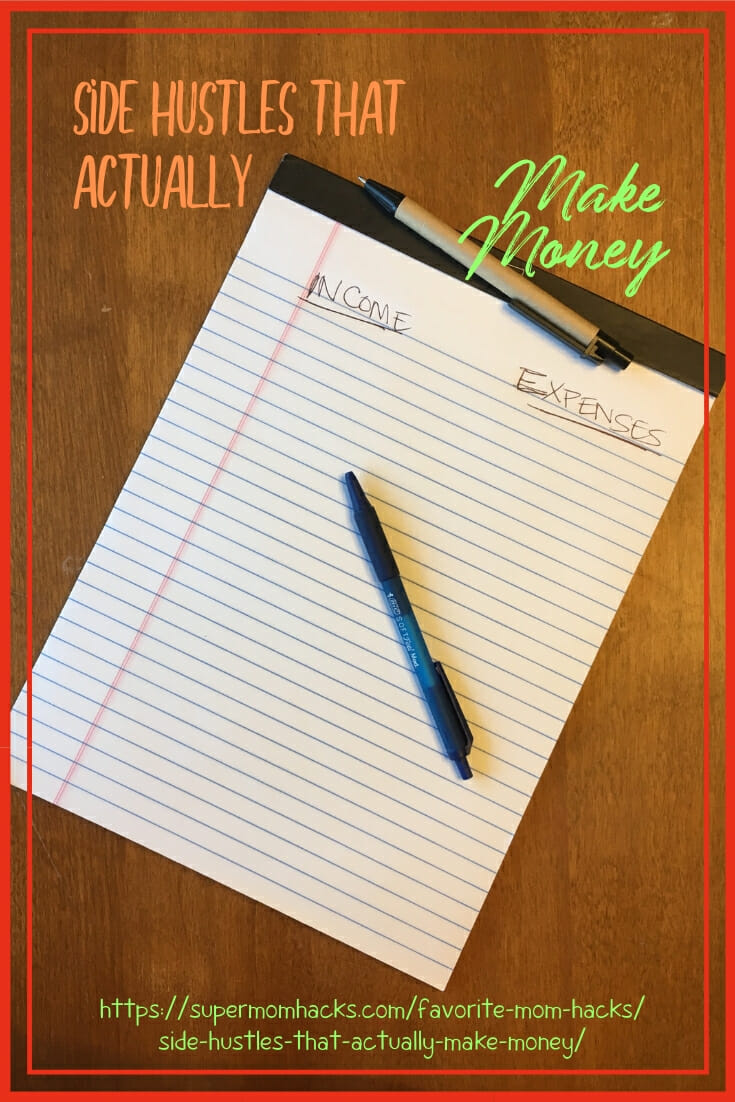 NOTE: This site contains affiliate links. I may earn a small commission from any purchases made through affiliate links, at no additional cost to you. For more information, please read the full disclosure/privacy policy.