We know, we know – eating healthily sounds like a great idea in theory, but actually DOING it seems darn near impossible. You're a busy family; grownups work, kids have practices and sports and activities. You keep saying you're going to make better food choices, to do family workouts together, but you never quite get there. You need tips for healthy family eating that are fast AND easy, or it's just not happening.
It's just like the host of health risks that we now know comes from sitting all day at desk jobs: we know we should do better, but that doesn't make doing better any easier.
Fortunately, summer is the perfect time to get started on healthier eating as a family. With so many in-season options available in stores and farmer's markets, you've probably got a ton of choices for healthier eating right at your fingertips. And even when you don't have the time to cook fancy meals from scratch (who does?), you can make healthier choices from the options at hand.
So here are some quick tips to help health-conscious families take the hard work out of healthy eating, without a lot of effort or expense: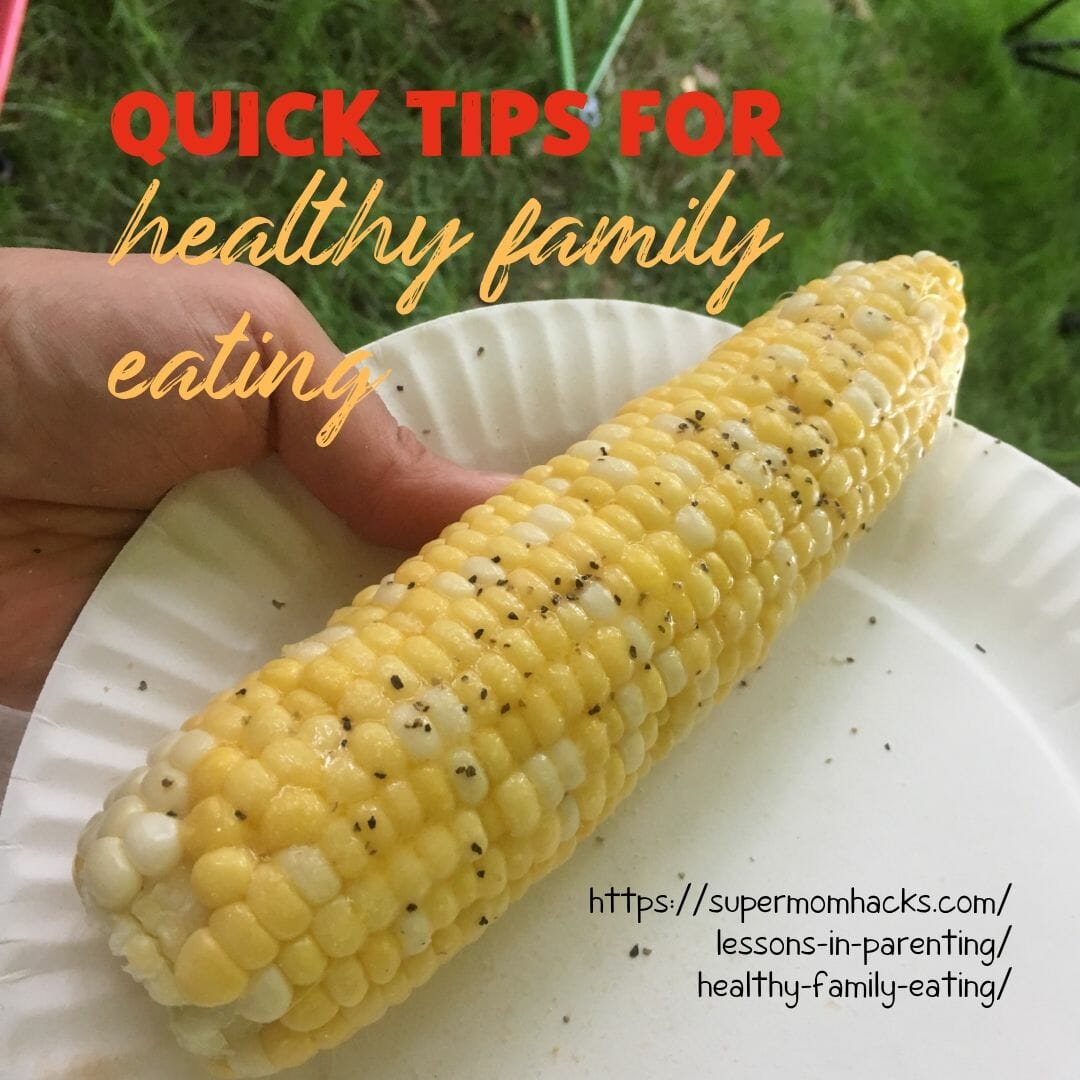 Plan your prep, and prep in bulk
It's so easy, when you're heading home from work and trying to figure out what's for dinner, to get sucked into that hot bar at your local supermarket, or grab some takeout again. Indulging in this habit too often will take a real toll, though – on your wallet, your waistlines, and your family's overall health.
Instead, see if you can set aside a few hours each weekend, or perhaps one day per month, to do some serious food prep. We have a full-sized freezer in our basement that's full of food. Whenever I cook dinner (especially if I'm making a soup, stew, or casserole), I try to cook enough to feed 8-12. The four of us eat some that night; we eat some leftovers the next day for lunch; and I freeze the rest for the future.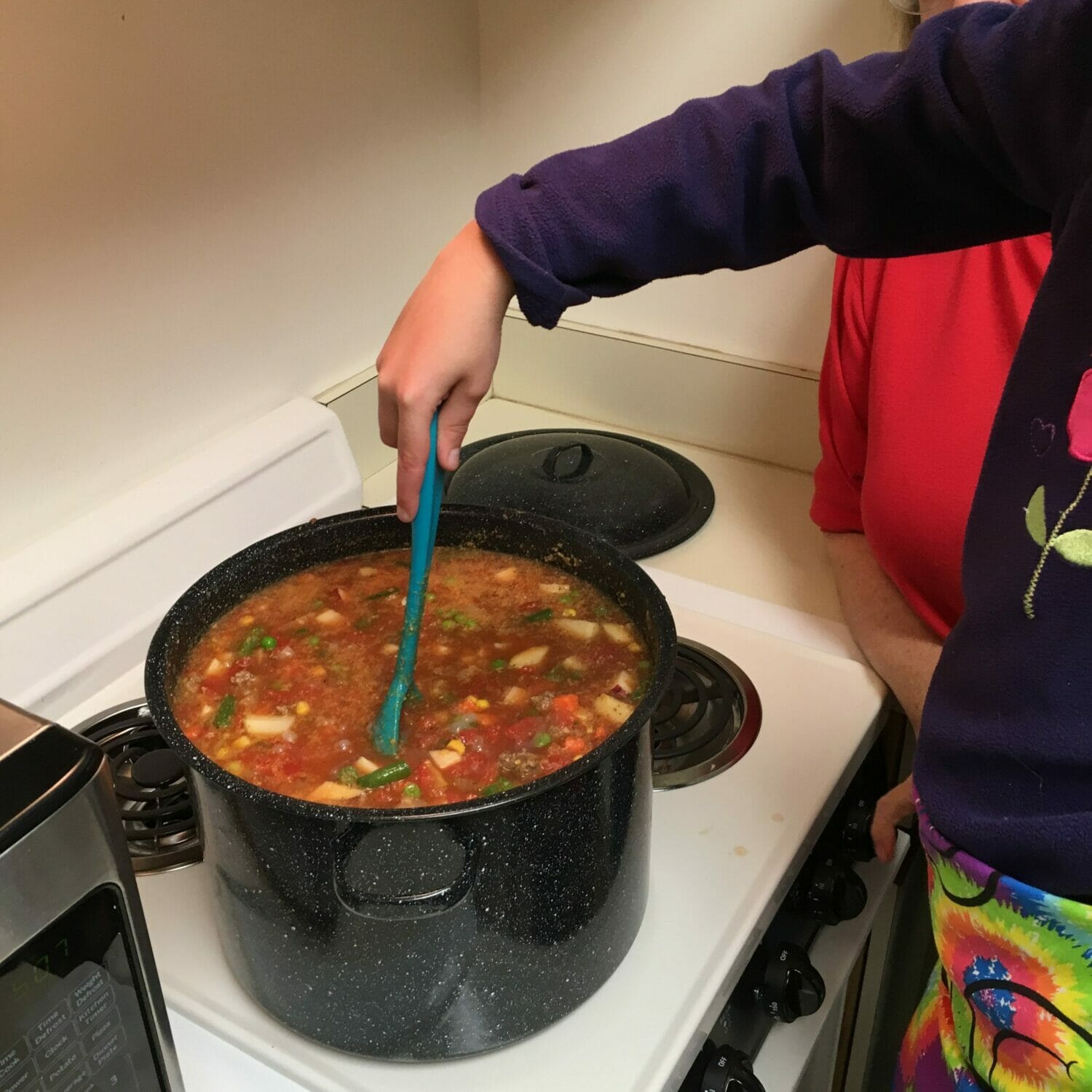 As a result, I maybe cook only once a week. My husband cooks 2-3 nights (which he loves), we eat leftovers one night, and the other two nights I pull something out of the freezer that I've already made.
Other prep-in-bulk ideas include
Chop onions or celery for soups and stews, then freeze them in one-cup containers or bags.
Put chicken breasts in the freezer in bags containing a sauce or marinade (the meat will marinade as it thaws in your refrigerator).
Chop the ingredients for a slow-cooker meal, throw into a zip-top bag along with the meat, and toss it all into your slow-cooker some morning.
Freeze leftover rice in bags for a quick meal of

fried rice

, or leftover ham ends, cooked potatoes, etc. for a quick and easy

hash

.
RELATED POST: Family-Favorite Fried Rice
RELATED POST: Reinventing Leftovers For Dinner: My Family's Favorite Hash
Get your kids involved
My kids are generally not terribly fussy eaters, and LOVE healthy things like salad and vegetables. Why? Well, several reasons:
My husband and I are pretty much omnivores ourselves – there aren't a lot of foods we don't like, and we keep our dislikes to ourselves.
We've been feeding the girls healthy, home-cooked, veggie-laden meals since they started solids at 6 months. They never had commercial baby food, because I generally just mashed up or pureed a little of whatever we were eating that day for them.
But most importantly, we've involved them in food prep since they were toddlers. From having them help us select produce at the store, to helping prepare it, to cooking their own simple meals, they haven't had a choice about food prep in our house.
Likewise, they've even helped us with everything from selecting that week's community-supported agriculture share, to growing our own fruits and vegetables.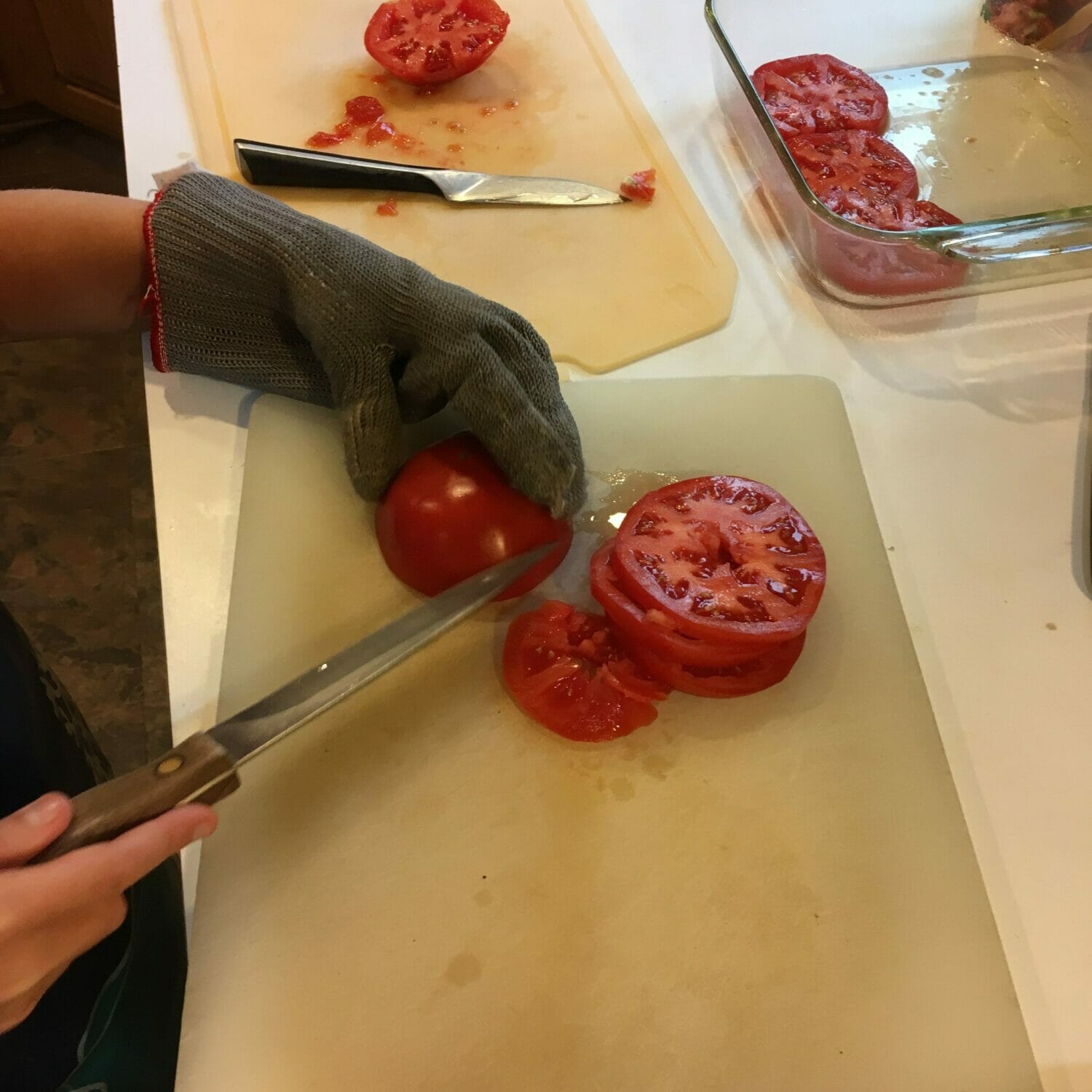 Kids who are involved in food prep are less afraid of eating healthily, because they've had a hand in making the food. Not only that, but you've given them something to be proud of along with valuable life skills. I'll never forget the first time Kimmie planned and cooked us an entire meal with minimal help, for her Girl Scout cooking badge. She was on cloud nine. (And needless to say, she ate it all up!)
Support your local farmers
There are so many ways to do this:
Look for locally-grown produce in your supermarket, and support stores that feature local produce.
Take advantage of roadside stands and farmer's markets in your area.
Consider

joining a CSA

, for fresh local produce each week throughout the growing season.
RELATED POST: CSA and You: Save Money, Eat Better, and Get Your Kids To Eat More Veggies
And don't forget about your local orchards, cheese-producers, organic meat farmers, etc. They'd also love your support and patronage, and you can enjoy their tasty products knowing that you're supporting a local business while making healthier eating choices.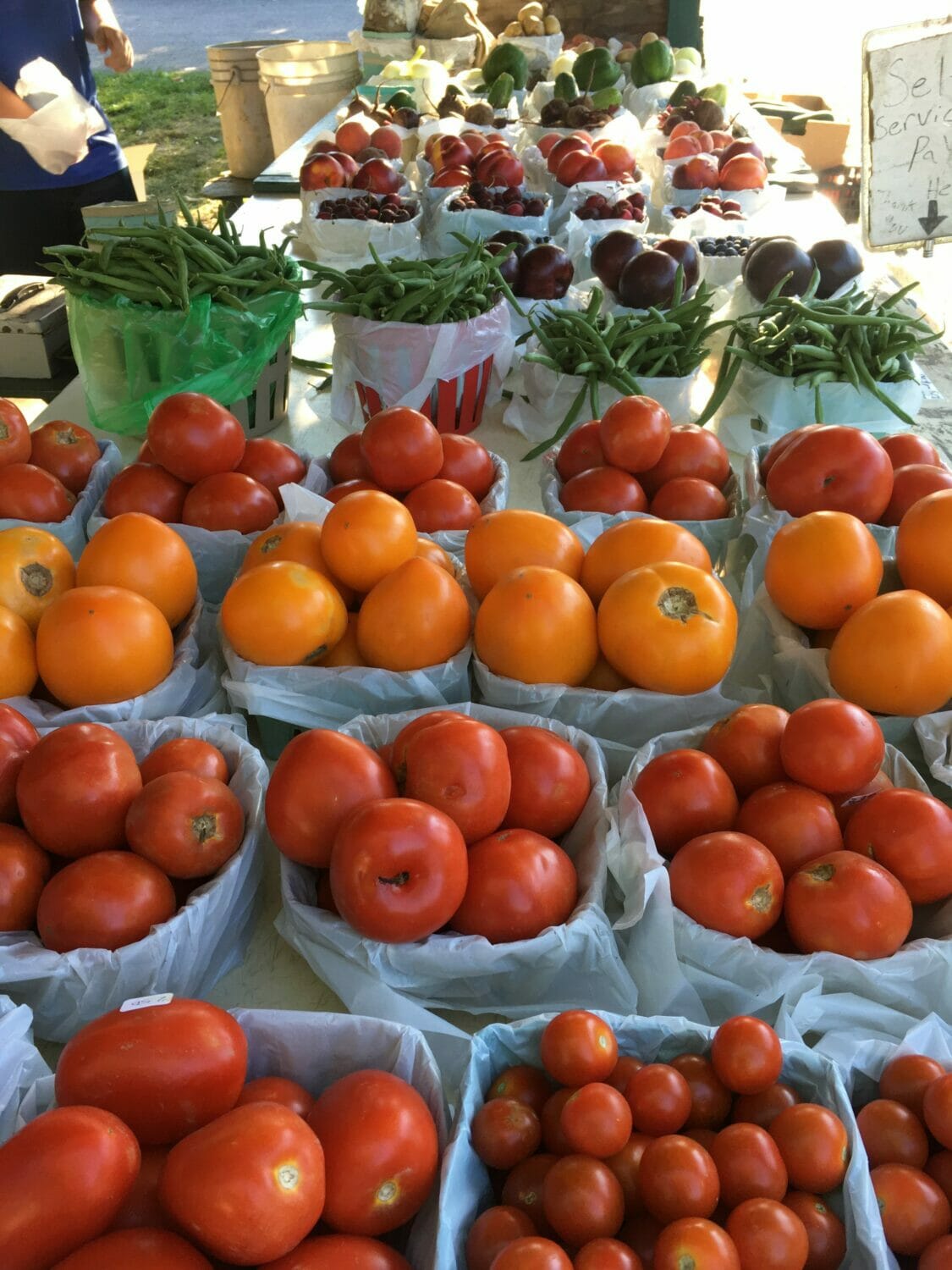 Make smart processed choices
Not all "processed" foods are bad for you! The trick is finding foods that have been minimally processed, in ways that don't alter the nutritional content by adding in lots of ingredients you can't pronounce.
For example, did you realize that all these foods are "processed," because something's been done to them before you buy them?
Baby carrots
Frozen fruits and veggies
Bagged salad mixes
Pre-washed, steam-in-bag, and ready-to-cook vegetables
Spiralized vegetables (e.g., zoodles and sweet potato noodles)
Pre-chopped onions, celery, peppers, and stir-fry vegetable mixes
None of these comes to you in a fresh-from-the-garden format. But they're still super-healthy, and can make it easier to serve your family healthier options by eliminating some of work and prep time involved. You'll generally pay more for this convenience-processing, but it's definitely worth it if you don't have time to do the prep yourself.
Master a few basic techniques
Cooking healthy meals from scratch doesn't have to be complicated, or take hours of hands-on cooking time. A few basic techniques can get you a long way, while sparing you the extra fat/salt/sugar hidden in many processed food items:
Baking proteins instead of frying, or sautéing in a little olive oil instead of deep-frying, will go a long way toward making them healthier. My family loves fish fillets dipped in a little egg yolk or buttermilk, then in seasoned bread crumbs, and baked 10 min at 450 degrees F (or until opaque and flaky).
Toss a roast or several chicken breasts with some water or broth, chunks of vegetables (carrots, celery, onions, potatoes), and seasonings of your choice (fresh herbs, salt and pepper, etc.) into your slow cooker in the morning before school/work. Set it to cook on low all day; when you come home, dinner will be ready.
The easiest way to cook vegetables in a hurry is to

steam them in the microwave

. I do this all the time for a side dish in literally minutes.
For basic roasted vegetables, cut potatoes in small chunks (or use baby carrots, or washed and trimmed green beans, or chunks of sweet potato). Place in a large bowl, drizzle with olive oil/a little salt and pepper (or herbs of your liking, fresh or dried). Line a baking sheet with parchment paper. Spread the vegetables in a single layer. Roast at 350 degrees F until they reach desired doneness (usually about 20 min for al dente, or 40 min for soft). Or throw them in the oven with whatever else you're cooking, at the other dish's preferred temperature, and monitor them for doneness.
RELATED POST: Four-Thumbs-Up Roasted Eggplant
RELATED POST: Technique: Microwave-Steamed Vegetables
Order healthy staples online
Think about it: Chances are that you already shop online for clothes, books, and everything in between. Why not order farm-fresh, healthy foods delivered straight to your front door, too?
For those of us who don't have easy access to local farm-fresh produce, locally-raised organic meat, and other healthier options, online shopping can be a great backup plan to get us the healthy food we want for our families. Think about it: How long have those items you see in the grocery store been sitting around, either in the store or in transit to the store? The longer food items sit on the store shelves (or take to get that far), the more of their nutrient content they lose.
In comparison, ordering healthy foods online means they're often fresher, and come out cheaper in the end thanks to bulk purchasing power. online is often fresher and though you may have to buy in bulk works out cheaper in the long run. For example, when ordering meat online through specialty butchers, the meat you buy is not only better quality, it's also often more sustainably and ethically sourced than what you'll find in most supermarkets.
Choose healthier takeout and restaurant options
And for those times when you do dine out (or order in) as a family, choose healthier options whenever you can. Think more veggies and less refined carbohydrates/saturated fats. In other words, rather than pizza or Italian food, consider Chinese, Thai, or Indian food.
When eating in a restaurant, keep portion sizes in mind, too. When I'm eating out, unless I'm deliberately ordering on the light side (e.g., an appetizer as my main meal), I'll look at my plate when it arrives and mentally portion off half of it to take with me in a to-go bag. There's no point stuffing myself with too much at dinner, when I could just as easily take home half and have lunch ready to go for the next day.
How do you help ensure that your family eats as healthily as possible? What are your favorite hacks for accomplishing this? Let us know in the comments!
If you enjoyed this post on quick tips for healthy family eating, why not share it with others by pinning this image?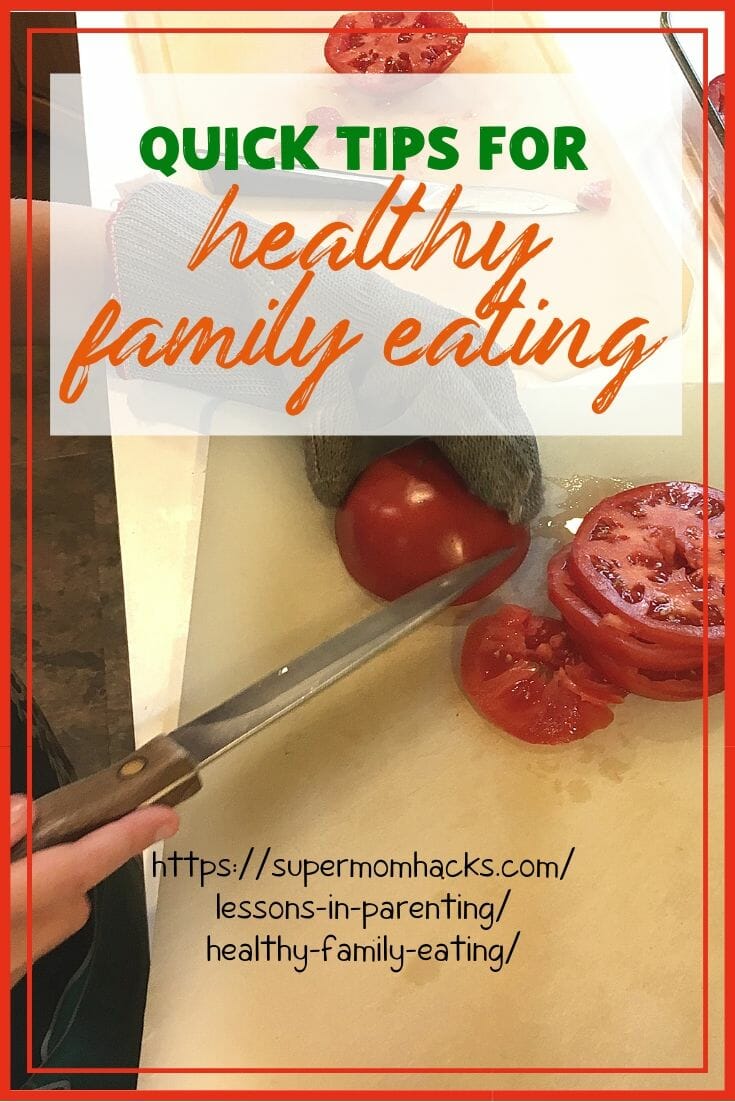 NOTE: This site contains affiliate links. I may earn a small commission from any purchases made through affiliate links, at no additional cost to you. For more information, please read the full disclosure/privacy policy.