Traveling with kids doesn't have to break the bank. There are lots of ways to save money when traveling with kids (or without them, for that matter!) that I've learned, sometimes from my own genius mama, sometimes from my own trial and error. Not all of these will work for all kids in all stages, but depending on where you're at, they could definitely help you keep costs down on your next family trip.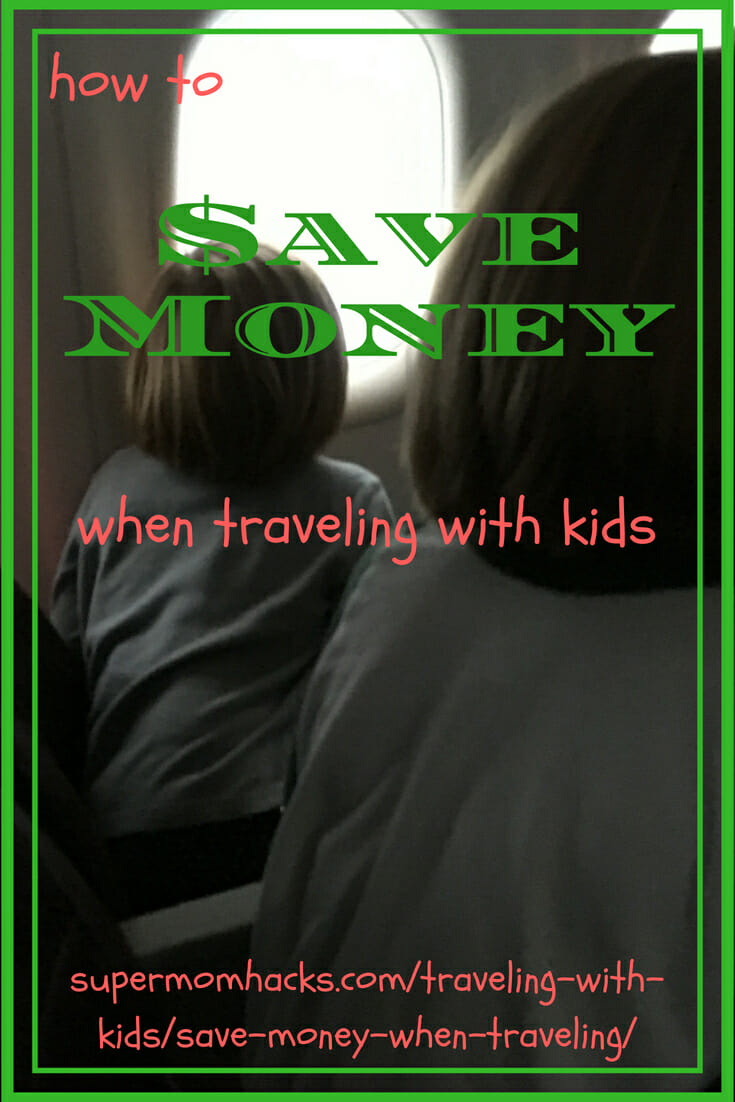 Save money when traveling with infants or toddlers:
Snag that free airline seat
Often, children under age 2 can fly as "lap infants" for free. Nothing like having one less plane ticket to buy!
Use your luggage wisely
Many infant items, from strollers and carseats to diaper bags, can be checked through to destination or gate-checked free of charge (in other words, they don't count against your carryon or checked luggage limit). When we flew with a double stroller, an infant, and a two-year-old, I tucked a few "extra" things into that gate-check bag with the stroller (e.g., bulky winter coats).
And when I used to fly with a diaper bag, I swapped out my regular ones for a small under-seat suitcase. I labeled it as a "diaper bag" (not that anyone ever asked). BUT it was big enough to hold not only diapers and a change of clothes for both kids, but also a pair of lightweight blankets. And toys. And tons of snacks (since airport food isn't exactly baby- or toddler-friendly).
Ship ahead to your destination
Going to your in-laws' across the country for a week with your six-month-old? Order your diapers, formula, etc. online
(even if you don't regularly do so) and have them shipped to your destination. That's what my SIL Alicia did last Christmas, and it made a huge difference in their packing. No running out to the store or (as I've done before) overpacking on these crucial items!
Buy with an eye to travel
If you know you're going to travel a lot, take that into consideration when making initial purchases of everyday gear. We ditched our big, bulky high chair early on and replaced it with two inexpensive, portable booster seats (one for each girl). We frequently traveled with one when we knew there would be no other options for baby Essie.
Likewise, we've never had a second set of vehicle booster seats for our second car. As soon as Kimmie turned 3, we got her one of these travel vests. When Essie turned 3, we moved her into the small vest and got Kimmie a larger one. At ages 6 and 8, they still use these as regular car restraints in one of our vehicles. And these vests also get frequent use when we have to transport them and a friend to or from Scouts. Not only have they saved us from schlepping large booster seats through airports or renting boosters at our destination, but they've been far more versatile for everyday use than regular boosters. And the girls can easily fit them into their backpacks when we're flying!
Save money when traveling with preschoolers or school-aged kids:
Promote "responsible traveling"
As soon as each of my girls could manage her own teensy backpack, she was responsible for carrying some of her own gear with her, whether on trips or on outings closer to home. This extended to family travel as well. Today's rolling carry-on suitcases and under seat bags are plenty big enough to hold a small child's needs for a week, yet easy for them to manage all (or mostly) by themselves.
As soon as the kids could manage their own bags (with some extra adult supervision), we kissed baggage fees goodbye. This means that we save $50-$100 per trip off the bat. And rather than purchase them flimsy "kid" luggage, we got them sturdy pieces that they won't be embarrassed to still use when they're older.
Bring plenty of munchies
Airport food is becoming more expensive by the day, and the fast-food options at roadside rest stops aren't much better. Packing a lunch and plenty of snacks can save you a bundle on each day of travel.
I generally avoid individually-packaged items in favor of bulk when at home, but travel is an exception. I stock up on things like granola bars, single-serve bags of trail mix, yogurt tubes, and applesauce pouches for traveling. And I save on these by getting them at a warehouse/club or discount grocery store before we leave home.
Also, look for yogurt tubes and applesauce pouches that are no more than 3.4 oz each. That way, you can freeze them ahead of time, and use them as airport-friendly icepacks while traveling (so long as you account for them in your 3-1-1 bags),
Wrap small "presents" to open throughout the trip
Not only will this keep your kids amused, it's a great way to foster cooperative behavior. And it can help reduce some of the "gimmes," whether your child is prone to begging you to buy stuff at home or not.
Stay with a fridge, and use it
Not only will having access to a refrigerator and microwave make your life easier with small children, it can also save you a bundle over eating out three meals a day. Especially when you consider how much kids DON'T eat in restaurants.
If you can eat breakfasts where you're staying, and either pack a lunch or eat that in your unit as well, you'll only have to pay for one meal out a day instead of three. (This strategy is part of why my parents could afford so many vacations when we were little.) And if you take dinner leftovers back to your unit and refrigerate them, you've got a start on the next day's lunches.
Or consider all-inclusive
It may seem like a huge extra expense upfront, but we've done the math. Many resorts don't charge for children under a certain age; others have a lower-tier price for, say, kids age 6-12 or 7-18 (vs. adults, whose price point assumes they're drinking alcohol). Compared to a family of four eating out, we can save a fair bit of money in some situations.
Save money when traveling with tweens and teens
Try camping or hosteling
While hotels might charge an extra fee for kids over 12, camping can help you avoid this expense, if you've got the gear. On the other hand, if you don't mind no-frills accommodations, look into youth hostels that will house families. Or explore housing options through affiliated organizations to which you belong.
Case in point: When Evan and I were tweens, our parents took us to London for two weeks. Because both my brother and I were in Scouting, we spent our first week at London's international Girl Scout/Girl Guide centre. The second week, we lodged at the corresponding Boy Scout facility. Not only did we save a ton (meaning a longer vacation), but we were able to meet other kids our age from all over the world.
Does your lodging include a decent breakfast?
Hostels and hotels with a complimentary full breakfast will not only save you money, but will also give your growing kiddo(s) a chance to fill up at the start of the day. (Read: they're not so hungry later on!)
Consider rearranging your meal schedule
Have you ever noticed that restaurants will often serve the same meals, with the same portion sizes, on their lunch menu as on their dinner menu – but the lunch menu has a much smaller price tag?
When my mother and I spent a week in Paris, we used this knowledge (plus the previous tip) to stretch our food budget. We had a hearty breakfast at our hotel each morning, ate a good-sized lunch when we got hungry for it, and had a much lighter evening meal before bed.
Take advantage of student and other discounts
Unlike the United States, there are many places in the world where teens get discounted rates over adult admissions. In some cases, this benefit can continue well into one's 20s with an International Student Identity Card (so long as you're actually a full-time enrolled student, of course!). This is a great way to save on museum admissions and transit fares.
Do your research ahead of time
This should be a no-brainer for any trip, but it's especially useful if you're traveling to an unfamiliar place. Are there special discount or free days at the attractions you want to visit? Can you get a discounted week-long transit pass by ordering in advance? Are there any online coupons for the attraction you plan to visit later that day? We have used each of these examples to save money on previous trips.
Practice budgeting
Traveling is a great mini-chance for older kids to practice budgeting, With your t(w)een, decide in advance how much spending money they'll have for the trip. Then help them track their spending (on paper or with an app) and stick to their budget.
In other words, don't bail them out if they insist on buying an expensive souvenir on the first day. Even better, encourage them to shop around in case they see a better price later at another store. And help them to pace their spending throughout the trip.
What about you? What is your favorite way to save money when traveling with kids? Let us know in the comments!
If you found these tips for saving money on family travel useful, why not pin it for others to see?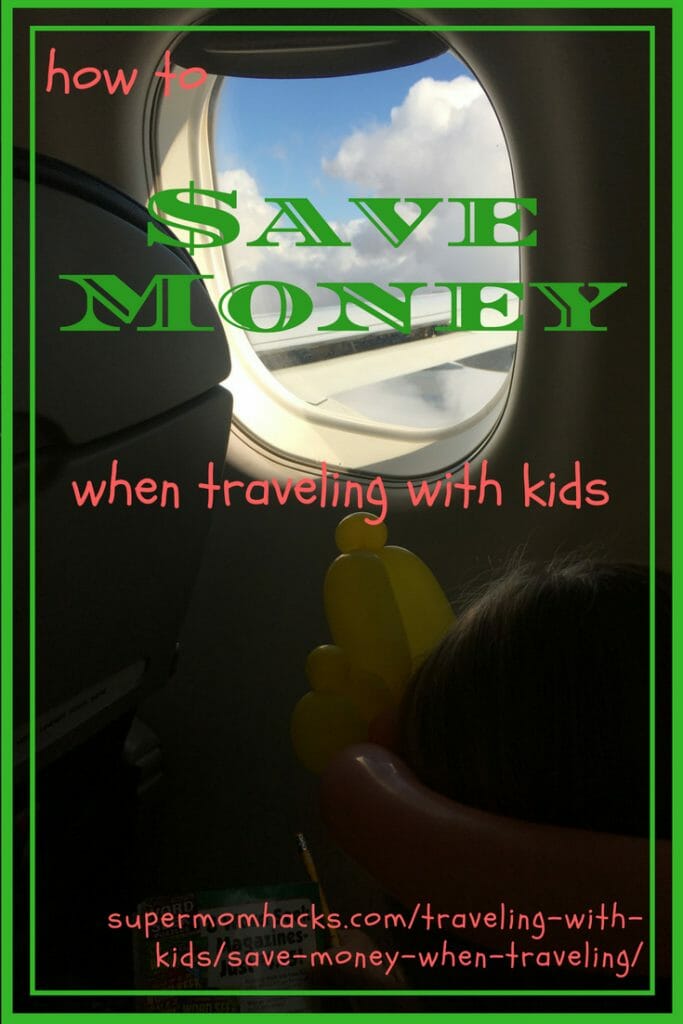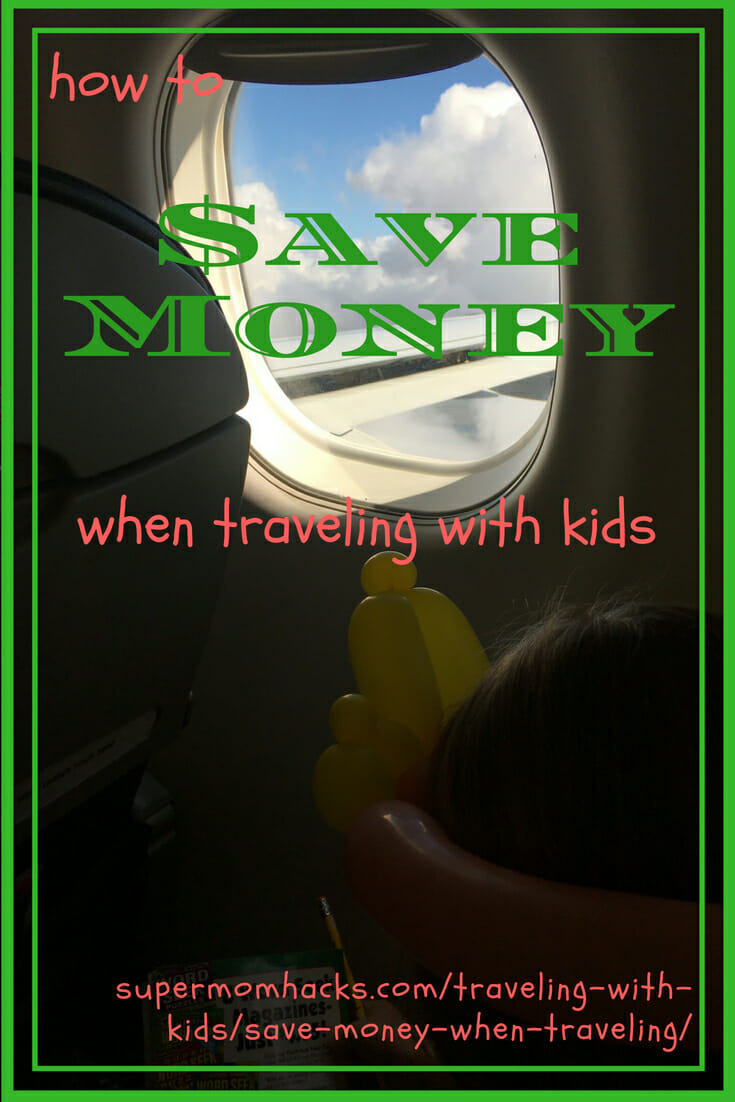 NOTE: This site contains affiliate links. I may earn a small commission from any purchases made through affiliate links, at no additional cost to you. For more information, please read the full disclosure/privacy policy.