Now that we're moving past the worst of the pandemic, are you ready to hit the road again with your kiddos? Or perhaps even take to the skies with them? Or maybe you're just getting out and about in taxis more. Whichever of these scenarios fits best, having the best travel carseat will make your life a thousand times easier.
(Originally posted Nov. 12, 2016; last updated July 2021)
Maybe your growing child needs a new carseat anyway. Perhaps you've got that long-deferred plane trip on your agenda in the next few months, and trying to figure out how to fly with carseats.
RELATED POST: Save Money When Traveling With Kids
RELATED POST: Essential Family Road Trip Hacks to Travel Safely
And depending on how long you've been doing the new carseat thing, you might be sick of the sticker shock of constant carseat upgrades.
This was the boat we were in several years ago, when we flew cross-country to visit Evan and Alicia. Essie was still in an infant carseat then, and we were committed to traveling with her stroller to help free up our hands as we schlepped two small kids and luggage through multiple airport layovers. (I know, multiple layovers + small kids = dumb idea. But three flight segments is literally the only way to get from where we live to where they live.)
But what to do about Kimmie? At three, she'd outgrown an infant carseat but was too small for a backless booster.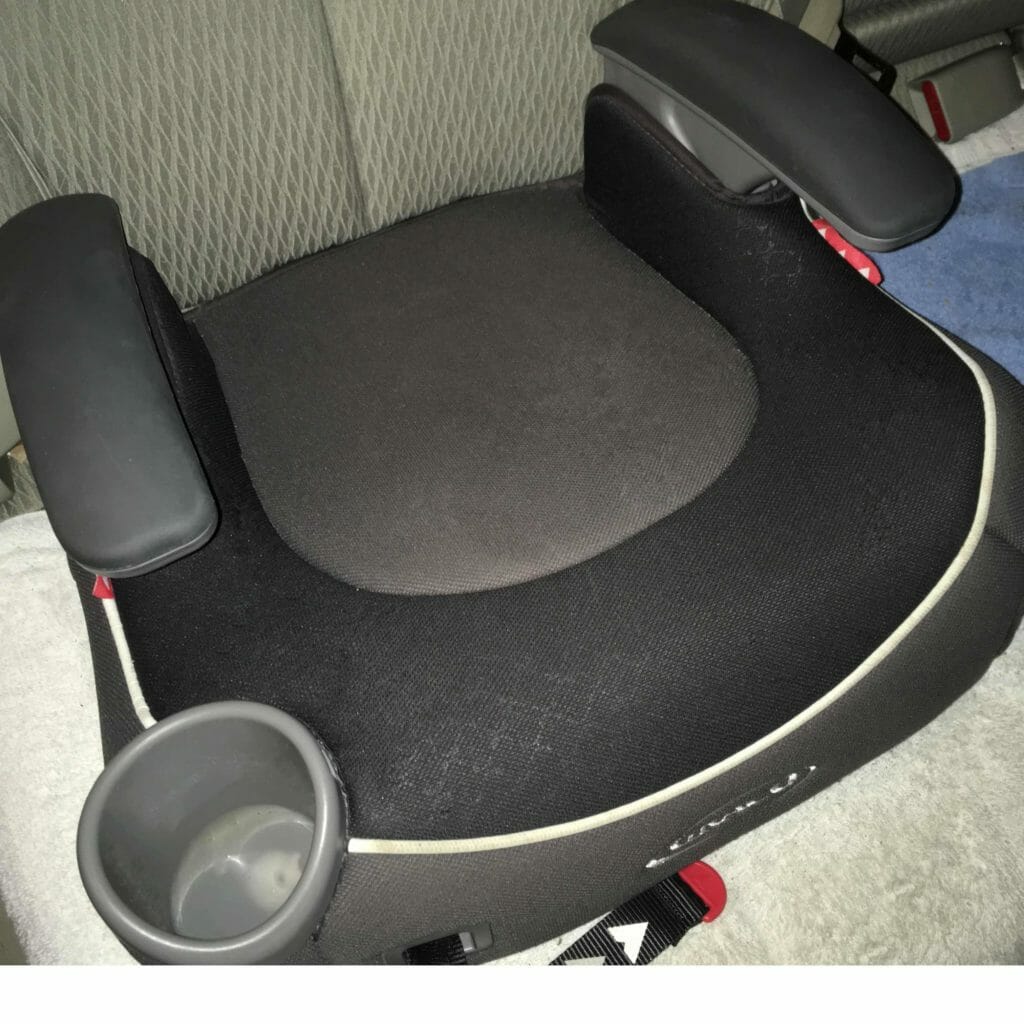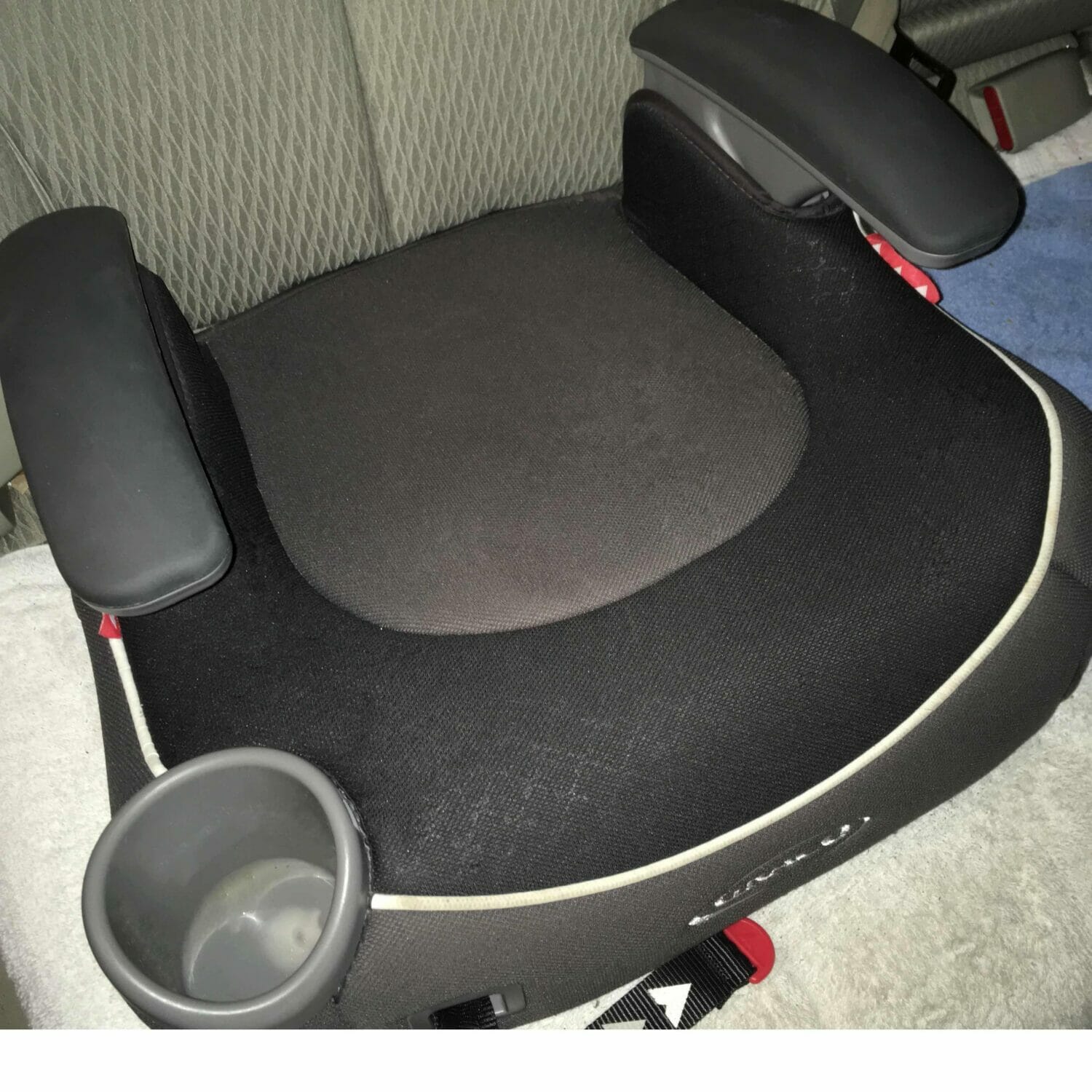 So I started researching the best travel car seats for a 3 year old.
My hunt for the best travel carseat
But my research on the best car seat to travel with was discouraging. Based on how thoroughly airlines had previously shredded travel car seat bags (I bought one once, and used it as luggage, to see how well it held up) and stroller bags for travel, I was already leery about the thought of expecting a checked car seat to show up in one piece at the other end. My travel with car seat research confirmed my worst fears.
This sums up the horror stories I read:
Renting a carseat along with your rental car
Chances are good it will be gross (i.e., covered in the residue of previous occupants' snacks and bodily functions) at pickup. Regardless of what the rental company promises about cleaning and sanitizing it for you.
You won't know what brand/model you'll get until you pick it up, it will NOT come with installation instructions, and the rental agency employees will NOT install it for you for liability reasons.
There's a reasonable chance that they won't even have what you need available when you get there for pickup, even if you specifically reserved it ahead of time.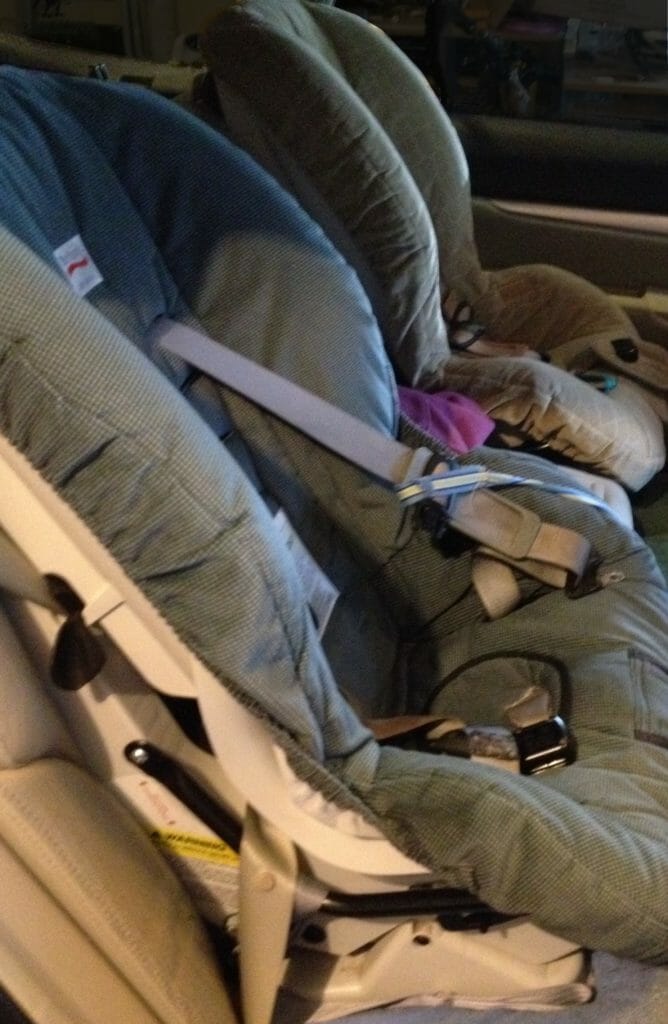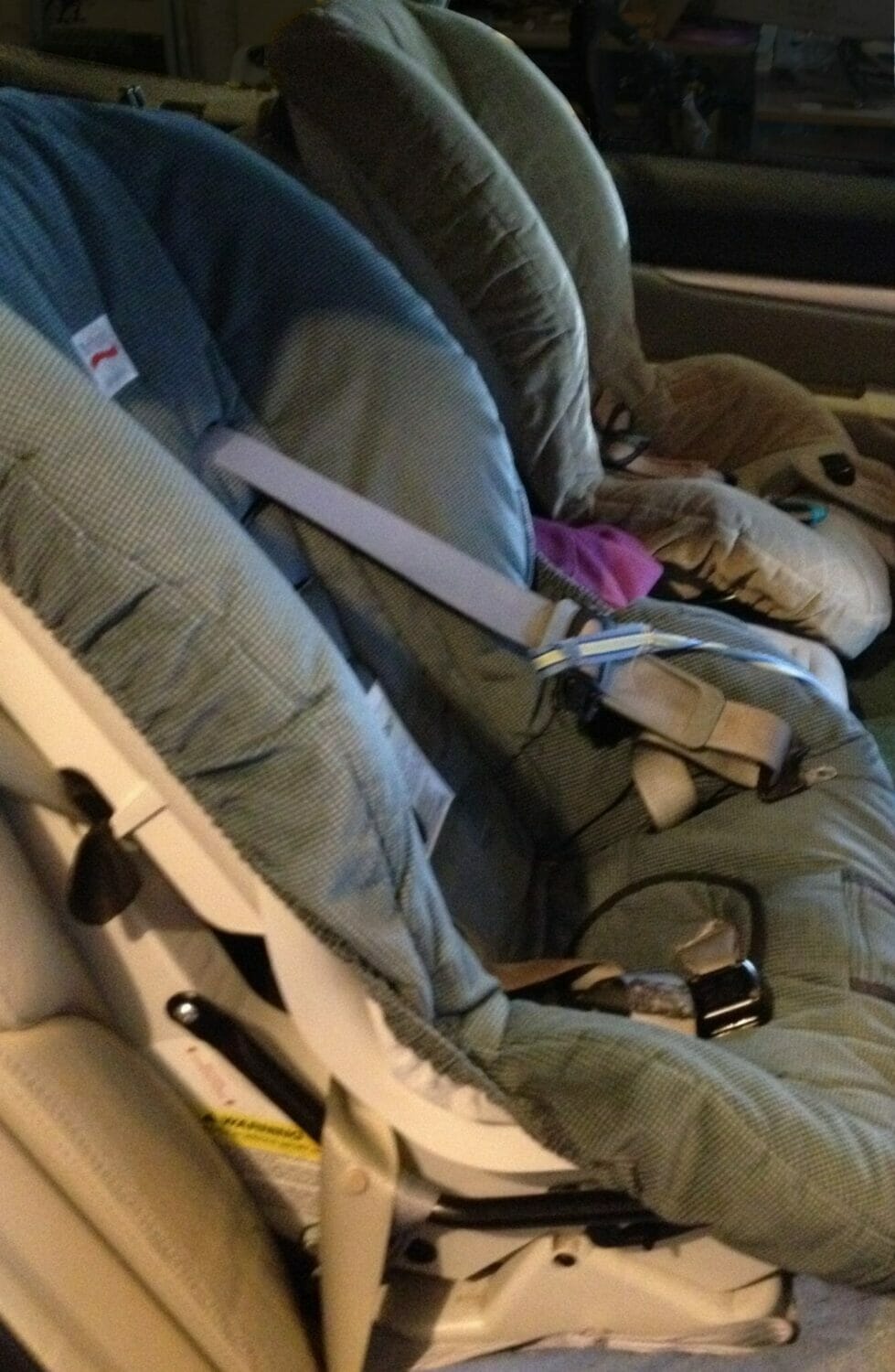 Bringing your own carseat with you
Those todder-sized booster seats don't fit well into airline seats, and are pretty large and bulky to schlep through the airport with you.
Want to check it instead – and risk its NOT being at your location when you get there? Good luck with that. I remember a flight a decade ago, when my luggage went missing. At the "file a complaint" counter at 11pm, I was in line behind a set of tearful parents with a cranky infant, who were in search of their own gone-missing-in-transit checked item – their infant's carseat.
That was the first time I swore NEVER to trust the airlines with my own carseat.
And let's just suppose you DO decide to schlep along your own toddler-sized seat. Infant seats are not that hard to secure in a car even if you don't bring a base along, IMHO. On the other hand, the toddler-sized ones always took a lot more time, strength, and patience to install correctly than I generally have in my tank after a long day of travel. Not to mention that you still have to buy a travel car seat cart, or else get a brand-new lightweight travel car seat anyway.
Renting one at your destination
Sure, there are all sorts of rent-baby-gear-for-your-visit options popping up in cities all over the world. But did I mention that Evan and Alicia live, literally, in the middle of nowhere? (In other words, no services like this available for literally hundreds of miles; we were on our own.)
Besides, coordinating the carseat's appearance at the correct time and place as where you pick up your rental car is tricky.
And given that we were arriving late at night, renting a car, staying in a hotel, and then driving another four hours to their house, popping out to the nearest department or baby superstore to just buy ourselves another carseat was not an option, even if that had seemed like the way to go to us. (Some people recommend this. We thought it was nuts, given the logistics of our travel.)
None of the friends I asked had good ideas, either. Their experiences of renting less-than-sanitary-looking seats with their car rental matched up with what I'd seen online. They also agreed that hauling a big kid's carseat through the airport was NOT fun. Ditto risking its not showing up if you put it through checked luggage. In other words, there were no good answers to how to fly with car seats.
So what's the solution?
Finally, as I was about to give up, I stumbled across the answer to our problems. It seemed too good to be true at first, so I read up on it as much as I could. Then we bought one for Kimmie. It worked perfectly, and was SO much better than an actual carseat!
Of all the kiddo gear I've tried over the years, this one is by far one of the best-kept secrets I've discovered. That's why it gets my vote as the
Best Travel Carseat Ever
Here's the thing: It's not actually even a carseat!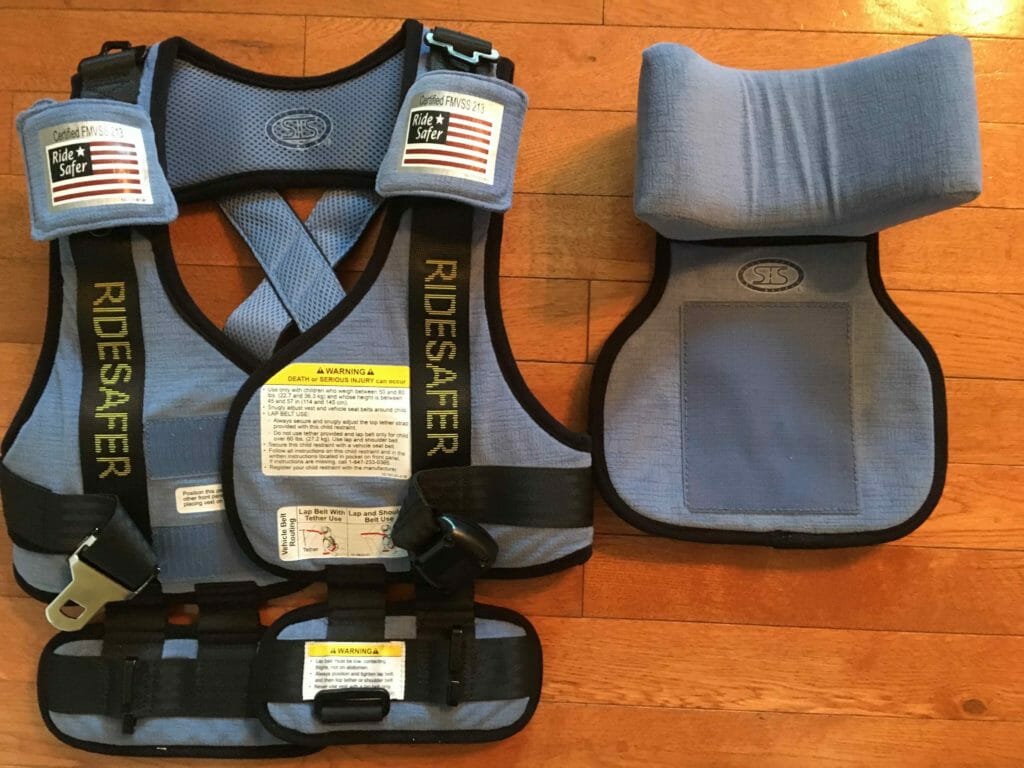 But it works just like one, AND it's approved as a carseat substitute in all 50 United States.
What is this genius solution?
It's a travel car seat vest!
No more hunting for a travel car seat booster, or a travel car seat that's lightweight, or a foldable travel car seat. These travel car seat vests ARE foldable, ARE lightweight, and work as well as a booster or a forward-facing carseat – but without the bulk!
In fact, if you've ever struggled to install a carseat correctly (as I have) – not only according to the instructions, but also securely enough that it does what it's supposed to – I can assure you that it is actually easier to install than a carseat.
And especially if you're flying somewhere where you'll be taking taxis everywhere instead of renting a car, this travel car seat vest is PERFECT for using in a taxi on your way into town, without having to schlep a carseat around all day once you get there.
Best of all, this easy-to-install portable car seat for travel will protect your child far better than a carseat that's not ratcheted down tightly enough.
In fact, the travel car seat vest is SO easy to use that my girls can install it for themselves. CORRECTLY.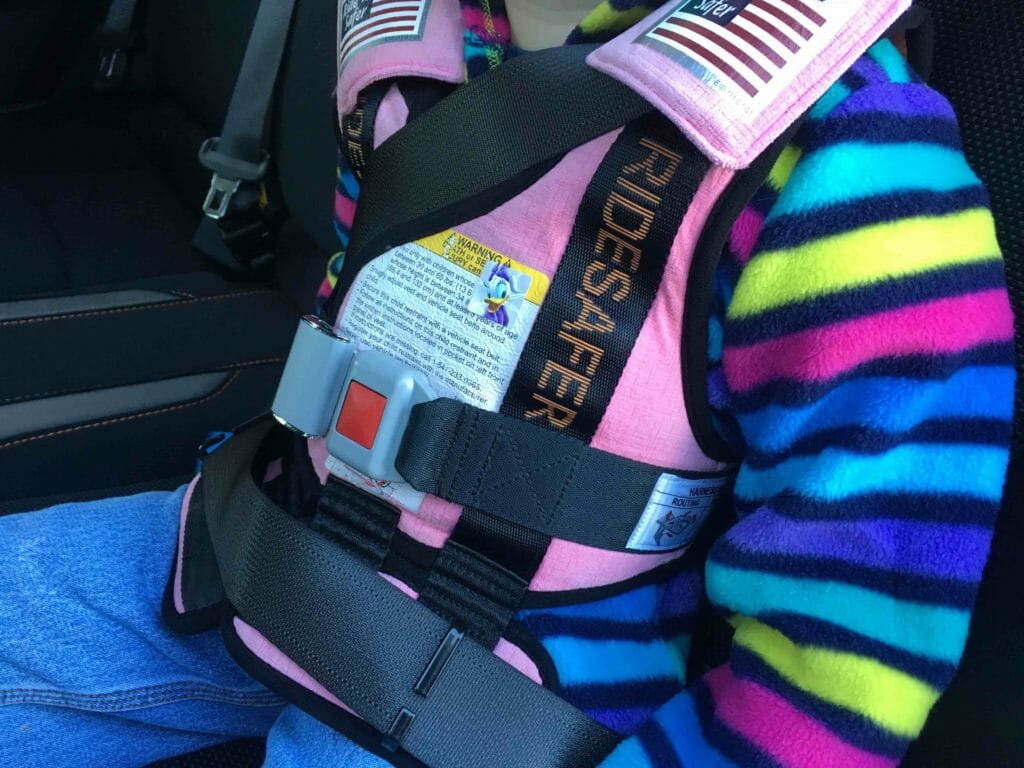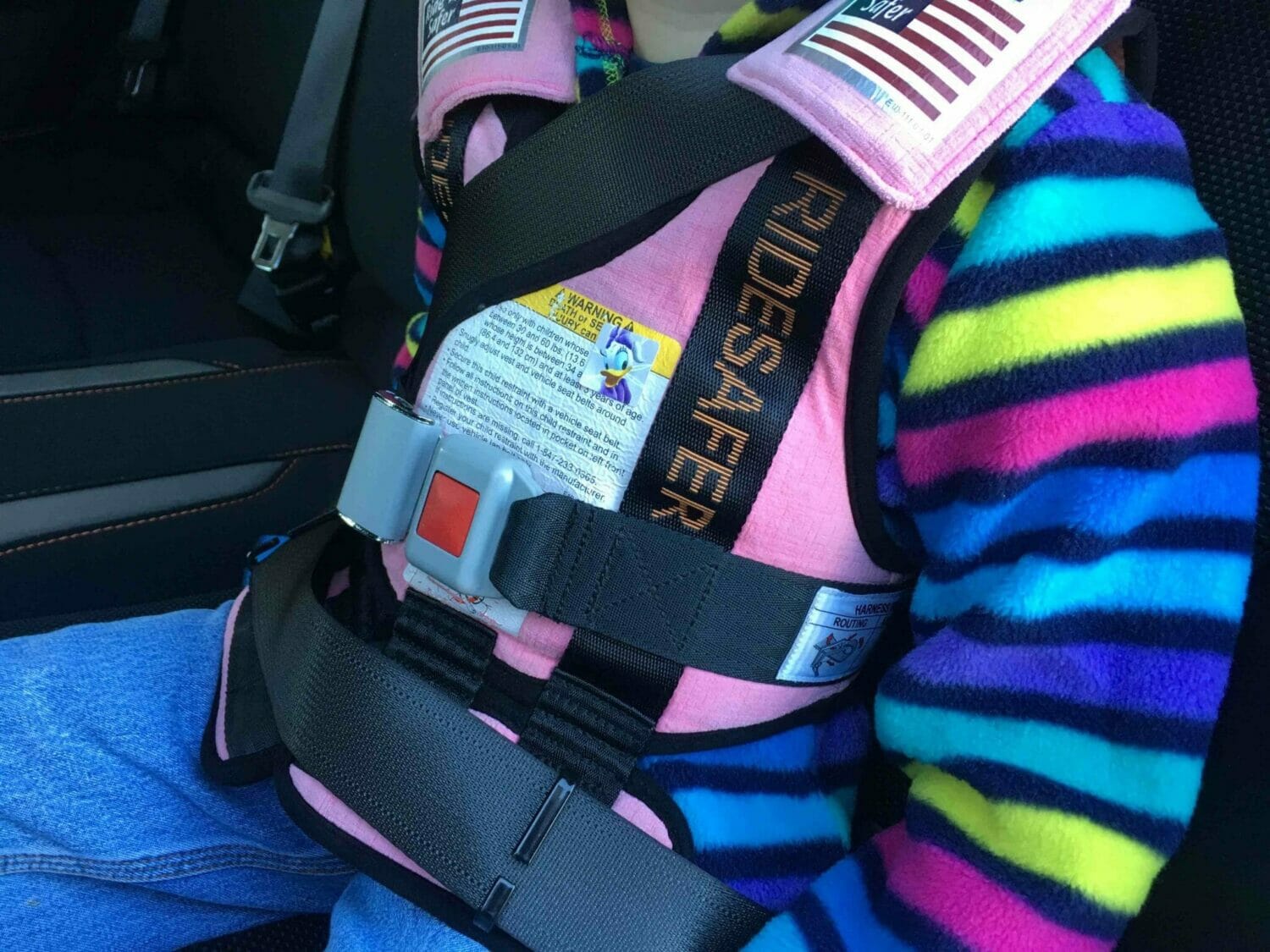 It's a clever invention called
The Ride Safer Travel Vest
These travel car seat vests, made by Safe Traffic Systems, work just like a carseat in the ways that matter:
They properly position your child's seatbelt so that the waist part is low across their hips, and the chest part is across their chest instead of cutting across their face or neck.
They also help the seatbelt work to properly restrain your child in the event of a crash.
For a cost comparable to a new "big-kid" carseat, you can have a vest that is compact, comfortable, and has a 10-year expiration date. (FWIW, they only started adding expiration dates in the past few years, at the insistence of the NHTSB; our models are old enough that they never expire).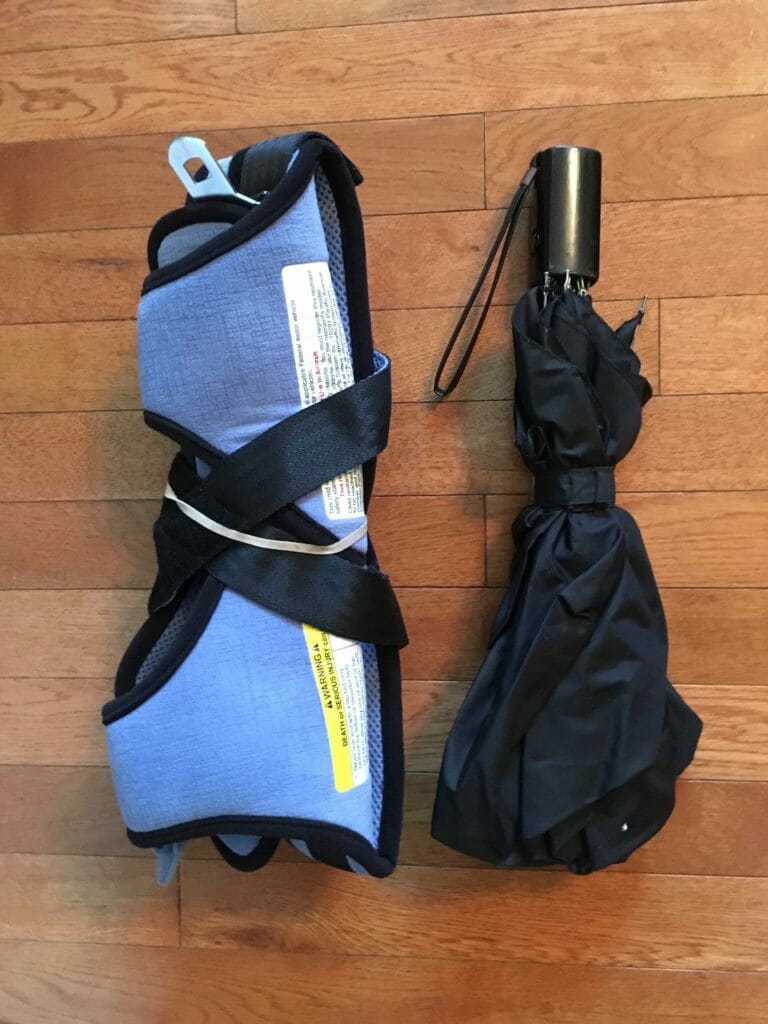 For a family with a lot of kids to go through, this is a worthwhile consideration.
And not only that, but it is sooooooo much more portable than a regular carseat:
I've seen "big kids" lugging their own backless travel car seat boosters through airports. They don't look too happy about it.
On the other hand, this travel car seat vest (which comes with an optional, detachable headrest) rolls up to about the size of a travel umbrella. Even Essie can carry her own vest around in the back of her backpack as we're trekking through airports.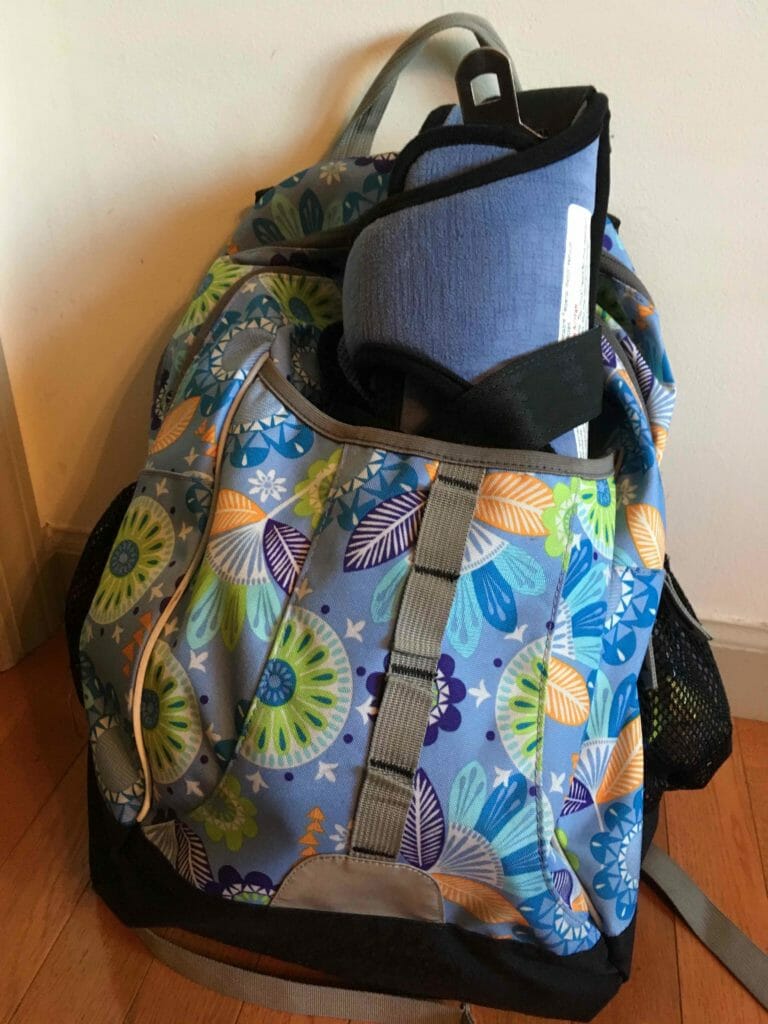 Because it's so portable, it's easy to pop the vest into the girls' schoolbags if they have an after-school playdate scheduled with a friend. It's also perfect for carpooling; Kimmie wore her Best Travel Carseat Ever back and forth to Girl Scout Day Camp last summer.
And if you're expecting Child #3 and dreading buying a third-row car, consider this vest instead. It fits in the middle of the backseat, between two regular carseats!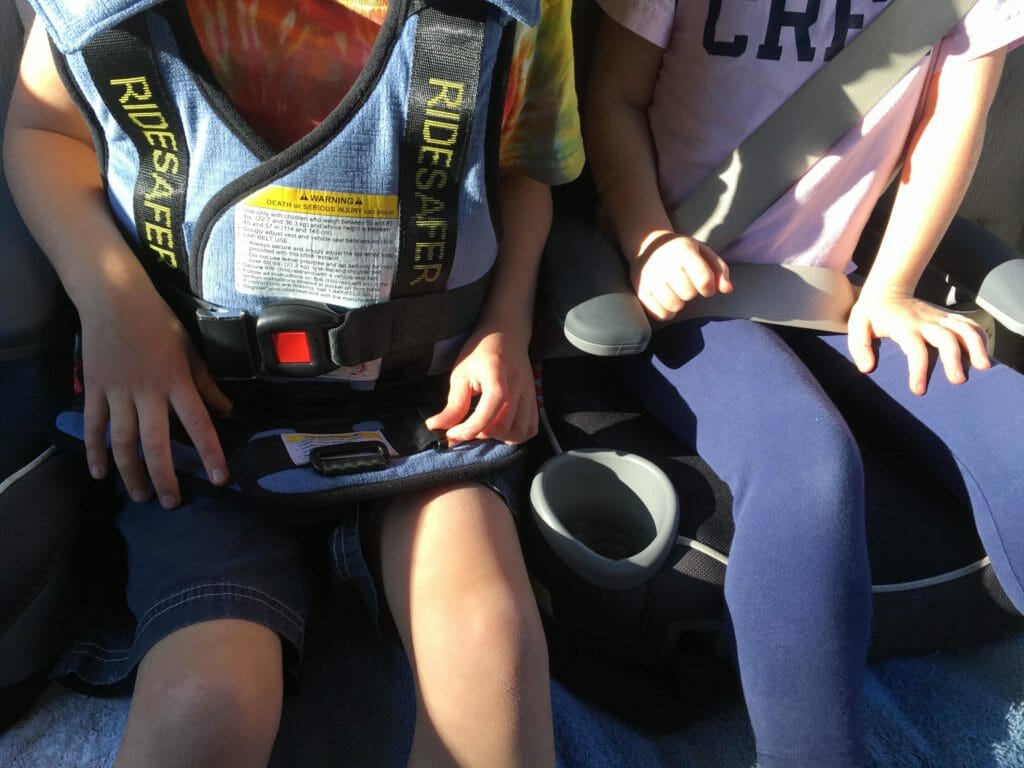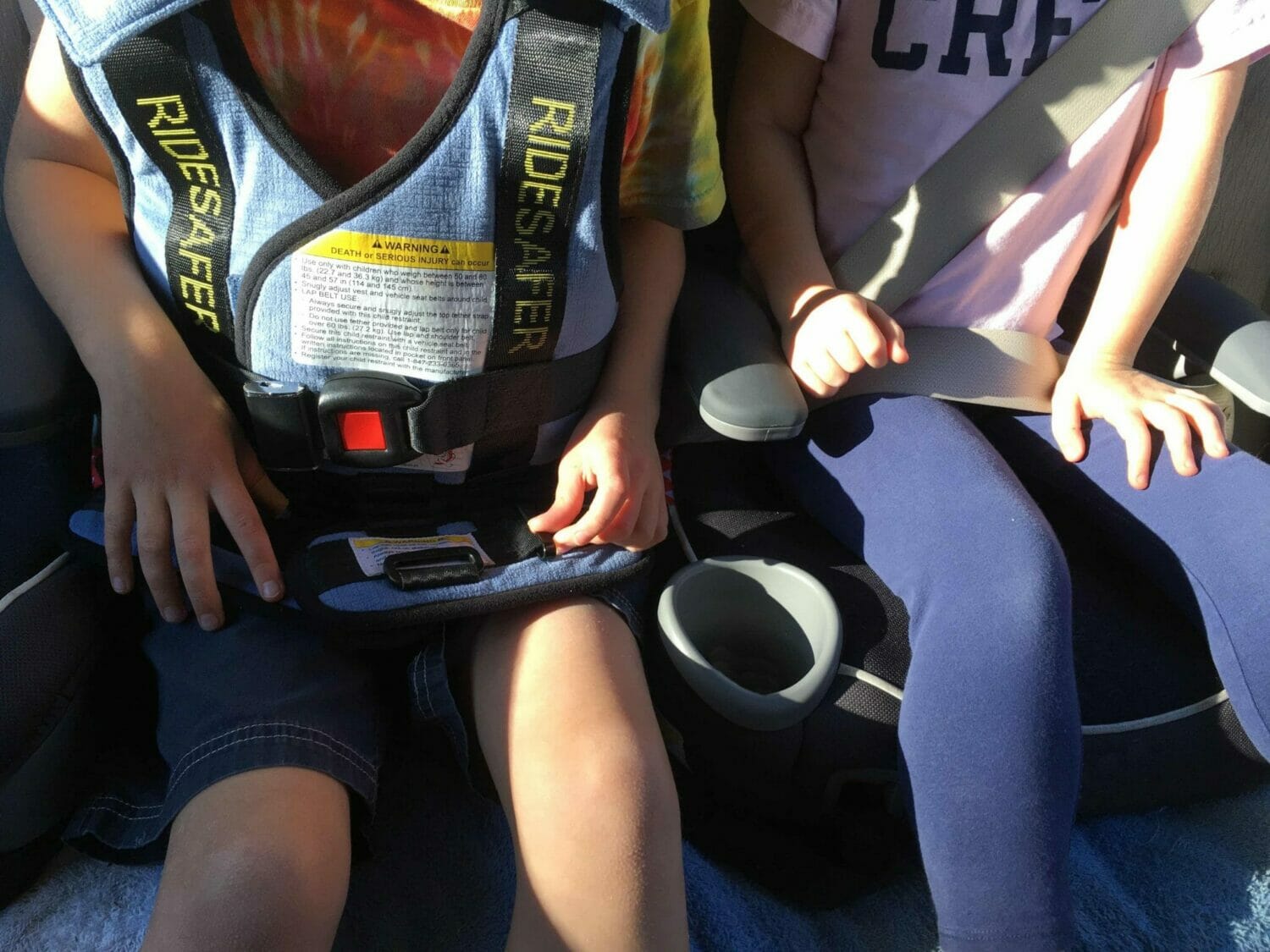 The 411 on the RideSafer vest
The current version of this vest, the Ride Safer Gen 5, works with all cars that have combination lap-shoulder belts. You also have the option of using it with the top tether, too.
The vests now come in three sizes. Small fits kids from 30-60 lbs who are at least three years old. Large works for kids from 50-80 lbs (this is the one Essie still wears). And, new in the past few years, these awesome vests now also come in an Extra-Large size for kids between 80-110 lbs.
The best prices I've found for these vests are direct from Amazon, where you'll probably pay around $140-$170 in U.S. dollars. Which is comparable to a pricier carseat.
Although it's not yet approved by the FAA for use specifically as a restraint during air travel, Safe Traffic System is working on making the vest FAA compliant, too.
From Best Travel Carseat to Everyday "Carseat"
We like these vests so much that when we needed to upgrade Kimmie to a bigger carseat in Daddy's car, we just used her size small Ride Safer vest. As soon as Essie was three, we got Kimmie a large Ride Safer vest, and put Essie into Kimmie's old vest when riding with Daddy.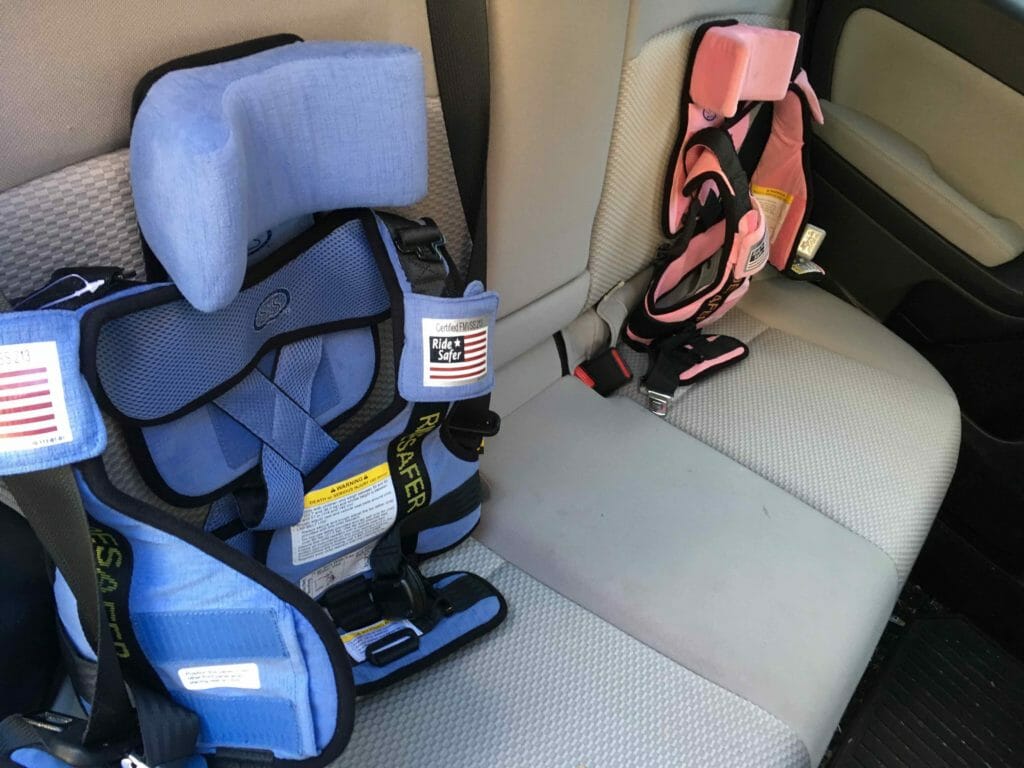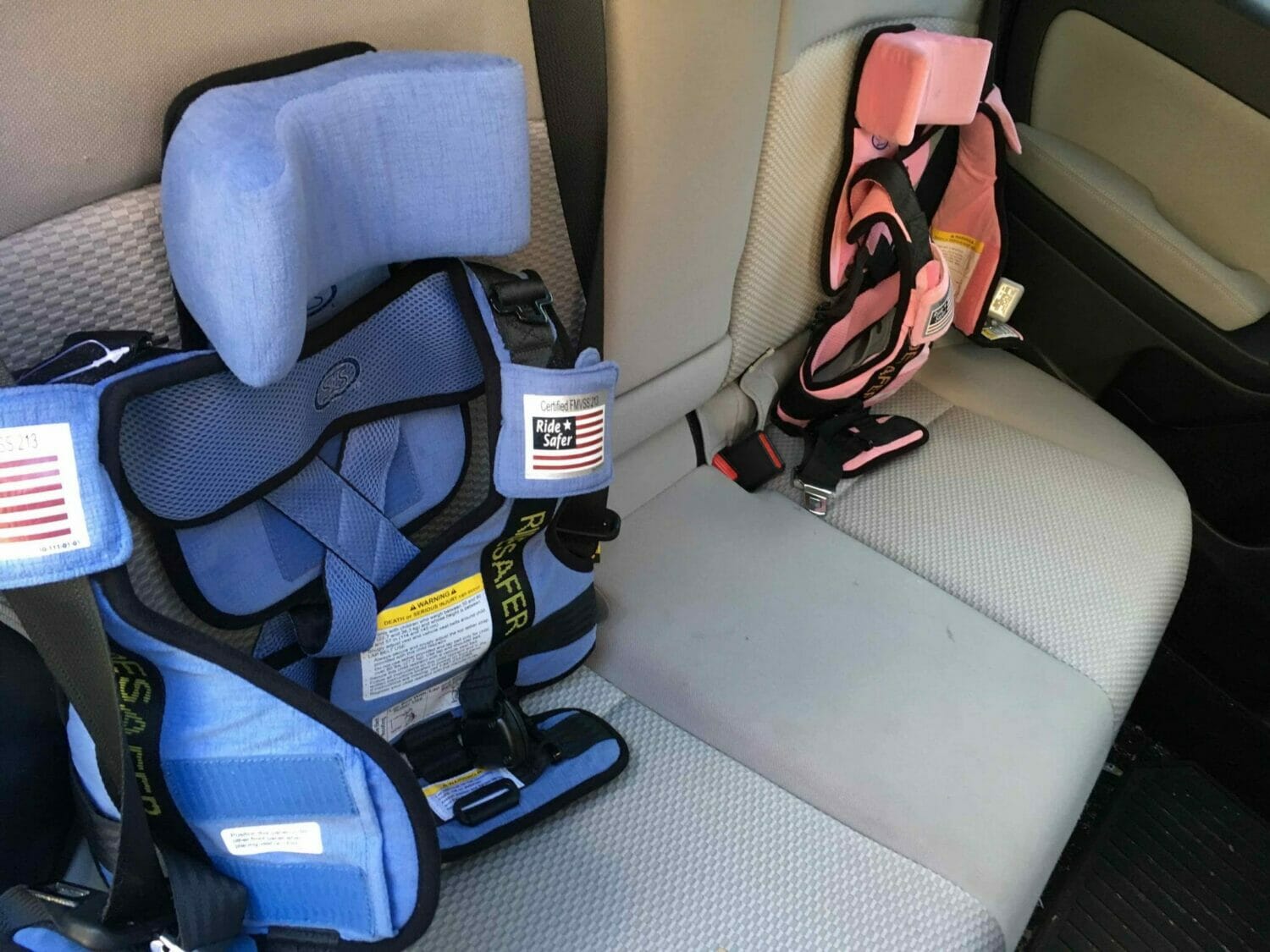 We have no problems bringing an extra friend home from school for a playdate, thanks to these vests. And when grandparents visit, it's super-simple to swap the vests from Daddy's car to grandma's.
For more on how the vests actually work, see reviews here, here, and here. And this video shows how easy they are to use.
UPDATE 7/2021: At 11, Kimmie is now tall enough and heavy enough that a safety belt fits properly on her, without additional positioning help from a booster seat. But 9yo Essie still uses our RideSafer size L vest whenever we're traveling, or need to fit three kids in the backseat of a car.
Most recently, the girls and I took a road trip with Kimmie's BFF Lina. As you can see, the RideSafer vest made it possible for all three to fit comfortably in my. back seat, even though Essie still needs a booster or its equivalent to position her safety belt properly.

Have you tried my Best Travel Carseat pick, the Ride Safer travel car seat vest, for your kiddos? Is it YOUR best travel carseat/carpool option, or your everyday go-to child restraint? Let us know what you think in the comments!
Find this post useful? Then please share it by pinning this image!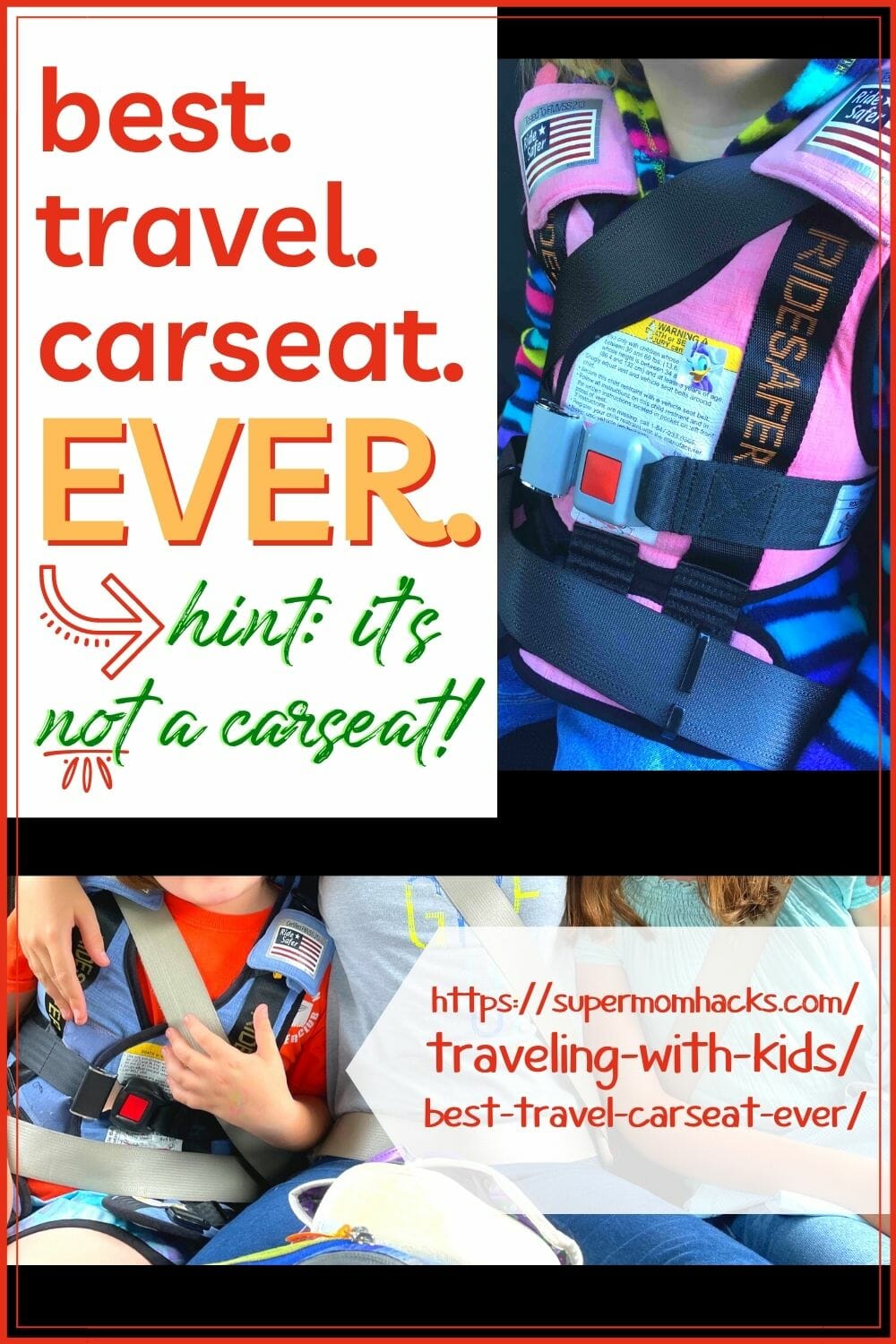 NOTE: This site contains affiliate links. I may earn a small commission from any purchases made through affiliate links, at no additional cost to you. For more information, please read the full disclosure/privacy policy.