I have to admit, I was pretty proud when I dropped Kimmie off at her first sleep-away camp adventure yesterday. She's there for all of two nights, and her luggage reflected this fact. Thanks to the family camping splurges we invested in last summer, she was one of the best-outfitted kids there.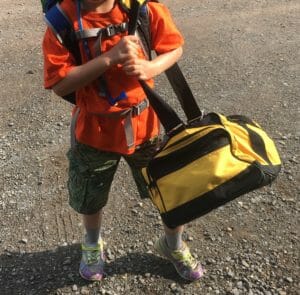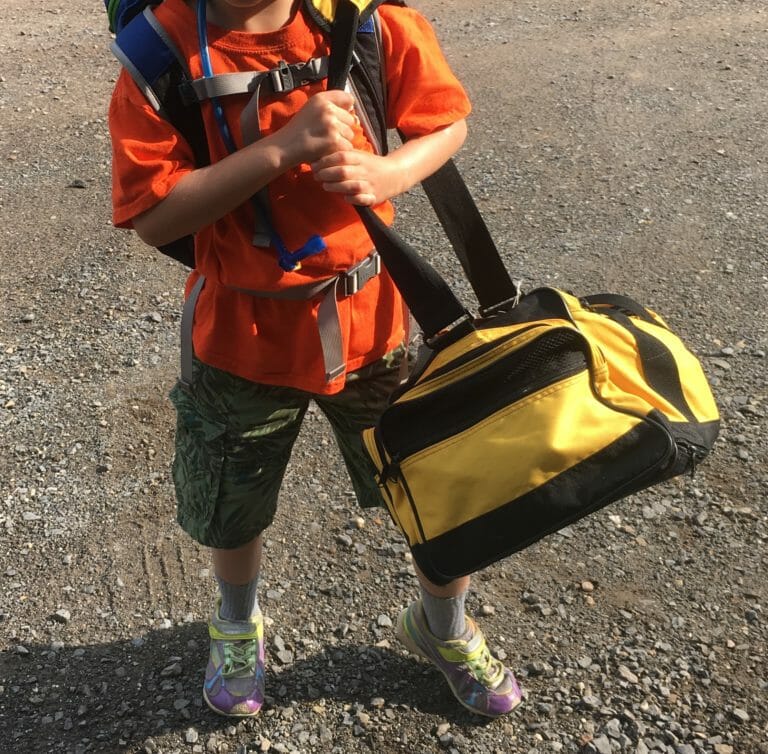 And also one of the least overburdened with gear.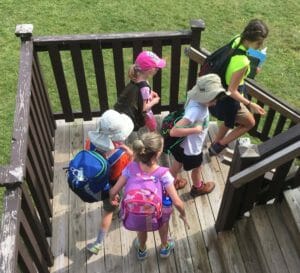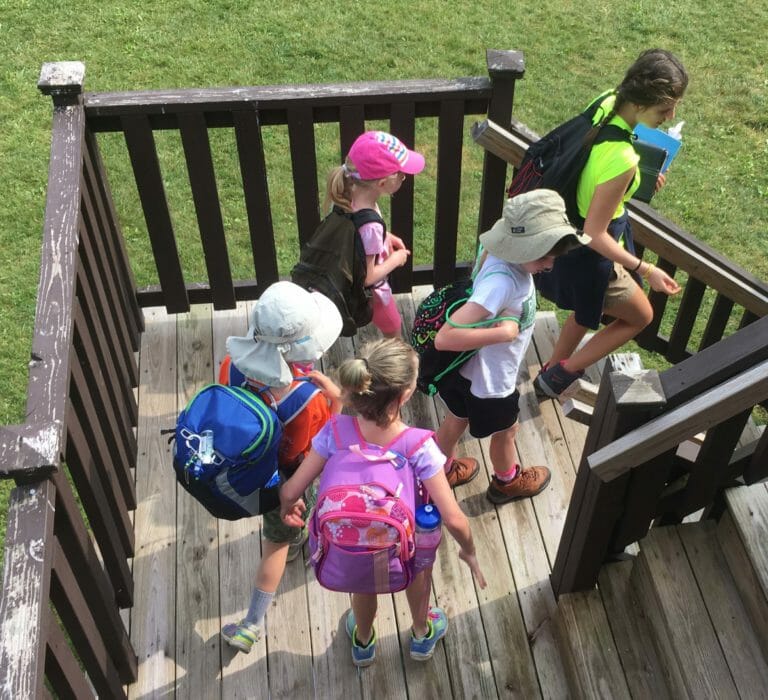 Kimmie's travel pillow and sleep sack fit in her backpack, along with enough water for a morning's hike. And her yellow duffel, though fully stocked with what she needed, was miniscule next to the other kids' luggage.
Top 10 Family Camping Splurges, Part 2
The camping splurges below, like the ones in my previous post, are optional for family camping (or a trip to Scout Camp). But they definitely make life easier. Starting with all the space and weight they'll save you in packing.
Moreover, like the items I listed last week, many of these family camping splurges have lots of uses beyond car camping. So whether you and yours are devoted RV users, dedicated cabin-campers, avid backpackers, or hotel aficionados, these camping splurges are versatile enough that they're worth considering.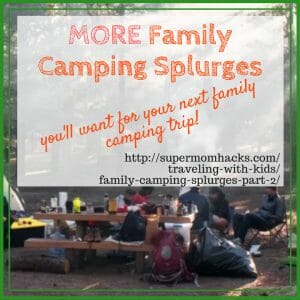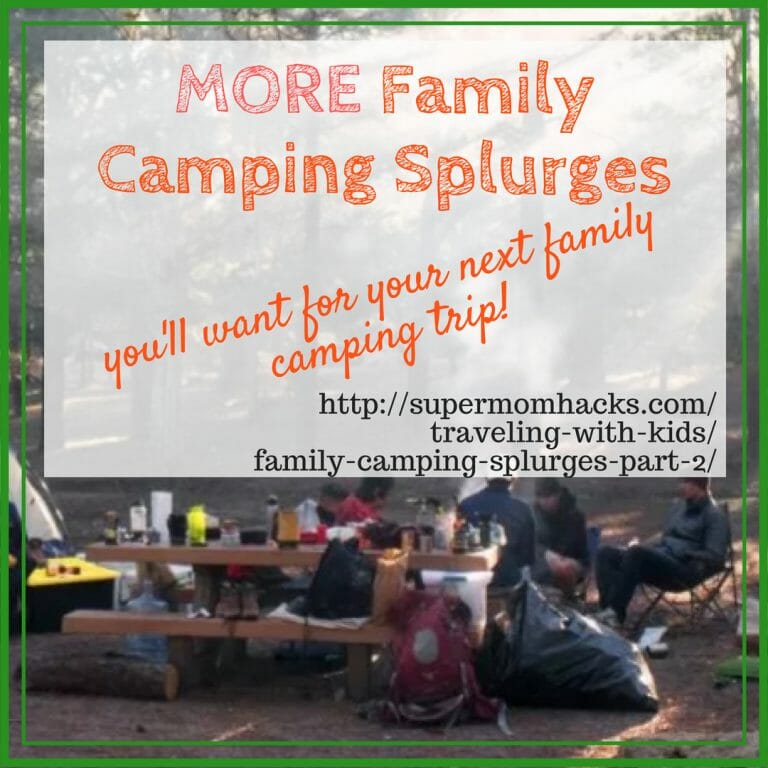 6. Microfiber towels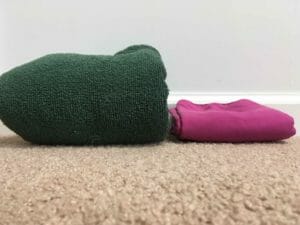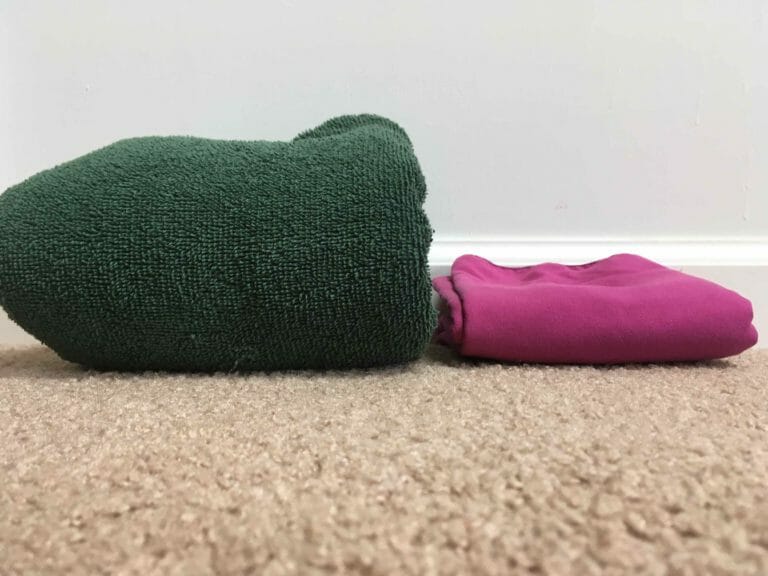 No more packing bulky towels that smell after a few days of summer camping! Dear Husband and I are longtime microfiber users, but last summer I decided to upgrade the girls to microfiber, too.
Of the brands I've tried, my current favorites are Sea to Summit DryLite towels and the YourChoice 2-packs. They are colorfast, super-compact, super-absorbent, quick-drying, and treated with antimicrobial agents (translation: they won't stink!).
Having upgraded myself to an XL towel years ago, I bequeathed my old large towel to Kimmie, and got Essie a large Sea to Summit. While the girls' towels are the same dimensions, Essie's Sea to Summit packs up twice as small as the towel I gave Kimmie. And the two-pack of YourChoice hand towels are perfect as a dishtowel (gray one) and washcloths (purple one, cut in half). Plus, if you don't mind the limited color choices, the YourChoice towels are a great value: two towels for the price of one.
Other uses: Trips to the beach or pool; day camp; swim lessons; plane travel (they double as blankets!); gym workouts.
7. Binoculars
Kids not as into trekking as you'd like? Binoculars are a super way to keep kids amused while hiking. And there are lots of inexpensive kid-friendly options available. Plus, they take up minimal space.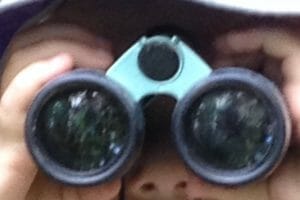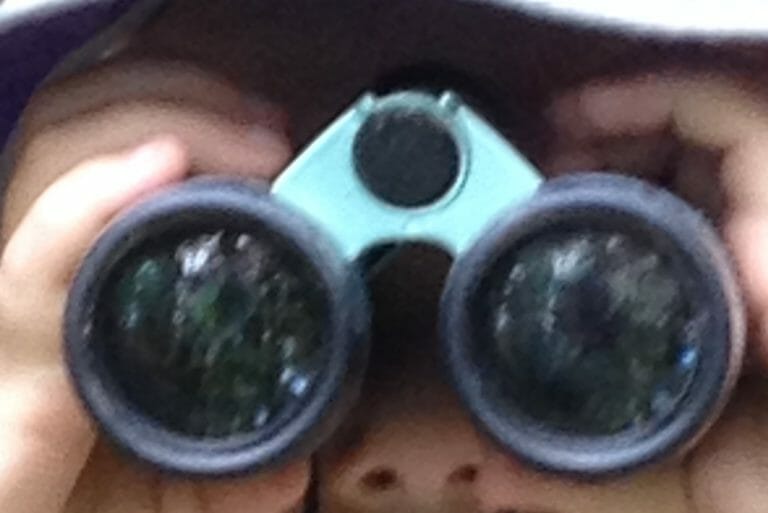 Just make sure each kiddo has her own pair, so they don't fight over them. As soon as Kimmie got her first pair several Christmases ago, Essie began lobbying for her very own. Now that they each have a pair, no more fighting.
Other uses: Birdwatching; stargazing; long car trips; really, any time you need to keep your kiddos entertained without the aid of electronic devices.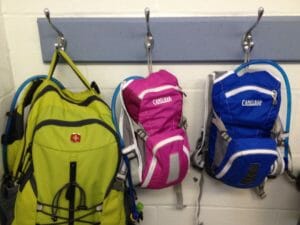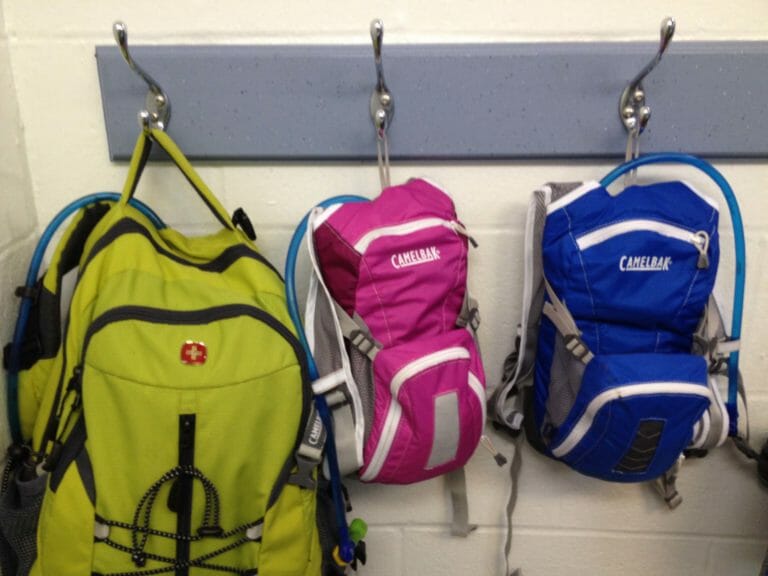 8. Hydration packs
I thought hydration packs were bizarre when my brother Evan first lent me one for a day hike a decade ago. But once I tried it, I was a convert. I scooped up kid-sized versions for the girls on clearance a few years ago, and decided last summer was the year to break them out.
The girls LOVE them, especially the hands-free convenience of having a drink whenever they want. I love the fact that I no longer have to get out their water bottles every two seconds on a hike, or carry extra water for refilling their bottles. And their Camelbak Mini M.U.L.E. packs are the perfect size for kid-friendly day hikes: just big enough to hold their binoculars, sunglasses, hats, and a spare change of clothes.
If you're not familiar with hydration packs, think of a large, heavy-duty bag to hold water (called a reservoir or bladder) with an attached drinking tube. Common reservoir sizes are 50oz/1.5L (great for preschoolers/elementary-age kids and adult runners), 75oz (good for tweens), and 100oz/3L (perfect for teens and adults).
While we've always used Camelbaks, there are many brands available, and most backpacks can accommodate reservoirs. Just put the reservoir in the backpack's laptop sleeve, and thread the tube through the earphone hole at the top.
Other uses: Day camp; trips to the beach or park; running; hiking; biking.
9. Keen Whisper sandals
I LOVE my Keen Whisper sandals so much that a) I own two pair and b) I wear them nonstop in the summer. Besides being super-comfy, they can handle getting wet, and their closed-toe design and supportive footbed mean they're sturdy enough for short hikes. Plus they're durable enough to stand up to constant use.
However, they're not cheap; adult pairs run around $90 US, and kids' sizes retail around $50 US. But last spring, after the previous summer's camping footwear fiasco, I scooped up several secondhand pairs at Baby Consignment Sale for about $10 each.


Either way, they're a worthwhile investment. Last time I bought Kimmie a nice pair of secondhand hiking boots at Baby Consignment Sale, she wore them ONCE before outgrowing them! In contrast, their Keens are the only summer shoes the girls need. Not only do they work for short hikes, but the closed-toe design means they work for places that ban open-toed sandals. Like day camp and the school playground.
And unlike the inexpensive store-brand lookalikes we've tried, Keens will still be intact by the time your child outgrows them, even if you bought them secondhand.
Other uses: When the girls aren't barefoot, they wear their Keens constantly in the summer, rain or shine. The grippy bottoms mean they're ideal even for rainy or wet conditions; think balancing along slippery rocks at water's edge. And while they will take some time to dry if you get them wet (hence getting each girl two pair), there's no harm in doing so.
10. Knot bandanas
Every kid should have their own bandana. I used to pack them in the girls' backpacks on plane trips, because they're useful for so many things – eye mask, peekaboo cloth, mini-blanket, etc. Now that they're older, the girls each want to use bandanas in the 1,001 ways grownups do – tying their hair back, catching sweat, blowing one's nose, repelling bugs, etc.
So last summer I gave each girl her own How To Tie Knots bandana, along with the string handles I'd removed from two shopping bags as their practice ropes. Kimmie has been obsessed with knotting together strings for over a year now, thanks to reading the kids' camping book she got a few Christmases ago. Now they each have their own bandana, as well as a compact, camp-friendly activity to keep them occupied while Mama and Daddy are doing grownup chores around camp.
Other uses: plane trips, car trips, and any other occasion when your kid could use a bandana and/or a diversion.
Again, most of these nice-to-have family camping splurges are useful far beyond camping. And now that we've tried them out, we can admit that they're super additions to your camping gear. That is, if you'll use them enough to justify the space they'll take up, both while on the trip and when stored at home.
What are your family's favorite family camping splurges? Let us know in the comments!
If you enjoyed this post on family camping splurges, why not share it with others by pinning this image?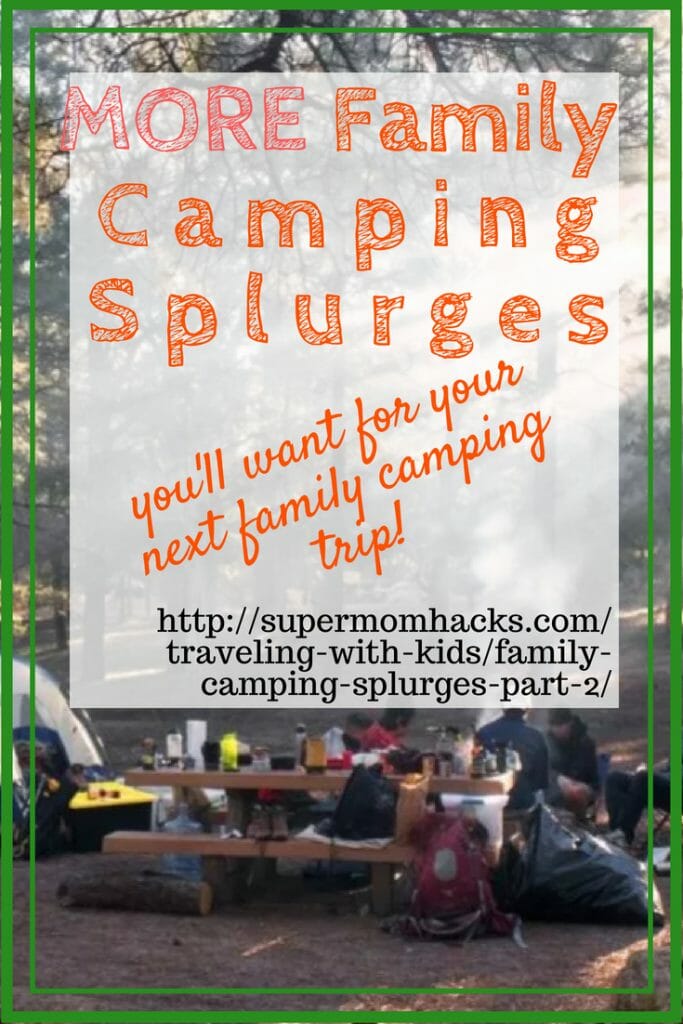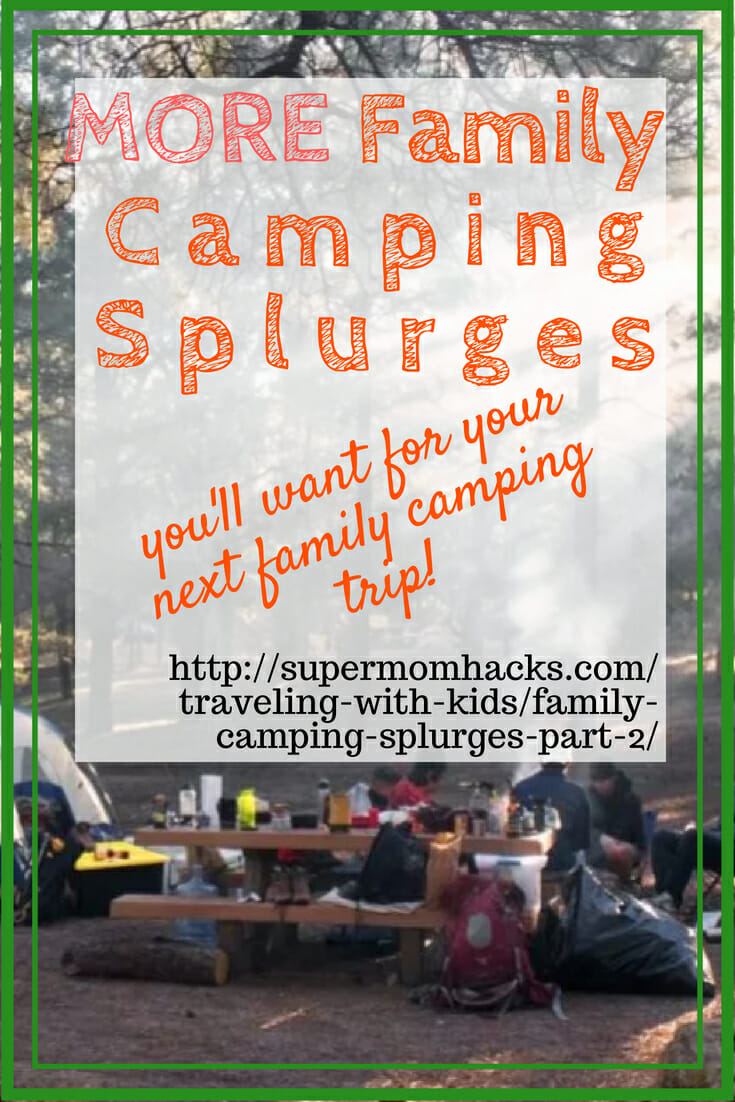 NOTE: This site contains affiliate links. I may earn a small commission from any purchases made through affiliate links, at no additional cost to you. For more information, please read the full disclosure/privacy policy.