How To Get Your Home Ready For Summer:
School is almost out for many families in the U.S. and Canada. You're knee-deep in end-of-school shows and festivals, you've booked your kids for camp and swim lessons, and your summer camping plans are coming along nicely. But is your home ready for summer yet?
If you're as busy as we are, this may well come as an afterthought. But it shouldn't. Between summer heat, summer storms, and family travels, it's crucial to get your house ready for everything summer throws your way. These tips will help you get there.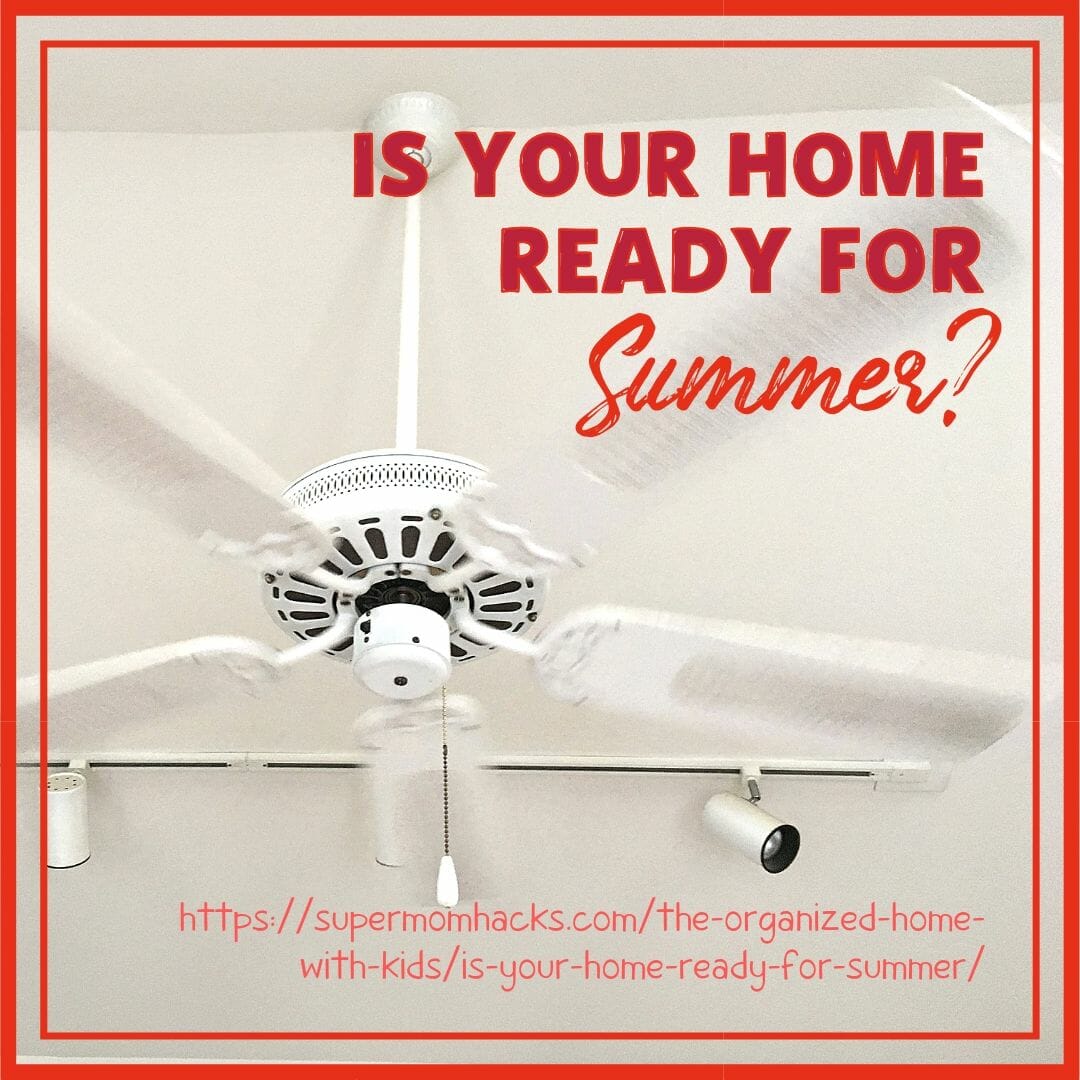 This is a collaboration post. However, please know I stand behind everything written here, and only include links to products/services/resources I'm willing to recommend personally.
Getting Your Home Ready For Summer in 10 Easy Steps:
1. Do the seasonal swap
You know, swapping all those things you won't need again until fall for all those things you need over the summer:
Clean/pack away the winter coats and snow pants, and get out the bathing suits.
Clean/pack away the sweaters and long pants, and get out the shorts and T-shirts.
Clean/pack away the snow boots and mittens, and get out the sandals and water shoes.
Put away the snow toys and sleds, and get out the beach toys and

camping gear

.
RELATED POST: Must-Haves for Family Camping with Preschoolers
RELATED POST: Family Camping Splurges, Part 1 and Family Camping Splurges, Part 2
And as you're packing away your kids' things, keep in mind that each child will probably be a size bigger when it's time to wear those goodies again. If you have a younger sibling who could wear it down the road, box it (labeled by size) and save it for the future. But if not, move it on:
Give it to a friend or relative who can use it for their kids
Set it aside for your

fall consignment sale event

or

fall store consignment

.
Donate it to a nearby thrift store or clothing bank. (If you have space, you might do them a favor by labeling that box "donate fall" and setting it aside, since their customers probably won't be shopping for snow pants and parkas in the next few months!)
RELATED POST: The #1 Shortcut To a More Organized Home
RELATED POST: Considering a Consignment Sale Event? Six Tips to Help You Cash In Big
2. Get your central air serviced
Just as you should have your furnace checked each fall, those of us with central air need to have it checked out each spring. This regular maintenance will help ensure that your system is up and running for the hot summer days ahead. Skip regular servicing, and you're really up a creek when things break down.
By spotting little problems before they become big ones, your service techs can help you save money in the long run. Plus. if you already have a service contract with the company (which, in our area, just means contracting them yearly to do your annual service), you get priority service in emergencies, plus a discount on any unexpected repairs.
If you have portable air conditioners instead, spring is the time to get them installed and ready to go for the season. Make sure you've got everything ready to go.
3. Program your thermostat and your mindset for summer savings
Even though we have central air, we try to keep our home on the warmer side in the summer (mid-70s Fahrenheit). This helps to keep our energy bills in check. Using a programmable thermostat also helps us save money over the course of the summer, because everything is controlled automatically. Keeping the shades drawn on our windows also helps to keep our home cooler, by reflecting extra hear from the sun.
We also participate each year in our energy company's Summer Saver program. By signing on, we agree to let them cycle off our central air for short periods on peak summer days, when demand is highest. We don't notice the difference, but this allows them to manage peak demand times and avoid brownouts. In exchange, they give us a rebate check at the end of each summer.
As part of participating in the program, we also try to shift extra energy usage to off-peak times of the day. Running laundry and the dishwasher in early morning or late evening hours further reduces both peak demand and our electric bills.
Finally, on the hottest days, we try to either go swimming at the county park, or watch movies in the basement. Our basement is cooler than the rest of house, so it's comfortable down there even when the upstairs gets toasty. This helps us avoid the temptation to crank up the AC.
4. Upgrade your fans
Even if you have central air, though, you'll want to make sure your fans are ready for the summer:
Get out any portable fans you already have and dust/wash the blades as needed.
Even if you have central air, getting a fan for each bedroom can make sleeping at night much more comfortable. Pedestal fans are perfect for this.
Or considering upgrading each bedroom with a ceiling fan/light combination. We've installed these in every bedroom in our home, and it's made a huge difference.
If you're a DIY type, it's not hard to swap out your bedroom light fixture for one with a ceiling fan. The first three summers in our home, we upgraded one bedroom per year after purchasing our new fixtures on sale over Memorial Day. (Memorial Day is a great time to score a deal on appliances on sale, BTW!) Need ideas on the different options available? Check out the selection at https://www.modernfanoutlet.com/best-ceiling-fans/modern-forms-ceilingfans.html for design inspiration.
And if you're in an arid climate, consider getting a swamp fan to help cool your home. Since air conditioners work by removing humidity from the air, there's only so much they can do in dryer regions; evaporative coolers, which work by evaporating water, are a better choice. My brother first discovered swamp fans when living in the desert southwest, and swore by them while living in drier parts of the country. This swamp cooler buying guide will give you helpful tips and help you determine if one is right for you.
5. Check your humidity levels
Unless you live in an arid climate, summer means a climb in outdoor humidity levels. If you're not prepared, this can leave you with all sorts of stinky, smelly messes, from mildewing laundry piles to basement mold.
So it's important to stay on top of summer moisture around your home, and train your family to help with this effort. If your kids are often playing outside in the sprinkler or pool, make sure you have a place for wet towels and suits to dry, so they don't rot in a heap in your laundry basket. (We love fold-flat laundry drying racks for this.)
And if you have areas that are especially humidity-prone, like your basement, get a decent-sized portable dehumidifier installed before the summer humidity sets in. Or next time you're getting your central air system replaced, make sure your new version does an adequate job of dehumidifying all levels of your home. A unit that's sized wrong for the space will not cool as efficiently, because it will remove either too much moisture from the air, or not enough.
6. Upgrade your kids' gear as needed
By this point, you've already done the seasonal swap for everyone's clothing and shoes. But what about your kids' summer gear?
Ideally, this is something else you can take care of before summer gets into full swing:
Have your littles outgrown the bike trailer? List it on your work/neighborhood "for sale" boards or your local Craigslist, and get your kiddos tricycles instead.
Time for the next-size-up summer sporting equipment? What about bigger bikes? Checking these things NOW, before the season starts (and making plans to move outgrown items along to their next home), will save you unpleasant surprises later in the season. Like, oh, yeah, looks like we need a bigger life jacket for this weekend's boating trip, and we leave in an hour! #oops
Same goes for bike helmets, snorkel gear, balls/sand toys, and whatever else your kiddos enjoy playing with during the summertime.
7. Get your gardens ready
Our rainy spring has made this a challenge, but if you haven't gotten your gardens ready for summer yet, now's the time. Time to rake out the dead leaves from the fall, pull up any new weeds before putting down fresh mulch, get planting those summer vegetables (along with any Easter or Mother's Day flowers you might have received!). Oh, and while you're at it, don't forget to update that herb garden for all your summertime cooking needs.
RELATED POST: Why Your Kids Will Love A Tasting Garden
8. Check the rest of your exterior
But don't just stop at your flower and vegetable gardens! Make sure that the rest of your yard is ready for summer, too:
Take care of any

insect's nests

before they're out of control.
Thinking of re-landscaping some of your gardens? Now's the time to get planning.
Get those trees trimmed, if you haven't already, so that summer storms don't cause damage with falling limbs.
Make sure your siding and windows are sealed against those sideways summer rainstorms, any holes in your screens are repaired, and you don't have any damage starting from carpenter bees or termites.
And above all else, eliminate any sources of standing water. These are breeding grounds for mosquitoes, which carry everything from West Nile Virus to Zika Virus.
9. Get out your summer home/family gear
If you've got summer lawn furniture or beach gear stowed away for the winter, now's the time to get it out of storage and clean it off for another season of fun. Check everything over to make sure it's in good repair; the time to fix that broken chair is before it gives way underneath you!
Check over everyone's bikes and make sure they're clean, the chains are lubed, the brakes work well, and they're otherwise ready for a season of safe fun. If you RV camp, make sure it's tuned up before you hit the road. If you car-camp, check over your camping gear (folding chairs, sleeping bags, etc.) to be sure it's all ready to go.
And finally, don't forget the sunblock and bug repellent! Check the expiration dates on any you purchased last year, to make sure they haven't expired. Then restock as needed. And remember to protect your family not just against mosquitoes, but also against tick bites. Lyme disease is just one of several serious illnesses you can acquire from tick bites, and infection rates are on the rise around the globe.
RELATED POST: How To Protect Your Kids From Tick Bites: What Works Best?
RELATED POST: Permethrin Clothing Treatment: A DIY Guide
10. Enjoy!
If you're not already, get started thinking about making the most of summer, and setting some plans in stone so that you have something to look forward to!
What does this have to do with getting your home ready? Well, for example, it's one thing to say, "I'll get out the lawn furniture, and the summer dishes, and the all-weather seat cushions…EVENTUALLY." It's a very different matter if you've already got a few summer get-togethers on the calendar for hosting.
So go ahead and make those summer plans! There's no better way to ensure you'll get your home ready for summer in no time flat!
Is your home ready for summer yet? What's your favorite part about getting ready for the summer season? Let us know in the comments!
If you enjoyed this post on getting your home ready for summer, why not share it with others by pinning this image?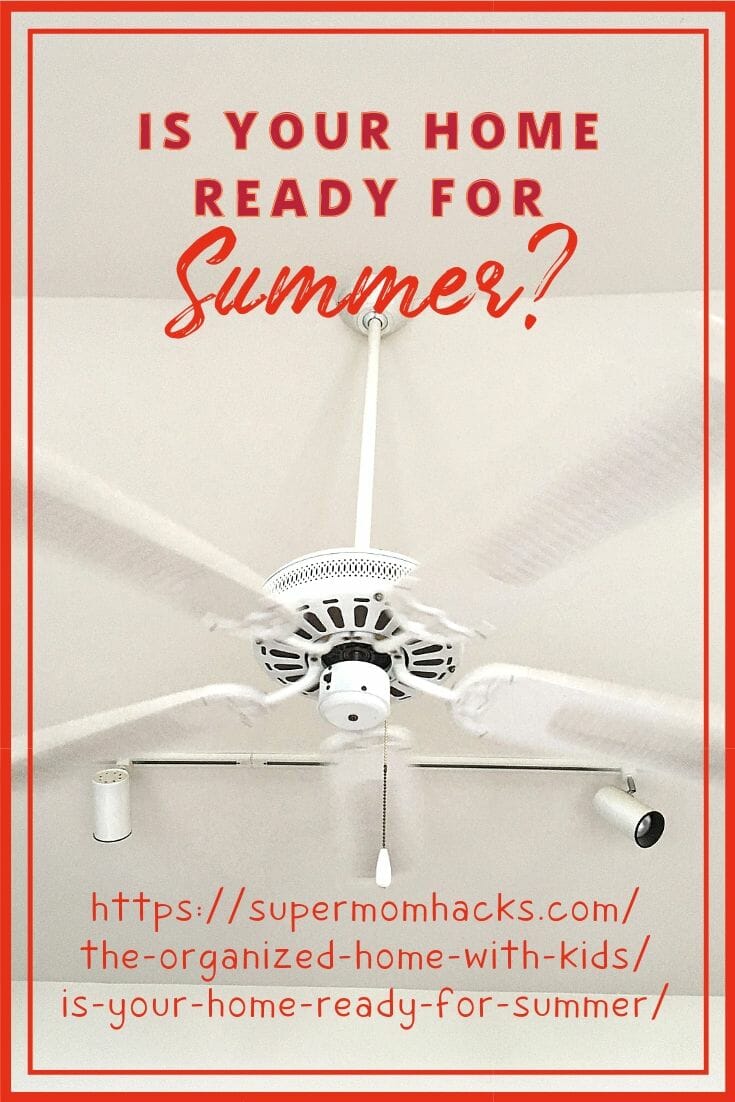 NOTE: This site contains affiliate links. I may earn a small commission from any purchases made through affiliate links, at no additional cost to you. For more information, please read the full disclosure/privacy policy.