My Fave Mom Hacks for Getting Stuff Done:
If you're a parent, I am betting there are never enough hours in the day. Ever wish you could clone yourself, or have that magic tool Hermione used in Harry Potter to get twice as much done at once? If so, Mamas, you should seriously consider putting some or all of these things on your holiday gift list: things that will help you, busy Mom, be more productive every day.
I've personally tested every single one of these for years, and they've all helped me get more done in less time. So if you want to know some of my top hacks for getting things done day in and day out, add these to your Christmas wish list, and supercharge your mom productivity in the new year: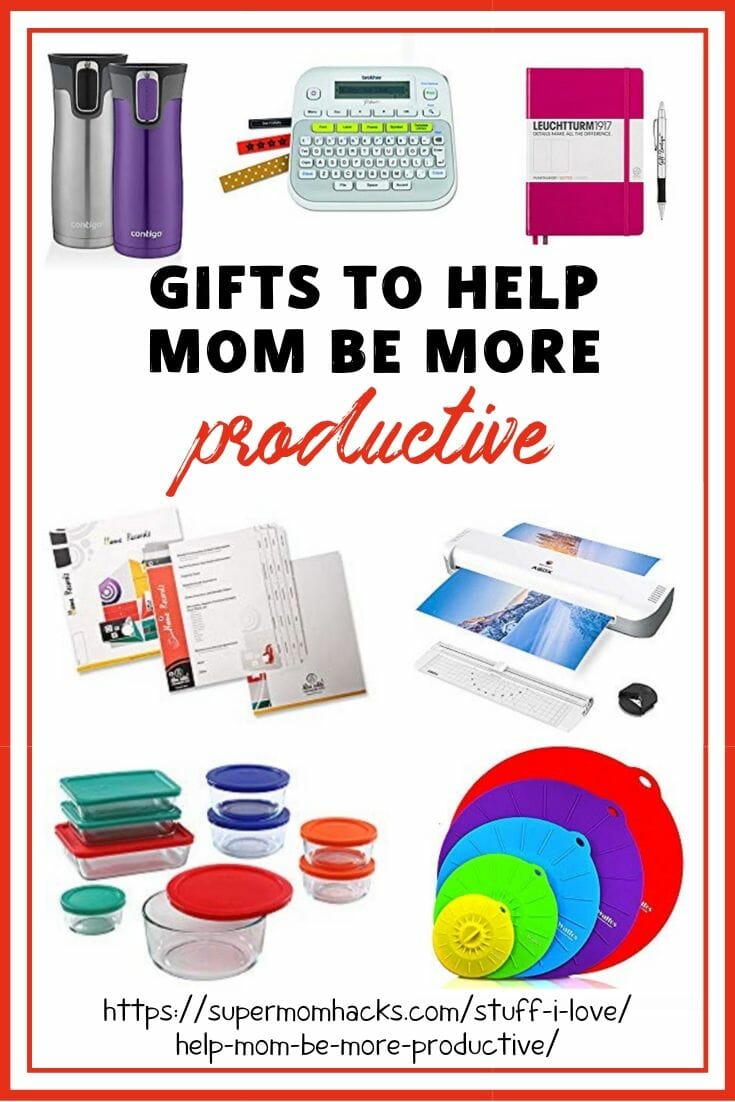 Originally published December 2, 2019; last updated October 2020.
Holiday Gift Ideas To Help Mom Be More Productive:
Note: Many of these sounded crazy to my inner skeptic before I tried them. Now I cannot live without them. So you might want to give them a try in the new year anyway – they may just turn out to be your best. gifts. EVER!
How To Be A More Productive Mom Hack #1. A label maker
Several years ago, my mama insisted that I needed a ✅Brother P-Touch label maker, just like hers. She swore I would use it all the time.
I use mine almost every day to label everything under the sun – binders, the kids' school supplies, the kids' water bottles, the kids' jackets in a pinch, my materials for children's resale events, etc.
And we haven't even gotten into the fancy colored refill cartridges yet. (One of these days!) But you can make all sorts of truly fancy labels, depending on what kind of refill cartridges you use.
A word about the refill cartridges: these are something you'll definitely find the best deals on online. Especially if you can snag them from Amazon Warehouse. Otherwise, you'll end up paying too much. There are many P-Touch compatible options out there, and all I've tried work great.
How To Be More Productive At Home Hack #2. Binder organizer sets
I thought my papers were under control before. The reality, though, was that my drawers of files were less-than-organized.
Enter the ✅Ahh Hah! binder organizing tab sets, which I was asked to review a few years back.
RELATED POST: How to Organize Important Documents: My New Secret Weapon
Oh my goodness, I knew NOTHING about paper organization before. Nothing.
Now that I have these binders, it literally takes me SECONDS to lay my hands on anything filed away in them. The owner's manual for an appliance so we can order a replacement part, last year's test results from bloodwork I had done, the girls' report cards from two years back, our most recent IEP – all accessible, faster than ever.
And even better, when we're off to an appointment at school or the doctor's or with a contractor, all I have to do is grab the appropriate binder on the way out the door, and everything I need is at my fingertips.
Best of all, this system grows with you and your needs. Whenever I need new tabs or categories, I add them with my label maker (see above). And since you supply the binder with these tabs, you can switch to a bigger or smaller binder whenever you need to. Genius!
How To Be A Productive Stay-At-Home Mom Hack #3. My Bullet Journal and BuJo accessories
As I've written elsewhere, I was skeptical that bullet journaling would help me keep all the balls in the air better, something that had eluded me since parenthood.
Two months later, I was a convert.
RELATED POST: How Bullet Journaling Has Made Me A Better Parent
If you haven't tried Bullet Journaling yet, all you really need is a notebook and a pen. (Preferably ✅a Leuchtturm1917 A5 notebook. There's a reason most of us use them. I've tried others, and these are the best, from quality to durability.)
I've even written a quick-start guide on the EASY way to start Bullet Journaling. Still skeptical on the how's and why's, or want to dive in deeper? Then you need ✅this book from BuJo founder Ryder Carroll. New and seasoned bullet journalers alike will learn a ton from his tips and ideas.
My only other must-haves are some self-stick index tabs for the pages, colored ballpoint pens, and rolls of correction tape.
Looking for other fun ideas for bullet journaling? Then ✅check out my ultimate Bullet Journal gift guide for ideas to make every BuJo enthusiast's day!
Mom Productivity Hack #4. A leakproof insulated mug
Tell me which of these sounds more like your reality:
A. You enjoy a relaxed cup of hot coffee/beverage of choice every morning, while reading the headlines at a leisurely pace. OR
B. You grab your morning beverage on your way out the door, trying not to spill it on yourself (and wishing you could stuff it in your purse/diaper bag/coat pocket). Or if you get to drink it at home, it cycles through the microwave at least three times before you get to finish it.
If you answered A, I'm skeptical that you're actually a parent, and want to know your secret. If some version of B sounds closer to the truth, I have three words for you:
RELATED POST: From Leakproof Sippy To Top Travel Mug: My Fave Beverage Containers
I cannot tell you how much easier it is to grab a mug of hot coffee and toss it into my bag as I head out to 6am spin class, or a children's resale event, or a morning of school drop-off followed by errands. Let alone how much easier it is to road-trip, or catch a plane, or hang out in the doctor's office waiting room, without worrying about my coffee spilling all over or getting cold.
(Oh, yeah, and they're just as good at keeping cold things cold. Like, day-long-road-trip-still-has-some-ice-left cold.)
How To Be More Productive Hack #5. Time-saving kitchen gadgets
Who wants delicious home-cooked meals in less time, for less money?
If you raised your hand, then these kitchen gadgets will save you time. I use them all several times a week to make my food prep quick and easy.
RELATED POST: Must-Have Kitchen Gadgets for Busy Parents
If I had to list my faves, I'd probably say my ✅mandoline and ✅metal glove, our ✅immersion blender, and our ✅silicone microwave lids:
How To Be More Efficient As A Mom Hack #6. Pyrex lidded casseroles
Another kitchen powerhouse that can save you time AND money in so many ways.
I love these so much, I recently bought myself another set:
We save money and avoid waste by being able to store leftovers in the fridge better. The glass containers make it easy to see the contents so they don't get "lost," and the flat lids mean they stack easily.
We also save money and time when my husband brings leftovers to work in them for his lunch. The glass bowls go safely from fridge to microwave, and he doesn't have to leave his office building and go across campus to wait in line at a cafe or fast-food joint.
And I save time when cooking and cleaning up. When we make a big pan of brownies, we can just snap a lid on the leftovers to keep them fresh, without having to put them in another container.
Likewise, when I cook casseroles, I often split them into two or more smaller casserole dishes before baking. That way, we eat up one dish, and I snap the lid on the other. Then we can have it in the fridge as leftovers for lunch, OR it can go straight into the freezer for eating another night!
If you haven't tried these yet, there's no time like the holidays to snag them on sale. They're one of the best kitchen investments we've made.
Being A Productive Stay-At-Home Mom Hack #7. A 13-inch-capacity laminator
I realized something silly a few months ago: I have literally been borrowing my mama's laminator for years. (Keep in mind, she lives several states and a day's drive away!)
If she never used it, that would be one thing. But she uses it as often as I do.
I decided it was high time to get my own laminator last spring, when I needed to laminate some posters for our Girl Scout troop's cookie booths. Just a single 11×14 poster cost over $5 to laminate – not to mention the hassle of having to go out and find a place to get it done!
When I realized that buying ✅my own 13-inch-wide laminator would pay for itself in fewer than 10 posters of that size, I was sold. Especially when you consider I no longer have to take time out of my workday (and waste gas) to drive out somewhere and wait in line – I can do it myself, at home, in minutes.
That's the exact laminator I purchased. It came with a starter assortment of pouches, but I bought extras in various sizes.
The girls love being able to laminate favorite artwork into bookmarks or placemats.
I love the convenience of being able to laminate posters for events, reusable chore charts and checklists for the girls, and box signs for the

children's resale events

in which I participate.
My fellow class parent even laminated the bingo cards I made for

Essie's fall harvest party

, including the key card. That way, she can reuse the cards for years to come. And by laminating the "key" card instead of cutting up the squares, we don't need to worry about losing pieces – AND we could just write on/wipe off, reusing the card over and over, for Essie's school party.
If you EVER laminate anything, unless you literally live right next door to an office-supply store, it's seriously worth considering getting your own laminator. Having ours has already saved me enough time and money that it's paid for itself. And there are usually several ✅top-rated models available for $50 or less.
Have you tried any of these before? Which are among your personal must-haves? What are YOUR favorite mom hacks for getting stuff done? Let us know in the comments!
If you enjoyed this post on gift ideas to help Mom be more productive, please share by pinning this image!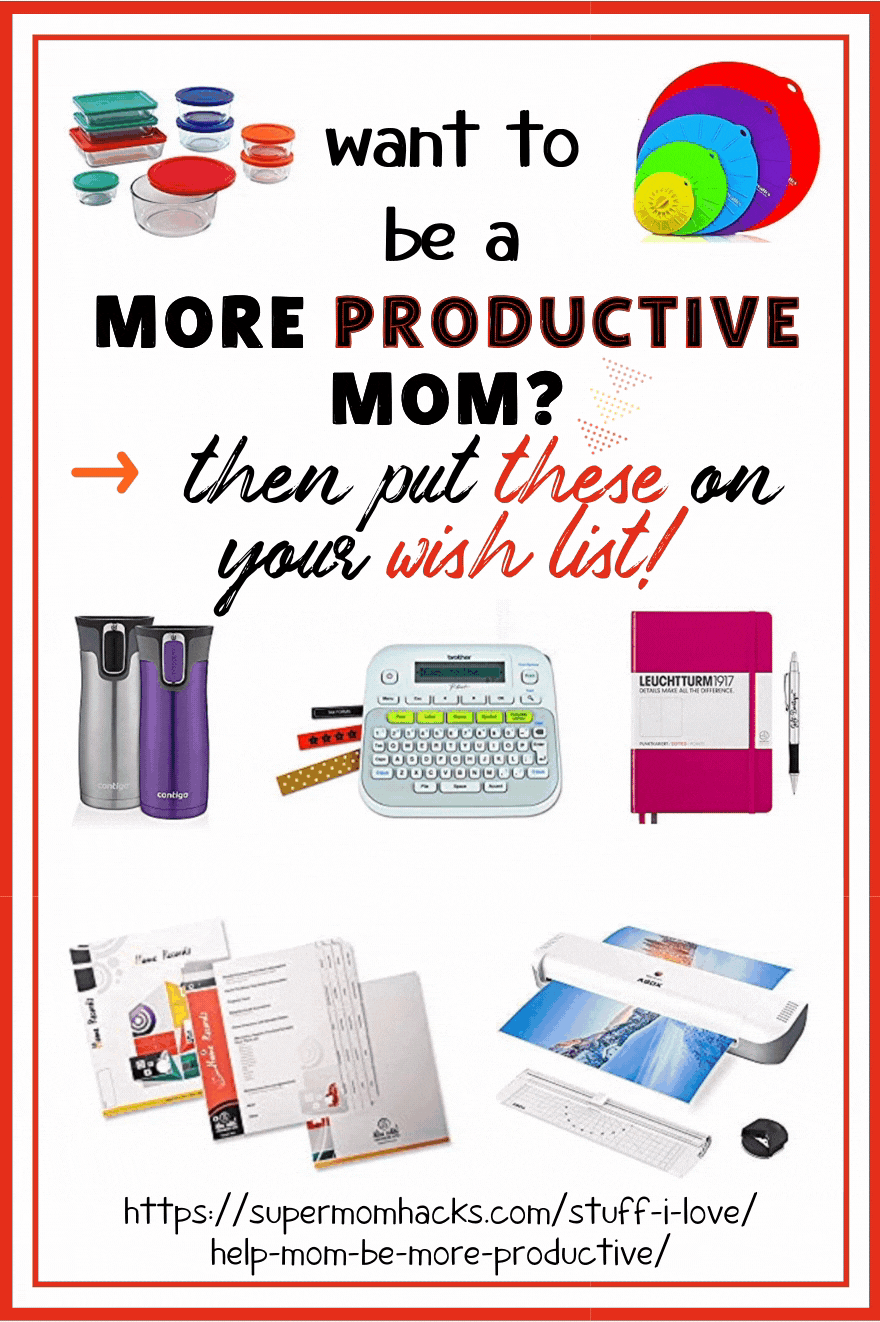 NOTE: This site contains affiliate links. I may earn a small commission from any purchases made through affiliate links, at no additional cost to you. For more information, please read the full disclosure/privacy policy.