My Fave Green Tomato Hack: Fried Green Tomatoes
Depending on where you are in the United States, summer is either hanging on, or you're already hunting for snow shovels and winter parkas. In our neck of the woods, I keep telling myself how I should get out the long pants and shirts, but since we're still wearing shorts half the time and capris the other half (and I was much too hot in those today), it seems kinda silly.
Even though our first frost feels a long way off still, our gardens have all been shutting down for the season anyway. For several years now, it seems our tomatoes get hit with some kind of blight or wilt, and they just stop producing weeks before they should. Meaning at some point I'm desperately salvaging every fruit off the plants that I can, no matter how green.
Well, the temps may not be cooling down much yet where we are, but that doesn't mean I'm not craving comfort food as the days get shorter. And what better way to deal with all those green tomatoes than by making Fried Green Tomatoes?
If you've never cooked this classic side dish, you're in for a treat. By cooking them in a little heart-healthy olive oil instead of deep-frying them, they're healthier than might otherwise be the case. And best of all, this side dish is fast and easy – plus enough messy fun that your kids may want to help!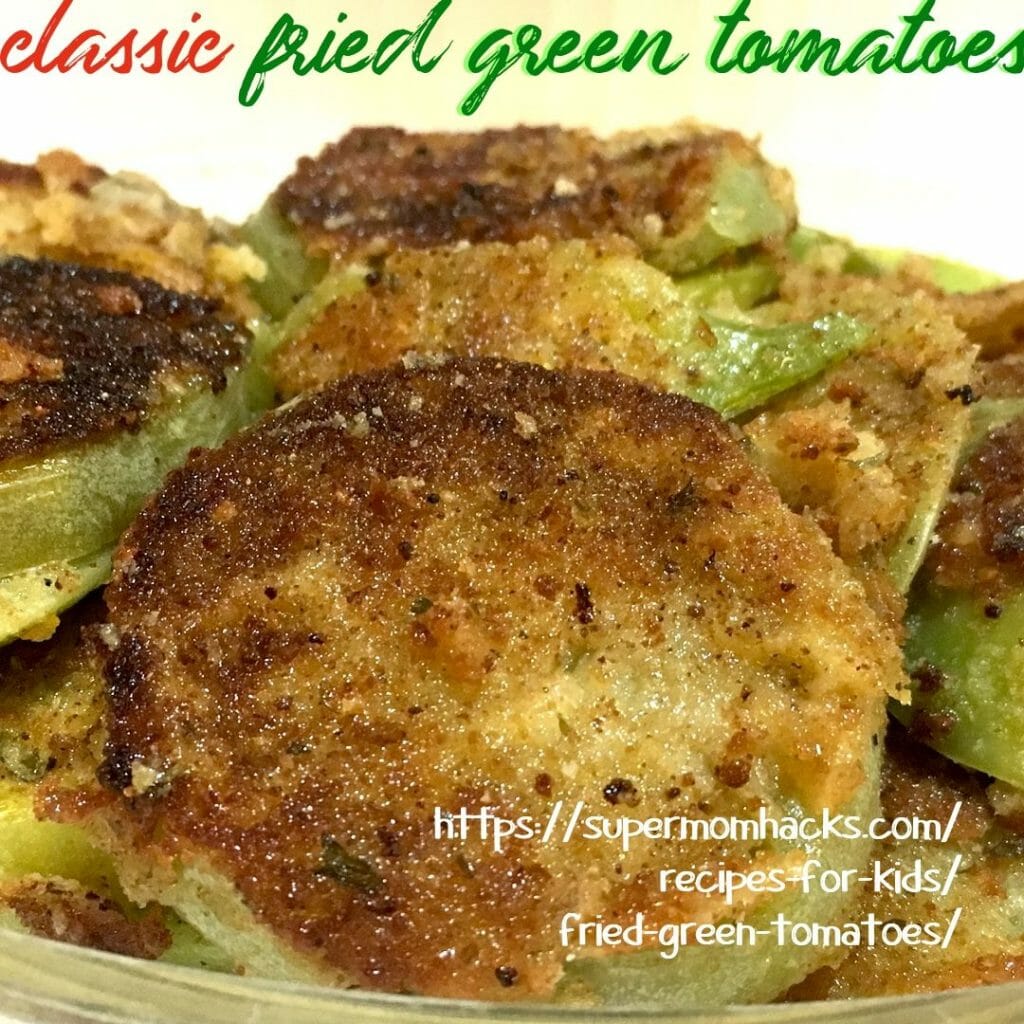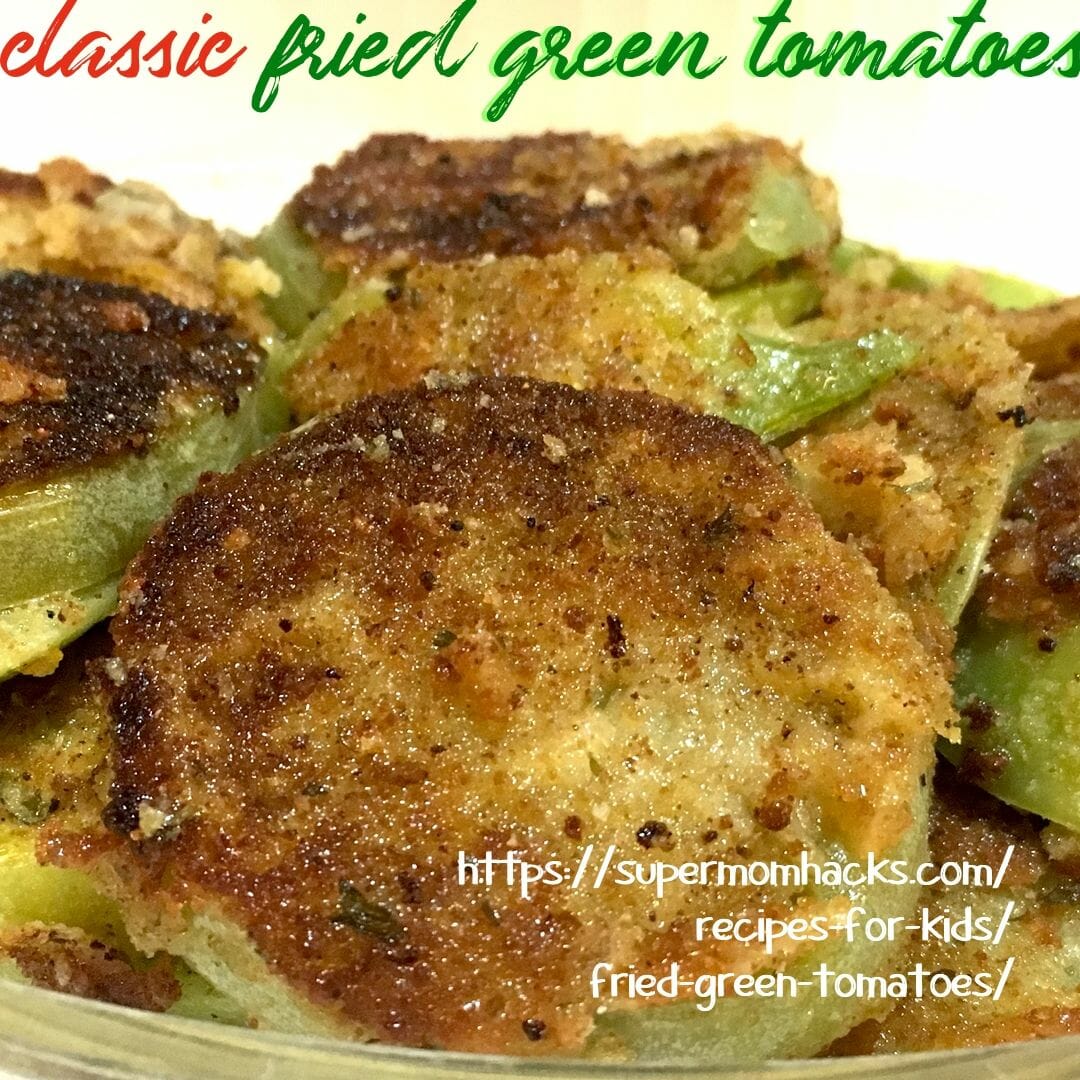 Classic Fried Green Tomatoes Recipe
Serves 4-6 as a side dish; Prep time: 5-10 min; Cook time: 5-10 min.; Total time: 15-20 min
What you'll need: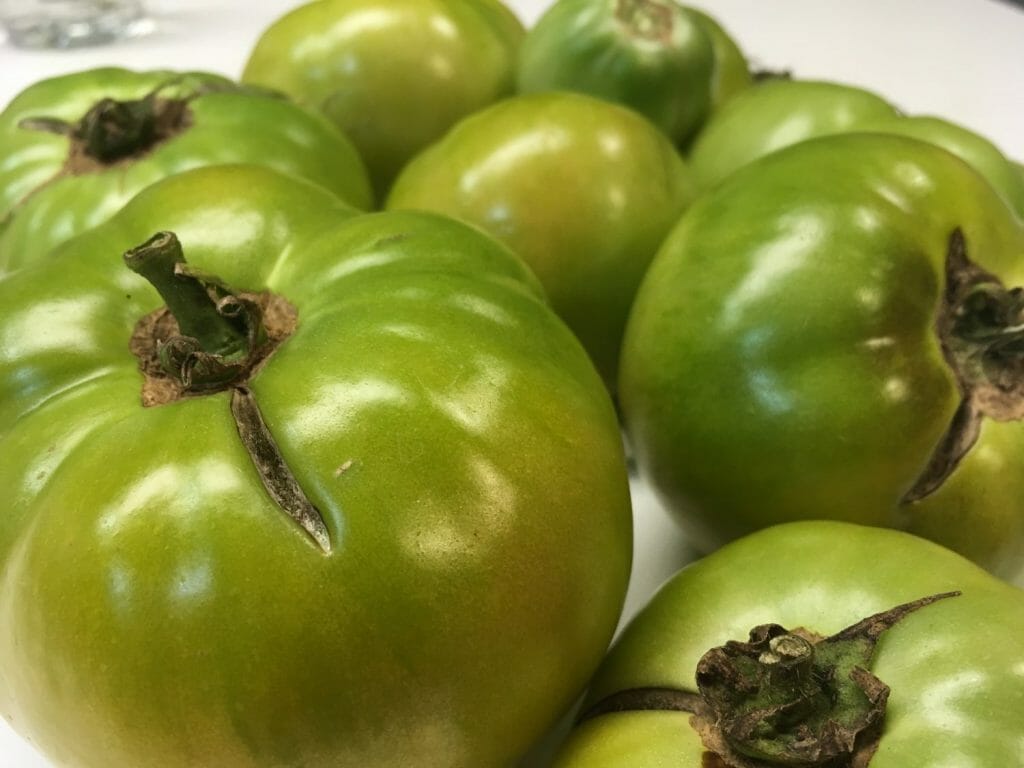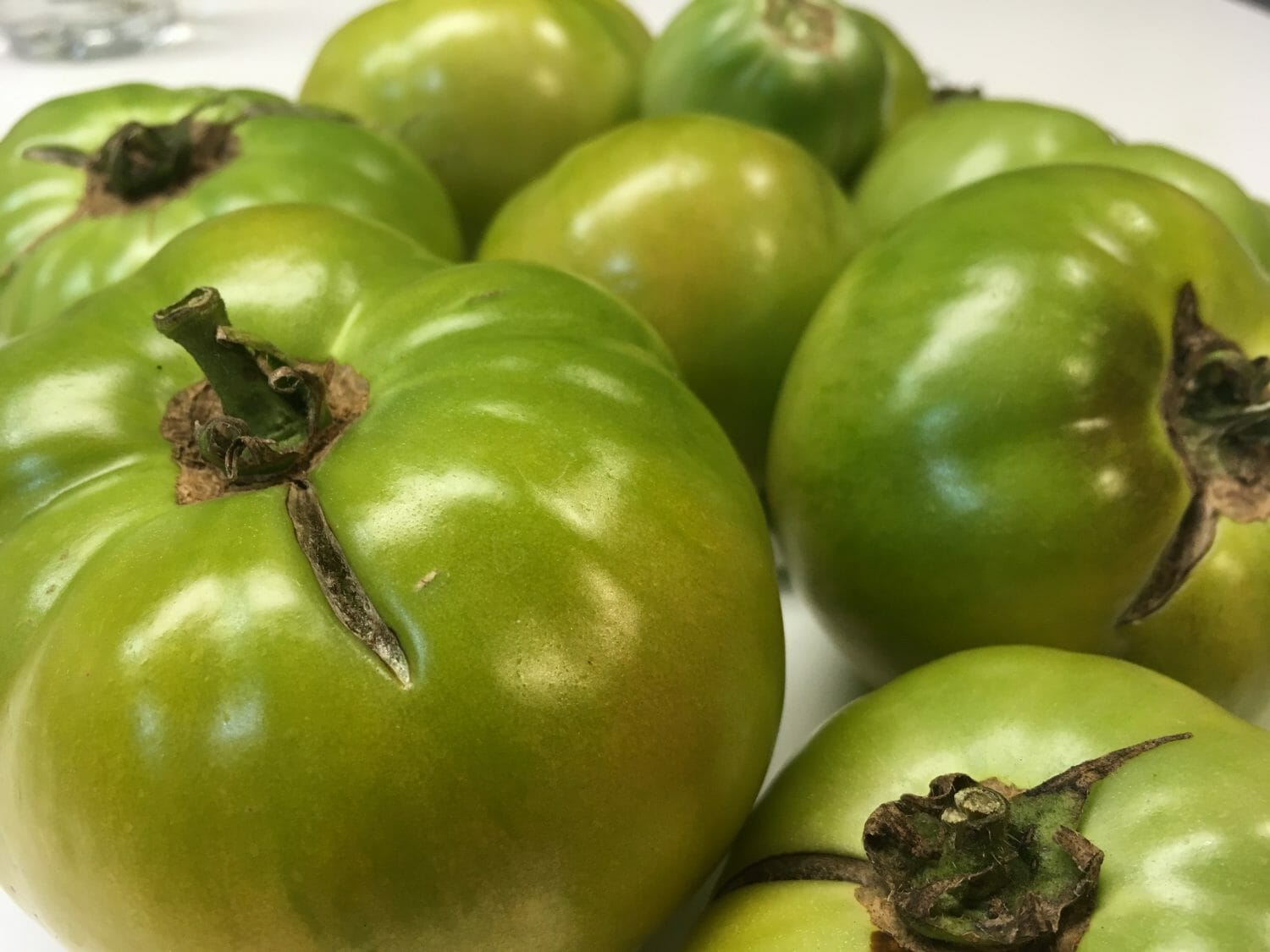 4-6 green tomatoes that are still hard, with no pink inside
2 eggs
A splash of milk*
Seasoned or Italian-style breadcrumbs**
Olive oil
Quick notes on equipment:
Whenever I'm making foods like this, I always use one of my two ✅
electric frying pans
because I like the precise temperature control and even heating across a large surface, something that is hard to achieve with a stovetop. (I own both a 12-inch and an 18-inch.)
And if you make breaded or coated food on any kind of a regular basis, I cannot recommend a ✅
breading pan set
highly enough. I registered for ours for our wedding; Dear Husband (who never breads anything) thought it was the dumbest idea. But over a decade later,
I am still using those pans about once a week on average
. The large, flat surface area and fact that they hook onto each other (minimizing drips) makes them perfect for any kind of breading or battering.
The basic idea:
Cut out the stem-parts of the tomatoes, then slice them into slices approximately 1/4 inch thick.
Crack two eggs into one of your breading pans. Add a splash of dairy* and scramble together.
Add approximately 1 cup of breadcrumbs** to a second breading pan. (You may need to add more if your pan gets low.)
Pour several tablespoons of oil into your electric frypan or skillet, and set it to medium heat (300 degrees). If you're using the stovetop, heat your oil in a large nonstick frying pan over medium heat on a large burner.
Drop each tomato slice into first the egg mixture (being sure to thoroughly coat both sides), then into the breading mix (again, being sure to coat both sides thoroughly), and then into the hot oil. Start at one end of the pan and work your way across, so you can keep track of which ones went into the pan first..
When you run out of slices or pan room (whichever comes first), flip the tomato slices in the order your added them to the pan. They should be somewhat golden-brown on the side that was facing down. Add more oil as needed (without oil, they won't brown) and make sure it gets distributed under the slices.
As soon as you're done flipping them all, it will probably be time to start removing them from the pan. They are ready to come out once they've started to turn golden-brown on the second side. (The longer they stay in the pan, the mushier they will become.)
Serve hot out of the pan. You can eat them as is, top with salt and pepper or garlic salt, or add a little parmesan, sour cream, or salsa on top.
Mix it up:
*Nothing but plain breadcrumbs? Add some fresh or dried herbs, a little salt and pepper, and/or some grated Parmesan. Or you can add salt/pepper to plain white flour.
*Need gluten-free? Try your favorite GF substitutes, and season as you wish with the ideas above: cornmeal, cornstarch, crushed tortilla chips, crushed cornflakes/cornflake crumbs, almond flour, etc.
**Don't have milk? Use half and half, cream, buttermilk, or even a little sour cream or plain yogurt. Can't do dairy? Try substituting your favorite UNSWEETENED non-dairy milk substitute. (Or you can just skip this part.)
Rather than toss the remaining breading supplies, I mix them together and drop them by spoonfuls into the hot pan. Sometimes the result is more eggy, sometimes more pancakey, sometimes like little crispy bits of breaded goodness Whatever the end result, the girls and I fight over them because they're so yummy!
Have you ever made fried green tomatoes? What's your secret ingredient or fave topping? Let us know in the comments!
Like this recipe for classic fried green tomatoes? Then please share it with others by pinning this image!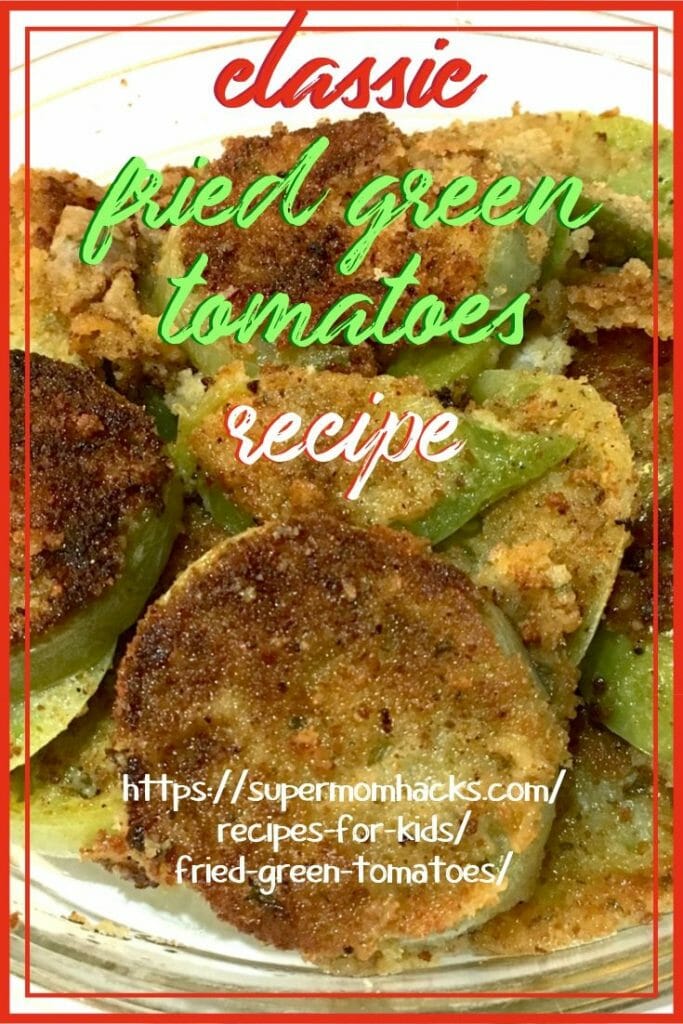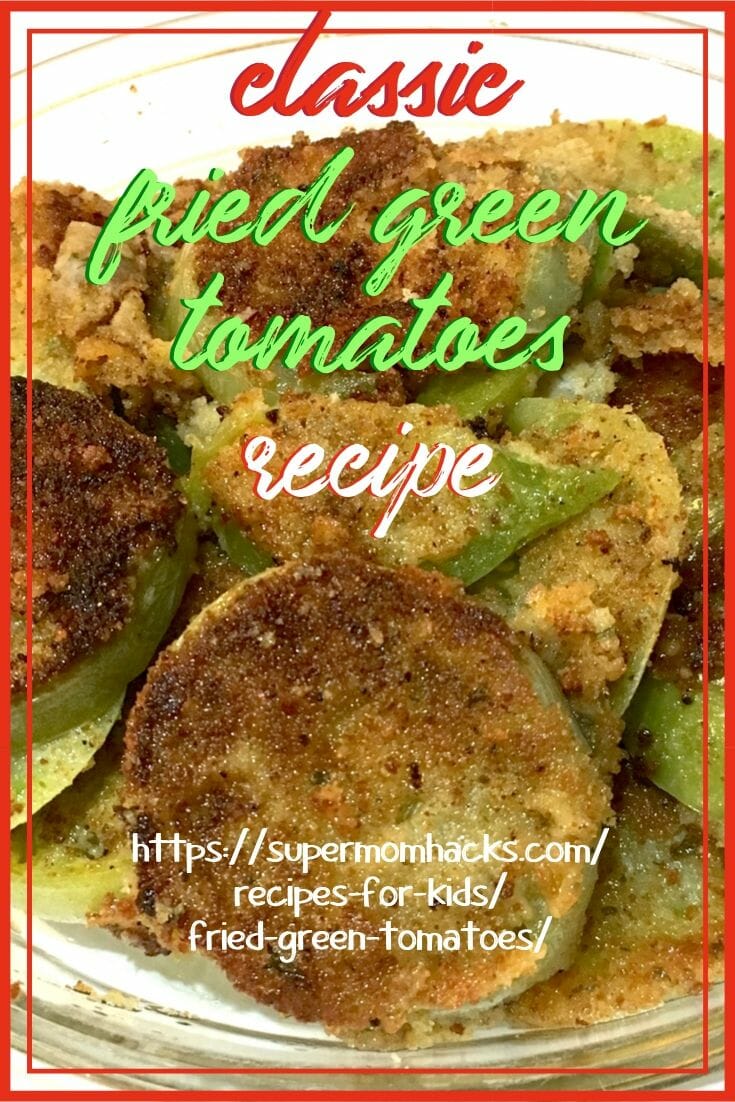 NOTE: This site contains affiliate links. I may earn a small commission from any purchases made through affiliate links, at no additional cost to you. For more information, please read the full disclosure/privacy policy.