Have you ever had a homemade strawberry shortcake? If not, you're in for a real treat when you try this recipe.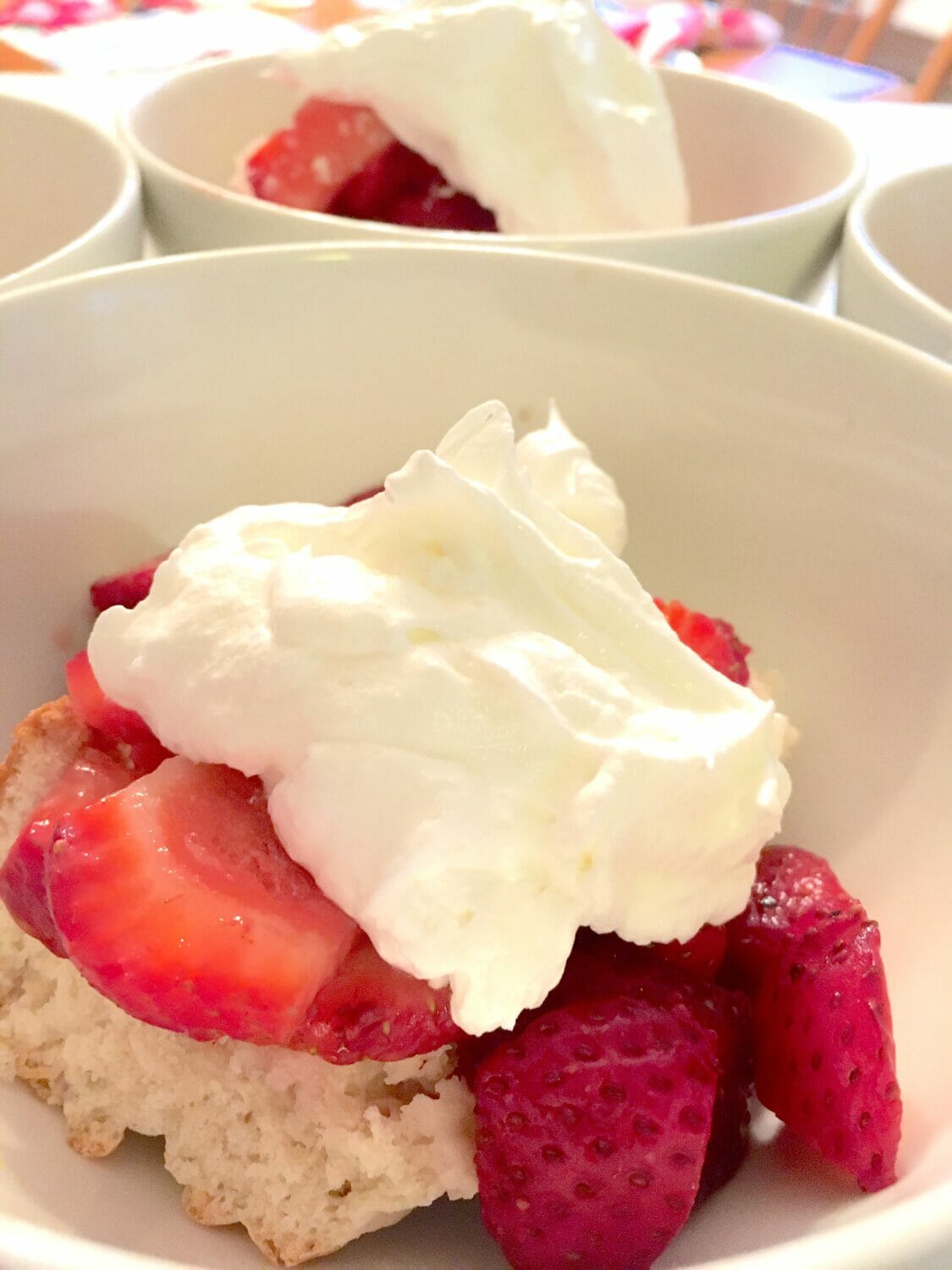 Homemade strawberry shortcake is a quintessential summer treat throughout New England, where I grew up. So much so that many churches hold "strawberry suppers" at least once during the summer, as one of their main fundraisers of the year.
The menu for the main meal really isn't important, and can vary quite a bit, because that's not why people come. They come for the delicious homemade strawberry shortcake that's served for dessert.
Fortunately for me, I grew up in one of these churches. And more importantly, my late father (whom everyone called Doc) was the undisputed king of making shortcakes at these events. Hence I learned the secrets to the best homemade strawberry shortcake you'll ever eat from a true master.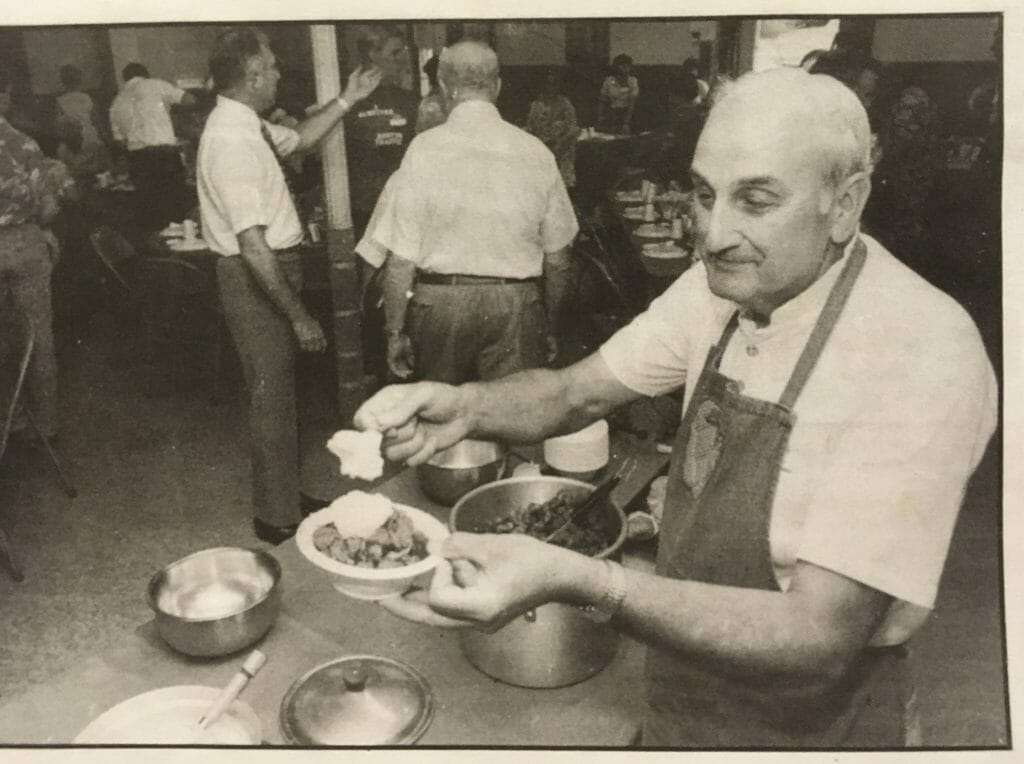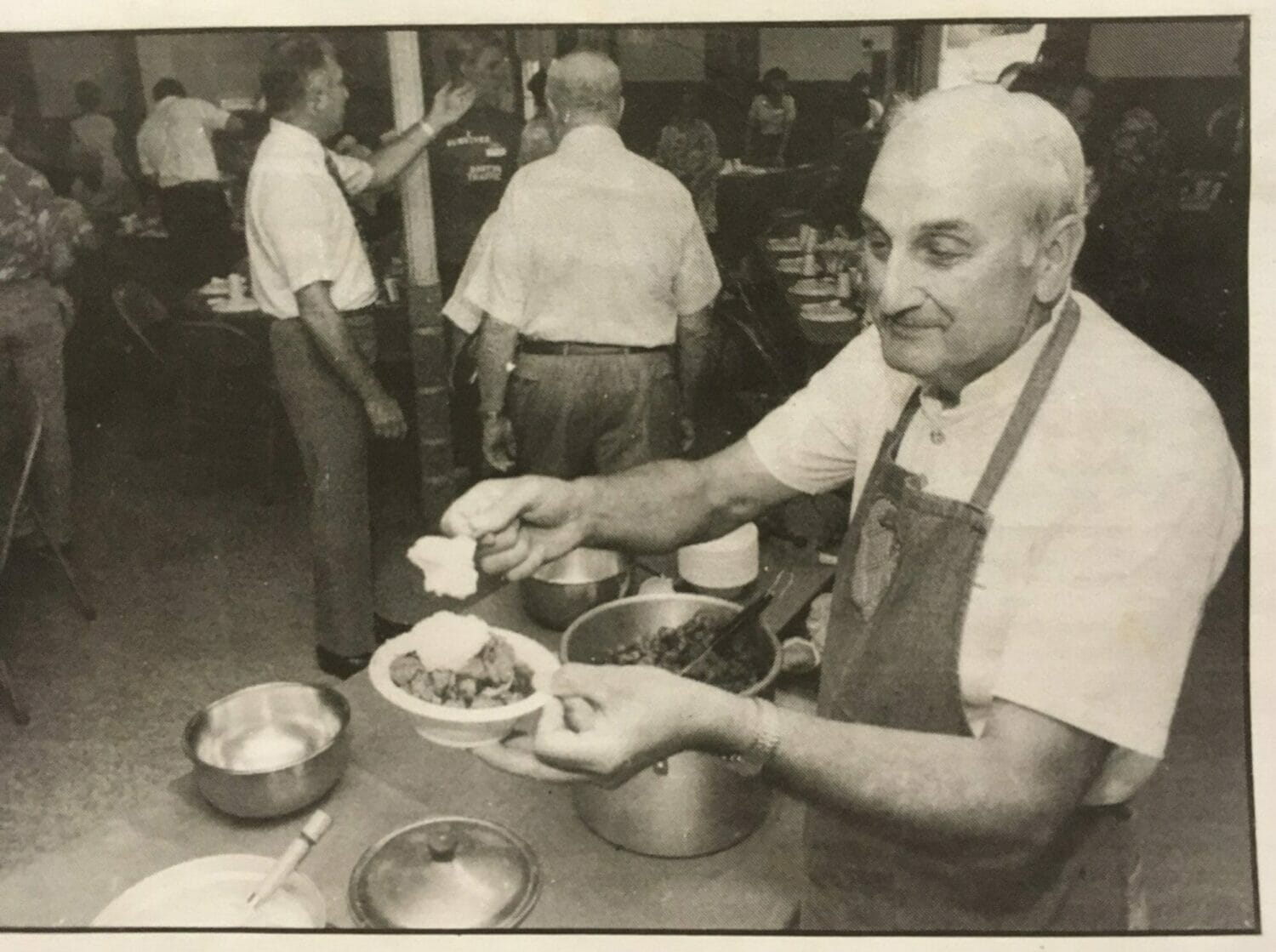 At the same time, though, there are a few shortcuts you can take along the way to simplify the prep process; they're under the "Mix It Up" section, after my dad's original recipe.
So if you're looking for 4th of July dessert ideas and want a special treat, for your Fourth of July celebrations or any summertime family get-together, give my dad's recipe a try. You won't be sorry.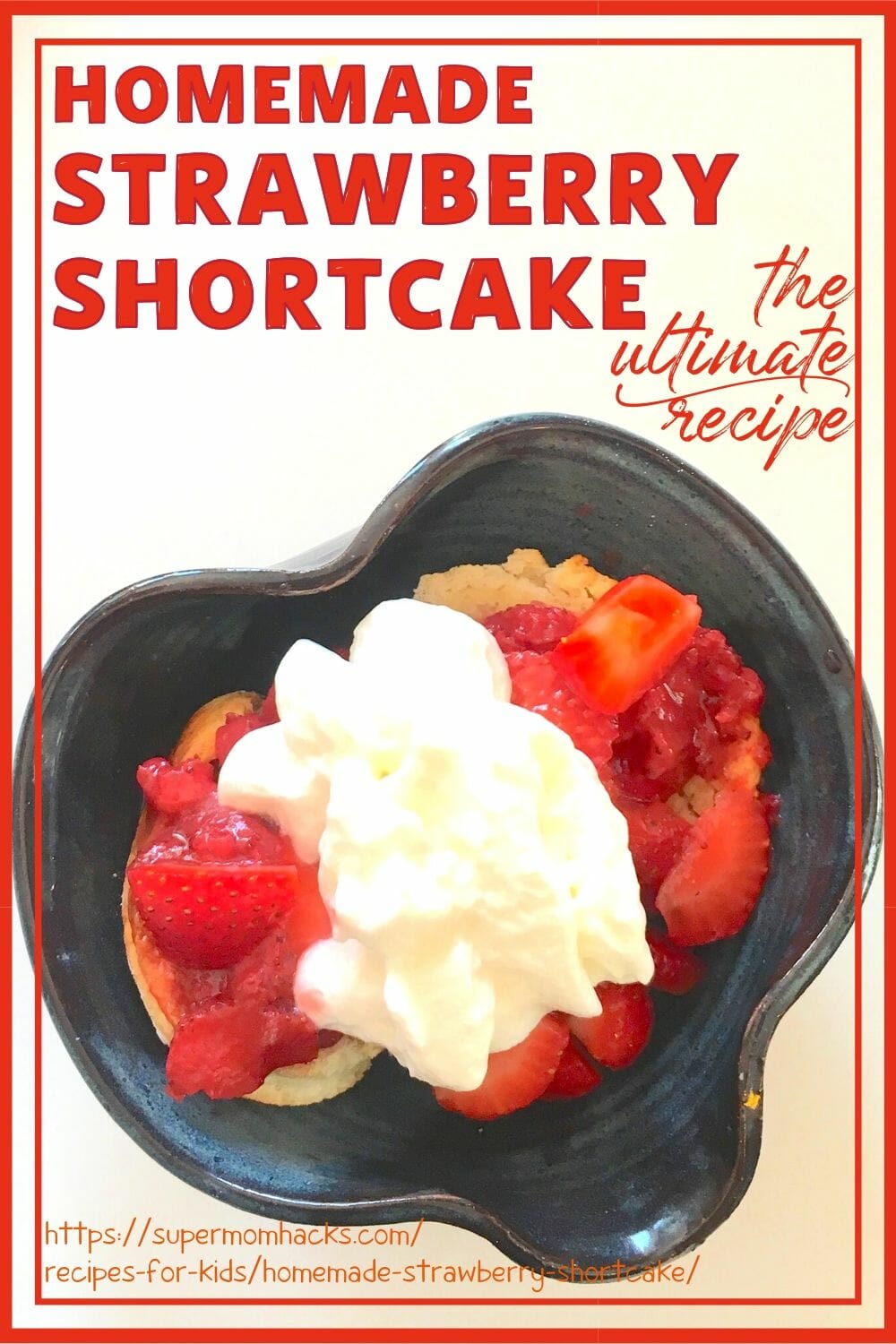 Doc's Ultimate Homemade Strawberry Shortcake Recipe
ADVANCE PREP 15-20 min / DAY-OF PREP 10-20 min (see Mix it Up, below) / servings 6
What you need:
One batch (1/2 dozen) fresh-baked shortcake – I usually use the recipe on the

Bisquick

box, but if you don't have access to Bisquick, you can make a batch of this master mix recipe and follow the biscuit recipe, adding 1/4 cup each sugar and melted butter as you're mixing the biscuit dough
2 lbs fresh strawberries, washed and hulled
Approx. 1/2 cup granulated sugar
Butter
Real maple syrup
1 cup heavy whipping cream plus additional granulated sugar
Electric hand mixer or immersion blender (for whipping cream)
Cereal/salad bowls (for serving)
The day before:
Slice the strawberries into a container with a lid. Sprinkle granulated sugar over the top, and stir to distribute the sugar throughout. Cover and refrigerate until the next day.
Unless it's convenient to make the biscuits immediately before serving (which is challenging if you're serving this for dessert after a meal), you'll want to prepare these the day ahead, too, and cool completely before storing in an airtight container.
An hour before serving:
Place a glass mixing bowl or flat-bottomed measuring cup (big enough to use your mixer/immersion blender in) into the freezer.
Remove the syrup from the refrigerator, to bring it to room temperature.
To prepare the shortcakes:
Using a hand mixer/immersion blender, beat the cream in the chilled bowl until it forms soft peaks, adding a little sugar (to taste) as you go. If it's really hot where you are, pop the bowl into the refrigerator while you prepare the shortcakes so it doesn't melt.


Slice each shortcake in half horizontally, to create two thinner circles. Heat the shortcakes slightly (either by lightly toasting in a toaster oven, or by microwaving for 30 seconds), then place the heated circles side by side in a bowl.
Spread each shortcake lightly with pure butter. (If you're making a bunch of these, you may find it easier to microwave the butter for 30-second intervals until melted, then brush onto the shortcake pieces with a pastry brush.)
As soon as the butter has melted into the shortcake, heap 1/2-3/4 c. sliced berries on top of each bowl of shortcake.
Drizzle each shortcake with pure maple syrup.
Top each shortcake with a dollop of freshly-whipped cream, and enjoy!
Mix it up:
There are a few places where you can make small substitutions or shortcuts without fundamentally affecting the overall experience. They are:
If you truly do not use butter (only margarine), go ahead and spread margarine on your warmed shortcakes instead of butter.
Likewise, if you can't freshly whip the cream (or don't do whipped cream at all), you can substitute canned whipped cream or a non-dairy alternative like Cool-Whip. This will save you a chunk of prep time.
However, these are the things you do NOT want to skimp on or substitute:
A proper shortcake. Some store bakeries will sell a properly-made shortcake, which looks like biscuits, in their bakery department. Be warned, though, that these often are too sweet. (Our local bakery department coats the top with sugar.) The spongey round commercially-made "shortcakes" that many grocery stores in the U.S. sell will give you a strawberry dessert, but the result cannot hold a candle to the real thing. (Another appropriate substitute would be a slice of homemade angel food cake, toasted. But this would not be a proper homemade strawberry shortcake, either, even though it is tasty.)
Fresh strawberries. In a pinch, you can stretch your fresh strawberries with a small quantity of frozen ones. But too many frozen ones will mess up the consistency of the whole thing, making it too runny.
Real maple syrup. If you've never had anything but "table syrup," which gets its maple flavor from fenugreek, you are (again) in for a treat. Trust me, investing in a small amount of the real thing for this recipe is worth it. (And if you're a native of the northeastern United States and surrounding parts of Canada, you already understand why there is no substitute.)
Other ideas:
This method also works well for blueberry or peach shortcakes. For blueberry shortcakes, wash/stem them thoroughly and let them dry before use. For peach shortcakes, you'll want to slice/sugar/refrigerate them the day before, as described above for the strawberries.
For a festive Independence Day dessert, top your freshly-made strawberry shortcake with a handful of fresh blueberries. Red-white-and-blue deliciousness!
Did you enjoy this recipe for homemade strawberry shortcake? Then please share with others by pinning it!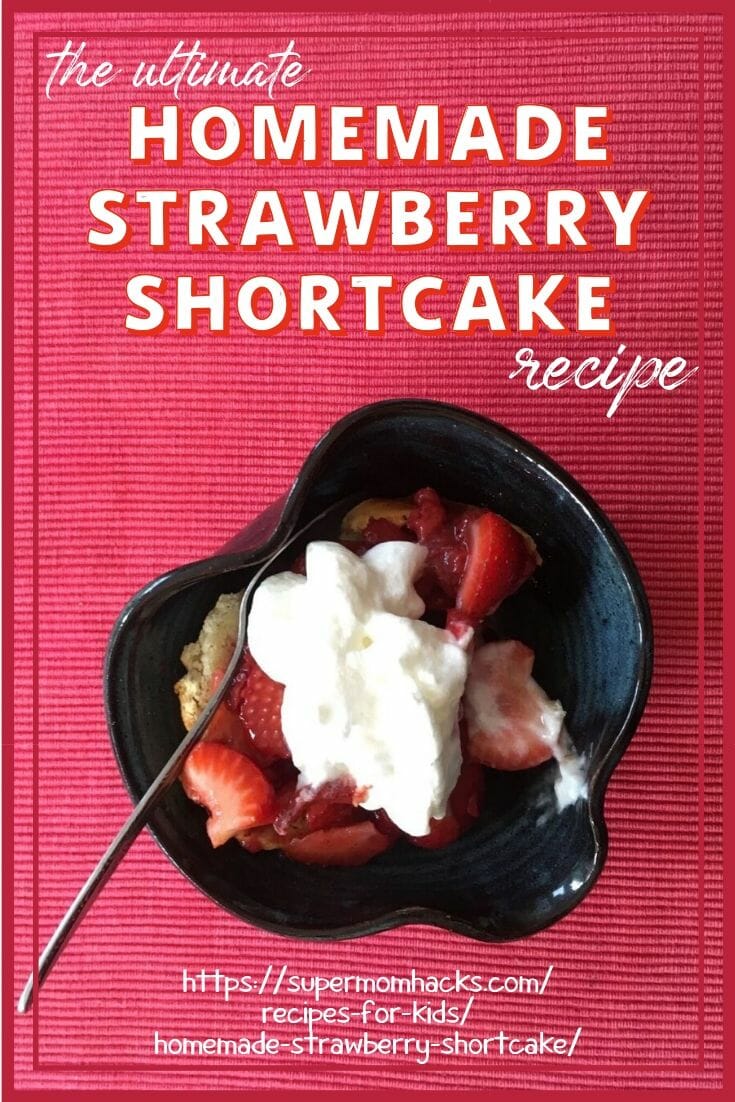 NOTE: This site contains affiliate links. I may earn a small commission from any purchases made through affiliate links, at no additional cost to you. For more information, please read the full disclosure/privacy policy.