Looking for a super-yummy snack with that delicious pumpkin spice flavor that goes so well with autumn? If so, this pumpkin dip is a must-try.
The days are turning cooler here, the leaves are changing color, fresh apples are in season, and it seems everyone is advertising things pumpkin-spice-flavored. If I had unlimited time, money, and capacity to metabolize calories, I could happily spend my days at Starbucks sipping one Pumpkin Spice Latte after another. Since none of those conditions is true in my daily life, the girls and I enjoy Super-Yummy Pumpkin Dip instead.
My mama first came across this recipe at a friend's house years ago, during a fall dinner party. It was served as a pre-meal seasonal hors d'oeuvre, in a bowl made from a small hollowed-out pumpkin, and was as festive as it was delicious.
I've adapted the recipe over the years to make it less sugary-sweet (and hence less caloric), but it's still every bit as yummy, and no doubt a lot healthier than sipping flavored coffees all day.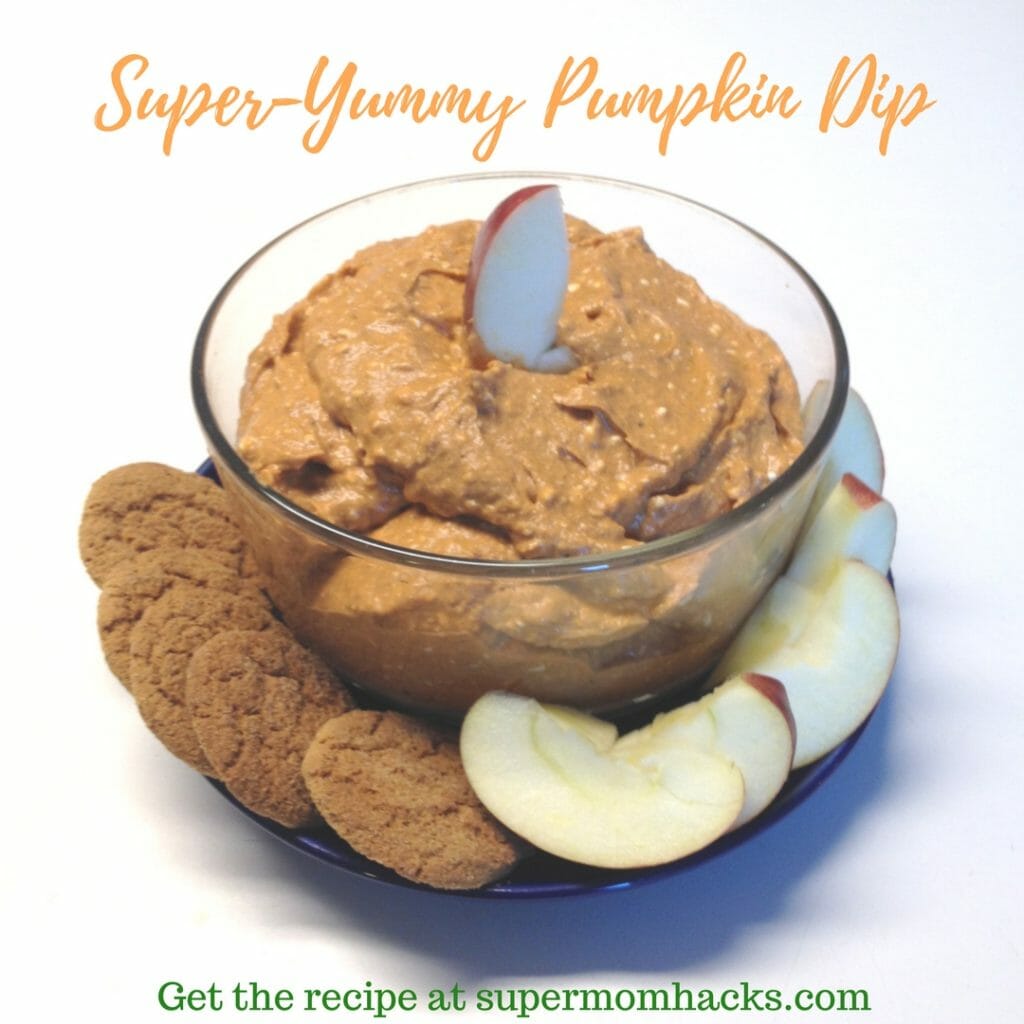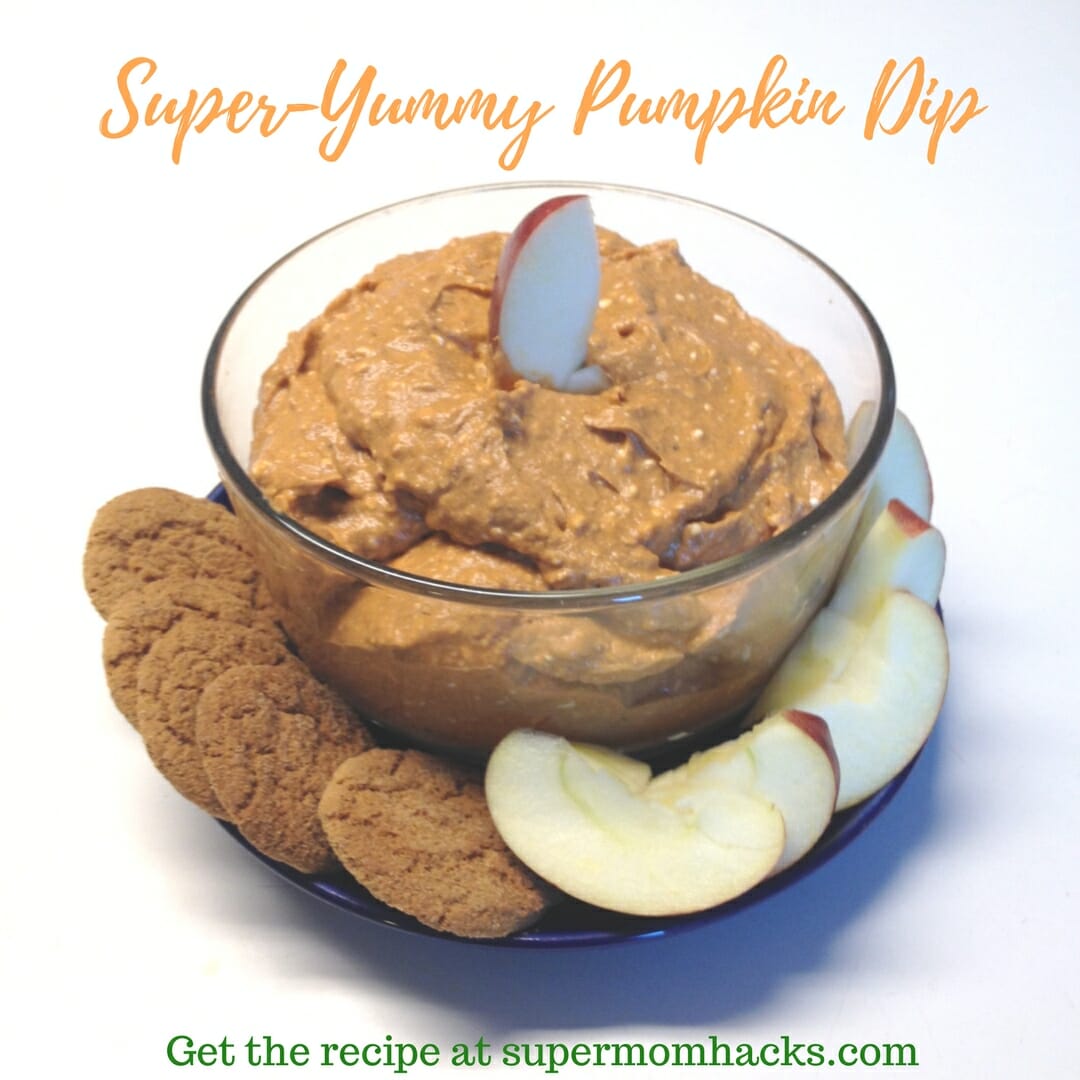 Even better, my kids love it, too. They're fond enough of apples that they are happy to eat sliced apples raw (as I am). But if your kid is not a huge fan of vegetables, you can use this dip plus ginger snaps as a sneaky vehicle to get a little vegetable and dairy matter into them.
It also works well with celery sticks. And if you're looking for a filling snack and want something healthy but crave something sweet, eating an apple or some celery plus this dip should fit the bill.
Best of all, it's nut free. Maybe your school (like those around here) bans all nut products; maybe your kid is the one with the nut allergy. Either way, this makes a satisfying peanut-free dunking option for apple slices or celery sticks in their lunch box. Ditto for if your kiddo has the nut allergy.
Super-Yummy Pumpkin Dip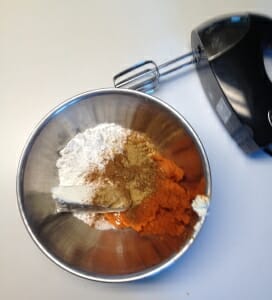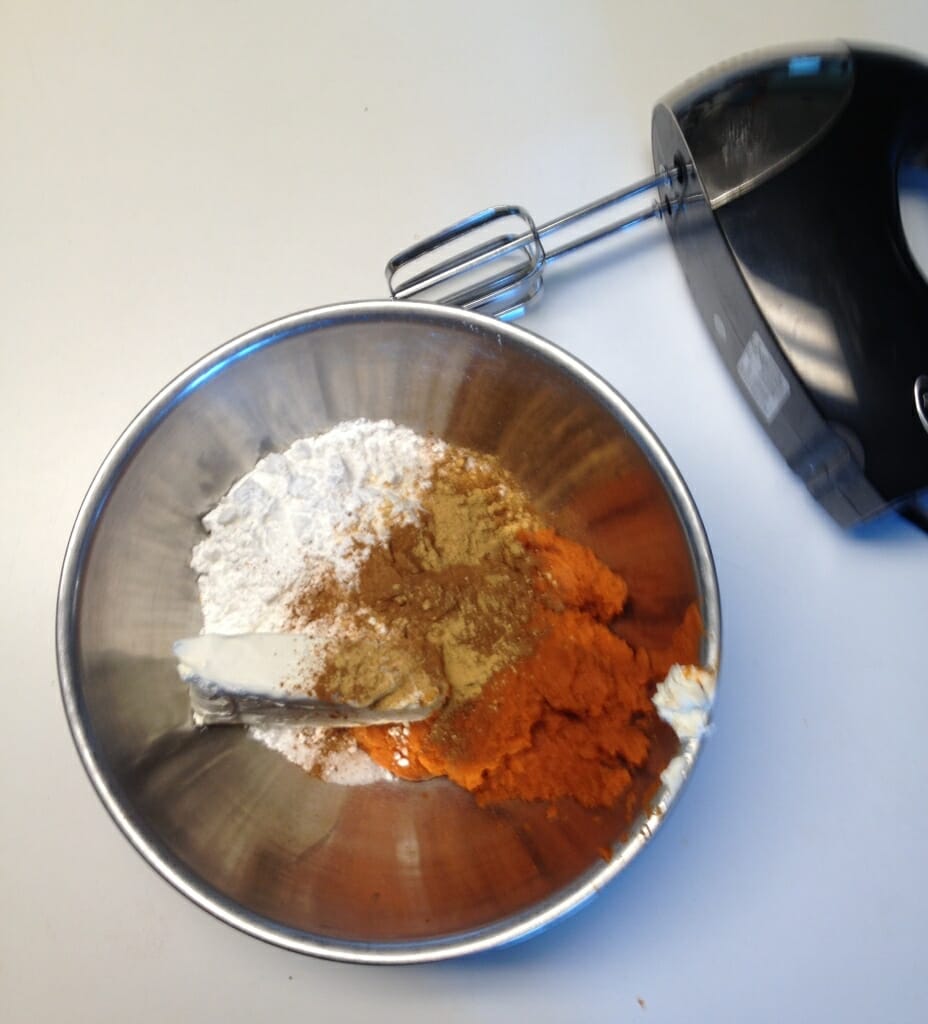 Prep time: Approx. 10 minutes / Yield: Approx. 3.5 cups
The basic idea:
One 15-oz can (approximately 2 cups) puréed pumpkin
One block (8 oz.) cream cheese
1 1/2 cups powdered sugar
2 t. cinnamon
1 t. ginger
1 t. pumpkin pie spice
In a medium bowl, using a ✅hand mixer
or ✅immersion blender, blend all ingredients together until smooth. Serve with apple wedges and ginger snaps. Refrigerate leftovers.
Mix it up:
Instead of straight powdered sugar, I tend to make this with 3/4 cup each powdered sugar and ✅Splenda for Baking, which further cuts calories. If you use a different sugar substitute, be sure to read the directions on the package and adjust the amount accordingly. I forgot to do this once, with an off-brand Splenda for Baking substitute, and the result was much too sweet!
Likewise, you can also cut calories and fat by substituting neufchatel ("light" cream cheese) for the block of regular cream cheese in the recipe.
As noted above, you can also serve this as a dip for celery sticks, or as a spread on toast or crackers.
If you want to make this a festive appetizer for company, hollow out a pumpkin approximately 6 inches in diameter to use as a serving bowl.
You can substitute cooked butternut squash, fresh-cooked pumpkin, or other cooked orange squash for the canned pumpkin, if you like. Just be prepared for the fact that the dip might not be the same pretty orange color when you're done, depending on the color of the cooked squash you're using – which may make it a less appetizing option for serving to guests or to finicky kiddos.
If you enjoyed this recipe for Pumpkin Dip, why not share it with others by pinning this image?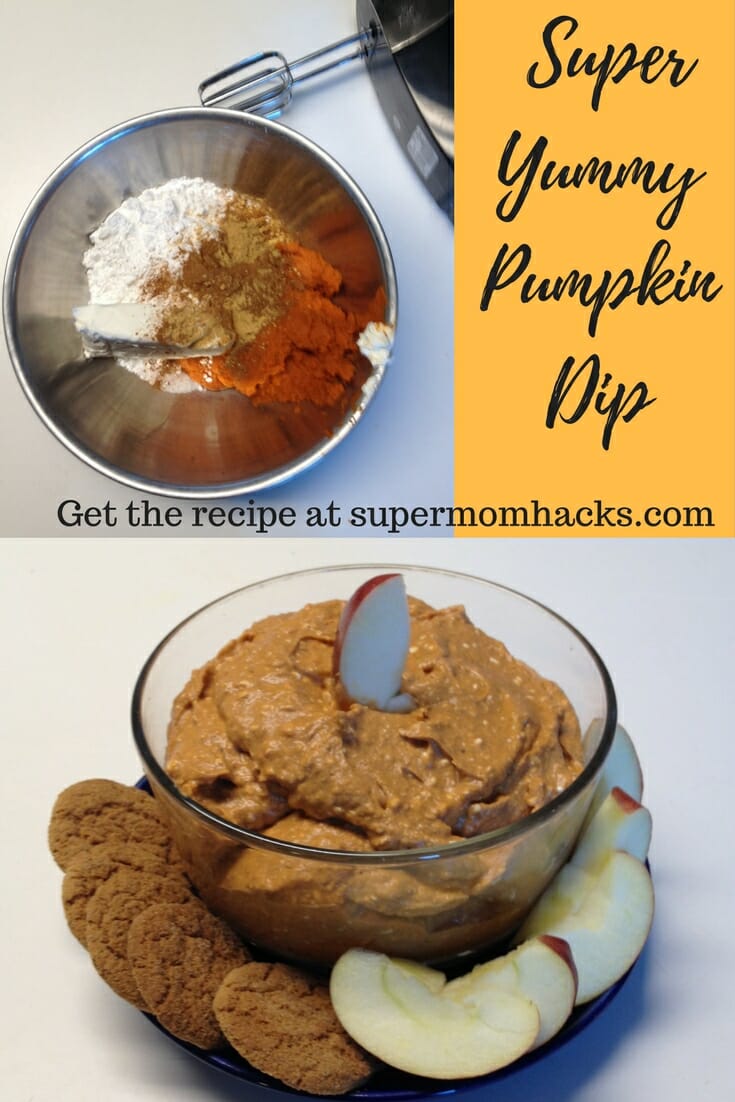 NOTE: This site contains affiliate links. I may earn a small commission from any purchases made through affiliate links, at no additional cost to you. For more information, please read the full disclosure/privacy policy.