The BEST thing to do with leftover Easter ham:
Does your family eat ham for Easter dinner? Mine ALWAYS does. That's because my favorite part of Easter dinner ham is all the yummy things you can do with the leftovers – yummy fried rice, the hash we all love, and especially Ham Casserole.
When I was growing up, my mother always served Ham Casserole for dinner the day after Easter. So now that I've got a family of my own, I continue the tradition. Even though my husband isn't super-fond of ham, he loves this ham casserole as much as the girls and I do. And because it freezes well, it's also a super meal to make ahead and bring to new parents. You can also prep it over the weekend when you have time, refrigerate it, and bake it a day or two later. Just allow some extra baking time, if you're taking the dish straight from refrigerator to oven.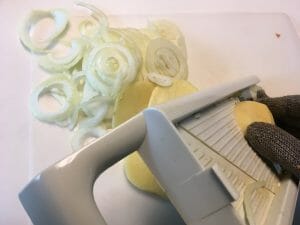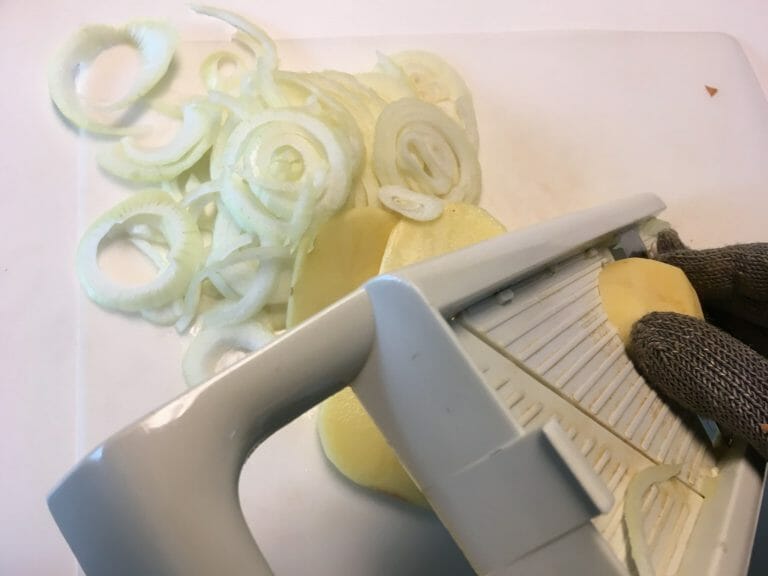 You can use any casserole dish and any slicing implements you like. However, I prefer casseroles with snap-on lids for ease of refrigerating/freezing, and a mandoline for creating uniform thin slices of potato and onion. (Slices that are too thick will take forever to cook!) You could also use a food processor with the slicing blade, if you don't have a mandoline.
Please note that the quantities and prep times are all approximate. Depending on how thick your ham is and how deep your casserole dish is, you may need more or less of the different ingredients. For this post, I'm using an 8×8 glass baking dish with lid, which makes approximately 4-6 servings.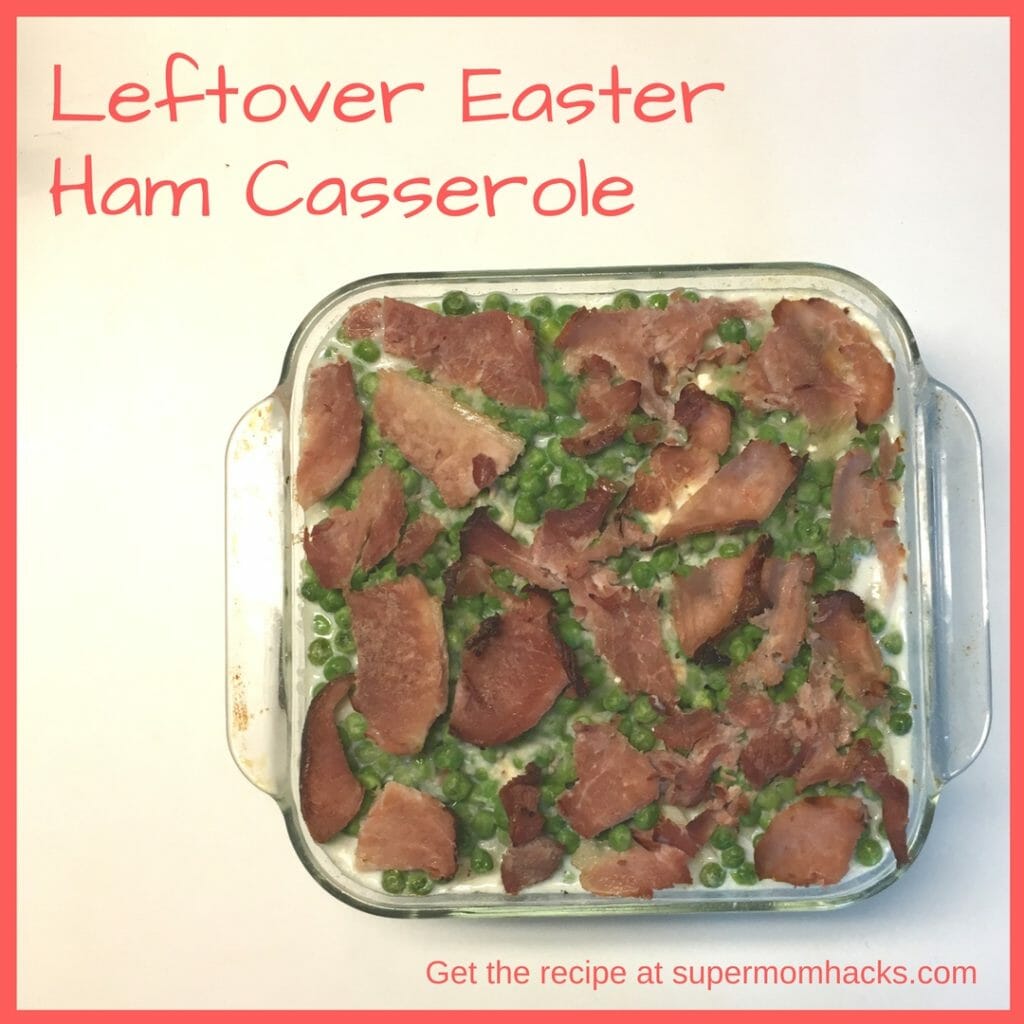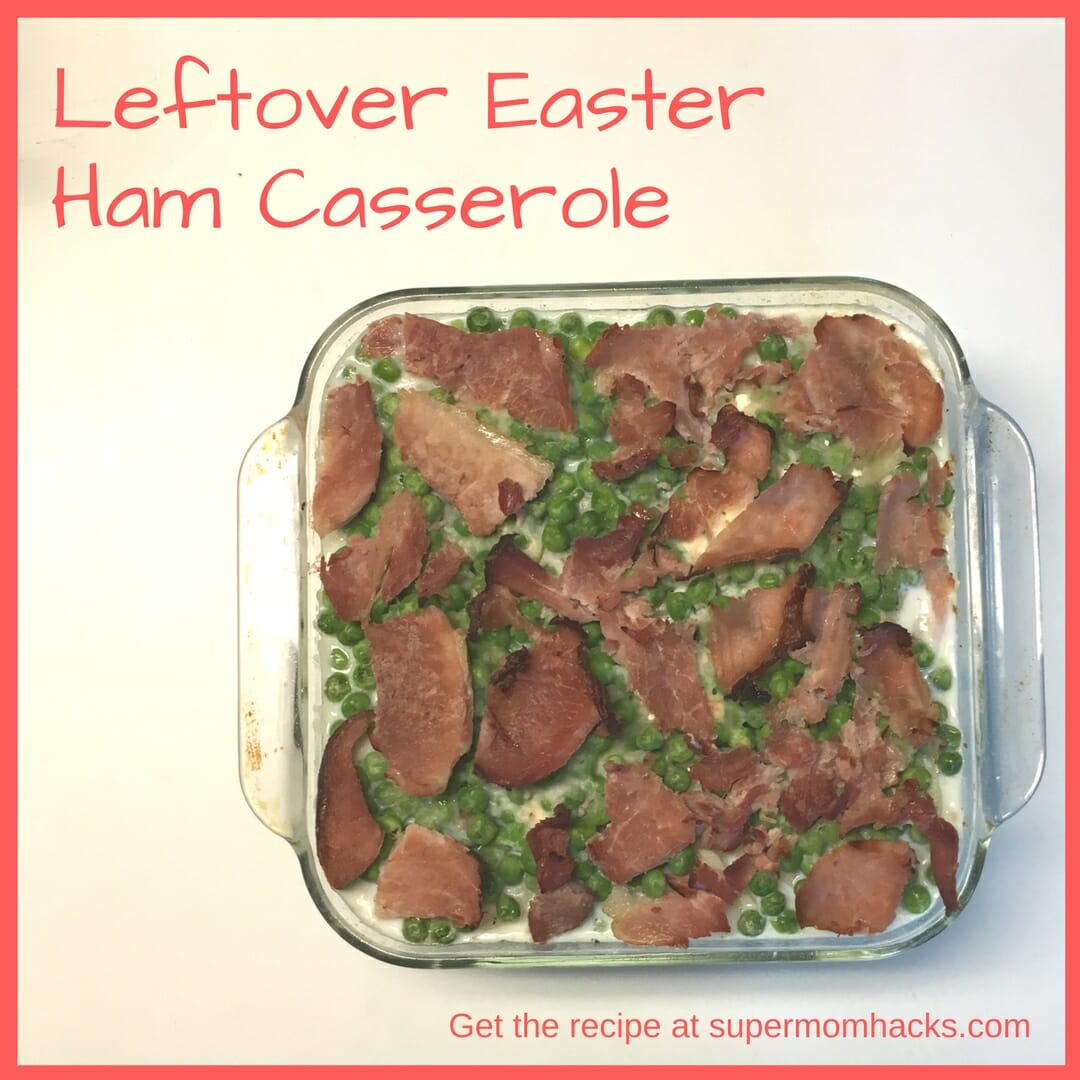 Leftover Easter Ham Casserole
Servings and prep time vary; an 8×8 casserole dish makes approximately 4-6 servings. Roughly 15-30 min to prep, 45-60 min to cook; total 1-1.5 hours.
What you need:
Nonstick cooking spray or butter
Slices from a bone-in or boneless ham (NOT deli-sliced ham), cut into large chunks – approx. 2 cups chunks
Potatoes, peeled and sliced into uniform very thin (at most, 1/8 in or 3mm) slices – approx. 1 large (see Mix it Up)
Onions, sliced same as potatoes – approx. 1 medium
Frozen peas, thawed and cooked – approx. 1 lb./500g
Flour (approx. 1 c.), salt, and pepper
1-2 c. (250-500 mL) milk
The basic idea:
Preheat oven to 350 degrees F
Grease a small (1-2 quart/1-2 liter) casserole dish with nonstick cooking spray or butter. Layer thin slices of cooked ham, thin slices of cooked potato, thin slices of raw onion and cooked peas. Generously sprinkle with flour, then sprinkle with salt and pepper. Repeat each layer in order until casserole dish is full but not overflowing, omitting flour from the topmost layer if the last layer you add is peas. (I like to put ham or potato on last, if possible.)
Scald 1 c. (250 mL) milk in microwave by heating it for 2 min. Pour over casserole. If needed, scald additional milk until the baking dish is nearly full.
Bake the ham casserole 60 min, or until the potatoes and onions are thoroughly cooked and the gravy is bubbling hot (see first note below, under Mix It Up). Check the casserole about halfway through; if the top is becoming over-browned, cover it loosely with foil for the rest of the cooking time.
Mix it up:
You really don't want to skimp on the flour in this recipe, and I don't know if it would work with anything other than regular white or wheat flour. The flour and milk together thicken into a gravy while the casserole is cooking. For this reason, it's also important to pour the milk over the whole casserole, not just pour it in the center.
I recommend thin-slicing one large potato and one medium onion for starters. BUT, it's a good idea to have an extra of each on hand if possible, so you can slice up more if you run out halfway through the layering process.
If you're going to make this casserole for a large crowd, it's better to make two smaller ones than one large/deep one; the smaller ones will cook faster.

Fill ALMOST to the top with milk, heating more as needed.

To be on the safe side, it's best to place your casserole dish onto a baking sheet or a large piece of foil while cooking, so it doesn't make a mess in your oven if the gravy boils over.
If you don't eat ham, smoked turkey also works well for this dish.
If you have leftover baked potatoes to use up, you can substitute them for the raw ones – just use a knife instead of the mandoline, and slice them a little thicker (up to 1/2 inch/1 cm).
You can either make this dish ahead and freeze it uncooked, or cook it halfway through before freezing. Just be prepared to adjust the total cooking time upward accordingly, especially if you're taking it straight from the freezer without thawing first. I usually cook the ham casserole halfway through before freezing, then heat a frozen or partially-thawed ham casserole for a full 60-90 minutes to finish the cooking. (Again, you'll know it's ready when the potatoes/onions are fully cooked and the gravy is bubbling around the edges.)
If you enjoyed this Leftover Easter Ham Casserole recipe, why not share it with others by pinning this image?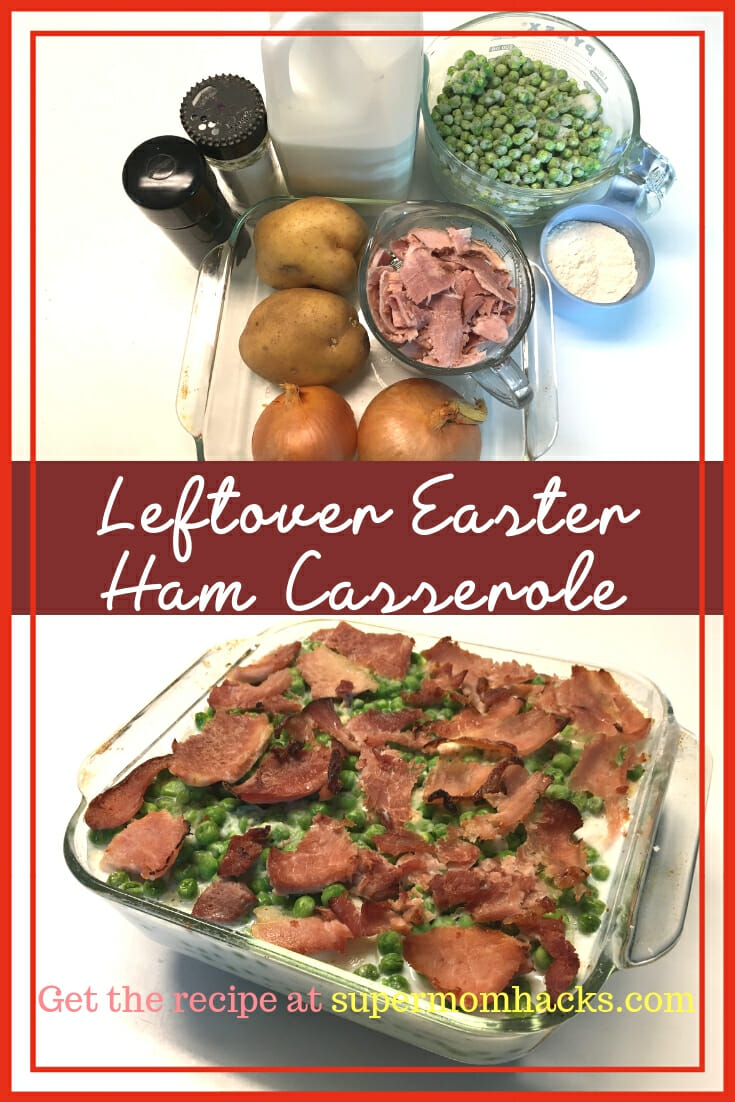 NOTE: This site contains affiliate links. I may earn a small commission from any purchases made through affiliate links, at no additional cost to you. For more information, please read the full disclosure/privacy policy.