If you missed my last post, here's the short version: the weather has finally turned cooler, and Essie and I are loving our homemade oatmeal for breakfast. Most of the time, I just make homemade quick oats for each of us every morning; Essie's current fave is the Baked Apple Oatmeal recipe I published last week. But sometimes I need a fast, easy, make-ahead breakfast that's also healthy, so I can have my morning meal on the go.
For times like that, there's nothing like a bowl of overnight oats. Or its close cousin, homemade morning muesli. I can prep either one the night before, and in the morning just grab it on my way out the door.
Eating oats for breakfast (quick, old-fashioned, or steel-cut) is a super choice on so many levels:
Making them yourself (vs. having instant packets) means you can control the sugar content.
Oats keep you fuller longer, in part because of the whole-grain fiber-filled nutritional punch they pack.
If you've never tried overnight oats, or even HEARD of homemade muesli with yogurt, read on to learn more about these tasty, healthy make-ahead breakfast treats!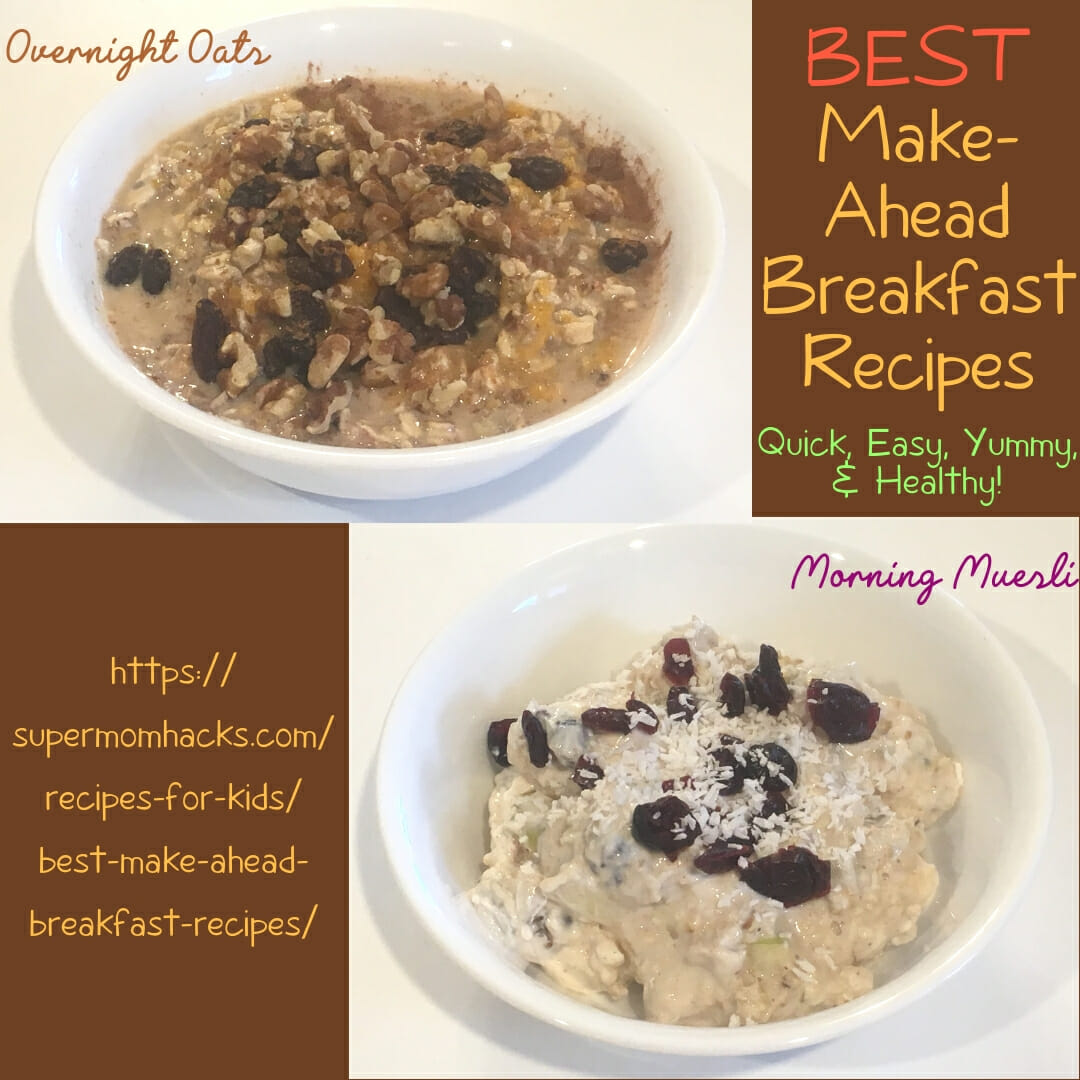 BEST Make-Ahead Breakfast Options: My Fave Recipes

1. Overnight Oats
I don't generally make overnight oats unless I need to prepare a breakfast for on-the-go. But if we have a long road trip to visit relatives, or I'll be out the door early for a seasonal baby consignment sale, then I love making overnight oats ahead. Doing so means that I can roll out of bed, grab breakfast, and be on my way.
Overnight oats are so much healthier than eating fast food when you need to be out the door first thing. Not to mention, there are so many tasty recipes and variations to choose from.
While you can heat up overnight oats and eat them warm, warming them is entirely optional. The ingredients blend overnight in the jar/container you've prepared them in, so a quick stir and they're good to go.
Overnight Oats Basic Recipe
The basic recipe for overnight oats, gleaned from all the more formal recipes I've tried, is as follows:
To a 2-cup jar or container that seals tight (e.g., a Ziploc 2c plastic screw-top container, which is what I use, or a 16-oz Mason jar), add the following ingredients in this order:
1/2 cup oats (I usually use quick oats because it's what I have handiest, but you CAN use old-fashioned oats here instead)
1/2 c-1c fresh fruit AND/OR 2-4T dried fruits
2T chopped nuts
1/2T-1T chia seeds (these are usually in the health food section – they're an important addition to overnight oats not only for the health benefits, but because they act as a thickening agent)
Up tp 1 T sweetener (optional)
1 cup milk or your milk product of choice
Seal the container tightly, shake to blend all ingredients, and refrigerate 8 hours/overnight. Top with additional dried fruits, nuts, etc. as desired before eating.
You can vary this recipe as many ways as you can imagine. For example, this morning I tried my friend Angie's decadent Pumpkin Pie Overnight Oats recipe. Only I didn't have any banana to go on top (as she used in her post), so I used raisins instead. And instead of pumpkin purée, I used about 1/4 c. of butternut squash that I had baked for last night's dinner. The only problem with the recipe was that I had a hard time convincing myself I was eating something healthy, and not sneaking in a piece of pumpkin pie to start my day!

Best Overnight Oats Recipes
The very first overnight oats recipe I ever tried was this delicious banana-blueberry version. It's still my default go-to when I'm making my breakfast the night before.
Super-food-blogger mama Angie, who blogs over at The Peachee Pear, has TONS of wonderful overnight oats recipes on her website. If you're not familiar with Angie's site, she is a home-based food guru who's constantly inventing amazing new recipes for her family, and then sharing them with the rest of us. Every recipe of hers that I've tried is delish, so go poke around her oats options – each one is more creative than the one before!
If you want even more guidance on how to make your own overnight oats recipes, check out Angie's how-to guide on the subject. Hers is more in-depth than the cheat sheet I've included above, and has plenty of additional tips and tricks as well.

Morning Muesli
I first learned about European-style muesli with yogurt when I was in college. We had a decent-sized international student population for a small school at the time. And Dining Services made a point of collecting students' recipes from home, both from international students and from different North American regional cuisines, so that everyone could enjoy a "taste of home" while away at school.
Added side benefit: the rest of us could get to explore new cuisines from all over the world. This is how I got to try European-style muesli with yogurt for the first time, a sort of thick overnight oats made with yogurt. Morning Muesli was one of my favorite quick breakfasts for mornings when I didn't have time for a full, hot meal. It covered multiple nutritional bases in one bowl, and kept me full until lunchtime.
Like overnight oats recipes, this one is a make-ahead breakfast that spans food groups and nutritional needs (though you can also make it in the AM and eat right away, if you prefer.) The main difference between the two is that this muesli recipe gets its thick consistency from having plain yogurt as its primary ingredient. Using plain Greek yogurt gives this tasty breakfast an extra protein boost.
Morning Muesli Basic Recipe
This is how I make Morning Muesli: To a 2-cup jar or container that seals tight (again, such as a Ziploc 2c plastic screw-top container, which is what I use, or a 16-oz Mason jar), add the following ingredients in this order:
1/3 c. rolled oats
1/3 c. milk or milk substitute of choice (you can also use juice or water, if you prefer)
1 small apple, diced
2 T raisins
2 T chopped nuts
1 T honey or jam
1 1/2 t cinnamon
1/2-1 t pumpkin pie spice or nutmeg
2/3 c. plain Greek yogurt
Additional cinnamon to taste, chopped nuts, dried fruits, etc. for topping (optional)
Refrigerate overnight if making ahead (or eat right after prepping, if you wish). Stir well before eating. If desired, add additional toppings. (I like a little unsweetened shredded coconut on top!)
You can swap out some of the raw chopped apple for other fruits: seedless green grape halves, mandarin orange sections, fresh blueberries or raspberries, etc. I usually use walnuts, but you can use other nuts if you prefer.
What is your family's favorite make-ahead breakfast recipe or menu? Let us know in the comments!
If you enjoyed this post on make-ahead breakfast recipes using oats, why not share it with others by pinning this image?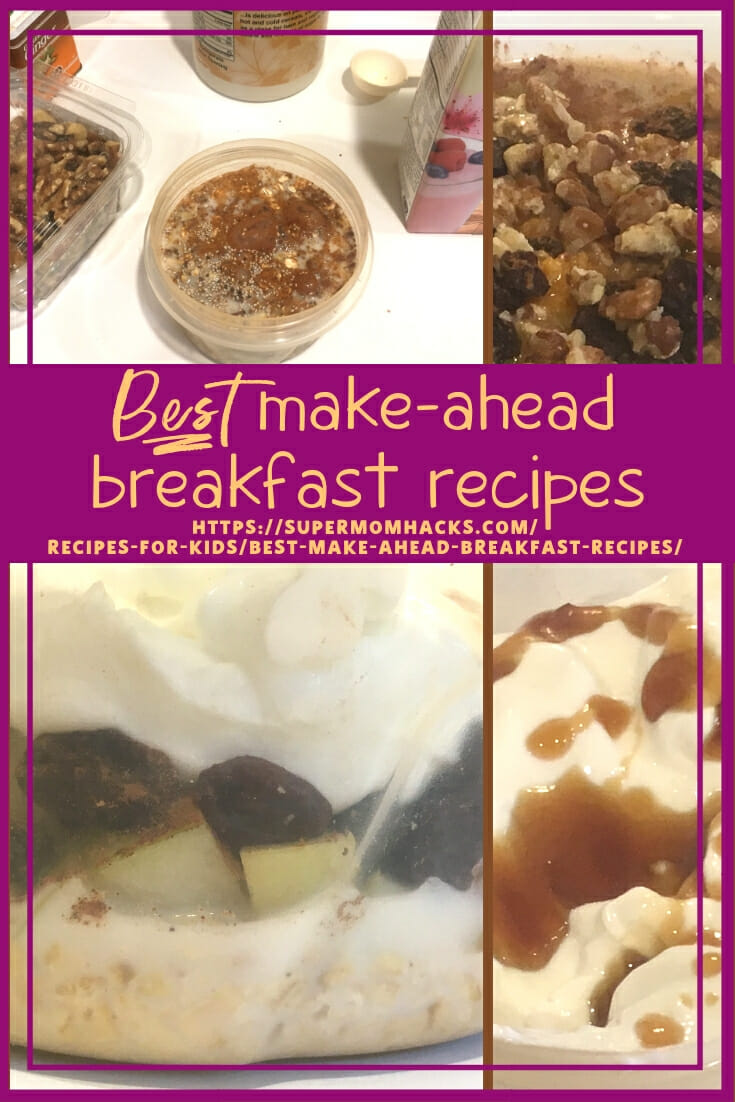 NOTE: This site contains affiliate links. I may earn a small commission from any purchases made through affiliate links, at no additional cost to you. For more information, please read the full disclosure/privacy policy.