The days are getting shorter and cooler. And (football families excepted) if you're a parent who likes to keep your kiddos' clothing stain-free, it's time to trade getting mud out of clothes for figuring out how to get out grease stains.
You know – turkey grease, butter, oily gravy, salad dressings. All those lovely grease stains that we don't always even notice until they've been through the washer and dryer. That's when you notice there's a discolored spot on that dark top that just won't come out. Bam! – just like that, you need to know how to remove set in oil stains from clothes.
With the holiday season almost here, there's a good chance you'll be making/eating something that contains oil, butter, or something else greasy. Which means there's a chance you'll need to know how to remove grease stains from clothing.
Whether it's cooking oil that splashed on your apron, dribbles down your kiddo's holiday clothes, or those fancy fabric napkins that are now covered with turkey gravy, knowing how to remove food grease from clothes is a must for whoever does the holiday-season laundry in your house.
Do you have a foolproof way to do this?
How to Get Grease Out Of Clothes
I discovered how to get oil stains out of clothes years ago, thanks to my own mama's secret weapon. This technique works on oil, butter, gravy, turkey grease, and even fresh stains from other oil-containing foods like pasta sauce.
I've even had good luck getting out older grease stains from, say, that adorable satin dress that I couldn't resist from a children's resale event. (Or, for that matter, removing those grease stains we missed from own kiddos' clothes, when I'm prepping items to sell at a consignment sale.)
Ready to learn my secret? Then read on.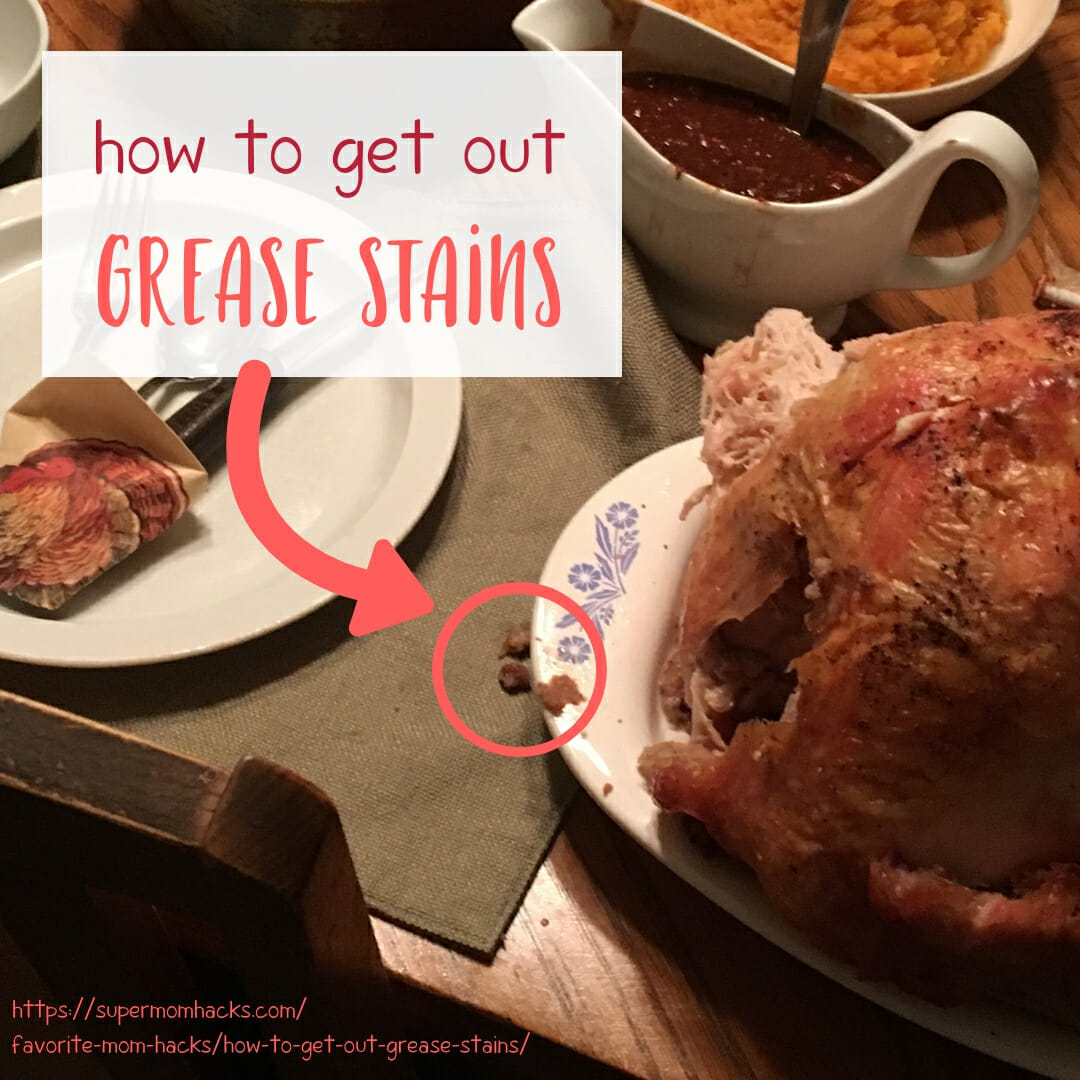 How To Get Out Grease Stains
The secret weapon:
My secret weapon is actually not a laundry tool per se. It's a product that is most often found with floor-cleaning supplies. (If your store doesn't carry it, you can find it here).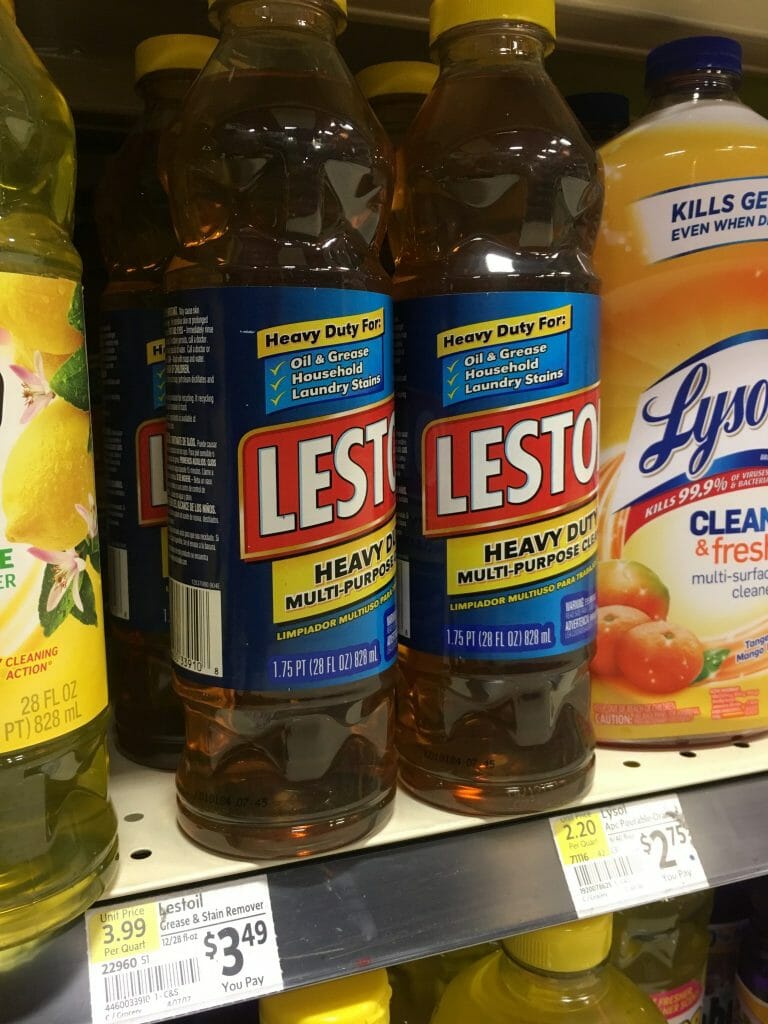 Lestoil is great for removing grease from all sorts of things, not just laundry. It's a concentrated cleaner that, when diluted in water, you can use to clean grimy floors, or wipe down your kitchen cabinets.
But I love it for getting oil-based stains out of all our laundry. So much so that, when we travel as a family, I always take a small bottle with me. That way, I can get out greasy stains from our capsule travel wardrobes.


What sorts of greasy stains?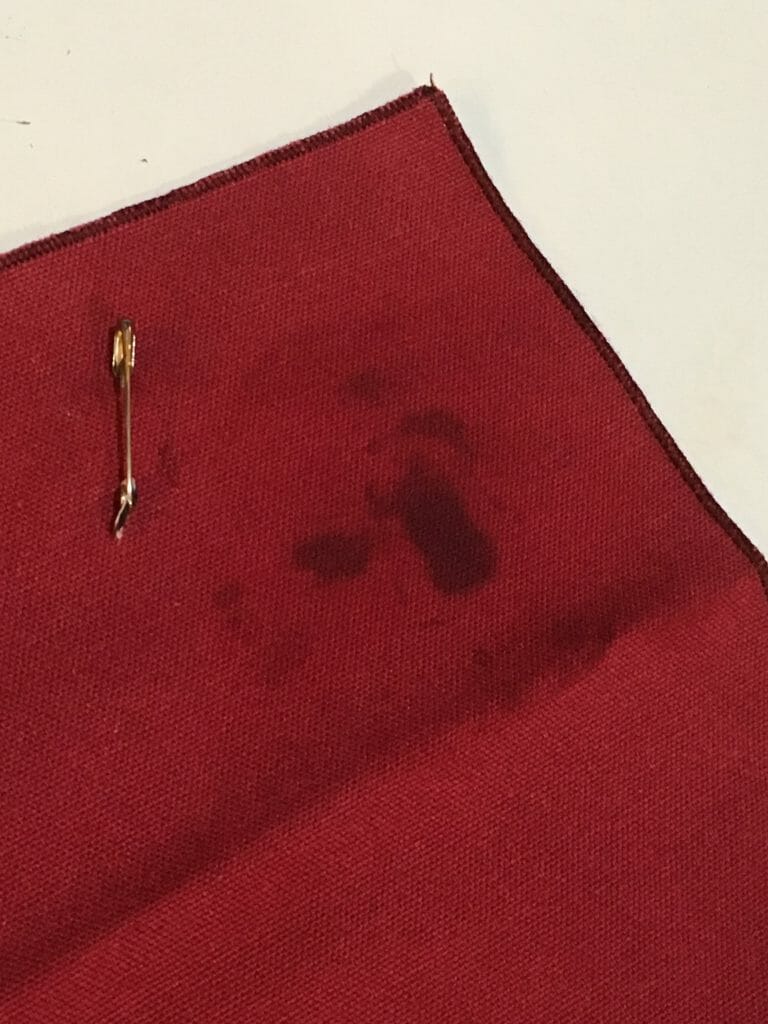 I'm talking food-based greasy stains, mainly. Such as
cooking oil
butter
peanut butter (scrape off any solids first)
salad dressings
mayonnaise
residue from foods cooked in these ingredients (snack chips, cookies, eggs, pasta, etc.)
grease stains from cheese, pizza, etc.
the greasy/oily parts of sauces like spaghetti sauce, chocolate sauce, etc.
those greasy spots on your kids' pants when they wiped their hands there after eating a bag of potato chips
For greasy stains that also involve another kind of stain (tomato, chocolate, etc.), Lestoil may get the entire stain out, especially if the stain is fresh. OR, you may have luck getting the greasy part out, but still have residue from the other stain ingredients.
In that case, you can retreat/rewash the stain with your favorite general-stain-busting ingredient. (Depending on the stain type, my go-to's are Shout Advanced, Motsenbocker Lift-Off #1, or Zote Laundry Bars; see this post for more of my laundry-room stain hacks and how-to's.)
I've also had pretty good luck removing bicycle grease from clothing with Lestoil. As with any of the food-based oil stains, though, you want to line-dry and repeat as needed until you're certain the stain is gone. (If you still have some grime left after the greasy part is gone, you can also try scrubbing that chain-grease stain with a Zote bar.)
Step-by-step:
The basics of laundry stain removal still apply when you're trying to get out greasy stains. Specifically,
the sooner you can treat the stain, the better. (Even if you can't launder it right away.)
you DON'T want to risk setting a stain by running it through the dryer.
The good thing about Lestoil is that it's safe to pretreat clothes and then let them sit for awhile before you launder them. The bad news is, Lestoil has a strong odor. While it's not necessarily unpleasant, you should be aware of this before (say) pretreating a shirt and then leaving it in the hamper next to your bed for a week.
Lestoil is easy to use on laundry that is washing-machine-safe: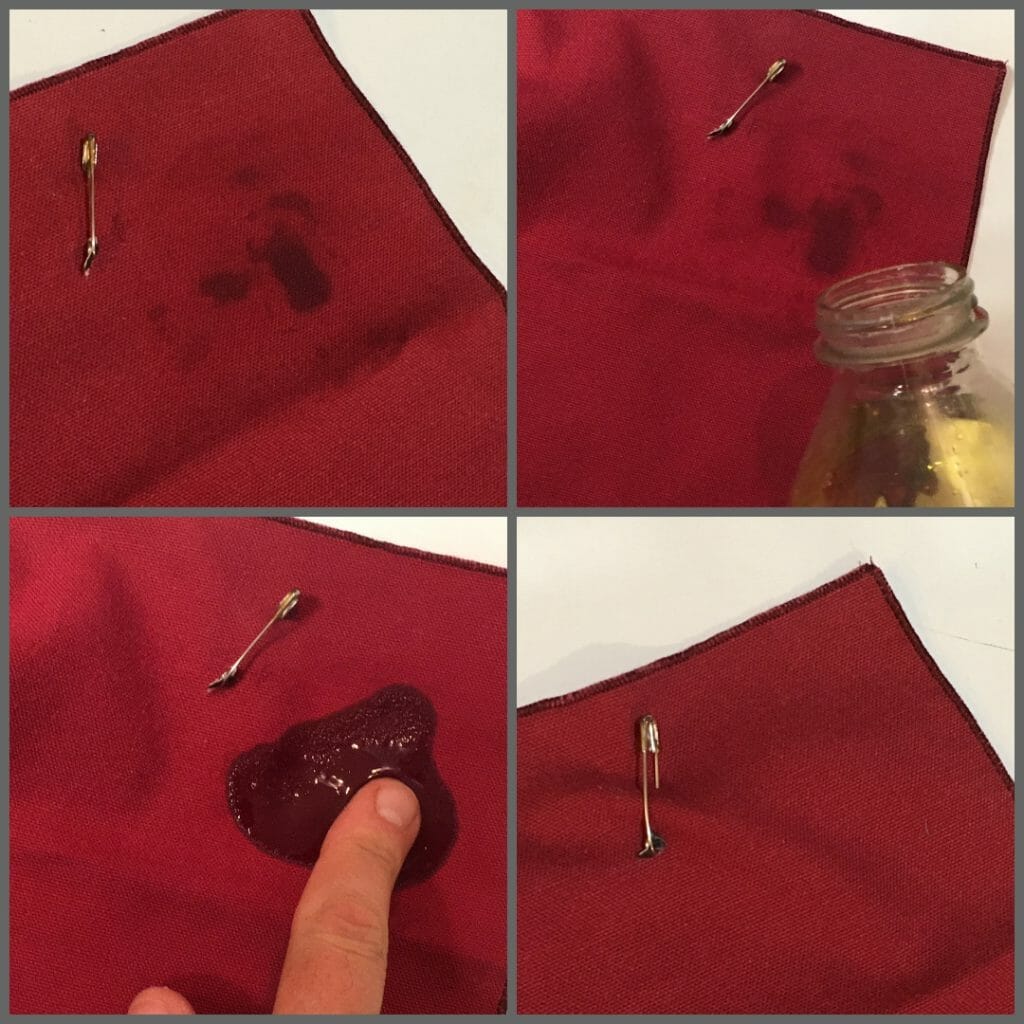 Put a small amount of Lestoil onto the greasy stain, enough to saturate the area.
Let it penetrate the stain for at least 5-10 minutes. For tough stains, stains that aren't fresh, or stains that have already been heat-set by running through the dryer, I recommend letting it sit for several days to a week before laundering.
Toss it in the washer, and launder in the hottest water recommended for that clothing type. (Check the manufacturer's tag inside.) I recommend using an extra rinse cycle, both to get out any remaining oil residue and to help rinse out the lingering odor from the Lestoil itself.
LINE DRY (do NOT run through the dryer yet!). Once the item is completely dry, check to be sure the stain is gone. If not, then repeat the Lestoil treatment.

Additional tips and tricks:
The best way I've found to make sure that stains-in-progress don't accidentally go through the dryer is to wash them in mesh laundry bags for delicates. This helps to remind me (or whoever else is emptying the wash into the dryer!) that the items inside the bag are line-dry only.
For stains that are already set or aren't fresh, I often need to repeat the Lestoil process a second time to get out the rest of the oil/grease.
If you have an oil-based stain that also has other elements in it (e.g., tomatoes, as in pizza or spaghetti sauce), then it's all the more important to treat it with Lestoil ASAP. Otherwise, you may have to treat the remaining tomato portion of the stain with

a separate stain-removal product

to get the rest of the stain out.
What about you? What's your secret for getting out tough laundry stains? Let us know in the comments!
If you enjoyed this post on how to get out grease stains, why not share it with others by pinning this image?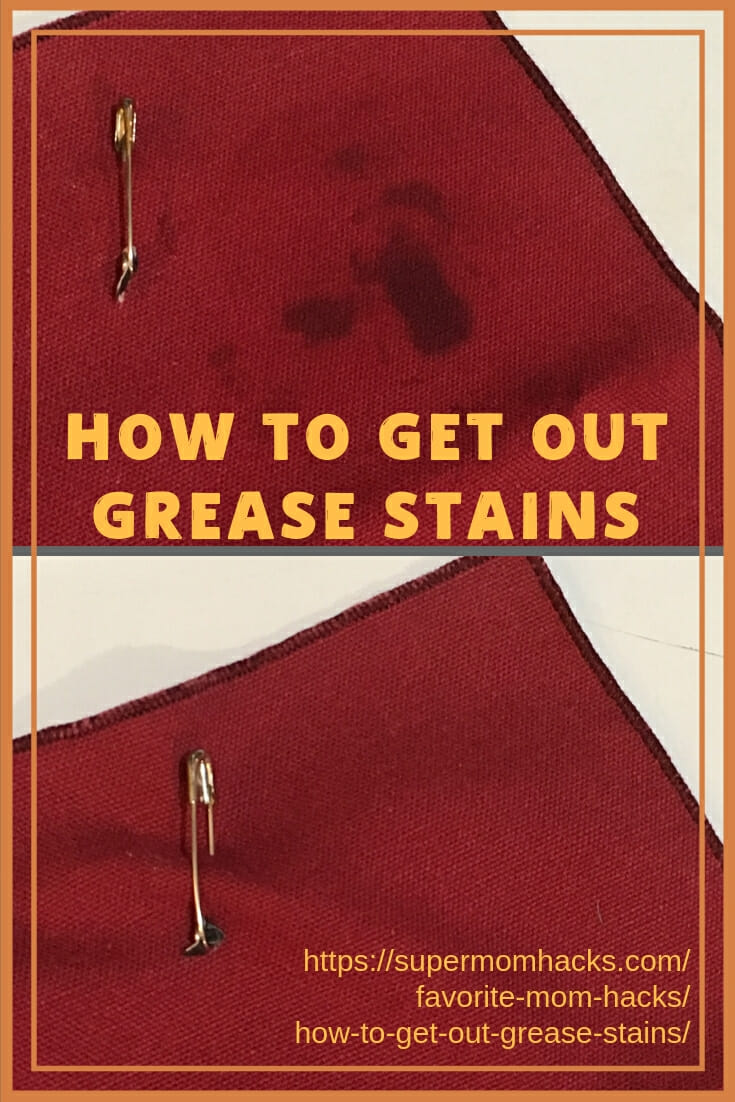 NOTE: This site contains affiliate links. I may earn a small commission from any purchases made through affiliate links, at no additional cost to you. For more information, please read the full disclosure/privacy policy.