Fun Things To Do This Weekend With Kids
Spring is here – which means that summer is just around the corner. And between now and then, your kiddos may well have spring break. Or an Easter holiday break. Or at least another long weekend or two built into their school calendar. Which means your regular routine is about to get disrupted – and you may be scratching your head trying to figure out what to do with the kids all weekend, to keep them (and you!) from going stir-crazy.
Or perhaps you're the noncustodial parent, and weekends/school breaks are the only time you get to spend with your littles. All the more reason you need to find fun things you can do with them to bond while adding structure to your visits.
These little breaks are the perfect time to start building your relationship with your child. At the same time, you can lay the groundwork for better summer habits than "Mom, I'm bored!" or nonstop screen time. And if your littles are still preschool age or younger, these are fun things to do while older siblings are off at sports practices or working on school projects.
Ready for some easy ways to keep your kids entertained this weekend?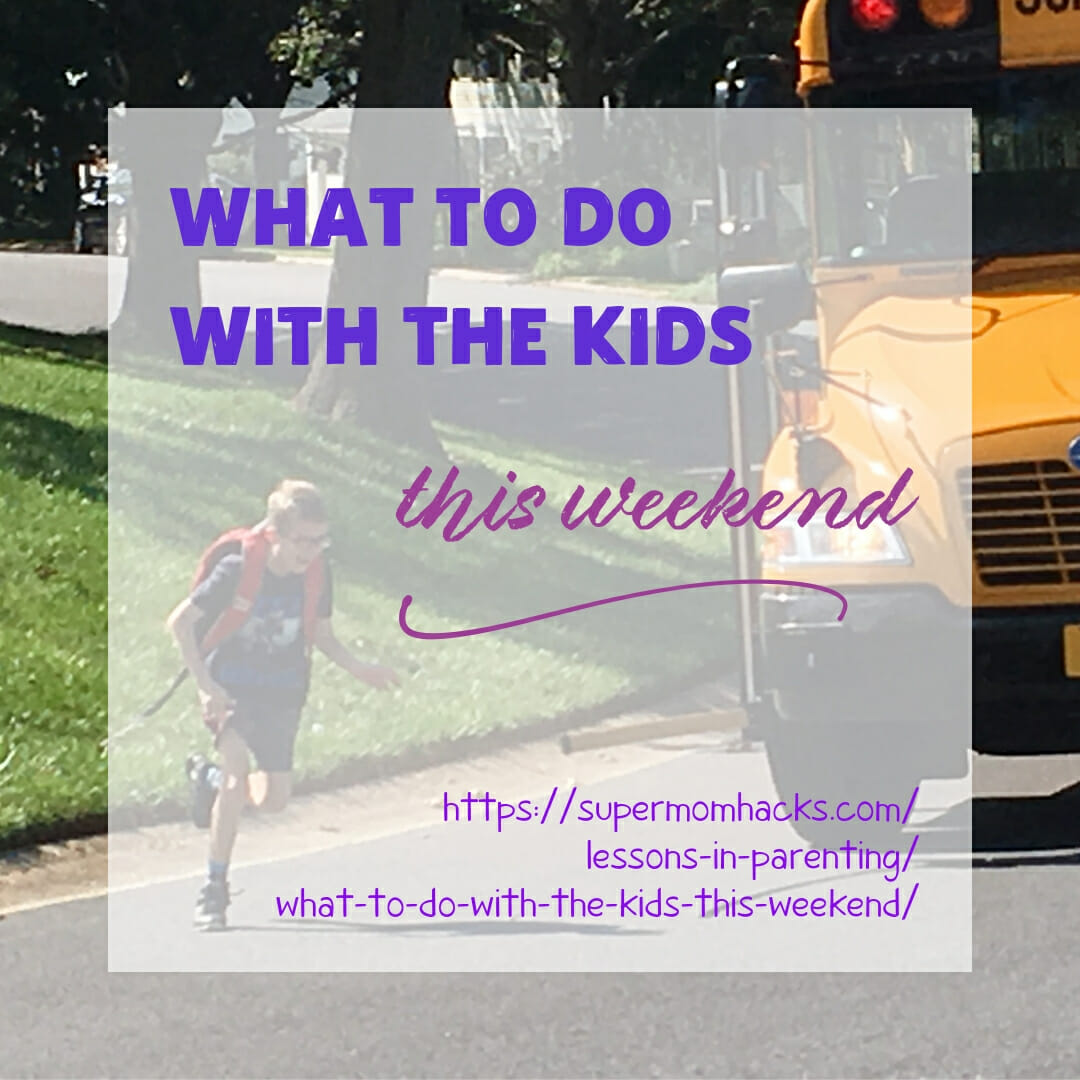 This is a collaboration post. However, please know I stand behind everything written here, and only include links to products/services/resources I'm willing to recommend personally.
Squish some art
My kids are currently in elementary school, so I can't speak for middle or high schoolers. But I've yet to meet a child whose age is in the single digits (including infants) who does NOT like to squish things around between their fingers.
And let's face it, there are so many fun things one can squish around – some of which are even edible, and many of which can make "art" in one form or another, with a little imagination:
Give a baby some plain yogurt on their high chair tray, ad a drop or two of food coloring, and give it a demonstrative swirl with your finger. Instant edible art.

Have your toddlers play with oobleck

, that strange liquid-solid stuff you get when you mix cornstarch with water.
Give them some play dough or modeling clay, and let them create. You can even DIY the former; if you've never tried

making your own play dough

, I can assure you that it's neither hard nor time-consuming. Add some cookie cutters, and you can even make your own holiday ornaments to bake/paint.
Or, if you dare, jump on the slime bandwagon with them and

make your own slime

with Borax, glue, and water. Add food coloring for fun, or use colored glue. For even more fun, you can add glitter for fairy slime, or use glow-in-the-dark glue for glow-in-the-dark slime.
Or make gelatin blocks by spraying an 8×8 pan with nonstick cooking spray, and mixing a batch of flavored gelatin in the pan (adding an extra pack or two of unflavored gelatin to your flavored package, so the blocks hold together better). You can cut out shapes with cookie cutters, or you can cut them into squares – and then try to build something with the blocks!
And while we're on the topic of edible things:
Cook something
You'd be surprised at how much fun kids can have cooking with you. Getting your kids into the kitchen to help with food prep is a great way to teach them math, It also helps them learn to be more adventurous eaters; kids who helped make the food are less likely to turn their noses up at it.
RELATED POST: Sneak Some Math Into Your Preschooler
So get out your favorite cookie or brownie recipe, or your grandmother's pie recipe, and get cooking with them. You could also try a no-bake recipe. Or have them help you make sandwiches for lunch, or French Toast for breakfast. Or a sandwich for lunch, or Cheesy Toasts for a snack. Elementary-school-aged kids might even be up to the challenge of planning and cooking an entire meal with you. Kimmie did this last fall for her Girl Scout Junior cooking badge, and had a blast doing so.
Granted, both my husband and I like to cook. And we've therefore had the girls in the kitchen with us since they were quite little, But I'm constantly amazed at what adventurous eaters my kids are, compared to most of their peers. I think this cooking-with-us-from-an-early-age has a lot to do with it.
Craft something
I guess it's because i never went to preschool, but I honestly don't remember a house as clogged with arts and crafts projects growing up as ours seems to be now! I am constantly amazed at the range of arts and crafts projects my kids seem to do in the course of their daily lives, from school activities (especially when they were in preschool) to Sunday school, after-school activities, and summer camps and workshops.
And they LOVE it.
So chances are good that they'll be thrilled to "create" more on the weekend if you supply them with the raw materials. This can be as basic or as elaborate as you like:
Give smaller kids construction papers, scissors, and glue, and let them create to their heart's content.
Go to your nearest crafting store together and pick out a kit together, or a new activity to try.
Go to your local thrift store or

secondhand craft-supply store

and pick up some inspiration there.
Give your kids a box of toothpicks and a bag of mini marshmallows, and see what they sculpt. Or a bag of popsicle sticks; Essie is forever creating new things with popsicle sticks, magic markers, and tape.
Or check out the classes at your local craft store. Many have inexpensive weekend how-to classes for kids ages 8 through adults, on everything from how to knit/crochet to how to sew/bead.
Build something
No matter your child's age, you can build something together with them. Even infants can practice stacking cups and soft blocks into towers and then knocking them down, with a little guidance from you.
For toddlers on up, the options are endless – and all things they can do either with you, by themselves, or with peers:
Build (and then, of course, destroy!) block towers.
Create a sandcastle in your backyard sandbox.
Build something with Mega Blocks, Duplo Blocks, Legos, or whatever your child's favorite building bricks are.
Make a fort, whether with furniture and blankets or (my girls' fave) a

Crazy Forts

kit.
Build a radio, an alarm, a flashing light, or whatever else you like with an

Electronic Snap Circuits

kit. (My girls have built all three of these, among other things, with the set they got for Christmas.)
Or if you'd prefer something more classic and/or low-tech, you could always make a jigsaw puzzle together, or experiment with the most effective designs for folding paper airplanes.
Go somewhere
And then sometimes you just need to get out of the house. Some of our fave expeditions include:
A family hike or bike ride, usually followed by ice cream
A camping trip or (in season) an afternoon at our county pool or the beach
Visiting our local children's museum or the nearest aquarium
Catching a live sporting event or free concert in the park
Going to a playground or state/county park
Checking out the latest exhibits at our city's natural history museum or science museum
If you're within driving distance of a major city, there are probably more fun museums and activities than you could ever accomplish in a single weekend. All right there, in your own backyard. And even if your kids have been to the science museum a gazillion times before, I don't know a single kid who'll turn down a chance to play in the water exhibit or see the dinosaur skeleton replica for the umpteenth time.
Your turn:
What are your favorite ways to spend time with your kiddos on the weekend? Let us know in the comments!
If you enjoyed this post on fun things to do this weekend with your kids, please share it with others by pinning this image!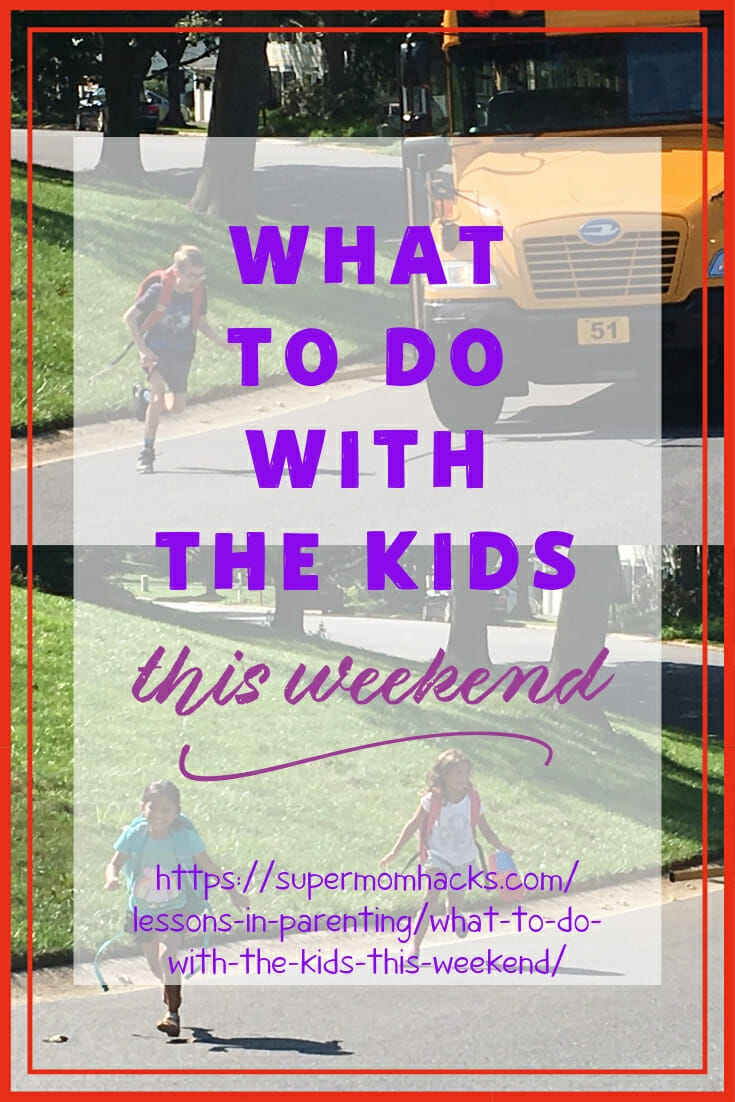 NOTE: This site contains affiliate links. I may earn a small commission from any purchases made through affiliate links, at no additional cost to you. For more information, please read the full disclosure/privacy policy.